Accessibility
Have IBS, UC, or other digestive problems? You need this product
Tushy's Travel Bidet is a bum-saver for "going" on the go.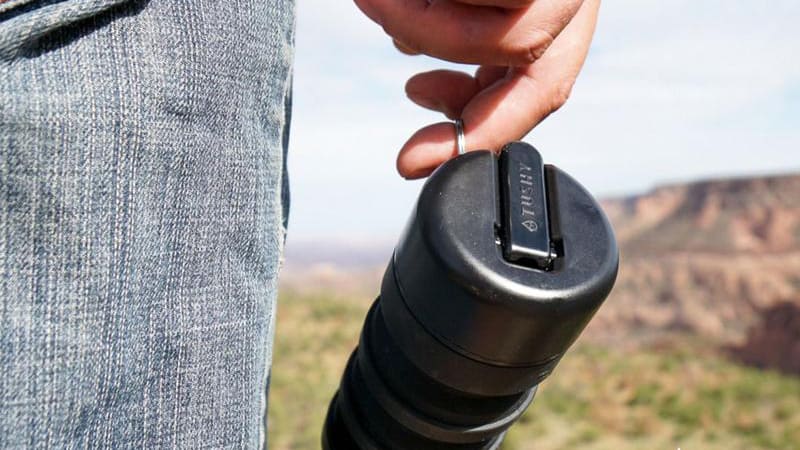 Credit: Tushy
Here at Reviewed, we've been fans of bidets long before the Great Toilet Paper Shortage of 2020 made them more popular than ever in the U.S. These water fountains for our nether regions not only use less TP to get clean—they are also more hygienic (no poop cast-off dirtying our hands), gentler (no TP burn from rubbing dry paper on our delicate areas), and deliver a far superior clean (a shower every time you hit the loo).
These benefits become even more important when you have digestive issues, as I've had since I was diagnosed with ulcerative colitis at the age of 10. When active, this autoimmune illness causes frequent diarrhea—I'm talking five to 10 times a day or more—that irritates the skin. Wiping with dry toilet paper only makes it worse. And when you're away from home? Public restroom toilet paper makes the issue so much worse. That is, unless you have a Tushy Travel tucked away in your bag.
What is a bidet?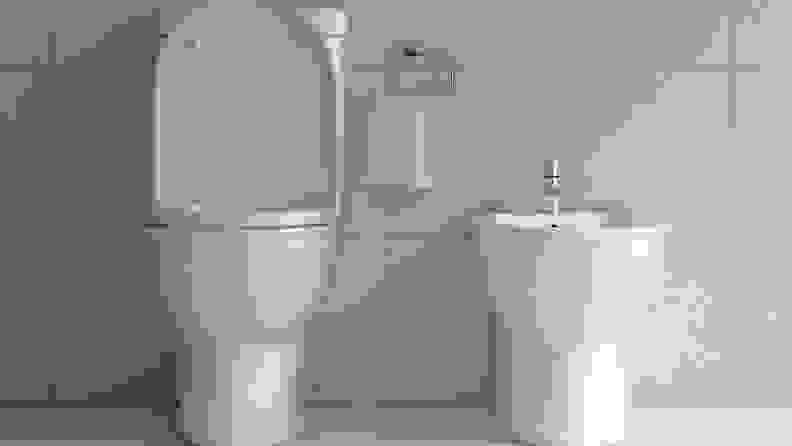 Conventional bidets come in three main forms: the ceramic basins we Americans often encounter with confusion in European hotels; Japan's magic toilets with smart features like air dryers, motion-sensors, heated seats, and music to drown out noise; and toilet seat attachments that tap into the plumbing.
Those are great options if you have the money and the bathroom setup for home bidet installation. But what if you don't, or you're not at home?
Enter: Tushy Travel, the travel bidet
In North America, where bidets are the exception and not the norm, travel bidets are especially handy for those of us with digestive issues: irritable bowel syndrome (IBS), hemorrhoids, travel diarrhea, celiac disease—you name it.
There's quite a range of travel bidets on offer, from low-tech versions that look like water flossers to sleek, high-tech cylinders in gleaming black and gold that look like something out of a sci-fi novel.
I wanted to test a travel bidet that was affordable, portable, easy to use, and effective. If it looked cool, too, all the better. So, I contacted the folks at Tushy, a delightfully cheeky (pun intended) bidet company whose toilet attachments we've reviewed, and asked them to send me their $29 Tushy Travel for testing. Then, my bum and I got to work. Here's what we learned.
What I like
The Tushy Travel's cool design isn't just for looks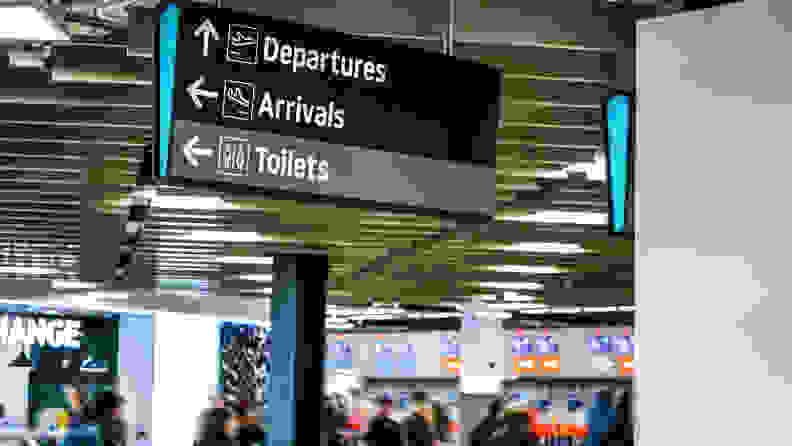 One of the things that drew me to the Tushy Travel was its chic, accordion-like design that expands and collapses. At its smallest, the bidet is just 3.5 inches tall and 2.75 inches wide—smaller than any other versions I saw. That not only makes the Tushy Travel more discrete but also extremely travel-friendly, since it takes up so little space. It essentially looks like a squat water bottle that comes in four colors: black, white, fuchsia, and teal.
To use the Tushy Travel, you expand the silicone accordion to its full height: 5.5 inches with the spout folded down and 7.5 inches with the spout up. Unscrew the BPA-free plastic cap and spout, fill it with water from the bathroom sink, screw the top back on, and then assume position on the potty.
I found it best to flip up the three-holed spout after you've sat down and done your business, because a drop or two of water drips out when you turn it upside down. Then, just squeeze the accordion to send a laser stream of water straight towards whichever area you're targeting on that particular bathroom visit.
The folks at Tushy have made a handy how-to video that's worth watching, especially if you're new to the whole bidet concept. The tip I appreciated the most was to pause between each squeeze to let air back into the Tushy to keep the force of the stream strong.
The Tushy Travel is a bum saver for times you have tummy troubles
Minus a couple of flares, my ulcerative colitis has been in remission for about 15 years. However, I tested the Tushy Travel the week I had a screening colonoscopy and had to clean out my colon. I'll spare you the details, but suffice it to say I spent a lot of time on the toilet.
When you're going to the bathroom multiple times a day—or even multiple times an hour—it's nearly impossible not to have a sore bum at the end of it. For one thing, diarrhea is more acidic than typical poop. (A fun fact that will live rent-free in your head forever. You're welcome.) Add to that wiping more often with TP and the delicate tissue around the rectum gets easily irritated.
Thanks to the Tushy Travel, however, I never got sore during my colon cleanse. The lukewarm water felt soft and warm on my bum, and the 10 ounces of fluid was more than enough for a thorough wash. A gentle pat with some toilet paper soaked up any excess water, and I was good to go until the next visit to the commode.
Since I sometimes had to hightail it to the toilet, I found it was easier to prefill the Tushy with water, though the spray was colder than I preferred. Some users suggest carrying a water bottle in your purse or bag when on the go, in case you don't have time to fill up at a public restroom sink. That's also a great solution if you want to keep your Tushy use all to yourself.
I can also vouch for the Tushy Travel's gentleness if you have constipation, which can cause painful anal fissures and hemorrhoids (aka varicose veins in your bumhole). The last thing you want after that kind of trauma is rubbing the area with dry paper, so the soft shower from the Tushy Travel was a relief.
The Tushy Travel is not just for number 2
The week I had my colonoscopy was also the week of my monthly cycle, so my nether regions were a bit of a mess. I found the 10 ounces of water in the Tushy Travel more than enough to thoroughly clean both my front and backsides. Think of it as a healthy douche that makes every trip to the bathroom during my period more hygienic.
The Tushy Travel is more accessible than I expected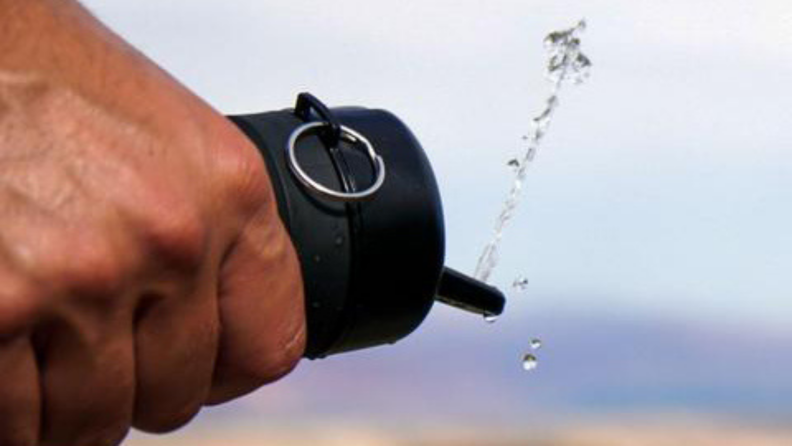 I did have a couple of concerns about the Tushy Travel, starting with the device's accessibility for people with hand mobility issues. So, I called upon my mother, who grew up washing with water in the Middle East. She installed hose hookups next to all of the toilets in her retirement home; before then, she'd just keep a watering can next to the toilet. (I use her hookups, too, though the nozzle is much bigger and the water pressure has two main settings: small waterfall or fire hose.)
More to the point, she has severe arthritis in her hands to the point that she has had to give up many beloved hobbies like knitting and jewelry making. She reported no problems or pain squeezing the Tushy Travel's silicone body, although she admittedly used it over the course of a few days rather than regularly for weeks. The more expensive electronic versions may ultimately be the best solution for some people with hand mobility challenges.
What I didn't like
It's a bit tough to assemble and disassemble
I actually had some problems screwing and unscrewing the top of the Tushy when I first took it out of the box. I suspect the threads just needed some breaking in, because everything now works smoothly. (I am also the kind of person who rough-hands jar lids into place to the point I have to spend half an hour opening them again. Don't be like me.)
If anything, it speaks to the strength of the rubber seals. To test those, I carried a full Tushy around in my bag on my daily neighborhood walks, tossing it in the air and turning it over and over like an hourglass. Not a drop spilled.
I also wanted my mother to test the Tushy Travel because she's got a more consistently troubled gut than I do: she had her colon removed decades ago due to cancer, and her plumbing has never been the same since.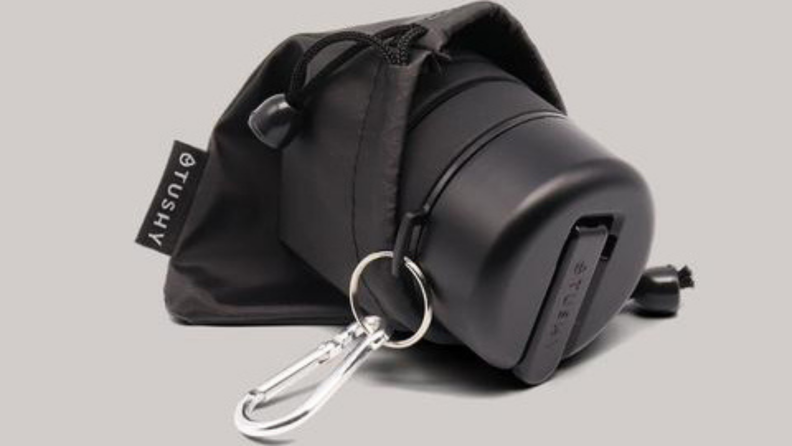 Overall, she really loved the product, with the exception of the key ring and carabiner on the outside, which she quickly discarded. She also stressed the importance of cleaning the Tushy Travel often, especially for people with frequent diarrhea. Put simply: backsplash happens. A former physician, she suggested just washing it in the sink with soap after use. You can also soak it in diluted disinfectant like Lysol for a deeper clean. How often you clean it is up to you, but make sure you do. (Vinegar, however, won't work, because it's not a disinfectant.)
In the product's FAQ section, the folks at Tushy insist that the Travel is sturdy enough to use on a daily basis. (They say it's also dishwasher-safe, though I wouldn't subject it to the harsh jets of a dishwasher if you don't have to.)
Should you buy the Tushy Travel bidet?
Yes. For those of us who can't afford a conventional bidet, or whose bathroom plugs and plumbing prevent us from installing a bidet attachment, the Tushy Travel can be a fabulous and affordable alternative. I enjoyed it daily at home for weeks and look forward to taking it with me on my first post-pandemic trip to Florida in October. While my history of digestive disease made me particularly eager to sample the benefits of the Tushy Travel, bidets are truly the smarter way for everyone to go #1 and #2.
Give the Tushy Travel a whirl. Your gut and your butt will thank you.
The product experts at Reviewed have all your shopping needs covered. Follow Reviewed on Facebook, Twitter, Instagram, TikTok or Flipboard for the latest deals, product reviews and more.
Prices were accurate at the time this article was published but may change over time.