Bath
These luxe towels will make your bathroom feel like a spa
But are they worth the premium price?
Credit: Standard Textile Home
I always face the same dilemma when buying bath towels (or really any household linens). On one hand, I want them to be nice and last a long time, but on the other, I don't want to pay an arm and a leg. After all, is there really that much of a difference between a $10 towel and a $40 one?
I'll admit: My frugal side typically wins this battle, and I generally opt for cheaper bath towels. The thing is, these budget towels quickly lose their plush feel and often end up fraying or pilling within a year or so. So when I got the opportunity to try out the high-end towels from Standard Textile Home, I was excited to see if these $35-apiece linens were worth the splurge.
What is Standard Textile Home?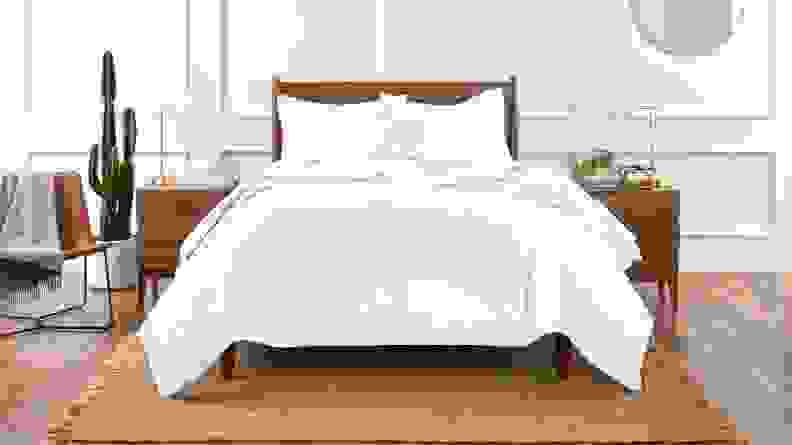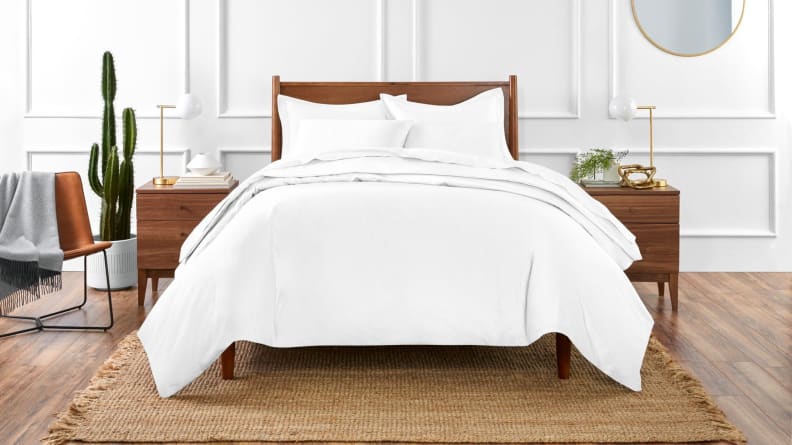 I'm no stranger to home linens—I've tested bath towels, sheets, comforters, and more—so I was a little surprised that I've never heard of Standard Textile before, especially since they've been around for 80 years. However, the reason consumers like me and you may not be familiar with the brand is because for a long time, Standard Textile catered solely to corporations like healthcare facilities and hotels.
It was only a few years ago that Standard Textile launched its consumer-facing brand, Standard Textile Home. Today, they offer a variety of high-quality linens for your home, including sheets, duvets, blankets, pillows, towels, robes, and more. And they're the same products that they offer to high-end hotels. (If you want the 411 on Standard Textile Home sheets, we tested those out, too!)
What's the deal with these towels?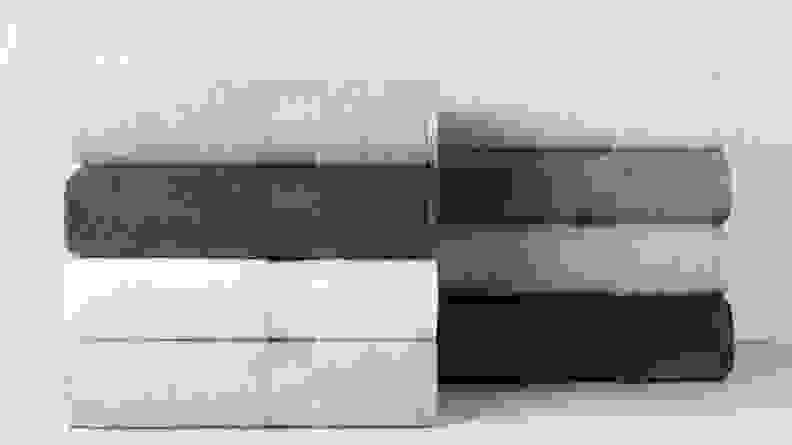 Standard Textile Home offers a variety of towel styles, including everything from standard cotton terry cloth to waffle- and Mediterranean-style towels.
We opted to test out the brand's Lynova Plush Towels, which cost $69 for a set of two bath towels; $39 for a bath sheet; or $109 for a six-piece set with two bath towels, two hand towels, and two washcloths. They come in seven muted colors, including white, brown, blue, and green, and the bath towels measure 30-by-60-inches, which is a little longer than your average 56-inch towel.
As for their constructions, the Lynova Towels are made of 100% zero-twist cotton with a weight of 650 grams per square meter. Unless you're really savvy with your linens, this might sound a bit like gibberish to you. Basically, here's what you need to know:
Cotton is widely considered the best fiber for towels, as it can absorb 27 times its weight in water. It's also soft, strong, and durable.
To create yarn, tiny fibers are typically twisted together into a strand. However, the tighter the fibers are twisted together, the rougher and stiffer the final fabric will be. "Zero-twist" is a special manufacturing method that avoids twisting fibers together, resulting in a super soft, plush material.
Fabric weight is measured in grams per square meter, and towels usually fall somewhere in the 300 to 900 GSM range. As you can see, 650 GSM is on the heavier end, meaning these towels will feel substantial when compared to a cheap cotton towel or thin Mediterranean-style towel.
Finally, these towels are Standard 100 by Oeko-Tex-certified, which means every component of the linen—fabric, yard, embellishments, and so on—have been independently tested for and certified to be free from harmful materials and chemicals.
Here's what we thought about Standard Textile Home towels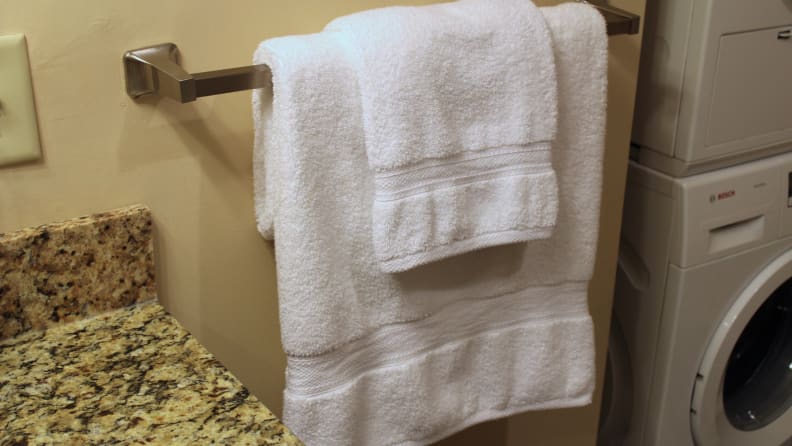 Right out of the package, the Standard Textile Home Lynova Plush Towels were soft, fluffy, and delightful. However, most towels are at their prime when you first unpack them, and after I ran the linens through the washer and dryer, they definitely lost a lot of lint and some of their fluffiness. They were still really soft and plush, though.
There's a simple decorative band along the two short ends, and the edges are finished with a thick hem design that the brand says reduces shrinkage. Overall, their appearance is very classic and stylish, and I liked the way they looked in our bathroom.
My boyfriend and I each claimed a towel, and we used them regularly over the course of a few weeks. For me, these bath towels really hit the mark. I thought they were the perfect size and weight—those extra few inches of length make them easy to wrap around your whole body and create a makeshift robe, and they felt substantial and plush without being too warm. They remind me of the towels you'd be given at a nice spa—which really isn't too surprising, given that Standard Textiles caters to hotels and other businesses.
I also love how absorbent these towels are. As soon as you touch the towel to wet skin, they greedily soak up the water, leaving you dry in seconds. One of my biggest pet peeves is when towels leave you feeling damp because they don't absorb enough moisture, and that wasn't an issue at all with the Standard Textile towels.
My boyfriend, a man of many words, described the towels as "good" and "fluffy." However, he did point out that our cheap towels had the same plush feel when we first bought them, but after a year or so, they've lost most of their softness. With that in mind, he said he'd be curious to see how the Standard Textile towels hold up in the long run.
How well do these towels hold up in the wash?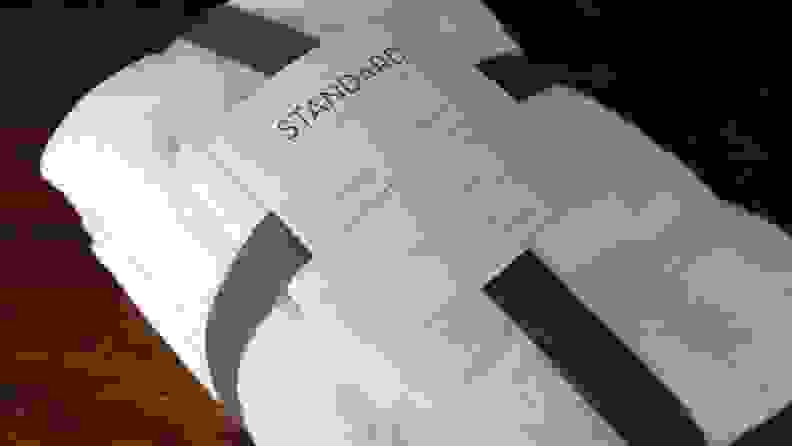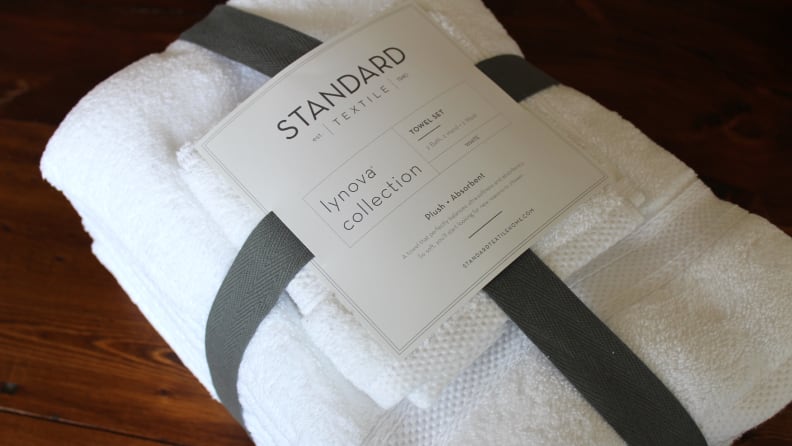 While we don't have a year to test these towels, we did put them through the wash several times to see how well they would hold up. The brand recommends washing the towels on a warm or hot cycle, then drying them on low heat, making sure not to overload the washer or dryer. (Here are some additional guidelines on how to properly wash towels.)
As mentioned, they lost a lot of lint in the first cycle, but that's pretty standard for new linens. After two more washes, the towels stopped clogging the lint filter, but they also lost some of that delightful initial softness. They were still plush and comfortable to use, but that I-want-to-rub-my-face-on-it feeling was gone.
Additionally, I did notice that the decorative border of towels seemed to shrink a little—I could tell because the fabric seemed to be pulled inward in those areas. However, given that the towels are made from cotton, this is bound to happen.
I also put the towels through an unintentional stain test. I don't typically wear a lot of makeup during the summer, but we went out to dinner with some friends, so I actually put on foundation for once. At the end of the night, I washed my makeup off, then grabbed the Standard Textile hand towel to dry my face. Apparently I didn't do a great job removing my foundation, because the poor towel ended up with the dreaded orange streaks across it. Oops.
I tossed the hand towel in the wash the next day (without any treatment simply because I didn't have any), and much to my surprise, the towel came out looking as good as new. I couldn't even find a hint of the makeup stain, which is impressive on a white towel. The Lynova towels definitely get bonus points for that! (If you struggle with this problem, you definitely want to buy white towels.)
Are Standard Textile Home towels worth the price?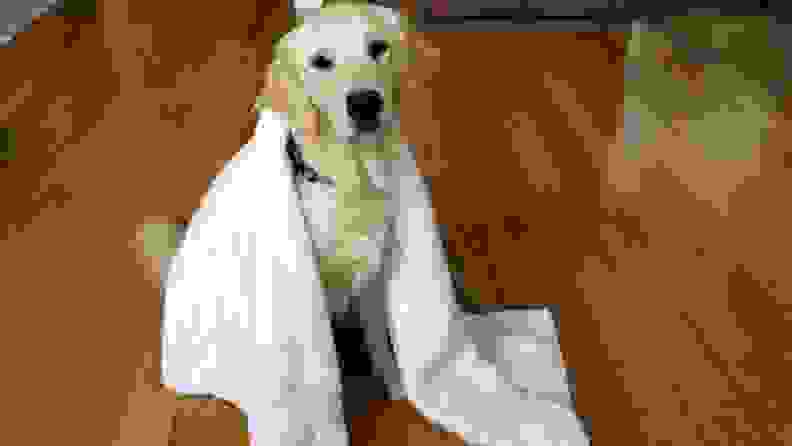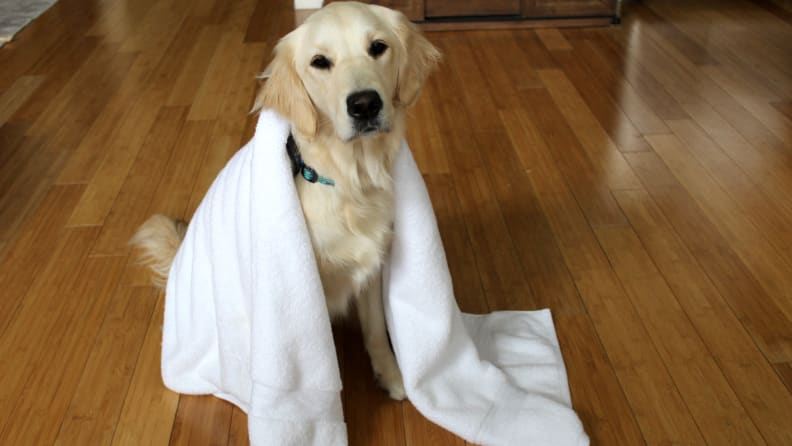 With so many towel options at such a wide range of price points, it can be tricky to find just the right towels for your home. The Standard Textile Home Lynova Plush Towels are undeniably nice, but you're going to have to decide whether their high price point is worth it for you.
Some of the highlights of this product include its high-quality materials and construction, impressive absorbency, large size, initial softness, and easy stain removal. However, on the flip side of the coin, the towels are prone to (minor) shrinkage and will lose their soft feel over time.
If you like the look of the Lynova Towels, I don't think you'll regret buying them. These linens are high-quality and give your bathroom the luxurious vibe of an expensive hotel or spa. However, if you can't justify spending $35 per towel, check out our list of the best bath towels, which includes a number of highly rated budget options.
The product experts at Reviewed have all your shopping needs covered. Follow Reviewed on Facebook, Twitter, and Instagram for the latest deals, product reviews, and more.
Prices were accurate at the time this article was published but may change over time.