Beauty
Odacité Resurfacing Enzyme Mask Review
This exfoliating face mask is like an eraser for dead skin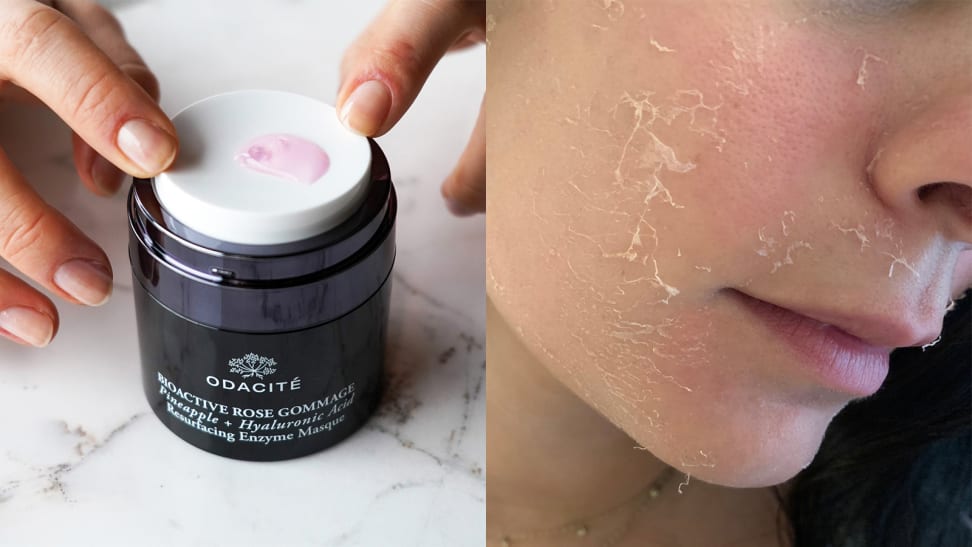 Credit: Odacité / Reviewed / Michelle Rostamian
As a beauty writer who's tested and reviewed dozens of skincare products, there aren't too many claims that catch my eye these days. But one morning, while swiping through Instagram stories, I came across an ad that caused me to do a double take. The image I saw was of a woman peeling flakes of dead skin off of her face. I was intrigued to learn more about the skin-shedding product I was witnessing.
I learned that the product in question was the $62 Odacité Resurfacing Enzyme Mask. It's meant to be the best of both worlds: While its exfoliating formula causes dead skin to flake off, it claims to do so without stripping moisture along with it. It has dozens of 5-star reviews on the brand's website, with fellow dry-skinned, rosacea-prone users claiming it doesn't exacerbate dryness or flare redness—rather, it imparted a natural-looking glow and velvety-smooth skin. After reading these glowing reviews, I decided to give it a shot, and I'm so glad I did.
What is the Odacité Resurfacing Enzyme Mask?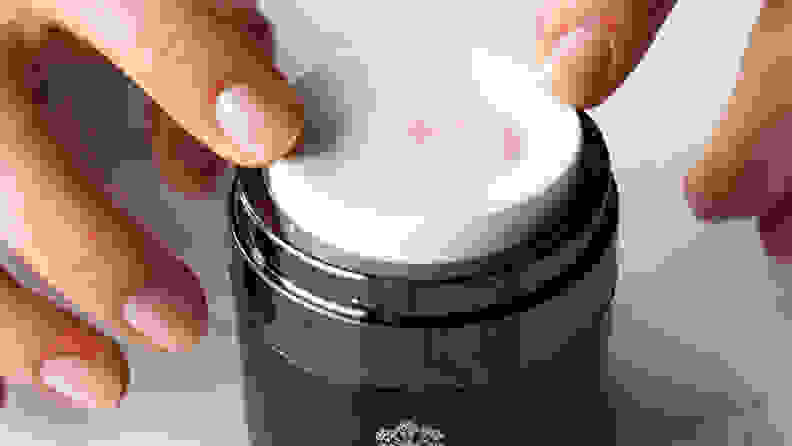 Developed by French skincare brand Odacité, the Resurfacing Enzyme Mask is an ode to "gommage," a term that translates to "erasing" or "exfoliation" in French. This technique of exfoliation combines both physical exfoliation (through peeling the mask off of the face) and chemical exfoliation (through its dead skin-dissolving enzymes). The mask contains papaya and pineapple enzymes to gently exfoliate the skin, as well as hyaluronic acid, which hydrates the skin and prevents it from feeling parched. It also contains rose water, intended to calm stressed skin, and konjac root, which promotes skin hydration and elasticity.
The mask claims to deliver the same skin-brightening effects you'd get from exfoliating with an alpha hydroxy acid (AHA) or beta hydroxy acid (BHA), but without the irritating side effects that can accompany using these types of exfoliating acids (read: dryness and redness). This is because, unlike AHAs and BHAs that penetrate past the outer layer of the skin, enzymes work on the surface of the skin only.
What's it like to use the Odacité Resurfacing Enzyme Mask?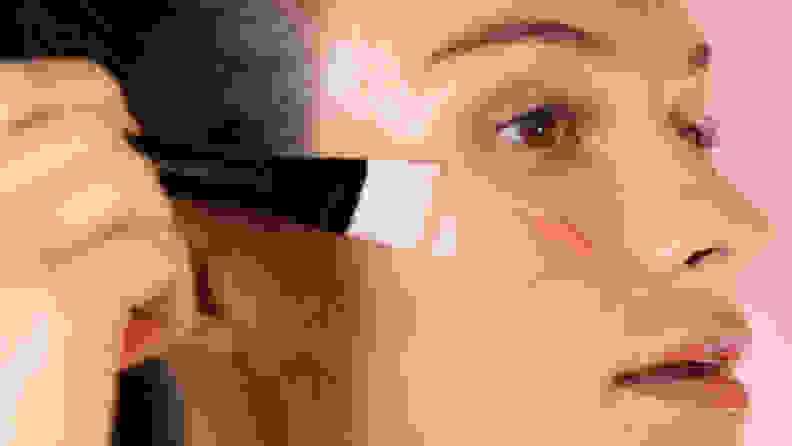 Using the Resurfacing Enzyme Mask is a complete sensorial experience. Upon dispensing the product, you're met with the fresh scent of rose water. As I apply the gel-textured mask, it feels refreshingly cooling and spa-like. When the mask dries, it feels similar to the tightness you'd feel as if using a clay mask. Finally, when I use it as a French gommage (more on how to do that coming), I feel the dead skin shedding off.
There are a few ways to use the Resurfacing Enzyme Mask, all of which begin with applying the mask in a layer using the included brush onto cleansed skin, though you can apply it with your fingers, too. To use it as a French gommage, you'll want a thin, even layer. Before the mask fully dries, about 10 minutes post-application, you use your fingers to gently roll the mask off, starting at the edges and working inward, so the mask pulls away dead skin as you go. The next application method, which won't yield the same dramatic skin-shedding results, involves applying an even layer, letting it sit for 5 minutes, and rinsing it off with warm water before it begins to cause skin peeling. Finally, the mask can be used specifically under the eyes or on the lips soothe and refresh. For this, apply an even layer underneath the eyes or on top of the lips, let it dry completely for about 5 minutes, and gently rinse off with warm water.
Does the Odacité Resurfacing Enzyme Mask do what it claims?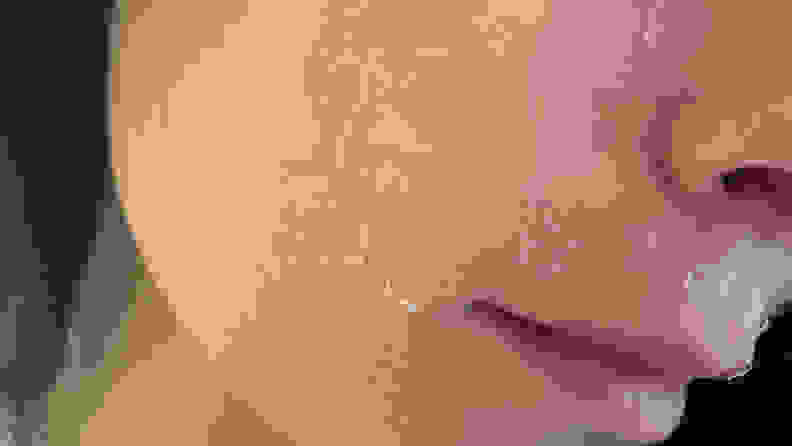 The short answer: yes. The brand promises that the mask treats clogged pores, congestion, and dullness that accompany dead skin buildup. After using it, my skin feels soft and hydrated, leading me to believe that it's actually getting rid of the dead skin and not just creating that illusion with the peel-off removal. It didn't cause my rosacea to flare up, and my foundation went on smoother afterward. I also noticed that my pores didn't look as apparent as they normally do—in fact, I didn't feel the need to reach for a pore-blurring primer before applying makeup. I love that there are multiple ways to use the mask—specifically, underneath my eyes to refresh and on the lips to buff away dead skin.
If you're new to gommaging, using the mask will take some of trial and error. It's essential to apply the mask in a single, even layer, otherwise you run the risk of some areas drying faster than others and you won't get to experience that satisfying roll-off of dead skin.
Also, you'll have to tinker with drying time to find the right time to "erase" the dead skin—if you attempt to do it too soon, the mask will still be too wet, if you try to do it too late, the mask will be too hard to slough off without the assistance of water (which defeats the purpose of a gommage). The sweet spot for my skin and application thickness was to roll it off about 11 minutes after application.
Is the Odacité Resurfacing Enzyme Mask worth it?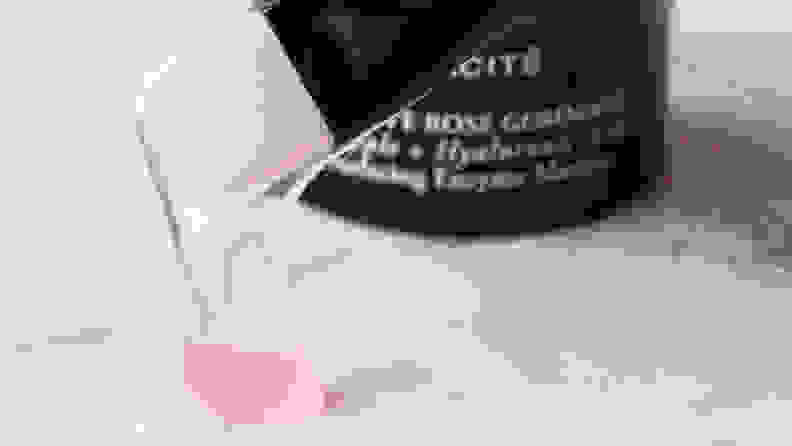 Being that it's good for all complexion types—sensitive skin included—I think the Resurfacing Enzyme Mask is worth the $62 price. It's a great way to reap the benefits of exfoliating (i.e., more even texture, a glowing complexion, and softer skin) without running the risk of irritation. Plus, with a variety of different ways to use it, it eliminates the need to purchase other treatments for areas like your under-eyes and lips. I'd estimate you could get 15 to 20 full-face uses before running through the jar, too.
Get the Odacité Resurfacing Enzyme Mask for $62 from Odacité
The product experts at Reviewed have all your shopping needs covered. Follow Reviewed on Facebook, Twitter, Instagram, TikTok, or Flipboard for the latest deals, product reviews, and more.
Prices were accurate at the time this article was published but may change over time.