Beauty
Meet Kinfield, the brand making skincare for the great outdoors
Finally, a bug spray that doesn't stink.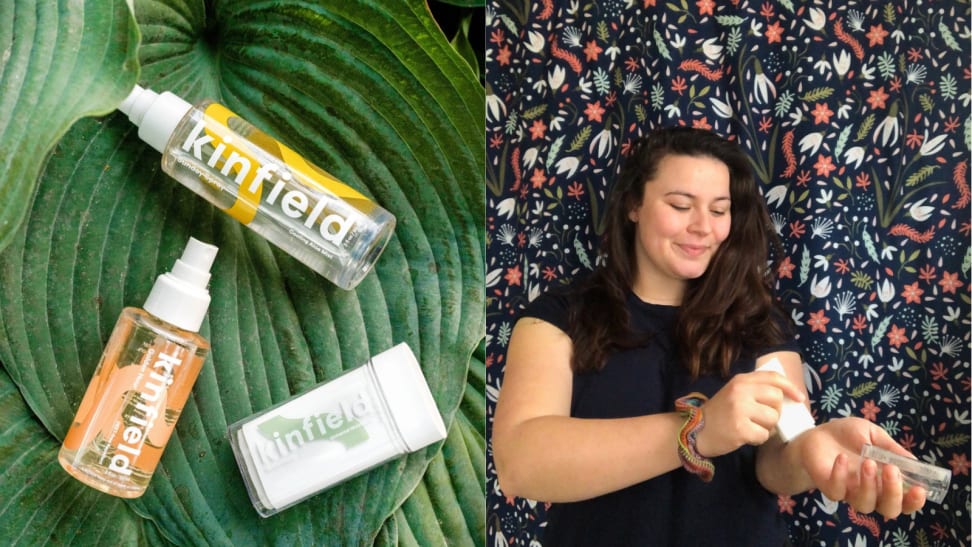 Credit: Kinfeld / Reviewed / Liv Birdsall
If you haven't heard, the cicadas are coming back soon, which means all the other pesky mosquitoes, flies, and bugs that thrive in the summer are coming, too. I've started walking through swarms of flies on walks and lighting tiki torches to keep bugs away while grilling outside. But I can't take my tiki torches with me everywhere! That's where skincare brand Kinfield comes in.
Kinfield came on my radar because it formulated a DEET-free insect repellent, but I soon realized that the line includes other skincare items, like a hydrating mist and a moisturizing balm. Though it was the bug spray that baited me, I was curious about how incorporating skincare products into my time outdoors may enhance the experience. (Spoiler: I found new must-haves.)
What is Kinfield?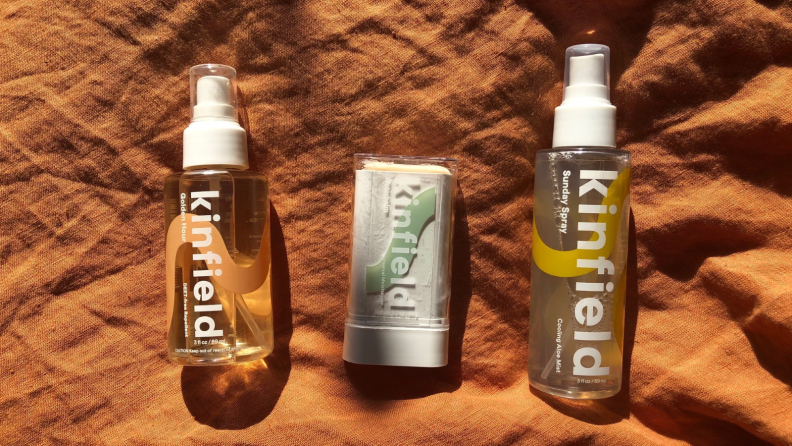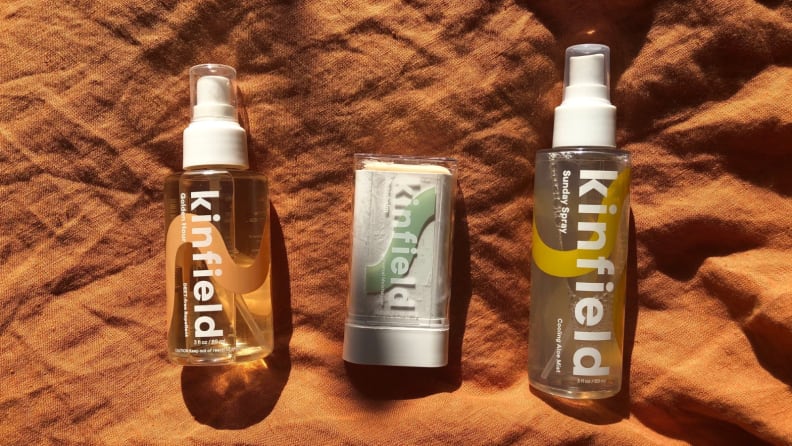 Kinfield makes "great essentials for the great outdoors"—that is, an insect repellent, a cooling mist, and a moisturizing stick. The retailer also sells fun items, like hats, visors, bandanas, and a water bottle. All the products are paraben, sulfate, and phthalate-free, certified cruelty-free by Leaping Bunny, and vegan. The woman-owned brand also claims to have sustainability as part of its mission, meaning products come in BPA-free plastic containers and all orders ship in reusable produce bags. The company also offsets carbon emissions from production and team travel to lessen its footprint.
Though Kinfield's products come in plastic packaging, the company has a recycling program to combat single-use plastics—and you can use the program to mail in plastic beauty containers from other brands to prevent them from being diverted to landfills. Kinfield is also part of 1% for the Planet, a network of environment-focused brands with credible philanthropy.
How did I test Kinfield?
I put Kinfield's "Weekender Kit," which includes the Golden Hour DEET-Free Repellent, Sunday Spray Cooling Aloe Mist, and Waterbalm Universal Moisturizer, to the test.
I incorporated the three Kinfield products into my routine over the course of a few weeks. I went for walks around the neighborhood, bike rides, a sunny hike, and enjoyed a few afternoons grilling out. Here's my take on the products I tested and whether they lived up to their claims, from my favorite to least favorite.
1. Kinfield Golden Hour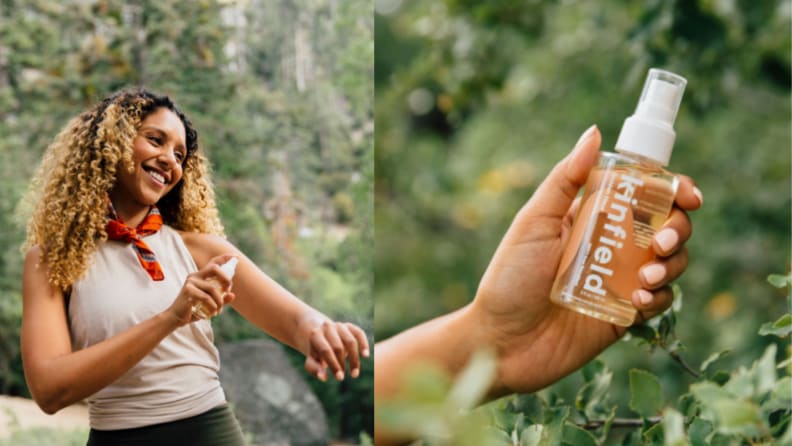 What it claims: Golden Hour is Kinfield's bug spray. It's free of DEET, the oldest and most researched bug repellent. While DEET is proven effective, some users complain about its pungent smell or a greasy feel it leaves on the skin. Kinfield's Golden Hour repellent claims to be an alternative with plant-based ingredients and a more pleasant smell. The spray, which comes with three fluid ounces, should be applied liberally to exposed skin and reapplied every two hours, give or take depending on your activity (and sweat) level. It contains citronella oil, lemongrass oil, clove oil, isopropyl alcohol, lauric acid, water, and vanillin. The brand claims to have commissioned independent trials to prove Golden Hour's efficacy, but essential oils are not registered with the EPA and have not been proven effective at repelling insects. For this reason, you won't want to rely on this for avoiding insect-related diseases like malaria.
What it's like to use it: Golden Hour's scent is bright and strong, but not in the typical nose-wrinkling way that a bug spray often is. The spray smells like citronella and vanilla, and I'll admit, I even used it as room spray while testing it out. It also lingers; I could smell it in my bathroom where I applied the spray even hours later.
Bugs stayed away from me and I was able to enjoy the outdoors without swatting the air around me while walking and hiking. I don't usually end up with many bug bites unless I'm near water, but I felt like the spray worked for me, as the swarms of bugs avoided me all weekend. I sprayed the product in my hair or on my scrunchie to avoid bugs circling overhead, and I didn't experience any mosquitoes or flies pestering me. The liquid comes out of the spray pump easily, and I think this bottle will last me at least half of the summer with regular full-body use. I'm impressed by how well it worked for me, so I'll wear this all summer long!
Get the Kinfield Golden Hour for $22
2. Kinfield Sunday Spray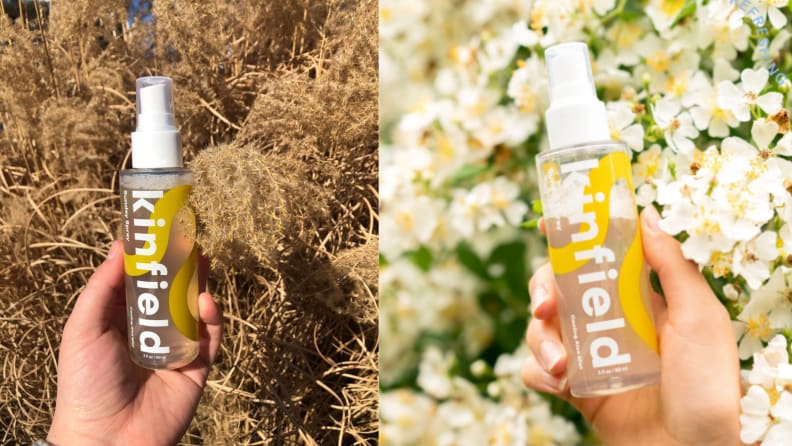 What it claims: The Sunday Spray is your go-to cool-down after a day in the sun or post-workout. Ingredients like aloe leaf juice and cucumber extract help alleviate burnt, red skin. (Though, don't forget to apply—and reapply—SPF before exposing your skin to the sun.) The mist also serves as a mid-adventure refresher to keep you motivated, cool, and smelling clean. It contains food-grade preservatives, like sodium benzoate and potassium sorbate, to keep the ingredients from growing bacteria. One bottle contains three fluid ounces.
What it's like to use it: This spray is as refreshing as it sounds. The mist is light with an aroma of cucumbers, aloe, and a hint of eucalyptus. I've been spritzing my face and hair with the spray before heading out to run errands or go for a walk. I like how light the spray is, especially over sunscreen or freshly lotioned skin. Even with several layers of product on my skin, the spray felt like a moisturizing mist instead of a setting spray that leaves a filmy coating or changes the look or texture of my skin or the products I'm wearing. I'd repurchase this spray and use it to freshen up after yoga class or a day at the office, though the bottle will probably last me a few months.
Get the Kinfield Sunday Spray for $22
3. Kinfield Waterbalm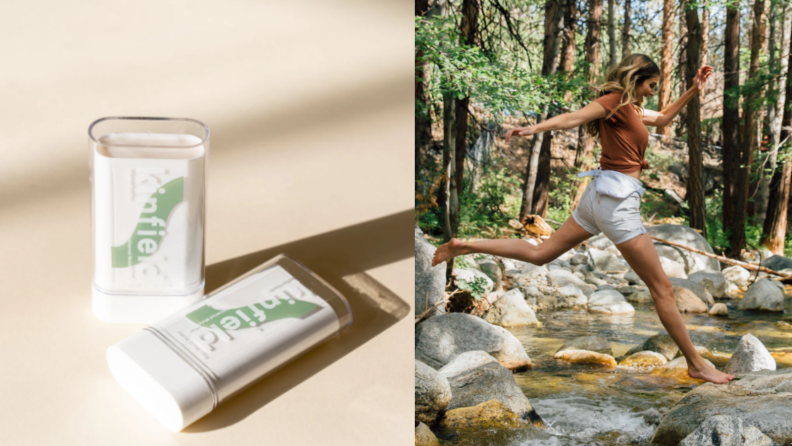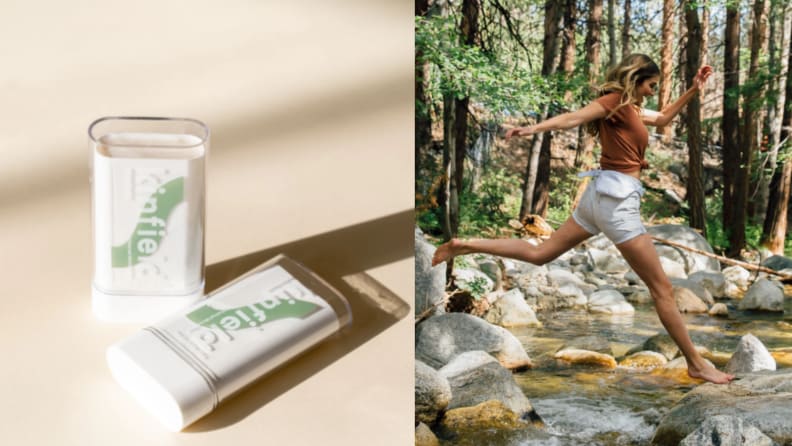 What it claims: Waterbalm, Kinfield's "universal moisturizer," looks like a stick of deodorant, but works like a moisturizer. Waterbalm is made without waxes or oils, and it claims to have no greasy residue. Like the other Kinfield products, it is compact enough to fit in a trail bag or carry-on at 0.7-ounce—about the size of a mini deodorant stick. The Waterbalm formula includes colloidal oatmeal and aloe, which claim to soothe and moisturize the skin.
What it's like to use it: The Waterbalm has a light, herbal scent, which I liked. It's easy to open and swipe Waterbalm across skin, thanks to its roll-up design. The balm was cooling and buttery as I applied it, and I could rub it back and forth over my arm to build up a thick layer. This was harder to do on my hands than my arms and legs because the stick didn't maneuver well across non-flat skin (like my knuckles). My skin wasn't wet or oily after applying the balm, but it felt sticky. I tried rubbing the lotion in right away and letting it absorb on its own, but both ways led to my hands and arms feeling uncomfortably balmy and sticky for five to 10 minutes. It's not a huge deal for me because most lotions tend to take some time to absorb, but if you don't like that dewy feeling, the Waterbalm probably isn't for you.
Another qualm: Several times, the stick of lotion got stuck at the top of the case, like lip balm stuck in the cap, which was annoying. I went through the stick quickly, too; I used it once or twice a day for two weeks on my arms, hands, and sometimes legs and it was over halfway gone. However, you may not use it as often or may buy it for a single weekend trip, in which case, it could be plenty. Of the three Kinfield products, Waterbalm is my least favorite because there are other everyday lotions that are less balmy and last me longer; I prefer the MyMatcha All-Over Moisture Stick from Cocokind as a compact lotion.
Get the Kinfield Waterbalm for $18
Is Kinfield worth it?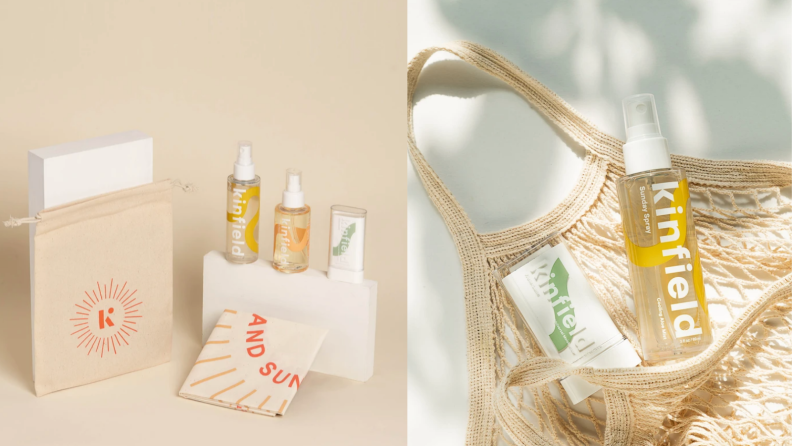 I adore Kinfield's products. I can see the Golden Hour bug spray and Sunday Spray cooling mist becoming part of my daily routine in the warmer months. They're also both handy to keep in your car or backpack. If you're looking for plant-based, outdoor-centric skincare, these products are wonderful.
If you're an outdoorsy person or you have trips planned for this year, Kinfield's products could make great additions to your pack. I've already recommended Golden Hour to a friend who is heading off on a cross-country road trip. If you're prone to sunburns or dry skin, the Sunday Mist is also a great pick for on-the-go adventures.
The product experts at Reviewed have all your shopping needs covered. Follow Reviewed on Facebook, Twitter, and Instagram for the latest deals, product reviews, and more.
Prices were accurate at the time this article was published but may change over time.