Beauty
Sephora Collection vs Ulta Beauty: Which holiday makeup kit is a better gift?
We put both to the test, and one emerged on top.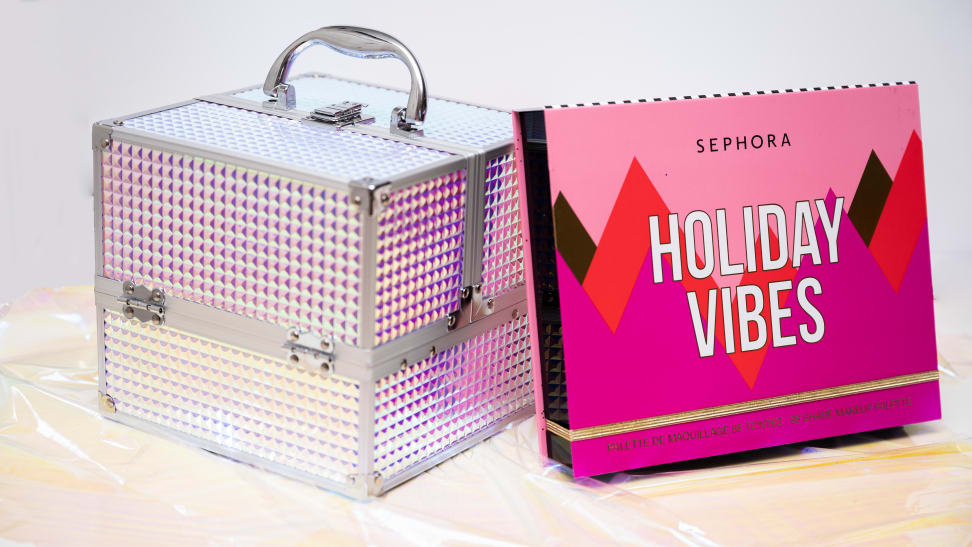 Credit: Reviewed / Betsey Goldwasser
This holiday season, you may be searching for the right gift for the makeup enthusiast in your life, whether they're a beginner looking to experiment or someone who likes to shake up their look. You're in luck—as Reviewed's beauty editor, I put the Sephora Collection Holiday Vibes Blockbuster Makeup Palette and the Ulta Beauty Box: Artist Edition to the test to find out which limited edition kit is better for your giftee (or yourself!).
What are the Sephora and Ulta Beauty makeup kits?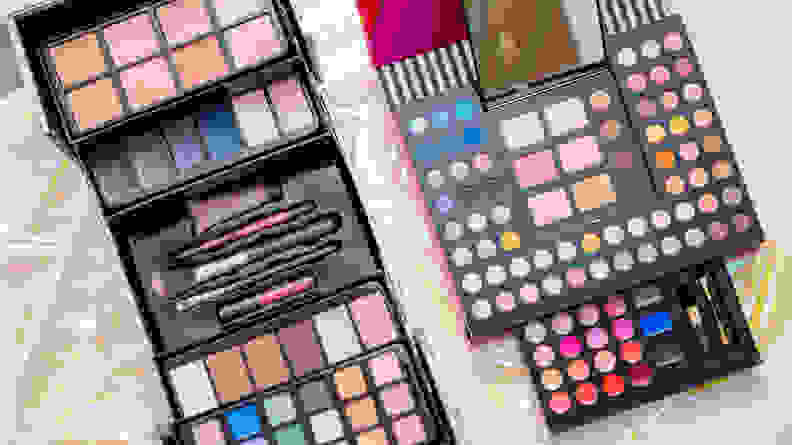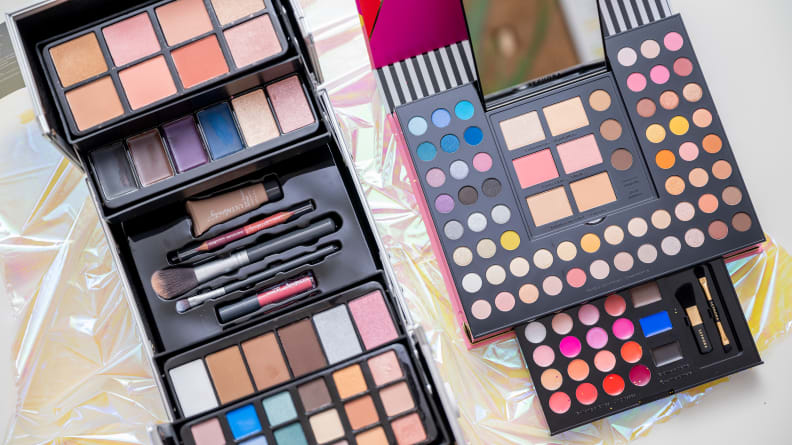 The 90-piece Sephora Collection Holiday Vibes Blockbuster Makeup Palette costs $36 and contains 60 eyeshadows, three eyeliners, three brow powders, six face powders, 16 lip glosses, and two mini makeup brushes. The palette is about the size of a laptop but deeper, and the lid, which is kept closed by an elastic band, flips up to reveal eyeshadows and a foldable mirror overtop of the face and eyebrow products. There is also a pull-out drawer containing lip glosses and gel eyeliners.
The 44-piece Ulta Beauty Box: Artist Edition costs $30 and consists of 18 eyeshadows, four glitter top coats for the eyes, four gel eyeliners, four blushes, three brow powders, two highlighters, two bronzers, two lip glosses, one brow wax, one dual-ended lip liner, one tube of eyeshadow primer, one blush brush, and one eyeshadow brush. The packaging is a cube-shaped box about 10 inches tall that buckles at the top under a handle. When unclasped, the box opens to either side and trays inside expand to reveal each palette. You can purchase this palette with either a black or holographic exterior, but the makeup inside stays the same.

Both palettes are only available for the holiday season.
Which makeup kit has more variety?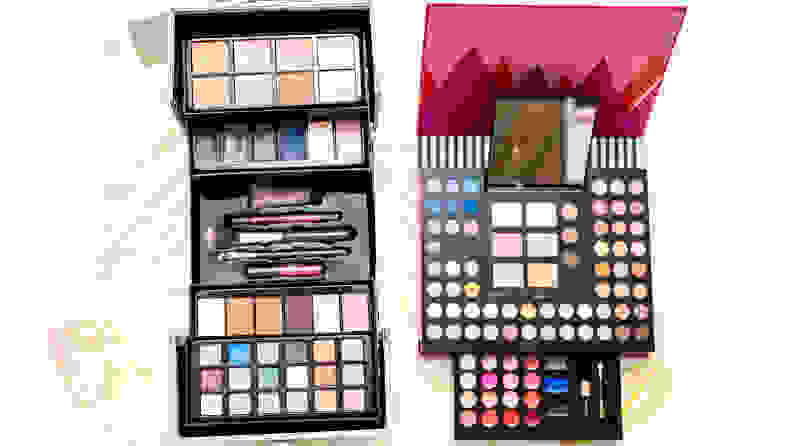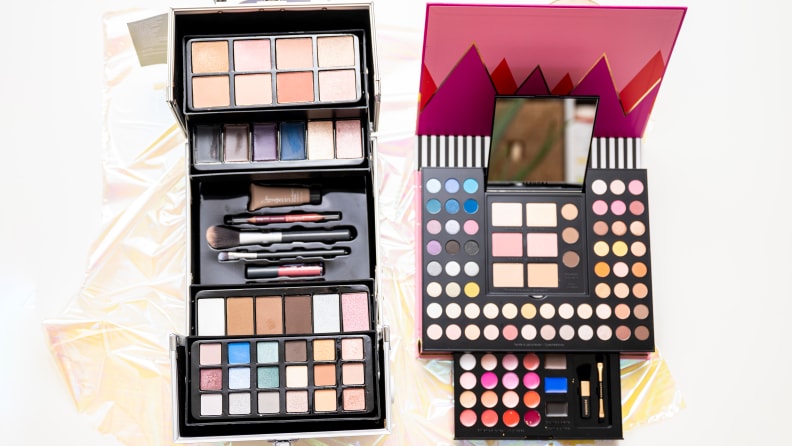 The main attraction of these comprehensive makeup kits is the eyeshadow options, as the face and brow powders may not work for every complexion and hair color. The Sephora Collection palette offers 60 penny-sized pans of matte, shimmer, and glitter eyeshadows in neutral hues like creams and browns and bright tones like blues and pinks. The Ulta Beauty set includes 18 nickel-sized eyeshadows in matte and shimmer shades plus four glitter top coats though, similarly, the colors span from cream to brown to blue to purple to create plenty of looks. Only considering eyeshadows, the Sephora palette offers a better variety for anyone who enjoys playing with colors and changing up their look regularly.
For lip products—the other area where complementary colors aren't so skin-tone dependent—the Sephora Collection box comes out on top again. It contains 16 shades of lip gloss, including shimmery clear, light pink, fuschia, berry, and red. The glosses come in pans, like the eyeshadows, that you dip a brush into. The Ulta kit comes with one dual-ended lip liner pencil that has a coral tone on one end and a berry on the other, and two corresponding tubes of lip gloss with doe-foot applicators. The differing (and arguably easier) application makes Ulta more appealing, but because of the color variety, Sephora is the clear choice here, too.
However, Ulta wins when it comes to face powders. Sephora offers six face powders consisting of two bronzers, two blushes, and two highlighters. The Ulta box offers two more blushes than Sephora as well as shades that may work better for darker complexions, while Sephora's face powders only seem to work for light skin tones.

My pick: Sephora Collection
Which makeup kit has better quality?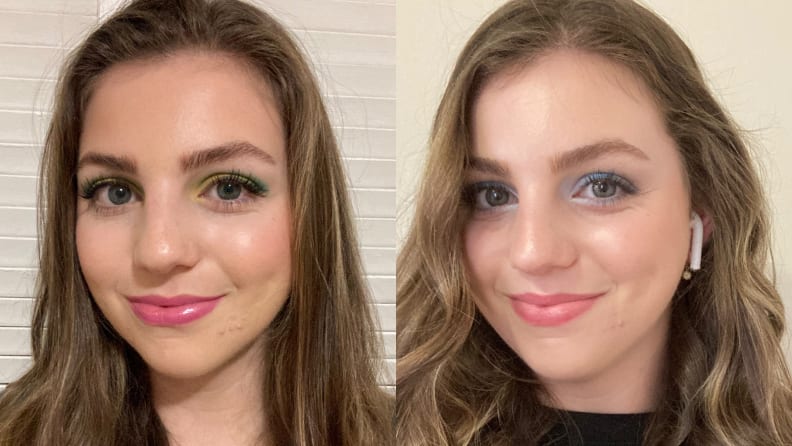 The makeup from each kit is similar in quality; Sephora's eyeshadows offer pigmented results on the eyes when applied on top of concealer that acts like primer, but it took several layers of powder to achieve the opaque appearance I wanted. Ulta also required several coats of powder for a dramatic effect on the eyes, but at the end of application, the looks I created appeared more muted compared to Sephora. All of the other products—face powders, brow powders, gel eyeliners, and lip glosses—performed similarly between the two palettes. Everything was easy to blend but needed to be built up for bolder results. For example, the eyeliners from both palettes appeared translucent on my lids before a second or third coat.
The big difference in quality showed in the two kits' packaging. The Sephora Collection palette is not only easier to store because of its smaller, more compact size, but it has a neater presentation that I preferred. The mirror inside also added a nice touch to this kit. Ulta's packaging is bulky and not conveniently designed for how anyone applies makeup. To properly see and reach all of the items, you need to remove the cheap-feeling plastic palettes from the box, and each of those has a plastic lid taped onto it to keep the makeup from being exposed to the air. It's difficult to take each palette out—you need to pry the flimsy trays out of place and keep the lids off to the side if you want to recover the palettes when storing them (which I'd recommend for sanitary reasons). Not only that—the whole palette reeks of plastic. The makeup itself smells normal and any packaging odor is undetectable once the makeup is on the face, but I was bothered by the odor the entire time I applied the makeup.
My pick: Sephora Collection
Which makeup kit offers better value?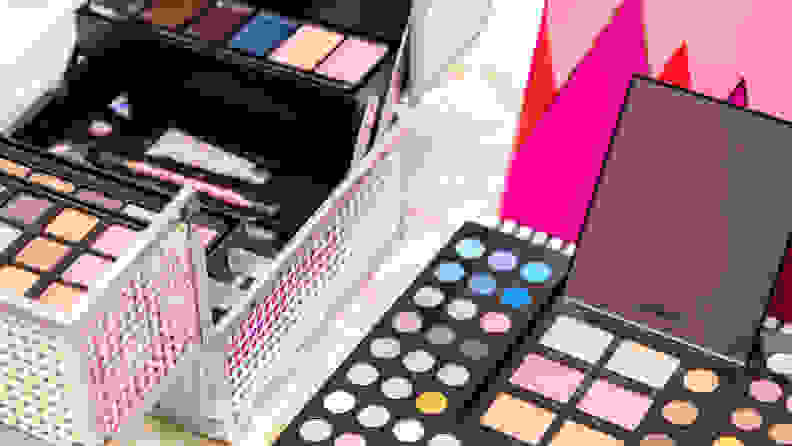 While I could attempt to guess how much each product would cost individually based on what's sold by the brands, I'll base the value on what the brands say. Sephora Collection claims that its $36 kit is worth $297. Ulta Beauty claims that its $30 set has a value of $193. Doing some quick math, Sephora is the clear winner here. Based on my own experience and the variety and quality I judged the palettes to each contain, I would also choose Sephora Collection's palette.
My pick: Sephora Collection
Which makeup kit should you buy?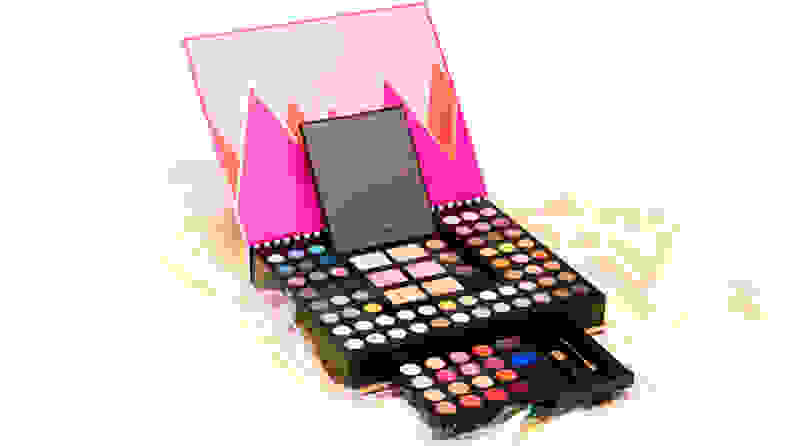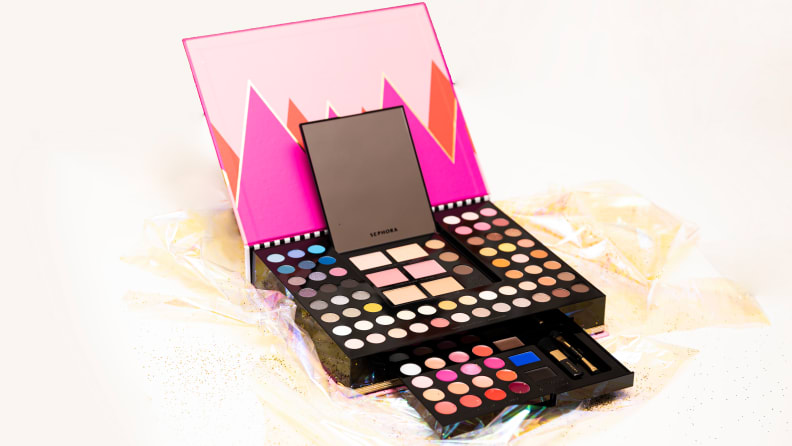 While both sets make for fine gifts for makeup beginners, my vote is solidly with the Sephora Collection Holiday Vibes Blockbuster Makeup Palette. It offers more variety and a higher quality and value overall for just $6 more in price. The palettes are similar in their included eyeliners, brow powders, and lip glosses, and their lack of inclusive face powders. But Sephora stands out with its 60-piece eyeshadow set that spans the rainbow and offers better color payoff. The Sephora Collection's packaging is also more compact and storage-friendly than Ulta Beauty's trunk case, giving it a leg up for that purpose, too.
A makeup enthusiast would be happy to open either of these kits, but I recommend spending the few extra bucks for a more complete offering.
My pick: Sephora Collection
Get the Sephora Collection Holiday Vibes Blockbuster Makeup Palette from Sephora for $36
Get the Ulta Beauty Box: Artist Edition from Ulta for $29.99
The product experts at Reviewed have all your shopping needs covered. Follow Reviewed on Facebook, Twitter, Instagram, TikTok, or Flipboard for the latest deals, product reviews, and more.
Prices were accurate at the time this article was published but may change over time.