But that leaves us wondering about cheap point-and-shoots: They're meant to take good-enough photos for sharing online, just like the cameras built into phones like the Apple iPhone 4S, on review here. The best camera is the one you have, and when your iPhone is always in your pocket, it's hard to justify a pocket cam, even if it barely costs $100.
We're reviewing the 4S as a point-and-shoot, not because we expect fantastic performance, but because we want to see if its camera is good enough to replace a standalone pocket camera. (And just to be clear, we're testing the 8-megapixel, rear-facing camera, not the front-facing, VGA-quality camera.)
The Apple iPhone 4S is available in black and white shades in 16GB, 32GB, and 64GB configurations, starting at $199.99 on contract with AT&T, Verizon, and Sprint.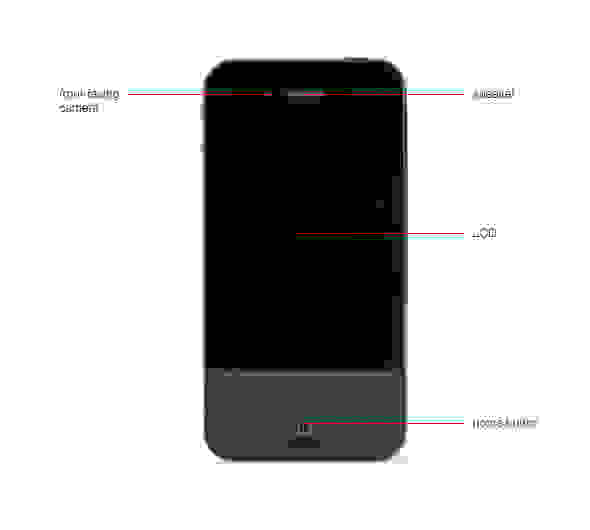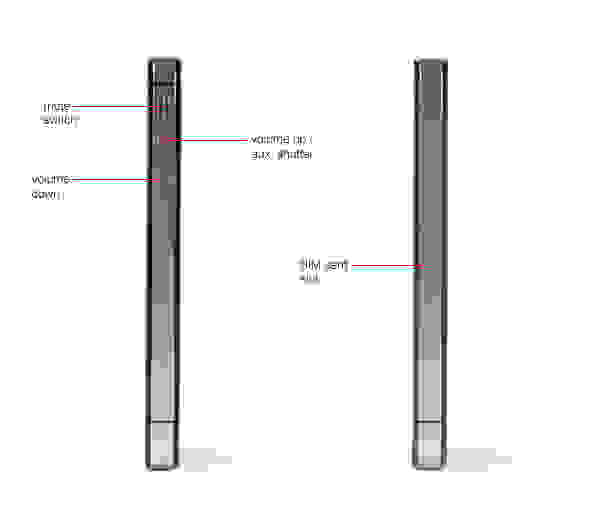 • Apple iPhone 4S

• USB cable

• outlet adapter

• earbuds with volume control and microphone

• quick start guide
By default, the iPhone 4S has an exaggerated, somewhat inaccurate color profile. That doesn't make it bad—in fact, the profile seems engineered to draw out the most striking colors in pictures, the shades that make viewers go "oooh" and "ahhh"—but it isn't true to life.
The lowest color error we recorded was 4.32 with 115% saturation; a good camera scores a 3.0 or lower, and between 90-110% saturation, so this iPhone incurs a pretty substantial penalty. Dark blues and reds are the most exaggerated shades, but every hue besides light green and yellow is at least a bit off from what we consider to be ideal. More on how we test color.
The point of this review is to see if the new iPhone's camera can replace a cheap point-and-shoot. That should encompass much more than color accuracy, but the 4S is among the least-accurate still cameras we've seen. The Canon ELPH 100 HS, which we consider to be the absolute best sub-$200 shooter, earned the top score by a wide margin. The touchscreen-based Samsung MV800 and Nikon S4100 also earned slightly higher scores as well, though not by as wide of a margin.
Here's where it starts to get tricky. The iPhone 4S only has one built-in color mode, which is the one that we used for testing purposes. That said, there are at least a few dozen downloadable apps available that offer additional color profiles, so we've awarded the 4S a few bonus points in this category. If we looked hard enough, we're sure we'd find a mode that would earn a better score on our accuracy test, too.
The built-in camera app on the iPhone 4S is pretty much entirely automatic. Users can't control most shooting parameters, including ISO sensitivity, so we couldn't put the iPhone 4S through our usual noise tests. But because all users will be forced to settle for all-automatic ISO metering (we couldn't even find downloadable any apps that unlocked ISO control), we measured the 4S's noise performance based on just two shots in bright light and two shots in low light. Overall, the results are acceptable. More on how we test noise.
In bright light, the 4S shot at ISO 80, one of its lowest ISO levels. Overall noise was low, at just about 0.8% of the photo. In low light, the 4S shot at ISO 320, which is a medium-high setting on its limited scale. Noise made up more than 2% of those shots, which is substantial.
Had we been able to test the 4S at its maximum sensitivity, we're sure that the overall score would be lower. It has an even smaller sensor that most point-and-shoots, and it showed much more noise at low and medium levels than most pocket cams. But that's neither here nor there, since we couldn't actually test its highest ranges.
As far as we could measure, the 4S performs at a consistent level with our comparison group. It's comes up barely behind the smartphone-esque Samsung MV800 and Nikon S4100, while the top-notch Canon ELPH 100 HS is a clear winner. Since the 4S's pixel count is significantly lower than all of its competitors', shots don't look as grainy as they might if the images were larger.
Apple does not publish the iPhone 4S's ISO range and there's no user control over sensitivity, but as best we could discern (by trial and error), it spans from 64-800. Most pocket cameras extend to ISO 1600 or beyond these days, but since the iPhone's sensor is tiny even by compact-cam standards, the engineers were probably wise to give this camera a conservative limit.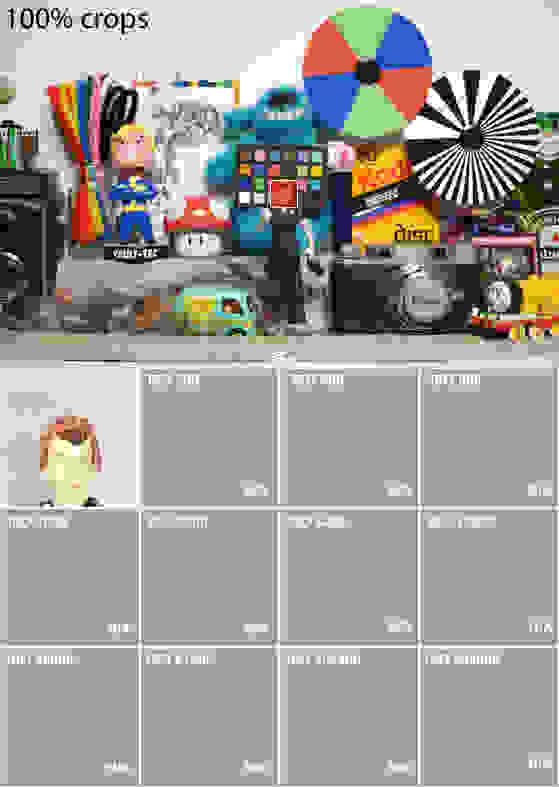 NOTE: The images above are not used in our testing or scoring, but are included here to show real-world examples of the differences between cameras at the various ISO settings.
All things considered, the iPhone 4S earned a sub-par resolution score. Remember that the camera is just one feature on a decked-out gadget, and despite that, its resolution performance is better than a number of point-and-shoots we've seen this year (not included in this comparison group—no point in fighting straw men). Sharpness is mediocre, and it loses points for its mid-range pixel count and singular photo size, but there's almost no distortion at all, and chromatic aberration is well controlled. That's a pretty good result overall, even if it still ends up at the back of the comparison group. More on how we test resolution.
Distortion ()
As we tend to expect from cameras with no zoom, the iPhone 4S earned the best distortion score that we award. It shows almost no distortion at all, just an insignificant 0.04% pincushion effect. We can't ask for much better than that. A few other cameras in our comparison group earned our top score as well, but the 4S is the straightest arrow of them all.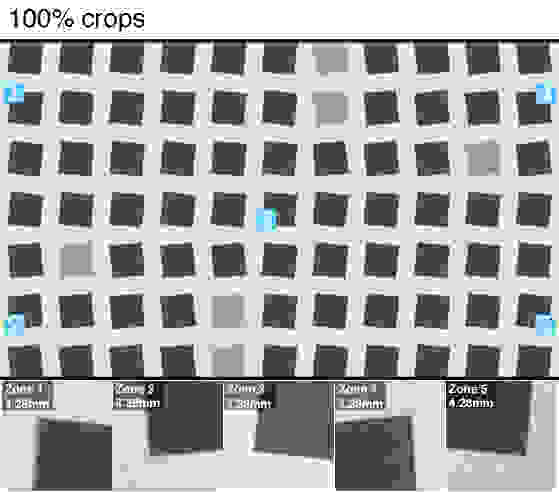 Sharpness ()
The 4S certainly doesn't take razor-sharp photos, but they're a lot crisper than the score lets on. The iPhone's relatively low pixel count (8 megapixels) compared to most point-and-shoots (12 to 16 megapixels these days) could partially account for the mediocre score. The lens is tiny and flat, which isn't an ideal design, so that could knock a few points off as well. The 4S also doesn't seem to apply as much sharpening as a number of point-and-shoots. So the score is low—much lower than any of the point-and-shoots in our comparison group—but the real-world results do look decent, especially toward the center of the frame.
Chromatic Aberration ()
Aberration is well controlled, with just a small amount of green fringing visible in areas of high contrast at the edges of the frame. Of the comparison group, the 4S earned the top score by a notable margin.
Most cameras weigh in north of 12 megapixels and offer at least a few photo sizes and aspect ratios, but not the 4S. It only captures 8-megapixel photos in a 4:3 aspect ratio.
We did not test the new iPhone's stabilization capabilities. Anti-shake is always on, so we can't collect a control data sample. It's only electronic stabilization anyhow, so even if we did test it, we wouldn't expect it to have any noticeable effect in our somewhat violent testing procedure. More on how we test image stabilization.
The 4S's video mode is about as stripped down as the Flip camcorder's setup: switch the virtual toggle to video mode, press the red record button, and start filming. That's it. There's no zoom, and the only adjustable option is whether to use the LED lamp as a light source (which can actually be pretty helpful). Autofocus is continuous and pretty accurate, though it sometimes shifts in and out of focus.
The video color profile is very similar to the still-photo color profile: vibrant, bright, and not particularly accurate. That said, what's below-par for still photos is decent for video mode, and the 4S earns a decent video color score, in the ballpark of the Nikon S4100 and Samsung MV800. The Canon ELPH 100 HS is the clear winner, but it's more accurate than just about any budget point-and-shoot we've seen. More on how we test video color.
Thanks to the crisp 1080p resolution, the 4S's video sharpness is excellent. We measured 625 LW/PH in our horizontal motion test and 575 in our vertical test. That's one of the best results we've seen from any fixed-lens camera. More on how we test video sharpness.
Like everything else in the iPhone 4S's camera app, playback mode is simple and streamlined. The playback mode "button," if you can call it that, is a tiny thumbnail of the most recent photo, situated in a corner of the shooting-mode screen.
In playback mode, scrolling among photos is touch-based and quite responsive. Tapping the screen brings up a few options: the camera roll, which displays a menu of all photos and videos saved in the camera app; an edit button, which we'll cover below; a slideshow option (the play button); a share button (the forward arrow) for messaging, Twitter, email, direct printing, setting wallpaper, and assigning photos to contacts; and a delete function (the trash can).
The 4S's camera app allows a few basic edits to photos (not videos): rotate, auto-enhance (for brightness, saturation, and the like), red-eye removal, and cropping. There are dozens of downloadable apps that expand the editing capabilities to include color correction, filters, hands-on brightness and saturation controls, and tons more.
The 4S does allow direct, wireless printing, but only with a small handful of compatible printers. Check the short list on Apple's website to see if yours is included (it probably isn't). Apple likes to brag that the 8-megapixel photos are high-res enough to print directly to 8.5x11" paper, which we agree with.
The iPhone 4S sports a sleek 3.5-inch touchscreen LCD. It's known as a "retina" display in Apple's marketing lingo, a fancy way of saying that it's really, really high-resolution—324 dots per inch, higher than print-quality demands. The big touch-panel is far more responsive than any that we've seen on a standalone camera, and it's a boon to the interface. It's one of the best aspects of the iPhone.
Rather than a traditional bulb-based flash, the iPhone 4S uses a small LED lamp as a flash. It's pretty powerful, but can add a weird, awkward cast to some shots, especially in very dark settings. Default controls are limited to on or off, but there are a bunch of downloadable apps that expand the control and usefulness. One app turns on the LED as a permanent light source, which lets the camera expose the shot more consistently. Be careful of wandering fingers, though.
A tiny, flat lens sits up in the top-left corner of the rear panel. It's a fixed 35mm-equivalent, f/2.4 unit, which is narrow but decently bright by compact standards. There's no lens enclosure or cap, but it's flush with the chassis. Like the flash, it's placed perfectly for your pointer finger to get in the way.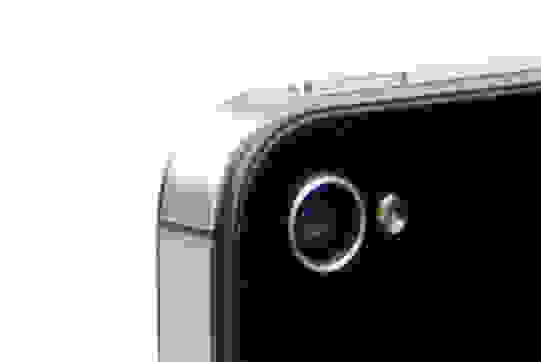 The iPhone 4S does not offer any optical zoom, which is no surprise considering the thin design. It does offer 4x digital zoom, which significantly reduces image quality.
Like every other mobile Apple device, the iPhone 4S comes with a built-in, lithium-ion battery. It charges via USB connection to a computer or one of the ubiquitous white bricks that we've been collecting since the original iPod. No word on how many photos in can take on a charge, but we'd imagine that it's quite a few since it's large enough to power a mobile phone for an entire day.
The 4S ships in 16GB, 32GB, and 64GB configurations, and further expansion is not possible.
Aside from the headphone jack, the only physical connection is a 30-dock connector on the bottom of the body. It's used for just about everything: charging, USB connection, or any of the dozens of specialized dongles that can attach to Apple products, including card readers.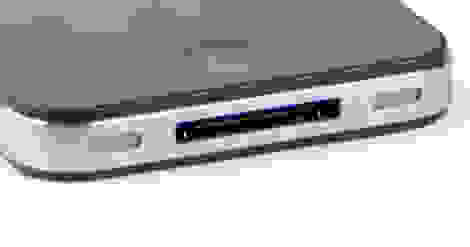 More importantly, the 4S offers plenty of wireless connectivity, including WiFi and 3G (or Edge) data connections through a handful of wireless carriers.
Front-Facing Camera
While we aren't factoring its photo capabilities into this review, it's worth noting that the 4S has a front-facing camera. It's VGA quality—significantly lower quality than the rear-facing camera, but it's useful for self-portraits and video chatting.
The iPhone 4S's camera app offers little user control, far less than even basic point-and-shoots. By default, the 4S is all automatic, all the way. However, there are plenty of downloadable apps that can expand user control to something resembling a traditional program shift mode.
Scene Modes
The 4S offers no built-in scene modes, but some apps have traditional scene presets like portrait and landscape modes.
Once again, there are no built-in scene modes, but the number of photo-effects apps is astounding—it's probably the single most popular photo-related app category in the App Store.
The 4S offers no manual controls by default. A few apps unlock a shutter priority mode, mainly meant for long exposures. Since the aperture is permanently fixed at f/2.4, there will never be an aperture priority mode on the 4S, no matter how hard any enterprising app programmers might try to change that.
By default, the 4S doesn't have a drive mode, but some apps do offer a continuous drive setting.
Shot to Shot ()
Even without a drive mode, though, the 4S is pretty speedy. We tested by repeatedly tapping the shutter rather than holding the shutter down. We measured a respectable 2.6 frames per second, which is faster than any of the other cameras in this comparison group.
The iPhone 4S has a striking, minimalist design that isn't very comfortable to handle. It works fine as a phone or portable gaming machine, but it's too light and slippery to be a comfortable camera.
A rubberized case or cover will improve the ergonomics a bit, but this is built for looks and carry-anywhere convenience, not comfort.
There aren't many buttons to speak of, as the interface is predominantly touch-based. There's very little that resembles a traditional camera here. The volume up button doubles as a shutter button, but aside from that, all navigation within the camera app is touch-based.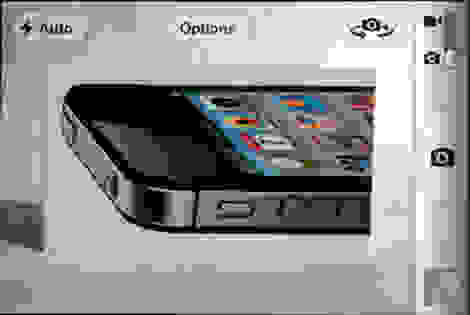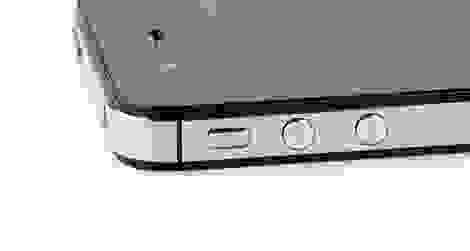 Since the camera is almost entirely automated, the menu system (in the default camera app) is sparse and mostly graphics-based. A flash menu, a tiny options menu, and a camera toggle are overlaid on the LCD, next to a thin bar with a shutter release and playback toggle. There are a few more options in playback mode, laid out in thin bars at the top and bottom of the screen, but it's a minimal, streamlined system.
The 4S ships with a thin quick-start pamphlet, which devotes two panels to the camera and video functions. It's a dead-simple app, so if doesn't need much explanation, and there's plenty of support available online.
The Canon ELPH 100 HS is the budget camera by which we measure all other budget cameras. If we recommend any sub-$200 pocket camera, it's this one. The pressing question here is whether we'd recommend the ELPH 100 to somebody who already owns the iPhone 4S.
It's a big maybe, and for the average, casual photographer, we're leaning toward "no." People bring their phones everywhere, yet they only carry cameras on certain occasions. Most spur-of-the-moment shots are going to be taken with a phone while the camera sits on a shelf at home. The ELPH 100 absolutely takes better photos than the 4S (though not so much videos), and the ELPH 100's design and user experience are better suited to photography.
Even its little bit of optical zoom can go a long way, and that's something the iPhone will likely never have. So if a momentous occasion is coming up, something like the birth of a child, it's probably a good idea to get a dedicated camera like the ELPH 100. But if you think you need a camera just because it's a good thing to have, save your money—you'll end up using your iPhone more anyway.

/r:render
The Samsung MV800 is a $280 camera designed to mimic a $200 smartphone. It runs on a decent touch-based interface where shooting modes behave like apps. The chassis looks like it was crafted from surplus Alias 2 message-phone bodies, complete with a brick-like heft and a flip-up LCD. Image quality is fine, but it's over-processed and looks pretty rough indoors or in low-light.
It should be obvious, but if you already have an awesome smartphone with a decent camera, like the iPhone 4S, don't buy a half-baked camera that acts like a half-baked smartphone. The MV800 is fine, but not worth the price of admission. Save your cash and pay your data plan for a few months.

/r:render
The Nikon S4100 is a middle-of-the-road cheap point-and-shoot if we've ever seen one. Its image quality, design, and user experience are all just OK. Most major camera makers offer at least one entry-level camera like this, and the S4100 happens to be perhaps the most average of these average cameras.
If you own an iPhone 4S, there's reason to spend money on an average point-and-shoot like the S4100. Its image quality is only somewhat better the 4S's, and despite the little advantages like optical zoom and somewhat better ergonomics, we wouldn't even recommend it to most folks looking to buy their only camera, let alone people who already own a decent camera in the 4S.

/r:render
When the iPhone 4S was announced in October, one of the biggest talking points was the camera: 8-megapixels, 1080p HD video capability, and a bright aperture and extra-sensitive sensor for better photos in more shooting situations, features that it shares with some of the best standalone cameras on the market right now.
As you might expect from a gadget that tries to do it all, the camera on the 4S has some limitations. It's a good camera, not a great one, but the key point is that it's built into one of the best all-around gadgets of all time (so far). It takes decent pictures and shares them instantly. It can become a better camera just by downloading a free app. The camera hardware is better than that on any previous iPhone, and at least judging by the spec sheet, it's among the best on any smartphone by any manufacturer right now.
The real question is whether the camera on the iPhone 4S is good enough to replace a point-and-shoot camera, or at least good enough to stop owners from buying a new point-and-shoot. Most of the time, that's a definitive yes.
For casual photographers, there's no good reason to buy a cheap camera just to keep around as a snap-shooter when the iPhone 4S already fits the bill. The iPhone will always be in your pocket or purse, ready to take a "good enough" photo on a moment's notice, add a hip filter to that photo with a free downloadable app, and share it instantly. If photography is just a passing interest, it's best to save the cash that would've gone toward a cheap camera and pay for a month or two of cell phone service.
Of course, there's still plenty of room for standalone shooters. Any camera in the $250 price range offers plenty that the iPhone 4S doesn't—a longer zoom range, more built-in features, and heaps of hands-on manual control, just to name a few possibilities. For hobbyist photographers, a purpose-built camera will always have better handling and consistently better picture quality than an all-in-one gadget like the iPhone ever will. That won't change for quite some time. Camera phones keep getting better, and they're closer than ever to rendering cheap pocket cams irrelevant, but they only make the art of photography even stronger.
Meet the tester
Liam F McCabe
Managing Editor, News & Features
@liamfmccabe
Liam manages features and news coverage for Reviewed.com. Formerly the editor of the DigitalAdvisor network, he's covered cameras, TVs, personal electronics, and (recently) appliances. He's a native Bostonian and has played in metal bands you've never heard of.
Checking our work.
We use standardized and scientific testing methods to scrutinize every product and provide you with objectively accurate results. If you've found different results in your own research, email us and we'll compare notes. If it looks substantial, we'll gladly re-test a product to try and reproduce these results. After all, peer reviews are a critical part of any scientific process.
Shoot us an email