Blackmagic, an Australian company that's been on the leading edge of video equipment for some time, threw its hat into the cinema camera ring last year with its straightforwardly-named Cinema Camera (MSRP $1,999.00 as of this month). The camera's unique form factor, low price, and impressive specs made it an immediate object of interest to a select few—clearly what Blackmagic was hoping for. After months on backorder, the Cinema Camera is finally readily available— but is it ready for its close-up?
A unique profile
The Reviewed.com office came to a standstill after we unboxed the Cinema Camera. Our coworkers tried in vain to figure out exactly what it was. It's a wedge-shaped brick with a protruding lens mount on one side and a 5-inch touchscreen on the other. Our coworkers didn't know what to make of this newfangled motion picture camera.
While the Cinema Camera's shape seems conducive to handheld shooting, in practice its weight and squared-off sides make it less than ideal to use by itself. On the outside, what you see is part brushed aluminum, part rubberized plastic. It's a solid design that evokes a very modern aesthetic and uses its signature look to make a clear statement. This is a different take on what a cinema camera should be, and Blackmagic's designers make sure you know from the first time you lay eyes on it.
The three threaded holes on the top of the camera, along with its standard tripod mount, make the Cinema Camera easily adaptable to different types of rigging. For this review, we were provided rigging by Wooden Camera. They were kind enough to loan us their Quick Kit and Cruiser shoulder mount, which we found invaluable. Rigging is a necessity with this camera, as its shape and lack of grip makes it tough to handle. With the Quick Kit, we were also able to add an external battery—crucial for longer shoots since the internal battery is entombed inside the camera.
The Blackmagic's touch-based user experience is simple and straightforward. We found that it replied reliably and was easy to understand. Beneath the screen is a row of playback buttons, along with power and menu buttons. The two topmost buttons—Iris (which uses a basic autoexposure algorithm to open or close the lens aperture), and Focus (acts as a toggle to turn focus peaking on or off) are the most important dedicated image controls on the camera.
That row of buttons beneath the screen includes the power, menu, playback and secondary record buttons. Even though these keys look tidy and even give a decent amount of feedback, they're all identical once the lights are turned off. Given enough time, you'd probably memorize their position just relative to the left and right sides of the camera but there's no tactile hints as to which button is which—each is the same size, shape and texture. On future revisions, it would behove Blackmagic to either vary the texture of the most important buttons (say, menu and power) or make them all backlit for easier operation in the dark.
On the right-hand side of this camera, an aluminum hatch opens to reveal the slot for swappable SSD drives as well as a Mini-USB port used for firmware updates. The left-hand side is covered with other I/O options—A/C, Thunderbolt, headphones, ¼-inch jack for mic input (2x), HD-SDI, and LANC remote ports are all present and accounted for.
One strange choice Blackmagic made with the Cinema Camera is the front-mounted record button. It's bright red and glossy, and looks like it should double as a tally light, but sadly, it doesn't. A tally light would have been a really neat way to advertise this camera's studio-quality aspirations, but alas, it was meant not to be.
The most inconvenient usability choice has to do with Blackmagic's reliance on that big, 5-inch LCD touchscreen. Not only does it get covered with fingerprints, but the panel's quality is awful. Viewing angles were atrocious, making the already-flat color profile look downright alien when viewed off-angle. It's hard to tell what's in focus—and more importantly, what's properly exposed. Even with the included sunshield attached to the camera, shooting in full sunlight was nigh impossible at times. Compounding things further, the sunshield makes using the touchscreen much trickier, since you have to reach around it on three sides in order to change settings. Although you might learn to work with the built-in screen, we'd recommend getting an external monitor or EVF. You'll save yourself some real headaches later on.
"It's complicated…"
A big part of the the Cinema Camera's personality comes from its lens mount and the way it interacts with lenses. There are two versions of the Cinema Camera—the one we tested was the original version with Canon's EF mount onboard. While this variant might be good for filmmakers accustomed to shooting with Canon's DSLRs or C-series cinema cameras, there's a couple of catches.
First, even though it has an EF-compatible mount, you're limited to manual focus only. There's no autofocus, so here's hoping you or someone you work with is decent at pulling focus by hand. The only auto feature on the EF version is a rudimentary autoexposure function, triggered by pushing the Iris button. While you'll have to pick the shutter angle and ISO, the camera will use that data to stop down or open the aperture. We found that it wasn't exactly accurate, and shouldn't be relied on exclusively.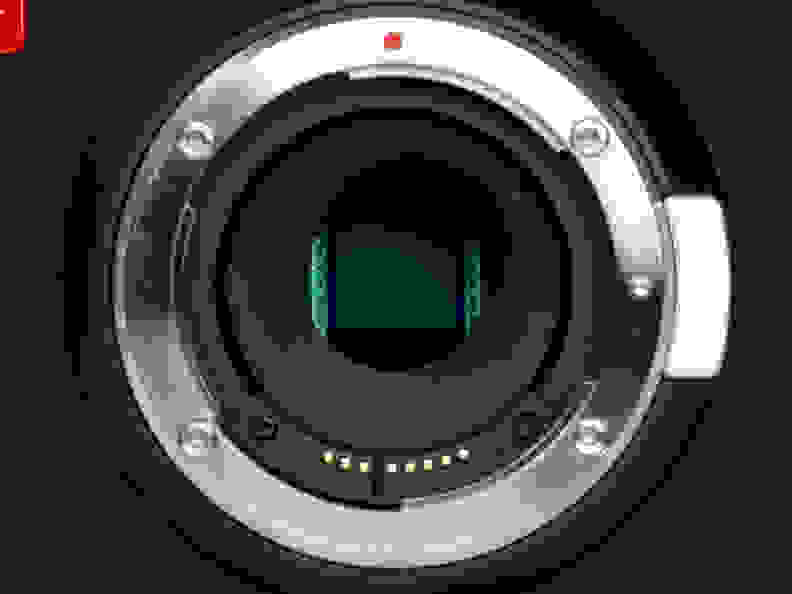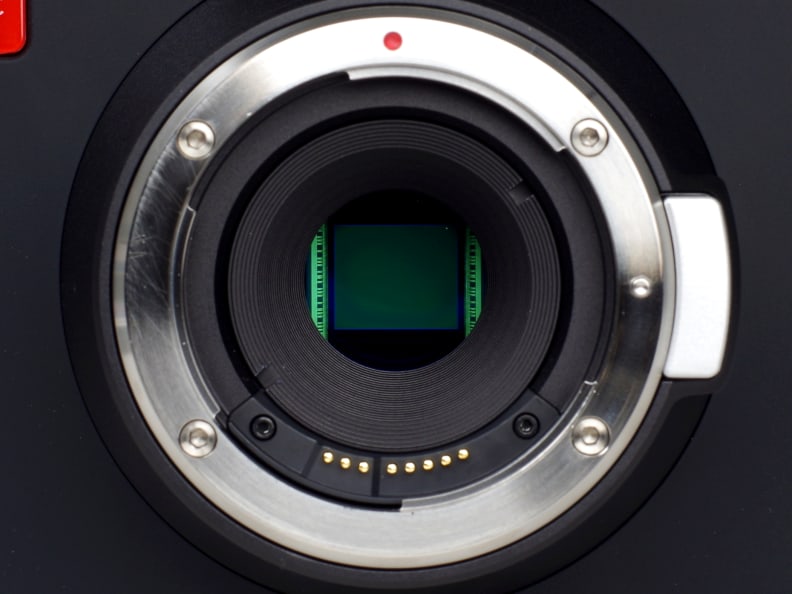 Second, the Cinema Camera's sensor is small when compared to a DSLR. In fact, it's smaller than APS-C and Micro Four Thirds, and only a bit bigger than a Super 16-sized sensor (it measures 15.81mm x 8.88mm). While the sensor in the Cinema Camera is no slouch, its footprint makes for a crop factor of 2.3x when used with EF lenses. Yikes. While that might not be a dealbreaker for mediums and close-ups, good luck finding a wide lens that'll stay wide when mounted on this camera. We had the chance to shoot with Zeiss's CP.2 18mm t/3.6, one of the widest cine lenses available for this mount. Even after the 2.3x crop, we were using an equivalent closer to 41mm, a fairly normal focal length.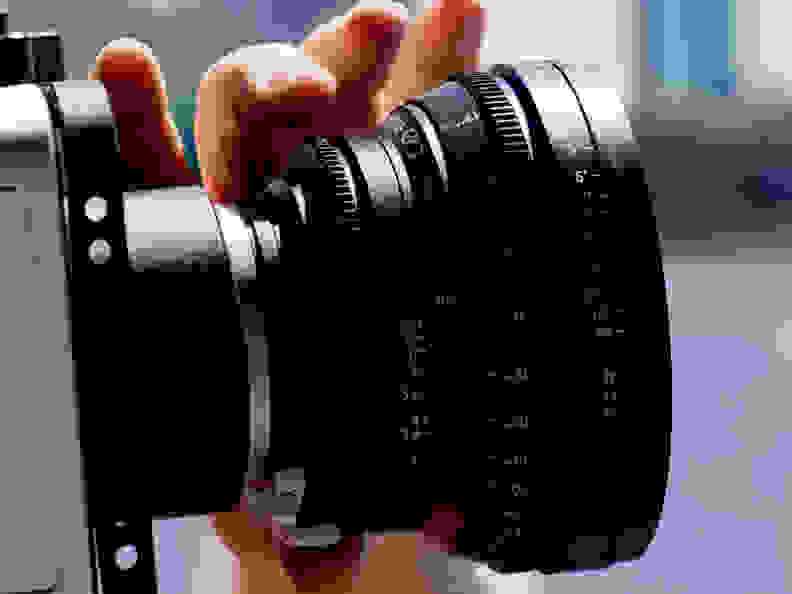 Perhaps as a reaction to these problems, Blackmagic rolled out a second version of the Cinema Camera. The Cinema Camera MFT has, as its name suggests, a Micro Four Thirds mount. But, if the autoexposure option detailed above sounded appealing, you're out of luck. It's a passive M43 mount and the camera can't communicate with mounted lenses at all. That's going to be an instant deal-breaker for videographers who have fallen in love with their GH3s and Olympus/Panasonic glass—you won't be able to use these lenses since they're completely electronic, and have no mechanical focus or aperture linkages. And on top of these issues, you're also stuck with the same 2.3x crop factor.
While it might be easier to find a lens that will remain wide-angle on the M43 mount, you'll have to weigh the benefits and drawbacks of each version of this camera. We hope that Blackmagic's next big camera will take after its baby Pocket Cinema Camera and come with an active M43 mount. At the very least, an active M43 mount will make Blackmagic's cameras a no-brainer upgrade path for Panasonic videographers.
Minimal(ist?)
There's a certain amount of restraint at work here, in that the Cinema Camera doesn't aim for easy points with lackluster features. We're used to testing camcorders and digital cameras overburdened with features in order to appeal to any and all shoppers. Because Blackmagic created this camera with pro filmmakers in mind, there's no fluff here whatsoever.
Menus are refreshingly uncluttered and every single setting is on full display here without having to dig.
But this simplicity also means the Cinema Camera gets out of the user's way. Menus are refreshingly uncluttered and every single setting is on full display here without having to dig. It might give the impression of shallowness at first, but we think it's simply no-nonsense.
On the other hand, this lack of features sometimes bites this camera in terms of usability. In-camera playback is barely usable, and there's no way to either see how much space is remaining on your SSD (in GB or minutes) or delete files from it. Additionally, SSDs need to be formatted on a desktop computer, so you can't use something off the shelf—SATA SSDs usually come formatted as NTFS or FAT32, not the HFS+ or exFAT the Cinema Camera recognizes.
Video compression options are a huge selling point for this camera. Footage shot with the Cinema Camera can easily integrate into preexisting HD workflows, no matter whether you're using Premiere, Final Cut, or Avid—ProRes 422 and DNxHD compression options make it a snap to choose what fits your 'flow best.
The ability to shoot RAW will appeal to filmmakers who want to get the highest quality possible. Using the open CinemaDNG standard, the Cinema Camera can capture 2.5K video. Using this hefty capture method preserves more dynamic range, giving you greater editing latitude later without crushing blacks. 2.5K video can also be directly downsampled to 1080p, or creatively cropped in post.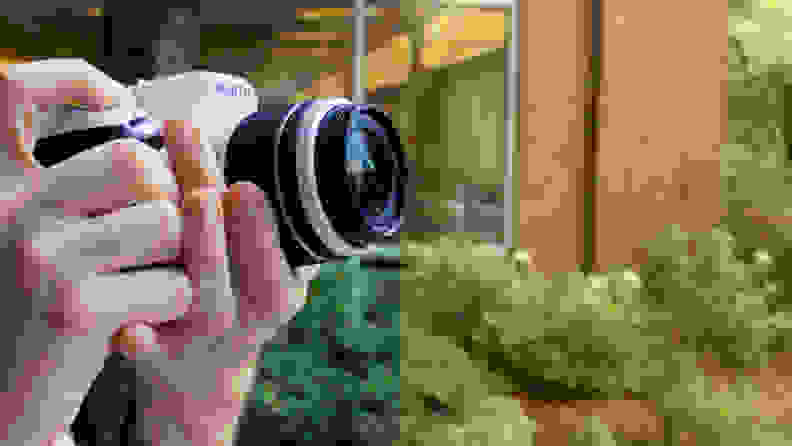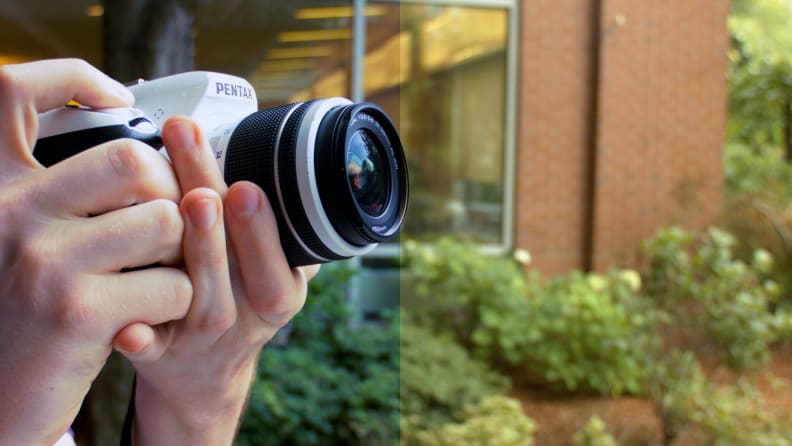 Here's a question for you— what's the color temperature of sunlight? If you don't know, you'll likely have a heck of a time operating the Cinema Camera. As it eschews auto features for manual controls, white balance is set by punching in a Kelvin preset. You'll have to approximate and fix the image once you've offloaded it from the camera, using any number of editing or color grading tools. (The answer is 5600K, in case you were wondering)
Promises fulfilled
The Cinema Camera's marquee feature is a claimed 13 stops of dynamic range. While that seems like it might be a fish story, we're happy to report that Blackmagic has delivered on what its spec sheet promised. You can read much more about our findings on the [science page](https://www.reviewed.com/cameras/content/blackmagic-cinema-camera-digital-camera-review/the-science). Granted, that's only if you shoot at base ISO. Increasing sensitivity did decrease the dynamic range, as is to be expected. Speaking of ISO, the Cinema Camera has a very limited range, starting at 200 ASA and ending at 1600 ASA. There are no noise reduction settings available to the user whatsoever. Even though we were generally impressed by the detail and flat color profile in video played back straight from the camera's SSD, we did notice something not so welcome. Since this camera doesn't have a global shutter, it's susceptible to the dreaded rolling shutter effect, also known as Jellovision, where your footage looks like it's jiggling like Dr. Cosby's favorite snack. Global shutter technology is on its way, however, and Blackmagic has you covered. The upcoming 4K version of the Cinema Camera (MSRP $3,995.00) is the least expensive way to get a Super 35mm-sized sensor and a global shutter in the same camera.
Since this camera doesn't have a global shutter, it's susceptible to the dreaded rolling shutter effect.
Even though the Cinema Camera has a built-in battery, you shouldn't count on it. We only got 95 minutes of continous shooting on a single charge. Seeing how the battery is non-removable, you'd be well-advised to include external solutions when tallying up the price of your initial Cinema Camera investment.
Well-equipped, yet strangely limited
One disappointment we encountered was the Cinema Camera's connectivity options. As a Thunderbolt-enabled device, we were expecting this camera to be super easy to plug into one of the Macs we have at the office. But, as a standalone device, Mac OS X didn't even see it right off the bat.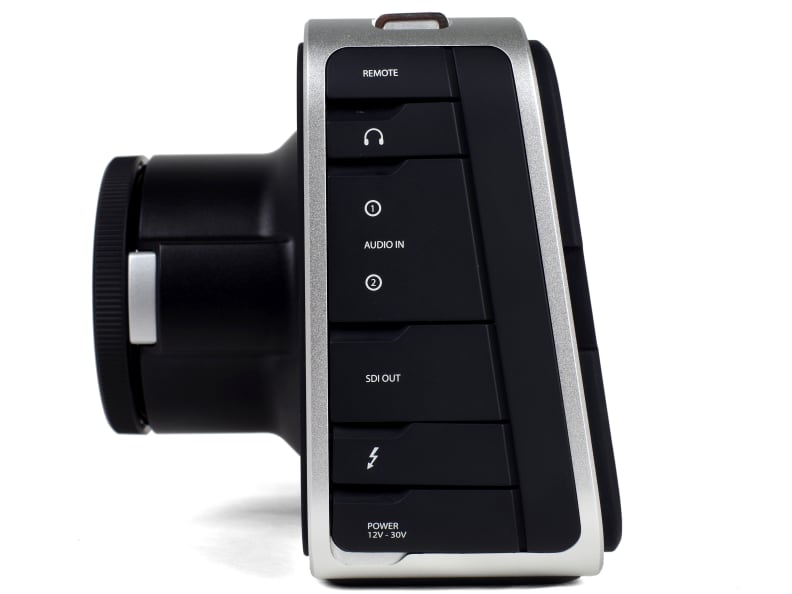 Unlike Firewire or USB, Thunderbolt uses a PCI Express-based architecture to pipe in a ton of different kinds of data— ideal for a camera like this. Unfortunately, you can't use it for moving video files around. You can live stream from the camera, and also hook up a laptop to use as an external waveform monitor, but a standalone dock or cable is necessary for getting footage from your SSD. This isn't a return to the "good ol' days" of logging tape, but it's hardly ideal either.
Unfortunately, you can't use Thunderbolt for moving video files around— a dock or cable is necessary for getting footage from your SSD.
Thunderbolt isn't a replacement for HDMI, either. Even though pros might love that Blackmagic has given the Cinema Camera an HD-SDI jack, the fact of the matter is that accessories that use that standard can be very expensive. It's good for pros, but not so good for amateurs graduating to a more serious rig.
On Macs, the Thunderbolt standard also lets users also easily connect to HDMI displays using a simple adapter. No such luck using the Cinema Camera's Thunderbolt to output HDMI. If you already have HDMI-based accessories (like monitors and viewfinders), you can adapt them, but it's frustrating that such a ubiquitous output would be left out.
Which leads us to discuss another head-scratcher of a decision. Instead of XLR inputs for microphones, there are two stereo ¼-inch TRS jacks. It's not hard to hook up a converter box for XLR, but it's another thing you'll have to worry about if you depend on XLR-based audio equipment. There's enough space on the side of the Blackmagic that we think there might be room for at least one XLR on this camera. If there weren't enough space for a second XLR, then a ⅛-inch minijack could be a secondary input.
If you can handle it, this camera could make a devil out of you.
This is a unique camera in the cinema market. Its price and capabilities make it unrivaled in its segment, going up against much more expensive gear and holding its own due to its unbeatable value proposition.
Unfortunately, there are so many limitations and trade-offs in using the Cinema Camera in lieu of a DSLR or mirrorless option—there's none of the hand-holding that a GH3 or Cinema EOS provides. On top of that, this isn't a camera you can carry into battle by yourself—once it's paired with the requisite external battery and audio gear, it becomes more ungainly than it might seem on its own. If you dare to use this camera unencumbered, then you'll have to answer to its questionable ergonomics and battery life, both factors that make run-and-gun filmmaking possible.
If you can afford rigging, and have access to a seasoned crew, the Blackmagic Cinema Camera could very well fit the bill.
But, if you can afford rigging, and have access to a seasoned crew, (don't forget the all-important extra batteries) the Blackmagic Cinema Camera could very well fit the bill. Its performance chops are without question. If you're willing to work in post to give your footage the TLC it deserves, you'll be over the moon with how the end product turns out. Also, the flexibility provided by the Cinema Camera's 2.5K CinemaDNG shooting mode makes it possible to extract an unbelievable amount of DR and detail from even the most rough-looking shots, giving you even more leeway to fine-tune.
A recent $1,000 price drop only sweetens the deal—$2,000 for a camera this quality, and you get DaVinci Resolve thrown in for free? It's easy to see how all the shortcomings that we ran into might not matter to those with the right needs and budget constraints.
We ran the Blackmagic Cinema Camera through most of the tests that we use on every camera that graces our offices. Even though we decided to not assign it a numbered score since it's so different than anything else we tested, we still gleaned some very useful data from the process.
There are no color modes on the Blackmagic Cinema Camera, so there's only one option—the default. Standard output looks flat, because you're not supposed to be using the files straight from the camera in your finished product. Blackmagic bundles the Cinema Camera with its DaVinci Resolve software, normally a $1,000 purchase on its own. Of course, you could choose to do color grading in whatever software you already use, or even post process in After Effects or Final Cut Pro.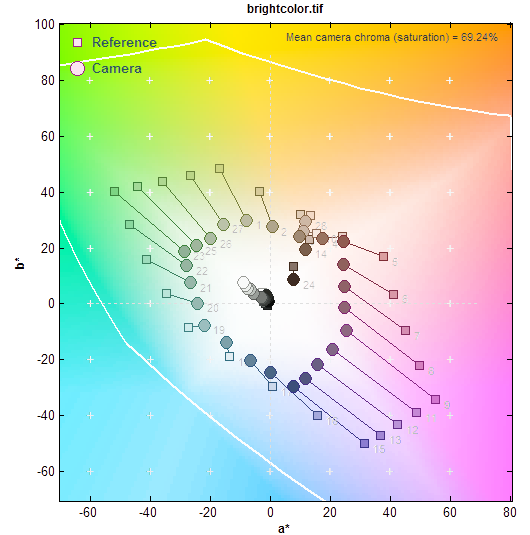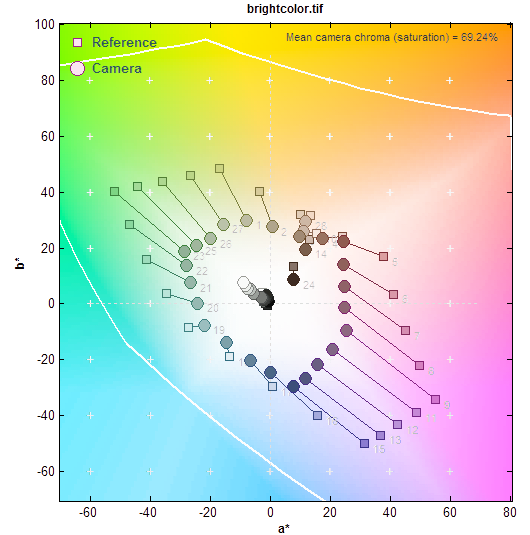 We didn't test the Cinema Camera against our standard White Balance tests. There's a good reason why—it doesn't have any white balance features. Instead, it has a preset number of color temperatures that can be dialed in. You're simply expected to shoot in the closest K preset and clean it up in post.
One area where the Cinema Camera didn't do as well as expected was in our low-light test. The Cinema Camera required 15 lux to hit 50 IRE, which, for a video camera, is quite a bit of light. That said, you're probably going to be shooting in a carefully-lit, controlled environment and not a kid's birthday party, so this figure isn't as important as it might be for a consumer camcorder.

Blackmagic's claimed 13 stops of dynamic range are all present and accounted for. While you'll only get that full gamut if you're shooting in the hefty CinemaDNG format, that DR means that even if a scene is slightly under- or overexposed, there's a more than a bit of wiggle room to pull the image back into shape. Using our DSC Labs Xyla-21 chart and Imatest, we measured 12.9 stops of detectable dynamic range.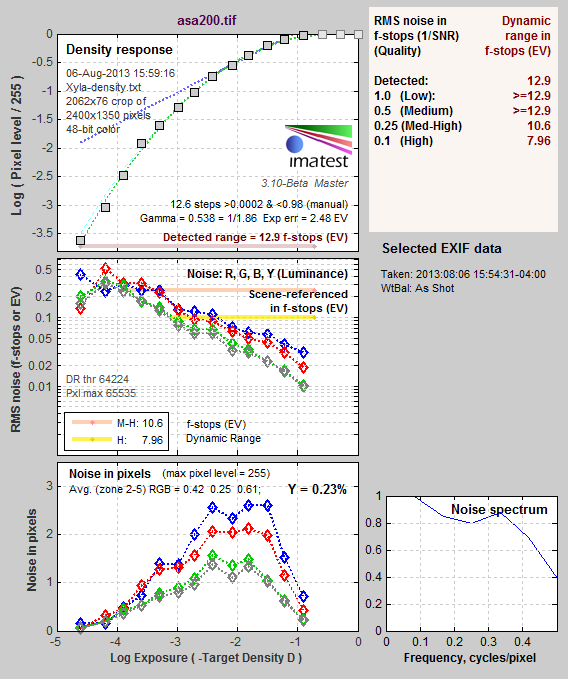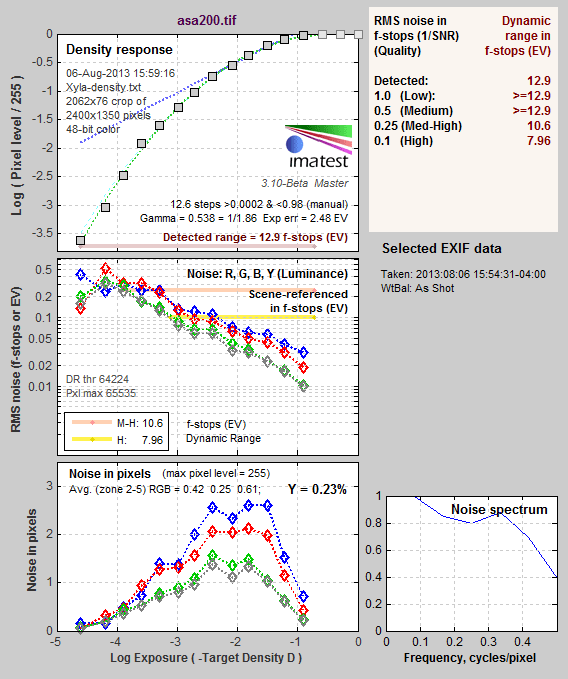 The Cinema Camera comes with four ISO sensitivities (as rated in the older ASA standard)— 200, 400, 800, and 1600. Surprisingly, all four are very usable, with little detail lost as you go up the scale. Noise was kept at a minimum, and detail stayed intact even at ISO 1600. Although you aren't afforded as much leeway as a DSLR might grant you, it's still a decent range of sensitivity. Even the Panasonic GH3 will let you shoot at ISO 6400, but you're not guaranteed good-looking video.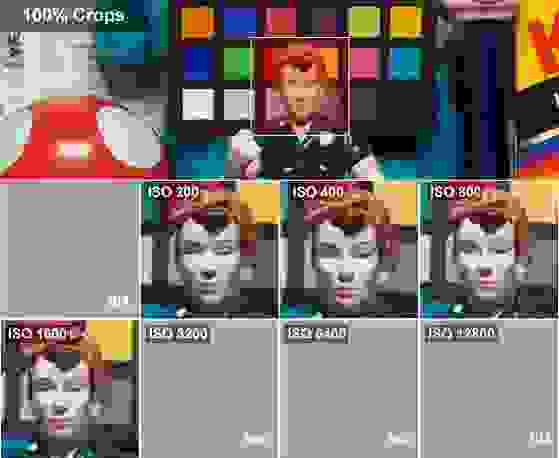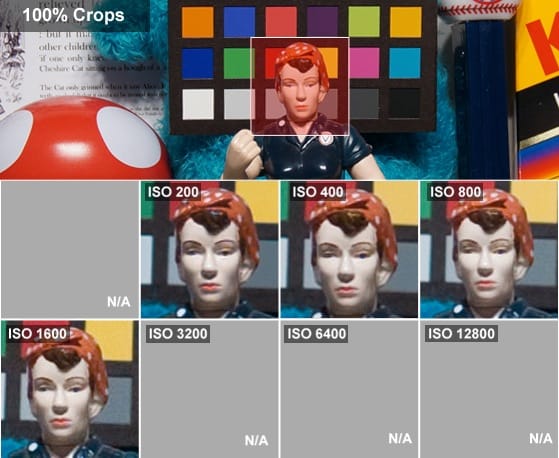 Meet the tester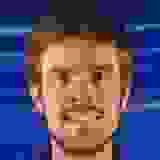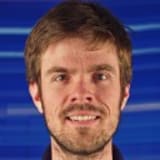 Brendan Nystedt
Contributor
@bnystedt
Brendan is originally from California. Prior to writing for Reviewed.com, he graduated from UC Santa Cruz and did IT support and wrote for a technology blog in the mythical Silicon Valley. Brendan enjoys history, Marx Brothers films, Vietnamese food, cars, and laughing loudly.
Checking our work.
Our team is here for one purpose: to help you buy the best stuff and love what you own. Our writers, editors, and lab technicians obsess over the products we cover to make sure you're confident and satisfied. Have a different opinion about something we recommend? Email us and we'll compare notes.
Shoot us an email