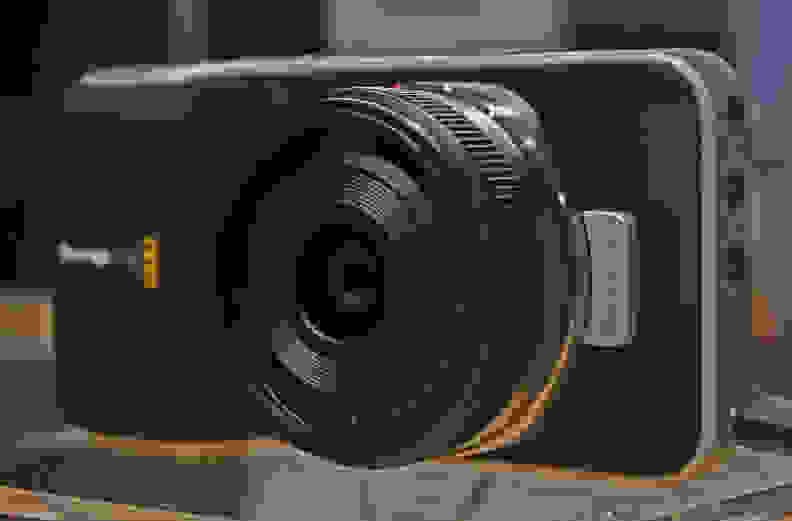 Zoom forward to this year's NAB and it's clear the Cinema Camera was just the beginning for Blackmagic. The company has added two members to its Cinema Camera line, a 4K Production Camera for $3,995 and a full-HD Pocket Camera that costs just under $1,000. Let's put it this way: Blackmagic is selling an interchangeable-lens Cinema Camera for less than the cost of a high-end consumer camcorder. It's a sight to behold, for sure, but we're still skeptical as to how well Blackmagic's tiny camera will hold up to a full day of video shooting.
Camera design doesn't get much simpler than this.
Blackmagic's attitude toward design is simple: keep things cheap by giving the user a basic camera body that is designed solely for capturing video. It's similar to the idea behind RED's "brain" design with its body-only cinema cameras, although RED positions itself much higher up on the food chain (the cheapest RED camera, the Scarlet-X is close to $8,000). The difference with the Blackmagic Pocket Camera is that it comes with a standard Micro Four Thirds lens mount (and an LCD), which means it's compatible with plenty of M43 lenses right out of the box. And with the right lens adapter, you can mount lenses of virtually any other mount to the front of this tiny camera.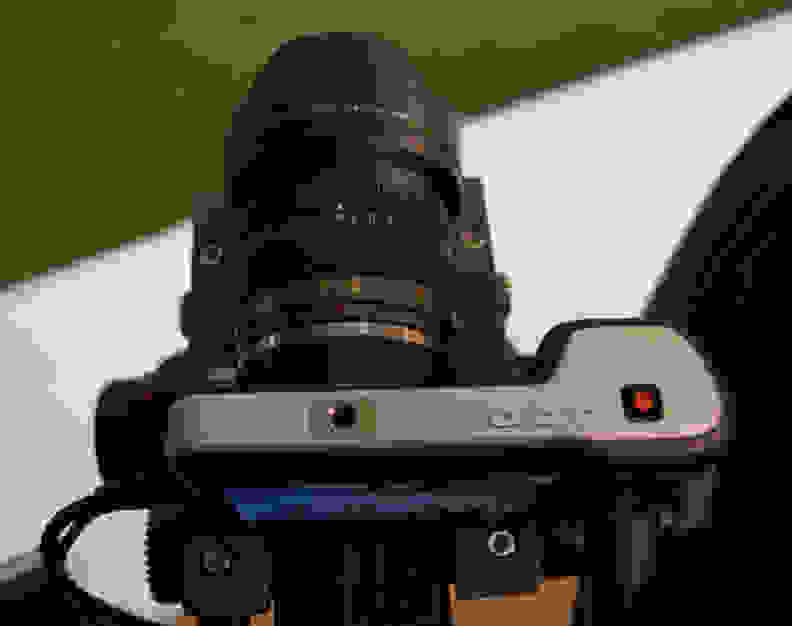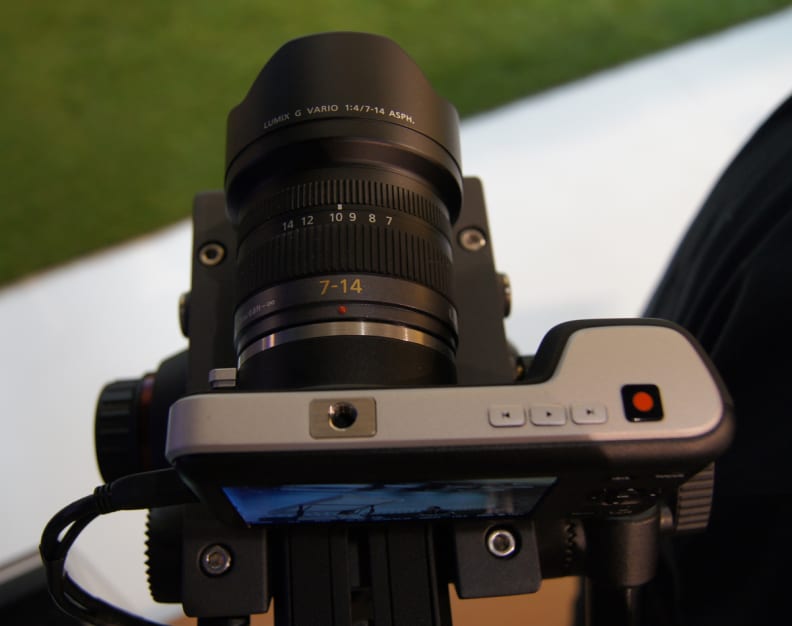 Is the Pocket Camera really pocketable? That depends entirely on what kind of lens you strap on the front (and how big your pockets are). Without a lens, the camera is 5 inches long, 1.5 inches thick, and a little more than 2.5-inches tall. It has the same look as a Sony NEX camera, and its dimensions are very similar to the Sony NEX-6. The Pocket Camera weighs 12.5 ounces—without a lens, of course—which is roughly equivalent to three iPhones. Aside from being tailored to budget videographers, the Blackmagic Pocket Camera may be the perfect "crash cam" due to its small size and low price tag.
The reported battery life doesn't sound very good, but the Pocket Cinema Camera does have a 12-volt power connection in case your battery dies.
Inside the camera is a Super 16mm image sensor (12.48 x 7.02mm) that's a little bit smaller than the standard sensor found in traditional Micro Four Thirds cameras (usually 18 × 13.5mm). In fact, it's even smaller than the 1-inch sensors found in Nikon's 1-series mirrorless cameras. Any lens you mount will inherit a 3x crop factor, meaning that the Panasonic 14mm f/2.5 lens, for instance, has a field of view of approximately 42mm in film terms.
On the back is a 3.5-inch stationary LCD with an 800 x 480px resolution. The LCD isn't a touchscreen, so you need to use the four-way controller on the right side of the camera to navigate menus and adjust certain controls. The camera records to SD, SDHC, and SDXC memory cards.
The camera has two tripod mounts, one on the top and one on the bottom (both are standard 1 x 1/4-inch UNC thread mounts), and it comes with a wrist strap, battery pack, and 12-volt AC adapter. Battery life is reportedly lousy, with Blackmagic reps claiming anywhere from 50 minutes to an hour of continuous record time. The cool thing is that the Pocket Camera includes a power jack, so you can plug it in if you're near a wall-outlet. It also makes use of the Nikon EN-EL20 rechargeable battery pack, which is widely available and isn't very expensive (usually on sale for less than $50).
The Pocket Cinema Camera can record video at five different frame rates, but it can't do 1080/60p.
The Blackmagic Pocket Cinema Camera has two compression options for recording HD video: Apple ProRes 422 or Adobe's lossless compressed CinemaDNG RAW. The idea behind these two formats is that they can be handled natively using post-production software (Final Cut for Apple ProRes and Adobe Premiere for CinemaDNG). Frame rate options include 23.98p, 24p, 25p, 29.97p, and 30p. The Pocket Cinema Camera cannot shoot 1080/60p, which is probably a limitation of the camera's internal processor.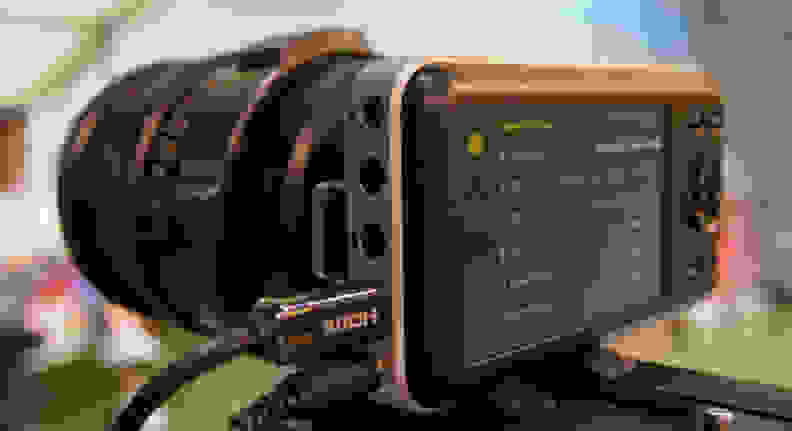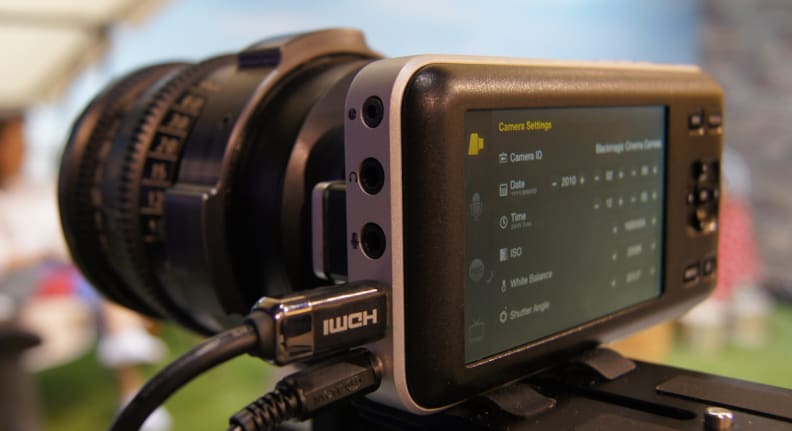 The camera doesn't have a still image mode, but it does have a time-lapse function.
According to Blackmagic, the Pocket Camera is capable of 13 stops of dynamic range, and it has a maximum ISO setting of ISO 1600. White balance can be set manually, and aperture adjustments are made using the four-way control on the back of the camera (when a compatible lens is attached). Focus is handled manually by the attached lens, but focus peaking and zebra patterns can be engaged with the flick of a button. Shutter speed is expressed in terms of "shutter angle" on the Pocket Cinema Camera, which may confuse those who are used to working with DSLRs. Giving the user control over shutter angle rather than shutter speed is an attempt to eliminate exposure timing problems in which the frame rate and shutter speed don't match up properly. The camera doesn't have a still image mode, but it does have a time-lapse function.
The Pocket Camera has a built-in stereo microphone, but you're probably better off connecting an external mic to the camera.
On the left side of the Pocket Camera is a slim column of ports, including a LANC remote connector, a headphone jack, a 3.5mm mic terminal, a Micro HDMI connector, and a 12-volt power jack. The camera has a mini USB port as well.
As for audio, the Pocket Cinema Camera does have a built-in stereo microphone, but we can't imagine it's all that good. The camera offers plenty of audio controls, including 2-channel input levels and volume adjustment, so if you do connect an external mic to the camera it should work well. One thing we didn't see was an audio level display, which is unfortunate.
We hope the Pocket Cinema Camera is a success, because we'd love to see more cheap, interchangeable-lens cameras designed solely for video.
With its sub-$1,000 price tag, this is the exact type of product that we'd recommend for an amateur or student filmmaker who can't get what they want from a fixed-lens consumer camcorder.
We have no idea what to expect from the Blackmagic Pocket Cinema Camera as far as image quality is concerned. Since the company is so new to the video camera market, we haven't tested a Blackmagic camera before—but you can expect the Pocket Cinema Camera to hit our labs sometime this year. With its sub-$1,000 price tag, this is the exact type of product that we'd recommend for an amateur or student filmmaker who can't get what they want from a fixed-lens consumer camcorder. Sure, the Pocket Camera is a little rough around the edges, and it's missing popular features like image stabilization and 60p recording, but we can't help feeling Blackmagic had to cut corners somewhere to get that price so low.
The Pocket Cinema Camera is expected to ship in July of this year, but everyone we talked to at Blackmagic had no idea how large of a shipment the first batch will be. Judging by the fact that Blackmagic's original Cinema Camera is still on backorder at most retailers, it may be a while before the Pocket Cinema Camera is readily available for consumers. If you're dying to get your hands on the Pocket Camera, put your pre-order in as soon as you can. Maybe you'll be lucky enough to be part of that first July shipment, however small it might be.
Meet the tester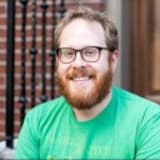 Jeremy Stamas
Managing Editor, Video
@nematode9
Jeremy is the video expert of our imaging team and Reviewed.com's head of video production. Originally from Pennsylvania and upstate NY, he graduated from Bard college with a degree in film and electronic media. He has been living and working in New England since 2005.
Checking our work.
We use standardized and scientific testing methods to scrutinize every product and provide you with objectively accurate results. If you've found different results in your own research, email us and we'll compare notes. If it looks substantial, we'll gladly re-test a product to try and reproduce these results. After all, peer reviews are a critical part of any scientific process.
Shoot us an email