If you're looking for the high points of this camera, these are unquestionably its great color and video performance. However, you may want to look to grabbing a different lens if you want the sharpest shots possible. While the 18-135mm STM kit lens is a decent starter option, enthusiasts will want something a little higher-end to bump their sharpness to the next level.
Though mirrorless camera sales continue to grow, the interchangeable lens camera market is still overwhelmingly dominated by traditional DSLRs. And when it comes to traditional DSLRs, the gold standard (for the last couple of years, anyway) has been those with full-frame sensors. Canon's own 5D Mark II, for example, had wide crossover appeal not only as an excellent stills camera, but as one of the most sought-after pieces of kit for filmmakers looking to capture the full-frame aesthetic on video.
Full-frame sensors have become so in demand that both Canon and Nikon have been racing to the bottom, producing ever-cheaper full-frame bodies that fill the gap between consumer-level APS-C DSLRs and each company's truly pro-grade options. The question is, if you can get full-frame bodies for under $2,000 now, why would you ever bother with an APS-C camera that costs just as much?
Canon hopes to answer that question with its new 7D Mark II (MSRP $1,799 body-only). The long-awaited successor to the original Canon EOS 7D, the 7D Mark II has the build quality and durability of a prosumer camera and the autofocus system and extensive control that only Canon's top-shelf DSLRs offer. It combines that with something no full-frame DSLR in this price range can offer: hot, nasty 10fps burst speed. It also shoots 1080/60p video with mic/headphone jacks and full manual control, leveraging Canon's dynamic and powerful Dual Pixel CMOS AF system as well.
It's a true flagship APS-C DSLR, one that benefits from the best technology and control that Canon has to offer. But does it make the case for flagship APS-C cameras, or does it fall victim to Canon's own crowded lineup? We put it through our labs to find out.
Like putting on a well-worn pair of jeans
We have to hand it to Canon's engineers; they sure know how to make a DSLR that just feels right. If you've spent any time with the original 7D or other recent Canon DSLRs then nothing here will feel unfamiliar. The rubberized grip material has loads of purchase, with a deep recess for your hands and a large, contoured rear thumbrest. If you like the handling on other Canon DSLRs like the 70D and the original 7D, you'll love the 7D Mark II. If you hated the way those cameras handled then there's nothing here to change your opinion.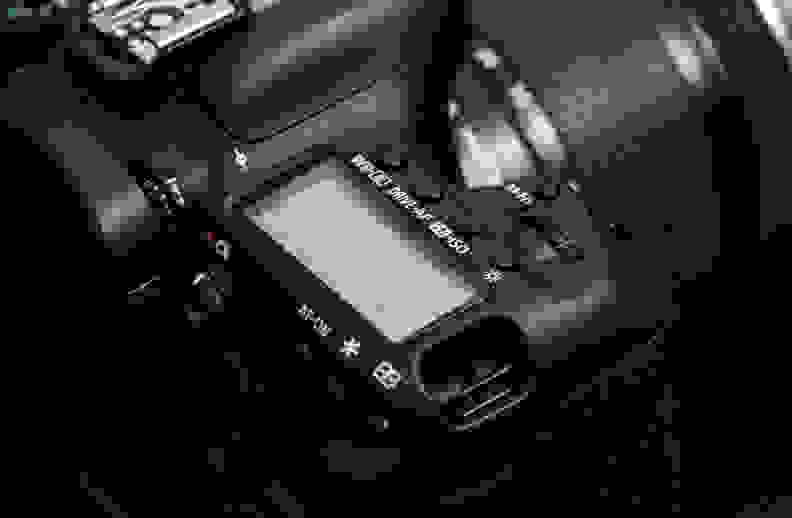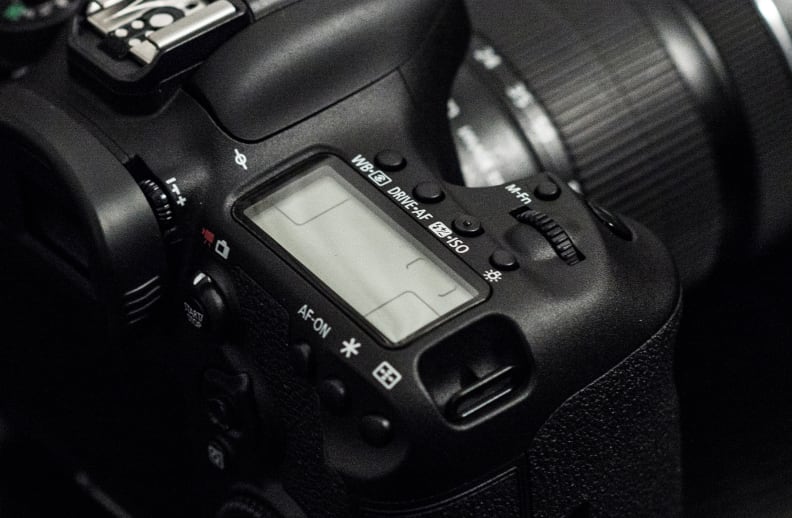 Control-wise the layout is almost exactly like the 7D, though several important controls have been shifted around. The main difference now is that the "Q" quick menu button has been moved from the left side of the viewfinder, relocated between the rear control dial and the multi-selector joystick. This gives you better one-handed access to the quick menu for, well, quicker adjustments.
The main additions here are a new AF area selection lever, which surrounds the multi-selector. This has the same function that the M-Fn button has by default, letting you switch between AF area modes on the fly. On its own the lever isn't much use, but it frees up the M-Fn button to be used for something more useful like focus and exposure lock or image quality settings.
The other addition is a new "Rate" button which lets you quickly rate images that you've taken on a 0-5 star scale. It's not necessarily a feature that'll appeal to most photographers, but it could be invaluable to a professional sports photographer handing your card off to a runner. Though not as robust as the voice memo feature on the EOS-1D X, a quick rating system lets you flag an image for easy uploading—perfect when you're rushing to get a shot to an editor.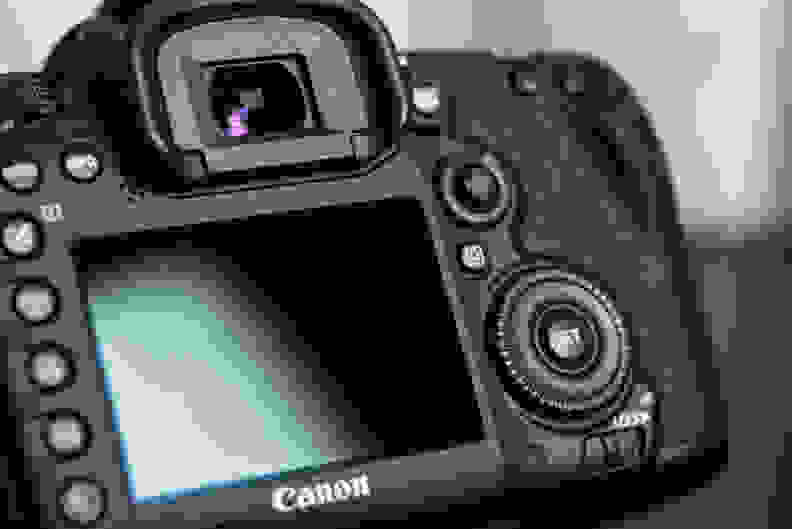 But what really separates the 7D Mark II from lower-end Canon DSLRs like the 70D and Rebel T5i is sheer build quality. The body has absolutely zero flex whatsoever. Though the buttons are as gummy as they as on any Canon DSLR, all the dials, ports and switches seem to snap to attention. A big reason for this is the improved weather sealing, which mostly comes in the form of extensive rubber gasketing in seemingly every nook and cranny of the 7D Mark II.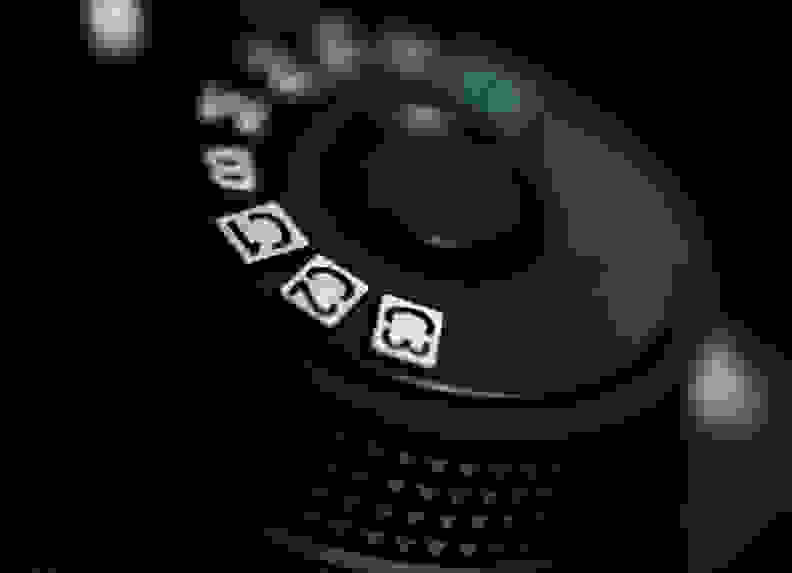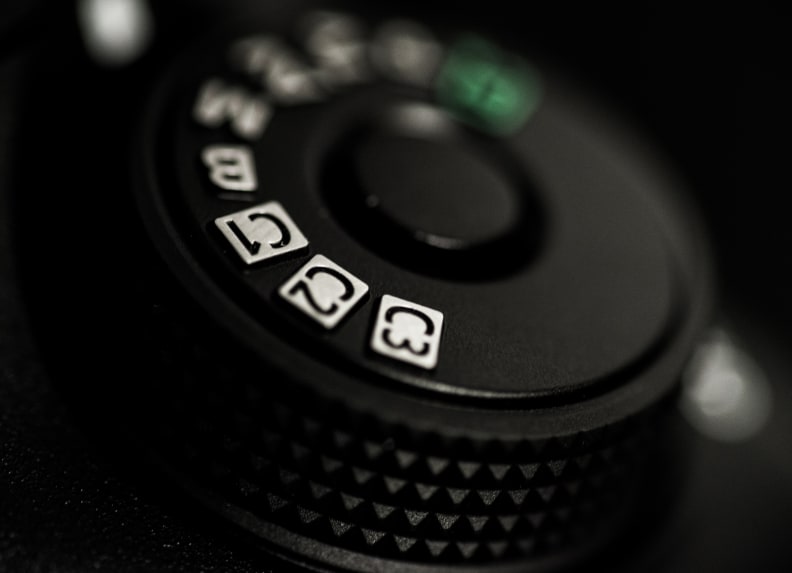 Canon claims that the 7D Mark II has "four times" the weather sealing of the original. We were skeptical, especially given the specific measurement of what is generally a pretty vague concept, but early reports indicate that Canon isn't messing around. This is a camera that feels built to excel in the same conditions as the company's pro-level cameras. We took it out in a heavy downpour and had no problems at all. And given that this is clearly designed to be a lower-cost alternative to anyone who wants to engage in serious sports and wildlife photography, that'll certainly come in handy.
Our main complaint here is that Canon has left off some useful features for video shooters. We can excuse the lack of an articulating LCD (which would hinder durability), but there's no reason that this LCD isn't touch-sensitive. Especially when you're going to provide video-centric features like mic/headphone jacks and Dual Pixel CMOS AF, the inability to do simple touch-to-focus operations is a glaring omission.
×
tour
After taking a custom white balance measurement in the standard shooting mode, we recorded a ∆C 00 Saturation error of 1.81—outstanding. Usually, anything below 2.2 is functionally perfect and this is one of the best results we've ever seen. The best part of this result is it's almost exactly in line with all the higher-end Canons we've tested, meaning the 7D Mark II can accurately replicate the image (save for the sensor size difference) from, say, the EOS-1D X.
The camera does tend to oversaturate colors a bit by default, but not enough to be distracting or anything. We measured a total saturation of 109.3%, which is enough to make pictures pop a bit, but not quite enough to make colors clip. You can always adjust this by shooting RAW, but it's always nice to know that your camera has your back even if you shoot in JPEG.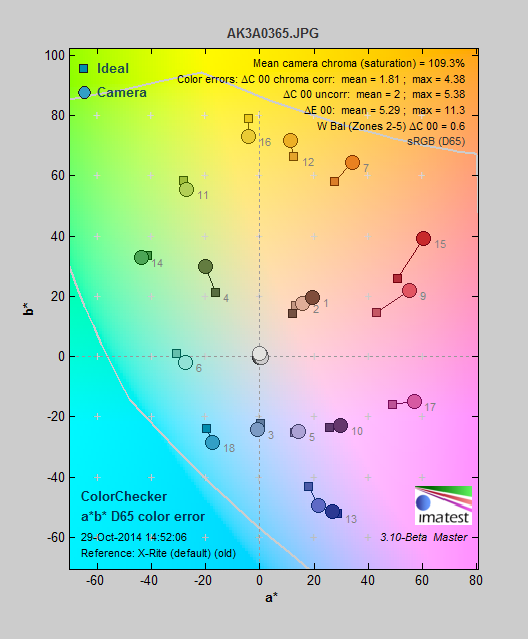 White balance is another story, however. While you can take a manual reading with a grey card and get good results, the automatic setting struggles with different lighting conditions. In incandescent light, you can expect a color temperature error of about 2000 kelvin on a good day, but that's typical of most auto white balance systems.
However, if you were to shoot in daylight or around fluorescent lights, the story is a better one. There's still the odd color casting issues here and there, but errors top out at 300 kelvin at the worst. Again, shooting RAW will help fix this in post.
Canon's pro-quality autofocus makes its first trip to APS-C cameras.
There's a simple reason why Canon DSLRs have become the go-to for the majority of professional news and sports photographers worldwide: autofocus. Though Nikon is no slouch in this department, autofocus speed, control, reliability, and accuracy have been Canon's bread and butter for 20 years. Until now, however, taking advantage of the best autofocus Canon has to offer involved buying the most expensive cameras that Canon has to offer.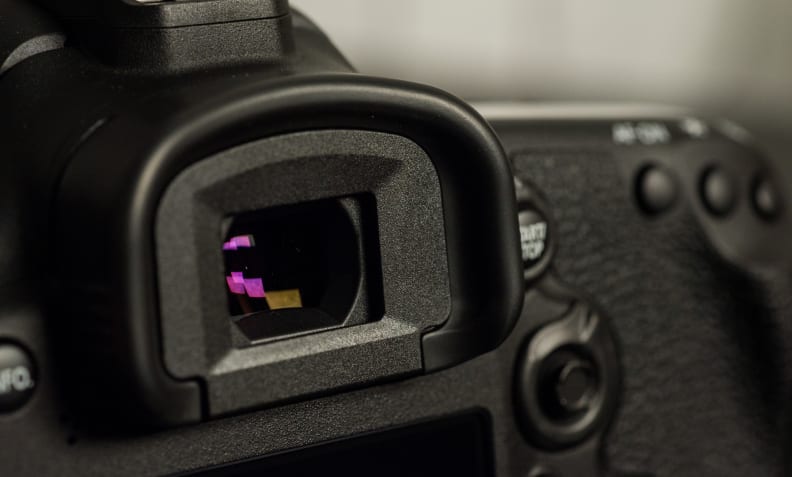 The 7D Mark II changes that, to some degree, combining an excellent 65-point (all cross-type sensitive!) phase-detect autofocus system with Dual Pixel CMOS AF built right into the image sensor itself. That is enhanced even further with Canon's unrivaled autofocus control menu—first debuted on its flagship EOS-1D X—which provides you with six different customizable focus modes and a truckload of control options. These modes let you make fine adjustments to things such as tracking sensitivity, acceleration/deceleration tracking, and the sensitivity with with the camera will switch from one AF point to another.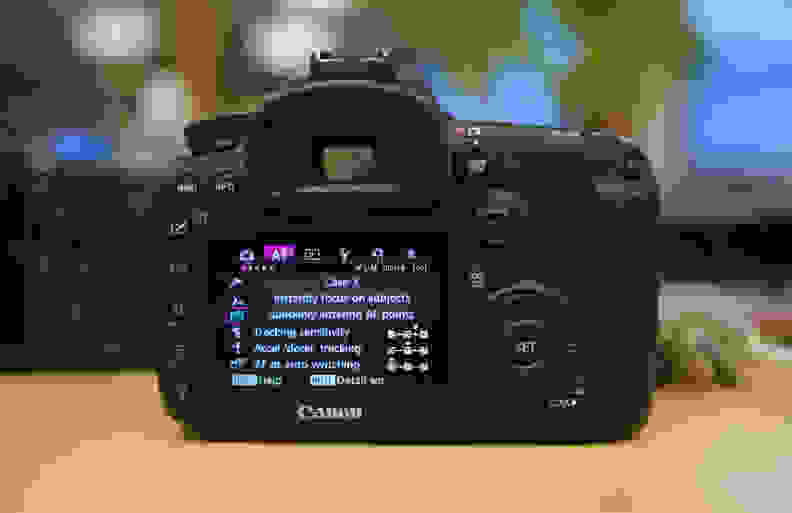 Canon takes this even further, providing you with control over minutiae like how, when, or if the AF points in the viewfinder light up. Some of this is Canon padding its stats in the AF control department, but most of these features are designed to shave off precious seconds when making fine AF adjustments on the fly. Given that Nikon just got around to offering "Group AF" and it's clear that Canon is just lapping the field at this point; nothing else at this price point comes close.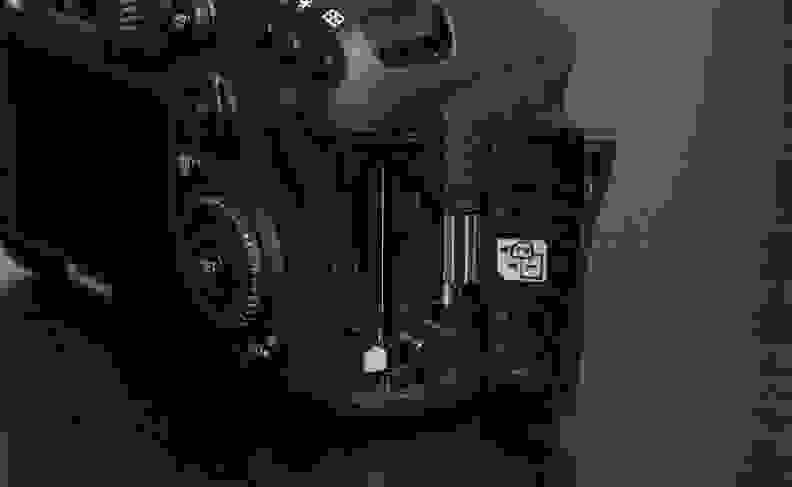 The other primary area of interest is likely to be the improved video functionality. In addition to offering Dual Pixel CMOS AF for smooth and accurate autofocus during video, the 7D Mark II can also now shoot at 1080/60p, with full manual exposure and audio control. There's also both a mic and a headphone jack for capturing and monitoring audio. Shockingly, this is only the second Canon DSLR other than the 5D Mark III to include both jacks, a pair that is commonly found on lots of Nikon and Pentax DSLRs.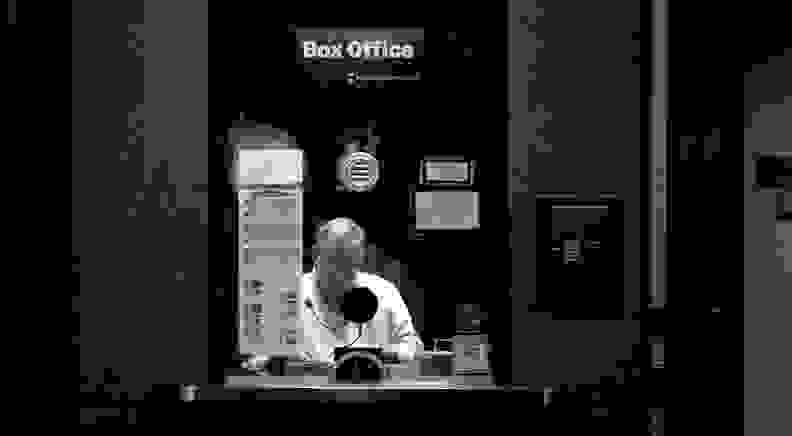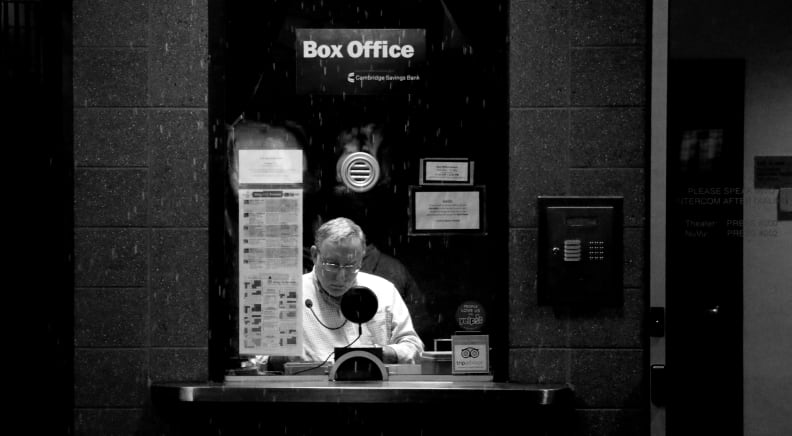 When shooting video you can choose from a multitude of frame rates at 1080p, from 24fps up to 60fps. You can choose either MOV or MP4 containers, and either ALL-I (which is easier to edit) and IPB (which is smaller and has equivalent quality to ALL-I). The new addition here is 1080/60p, which is IPB only. Choosing 1080/60p also prevents you from using the Movie Servo AF option, as they're mutually exclusive.
That's a real shame, because the Movie Servo AF is wonderful. It's smooth, quick, and very accurate. There's also minimal hunting in low light, and focus is nearly silent with Canon's STM lenses. You can even adjust the sensitivity and speed, slowing down the servo AF for pulling off smooth focus pulls without ever touching the focus ring.
Most of the features here are geared towards photographers, chiefly advanced shooters and professionals in need of an affordable, compact DSLR with pro-style features.
Beyond that, most of the features here are geared towards photographers, chiefly advanced shooters and professionals in need of an affordable, compact DSLR with pro-style features. The shutter is rated to 200,000 cycles, as well, so it should be able to handle pro workloads, too. There are also three customizable states on the mode dial that are user-savable, letting you quickly set up the camera the way you like it and snap back to those settings whenever you want.
Unlike the EOS 70D, there's no built-in WiFi. Instead Canon has opted to include a built-in GPS. With stellar weather-sealing, location tracking, and such a compact size the 7D Mark II is one of the most affordable DSLRs suitable for more extreme climes.
Using the Canon 7D Mark II's default noise reduction settings will net you a fairly junk-free image, even in higher ISO shots. Like many DSLRs with an APS-C sensor, ISO 6400 is where things start to get a bit dicey.
With NR turned off, the noise level breaches 2% at ISO 6400 and rockets up to 3.5% at 12800. That's not terribly surprising, and a fair performance for this type of sensor. If you leave the default noise reduction enabled, you'll never see 2% noise in your shots, and fine detail is mostly kept unless you shoot at ISO 6400 or above.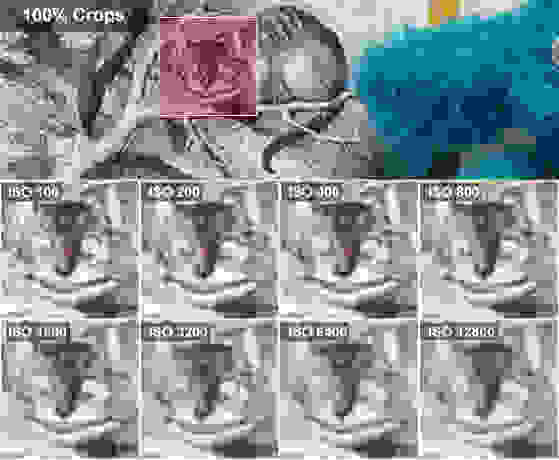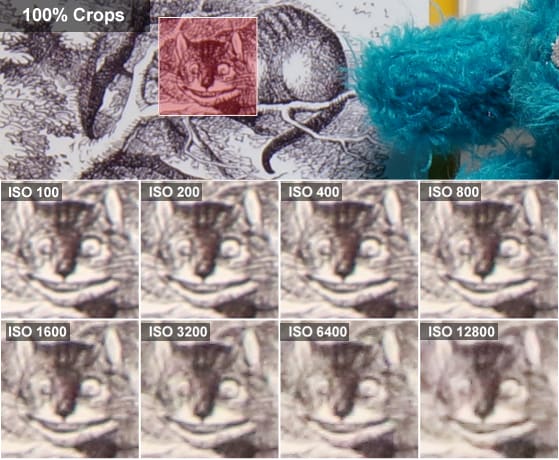 We definitely suggest keeping NR to a minimum unless you absolutely need it for your snaps. Though Canon's algorithm is great for keeping junk data at bay, the more aggressive your NR, the more detail you lose from your shots. We found that even with the setting maxed out, the difference between noise levels in standard vs. high NR was so small that it could easily be attributed to sample variation had we not run the test a few times.
Canon's APS-C flagship lineup takes a long overdue step forward.
When we reviewed the 70D late last year we were impressed by the innovative Dual Pixel CMOS AF, but were otherwise unimpressed by the improvements Canon had been able to make to overall image quality. It was better than the current crop of Rebel cameras, but not by a huge margin. The 7D Mark II, on the other hand, is a significant improvement over recent Canon efforts. It's a potent combination of speed, accuracy, low light performance, and crisp 1080/60p video that lives up to its "APS-C flagship" billing.
In our lab tests the 7D Mark II did very well. Color accuracy was spot on, with auto white balance accuracy that was nearly perfect in every lighting condition except under extremely warm incandescent bulbs. Actually setting a custom white balance is still incredible unintuitive, but once you do that it's at least very accurate.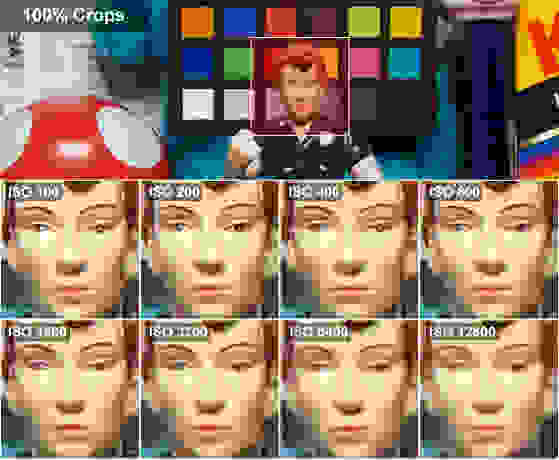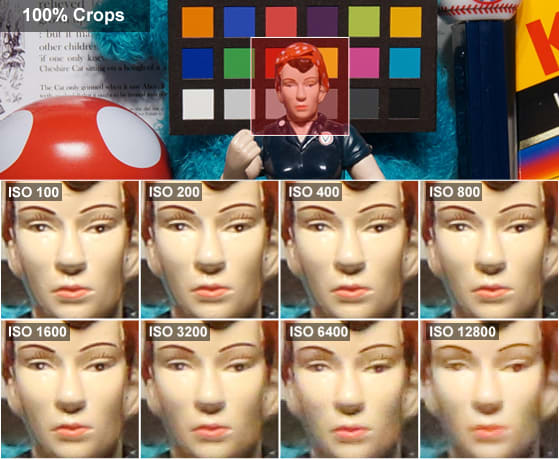 The 20.2-megapixel sensor on the 7D Mark II is almost certainly the same as on the EOS 70D, but dual Digic 6 processors take the place of the 70D's lone Digic 5+. The main functional improvement is that the ISO range now stretches from 100-51,200 instead of topping out at 25,600.
Image quality at those high ISO speeds has also improved, with improved processing leading to lower noise totals in general. With noise reduction turned off or when shooting RAW you'll want to keep it at ISO 1600 and under for the best results, but JPEG shooters (such as many sports photographers) can ratchet up the noise reduction slightly and get usable shots up to ISO 6400.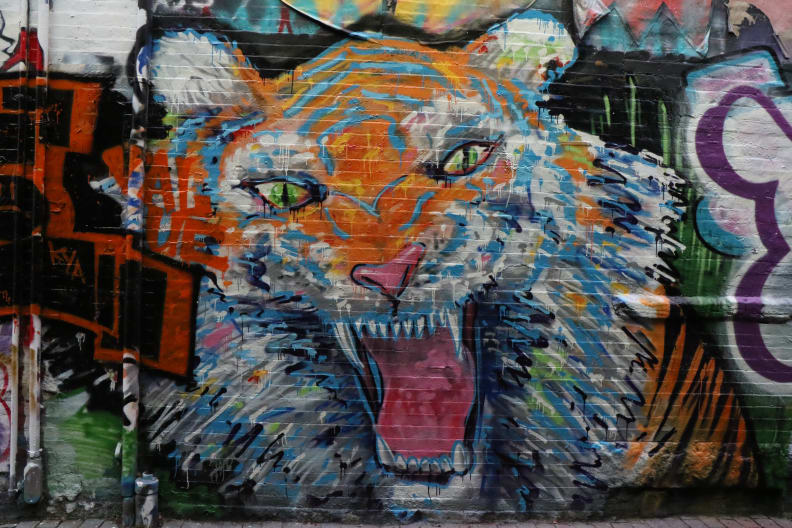 Dynamic range is a slight improvement over the 70D, but only at the higher end of the ISO spectrum—and not by much. At base ISO you can comfortably expect 11-11.5 stops of range. By our higher standard (which only counts stops where the signal-to-noise ratio is above 10:1) then you can expect just under 8 stops of range. These are good numbers, but they do lag a little behind some newer DSLRs from Nikon and Sony.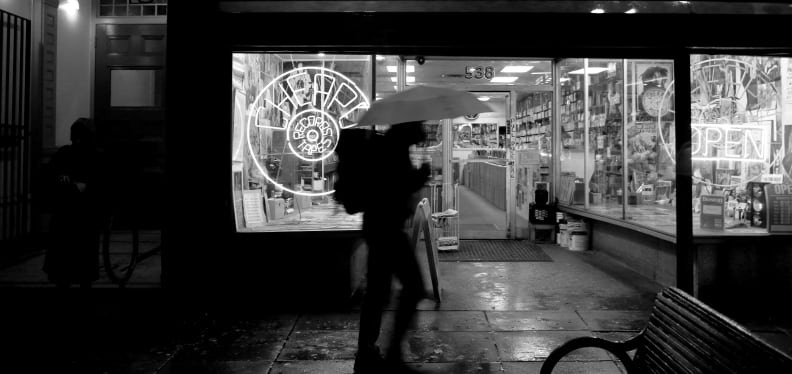 Of course, the 7D Mark II's bread and butter is continuous shooting—specifically, continuous shooting while tracking moving subjects. Here the camera simply shines, able to fire off shots at up to 10 frames per second in RAW, RAW+JPEG, and JPEG alone. The only hangup here is that when shooting RAW you get just 31 RAW shots at a time, a number that drops all the way to 19 when shooting RAW+JPEG. It can do so while tracking subjects, as well, putting its 65-point autofocus system to good work. The focus system itself was also extremely accurate, tracking subjects easily and without hunting, even with junk in the foreground that could distract lesser AF systems.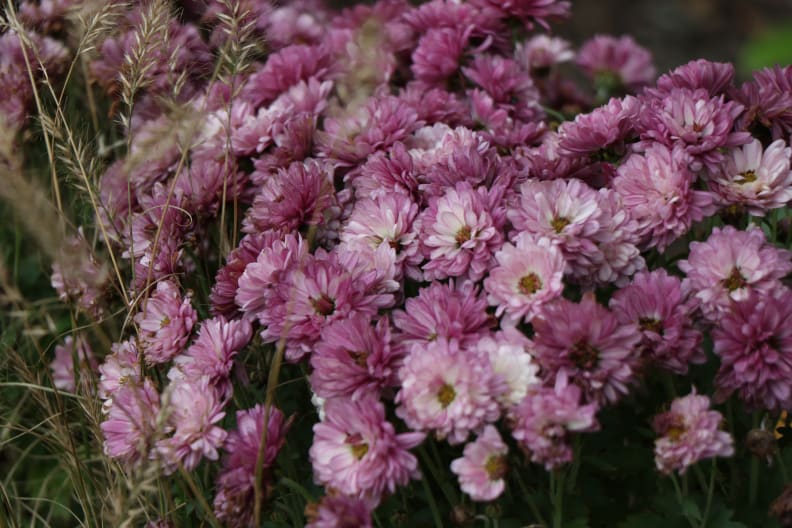 Altogether the 7D Mark II is one of the more impressive APS-C DSLRs we've seen yet. It's extremely fast for a camera that has an optical viewfinder, takes great photos, and has one of the most impressive autofocus systems available. There are mirrorless cameras that are just as fast (if not faster) and have better dynamic range, but the 7D Mark II trounces those cameras in low light, where it barely misses a beat.
The kit lens is a bit soft around the edges, but for the most part the Canon 7D Mark II's stock setup is decent enough to handle a wide range of tasks. Fortunately, very little of that was due to aggressive oversharpening, and more to do with a good sensor.
I will say that you can expect some serious barrel distortion (~3%) at full wide, and pincushion distortion (~2%) at full telephoto. While that's not much of a problem given the fact that an 18-135mm f/3.5-5.6 zoom lens gives you a huge range of focal lengths to choose from, you may elect to grab different glass if you want to avoid this altogether.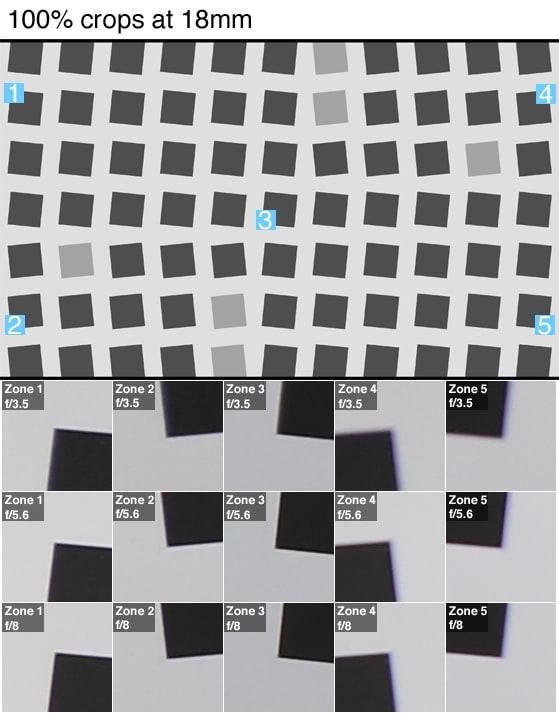 Shots are reasonably sharp at the maximum aperture of each focal length, and stopping down will bump sharpness up a little bit. While it's not very exciting to note this, building a zoom lens with this much zoom is very difficult from a manufacturing standpoint, so give credit where credit is due—this is an acceptably good option for a starter lens.
A worthy successor to one of our favorite DSLRs, but room for improvement still exists
Mirrorless cameras are not simply a threat to traditional DSLRs; in many cases they're simply better cameras. Though the pro ranks are firmly in Canon and Nikon hands, when it comes to the entry-level and mid-range we generally prefer the value provided by lower cost compact system cameras. This $1,000–$2,000 range is where things get murky. Even cheap full-frame options are a little out of this range and the high-end mirrorless cameras on the market aren't quite ready for pro-level work.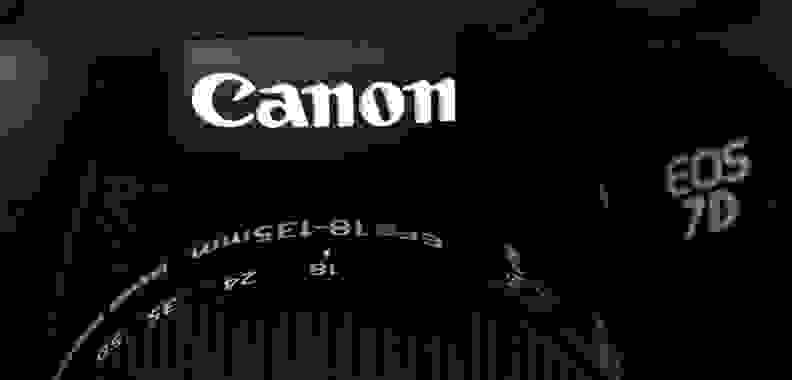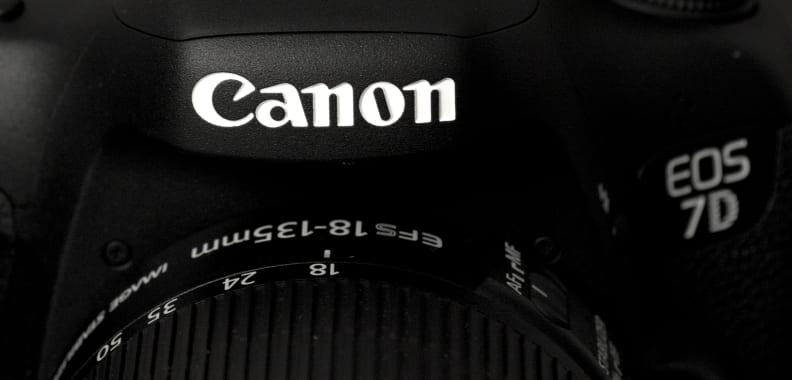 This is where the 7D Mark II fills a very useful niche. It's clearly geared toward advanced shooters who want a camera that is fast, has pro-level autofocus performance and control, and is customizable to the shooter's needs. It's also durable enough to stand up to the rigors of daily use, with a shutter that can withstand 200,000 cycles and some of the most impressive weather-sealing around.
If you're serious about shooting sports, news, or wildlife the 7D Mark II feels more aligned with existing professional-grade gear than any of the current mirrorless offerings from Olympus, Panasonic, Fujifilm, Olympus, and Sony. I wouldn't necessarily want it to be my only camera for that kind of work, but as a backup or a lightweight alternative it's certainly viable. For video this is also a great low-cost alternative to the 5D Mark III, though the focus restrictions while shooting 1080/60p are a bummer.
For the money there are faster cameras, there are cameras that are better at shooting video, and there are cameras that have more features, but the 7D Mark II is a compelling all-around package that finally feels like a complete effort from the market leader; this is what you get when Canon doesn't hold anything back.
If you're serious about shooting sports, news, or wildlife the 7D Mark II feels more aligned with existing professional-grade gear than any of the current mirrorless offerings
We have savaged Canon's tendency in the last three years to produce cameras that are either warmed over rebadges of old models or inexplicably lacking in key features. Other than maybe touchscreen support, an articulating LCD, or 4K video, there isn't much here that feels like Canon cut just to save costs. The 7D Mark II shows that maybe, finally, Canon is feeling the pressure from its competition to the point that it can't omit otherwise standard features in the name of preserving the appeal of its more expensive cameras.
It's the opposite, in fact, including the autofocus sophistication and control that put Canon atop the pro market and kept it there for the past two decades. There may not be a host of sexy, never-before-seen innovations here, but this is the very best that Canon has to offer in a familiar, powerful, durable camera that will appeal to shooters of all stripes.
Much like last year's 70D, this camera has strong video chops. It doesn't give you 4K or oversampling, but it does seem to do fairly well shooting 1080p/60p.
In bright light, the 7D Mark II was able to resolve 675 LP/PH in horizontal movement in horizontal motion, and 650 vertically. That's right in line with most other Full HD cameras we've tested that use H.264 compression. Newer 4K cameras and most high-end camcorders can achieve sharpness numbers that are nearly 50% higher, which is why DSLR videos tend to look "soft" by comparison.
In low light the Canon 7D Mark II's larger sensor shines. Not only is the Canon 7D Mark II able to maintain a 50 IRE video in lighting conditions as dim as 3 lux, but it can also resolve 600 LP/PH of sharpness in 60 lux environments. That's pretty impressive, even if the performance ceiling isn't incredibly high. Videographers will appreciate the extra flexibility this grants in changing lighting conditions, especially as the autofocus system also continues to function quite well despite having limited light.
Meet the testers TJ Donegan
Executive Editor
@TJDonegan
TJ is the Executive Editor of Reviewed.com. He is a Massachusetts native and has covered electronics, cameras, TVs, smartphones, parenting, and more for Reviewed. He is from the self-styled "Cranberry Capitol of the World," which is, in fact, a real thing.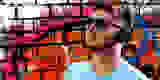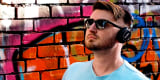 Chris Thomas
Staff Writer, Imaging
@cthomas8888
A seasoned writer and professional photographer, Chris reviews cameras, headphones, smartphones, laptops, and lenses. Educated in Political Science and Linguistics, Chris can often be found building a robot army, snowboarding, or getting ink.
Checking our work.
Our team is here for one purpose: to help you buy the best stuff and love what you own. Our writers, editors, and lab technicians obsess over the products we cover to make sure you're confident and satisfied. Have a different opinion about something we recommend? Email us and we'll compare notes.
Shoot us an email