The 100 HS launched in February 2011 in silver, gray, orange, blue, and pink shades for an MSRP of $199, though street prices have fallen since then.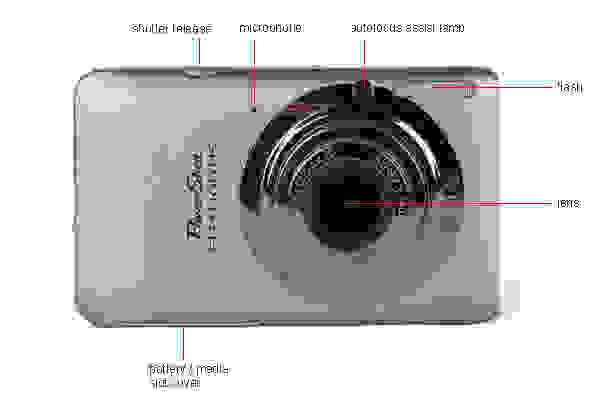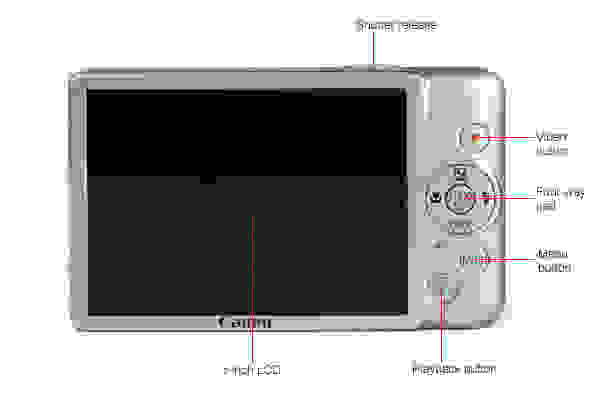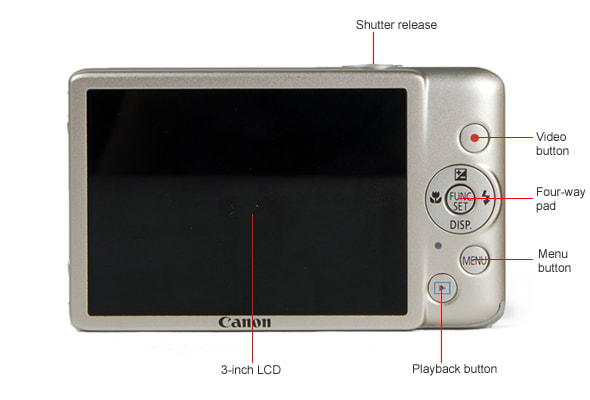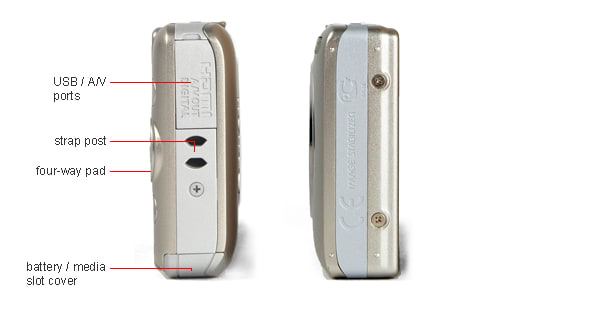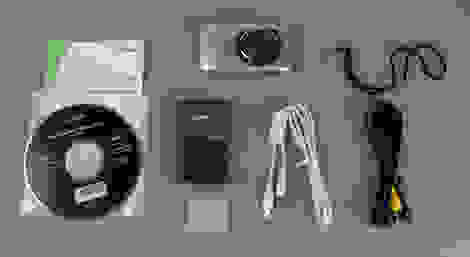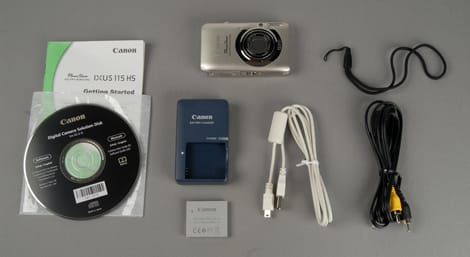 • Canon PowerShot ELPH 100 HS digital camera

• battery charger (CB-2LV)

• battery (NB-4L)

• USB cable (mini-USB)

• A/V cable

• wrist strap

• Quick Start manual

• CD with software and full manual
The Canon ELPH 100 HS shoots some of the most accurate colors we've ever seen from a budget-friendly compact camera. The best color error recorded in our tests was 2.48, which is an excellent score for any camera, especially for a sub-$200 pocket shooter. It outperforms every comparable camera we've seen this year, even its more expensive sibling, the 500 HS, and the Panasonic FP5, which we praised mightily. More on how we test color.
Lighter Skin Tone proved to be the most accurate color mode by our standards, edging out the standard color mode (labeled as Off in the menu) by a tiny margin. But we weren't sure how Lighter Skin Tone handled sharpness (portrait modes sometimes soften details to obscure skin blemishes), so we settled on the standard mode as our default.
In standard color mode, the 100 HS has the most trouble reproducing light blues and yellows, but its shades are pretty accurate otherwise, and saturation is close to ideal levels. We can't find much to complain about here.
The 100 HS offers 11 color modes, including Neutral, Monochrome, Sepia, Positive Film, two Skin Tone settings, and four Vivid settings. That leaves plenty of room for users to experiment—even without any fine control over color.
The 100 HS produces slightly less noise than we typically see in this class. Across all ISO settings and lighting conditions in our tests, the 100 HS produced an average of 1.25% noise, which is respectable. Base ISO shows more noise than we'd like to see, and the levels consistently increase throughout the range (as expected). But at the top setting of 3200, noise is well controlled—it never crept past 2% in any of our test images. And thanks to a smart noise reduction algorithm, shots are generally eye-pleasing up until ISO 800, arguably even at ISO 1600. More on how we test noise.
It's tough for a camera with a small sensor and an average lens to gather light in dim settings, so we weren't surprised to find that the 100 HS produces more noise in poor lighting than in strong lighting. Shots showed an average of 1.19% noise in our 3000 lux test and 1.28% in our 60 lux test. That's about 8% more noise in low light, enough to be noticeable.
Compared to point-and-shoots in this price range, the 100 HS finishes in the middle of the pack. Among the cameras we've chosen for our comparisons, the 100 HS looks a bit lackluster in the chart below. But trust us when we say that the 100 HS outperformed a bunch of other pocket shooters in our noise test.
Of particular note, the 100 HS comes up right behind its more expensive sibling, the 500 HS. Their results at 3000 lux are very similar, though the 500 is the clear winner in low light thanks to its brighter f/2.0 lens.
The Panasonic FP5 shows much less noise than the 100 HS does, but that appears to be a result of aggressive image processing. We prefer the 100 HS's smoother, more consistent images.
The 100 HS offers full-resolution ISO settings from 100 to 3200, adjustable in the quick menu. There is, of course, an automatic ISO option. While there isn't an option to cap the Auto ISO level, the 100 HS meters conservatively and rarely selects the top ISO 3200 setting. There's also a reduced-resolution (3 megapixel) 6400 setting, available as the Low Light scene mode.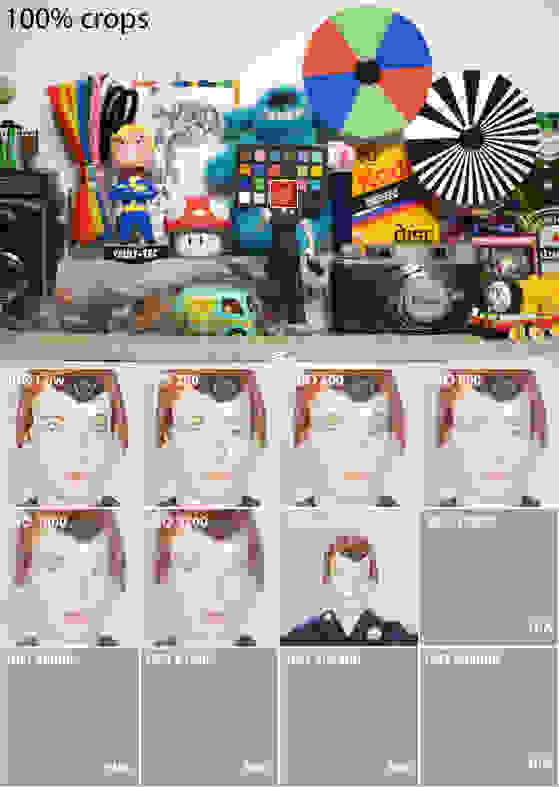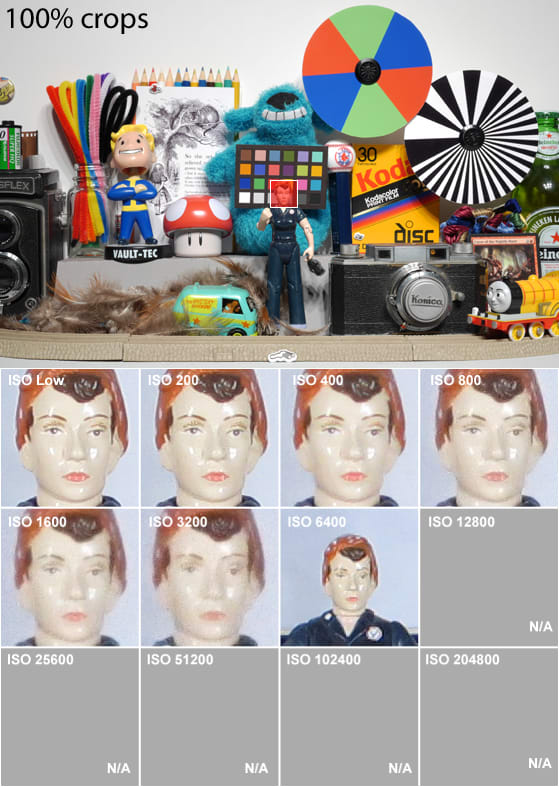 NOTE: The images above are not used in our testing or scoring, but are included here to show real-world examples of the differences between cameras at the various ISO settings.
The ELPH 100 earned better-than-average scores in our resolution tests. Sharpness, distortion, and chromatic aberration performance are all very solid, though image stabilization is entirely ineffective. More on how we test resolution.
Distortion ()
Distortion is present in our 100 HS test shots, but it's only a minor problem. It's most pronounced at the wide angle, which shows notable but acceptable barrel distortion. It pincushions a bit at a medium focal length, and then subtly barrels again at the telephoto end. Distortion is a relatively easy problem for manufacturers to fix with in-camera processing, so the distortion here is a bit of a disappointment. On the other hand, wider, brighter lenses generally cause more distortion, so the 500 HS and even Canon's flagship G12 show more distortion than the 100 HS.
Sharpness ()
The 100 HS is pretty sharp for a little shooter. It yielded a higher sharpness score than any current sub-$200 point-and-shoot that we've tested, including the Panasonic FP5, Samsung PL120, and Nikon S4100 (though just barely). The 100 HS doesn't hold detail as well as models with bright lenses or over-sized sensors, but it's also a chunk cheaper than any "premium" point-and-shoots.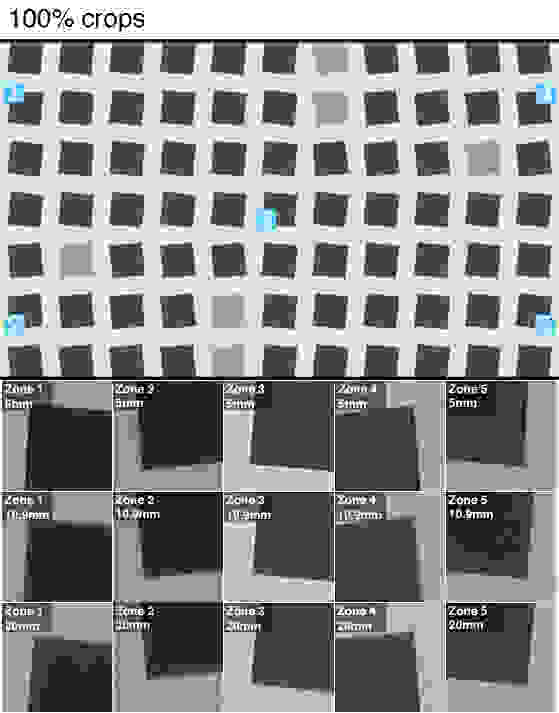 Chromatic Aberration ()
The 100 HS also performed well in our chromatic aberration tests, toward the front-middle of the affordable point-and-shoot pack. At the edges of the frame, it shows notable green fringing at the wide-angle setting. But as the focal range increases, the aberrations decrease.
Canon offers its typical array of size options here, including four size options in each of four aspect ratios. It's a JPEG-only camera—no surprise there—but it does offer two levels of compression: Normal and Fine.
Believe it or not, the 100 HS shot blurrier images with the image stabilization turned on. We ran the test a few times just to be sure, and we ended up with similar results each time: With IS activated, the 100 HS always returned a net-negative result. The difference is probably imperceptible to the human eye, but according to our testing methods, the 100 HS's stabilization system does not work. More on how we test image stabilization.
It's still uncommon for a sub-$200 point-and-shoot to shoot legitimate 1080p video, and it's even more surprising when that budget-friendly pocket cam actually shoots legitimately great 1080p video to boot. While the 100 HS lacks just about any manual control over video mode—no optical zoom, very few adjustable settings, and poor autofocus—it takes excellent video by compact-camera standards.
The 100 HS video color is almost as impressive as its photo color. It's by far the best among our comparison group, and as accurate as many DSLRs. More on how we test video color.
The 100 HS takes very sharp videos. Our tests measured a maximum sharpness of 575 lw/ph—both horizontal sharpness and vertical sharpness—which is one of the best results we've seen from a compact camera, even compared to the similar (and more expensive) Canon 500 HS. More on how we test video sharpness.
Navigating the 100 HS's playback system is relatively pain-free. There's a dedicated playback access-key on the back panel. The interface itself is mostly intuitive, controlled using a combination of the four-way pad and zoom tilter. This allows the user to zoom in and out of photos, even out to a grid view of several photos at once. Plenty of information is available about each shot with a press of the DISP. key, including a histogram and crops to check critical focus. We ran into a few hiccups trying to delete photos, and there's no way to organize shots into folders (though filtered playback is available). Despite these drawbacks, it's a fairly robust playback system overall.
In-camera editing is pretty basic. Crop, size, and rotation are all adjustable for still photos, as are red-eye and one-touch contrast correction. Special effects can't be applied post-shot, though the color mode can be changed (from Off to Vivid, for example). There's nothing too fancy, but it's effective at a low level. No editing options are available for videos, however—even trimming.
The 100 HS supports PictBridge and DPOF, and offers most typical camera-to-printer options.
The 100 HS has no optical viewfinder (no surprise there), but it is equipped with a comfy 3-inch LCD with 230,000 dots of resolution—that's a little larger than average for a sub-$200 point-and-shoot. It's color-accurate and shows just a little lag, though viewing in direct sunlight is a big challenge, as we'd expect.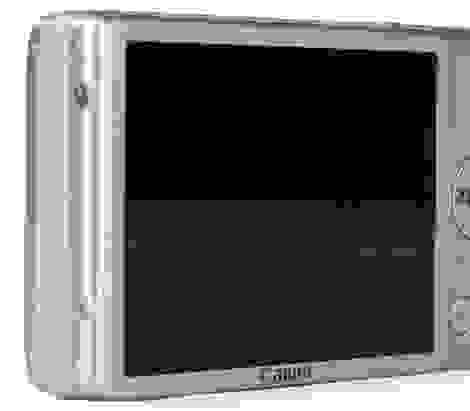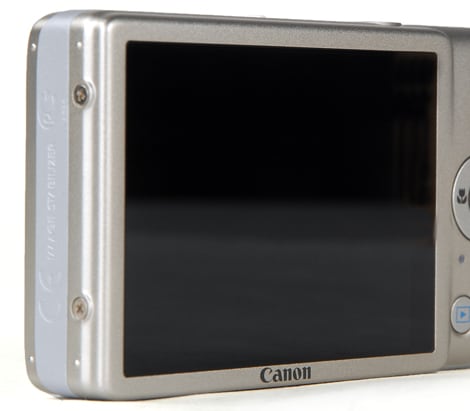 A small flash sits in the top-right corner of the front plate, a typical location. The lens seems to stay out of its way, though wandering fingers might block the light from time to time. Canon claims a glacial 10-second recycle speed in between flash shots, but we never had to wait that long in practice. We'll call it a medium-strength flash for a pocket camera, with a maximum effective distance of 13 feet.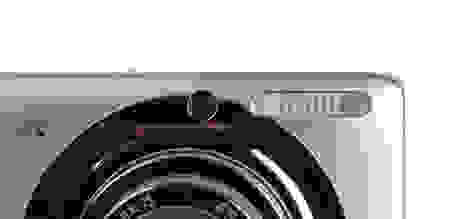 A Canon-brand 5.0-20.0mm (28-112mm equivalent) lens with a maximum aperture of f/2.8 sits on the front of the body. It's flush with the front panel when powered off, and extends about an inch when powered on.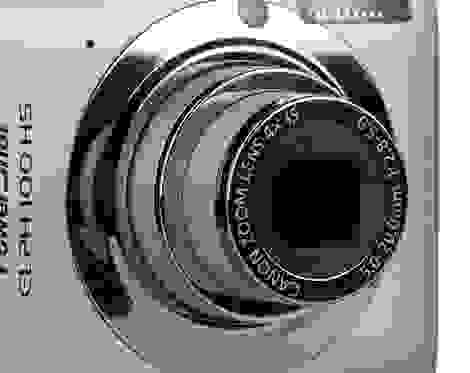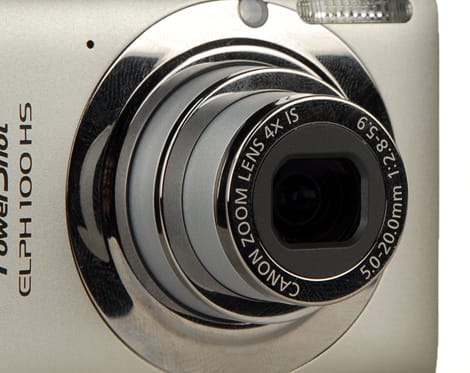 Zoom ratios don't get much smaller than 4x these days, so the 100 HS holds up the bottom end of the spectrum. Fortunately, it doesn't feel like a limiting factor; it's just about average. The optical zoom can be combined with 4x digital zoom for a maximum 16x magnification, though at a significant loss of image quality—as with any digital zoom.
The 100 HS comes with the NB-4L rechargeable lithium-ion battery. It holds a decent charge (230 shots or so, says CIPA), certainly above average for the class. It charges in a separate wall charger.
The 100 HS supports SD, SDHC, and SDXC cards. We're not sure if it supports the absolute highest-capacity 128GB SDXC cards, but those are rare and prohibitively expensive anyhow. It also accepts Eye-Fi cards for wireless transfer.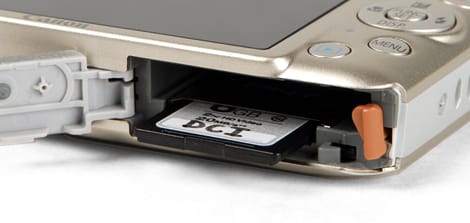 Canon keeps it simple with just two ports: One multipurpose A/V and mini-USB jack, and one mini-HDMI jack. Mini-USB and composite A/V cables are included in the package. Mini-HDMI cables for high-def playback are sold separately, but those are common, inexpensive cables, and rarely included with digital cameras.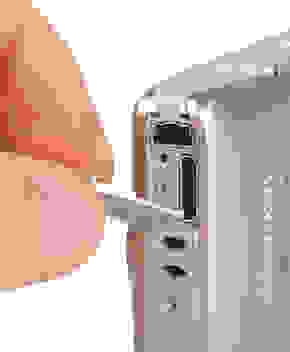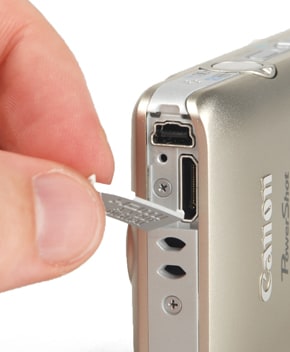 The 100 HS scores relatively low in this category compared to its peers, but only because it offers a few straightforward, effective modes rather 25 (or more) specialized settings. There's one Auto mode, one Program mode, and about a dozen scene modes. More modes are not always better, especially with such an effective auto exposure algorithm. The 100 HS does most of the heavy lifting.
A mode switch on the top toggles between Auto and "everything else." Non-auto shooting modes are all grouped into a single sub-menu that also includes effects and filters. This approach keeps the top level of the quick menu uncluttered, but it can be a hassle to dig for specific modes or settings.
Scene Modes
Those who are brave enough to dig through the kitchen-sink list of scene modes will find most of the usual suspects: Portrait, Kids & Pets, Beach, Underwater (don't forget the underwater housing!), Foliage, Snow, and Fireworks. More specialized options like Handheld Nightscene, Low Light, and Long Shutter are available as well.
Like the rest of this year's ELPH lineup, the 100 HS has a variety of built-in effects modes including Fish-Eye, Miniature, Toy Camera, and Poster Effect. Canon includes Monochrome and Super Vivid in the effects menu, though they're really just specialized color modes. Canon's cool Color Accent and Color Swap modes are also included. Compared to most point-and-shoots in this price range, this is a generous helping.
The 100 HS offers single-shot and continuous drive settings, plus a reduced-resolution burst mode—8.2 frames per second at 3 megapixels. The timer is great, offering standard 2 second and 10 second options, as well as a custom timer that lets the user choose a number of shots and the interval between the shots, like a carry-anywhere photo booth.
Shot to Shot ()
Compared to its peers, the 100 HS is snappy performer. The spec sheet claims a 3.4fps continuous, unlimited shooting rate, which would blow away most pocket cams' results, usually around 1fps. The fastest we could achieve under our testing conditions was 1.67 fps. It's about half of the promised rate, but still much quicker than its competitors (aside from the ELPH 500 HS).
It was tricky interpreting our results. The 100 was able to achieve three shots in less than a second, but only for a single second. Then the performance slowed down. We tried several combinations of ISO speeds and lighting conditions, but the fastest result we could achieve was 1.67fps.
As a pocket-sized, rectangular shooter, the 100 HS handles a lot like most other affordable point-and-shoots: not particularly well. It has soft corners but no grip, so one-handed use can be uncomfortable. Pocket cameras are doomed to poor ergonomics, but the 100 HS misses the mark on a few aspects that should have been no-brainers. The chrome shutter is flush with the top panel, which looks cool from an aesthetic standpoint, but doesn't handle as well as a domed or textured button. The tiny nub of a zoom tilter could be bigger, too.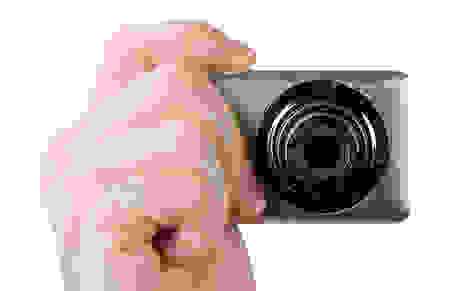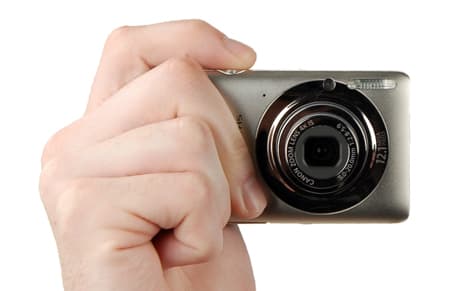 The rear panel fares a bit better. The buttons are well-labeled and large enough for most users. The layout is somewhat cramped, possibly because the over-sized LCD takes up more space than usual on a chassis of this size. Tactile response is decent, though it could be firmer.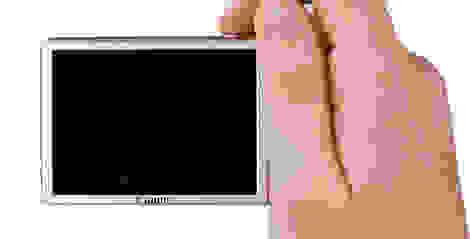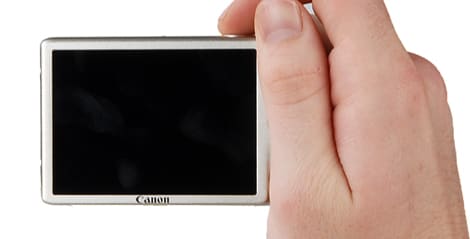 The button layout on the rear panel is pretty standard for a pocket camera, including a four-way pad and dedicated keys for playback, the menu, and one-touch video recording. As mentioned, the spacing is somewhat cramped and the buttons are a bit mushy, but it doesn't detract significantly from the user experience.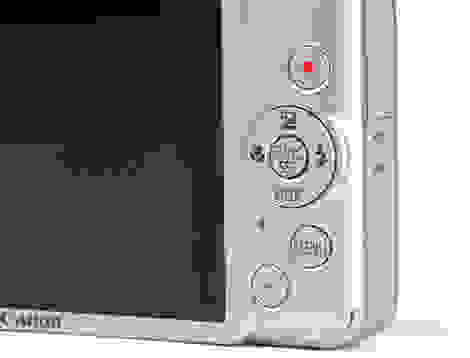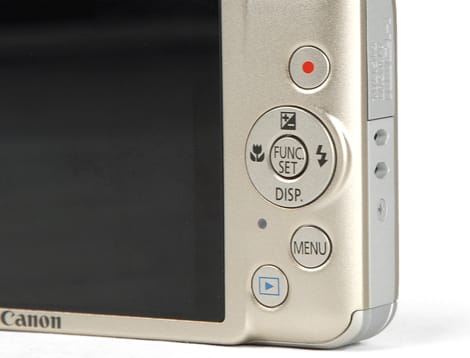 Up top, the Auto/not-Auto switch keeps basic operation very simple. The power button is slightly recessed, which prevents accidental triggering. We do wish that the shutter was domed or textured, and that the zoom tilter was more substantial.
The menu system is for the most part laid out logically and easy to navigate. There's a quick menu, accessed by pressing the function/OK button at the center of the four-way pad. This is where exposure and quality adjustments are made, including shooting modes, ISO speed, white balance, drive mode, and the like. The top level of the quick menu is clean, with a few obvious options, though this approach causes some clutter in the second level. There are a few dozen options in the shooting modes menu, for example, which can be tedious to navigate.
There's also a deeper menu, accessed with the menu key. This houses settings that users are less likely to adjust on a regular basis, including stabilization settings and red-eye processing, as well as factory reset and card format options.
The Canon ELPH 100 HS beats the Panasonic Lumix FP5 in almost all of our comparison points. The FP5 produces lower noise levels than the Canon, and is very color-accurate for a point-and-shoot. But the 100 HS is even more color-accurate, much sharper, and its physical controls offer better handling than the FP5's half-baked touchscreen implementation does.
These cameras—both currently in the middle of their product life-cycles—go for just about the same street price. The 100 HS is obviously the superior camera. The FP5's only leg up, in theory, is its touchscreen. But touchscreens are a hit-or-miss affair, and the FP5's is a big miss. We strongly recommend the Canon ELPH 100 HS over the FP5.

/r:render
Our next matchup is the ELPH 100 HS and the Samsung PL120, a budget point-and-shoot that offers a lot of bang for the buck. It performed surprisingly well for the price point in our tests, and sports a front-facing LCD for easier self-portraits. The 100 HS beat out the PL120 in just about every category, but never by more than a few points.
Though it's not the empirical winner in this comparison, the PL120 is a solid budget pick. At $129, it sells for about $40 less than the 100 HS.
To be clear, if money isn't a consideration, we'll recommend the ELPH 100 every time. It's still an excellent value, and lab-tested to be a better overall performer.

/r:render
Here's the real showdown: ELPH versus ELPH, brother versus brother. Based on the hardware and spec sheet, the ELPH 500 HS is the more "serious" camera: its bright f/2.0 maximum aperture gathers much more light and can create an eye-pleasing shallow depth-of-field effect (sharp foreground, soft background). It also allows more user control, including shutter and aperture priority modes.
But, no surprise, it also has a higher asking price: $299 MSRP/$249 street compared to $199 MSRP/$169 street for the 100 HS. Its touchscreen interface often hinders the user experience, and aside from the lens and manual modes, the 500 HS doesn't offer much more than the 100 HS does.
Our lab results confuse matters even more. Little brother has much more accurate color reproduction and less distortion. Big bro takes sharper, cleaner shots.
They're both excellent, affordable, user-friendly point-and-shoots. Snap-shooters and casual photographers should side with the 100 HS, because it takes awesome pictures with very little effort. The 500 HS's lens and manual control are compelling reasons for more experienced photographers to choose that camera, in spite of the interface.

/r:render
Point-and-shoots tend to concern themselves with extra features to stand out from the dozens of choices. Touchscreens, long zoom-ranges, share buttons, and special effects are all well and dandy, but the Canon PowerShot ELPH 100 HS (MSRP $199) succeeds where it actually matters: excellent image quality, a breezy user experience, and a very reasonable price.
The 100 HS takes arguably the best photos of any sub-$200 camera on the market. It can capture decent shots even in challenging settings, and in ideal conditions—outdoors on a bright, sunny day—its images are bright and clear with true-to-life colors. Any pocket camera obviously has its limitations, but its versatile sensor and smart processor put the 100 HS a few steps ahead of the budget-compact pack.
Fans of simple budget cameras will love the 100 HS for more than its picture quality. Auto mode is almost always spot-on, and if you ever need to dive into the menu system, it's easy to navigate and easy to understand. This little ELPH is also one of the fastest cameras in its price range. Autofocus is quick and the continuous shooting mode is nearly twice as fast as the average camera in this class.
Other point-and-shoots have more bells and whistles or offer more user control, but as a pocket-sized point-and-shoot retailing for under $200, the 100 HS packs some of the best bang for the buck that we've ever seen. It's an affordable and reliable carry-anywhere camera that makes great photography easy. For casual photographers, this is highly recommended.
Meet the tester
Liam F McCabe
Managing Editor, News & Features
@liamfmccabe
Liam manages features and news coverage for Reviewed.com. Formerly the editor of the DigitalAdvisor network, he's covered cameras, TVs, personal electronics, and (recently) appliances. He's a native Bostonian and has played in metal bands you've never heard of.
Checking our work.
We use standardized and scientific testing methods to scrutinize every product and provide you with objectively accurate results. If you've found different results in your own research, email us and we'll compare notes. If it looks substantial, we'll gladly re-test a product to try and reproduce these results. After all, peer reviews are a critical part of any scientific process.
Shoot us an email