The rumor of a Canon mirrorless camera with an APS-C sensor has been enough to have fanboys' tongues practically wagging out of their heads for the past few months. While many of them have espoused a hope for a retro throwback—something of a cross between the Fuji X-Pro1 and the Canon G1X—the Canon EOS M is understated in its design, more like a beefed-up S100 than a retro G1X.
The EOS M's outward appearance belies the level of sophistication under the hood, but the design seems designed so as to not intimidate. While the idea of a Canon mirrorless seemed like it would appeal largely to enthusiast shooters, Canon has instead opted to design a camera that looks like a simplified version of their Rebel T4i. That may not be what fanboys and bloggers were hoping for, but it's a smart decision by a company that's obviously reticent to eat into their huge DSLR market share.
If we ignore all else and focus exclusively on what the EOS M actually is, then we'd have to say that it's likely the simplest to use mirrorless camera on the market. While many mirrorless models pay lip service to being an easy platform for point-and-shoot users to jump to, the EOS M is, outwardly, designed precisely like a Canon point-and-shoot. It has one rear control dial, just a small rubber protrusion for grip, no more buttons than the Canon S100, and has just a simple mode switch to go between auto, still shooting, and video shooting.
While the menu design and layout is pulled directly from Canon's series of DSLRs, it's the outer design that is likely to draw the most attention. Simply put, as much as fanboys and enthusiasts have been clamoring for a Canon mirrorless camera, the EOS M is really not aimed squarely at them. From a design perspective, we'd say the Canon EOS M is designed to draw as wide a net as possible, with a level of control that anyone can adjust to—even if it might be too simple to satisfy more advanced photographers.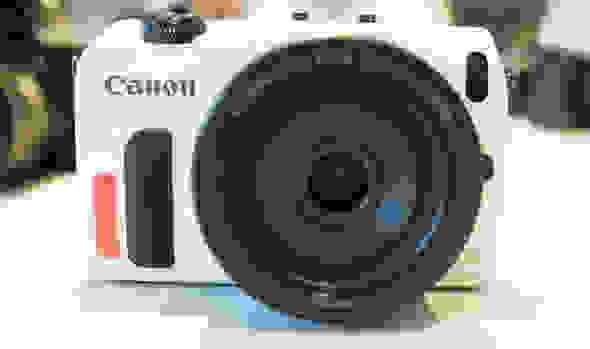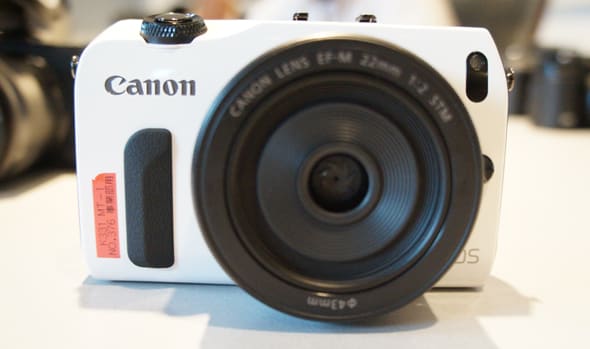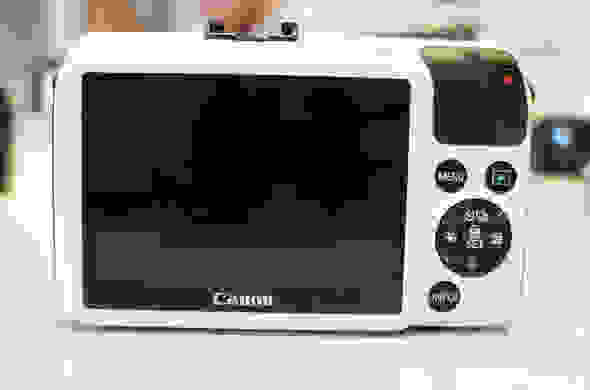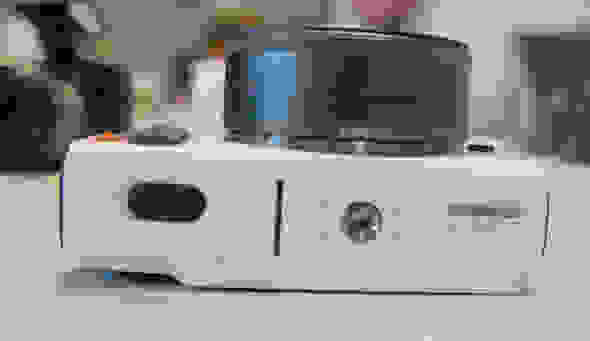 The menu on the Canon EOS M is pulled straight from their DSLRs, with a number of tabs color coded and arranged horizontally along the top of the screen. The tabs each have symbols associated with them, indicating the kinds of options (playback, shooting, etc.) that are included on the screen. This setup means you can move between tabs easily, without ever having to scroll down a long list to see options that are hidden off screen. It speeds up menu navigation and makes it easier to learn where various options are. It will seem a little alien to users who are actually stepping up from a Canon point-and-shoot, but if you've used a Canon DSLR at all, you should feel right at home with the EOS M.
The Canon EOS M is designed, quite simply, to be the easiest to use mirrorless camera on the market. With the simple control scheme of a Canon point-and-shoot and the intelligent layout of Canon's DSLRs, the EOS M is about as simple to use as it gets. It lacks the customizable setup, physical dials, and secondary control dial that many advanced mirrorless cameras have, but this should appeal to entry-level users who really just want a larger sensor and interchangeable lenses in a package they're familiar with.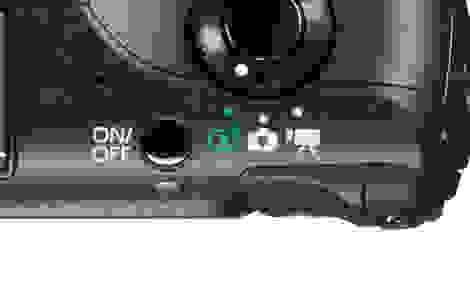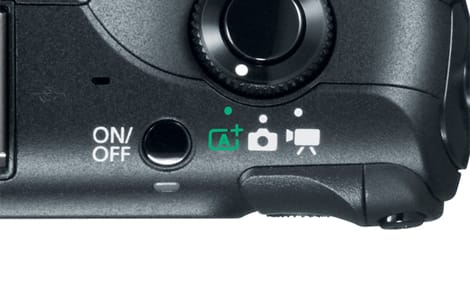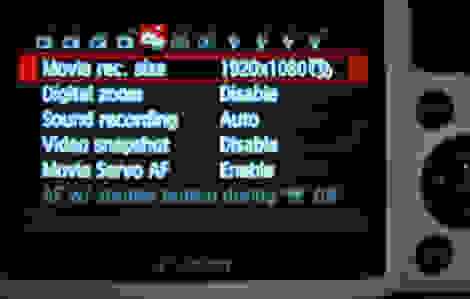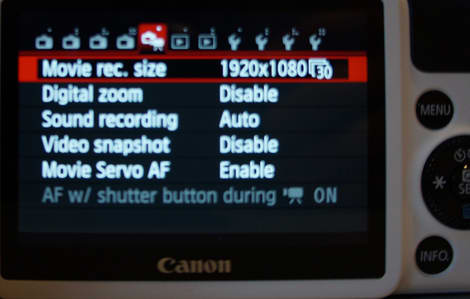 Asked by a co-worker to describe the EOS M when I first saw it (since pictures were not available), I called it a chunky S100. Indeed, it is a slightly fleshed out design that is greatly reminiscent of Canon's premier point-and-shoot. If you're comparing the two side-by-side you'll notice that the EOS M is a little thicker, a little broader, and a littler heavier, but retains the same rectangular, boxy design of its point-and-shoot cousin.
The EOS M handles well, though we wonder if the grip is enough to sustain it with longer telephoto lenses. We were able to see it with the 22mm f/2.0 lens and the 18-55mm f/3.5-5.6 lens—thus far the only EF-M lenses that have been revealed—as well as with the EF/EF-S adapter and Canon's new 40mm f/2.8 "short forty" lens. The grip, while not substantial by any means, was enough to control those lenses confidently.
We'll discuss the lens adapter in more detail later in this review, but we wonder if longer, heavier EF-S lenses are going to be as easy to shoot with. Canon did mention the possibility of third-party grips that have been popular options on other compact system cameras, so we wonder if they're wondering what the market will cook up to combat the fairly obvious problem of a point-and-shoot's grip on a body that can attach full DSLR size lenses. Once we get our hands on a production-level sample, we'll throw on some heavier glass and see how she handles in the real world.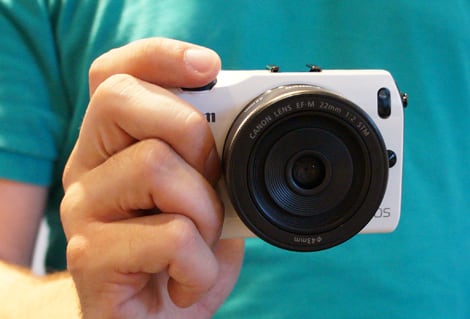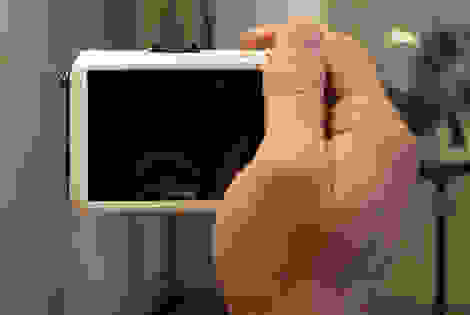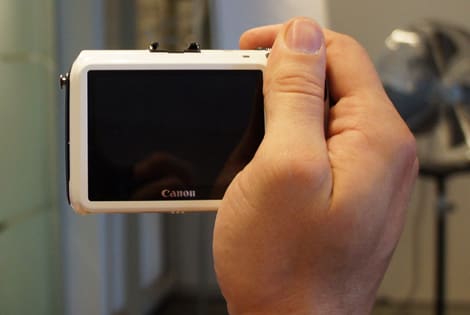 The Canon EOS M hides most of its shooting mode selections deeper in the menu than more advanced users may like, offering just a physical mode switch on the top plate of the camera to switch between automatic, a chosen shooting mode, and video recording.
That said, the camera does still offer a full complement of auto, scene, video, and PASM modes, with a level of control right up with their entry-level T3 camera. The design is still aimed largely at users looking for a simple experience, with the physical switch more of an "eject" button—if you screw up a setting and need to just take a photo or video, you can switch from the more useful standard shooting mode back to full automatic or video mode.
The Canon EOS M's full auto mode handles all the heavy lifting for you, as far as shooting options are concerned. The EOS M's full auto mode will decide focus, exposure, and ISO all automatically. This turns the camera into a simple to use point-and-shoot camera, just as it does on the Canon S100.
The EOS M's video mode is almost exactly the same as on the company's new Rebel T4i, with 1080/30p, 720/60p (amongst other frame rates/resolutions), full manual control, and autofocus built right into the image sensor. The camera also features audio level control, with a built-in stereo microphone and 3.5mm microphone port for recording sound.
The rear touchscreen on the camera can be used to touch-to-focus when shooting video, as well, with the new focus system working especially well with Canon's STM lenses and their stepping motor. With these lenses the camera doesn't have much trouble employing its hybrid AF to lock onto stationary subjects. Autofocus is still contrast-dependant, though, so moving and low contrast subjects will give it some trouble.
Video is recorded in MPEG-4 H.264 AVCHD as a .MOV file, with the camera's creative "picture styles" in operation even during video capture.
The Canon EOS M has the ability to fire at up to 4.3 frames per second, giving it a little more speed than entry-level DSLRs but a little less than the mid-range Rebel T4i. As with other cameras, that appears to be only when focus and exposure are locked in with the first frame. In our time with the camera we found it to be quite responsive, though the model we were allowed access to did not have final firmware or a totally pinned down internal design, so that is all subject to change, of course.
Playback on the EOS M seemed fairly standard, for the model that we were able to use. As we found on the Canon Rebel T4i, the touchscreen functionality of the screen allowed for easy swiping between shots, with pinch-to-zoom functionality as well. There wasn't much in the way of editing but, again, nothing in the firmware was totally final.
The Canon EOS M shares the same image sensor as the Canon Rebel T4i, with a maximum resolution of 18 megapixels in a 3:2 aspect ratio. The camera shoots both RAW and JPEG (or RAW+JPEG, naturally), with options for normal or compressed JPEGs.
The Canon EOS M utilizes the same hybrid AF image sensor autofocus system as the Rebel T4i. The system uses 31 AF points on the sensor (including 9 cross-type phase-detection sensitive points clustered around the center of the frame) to lock in on focus, relying exclusively on contrast-detection AF near the edges of the frame. In our time with the camera we found it compared equally with the T4i in terms of speed. Its contrast AF was accurate and fairly snappy in a dimly lit conference room, and it had more success with low-contrast subjects in the center of the frame, as you'd expect.
We don't want to make any proclamations about the contrast AF's utility with a pre-production sample, though we did find it to be more than adequate, if not exactly best-in-class.
The EOS M lacks the mirror of a full-size DSLR, relying instead on brightness information gathered from the image sensor itself. We don't yet have final specifications on full exposure settings, though it did have a full set of automatic, manual, aperture/shutter priority, and scene modes built into the camera from what we saw. There's no direct entry of exposure mode on a physical dial, but you can switch between still shooting, video, and automatic still shooting with the switch on the top plate.
The EOS M allows users to select an ISO speed ranging from 100-12800, with 25600 available as an ISO expansion option. You can select these manually or let the camera do so automatically, as you've probably seen on just about every camera ever. If the higher ISO speeds are too noisy, you can make use of Canon's multi-shot noise reduction mode (called—you'll never guess—"Multi-Shot Noise Reduction") to help keep pesky grain out of your shot.
The Canon EOS M does not feature image stabilization built into the body, as some other manufacturers have opted for. Instead Canon stuck to their guns, using image stabilization in the lenses instead. Of the two EF-M lenses available at launch, only the standard 18-55mm f/3.5-5.6 kit lens features image stabilization. The 22mm f/2.0 lens does not.
The Canon EOS M includes seven picture filters, dubbed "Picture Styles" as they are on other cameras. These are right in line with the standard modes on Canon DSLRs, and aren't quite as extensive as the creative modes found on some of the mid-range Canon point-and-shoots. Still, they do offer a level of creativity to the user, and will remain active even when shooting video. They're fairly standard fare, allowing you to alter the tone, saturation, and sharpness of your shot.
The Canon EOS M marks Canon's first new lens mount since the launch of the EF lens mount more than 20 years ago. The EF-M mount will accommodate APS-C image sensors in these small bodies, with two lenses available at launch. The lens choices aren't substantial (a standard 18-55mm f/3.5-5.6 and an 22mm f/2.0 lens, both with stepping motors for smooth video autofocus) as of yet, but the camera will launch alongside an optional lens adapter that will let you attach any modern Canon lens to the EOS M.
The lens adapter will retail for $199.99 at launch and we were able to get some hands-on time with it during our time with the EOS M. While Canon didn't bring any larger lenses (nor us), we did get to shoot with the new 40mm f/2.8 lens on the EOS M by way of the adapter. It's hardly a coincidence that Canon has just released a small prime and a camera that, even with the adapter, seems made for a collection of small primes. We found the combination to be quite good, with the lens adapter allowing for full autofocus compatibility. We found the connection to be snappy, with the lens adapter of an extremely high quality.
While we have our reservations about the camera's grip standing up to longer session of shooting with larger, heavier lenses, we don't have much concern about the lens mount or adapter. The mount itself is all metal, as are both sides of the lens adapter. The small adapter also has an optional screw-in tripod mount that will let you mount heaver glass on the EOS M on a tripod without the whole thing necessarily tipping forward. This is a moot point for extremely long lenses that already have tripod mounts placed off-camera, but it'll come in handy if you throw some of the heavier mid-range L-series glass on an EOS M in the near future.
The image sensor itself deserves some recognition, as well. It's a full APS-C sensor, designed by Canon and borrowed directly from the Canon Rebel T4i, along with its DIGIC V processor. It is an 18-megapixel CMOS image sensor, and it's the same size as you'll see on any Canon Rebel or other mid-range DSLR. Short of a professional full-frame DSLR and Canon's underused APS-H size sensors, it's one of the biggest sensors you could find on the market.
The sensor includes autofocus points that are built directly into it, with 9 cross-type sensitive points on the sensor. These are clustered around the center of the frame and are better used for moving subjects. For still subjects in all but the most extreme environments contrast detection AF is faster and more accurate, as a rule.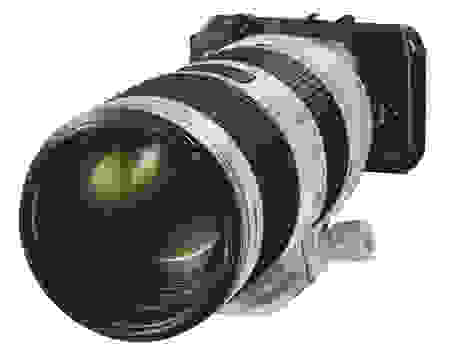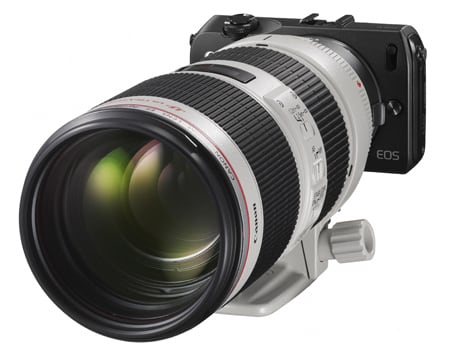 The EOS M also borrows the Rebel T4i's rear LCD, which is a 3-inch, 1.04-million dot display. It doesn't have the vari-angle hinge like the T4i's LCD, however. While it is fixed, we found it had a very good viewing angle both horizontally and vertically, and the LCD's touch panel was quite sensitive. It's a capacity touch display, but we found it fairly accurate and useful in select situations (mostly focus and playback modes).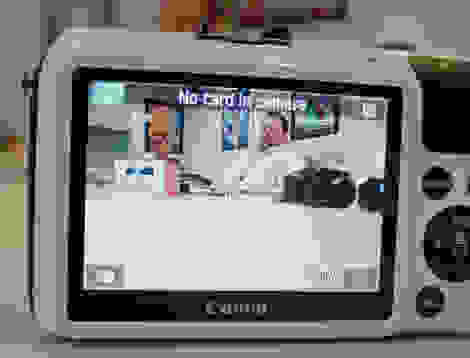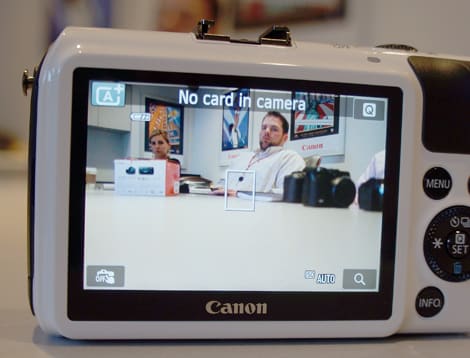 The EOS M lacks any sort of viewfinder option and it doesn't seem like there's one in the camera's future, either. The camera's top plate includes a standard EOS hot shoe, which does not have the data throughput to output a video signal to a viewfinder. The camera does have mini-HDMI output, so an external monitor could be used if you're dead set on getting video out of the thing, but we weren't able to test this functionality to any degree.
The EOS M also ships without a built-in flash, instead requiring those needing a little extra light or a strobe to go with the Speedlight 90EX. The 90EX has a guide number of 9 meters at ISO 100, with a 24mm wide angle spread. It is a fixed flash, though, without any bounce for less direct light.
The EOS M includes mini-USB, mini-HDMI, and a 3.5mm microphone port behind a flap on the left side of the body. We weren't able to test much more about the connectivity, but the inclusion of a mic port will be a big plus to those who want to use the EOS M for serious video.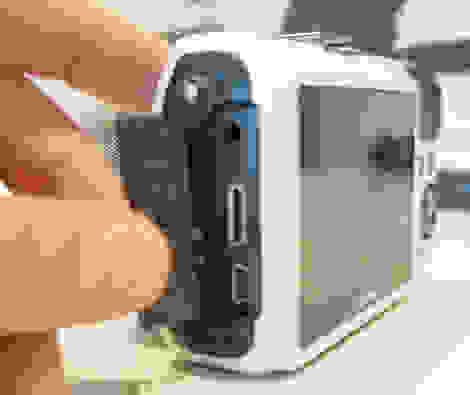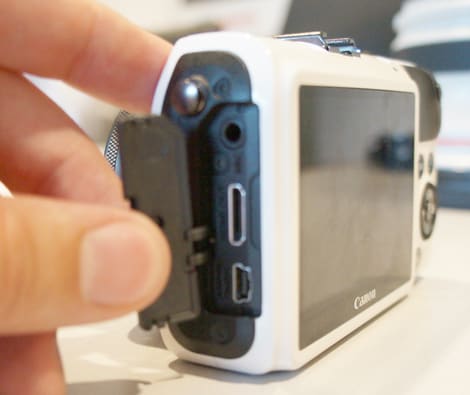 According to those we spoke to, the EOS M includes a new battery from Canon, though its life may be a little short for some people. It has a capacity of 875 mAh and is rated to 220 shots. We didn't receive word on if that's a CIPA rating (following their strict, if somewhat odd, protocols) or a Canon rating, however.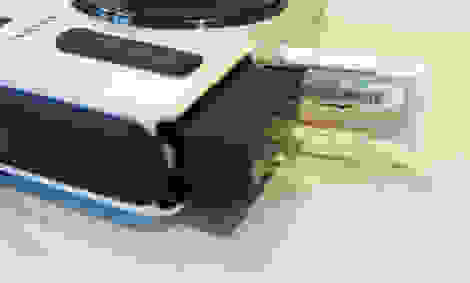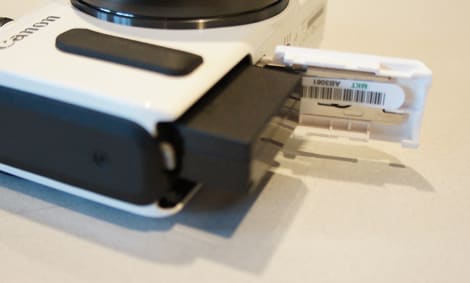 The EOS M has just a single memory card slot. It's compatible with SD/SDHC/SDXC memory cards. That also includes the higher speed UHS-1 class of memory cards. A 16GB card would be enough to record just 44 minutes of full HD video (still the sub-30minute restriction though), so video shooters will want some backup memory.
For nearly two years, the rumor of a Canon mirrorless, interchangeable lens camera has spread around the Internet like wildfire. Each time the idea pops up on various blogs, forums, and other places where people have heated discussions about cameras, the wishlist from Canon fans pours out: a retro-inspired design, exceptional build-quality, an APS-C image sensor, and physical controls on par with the Canon G1X amongst others.
The Canon EOS M is that mirrorless camera, but it may be different than what many expected. It's clear from its simple, point-and-shoot design that Canon didn't feel the need to turn the DSLR market on its head; when you own the wheel business, you don't go around trying to reinvent it all the time. We were able to shoot with the EOS M for a short while and found it to be eerily familiar to other Canons we've used.
As asked for, the EOS M is exceptionally well-built, but its design is not culled from the dusty archives of cameras past. Instead, the EOS M is reminiscent of a more contemporary model: Canon's own high-end compact camera, the S100. Putting them side-by-side, the EOS M looks just like the flagship PowerShot, all grown up with some fuzz on the chin and a little extra weight around the middle.
While a bit fatter and heavier than the S100, the EOS M manages to squeeze an interchangeable lens mount, full hot shoe, APS-C image sensor, and a new DIGIC V processor in that little frame. Simply put, the EOS M—lens excepted, of course—takes the guts of a DSLR and puts it in a body you can put in your pocket.
Of course, adding the lens dispels that bit of design magic, but the EOS M is stunningly small—and stunningly modern, if you had your heart set on the Canon mirrorless looking like an old rangefinder. It has just a small rubber protrusion for a grip on the front, no viewfinder of any kind, and a control scheme that looks like any number of Canon PowerShots. It's enough of a grip for the small lenses that will launch alongside the EOS M, including the adapter, but heavier lenses may pose a bigger problem.
While the lack of physical controls and viewfinder will be a disappointment to the enthusiast crowd, those simple looks belie a powerful set of hardware. Indeed, while the economies of scale certainly made sourcing the components simpler for Canon, the EOS M draws most of its spec sheet directly from the just-released Canon Rebel T4i.
In our time with the camera we kept feeling that we were playing with a shrunk down T4i—like the EOS M could simply fit inside the T4i like a Russian nesting doll. That's not a massive surprise when you look at what the two cameras offer on paper; the EOS M has the same image sensor, image processor, rear 3-inch LCD, menu system, on-sensor autofocus system, and touch panel as the T4i. In short, it performs like a T4i, but handles like the S100, with simple point-and-shoot controls anyone can use.
The one major difference between the T4i and the EOS M (besides the size and the LCD not tilting away from the body) is the lens mount. Stripping out the mirror has required Canon to redesign their lens mount for the EOS M. The new mount—dubbed EF-M, in addition to the current EF/EF-S lens mount—launches with just two lenses to start, a 22mm f/2.0 lens and an 18-55mm f/3.5-5.6 IS lens. Both lenses are high quality, with metal mounts. They're quite small and house the stepping motors that allow for smooth continuous autofocus in live view and video that Canon has been touting alongside the Rebel T4i.
The EOS M is a camera for the masses, a simple-to-use interchangeable lens camera that won't intimidate, but doesn't skimp on the components or build quality. Its similarity to the Canon T4i is going to make for some tough buying decisions for many people in the sub-$1000 camera market; for just $799.99 this October, you can likely get all of the T4i's performance in a smaller package.
While it may not reinvent the wheel, the EOS M's announcement is another major player looking to take DSLR quality and shrink it down to a more manageable size. It's not the retro dream enthusiasts have been clamoring for, but it's the kind of low-risk camera with broad appeal that has defined Canon's camera lineup these last few years.
Meet the tester TJ Donegan
Executive Editor
@TJDonegan
TJ is the Executive Editor of Reviewed.com. He is a Massachusetts native and has covered electronics, cameras, TVs, smartphones, parenting, and more for Reviewed. He is from the self-styled "Cranberry Capitol of the World," which is, in fact, a real thing.
Checking our work.
Our team is here for one purpose: to help you buy the best stuff and love what you own. Our writers, editors, and lab technicians obsess over the products we cover to make sure you're confident and satisfied. Have a different opinion about something we recommend? Email us and we'll compare notes.
Shoot us an email