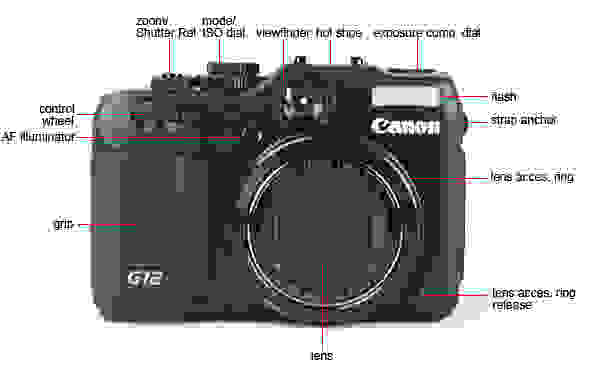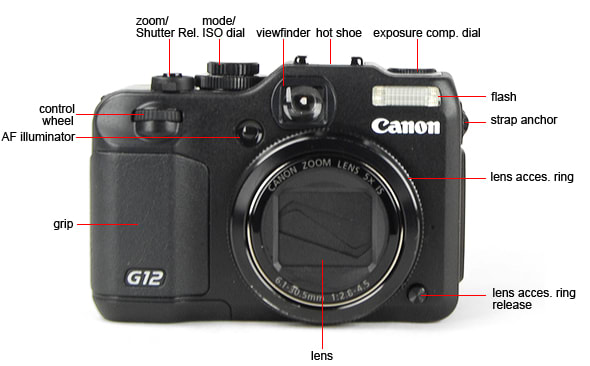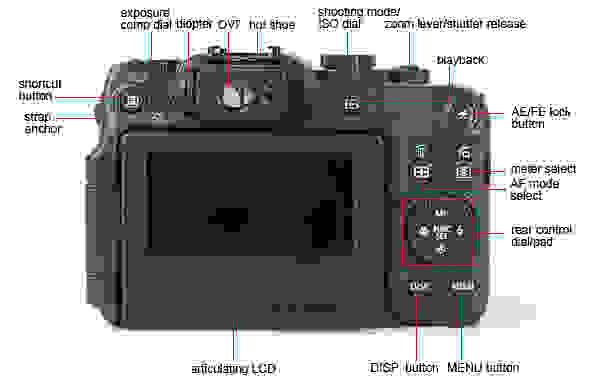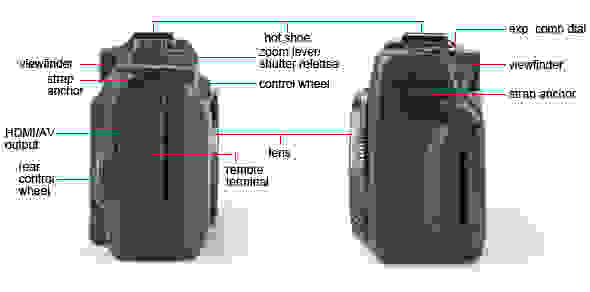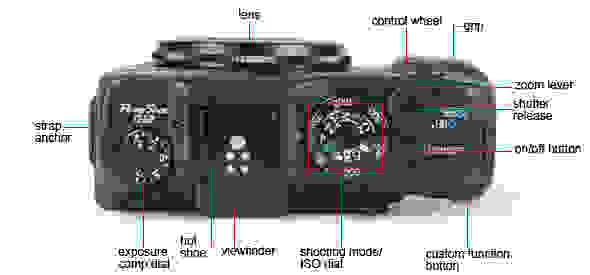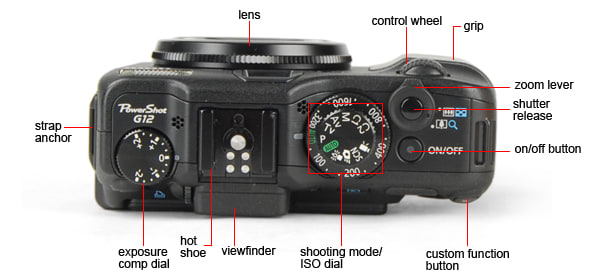 Color accuracy is always a bit of a sticking point among photographers. Most would rather capture colors that are as true to life as possible, a viewpoint that most high-end cameras aspire to. The G series from Canon seems to ignore this logic, however, as both the G12 and its predecessor could only manage a color error of around 3.8, when we typically look for errors under 3 from premium models. In truth, even basic point-and-shoot cameras rate higher in color accuracy than the G12, which is disappointing to say the least. With so many custom color options and modes on offer, Canon should do better to offer at least one mode that can offer an accurate color profile and leave the vibrancy to, say, the "vibrant" color mode. More on how we test color.
Surprisingly, the G12 actually did not perform that poorly compared to the rest of our comparison group. Despite being put up against it's predecessor, the G11, as well as a group of similarly priced ($350+) cameras, the G12 was beaten, but not by a huge margin. We're not sure why this select group of cameras performs poorly on our color tests when both DSLRs and lower level cameras do better, but the G12 isn't as far off the mark as you might expect here. The only guess we can muster is that these companies believe those who use these higher end cameras will favor vibrancy in-camera and will tweak the available settings to their liking.
The G12's menu system functions very similarly to Canon's other point-and-shoots, offering a "My Colors" option with a host of different modes. It's clear Canon's aim here is to offer pictures that "pop" right out of the camera, with four different modes that incorporate "vibrant" in the title. There is a "natural" mode, but in our testing we found little difference overall between that mode and simply turning the option off altogether. The other modes all emphasized particular aspects of the color wheel, including skin types, and were generally pleasing in real-life applications, if also wholly inaccurate. There is also a custom color option, with a +/- 2 scale with adjustments for skin tone, contrast, saturation, sharpness, and blue/green/red colors.
The Canon G12 is able to suppress noise greatly throughout its ISO range. While noise did rise from the minimum ISO speed of 80 up to the maximum 3200, it never amounted to more than 2% of the final image, likely due to noise reduction. These aren't necessarily uncommon results for a point and shoot camera, but most accomplish this with a heavy dose of noise reduction. While noise reduction is obviously present, the larger sensor of the G12 (and our comparison cameras, as well) allows more fine detail to be retained, while noise was kept under 1.1% as high as ISO 800. More on how we test noise.
The G12 seemed to return images with less noise when light was less plentiful (tested at 60 lux) versus brighter conditions (3000 lux) in our lab. At ISO 80 the results are an identical 0.55%, but a gap of 0.03% arises at ISO 100 and stretches to 0.24% at ISO 3200, likely as a result of heavier noise reduction being applied in low light at such a high ISO speed, resulting in more detail loss.
All of our test cameras have image sensors of 1/1.63'' or larger, bigger than what is typically found in compact point and shoots. The G12 outscored most of our comparison group by a fair margin, though, offering far less noise than its predecessor the G11 and the Panasonic LX5. Only the Olympus XZ-1 managed better results, with lower noise totals from ISO 800 through its superior maximum sensitivity of ISO 6400.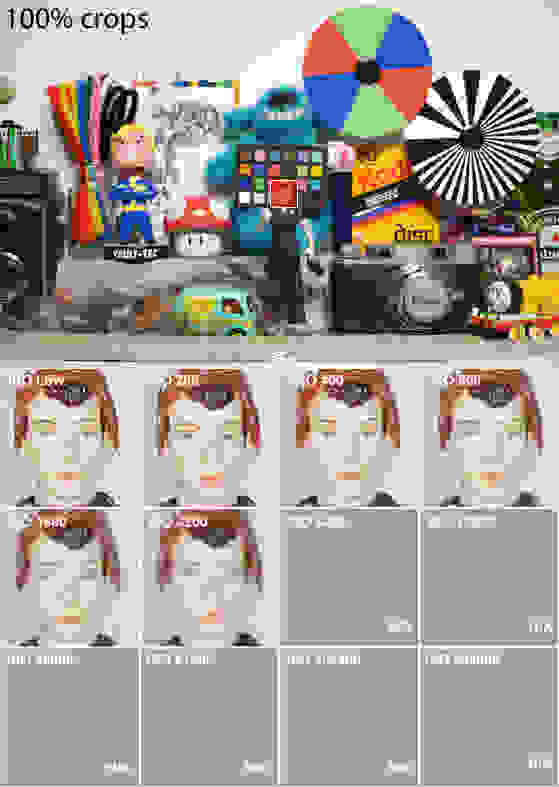 The G12 offers ISO control only through its physical dial on the top of the camera. This allows for quick changes in ISO sensitivity, from a minimum of 80 through the maximum of 3200, with 1/3rd stops and an AUTO setting. Automatic can be given set parameters to follow in the menu, allowing users to set a maximum between 400 and 1600, while also specifying the rate of change.
NOTE: The images above are not used in our testing or scoring, but are included here to show real-world examples of the differences between cameras at the various ISO settings.
The G12 performed well for a compact camera, though it slipped behind a bit from what we saw with the G11, which benefited from fairly heavy oversharpening propping up its score. Otherwise, the G12 tested exactly how we would expect from a high-end compact, with little chromatic aberration. More on how we test resolution.
Distortion ()
The one main issue with the G12's performance was the heavy distortion visible when shooting at the wide angle. The lens tested almost identically to what we saw with the G11, offering little to no distortion (less than 1%) at the midpoint and telephoto ends of the zoom range, and just a hair under 3% barrel distortion at the wide angle. It plays havoc with framing, and the camera does not seem to autocorrect for this distortion. If you plan on shooting landscapes or architecture—such as on vacation, for example—we'd recommend taking a few steps back and zooming in further to correct distortion naturally.
Sharpness ()
While it yielded a higher score in our initial testing, the G11 produced images that had a strong "haloing" effect around areas of high contrast, as the camera artificially boosted sharpness to a great degree. This has been toned down substantially in the G12, though the effect is still very present. The ultimate result is an enhancement in fine detail (albeit unnaturally) that subjectively makes for a better photo without overpowering edges and highlights as was the case on the G11.

Chromatic Aberration ()
Chromatic aberration is of little concern on the G12, compared to most other compact cameras. The G12 had the least aberration of any of the high-end compact cameras we compared it to, though not by a gigantic margin. The most noticeable chromatic errors came in the red channel, as the lens seemed to have a slight issue with lateral aberration at the wide angle, resulting in a blue-green fringing to the left of high contrast edges and a corresponding red fringe present on the opposite edge.
The G12, like any good high end compact, whets the appetite with an array of quality and size options. The G-series from Canon has not been the home of high-resolution images, with the G12 keeping to the "good enough" maximum of 10 megapixels that Canon seemed to establish with the G11. The camera offers photo resolutions in ratios of 16:9, 3:2, 4:3, 1:1, and even 4:5 (akin to medium format film, albeit at a maximum of only six megapixels). with the largest being 10-megapixel images at the 4:3 ratio. There are four sizes available at each ratio, ranging from the maximum down to web-only shots of 640x480 pixels, with a "fine" and "normal" option available for each. The G12 also offers RAW shooting, with a RAW+JPEG option for those of you blessed with larger memory cards.
The G12 offered a 34% improvement in sharpness with stabilization activated against leaving it off. We test at a moderately low shutter speed (1/30th of a second), which is close to the barrier for handheld shooting. The G12 offered three kinds of stabilization, with options for continuous, on a per shot basis, and while panning. Continuous will constantly stabilize and is of best use when the camera will be constantly moving, such as on a vehicle or a boat, while panning will stabilize vertically to provide a smooth horizontal motion. More on how we test image stabilization.
The G12 outperformed all the cameras in our comparison group in the effectiveness of its stabilization, by a large margin. Its 34% improvement in sharpness was well ahead of the 23.52% improvement on the G11, its closest competitor in this group. High end cameras don't tend to perform quite as well in this test, so it was a surprise to the see the G12 do so well, especially offering such a large jump over its predecessor.
Video is recorded on the G12 by turning the physical mode dial directly to the video mode, with no dedicated video record button. This isn't uncommon on Canons, even their DSLRs, so while frustrating it's to be expected. When in that mode there are limited control options compared to shooting stills, but the camera still offers the use of custom white balance, the "my color" modes, the internal neutral density filter, and resolution selection. These options are brought up by pressing the FUNC./SET button, same as in the other modes. Also available are options for recording 6fps video with a tilt-shift filter, as well as videos with color swap and color accent modes activated.
The G12 has surprisingly very good color accuracy, with a delta C of just 3.88. This was right where it performed in still shooting, while most cameras perform worse. That was good enough to make the G12 the best in the comparison group, by far, and is quite good compared to any compact camera. The "my color" modes are still accessible in video mode, including custom, so this can be tweaked considerably by the user to get a desired effect. Despite this, the best result we found was with my colors turned off, however. More on how we test video color.
One area where the G12 struggled was in video sharpness, though this is to be expected. We found a maximum sharpness of 450 lw/ph horizontally and 550 lw/ph vertically, though in reality, aliasing kicks in around 300 lw/ph in both directions. This isn't uncommon on compact cameras—and it did represent a big leap in quality over the G11—but it's hardly considered a fantastic result compared to what, say, a $499 camcorder would net you. More on how we test video sharpness.
The G12's playback mode is accessed through the dedicated button above the rear LCD. From here users can get a detailed information readout of each image, a full view of the shot, an array of multiple images to sift through (with a maximum 10x10 grid), as well as a fairly substantial digital zoom for checking small details. The MENU key brings up a number of options, including a tab for direct print options, a smart shuffle option, a simple slideshow option, along with the ability to erase, protect, rotate, trim, or resize an image. The menu also allows you to mark an image with a category or as a favorite, apply the i-Contrast or red-eye correction filters, or apply any of the "my color" settings to create a new image.
The G12 allows users to apply several filters to images after capture, specifically the i-Contrast, red-eye correction, and "my colors" options. Red-eye correction is pretty self-explanatory, but i-Contrast will make corrections to the overall range of an image, correcting for slightly overblown highlights and bringing up shadows a bit. The "my colors" feature is essentially the G12's color modes, with options for applying more vivid blues, reds, greens, as well as sepia tones and other color casts to your images.
The G12 has very simply direct print options, as you'd expect, given that Canon has a wide range of standalone printers that they also manufacture. The G12 allows you to even automatically create one print for every image on the memory card with two simple menu clicks. There are also specific options to print one image up to 99 times. The camera also allows you to select a range of images for printing, which is handy if you have a specific range of images you love more than others, like your children.
The G12 includes a rather unique optical viewfinder, as it looks like a simple window placed above the LCD, as with most older compact cameras. Inside this little box is actually a motorized zoom lens that will match the zoom of the actual camera lens, offering a fairly accurate 1:1 ratio crop of the approximate center of the image. The sensor and viewfinder do not share any light transfer of any kind, so the angle is slightly off and the camera takes a larger image than what shows up in the finder, but it is a clever solution to the desire to place an optical viewfinder in a camera with no mirror.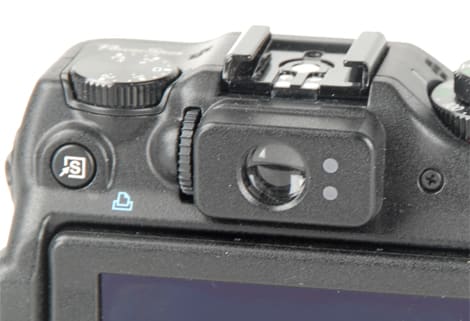 The rear 2.8-inch rear LCD isn't of the highest quality, though it's 461k-dot resolution. It tends to fairly drastically oversaturate the image on the screen, while also clipping shadows and highlights when in live view. It's not bad at all when reviewing images, but for focus adjustments and color grading prior to shooting, there are definitely better options on the market.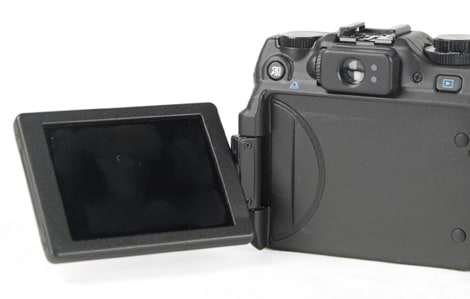 The Canon G12 employs a fairly standard built-in flash that is built directly into the front of the camera body, just above the camera lens. The flash is rated at a guide number of 23 feet when the camera's maximum aperture of f/2.8 is available (this drops to 13 feet at f/4.5 when zoomed all the way in), with a recycle time of 10 seconds or less per shot. In actuality, we found the flash was able to recycle at a rate of just over one shot per second.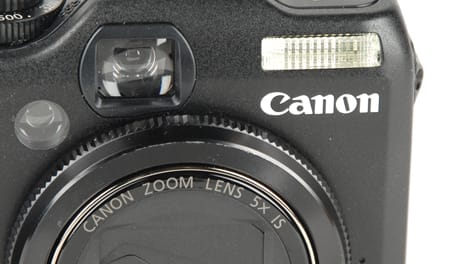 The G12's lens offers a maximum aperture range of f/2.8-4.5, with image stabilization built in. The lens telescopes out from the body, retracting into the body when the camera falls asleep or is powered completely off. The camera has a spring-loaded plastic cover that protects the glass when the lens is retracted, but it is easily moved to expose the lens so you won't want to just chuck the camera in a bag with loose change, pens, etc. without some sort of secondary protection.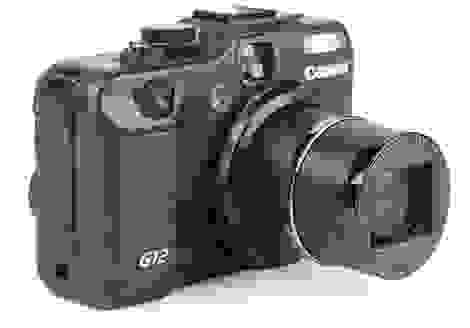 The G12's lens provides a 5x optical zoom, with a focal range of 6.1-30.5mm. The wide angle presents the most problems, with both chromatic aberration and distortion only ever apparent at around 6.1mm. The zoom range is a bit limited compared to some cameras in this price point (and much lower), but this is due to the larger image sensor these cameras utilize, which does increase picture quality and low light capability to some degree to offset the lack of zoom. The lens also offers an attachment ring, which will allow users to employ first and third-party teleconverters that sit over the telescoping lens and move along with it.
The G12 utilizes the Canon NB-7L rechargeable Lithium-ion battery, with a capacity of 1050mAh. The battery charges in a standalone block charger with a flipout plug, so it's not the most convenient if you need to charge it in a crowded power strip, but it gets the job done. The battery is rated by CIPA standards to around 350-370 shots, though you'll get substantially more (upwards of 1000, according to Canon) when the LCD isn't being used. Given the drawbacks of the built-in viewfinder window, we'd recommend using the LCD and limiting playback and review as much as possible.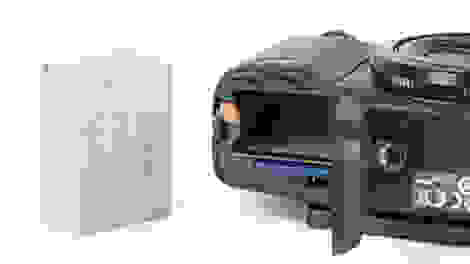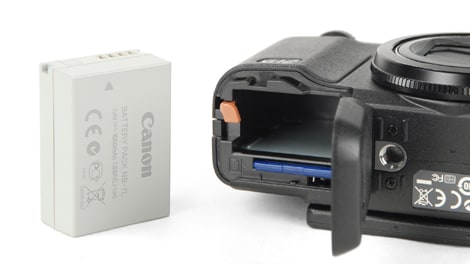 The Canon G12 makes use of SD/SDHC/SDXC and MMC memory cards, which interface through a slot in the battery compartment on the bottom of the camera. There is no listed maximum card size, though Canon's specifications do not reference any card larger than 16GB, which we found worked fine. Given that you can fit over 6,000 of the highest resolution JPEGs on a 16GB card, that should be enough for most uses.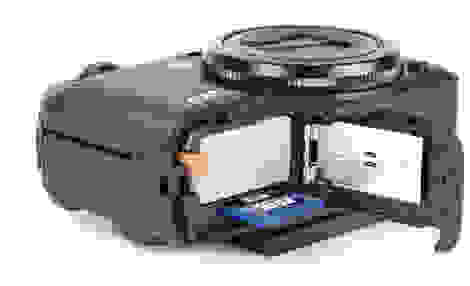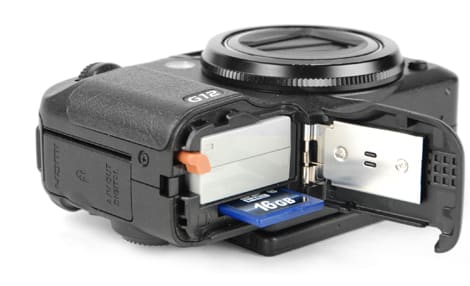 The G12 includes both mini-HDMI and AV/USB output. The AV/USB connector fits a standard mini-USB connector for transfer to a PC, but has integrated AV to also output standard definition video. We found that a normal mini-USB cable we had in the office worked fine for connecting the camera to a PC, though it seemed to have difficulty directly connecting with a Mac—though this may be simply a compatibility issue, rather than an issue with the camera.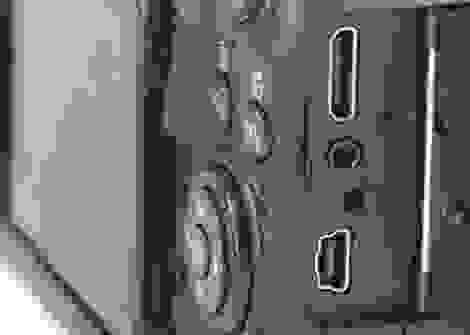 Accessory lens ring
The G12, like the G11 and G10 before it, sports a metal accessory mount around the lens of the camera. The mount normally is covered by a removable metal ring, but it allows the attachment of several different types of accessories. The main two are Canon's 1.4x teleconverter as well as a 58mm filter attachment, allowing the use of filters sized to fit standard consumer-level Canon DSLR lenses. In general, the accessories are more trouble (and money) than they are worth, adding little to the shooting experience.
There are cheaper third-party versions of these accessories, but they don't tend to work as well as the Canon version. These accessories do not have as much utility as the front control ring found on Canon's S90 point-and-shoot, and we'd think users would get more use out of something akin to that if Canon is not going to produce higher-quality (and less expensive) accessories to accompany this line in the future.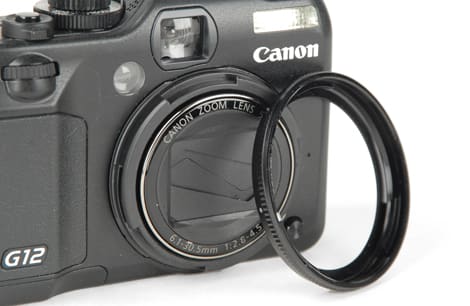 Hot Shoe
The G12 includes a hot shoe for the attachment of certain accessories. The camera is compatible with a number of accessories via this port, including a special macro twin light, a macro ring light (both require a lens adapter, off shoe camera power cord, and bracket, as well), the HF-DC1 high-power flash, a number of Canon Speelites (220EX/270EX/430EX and EX II/580 EX and EX II), and the Speedlite transmitter ST-E2 for controlling wireless slave flashes (except 220EX and 270EX).
The Canon G12 offers a physical shooting mode dial that is stacked, wedding cake style, on top of the ISO dial. This dial offers a very solid response with each click as the wheel slots confidently into place, with options for manual, aperture/shutter priority modes, program mode, full automatic, low light (reduced 2.5mp resolution), quick shot, scene mode, movie record mode, and two custom settings that are user-defined.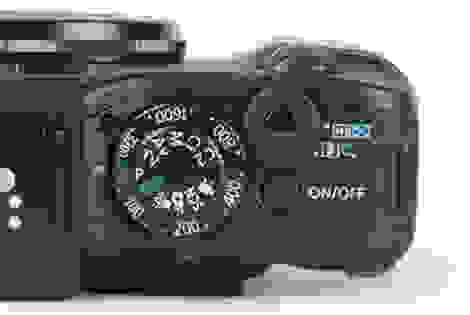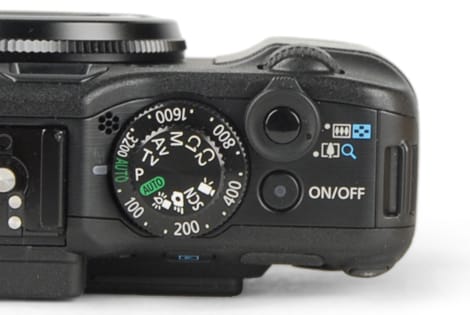 Scene Modes
The scene mode on the shooting mode dial allows the user to choose from one of nineteen scene modes, which include: portrait, landscape, kids and pets, sports, smart shutter, super vivid, poster effect, color accent, color swap, high dynamic range, nostaligic, fish-eye, miniature, beach, underwater, foliage, snow, fireworks, and stitch assist. All of these modes are fairly standard, but they'll allow even beginners to access a wide variety of creative filters and effects without having to learn about more advanced concepts of photography.
The Canon G12 offers a variety of "My Colors" modes that will affect the color profile and tone of any photo. These can be applied prior to a picture being taken, but also through the playback menu on any picture currently on the memory card. If applied through the playback menu after the fact, a new image is saved to the card and the original is retained. These modes are discussed in our color testing section, but they include old favorites like vivid, neutral, sepia, black and white, along with positive film, lighter skin tone, darker skin tone, vivid blue/green/red, and a custom color option.
The G12 offers manual control by the boatload, though the camera's actual options for exposure are rather limited. The manual mode on the dial allows users to select from a shutter speed ranging from 15 seconds to 1/4000 of a second, but aperture is still very limited, with options stretching from f/2.8 to just f/8. For those manual shooters, the dual control dials are especially helpful, as you can adjust both settings on the fly.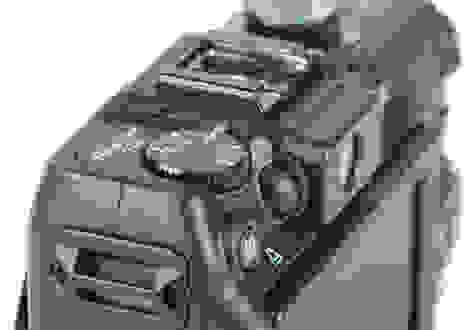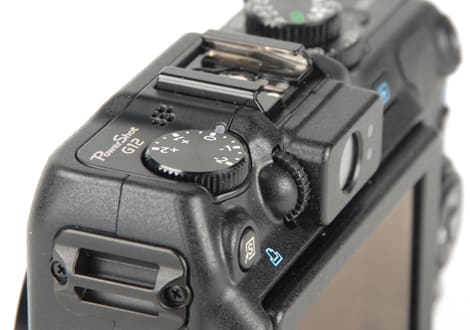 The G12 offers both single shooting and continuous firing, with an option for continuous shooting while maintaining focus on a moving subject. The camera is not a speed demon, as we'll touch on in the next section, but the options work as advertised. There is also a self-timer available, though it is given its own dedicated key on the rear control panel, rather than be placed alongside drive mode types as on other cameras. The self timer does not have dedicated two or ten second delays, instead opting for one custom timer that can fire up to 10 shots continuously after a delay of up to 30 seconds.
Shot to Shot ()
The Canon G12 is not exactly built for speed. It only managed to fire off shots at a 1.85fps clip in our test when the ISO was set to automtic (it chose ISO 100, so the lack of noise reduction likely sped things up). We tried it at a number of different shutter speeds and ISO sensitivities and simply found it unable to match its advertised speed of 2fps, but it came close enough. When you specify a specific ISO, however, we found that the shot-to-shot time fell to around 0.85fps. The low light mode sped things up considerably, but is only able to takes shots with a maximum resolution of 2.5-megapixels.
Shortcut Button
The G12 has a nice novice-friendly shortcut button on the left rear shoulder of the camera, which can be left alone or put to use giving immediate access to any of 18 menu options. These options include: i-Contrast, white balance, custom white balance 1, custom white balance 2, "my colors", bracketing, drive mode, flash exposure comp./output, neutral density filter, aspect ratio, RAW and/or JPEG, resolution/compression options, movie quality, servo AF, red-eye correction, AF lock, digital tele-converter, and display off.
Control Dial Function
The menu also allows the user to select the functionality of either control dial when the camera is in manual, aperture/shutter priority, or program auto mode. There are three sets of custom settings that can be activated. In each set, one of the dials assumes the primary function of that mode (so in shutter speed (Tv) mode, one dial must control shutter speed, in manual, each dial assumes either aperture or shutter speed control.) and the other can be assigned to control i-Contrast, white balance, or aspect ratio. These are the only options available, but they do offer a little more customization to the camera.
The front of the G12 is relatively flat when the lens is not telescoped outward. The grip bows slightly out from the body of the camera, offering a little extra space for the hand to hold onto the body. Despite its size, this is a very lightweight camera, and it's easy to carry around for a long period of time, shooting at will. While we can't speak to the internals, the body is a stiff metal frame that actually feels thick enough to survive being used extensively for a few years.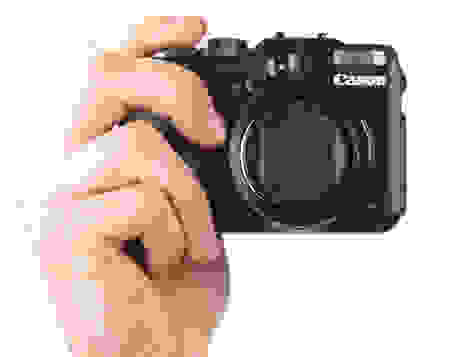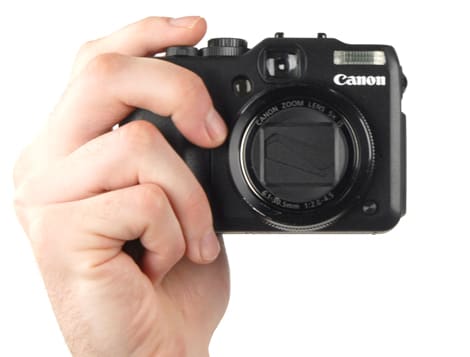 The G12 feels like a compact camera built to tank specifications. Its LCD flips out when necessary and can even collapse facing into the body when not needed to protect it from scratches and dings. These types of screens are usually a red flag as a possible part to snap off, but the hinge on the G12's screen is every bit as secure as the one found on Canon's T3i and 60D DSLR cameras, so we have few worries there.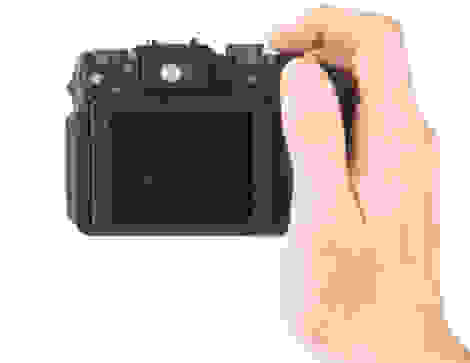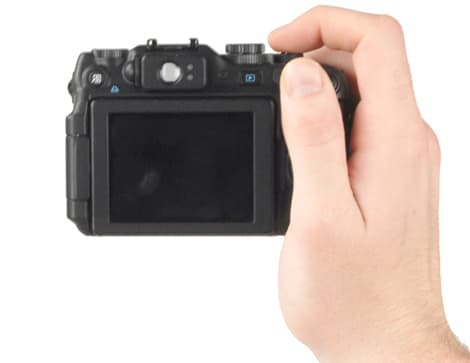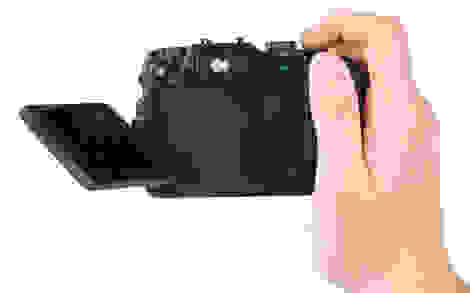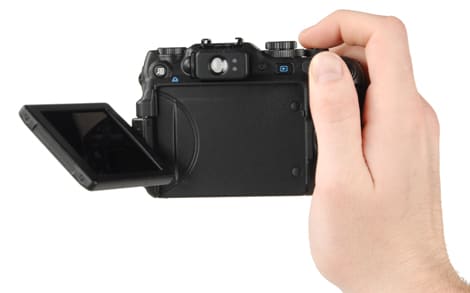 The G12 offers several physical dials in the style of a classic rangefinder, with physical dials for mode, ISO speed, and exposure compensation. The camera also has a front control wheel that can be manipulated by the index or middle fingers as well as a rear control wheel around the four way-rear control pad. This amounts to a startling level of physical, hardware-based control—more than any entry-level DSLR on the market, actually. For those suffering from touchscreen overload, the G12 is a welcome respite, to say the least.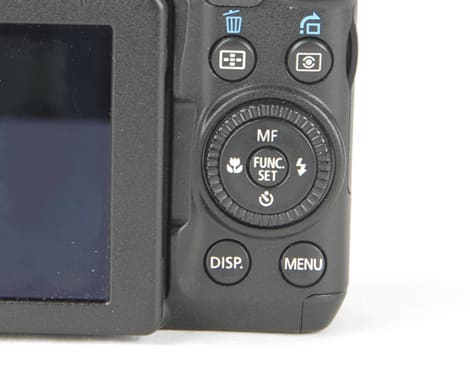 Despite its rangefinder inspiration and its available manual mode, the G12 is really designed to be used with many of the automatic and priority modes. While it offers dual control dials, the dial that should get the most use is the exposure compensation dial on the top left shoulder of the camera. Exposure compensation is a tool that so few compact camera owners seem to take advantage of, but it offers real photographic creativity that goes far beyond loading up the latest "hipstergrameriffic" app in your phone.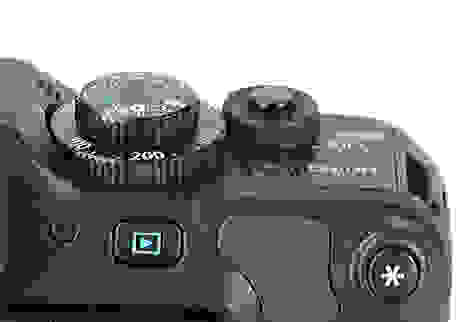 The G12's menu is fairly typical for a Canon point-and-shoot, as it offers both access to a quick selection of shooting options by pressing the OK button while framing in live view, and a more in-depth menu. The full menu is organized into tabs, with options stretching vertically off the screen. You can quickly switch between tabs by hitting the zoom level left or right, which brings you to the first option of the next tab to either side. The rear control wheel also comes in handy here, as you can glide rather quickly through each tab by rotating the rear wheel.
The Canon G12 does not come with a full printed manual, instead offering a quick start guide to go along with a CD-ROM that has an electronic copy of the owner's manual. It's definitely worth a serious read-through for novice users, as the G12 has many common-sense options, such as the "shortcut" key, that are worth understanding. While the G12's plethora of physical controls may seem intimidating at first, there's actually very little that's truly complicated here, and the manual does a good job of shepherding photographers of any level through their first experiences with the camera.
The G12 did not see major upgrades from the popular G11, which was itself an upgrade over the previous G10. The G12 held firm with a 10-megapixel 1/1.7'' CCD image sensor, same as the G11, and certainly is a key sign that the arms race over resolution is at least slowing in the high-end camera sector.
We found that while the G12 didn't bring with it substantial improvements on paper, it was a more refined version of the G11, offering better image processing that resulted in lower noise totals, better color accuracy, and better image stabilization. While it ostensibly offered images that were less sharp, the G12 actually produced more pleasing images compared to the over-processed images out of the G11, which suffered from moderate to severe haloing at high contrast edges where the camera added a little too much contrast.
In the end, both cameras are superb and offer a level of control that is practically unheard of in a digital compact camera. While we can't say that upgrading from the G11 to the G12 is worth the $400+ price tag, we can say that those looking at the two cameras will get more accurate, pleasing images out of the G12 than the G11, with better low light performance to boot.

/r:render
When we first reviewed the Panasonic LX5 last December, we found that it was bested by the G12's predecessor, the G11. As you can read in our direct comparison, we feel the G12 is, in almost every way, an intelligent refinement of what the G11 accomplished.
The G12 ended up with superior low light performance and image stabilization, with resolution scores similar to the LX5. The Panasonic LX5 did have more accurate colors, but the G12 offered far more options to customize and tweak the color settings both prior to capture and after the fact in-camera. The G12 and LX5 both offered clean images with little noise, good fine detail, and offered images that didn't have a plastic, overprocessed feel.
These are both cameras designed for people who are looking for a high level of performance and control out of their smaller-than-a-DSLR camera, and neither truly disappoints. Both offer RAW capture, bright lenses (f/2.0 on the LX5 vs f/2.8 maximum on the G12), HD video recording, and a host of customizable settings that allow users to get the most out of each shot. The G12 offers a bit more of a zoom range, extending to a 35mm equivalent of 140mm (the LX5 goes to 90mm), but the LX5 does offer more of a wide angle.
In the end we found that, though both sell for the same amount (MSRP $499.99, same as many entry-level DSLRs), the G12 just offers a little bit more control, performance, and comfort for the money.

/r:render
The Canon G12 and the Olympus XZ-1 are both phenomenal cameras, and while they share similarities—price, sensor size, roughly the same resolution, and full manual controls, to name a few—they show that there is still a good deal of variety in the luxury compact market.
Most noticeably, the cameras are very different form factors. The G12 is quite a bit larger than the XZ-1, according to their specifications, with the G12 rating at a half inch taller, a third of an inch deeper, and a hair wider. The Olympus is also 5 oz. lighter than the G12, with battery and media included.
In terms of performance, the Olympus XZ-1 handled the G12 quite well, with more accurate colors, less noise throughout its ISO range, better resolution scores, a brighter lens (with a larger maximum aperture throughout its zoom range—f/1.8-f/2.5—than the G12 is capable of at any point), and a nicer 3-inch OLED screen.
Ultimately, those that will opt for the G12 will likely do so not because of its performance relative to the XZ-1, but for what the XZ-1 doesn't even offer: physical controls. The G12's viewfinder, while merely a tiny lens that will zoom in with the camera's actual lens, is a rare commodity in a camera of this size. The G12 also offers a Speedlite-compatible hotshoe and enough physical dials to keep any analog fan happy. The XZ-1's front control ring shouldn't be ignored, but the G12 simply offers a wealth of customization and control dials for the enthusiast shooter.
The XZ-1 and G12 both trade significant punches in this comparison, with the Olympus offering the better results in our image quality testing. The Canon G12 certainly wins points for its superb handling, physical control, customizability, and breadth of control options. Whether that offsets the performance gap here is a personal decision, but both of these cameras merit serious consideration for those who want more than a point-and-shoot, but have ruled out similarly priced DSLRs and compact system cameras.

/r:render
The Canon G12 is such a substantial camera, that it feels wrong to title it simple as a "point-and-shoot." While it doesn't hold a candle to fixed-lens juggernauts like the Fuji X100, its size, customizability, image quality, and accessory options—not to mention price—make it far more than a simple compact camera. While many have billed it as the ideal "second camera" for a DSLR owner, that's largely a function of its price rather than its own intrinsic quality. The G12 would, in fact, be a superb first camera for anyone who doesn't want to fiddle with a DSLR at all. For its price, however, any current entry-level DSLR will far outstrip the G12 for image quality.
That leaves the G12 in an interesting middle ground that seems to plague all the luxury compacts that we compared it to: it's so expensive that it must be compared with entry-level DSLRs, but without the image sensor and true optical viewfinder that normally comes with dropping a substantial portion of your paycheck on a camera. The G12 is a fine camera in its own right, however, and for those for whom a DSLR and lenses is simply too large, it is one of the first cameras they should consider purchasing.
Meet the tester TJ Donegan
Executive Editor
@TJDonegan
TJ is the Executive Editor of Reviewed.com. He is a Massachusetts native and has covered electronics, cameras, TVs, smartphones, parenting, and more for Reviewed. He is from the self-styled "Cranberry Capitol of the World," which is, in fact, a real thing.
Checking our work.
Our team is here for one purpose: to help you buy the best stuff and love what you own. Our writers, editors, and lab technicians obsess over the products we cover to make sure you're confident and satisfied. Have a different opinion about something we recommend? Email us and we'll compare notes.
Shoot us an email