The Canon PowerShot D20 kind of looks like a fish. Sure, that design makes sense if Canon's main objective is to shout "hey, this is a waterproof camera!", but in terms of making a camera that looks cool and feels good... it's not the best design. The camera has an awkwardly-shaped grip on its right side and the funky buttons give the D20 a childlike aesthetic. The camera comes across less like an "adventure-cam" and more like a toy you'd bring to the pool.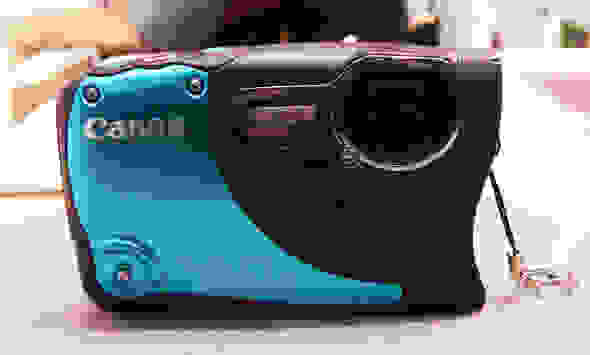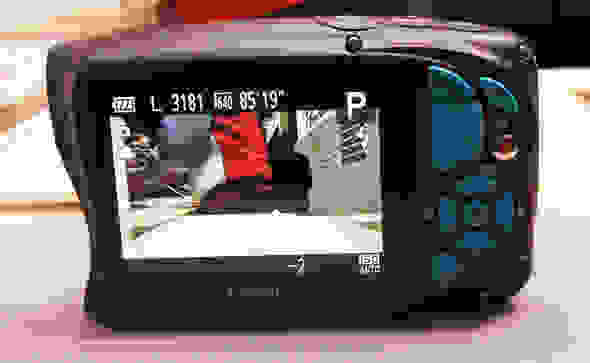 There are essentially three different menu interfaces on the Canon D20, which, in our mind, is too many for a camera of the D20's class. There's the main menu, which is accessible by pressing the menu button on the back of the camera—that one is simple enough. But the main menu doesn't have that many interesting controls. It's mostly things like autofocus mode options, stabilization settings, and system controls like language settings or date/time configuration. These are options you rarely need to adjust, so you probably won't find yourself using this menu all that often.
That's a shame because the camera's other two menus—the Function menu and the Mode menu—are both rather confusing to work with. Each displays options on the side of the LCD when you open the menu, which means the settings are difficult to read and must rely on abbreviations or icons to illustrate the options available. The Function menu is where you'll find most controls you'd want to adjust during shooting: picture effects, metering modes, manual controls, size options, etc. The Mode menu is for selecting scene modes or for switching between Program mode and Auto mode. Adding to the confusion is the fact that different options appear on the Function and main menu depending on what mode you're shooting in. It all gets confusing very quickly, so our recommendation is to stick with the basic auto mode on the D20 whenever possible (unless you're willing to spend time learning all the ins and outs of the camera).
Regular shooting with the Canon D20 is not a problem, as the camera's dedicated auto mode is fairly easy to work with. We started getting more confused by the camera when we tried to adjust controls more extensively, however, and we quickly grew frustrated by the camera's complex arrangement of three separate menu systems. We also were confounded by Canon's decision to place the playback button on the top of the D20, right next to the shutter button and on/off switch. This is an unusual spot for a playback button, and we found ourselves accidentally pressing this button a few times.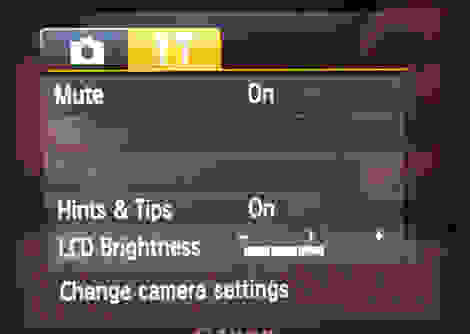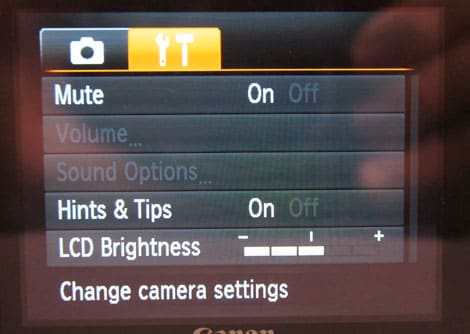 The PowerShot D20 is bigger and heavier than Canon's previous waterproof model, the D10. The model weighs a solid 228g including its battery pack and it measures 112 x 71 x 28mm. But those numbers don't matter all that much. What does matter is the D20 can fit in your pocket, but it's not quite as slim as your average point-and-shoot model. The waterproof design adds to the camera's bulk and makes it a bit thicker than a non-waterproof model with the same specs would be.
We don't love the way the camera handles, but most of the buttons are designed well. The d-pad is spaced out decently, and we rarely found ourselves pushing two buttons at once—a major problem with many cramped-button cameras. The shape of the D20 is something we're not fans of, and we had a difficult time getting accustomed to the sloped curve on the left side of the camera. It works if you hold the D20 by placing a single index finger on the sloped portion, but it's not great if you like to hold the camera in another manner.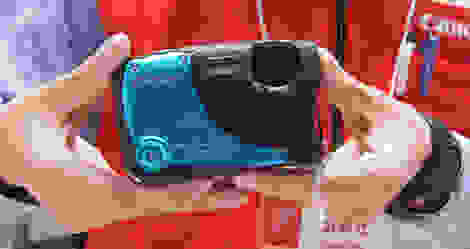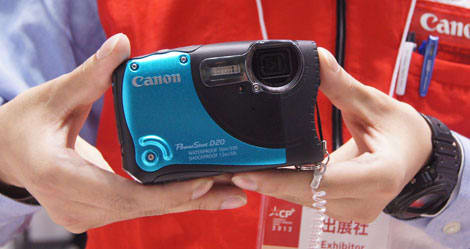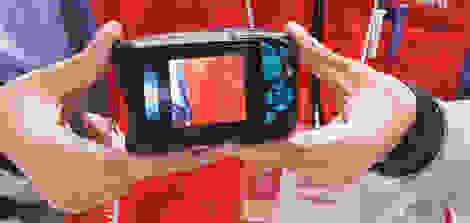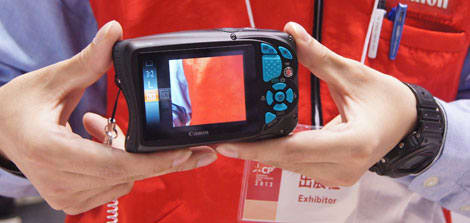 The Canon D20 doesn't have any full manual modes, but it has an automatic Program mode that lets you adjust some controls. Then there's the dedicated auto mode (called Smart Auto), a few different movie modes, and decent variety of scene modes. Accessing the modes selection menu is awkward, as it requires you to press "up" on the d-pad, which then displays a list of the shooting modes on the LCD.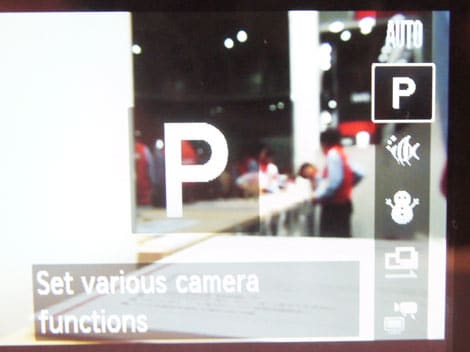 Canon calls its dedicated auto mode "Smart Auto", and it uses this same label on both its cameras and camcorders. The Smart Auto function basically puts the D20 under entirely automated control so you don't have to worry about picking a scene mode or adjusting exposure yourself.
There are a variety of movie modes on the Canon D20, but the most important thing to know is that the camera can record Full HD 1080p video. In addition to 1080p (which records using a 24p frame rate), the camera also has a 720/30p video mode and a standard definition record mode that shoots at a 640 x 480 resolution. But wait, there's more! The D20 also has two miniature effect video record modes and two low-quality super slow motion move modes (one at 240fps and one at 120fps). This is quite a lot of movie modes to pack into a little waterproof camera.
The fastest shooting mode on the D20 is the camera's high-speed burst mode that can capture approximately 6.8 photos per second. In regular program mode you can also shoot continuously at just under two photos per second with the camera. Additionally, the Canon D20 has a custom self-timer that can be set anywhere from 0 - 15 seconds in one second increments, as well as an option for 20, 25, or 30 second timers. You can even select the number of shots you want the camera to fire when the self-timer goes off (from one to ten shots).
Canon didn't skimp on the playback controls with the D20, so you can expect to find nearly everything you're looking for when you review your still images and videos. There's an auto rotate feature that will orient the photo to match the way you hold the camera during playback, and there's a whole slew of effects and tools that you can add using the Image Advance function. You can also digitally zoom up to 10x on captured photos, remove red-eye during playback, trim and resize clips, and organize your photos in a variety of different ways. For video playback, you can perform some minor edits and play videos back in slow motion if you desire.
The Canon PowerShot D20 has a 12-megapixel sensor, so the largest still image the camera can capture is a 4000 x 3000 photo (that's a 4:3 aspect ratio). The camera has fifteen other photo size options and in addition to taking photos in the 4:3 aspect ratio, the camera has options for 16:9 widescreen photos, 3:2 photos, and 1:1 photos. Each aspect ratio has one large photo option, two medium size options, and one small option. This is both an extensive set of photo size options and a good set of aspect ratios to choose from, but the 12-megapixel limitation for the camera isn't great compared to the competition.
Unlike aperture and shutter speed, focus can be set manually on the Canon D20. It's not fun to adjust, though, as is the case with most point-and-shoot cameras that lack a dedicated lens ring. Instead of using the frustrating manual focus control, we recommend selecting one of the various autofocus settings on the D20 instead.
Aperture and shutter speed are selected automatically on the D20 no matter what shooting mode you use. The max aperture for the camera is f/3.9 (wide0 - f/4.8 (tele), while the shutter speed range goes from 15 seconds - 1/1600 of a second. You can still exert some control over exposure by setting ISO manually (only in Program mode) or performing basic exposure compensation adjustments. For auto exposure, the D20 has three metering modes: evaluative, center-weighted, and spot.
ISO can be set manually or automatically on the D20, with the full ISO range going from ISO 100 to ISO 3200. Manual ISO adjustment is only available in Program mode, with the camera setting ISO to auto in all other modes. You can still put the ISO to auto in Program mode as well, but that's the only mode that also lets you set ISO manually.
White balance options on the D20 include presets for daylight, cloudy, tungsten, fluorescent, fluorescent H, and underwater lighting. You can also use a custom white balance that you set yourself, or switch over to auto white balance if you want the camera to make decisions for you.
The D20's new stabilization feature, called Intelligent IS, is essentially a new auto function that allows the camera to select the right stabilization mode based on the shooting conditions. We saw the same thing on Canon's new Vixia camcorders it released this year, and the IS options the camera can choose from are as follows: normal, panning, macro and tripod IS. For movie mode, the camera chooses from dynamic, powered, macro, or tripod IS. While this feature does sound cool, we're not convinced how well the camera is going to "guess" what kind of stabilization mode is needed for any given situation.
Canon is pretty good about including picture effects on its cameras, even with its low-end point and shoots. The D20 has a a bunch of preset color modes as well as a custom color option where you can adjust contrast and sharpness, as well as red, green, blue, and skin tones manually.
Additionally, in the mode menu you'll find a handful of scene modes for the D20: Portrait, Smart Shutter, Handheld Night Scene,
Low Light, Fisheye Effect, Miniature Effect, Toy Camera Effect, Monochrome, Super Vivid, Poster Effect, Color Accent, Color Swap, Underwater, Underwater Macro, Snow, Fireworks, Long Shutter, and Stitch Assist. Special movie modes are also lumped into the shooting mode menu as well.
The Canon D20 makes use of a 1/2.3-inch, 12.8-megapixel CMOS sensor to capture still images and video. Much like Pentax did this year on its own rugged adventure cam (the Optio WG-2), Canon decided to make the switch over to a CMOS imager after using a CCD chip on the previous PowerShot D10. The size and pixel count of the sensor remain relatively unchanged, but the move to CMOS will likely translate into some differences in performance.
The lens on the D20 has also been upgraded from its predecessor. Canon bumped the optical zoom from 3x up to 5x on the new camera—still not a huge amount of zoom, but 5x is enough to get the job done in most shooting situations. Since the lens is new, it also has different focal lengths than the lens on the D10. The D20's lens has a focal length range of 5 - 25mm and a 35mm equivalent of 28 - 140mm. The focusing range is 5cm - infinity for normal shooting or 1cm - 50cm in macro mode. Essentially, the new lens allows you to get a lot closer to your subject (and be in focus) than the lens on the D10.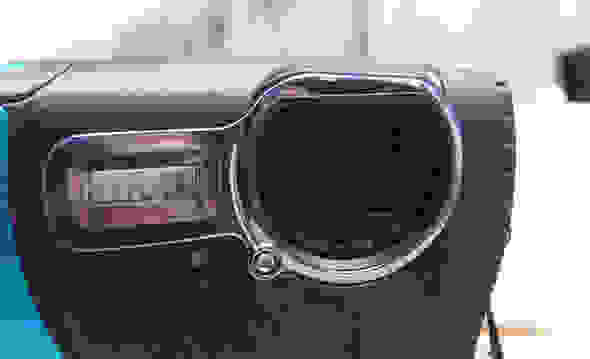 By adding half an inch to the LCD size and doubling the pixel count of the screen, Canon effectively gave the D20 a huge boost over its predecessor in terms of LCD quality. The screen runs 3 inches diagonally and has a 461,000-pixel resolution, which isn't bad for an underwater camera. Not to mention it runs circles around the screen on Canon's previous D10 waterproof camera.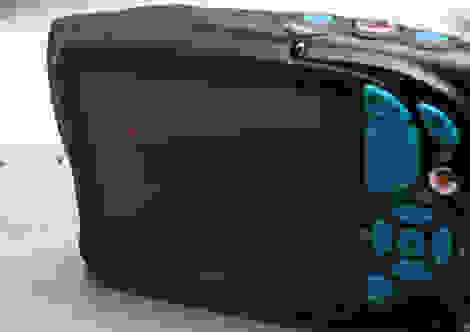 The built-in flash on the D20 is again something that Canon put energy into upgrading over the camera's predecessor. The flash has an improved range in that it can cover from between 1 - 11 feet for illumination. When we say "improved range", we really mean it can cover one extra foot over the flash on the Canon D10, so don't get all excited just yet about this brand new flash. Canon continues to offer red-eye reduction and slow synchro flash features on the D20 as well.

The only cable that ships with the Canon D20 is a USB cable for connecting the camcorder to your computer. But the model does have an HDMI output and its USB port also doubles as an AV output. To charge the provided battery pack, Canon does include a battery charging station that plugs directly into a wall outlet, but there's also a DC-input on the camera (a cable for which is sold separately).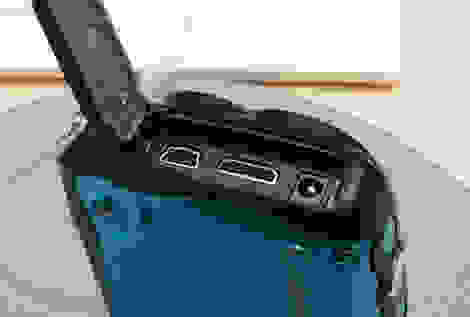 The Canon D20 comes with a NB-6L rechargeable battery pack that slips into a compartment on the bottom of the camera. This is the same battery that shipped with the previous Canon D10 waterproof camera, and Canon claims the battery should let you take roughly 280 shots on a full charge.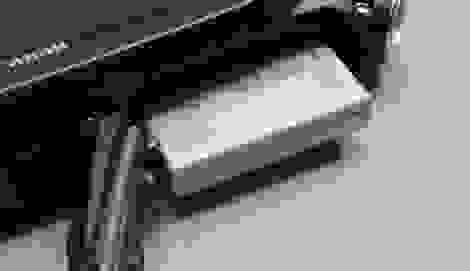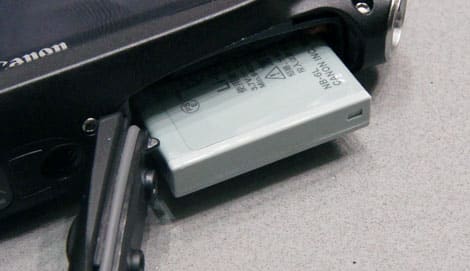 The Canon D20 works with SD-type memory cards, and that includes SDHC and SDXC cards (all of which are the same physical size, but come with different storage capacities). The memory cards slip into a slot located in the same area as the battery compartment. Both are protected by a locking port cover that can be a challenge to get open with one hand. Canon has to make these doors seal tightly, otherwise water could enter the sensitive port areas, but the locking system put in place on the D20 is strangely confusing to figure out at first.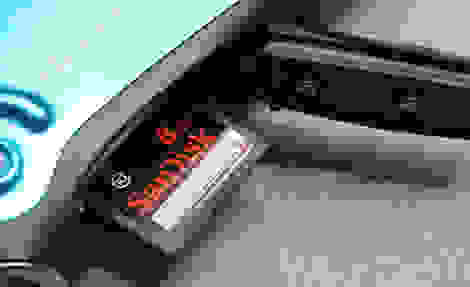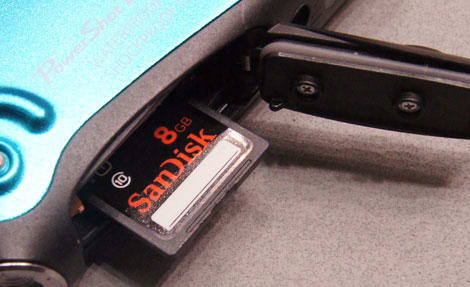 If you don't know by now, the Canon PowerShot D20 is waterproof up to 33 feet underwater. That's the camera's big selling point, and if you're not looking for a waterproof model then you shouldn't have much interest in the D20. The waterproof design of the D20 is solid, but we're dismayed by the fact that the 33-foot depth limitation is the same depth the previous Canon D10 could travel. Couldn't Canon have improved the waterproofing just a tad on its new adventure-cam?
In addition to being waterproof, the D20 can also take a fall from up to five feet without any problems (Canon calls this "shockproof") and it can function in temperatures ranging from 14°F to 104°F. So, if your taking the camera to the Caribbean you should be fine... but an arctic winter will probably still cause the D20 to malfunction.
A new hardware feature on the D20 is a built-in GPS tracker that will geotag your photos and video clips so you can recall where each shot was taken. A word of warning: we've had plenty of trouble with GPS-enabled cameras in the past, and many times we've failed to get the GPS to work at all. If the GPS isn't getting a signal on the D20, don't be shocked, just be patient and try to move to an area with more open space and less interference.
Prior to the PowerShot D20, Canon last announced a new waterproof camera in February of 2009 (the Canon D10). That was three years ago, which, in camera-time, is a lengthy period to wait between updates. But Canon must have been satisfied with the D10 fulfilling the company's waterproof niche... until now.
The Canon D20 has a very different design than its predecessor, has a completely different sensor, and even includes a different lens. So, this new camera isn't so much of an update—it's more of a reboot of Canon's waterproof PowerShot. Some of the design alterations made by Canon are solid, but others miss the mark. The D20 is bigger and heavier than its predecessor, and it also has a strange shape on its left side that doesn't offer a very good grip. The buttons are built well, though, and we found them less cramped than most of the waterproof competition from other manufacturers. We're still not sold on the somewhat cheesy look and feel of the D20, however.
Of course, the most important thing we're going to be looking at later this year is performance. Did Canon make a truly superior camera this time around? Or will the D20 produce lackluster results that barely edge out its aging, 3-year-old predecessor?
Meet the tester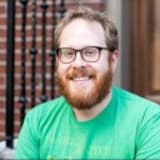 Jeremy Stamas
Managing Editor, Video
@nematode9
Jeremy is the video expert of our imaging team and Reviewed.com's head of video production. Originally from Pennsylvania and upstate NY, he graduated from Bard college with a degree in film and electronic media. He has been living and working in New England since 2005.
Checking our work.
We use standardized and scientific testing methods to scrutinize every product and provide you with objectively accurate results. If you've found different results in your own research, email us and we'll compare notes. If it looks substantial, we'll gladly re-test a product to try and reproduce these results. After all, peer reviews are a critical part of any scientific process.
Shoot us an email