Canon recently unveiled their PowerShot G1 X, the new flagship of the PowerShot lineup. This camera will not be a replacement for the G12, the G1 X will kick of an entirely new branch of PowerShots, but the inspiration is obvious at first glance. The G1 X looks and feels like an update to the G12, in both performance and style. But the biggest difference here is the new 1.5-inch sensor, an absolute giant for this class of camera.
Those who already love the G12 will find almost all of their favorite features and design elements retained, along with a decent amount of additions and improvements. Whether or not those improvements justify the extra $300 still remains to be seen.
Design changes to the G1 X from the G12 are all very subtle, and still less than obvious even when holding the cameras side by side. By far the most drastic change has been made to the flash bulb, which now pops up from the left side of the top panel via a mechanical spring release.
Other than that, the G1 X displays a general lean toward angularity and hard corners, whereas the G12 had more curves and smooth edges. Rear panel landmarks like the thumbrest, EVF housing, and even the buttons themselves have been sharpened and made rectangular. Again this is a subtle cosmetic update, but the look is more modern and we dig it.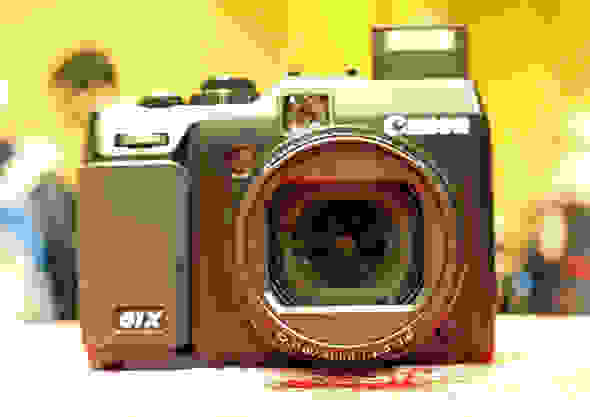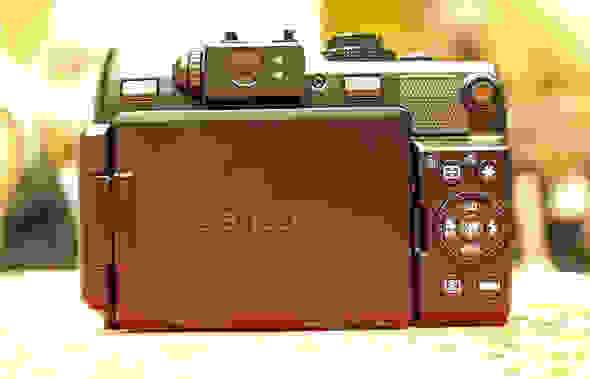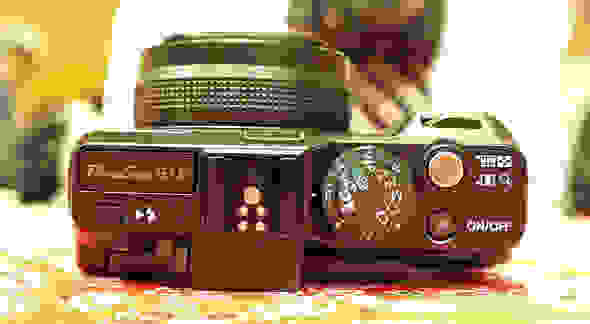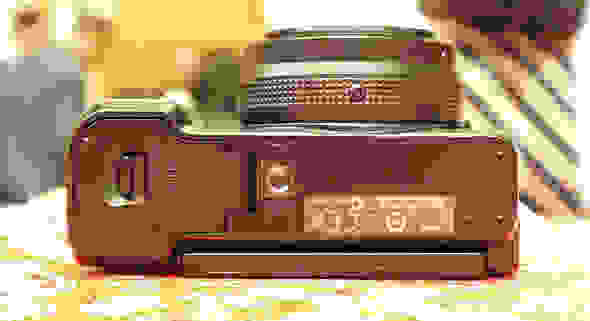 The G1 X's efficient menu system is typical Canon. The quick Function menu will get the most use, and opens up a criss-cross overlay: up and down for navigating through options, left and right for changing settings. We love this interface on every Canon model that uses it, and the same is true here.
For more detailed settings, the traditional menu is tab-based, and that's where you'll find advanced preferences like Auto ISO range, image stabilization technique, hardware options like brightness and power saving, as well as a custom tab that can be set to display your most used or favorite settings easily. This interface is also pretty painless to navigate, aided by the zoom lever and rear rotating dial.
The control layout, like the camera's overall design, is more of a tweak from the G12 than a redesign. A new video shortcut button is located at the top right corner of the thumb rest, displacing the focus lock asterisk, which now resides directly above the directional dial. This in turn bumps the metering button down below the directional pad, and pushes the display function onto the bottom position on the dial. Phew!
This may read like a whole slew of differences but it isn't. Though their functions may have changed, the layout itself is identical. The shortcut and playback keys still flank either side of the EVF, and the mode and EV dials on the top of the body–that we loved on the G12–have remained the same, though the shutter release has been widened a bit. The shutter release still has that nice long vertical travel, and feels comfortable to shoot with.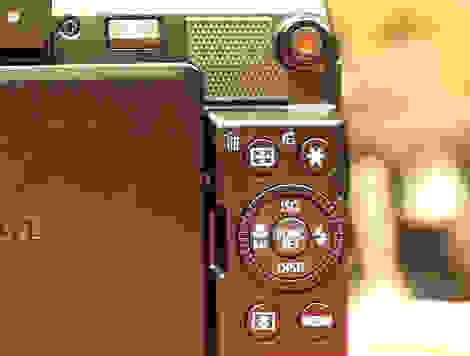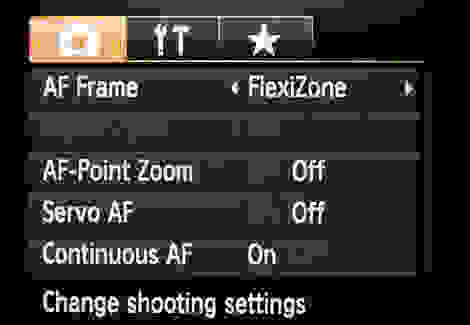 Those who've held the G12 already know how the G1 X handles, the differences are that minimal. For everyone else, suffice to say the G1 X is a very grippy camera, with a knurled and rubberized right hand grip and spacious thumb rest. This camera's angularity does nothing to improve handling, but nothing to hurt it either. Like the G12, the body's relatively large size allows for a more complete grip, and the fingers fall in a way that is both comfortable and close to appropriate buttons.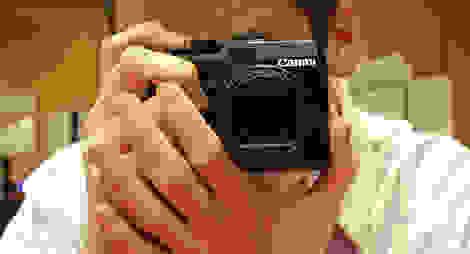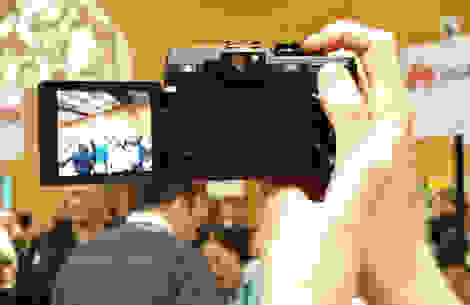 All "PASM" shooting modes are available, including Program Auto, Shutter Priority, Aperture Priority, and Full Manual. Canon has also included two customizable modes, same as the G12, as well as dedicated modes for scenes, filter effects, and video shooting. The mode dial rests on top of the hardware exposure compensation dial, and feels both sturdy and all but impossible to move accidentally.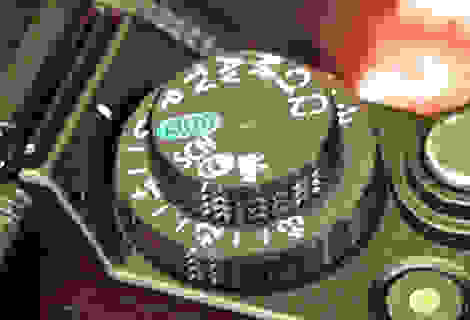 The G1 X features a fully automatic "green" mode for handing off the camera to an experienced user. We figure most owners of this $800 camera will do their shooting in Program or another PASM mode, but the feature is there if you want it. But remember, this camera's flash bulb is mechanical, not motorized, and will need to be deployed manually if necessary.
Unlike its predecessor, the G1 X will be a Full HD 1080p video device that captures at a cinematic 24 frames per second. 720p is also possible at 30 frames per second, and so is 480p. While the G12 was a solid video performer, Canon has committed to video in a much bigger way with the G1 X, given both the resolution upgrade and the new movie shortcut key. We'll be interested to see if the G1 X's new sensor can retain the same motion and color performance as the G12, and maybe a boost in sharpness too?
We weren't able to record video on our demo unit, so no word yet on control access, smoothness, or recording delays.
Canon's rates the G1 X's maximum burst mode performance at 4.5 frames per second at full resolution, and based on our limited time with the feature this sounds about right. That's substantially faster than the G12's 2 frames per second, though still not the fastest we've seen from a fixed-lens model.
Like the G12, the G1 X will feature two independent, fully customizable image preset modes, each available from the sturdy hardware mode dial. All shooting variables and preferences may be saved to these modes for use in specialized or favorite shooting situations.
Playback mode is comprehensive, and operates similarly to the main tab-based menu. Aside from the basics like magnification, index, and information display, plenty of extra features are available here. Application of My Colors settings is possible, along with grouping by custom category, red-eye correction, contrast enhancement, slideshow mode, crop and resize, histogram, overexposure warning, and many more. Memory access speeds were sufficiently quick on our test model, which meant painless navigation free of delay.
Available image quality and size settings are very extensive and similar to most PowerShot models. There are five different aspect ratios: 4:3, 16:9, 3:2, 1:1, and 4:5; and each of them have four associated resolutions in large and small sizes. The G1 X is also capable of lossless RAW encoding, or dual RAW+JPEG shooting. JPEG shots may be further divided into Normal or Fine compression quality levels.
The G1 X uses a contrast-based autofocus system, with normal and macro focus modes available. The system achieved focus locks quickly and reliably, but no more so than the G12. The camera also supports manual focus, and while the control dial makes this easier than most fixed lens cameras, it just isn't the same as the mechanical focus found on DSLRs.
The G1 X features a relatively wide aperture range, from f/2.8 all the way down to f/16 at the closest focal length. Shutter speed options, on the other hand, extend from 1/4000th to 60 seconds, a relatively wide and versatile range. All three typical metering modes, including Evaluative, Center-Weighted, and Spot, are all included; and other techniques like Face Detection Auto Exposure are available in sub-settings. Spot metering may either be fixed to the center of the frame, or linked to the user-selectable AF zone.
Most importantly, the G12's physical exposure compensation dial makes a return. This time, EV may be set to +/- 3 full stops in 1/3 stop increments. The G12 was only capable of +/- 2 stops.
One of the most impressive aspects of the G1 X's huge new sensor is ISO sensitivity. The camera's range extends from 100 all the way up to 12800 in 1/3 stop intervals (i.e. 100, 125, 160, 200, etc.). This is an extraordinarily high figure for a fixed-lens model, and should make the G1 X an outstanding low light performer. But we'll need more time with this camera to be sure.
White balance presets include Daylight, Cloudy, Tungsten, Fluorescent, Fluorescent H, Flash, and Underwater (for use with specialized enclosures only, this is not a waterproof camera out of the box). Automatic white balance is of course supported, along with two manual settings.
The G1 X will take advantage of optical image stabilization, and may be set to either continuous or shot-only modes. Judging stabilization performance without our lab rig is all but impossible, but from what we can tell so far the feature is helpful and functional. Framing long distance shots is also aided by image stabilization.
We rarely use scene modes or filter effects in our everyday shooting, but the G1 X offers plenty of options for those who're into that sort of thing. The full list of available scene modes is a relatively typical one: Movie Digest, Portrait, Landscape, Kids & Pets, Sports, Smart Shutter, High-Speed Burst HQ, Handheld Night Scene, Beach, Underwater, Foliage, Snow, Fireworks, and Stitch Assist. Creative Filters are a bit more exciting, with High Dynamic Range, Nostalgic, Fish-eye Effect, Miniature Effect, Toy Camera Effect, Monochrome, Super Vivid, Poster Effect, Color Accent, and Color Swap.
What we do use are color modes, and the selection is Canon's typical suite: Vivid, Neutral, Sepia, Black & White, Positive Film, Lighter Skin, Darker Skin, Vivid Blue, Vivid Green, Vivid Red, and Off. There's also a Custom Color mode for precise calibration. Canon's cameras can be unpredictable when it comes to the accuracy of their color modes, so we'll need some lab time to determine which will be the best.
The G1 X's CMOS sensor is sure to be one of the camera's chief selling points. At 1.5 inches, the huge sensor is larger than what you might find inside a four-thirds system camera. But while Canon is sure to advertise all those 1.5 inches pretty heavily, the device actually measures precisely 18.7mm x 14mm, a little less than 1 inch measured diagonally. Still, that's quite a bit larger than what we're accustomed to in this category.
Not much else can be said about the performance of this unit, at least until we run our lab tests. But this major hardware update leaves us anxious to complete our full review.
Specifications of the LCD monitor have received a boost since the G12. The screen is now 3.0 inches, up from 2.8, and resolution is now 922,000 dots, up from 461,000. Swivel and tilt functionality is still there, and the image feed is still 100% coverage. The screen is sharp and plenty bright, with color reproduction that seemed accurate to our eye.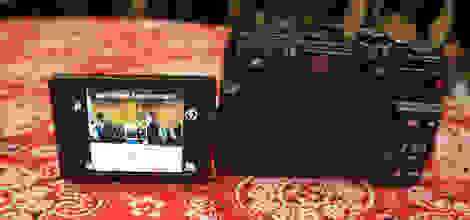 Like the G12, the G1 X will make use of an optical viewfinder that zooms in along with the primary lens. We didn't love the G12's implementation, which was prone to odd distortion and uncomfortable viewing. The G1 X's viewfinder has the same quirks. Most notably, the long lens barrel is visible in the lower left corner of the viewfinder.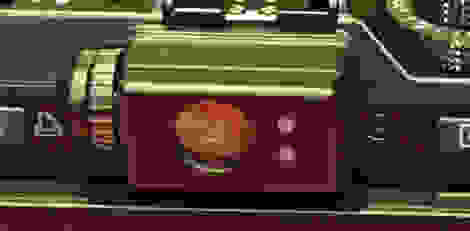 The biggest change here is the flash's pop-up action. Again, this is not a motorized enclosure, you'll need to pull a manual release to deploy the bulb. Flash performance is rated to 23 feet, making it a very powerful unit. Recycle time isn't bad, less than 3 seconds in most cases, and slow synchro is available.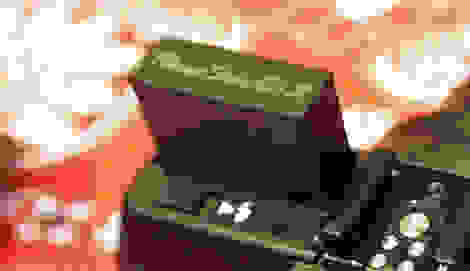 A standard miniUSB port and a miniHDMI port are concealed underneath a port cover on the right panel of the body. The USB port is used for both PC connectivity and A/V output.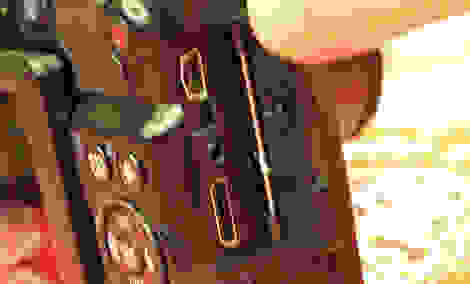 The G1 X will be powered by Canon's NB-10L lithium battery pack. Shooting capability on a single charge is rated to 250 shots with the LCD and 700 shots without. We don't perform full length battery tests, so this information is about as final as it's likely to get.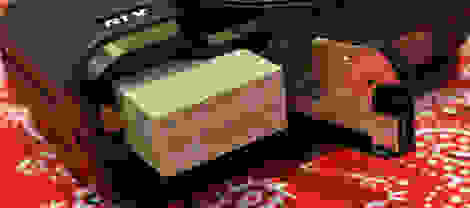 The G1 X is compatible with SD, SDHC, and SDXC memory cards. We could find no data for internal memory.
People love their G12's. And we do too, it's an incredibly substantial camera that serves as an ideal portable "second camera" for DSLR owners, or a very respectable primary shooting camera for the majority of users. The G1 X is very clearly derived from the G12 in both design and target audience. But this camera will also deviate from the existing lineup, kicking off a new branch of PowerShots that will likely be based on the G1 X's gigantic 1.5 inch CMOS.
What impresses us about the G1 X, other than the massive sensor, is what already impressed us about the G12. The large body of this "point and shoot," if we can even call it that anymore, leaves plenty of room for grip. With that superior handling comes comprehensive manual controls. Continuous shooting speed has been improved, along with video capture. And of course, image quality was outstanding in the G12, and given Canon's history we expect the same from the G1 X.
Our only worry is positioning. There's plenty of buzz surrounding this camera here at CES 2012, but the market will have to decide whether or not an $800 fixed lens camera is valuable, especially with $500 G12 still current.
But we can't approve what we don't yet know, and without lab time it's impossible to accurately predict what kind of photos the G1 X will take. A new sensor is a clean slate, for better or worse. And while the outlook certainly appears strong, only our full review can make a recommendation with certainty.
Meet the tester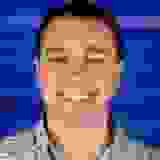 Christopher Snow
Managing Editor
@BlameSnow
Chris was born and raised less than ten miles from our editorial office, and even graduated from nearby Merrimack College. He came to Reviewed after covering the telecom industry, and has been moonlighting as a Boston area dining critic since 2008.
Checking our work.
We use standardized and scientific testing methods to scrutinize every product and provide you with objectively accurate results. If you've found different results in your own research, email us and we'll compare notes. If it looks substantial, we'll gladly re-test a product to try and reproduce these results. After all, peer reviews are a critical part of any scientific process.
Shoot us an email