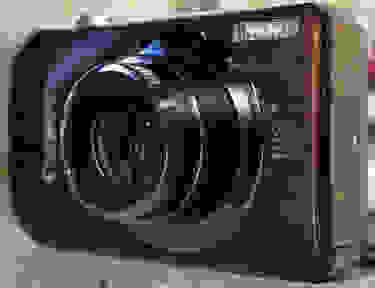 The front design of the SD4500 is a familiar sight.
Back
The back received a slight re-design, including a dedicated video record button.
Sides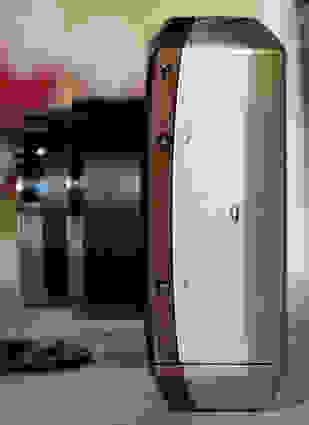 The left side is barren...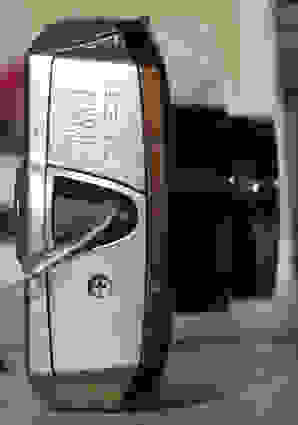 ...while the right side hides the ports.
Top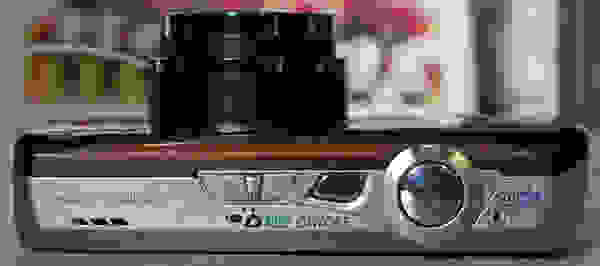 The top contains the familiar zoom toggle, power button, and mode switch.
Bottom
The bottom conceals the card slot and battery cavity.
Ease of Use
---
The SD4500 seems to offer the same general user experience that we saw on the SD4000. Like most point-and-shoot cameras, these PowerShots are easy to use. You aren't likely to get frustrated by anything when it comes to camera operation.
This is helped considerably by the always excellent Canon menu system. In this regard, the SD4500 holds no surprises if you've used a Canon PowerShot in the past. There are two menus: the traditional full-screen menu accessed via the menu button and the quick menu, accessed via the "set" button. The regular menu doesn't hold many options that you're likely to use (you can format your memory card, change the date and time...), but the quick menu is full of handy options. You can use the slick scroll wheel to choose among picture options, white balance settings, and scene modes. If your first language isn't English, there are 26 display language options.
We found the whole SD4500 experience natural and intuitive.
Size & Handling
---
Let's be serious here: the SD4500 is an incredibly small camera... but when it comes to a camera as big as the palm of your hand, do a few millimeters really make a difference? If you're counting millimeters, the SD4500 is, in fact, slimmer than its sister model, the S4000. Canon lists the measurements as 3.99 in. x 2.30 in. x 0.88 in. (101.3mm x 58.5mm x 22.3mm). Essentially, the company has made the SD4500 slightly wider and taller in order to make it slightly slimmer.
When it came to handling, this compact size is a catch-22. The camera fits in your back pocket and you easily bring it just about anywhere. However, it's a little awkward to cramp your hands around this tiny body—especially if you want to support it with just one hand. The most stable position seems to involve placing your thumb right on top of the corner of the LCD, which is less than ideal. If you try to slide your thumb over, you inevitably end up hitting one of the buttons on the back of the camera. This is all exacerbated by the lack of a grip on the front of the camera. Without a comfortable hand-hold, the camera is liable to slip out of your hand.
We recommend either using two hands to hold the camera or making sure you use the wrist strap as a reliable tether.
Auto Mode
---
Compared to many cameras, the Canon PowerShot SD4500 IS Digital ELPH is essentially in auto mode all the time. There's no way to manually set shutter speed or aperture, no matter how hard you try. However, some users want the most basic shooting experience possible. For those users, the SD4500 has a separate auto mode. Using a switch on the top of the camera, you can choose between standard video mode, standard shooting mode, and auto mode. The only options available in auto mode are image size and self-timer.
Movie Mode
---
Canon really upped the ante with the SD4500's video mode, making it one of only a handful of ultracompact, point-and-shoot cameras to offer full 1920 x 1080 video. This is among the first Canon PowerShot cameras to include Full HD video—joining the company of the esteemed SX1, a high-end Canon point-and-shoot that was released in 2009. According to the specs on the Canon website, the frame rate options are 1080/24p, 720/30p, 480/30, and 240/30p (or the super slow motion mode that records 240/240p). All videos are recorded at MJPEG (.mov) files.
The specs also state that optical zoom is not available while shooting videos. This is not true. As we found with the SD4000, optical zoom can be used in Movie Mode, but it makes an awful squealing sound that is picked up noticeably by the built-in microphone.
Playback Mode
---
The SD4500 has exactly the same playback options as the SD4000, which we reviewed earlier this year. This includes auto rotate, slide show, playback zoom magnification, trimming, and overexposure warning. In video mode, there are five levels of slow motion playback available (with no audio) and a simple movie editing function, which allows you to trim clips in one-second increments.
Read more about the full offerings in the Playback section of our SD4000 review.
Custom Image Presets
---
The SD4500 has the same basic set of scene modes that are available on most Canon PowerShot cameras. The familiar standards that Canon users will recognize are: Portrait, Kids & Pets,Low Light, Color Accent, Color Swap, Fish-eye Effect, Miniature Effect, Beach, Foliage, Snow, and Fireworks. You can read details about all of these scene modes in the Controls section of our SD4000 review.
Two scene modes that didn't make the cut for the SD4500 are Indoor and Night Snapshot. The latter was replaced by two different scene modes that are new for the SD4500: Handheld Night Scene and Long Shutter. If you're able to use a tripod, Long Shutter will brighten your image by using a shutter speed up to 15 seconds. If you have no tripod, you can use Handheld Night Scene, which probably just boosts the ISO. Also new to the SD4500: Super Vivid and Poster Effect.
Drive/Burst Mode
---
The SD4500 is equipped with a traditional continuous shooting mode, which will continue to take photos as long as you press the shutter button (or as long as you still have room on your memory card). According to Canon, continuous shooting mode will capture approximately 3.7 shots/second—or one shot per second in AF low light mode. There is also a low resolution(1824 x 1368) High-Speed Burst option, which averages approximately 8.8 shots/second.
There is no dedicated burst mode on the SD4500, but you can accomplish something similar using the camera's versatile self-timer options. You can set the camera to automatically take a photo after 10 seconds, 2 seconds, or an interval of your choosing (0, 1, 2, 3, 4, 5, 6, 7, 8, 9, 10, 20, 25, 30 seconds). You can also set the number of shots to be taken (from 1-10 in one-shot increments). Setting the self-timer to zero and selecting 10 shots will get you an immediate 10-shot burst mode.
The self-timer can also be set to automatically take a photo when a face is detected (Face Self-Timer), when a smile is detected (Smile Self-Timer), or when a wink is detected (Wink Self-Timer). The latter is a new option for the SD4500 and we can't image anything creepier than winking at a camera in order to get it to take a picture.
Finally, there's one new feature on the SD4500 that seems incredibly useful: Best Image Selection. This is essentially a five-shot exposure bracketing, but the camera automatically stores the photo it deems to be the best and discards the other four.
Other Controls
---
The SD4500 has a stitch assist feature. When activated, you can take several pictures and the camera will provide guidelines to help you line up your successive panorama photos.
Manual Controls
---
There aren't really any manual controls on the SD4500. This is one significant departure from the SD4000. Whereas the predecessor has both Shutter Priority and Aperture Priority modes, the SD4500 cruises by on Program Mode or Auto Mode only. A few typical settings can be adjusted (like ISO and exposure compensation) by accessing those options under the quick menu.
Focus
---
Focus is handled entirely automatically by the SD4500's TTL autofocus system. There is no touch focus or manual focus. The camera does, however, offer three options for shifting the focal range. Users can select between Normal AF, Macro AF, and Infinity AF. The third option is new this year for the SD4500. Since the Normal AF has a focal range out to infinity, the only reason to use Infinity AF would be if you wanted to create a depth of field effect, where the foreground is blurry and everything in the distance (greater than 9.8 feet away) is in focus.
ISO
---
In Program Mode, you can select from a modest range of ISO levels: 125, 200, 400, 800, 1600, and 3200.
Aperture & Shutter Speed
---
One of the most significant differences between the SD4500 and the SD4000 is the absence of Aperture Priority and Shutter Priority modes. Canon has decided to do away with aperture and shutter speed control on the new model, requiring the user to rely solely on automatic adjustments.
When the camera automatically selects the aperture, it chooses from thirteen different apertures, ranging from f/2.0 to f/8.0. Automatic shutter speed options vary from one second to 1/4000 of a second, with a total of 35 different shutter speeds. There is a special scene mode called Long Shutter that's new on the SD4500, allowing the camera to select shutter speeds longer than one second, all the way up to 15 seconds. As always, we recommend you use long shutter speeds only when using a tripod.
White Balance
---
The SD4500 includes the same exact white balance options that were available on the SD4500: Auto, Daylight, Cloudy, Tungsten, Fluorescent, Fluorescent H, and Custom. Face AiAF includes an auto white balance that evaluates the color tone of the skin.
Exposure & Metering
---
Exposure compensation can be set while in Program Mode, using ±2 stops in 1/3-stop increments. You may choose from evaluative, center-weighted, or spot metering.
Image Stabilization
---
The Canon PowerShot SD4500 does offer optical image stabilization, but if the SD4000 is any indication, the O.I.S. only offers a modicum of shake improvement. It does seem to be better than nothing, but we don't expect the SD4500 to have groundbreaking shake correction.
Picture Quality & Size Options
---
The SD4500 slightly slims down the resolution offerings, getting rid of the 1600 x 1200 option that is present on the SD4000. We don't image many people would use that size anyway.
All photos are captured as JPEG files and you can select from either Normal or Fine quality (compression). The size options are: 3648 x 2736, 2816 x 2112, 2272 x 1704, 640 x 480, or a widescreen resolution of 3648 x 2048. Resolution is limited to  1864 x 1368 when shooting in High-speed Burst mode, Low Light, or Best Image Selection.
Picture Effects
---
The SD4500 offers the same surprisingly deep options for picture effects that were present on the SD4000. Not only can you select from a number of presets (ranging from vivid or sepia to darker skin or positive film), but you can even make adjustments using the custom option in My Colors. This lets you tweak contrast, sharpness, saturation, red, green, blue, and skin tones.
For an explanation of these modes and sample photos using each setting, see the Controls section of our SD4000 review.
LCD & Viewfinder
---
The SD4500 does not have a viewfinder crammed onto the tiny camera body. So, you'll have to do all your work with the 3.0-inch TFT color LCD. The LCD offers approximately 100% coverage and has a resolution of approximately 230,000 pixels. This is the same viewfinder that was present on the SD4000 and it's not exactly impressive in its size or resolution.
Flash
---
The SD4500 has a built-in flash that comes witha  number of available settings. In fact, the SD4500 probably has more flash options that most point-and-shoot users would want: Auto, On, Slow Synchro, FE Lock, Auto Red-Eye Correction, Red-Eye Reduction, Shutter Sync, Safety FE, and Smart Flash Exposure. The range is reported by Canon as approximately 1-12ft. at full wide angle, with a recycling time of 10 seconds.
There is no flash exposure compensation.
Lens & Sensor
---
The SD4500 has the same 10.6-megapixel, 1/2.3-inch CMOS sensor that's featured on the SD4000 (effective pixel count is 10MP). The 6.3mm lens, however, seems to be slightly differenct.
What most users will care about is the 10x optical zoom. If you choose to use the 4x digital zoom, you can get a combined zoom of 40x. Of course, digital zoom always degrades image quality, so we suggest you just stick with the 10x optical zoom.
Jacks, Ports & Plugs
---
The SD4500 comes with the standard set of connections. There is a proprietary connection for USB or standard AV cables and, to support the SD4500's 1080p video capabilities, there is an HDMI video output. The latter is not listed on the specs on Canon's website, but we were glad to discover that was a typo.
Using the USB cable, you can connect the camera directly to Canon printers (and other PictBridge-compatible printers).
Battery
---
The SD4500 ships with the NB-9L battery pack. It is rated for far fewer photos than the NB-6L for the SD4000. We're not sure whether this is a result of the camera's power usage or the battery itself. In either case, the NB-9L will last for approximately 150 shots or 4.5 hours when used with the SD4500. The camera also comes with a wall adapter kit for recharging the battery.
Memory
---
The SD4500 records to SD/SDHC/SDXC memory cards.
Meet the tester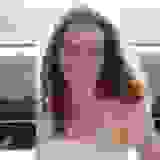 Kaitlyn Chantry
Vice President, Editorial Management
@WhyKaitlyn
Vice President of Editorial Management, Kaitlyn oversees the editorial departments of Reviewed.com's various sites. She has been writing about technology since the turn of the century. Outside of her Reviewed.com home, Kaitlyn is also a theatre director and avid gamer.
See all of Kaitlyn Chantry's reviews
Checking our work.
We use standardized and scientific testing methods to scrutinize every product and provide you with objectively accurate results. If you've found different results in your own research, email us and we'll compare notes. If it looks substantial, we'll gladly re-test a product to try and reproduce these results. After all, peer reviews are a critical part of any scientific process.
Shoot us an email