Front
---
Back
---
Sides
---
Bottom
---
Top
---
** Size Comparisons **
---
** In the Box **
---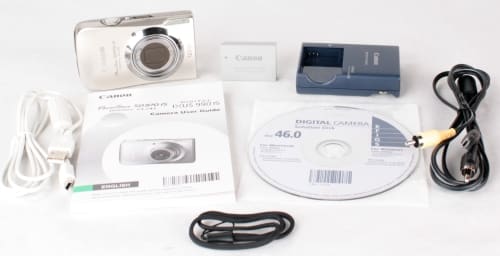 • Canon PowerShot SD970 IS camera
• battery (NB-5L)
• battery charger (CB-2LX)
• USB cable (IFC-400PCU)
• AV cable (AVC-DC400)
• Wrist strap
• User guide
• Software CD
**Color Accuracy *** (12.70) *
---
In our tests for color accuracy, the Canon SD970 IS scored well; among our comparison group of cameras, only the Sony T900 surpassed it.
This is a test of color accuracy, not attractiveness, so we shoot in each color mode the camera offers to determine which one comes reproduces the hues in the X-Rite ColorChecker test chart with the least color error. We had a surprise with the SD970 IS here. While the wide range of available color settings includes both Neutral and Standard, the one with the most accurate color was actually Vivid Red. This is not to say that the Standard and Neutral settings were substantially flawed, and we would be inclined to use them for most shooting. However, while Vivid Red did produce an oversaturated result (nearly 107%), the actual colors in this mode were indisputably closer to the color chart values, according to Imatest image analysis software. The flesh tones were very close to the actual chart patches, greens, oranges and deep blues were spot on, though light blues demonstrated some color shift. As for the reds, while they were boosted in intensity, the colors were accurately rendered.  Click here for more on how we test color
In the chart below we illustrate the colors captured by the Canon and three similarly priced competitors, with the exposures corrected to display the same luminance.
NOTE: Because of the way computer monitors reproduce colors, the images above do not exactly match the originals found on the chart or in the captured images. The chart should be used to judge the relative color shift, not the absolute captured colors.
The chart below shows the relative color accuracy scores in our test group; taller bars indicate higher scores and better performance.
Color Modes*(5.00)*
---
There is certainly no shortage of color control available on the SD970 IS thanks to the My Colors feature, which offers eleven preset color adjustments. These include Vivid and Neutral, Sepia and Black and White, Positive Film (boosting colors to mimic color print film), Lighter Skin Tone and Darker Skin Tone, Vivid Red, Vivid Green and Vivid Blue. The changes you make are reflected on-screen as you make them, which makes the system much more practical and fun to fiddle with. And if the presets don't suit your artistic temperament, the Custom Color option lets users adjust contrast, sharpness and color saturation, red, green, blue and skin tone levels. It's not a precision tool, with only five available levels for each setting, but it's useful if there's a particular color you'd like to see 'pop' more, or want to soften up someone's overly ruddy complexion.
Noise*(9.99)*
---
The speckles and imperfections you see in digital photos, usually in areas of flat color, are called image noise, and the Canon was better than most compact cameras at keeping this problem under control. To test for image noise, we use two illumination levels, a bright 3000 lux and a restrained 60 lux, which corresponds to a fairly low indoor lighting level. We shoot the color chart at each available ISO level, and use Imatest to analyze the resulting images for noise. Click here for more on how we test noise.
As shown in the chart below, the SD970 IS noise performance follows the same pattern in both bright and dim lighting, with not much difference in visible noise between the two. The camera starts out at its lowest ISO setting with image noise below 1%, a good result, and the noise level climbs steadily but not sharply as ISOs increase. The decrease at ISO 800 indicates that an automatic noise reduction filter kicks in at this level.
The table below shows actual-size crops taken from our test photos at four ISO levels.
The Canon is the most consistent performer in our test group. While the Fuji and Casio remain lower in the midrange ISOs, when we reach the ISO 800 mark and beyond the Canon produces substantially cleaner photos, and its at these higher ISO settings that image noise is most noticeable.
The overall noise score is based on measurements across the ISO range. As shown below, the Canon SD970 IS and Casio EX-FC100 posted nearly identical scores, with the Fuji close behind, and only the Sony delivering problematic performance here.
ISO*(7.50)*
---
The SD970 IS provides full-resolution ISO settings from 80 to 1600, which can be set manually or left on ISO Auto for the camera to control. There is also an ISO 3200 setting available at greatly reduced 1600 x 1200 (2 megapixel) resolution.
NOTE: The images above are not used in our testing or scoring, but are included here to show real-world examples of the differences between cameras at the various ISO settings.
Resolution*(12.57)*
---
In addition to image sharpness, our resolution test includes measurements of distortion and chromatic aberration, the color fringing sometimes seen along the edges of objects in digital photos. The Canon SD970 IS proved a strong performer overall, with very good sharpness results but some noteworthy problems in the other two categories. Click here for more on how we test resolution.
Distortion (7.00)
We test resolution at three focal lengths; the widest angle setting, the maximum telephoto and the midpoint. The Canon produced minimal barrel distortion at the 15mm focal length, but at wide angle there was significant 2.5% barrel distortion, and at maximum telephoto some pincushioning. Overall, it isn't a poor performance (as seen with the Sony T900), but it's not impressive either.
Sharpness (18.08)
Sharpness is good at all three focal lengths, with a high reading of 2387 lw/ph, thanks in part to aggressive but not unreasonable digital sharpening in the camera software. The best results were found at the wide angle and midrange settings, with some softening when shooting at maximum telephoto.
Chromatic Aberration (7.16)
Chromatic aberration was no problem at the center of the lens, but there is noticeable color fringing as we move towards the corners at all three focal lengths.
As shown in the chart below, the Canon is competitive when it comes to resolution, with its solid image sharpness results brought down a peg by less than stellar results for chromatic aberration and distortion.
Picture Quality & Size Options*(0.00)*
---
The SD970 IS offers half a dozen image size options, including one in 16:9 widescreen format.
There are two JPEG compression settings, Fine and Normal. The SD970 IS doesn't support saving to RAW files.
Image Stabilization*(7.53)*
---
The Canon SD970 IS uses optical image stabilization, with a lens element that moves in response to the user's movement to minimize the effect of shaking hands. The system did produce a notable resolution improvement, though not as dramatic as we found with the Sony T900.
To test image stabilization, we place the camera in a rig which moves under precise computer control to mimic moderate hand shake, and shoot at 1/30 second (which is about the slowest speed most users can hold a camera reasonably steady) with image stabilization turned on and off. The resulting photos are analyzed using Imatest software to determine how much resolution improvement the image stabilization provides. Click here for more on how we test image stabilization.
The Canon SD970 IS produced a modest but worthwhile resolution gain in our test images. It was certainly a vast improvement over the Casio and Fujifilm, which failed to boost resolution at all, though the Sony system proved far more effective in our testing.
Movie Mode*(10.75)*
---
The SD970 IS offers three movie resolutions, including 1280 x 720 (720p), the lower-res of two common HDTV formats. The more web-friendly options are 640 x 480 and 320 x 240, with all three shooting at 30 frames per second. Maximum recording time in 720p mode is 29 minutes 59 seconds, and one hour for the lower-res alternatives. Videos ares stored in H.264 format, in MOV files.
Many of the controls and effects available while shooting stills also apply to shooting video. These include white balance and exposure compensation settings, image stabilization, and adjusting the color mode settings. However, optical zoom is disabled while shooting.
Video Color*(10.10)*
---
The color accuracy in video shot with the Canon SD970 IS is very good, with minor color shift and slight undersaturation when shooting in 720p mode. It ranks at the top of our comparision group in this area. The chart below represents color error, so a shorter bar is better.
Video Sharpness*(5.32)*
---
Here aagain, shooting at 720p, the Canon scores very well, as shown in the chart below. The bars represent resolution measurements, so a taller bar indicates better performance.
Sample Photos
---
In the following sample images, clicking on the larger image will download the full resolution original. Each photo is accompanied by three actual-size crops.
Still Life Examples
---
The photos below were taken with each comparison camera at all available ISO settings, using automatic white balance. Clicking on the thumbnails will download the full-size version, though this may take a while if your Internet connection is slow.
NOTE: The images above are not used in our testing or scoring, but are included here to show real-world examples of the differences between cameras at the various ISO settings.
Playback Mode*(9.00)*
---
There are five different playback information displays, toggled by pressing the DISP key, as shown below.
Browsing your photos gets a little entertainment value bump with the availability of transition effects between images. You can go forward and back by pressing the sides of the four-way controller, or turn the control dial to zoom through the photos. While there isn't a separate calendar view display, you can still browse images by date taken; pressing up or down on the controller while browsing with the control dial jumps from date to date.
Whichever view you choose, holding the camera vertically will pivot the picture, but strangely not the text overlay. This is handy if you want to quickly see a vertical shot in full-screen view, but otherwise not terribly helpful.
Then we get to the more esoteric browsing features Canon found time to develop. Active Display lets you give the camera a gentle sideways shake and move to the next or previous image (depending on the shake direction), with a sound effect and a falling-into-place transition. This one strikes us as pure gimmick: it's slower than turning the control dial and feels finicky and unnatural. Another unusual browsing feature is slightly more useful. Hold down the left or right side of the four-way controller and tipping the camera in the same direction makes the camera virtually flip through images at a rapid clip. It's not a bad way to quickly zoom through groups of photos as you keep your eyes peeled on the screen.
The other useful playback-mode feature is the option to categorize photos with the following labels: People, Scenery, Events, Category 1, Category 2, Category 3 and To Do. These categories can then be used to selectively browse your photos in the camera, select the images to be included in a slideshow, create a DPOF file and protect or delete by group. The category labels also appear when you use the supplied ZoomBrowser EX (Windows) and ImageBrowser (Mac) software.
The slideshow capability here isn't bad, particularly if you're hooked up to an HDTV. You can filter the photos to be shown by category or date, determine the individual image play time, choose a between-image transition effect and decide whether the show automatically repeats or not. No audio accompaniment, though.
When viewing movies, you have adjustable slow-motion playback at your disposal along with frame-by-frame advance forward or backward, and the ability to jump instantly to the beginning or end of the video.
In-Camera Editing*(6.50)*
---
Built-in photo tweaking capabilities include the basics: image rotation, red-eye correction, and the option to resize to one of the smaller image sizes supported by the camera. The trimming feature offers presets for the different image size options, with the ability to rotate the frame and move it around. If face detection was used when shooting the photo, the frame will appear on screeen as a trimming option.
Dynamic range adjustment is available during image editing as well as during shooting. As an editing effect there are four settings, Auto, Low, Medium and High.
Most of the color adjustments offered during shooting can also be applied as filters during playback, including Vivid, Neutral, Sepia, Black and White, Positive Film, Lighter Skin Tone, Darker Skin Tone, Vivid Blue, Vivid Green and Vivid Red. Unfortunately, the cool color accent and color swap functions are only available while taking photos, not after the fact.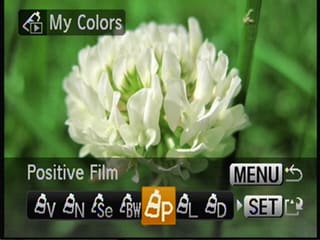 *Changes to the color settings are previewed
on screen as you explore your options.*
The beginning and/or end of a recorded video can be trimmed in-camera with one-second precision, and a copy of the edited version saved, without overwriting the original (unless you want to).
Direct Print Options*(5.00)*
---
The DPOF (Direct Print Order Form) utility is well designed and nicely detailed, including the option to select photos one by one or by groups, turn date and file number printing on or off, and output index prints. You can use the same DPOF settings for output to an attached PictBridge-compatible printer, but since Canon is a major photo printer maker, it comes as no surprise that the SD970 IS has a mind-bogglingly full-featured system for using up ink and paper. If you're into total control, you can choose paper size, crop a photo in the camera, enhance the photo with vivid colors and/or noise reduction, imprint the date, filename or both, choose printer output quality setting, determine page layout (bordered or borderless, multiple images per sheet or index prints). Whew! Or, if you prefer, the dedicated Direct Print button on the camera back will print a copy of the photo displayed on screen with one press.
Viewfinder*(0.00)*
---
Optical viewfinders are becoming harder and harder to find on compact cameras, and the SD970 IS is one more model that's LCD-only. Given the way the LCD fills up nearly the entire back of the cmaera it's hard to imagine how they could have shoehorned a viewfinder in, but it's still a feature we like to have when the sun is shining, the screen is glaring and we want to take a picture.
LCD*(6.05)*
---
The large, bright 3-inch LCD is a significant step-up feature with its 410,000-dot resolution (compared to 230,000 dots on most point-and-shoots, and even inexpensive SLRs). Screen brightness can be adjusted to five settings, and your most recently viewed photo (in playback mode) or the current view (in shooting mode) is displayed while you make the adjustment, a visual aid that's too often forgotten by manufacturers.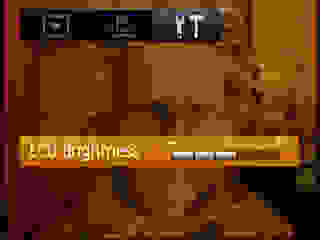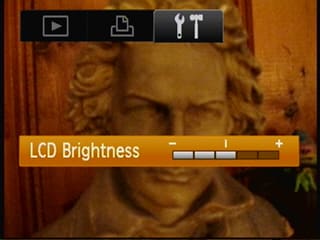 *We found boosting screen brightness helped
substantially when shooting outdoors.*
An 'extra' we found very useful is the option to display a grid guideline overlay on the LCD while shooting. You can choose a nine-box grid pattern, a 3:2 gray bar overlay to preview the printable area, or both simultaneously.

**
Flash***(4.75)*
---
Canon gives the flash range as 1 - 11 ft. (30cm - 3.5m) at the widest setting and 1 - 6.6 ft. (30cm - 2m) at maximum telephoto. You can leave the flash set to auto and let the camera decide when it's needed, set it to fire with every shot (useful for filling in shadows on bright days) or prevent it from ever firing. Red-eye correction can be turned on in any mode, which turns on the red lamp beside the lens before firing the flash -- given the low level of illumination, red-eye reduction is less successful on this camera than other point and shoots.
There is also a slow sync mode that combines the flash firing with a slow shutter speed. This can be useful when taking pictures at night, when the flash illuminates the foreground subject while the slow shutter increases the background exposure.There is no flash exposure compensation control.
We found the small flash bright enough for indoor photography in a fairly large room. Shooting a blank wall in a dark room showed that the flash was quite uneven, though, with a very hot center and rapid falloff at the edges. As for recharge times, the couple of seconds between shots felt about average for a built-in compact camera flash.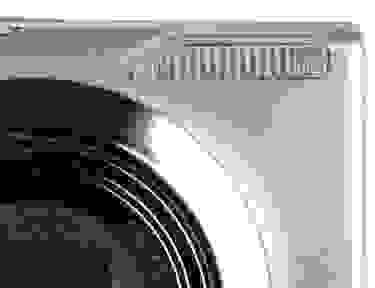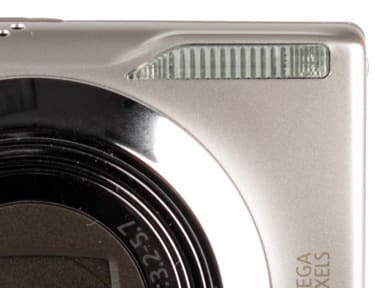 The small flash is relatively powerful but uneven
Lens*(4.50)*
---
The Canon SD970 IS has a 6.6 - 33mm lens (equivalent to a 37 - 185mm in 35mm photography). The 5x zoom is practical for a wide range of shooting situations, though the relatively high-powered telephoto is more impressive than the not very wide angle setting. As with many compact cameras, the zoom isn't entirely smooth and precise,  offering a range of preset positions rather than an entirely free choice of settings.
The close focus distance of 0.79 inch (2cm) allows frame-filling close-ups of very small objects. A digital macro setting is also available to get even closer, but causes image quality degradation unless you're shooting at low resolutions, making it fairly worthless (and really, isn't 0.79 inch close enough?).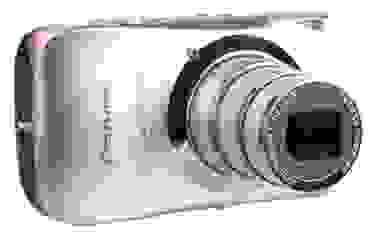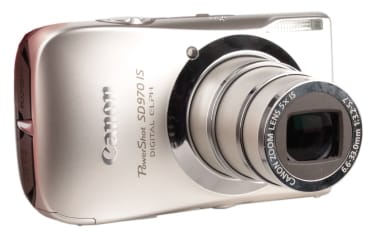 *The zoom range is nice, but the limited
wide angle is disappointing.*
The photos below show the range of the zoom lens, from its widest setting to maximum telephoto.
Canon took two approaches to digital zoom here. First, there's the typical digital zoom, which provides up to 20x magnification (at the smallest image size setting). Then there's the 'digital tele-converter,' which increases apparent focal length by 1.5 or 2x. This can be used without image quality penalty if you're shooting at lower-res settings (for example, when shooting at 5 megapixels, the 1.5x zoom doesn't cause any change in image quality), but generally we want our photos at full resolution, and prefer to crop them in an image editing application later if necessary.
Battery*(6.00)*
---
The SD970 IS uses a small rectangular battery, the NB-5L, a 3.7V 1120mAh Lithium ion rechargeable. According to Canon's testing using CIPA standards, the battery should provide 270 shots, and based on our shooting experience that feels about right. Charging time for a completely depleted battery is about 2 hours. The battery can't be inserted all the way and the cover closed if you put it in backwards, but it's easy enough to waste time trying, since the symmetrical shape will fit most of the way into the compartment even if it's going in backwards or upside down.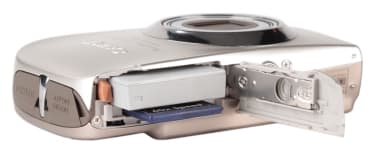 The battery and memory card share a compartment
Memory*(3.00)*
---
The camera accepts widely available, inexpensive SD and SDHC memory cards, along with any leftover MultiMedia, MMCplus or HC MMCplus memory cards you have lying around.
Jacks, Ports & Plugs*(5.50)*
---
There are two separate compartments for I/O connections. On top of the right side is an mini-HDMI port for connecting the camera directly to an HDTV for video and photo viewing (you'll need to buy an optional cable). At the bottom right is a USB port used for both data connection and standard-definition video and audio output, using included cables. We're not thrilled with the jack compartment covers; they're stiff and hard to fit back in place. On the other hand, Canon used industry-standard HDMI and USB cables, which makes replacement or buying extras much easier than proprietary connections (better not lose that USB-connected video cable, though).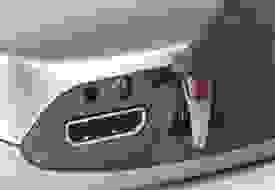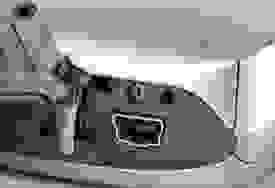 We found the port covers hard to close.
Shooting Modes*(7.42)*
---
The mode switch has three positions: movie mode to the left, Auto mode to the right, and the remaining shooting modes accessed from the middle position. In Auto mode, the camera attempts to identify the subject you're shooting and sets itself accordingly to one of 18 preset modes. Subjects are categorized as people, close-ups or other, while lighting conditions are pegged as bright, blue skies, sunsets or dark. An icon indicating the camera's selection appears on the LCD. In auto mode, the user can adjust image size and compression level, but all other manual settings are disabled.
Program autoexposure mode makes many more hands-on adjustments available, though it too can be used for simple point-and-shoot operation if you prefer. Program mode gives you control over ISO and white balance settings, exposure compensation and self-timer settings. You can also fiddle with color settings in interesting ways using the My Colors system (see Color Modes for details).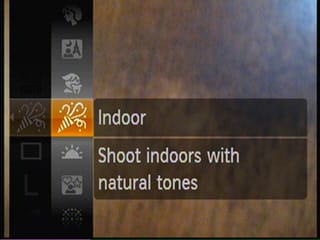 *The on-screen lablels are easy to read and go
beyond simply listing the mode name.*
Canon didn't go overboard with its scene mode selection, but covers what most users will need.
Picture Effects*(4.25)*
---
The SD970 offers a generous selection color tweaking settings in the My Colors feature, as shown below. The names are all self-explanatory except for Positive Film, which tries to recreate the richer-than-real-life colors found in the days of Kodacolor print film.
If altering reality appeals to you, two color processing options may appeal. In Color Accent shooting mode, you choose a color in the scene you're seeing and only that color will appear in the shot, with the rest of the world turned to black and white. There's a similar Color Swap option, where you choose a color to swap out for another in the photo. In both cases, you can control how closely the colors in question have to match the original hue.
There's also a panorama stitching option, which lets you take up to 26 (!) images for stitching later using the supplied computer software. A substantial portion of the previous image remains on screen when lining up the next shot, making the alignment straightforward. We prefer being able to do the stitching in the camera itself, though, and find it hard to believe that the Digic 4 processor wouldn't be up to the job.
The Creative Light effect is a feature we expect you'll use once in the life of the camera, if ever. It turns bright points of light in your photo into your choice of stars, hearts, starbursts, musical notes, double hearts or butterflies, at two different sizes. Zoom blur is another oddball, but marginally more interesting. It actually moves the lens during the exposure to produce an image that's sharp in the middle and has the appearance of movement around it.
You can choose to have the camera imprint the date and time a photo was shot in the lower right corner. This becomes a permanent part of the image file.
Focus*(5.25)*
---
There are two autofocus methods available, center or face detection. When using center focus, you can choose a normal or small autofocus frame, but can't move the focus point around manually (you can always aim at the focus point you want and lock focus by holding the shutter down halfway, of course).
In addition to setting the focus, the face detection system will also set exposure (if set to evaluative metering) and white balance (if set to auto white balance) based on the subject it finds. The camera can identify up to 35 faces in a group, and if you don't think it's chosen the most important, you're free to change the selection. Whether you or the camera selects the face, the system will attempt to follow it if it moves within the frame. We found the face detection system both quick and tenacious, tracking moving subjects effectively as long as their faces didn't veer too far into profile.
An interesting wrinkle in both center focus and face detection modes is the AF-Point Zoom, which magnifies the middle of the frame after the camera confirms focus. It has some limited value if you're trying to catch someone's expression at just the right moment, but since there's no manual focus adjustment available, it's not a huge benefit, and does obsure some of the scene when it's enabled.
There is a small red autofocus assist lamp on the left side of the lens.
The camera also has a blink detection feature, which analyzes a shot after you take it and plasters an unhappy face logo over the image review screen. Unlike Sony's blink detection system, though, it doesn't quickly and automatically take another shot, so there's not much point.
Exposure*(2.75)*
---
The exposure compensation range is ±2 EV in 1/3 stop increments. 
For high-contrast shooting situations, the i-Contrast system expands dynamic range to maintain detail in shadow areas, though this can increase image noise. Dynamic range adjustment is also available as an in-camera editing option.
Metering*(7.00)*
---
The usual three metering modes are available; evaluative (balanced exposure for the full frame), center-weighted (reads the whole screen but favors the middle in calculating an exposure) and spot (bases exposure only on the spot focus frame).
White Balance*(4.50)*
---
There are five white balance presets (day light, cloudy, tungsten and two fluorescent settings) plus auto and the option to set a custom white balance, a valuable feature left off many compact cameras. 
Aperture*(6.50)*
---
The maximum aperture with the lens at its widest angle is f/3.2, not terribly fast for a $400 camera, and at full zoom it's f/5.7. The minimum aperture at wide angle is f/9, which isn't going to provide a whole lot of depth of field for those scenic shots. At full zoom it's a more workable f/16. There is no manual aperture control, though, a significant limitation.
Shutter Speed*(7.00)*
---
Available shutter speeds range from 1/1600 second to 15 seconds, though the camera will only go beyond a 1-second exposure in the special Long Shutter shooting mode, where you get to choose from thirteen shutter speeds ranging from one second and 15. The camera sets the aperture automatically, and uses long exposure noise reduction (which takes roughly as long as the exposure itself to process) for shutter speeds slower than 1.3 seconds. You can only set the shutter speed for long exposure, though; in more common shooting situations there's no manual shutter speed control.
Self-Timer*(8.00)*
---
The self-timer is unusually flexible. The shutter delay can be set anywhere from 1 second to 30 seconds, and the number of shots taken when the time expires can vary between 1 and 10. There's also a face-recognition self-timer that will wait until an additional person enters the frame, then delay two seconds and take a sequence of three shots.
Drive/Burst Mode*(5.00)*
---
Canon says you can expect approximately 1 shot per second in continuous shooting mode. There are no adjustments or options available, such as shooting faster at a lower resolution.
Shot to Shot (0.00)
In our testing, the camera is certainly no speed demon, but Canon does get credit for delivering the performance level promised, with 1.08 frames per second. And on the plus side, there is no limit to the number of frames you can shoot (beyond running out of battery life or memory card space).
In the comparison chart below, it's worth noting that the Casio is designed and marketed largely on its high-speed photography capabilities.
Handling*(7.00)*
---
The Canon SD970 IS has a solidly built two-tone (light beige and silver) metal body. It is a bit bulky; with a depth of 1.04 inches (26.3mm) that's not going to fit easily into those tight jeans. That said, it's comfortable enough to hold and shoot with, at least for still images. The shutter fits naturally under your right index finger, and there's plenty of unused space on the front of the camera to support it securely with your two middle fingers. The problem comes when you try shooting video; the microphone is on the top left, and easily covered with your left index finger. In fact, our first videos turned out to be silent movies, and we hunted for the setting we'd fouled up until we fingered the culprit. Holding the camera without obstructing the mic requires a delicate pincer grip that's neither secure nor comfy. The mic should have been on the front of the camera.
Buttons & Dials*(9.00)*
---
The controls on the back of the camera are arranged well and large enough to press with the ball of your thumb. It does take a bit of pressure, but that's necessary since to hold the camera steady requires having your thumb resting on the the controls -- there's no unused real estate for a thumb rest. The control dial, which can either rotate or be pressed like a four-way controller, also works nicely, though we found it was sensitive enough to be more useful rapidly browsing through photos than precisely finding a menu item. The only control we feel could use significant improvement is the mode switch on top of the camera. It has three positions, with movie mode to the left, auto mode to the right and the rest of your shooting options in the middle. It snaps into each position very firmly, though, and requires an unexpected amount of force to move,
A valuable upscale feature here is the direct print button which, while only marginally useful in its native mode, can be programmed to provide one-touch access to face detect mode, ISO and white balance settings, custom white balance, red-eye correction, digital tele-converter, i-Contrast, the on-screen grid display overlay, movie recording or turning the display off.
Menu*(6.00)*
---
The Canon SD970 IS provides a traditional full-screen menu system, but there's also a quick-access menu during shooting that provides a convenient shortcut to key settings. Called the FUNC. menu (because it's called up by pressing the FUNC/SET button), it appears as a vertical bar along the side of the screen, which can be scrolled using the control dial (turning it or pressing up and down). Metering, color mode, white balance, ISO, record mode, drive mode, image size and compression are all available, unless they're locked out by your recording mode selection. However, the four settings mapped to the four-way controller directions (exposure compensation, flash, self-timer and macro/landscape) aren't included in the quick-access menu. And when you get to the main menu system, only settings unavailable through either the quick-access menu or the four-way controller are included. We're used to seeing a lot more redundancy in menu system and camera control design, and think the lack of it here is a mistake.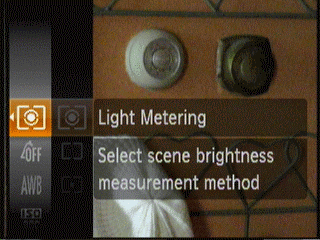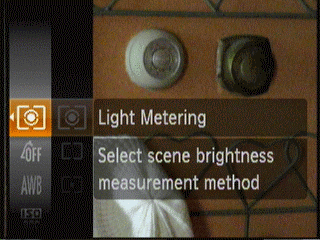 *The quick-access settings menu works
well while shooting.*
The main menu system is very easy to read, helped by the high-resolution screen and large, white-on-grey type. Choices are spelled out clearly and well organized. Only the menu sections relevant to your current mode are shown, which is fine. Our only complaint is the fact that each menu has far more choices than can fit on a single screen, so you have to scroll down to see what's available. Using more separate tabbed section would have solved that problem.
Manual & Learning*(4.75)*
---
Canon did a nice job with the user guide. It's roughly 4 x 6 inches and 164 pages, compact enough to carry in your back pocket while learning to use the camera. And while the pages aren't very large, they're not jam-packed with information either, with an unintimidating layout and browsable format. The writing is straightforward and to the point, the illustrations helpful, though the screen shots are too small to see clearly. We like the order in which information is presented, with a reasonable progression from the basics to more advanced operations. As usual, though, the index is disappointing. lacking entries for key features like Active Display and HDMI output. As for software documentation, it isn't provided in printed form, but at least there's a PDF document on the CD that offers guidance for using the programs, rather than asking you to rely on the help system.
To download a PDF copy of the SD970 IS manual from the Canon web site, click here.
For the past year, Casio has gone from ordinary to innovative by pioneering development of high-speed photography in consumer cameras. The EX-FC100 brings this capability to the sub-$400 camera market, delivering up to 30 shots per second (at a reduced but still perfectly usable 6-megapixel resolution) and taking dramatic slow-motion videos that can capture anything from bursting balloons to suicide slides into third base with stunning detail. When it comes to the more mundane matter of shooting great photos, though, the Casio is at a disadvantage. While the Casio photos had marginally lower image noise, it trailed the Canon performance significantly in color accuracy and resolution, two of our most crucial tests. The Canon image stabilization system wasn't thrilling, but the Casio system actually made images shot at 1/30 second worse. And when shooting HD video, the Canon delivered slightly better color and far superior video sharpness.
The Casio EX-FC100 is slightly slimmer and lighter than the chunky Canon SD970 IS, but the beautiful 3-inch 461,000-dot screen on the SD970 versus the ordinary 230,000-dot Casio display outweighs a little extra heft. Neither camera has manual, shutter-priority or aperture-priority controls. And the list price difference is only $30, which is likely to be even slimmer at retail.
Bottom line, the Casio is the perfect camera for a certain buyer. We found the slow-motion video feature got old fast, but the high-speed stills are an extraordinary advantage when shooting sports or wildlife, and even comes in handy when trying to capture the perfect expression in a portrait shot. If your prime concern is taking the highest-quality stills possible, though, the Canon is a better investment.
The FujiFilm FinePix F200EXR marks the introduction of a new image sensor design. In addition to shooting at full 12-megapixel resolution, this sensor supports a technology called 'pixel binning' that combines the data from multiple sensors to produce a lower-resolution image, but one with enhanced dynamic range or lower image noise (they two are separate shooting modes). The technology is undeniably intriguing but, when we took the camera into our labs for testing, it seems to be a work in progress rather than an immediate breakthrough. We saw a modest improvement in dynamic range, particularly in keeping brightly lit parts of an image from blowing out. While image noise using the enhanced shooting mode was significantly lower than the Fujifilm's performance at the full 12-megapixel resolution at the highest ISO settings, it didn't make much difference below ISO 800 and, more importantly, still couildn't match the Canon full-resolution results at high ISOs.
The Fujifilm camera does provide bettet exposure control, with both a full manual mode and aperture-priority shooting, both of which are sorely lacking in the Canon, and also shoots at higher ISO settings; the Canon tops out at a modest ISO 1600, the Fujifilm reaches ISO 3200 at full resolution and can be pushed to ISO 6400 at six megapixels and ISO 12,800 at three megapixels. The Canon delivers a far superior video mode, shooting at 720p high def where the Fujifilm is still back in the 640 x 480 world. In our performance testing, the two cameras are neck and neck for color accuracy and image noise, the Fujifilm posts better results for resolution, and both fare poorly when it comes to continuous mode shooting.
The Canon does offer a far superior LCD, a 461,000-dot model compared to the routine 230,000-dot Fujifilm screen, along with a better camera control system. Our call here: even without the knockout performance we'd hoped for the new EXR sensor, the Fujifilm offers the manual controls the Canon lacks, if that's important to you, while the Canon holds sway if a beautiful LCD, superior menu system and high-def video shooting are key concerns.
The Sony Cyber-shot DSC-T900 is a sleek, sexy sportscar beside the Canon SD970's SUV, at least when it comes to size and style. Sony brings eye-catching color, a slide-down front cover and slender 0.66-inch (16.3mm) physique to the party, where the bland beige Canon is nearly twice as thick (1.04 inches/26.3mm) and offers a conventional compact camera design, with only a curved left side hinting at the fact that it's 2009.
Once you take the two out for a test drive, each camera has its performance advantages. The Sony has a very small lens up in the top corner, giving it significant problems with distortion and chromatic aberration (though image sharpness was still fine). The T900 offers far more accurate color reproduction than the SD970 when shooting stills (though this stituation is reversed in video mode), and cranked out nearly four shots a second to the Canon's paltry one. The key area where the Canon proved superior was image noise, where it outperformed the Sony at every ISO setting they share. The Sony does offer ISO 3200 where the Canon tops out at ISO 1600, but it's a very noisy ISO 3200. Both cameras offer 720p video recording, with HDMI out for direct connection to an HDTV.
Unlike the other cameras in our comparison group, the T900 outdoes the SD970 when it comes to screen quality, with a 3.5-inch beauty featuring 921,000-dot resolution, versus the 3-inch, 461,000-dot Canon. However, the Sony display is a touch-screen that's used heavily for controlling the camera, and there's the rub (and we're not just talking greasy fingerprints). The screen response is sluggish, making settings changes cumbersome. To make matters worse, the high-res screen has a low-res menu system that makes a very poor appearance compared to the razor-sharp view lining up shots and browsing your photos. The Sony indisputably has a higher 'wow' factor, and our performance testing turned up strengths and weaknesses for both cameras. We'd advise taking both a peek and a hands-on poke at the Sony screen before making an investment, though. We found the Canon a much easier camera to shoot with.
Meet the tester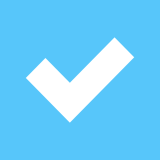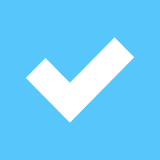 Steve Morgenstern
Editor
Steve Morgenstern is a valued contributor to the Reviewed.com family of sites.
Checking our work.
We use standardized and scientific testing methods to scrutinize every product and provide you with objectively accurate results. If you've found different results in your own research, email us and we'll compare notes. If it looks substantial, we'll gladly re-test a product to try and reproduce these results. After all, peer reviews are a critical part of any scientific process.
Shoot us an email