With a 20x reach, a 12.1-megapixel backlit CMOS sensor, a new image processor, and a reasonable asking price of $349, the SX260 HS could once again be one of the year's most popular travel zooms, competing with models from Panasonic, Nikon, and Samsung.
We spent a few minutes with the SX260 HS at the CP+ 2012 photo show in Japan. Read on for our first impressions.
Like all of the SX2-series cameras before it, the SX260 HS takes a strong ELPH design influence. It's obviously larger than, say, the ELPH 100 HS point-and-shoot because it needs to accommodate a much larger lens. But it's still small enough to even fit in some pants pockets, and feels well-built.
It looks very, very similar to last year's SX230 HS. All the edges are curved, with no hard lines anywhere to be found. Canon did add a rubber tab to the front of the body for an improved grip, and swapped last year's silver accenting for a grayer tone. One of our reviewers said that it reminded her of an "old-people's camera" because it's so puffy and round, and the styling definitely isn't for everyone, but it's a much slicker camera than anything in the SX100-series, for example.
The SX260 HS will ship in black, green, and red, though we only got to see the black version on the showroom floor.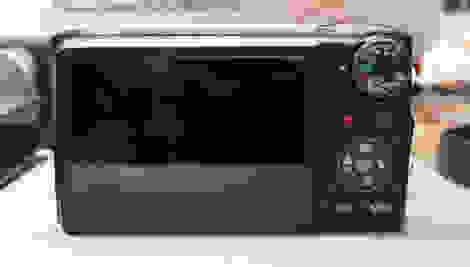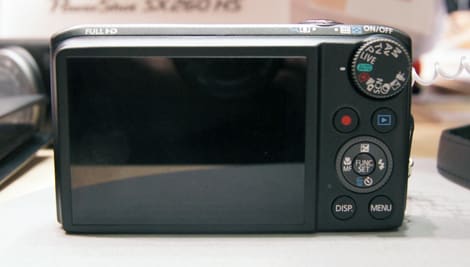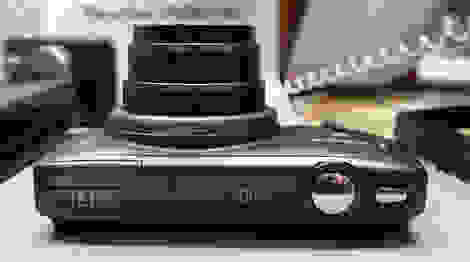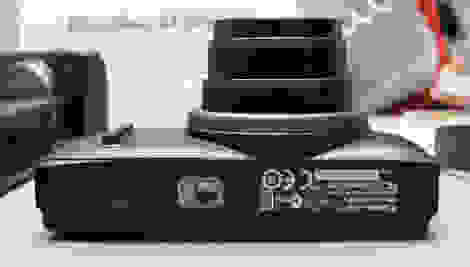 The menu system is Canon's typically elegant system, basically the same as it was on last year's SX230 HS or any recent ELPH models. The function menu accesses some of the more common parameters (the icons could be confusing to novice users while ), while less-crucial options are buried in the main menu system. And as always, the scroll wheel is a boon to navigation.
Canon makes it nice and easy to shoot in Auto mode. Just set the mode dial and fire away. Standard Auto mode allows for some user control, but Easy mode (the heart symbol on the dial) is too limiting for our tastes and doesn't offer any advantages, so it's best to skip it. There's also a "Hints and Tips" feature for casual shooters who want to learn to wield this a bit better.
Hands-on users should find that it's pretty easy to get around, though not as nimble as a truly advanced compact. Program, aperture priority, shutter priority, and manual each have a notch on the mode dial, and the selection wheel makes it easy to adjust exposure settings. A function button or a couple of extra direct-access key would take some strain off of the menu system, but for a point-and-shoot, it's fine.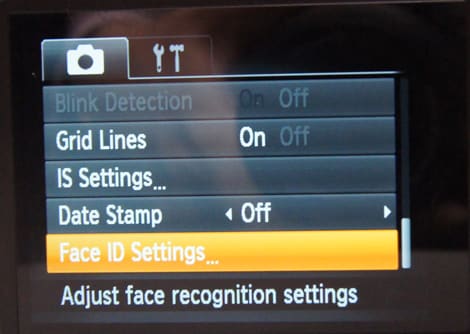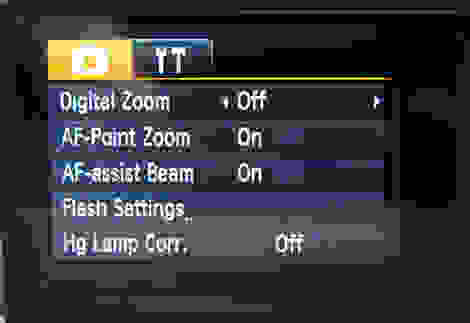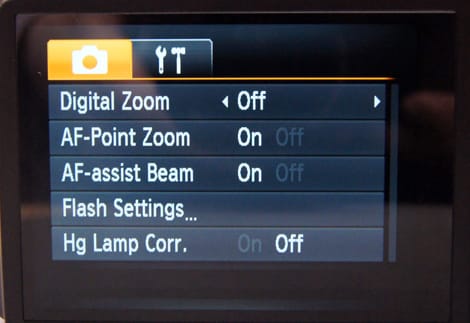 By travel zoom standards, handling is decent. The rounded edges give it a comfortable in-hand feel, but combined with the smooth finish, it's a bit slippery. There is a vertical grip on the front panel that improves the handling significantly (and it's a big improvement over last year's SX230 HS, which was totally flat).
Like most cameras in this category, a two-handed grip is probably the best way to go. The body is compact (1.29 inches thick) and light enough (213g with the battery and card) for one-handed operation if it's just simple pointing-and-shooting. But if you're making any kind of adjustments—even just rotating the mode dial—you'll want to bring that left hand up for the ride.
The buttons have a nice tactile feedback. Canon ditched the rounded, almost padded feel from the SX230, and the response on this new model is a little crisper as a result. The shutter could be sturdier, but it's fine. The 3-inch LCD isn't touch-based, so the whole interface works through physical buttons.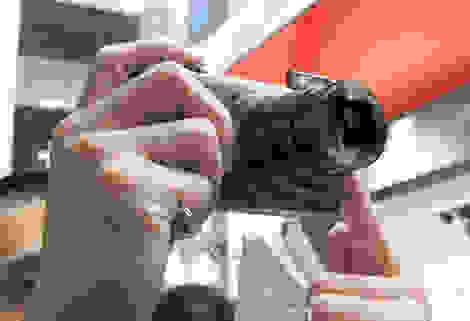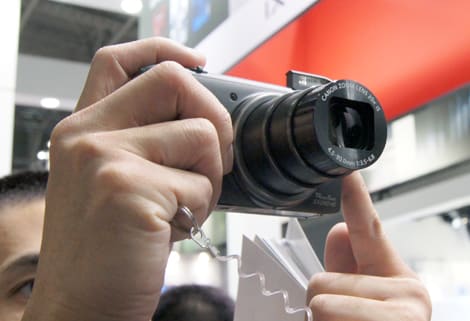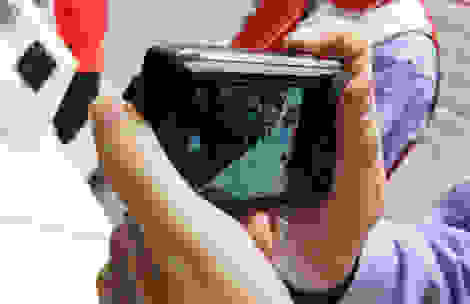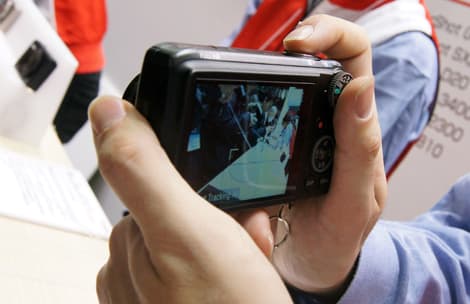 Like most travel zooms, the SX260 HS offers a good mix of automatic, manual, and preset scene modes, as well as burst shooting, full HD video, and some fun extras.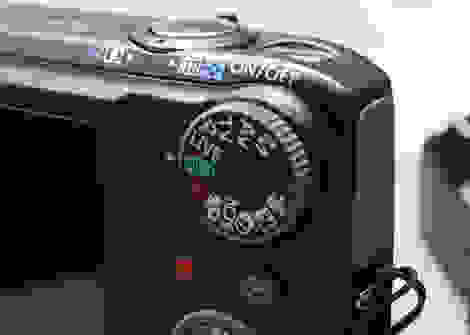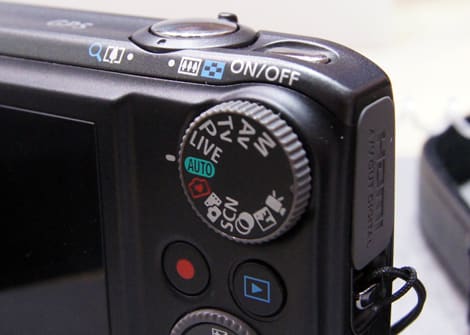 Two auto modes are available. The regular Auto mode is straightforward and hands-off enough for anyone to use, and it offers a little bit of user control over burst mode and photo size. Then there's Easy mode (the heart symbol on the mode dial), which is almost _too_easy. It completely locks out any sort of user control, and isn't really any easier to use than regular Auto mode.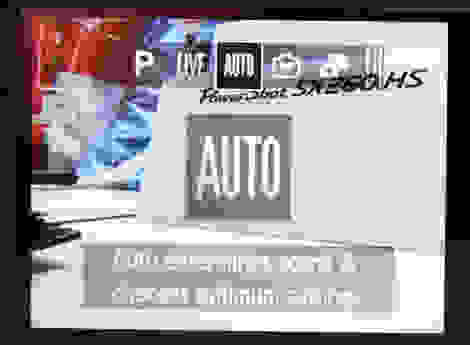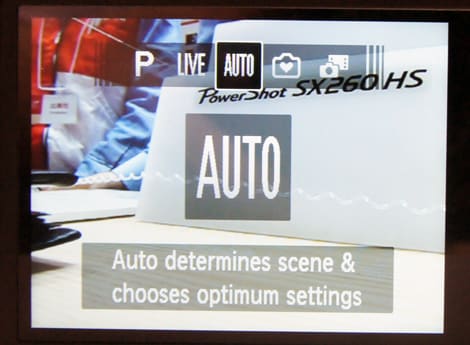 The SX260 HS can shoot 1080/24p video—not as sharp as 30p or even 60i video, but it does have that nice cinematic feel that some folks prefer. Lower resolutions and a high-speed mode are available as well.
The SX260 HS can snap an impressive 10.3 shots per second at its fastest burst setting—up significantly from the 3 or so frames per second that its predecessor could achieve. We don't have specs on how long it can maintain that speed, but we'd imagine it's for about one second at most. At 2.4fps, it can shoot for longer stretches. Continuous drive with autofocus is also available, but at a greatly reduced speed.
There are no custom image presets that we are aware of.
Playback mode is typical Canon fare. Navigation is easy thanks to the selection wheel. Playback zoom and multi-photo view are both supported. Some basic edits can be made, and shots can be organized into favorites and categories.
Resolution maxes out at about 12 megapixels in a 4:3 aspect ratio. It also shoots in 16:9, 3:2, and 1:1 ratios at several resolutions, down to about 0.2 megapixels. Two quality settings are available: Fine and Superfine. RAW capture is not supported.
Autofocus and manual focus are both supported. As a compact camera with no viewfinder, manual focus is a novelty and not particularly useful.
Normal and Macro focus ranges are available. Modes include multi-area, center, tracking, and face detection.
Aperture priority, shutter priority, and manual exposure modes are supported. Maximum aperture is 3.3-6.8. Shutter speed ranges from 1/3200 to 15 seconds. Exposure compensation can hit +/- 2 EV in increments of 1/3 EV. Evaluative, center-weighted average, and spot metering modes are available.
ISO ranges from 100 to 3200 at full resolution. Auto ISO and automatic limits are supported as well.
Auto, dayight, cloudy, tungsten, fluorescent, fluorescent H, and underwater presets are available, as is a customizable white balance setting.
The SX260 HS is equipped with optical image stabilization.
Picture effects include fisheye effect, miniature effect, toy camera effect, monochrome, soft focus, super vivid, poster effect, color accent, and color swap.
Color modes include standard, vivid, neutral, sepia, black & white, positive film, lighter skin tone, darker skin tone, vivid blue, vivid green, vivid red, and a custom color mode.
The SX260 HS is built around a 20x, 4.5-90mm (25-500mm equivalent) lens and a 12.1-megapixel backlit CMOS sensor. The lens is significantly longer than the 14x unit slapped on last year's SX230 HS, and in line with the lenses on most of its current competitors. The sensor could be a holdover from last year—there's no way to know without taking the camera apart—but the new Digic 5 image processor should alter the output pretty significantly.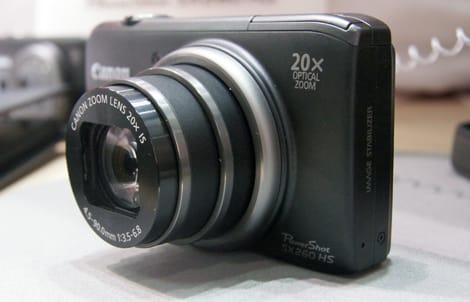 The LCD is a 3-inch, 461,000-pixel, non-touch unit. It's in widescreen format, so there will be vertical black bars on either side of standard, 4:3 ratio photos, but HD videos will fit nicely on the screen.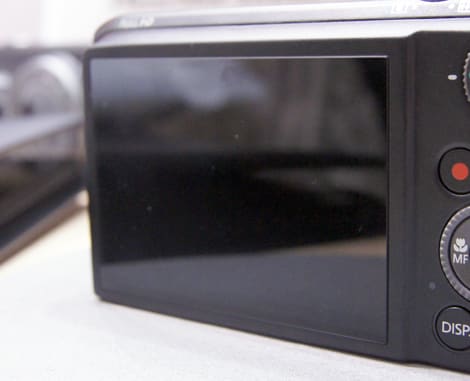 The flash is a pop-up unit located on the top-left of the camera. It's an inconvenient spot in terms of handling, and pop-up flashes can be irritating. It's also only rated for 11 feet of effectiveness, which is one of the weaker settings we've seen.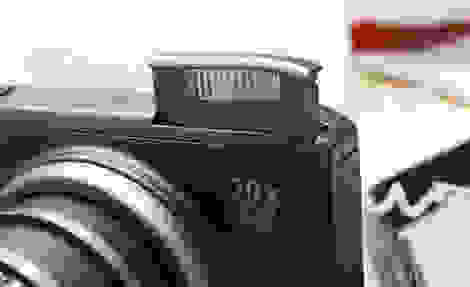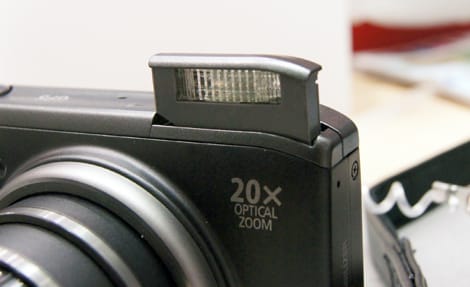 The SX260 HS has USB and HDMI ports concealed behind a flap on the side of the camera.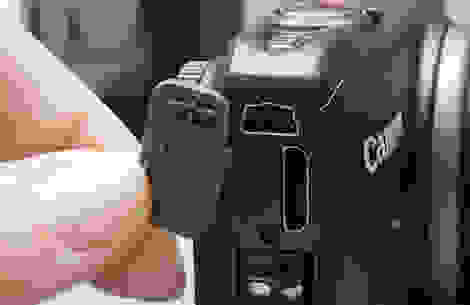 The rechargeable lithium-ion battery that powers the SX260 HS is rated for 230 CIPA shots—not great, but about what we expect from such a skinny camera.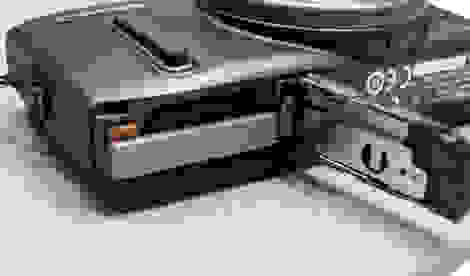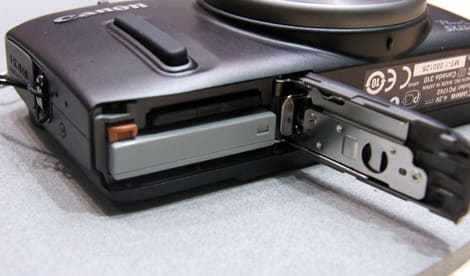 Huzzah, the SX260 HS records to SD/SDHC/SDXC media cards.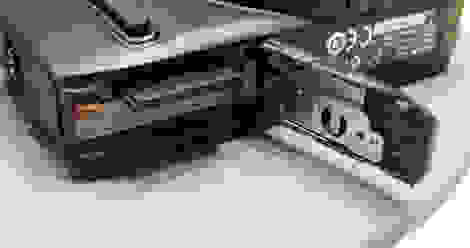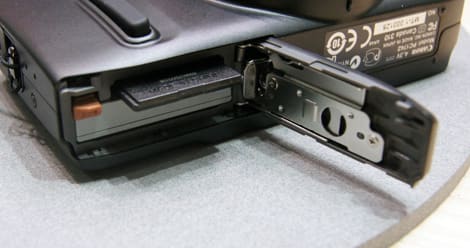 GPS
The SX260 HS has a built-in GPS tracker/logger for geo-tagging and basic navigation. Since we were in a convention center, we couldn't experiment with it, but we're told that it's more advanced than the system found in last year's SX230 HS.
It's tough being a travel zoom this year. A 20x zoom range is the new normal. A CMOS sensor is a must. And extras like GPS or WiFi—whether or not anybody actually uses them—are almost a prerequisite to be taken seriously. This field is vastly more advanced than it was two years ago. Take a look at the Panasonic ZS20, the Nikon S9300, and Samsung WB850F for proof.
On paper, the Canon PowerShot SX260 HS is doing everything right. Last year's SX230 HS was a great camera, and Canon didn't mess with the formula too much. The zoom range got a boost out to 20x (up from 14x), there's a new image processor to work the noise out of those low-light shots, and a few functional and cosmetic changes to keep things fresh.
We've seen successors to great cameras drop the ball before—the Panasonic ZS10 was a hot mess next to the ZS7—but the SX260 HS doesn't feature any huge changes from the older generation. We expect this camera to perform quite well when we get it in for review sometime this spring.
Meet the tester
Liam F McCabe
Managing Editor, News & Features
@liamfmccabe
Liam manages features and news coverage for Reviewed.com. Formerly the editor of the DigitalAdvisor network, he's covered cameras, TVs, personal electronics, and (recently) appliances. He's a native Bostonian and has played in metal bands you've never heard of.
See all of Liam F McCabe's reviews
Checking our work.
We use standardized and scientific testing methods to scrutinize every product and provide you with objectively accurate results. If you've found different results in your own research, email us and we'll compare notes. If it looks substantial, we'll gladly re-test a product to try and reproduce these results. After all, peer reviews are a critical part of any scientific process.
Shoot us an email