Two years is a long time to wait to update a camera, but Canon is finally back with the Powershot SX60 HS (MSRP $549.99). It's a major redesign built around a new 65x optical zoom lens, a new 16.1-megapixel CMOS sensor, and Canon's latest Digic 6 processor.
But 65x is an awful lot of zoom for a compact lens. Can Canon avoid the image quality pitfalls that have doomed other cameras that stretched this far? Can the SX60 live up to its award-winning predecessor? We went hands-on at Photokina 2014 to find out what we could.
Large grip? Large lens? Yup, it's a superzoom.
Unlike some cameras at Photokina, superzoom design is a matter of practicality first, luxury and aesthetics second. It's why nearly every superzoom under the sun looks like a plastic ersatz DSLR—how else are you going to support such large lenses? The SX60 HS is no different, sporting a large DSLR-shaped grip, loads of room for controls and dials, a flip-out LCD, and that big, honking 65x zoom lens.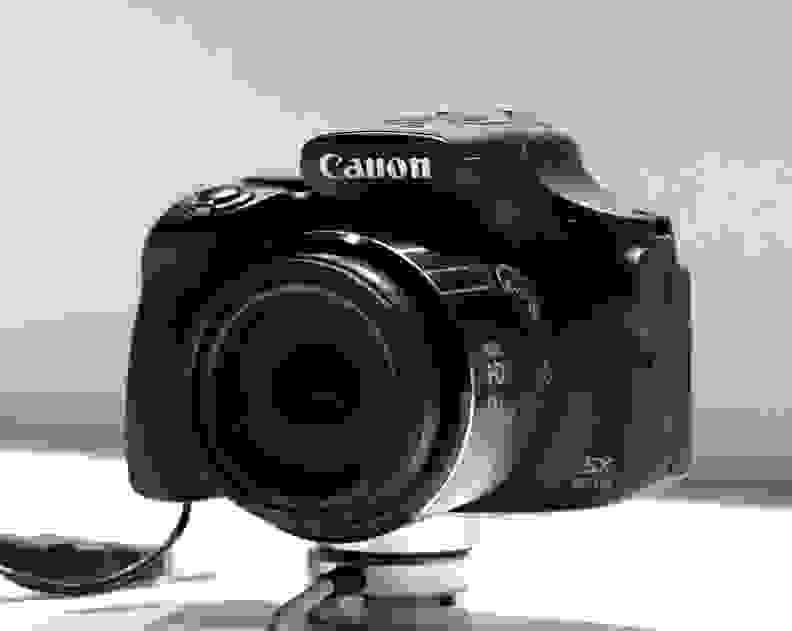 The SX60 HS actually does look quite a bit different from the SX50 HS, though. Its styling has far more in common with Canon's Rebel DSLRs, including a wider and taller body, a reshaped grip and shutter release, and rubber inlays where the SX50 HS opted for raised plastic dots. It's a far more attractive camera, and despite being made mostly of plastic, it's about the same weight as a Rebel T5 with a kit lens attached.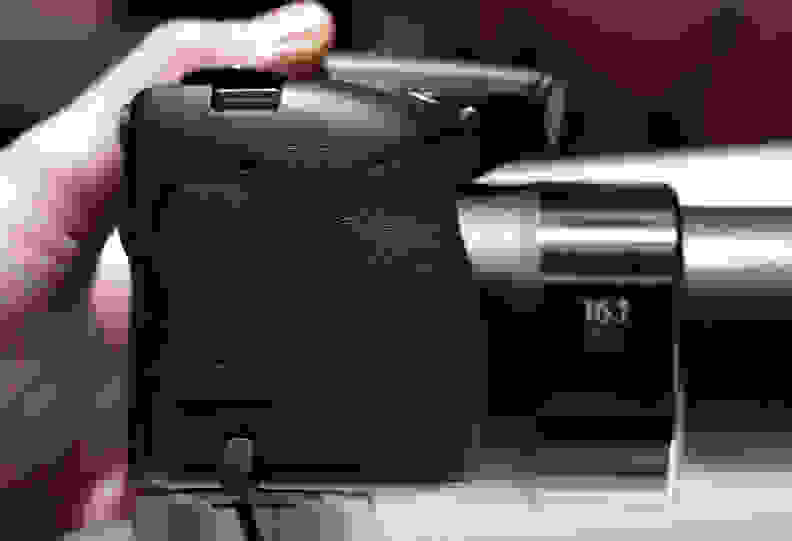 Despite the light weight, the SX60HS actually offers quite a bit of control. There's a single control dial sticking out of the top, lined up alongside the mode dial, a shutter release, a zoom toggle, and a power button. Nearly all the major controls are right near each other and accessible while shooting one-handed.
For framing you've got both the flip-out 3-inch (922k-dot) LCD and the EVF (also 922k dots and much better than the SX50's). They're functional, though the new EVF doesn't hold a candle to the EVFs we've seen recently—even ones in cameras in this price range like the Sony A6000.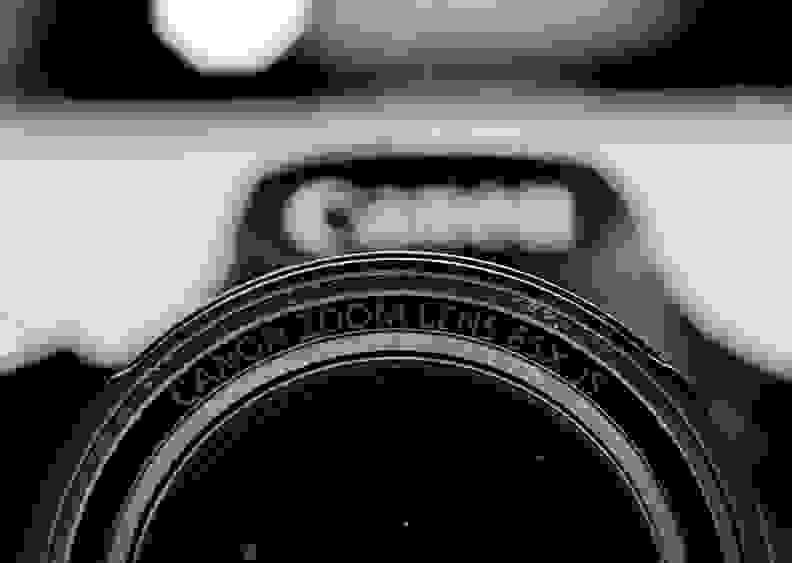 One benefit of framing with the finder is it's easier to keep the camera steady while zooming. The extra weight and larger grip make it relatively easy to get a steady photo with the SX60 HS. Even in Canon's cave-like Photokina booth, the stabilization was able to compensate for my caffeine-induced shakes—when the camera could actually focus.
The stabilization was able to compensate for my caffeine-induced shakes—when the camera could actually focus.
Unfortunately the lens was very slow to focus even on bright subjects, failing multiple times to lock onto very simple, high-contrast shapes. It will be disappointing if that's indicative of production-level performance, because if you can't focus nothing else matters.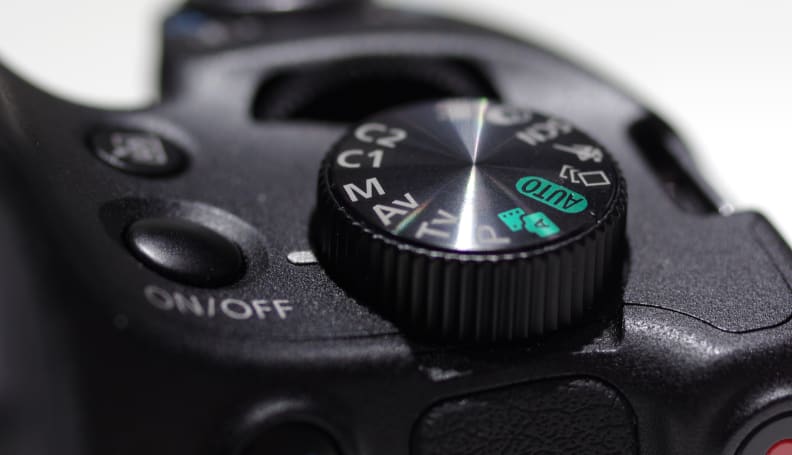 ×
New Gallery
Canon makes improvements across the board.
Though we've criticized Canon for resting on its laurels before, the SX60 HS is an impressive update that improves on the SX50 HS... on paper, anyway. We've already discussed the new lens, sensor, EVF, and processor, but the SX60 also adds 1080/60p video shooting, a stereo mic, a 3.5mm mic input, faster continuous shooting in normal modes, and WiFi/NFC.
Of course, the biggest new change here is the lens. Canon moves from the 50x zoom in the SX50 HS to the 65x zoom here. The upshot of that is that it has a wider angle lens (21mm vs. 24mm in 35mm equivalent) and reaches much further (1200mm vs. 1365mm now). It has the same maximum aperture range, though the lens itself isn't much bigger.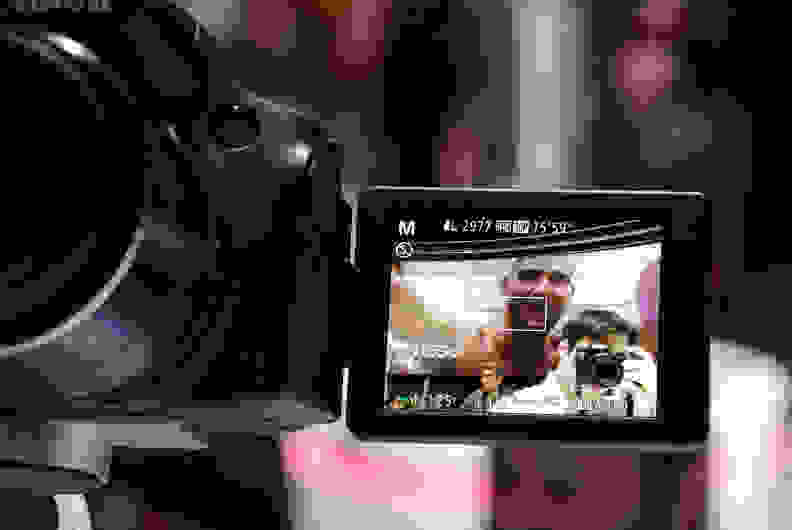 While I didn't have an SX50 on hand to directly compare it to, I will say that the SX60 felt snappier with its new Digic 6 processor. It didn't easily get hung up when capturing bursts of photos, and moving through the menu system and shooting modes didn't cause much of a delay, either.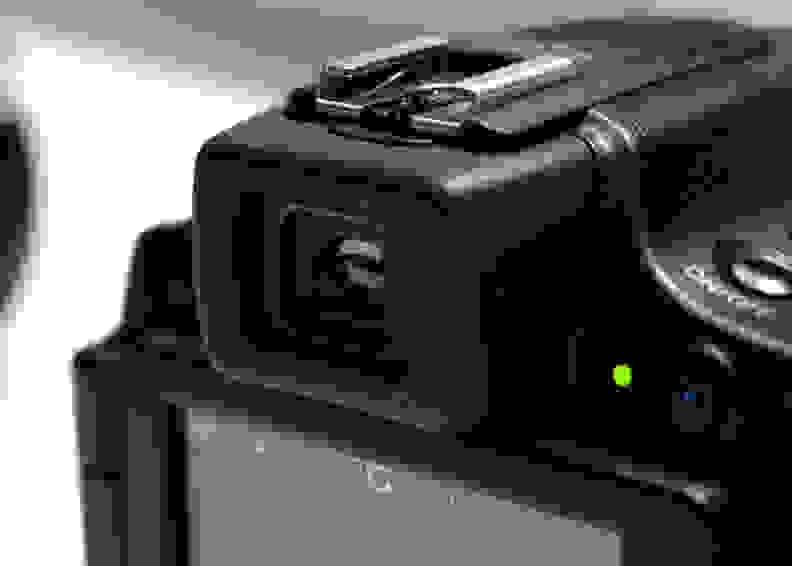 Otherwise, the SX60 HS operates just like its predecessor did. There are some new creative mode additions like Canon's video/still Hybrid Auto that are fun to play with, but nothing major. Perhaps the most useful feature here is Canon's Zoom Framing Assist option, which helps track a moving subject when at full telephoto. It's perhaps not as innovative as the "Eagle Eye" sight on the Olympus superzoom we just reviewed, but it's something we enjoyed on the SX50 HS and we're glad to see it return here.
After two years of waiting and development only one question matters.
If you look at the specs of the SX60 HS and its predecessor side-by-side, it's clear that the newer camera should be better. It's faster, it's got a greatly improved processor, it boasts a better LCD and EVF, and it has much better video features. But the most important change is, without doubt, the new zoom lens.
If Canon can just preserve the SX50's level of quality, that's all the SX60 HS will need to follow in its predecessor's footsteps.
There's a reason why the SX50 HS has remained our top superzoom pick for two years running. The 50x zoom lens on the SX50 HS had its problems, but nearly every camera we've tested that pushed beyond the 50x zoom barrier produced very poor images on the telephoto end. The SX50 HS didn't.
Optical design is as much an art as it is a science, but that's no excuse for full telephoto shots to look like hazy impressionist paintings—a flaw we often saw on superzooms from Canon's competition.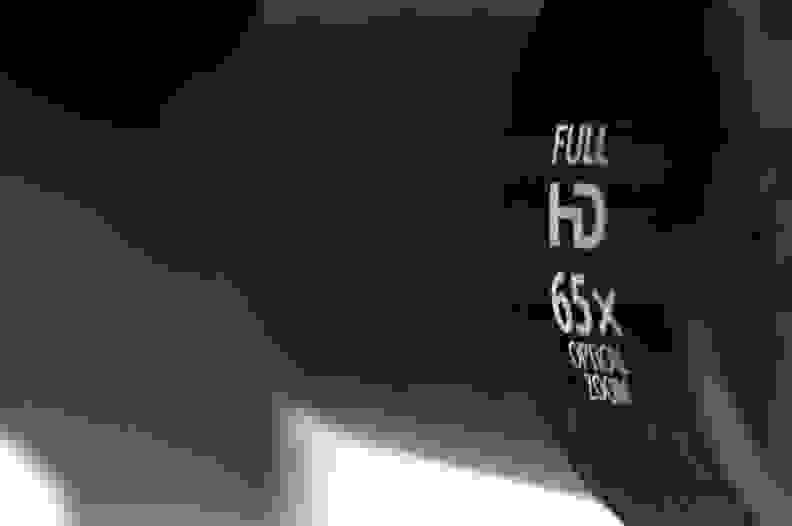 As much as we love the idea of a camera with a gargantuan zoom, a mic input, 1080/60p video, and an improved processor to power it all, nothing matters if the shots don't look good. If Canon can just preserve the SX50's level of quality, that's all the SX60 HS will need to follow in its predecessor's footsteps. The rest will just be gravy.
Meet the tester TJ Donegan
Executive Editor
@TJDonegan
TJ is the Executive Editor of Reviewed.com. He is a Massachusetts native and has covered electronics, cameras, TVs, smartphones, parenting, and more for Reviewed. He is from the self-styled "Cranberry Capitol of the World," which is, in fact, a real thing.
Checking our work.
Our team is here for one purpose: to help you buy the best stuff and love what you own. Our writers, editors, and lab technicians obsess over the products we cover to make sure you're confident and satisfied. Have a different opinion about something we recommend? Email us and we'll compare notes.
Shoot us an email