Note: The product shown throughout this review is the Japanese version of the Rebel T3 that was on display at the CP+ show in Yokohama. In Japan, the model is called the Kiss X50 rather than the Rebel T3, and it is available in red (while the US version comes in black only). Other than the different color options, the Rebel T3 and the Kiss X50 are identical.
The Canon T3 has a lightweight design for a DSLR camera. To some, the camera may come across as cheap, and it definitely feels less durable than other Rebel models, but the light weight design should appeal to beginners or people used to using point-and-shoot cameras. And that's where a lot of the appeal of the T3 comes from—it feels and handles like a large point-and-shoot camera (with an interchangeable lens system, of course). It has a hollow plastic feel when you hold it, and it lacks the rubberized grips on the left and right side that you see on the T3i (and other Canon DSLRs).
The Rebel T3 is only available in black in the US, but in Japan the model is available in red as well (as seen in the photos throughout this review). You may also notice the modelname is different in Japan, as the Rebel T3 is called the Kiss X50 over here. It's the same camera, though, so try not to get too confused when you look at the pictures in this review.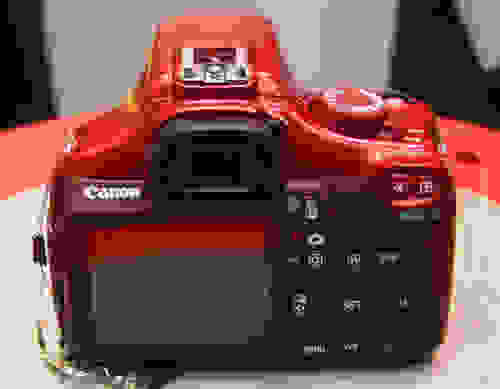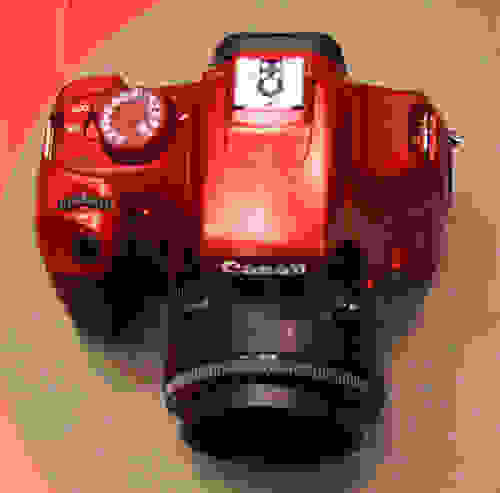 Canon's website describes the T3's LCD as a "huge, bright 2.7-inch TFT LCD monitor." While part of this description may be somewhat accurate, we wouldn't classify a 2.7-inch screen as "huge." There are plenty of other screens on cameras and camcorders that are bigger and better than what the T3 offers.
That being said, the LCD isn't bad. It has a decent viewing angle, a 230,000-pixel resolution, and it works in conjunction with the camera's Live View mode. This enables you to use the LCD to frame your images rather than the viewfinder, just like you would on a point-and-shoot camera. Canon also claims the LCD is 30% brighter than its predecessor, which is something we cannot confirm. We must say, however, the images looked crisp and bright on the screen when we played with the camera on the floor at CP+.
The T3 has a viewfinder on the back of the camera with a small diopter adjustment dial and a built-in eye-piece. There's nothing incredibly special about the viewfinder, but it is serviceable and simple to use.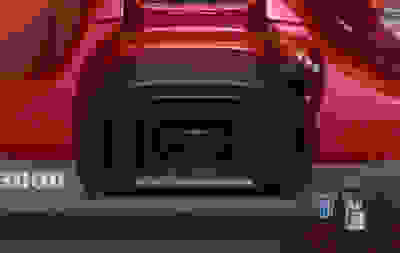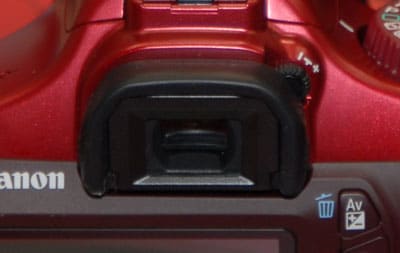 The T3 has a built-in pop-up flash that comes out at the top center of the camera. We didn't get to test the flash at all, but Canon's specs list the flash coverage as up to 17mm focal length and the flash exposure compensation up to ±2 stops (in 1/3 or 1/2-stop increments).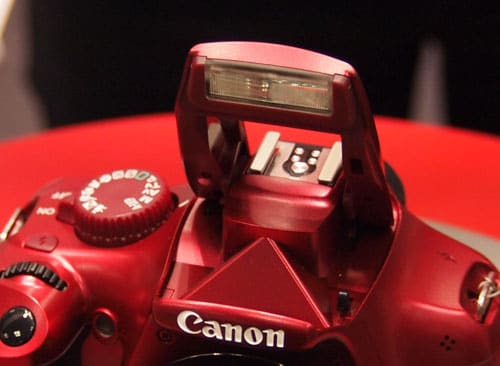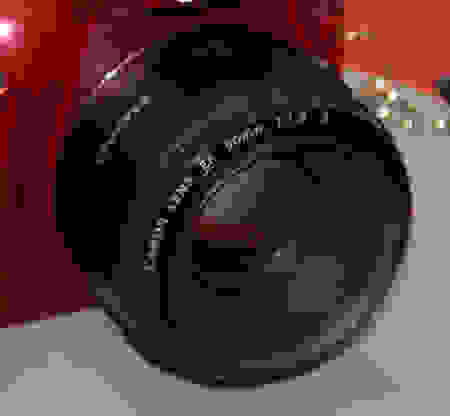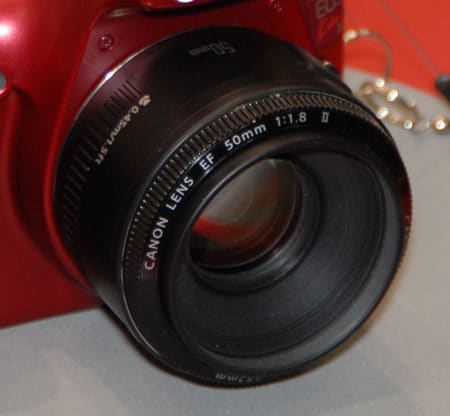 The T3 has an HDMI output, a USB terminal, and a wired remote jack—all of which are on the left side of the camera. The camera also has an accessory shoe and a memory card slot.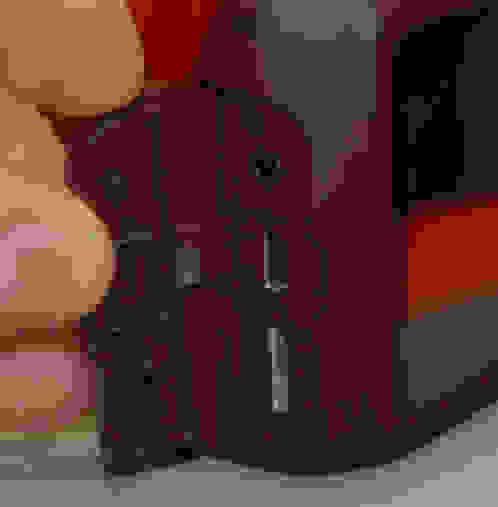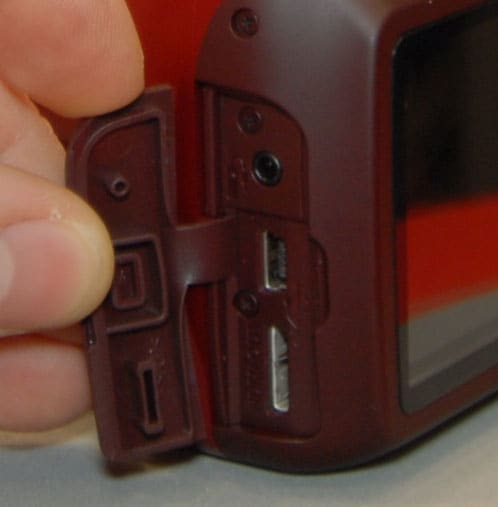 The T3 comes with the LP-E10 rechargeable battery pack. According to Canon, you can take between 750 - 800 photos if you use the viewfinder for shooting and don't use a flash. Using the flash 50% of the time, the number of photos drops to between 650 - 700 for viewfinder shooting.
Using Live View mode with the LCD reduces the battery life significantly. Without using the flash you should be able to take around 235 photos, while a 50% flash use rate brings the number down to around 215 photos. Canon lists the total video recording time to be around 90 - 110 minutes withe the provided battery pack.
The T3 has a standard memory card slot that works with SD, SDHC, or new SDXC memory cards. SDXC compatibility is something that is starting to become fairly common on cameras, but it isn't a big deal quite yet. SDXC cards are very expensive right now and they don't get much larger than 64GB at this point (the maximum capacity is 2 terabytes, but cards of that size won't be available any time soon). Your best bet is to buy a 16GB SDHC memory card to use with the T3. They can be very cheap when purchased online and 16GB is more than enough space to store your photos.
We found the T3 fairly easy to use, at least compared to other DSLR cameras. Operation is simplified by Canon's streamline menu system and good button design. Help also comes in the form of Canon's new Feature Guide system, which offers little tidbits and information about menu options when they are highlighted. We've been pushing for Canon to include something like this for quite some time now, and it is finally here. Feature Guide may not be of use to experienced photographers, but it is a great help to anyone who is trying to figure out their camera for the first time.
Based on total size and weight the T3 isn't much different than the higher-end T3i from Canon. It weights 495g (body only) and has overall dimensions of 130 x 100 x 78mm. The camera definitely feels lighter than other Rebel models, however, and its plastic shell has hollow feeling to it as well. There's no rubberized or textured grip on the right side, but there is a large protrusion that you can wrap your hand around. Without the textured grip the T3 may slip out of your hands easier than some DSLR cameras, but it's not that bad.
We like the basics of the way the T3 handles, but the camera is definitely lacking some of the high-end features you see on other DSLRs. The LCD is entirely stationary, which doesn't help when shooting video or taking photos at odd angles. If you want an LCD that can rotate, you should consider upgrading to the T3i, which is Canon's first Rebel camera to include such a feature (it's also on the 60D camera).
One thing we did notice was how quick and accurate the T3's autofocus worked. This judgment is based on a few minutes of playtime with the camera, so we may reevaluate this feature when we actually get the T3 into our testing labs.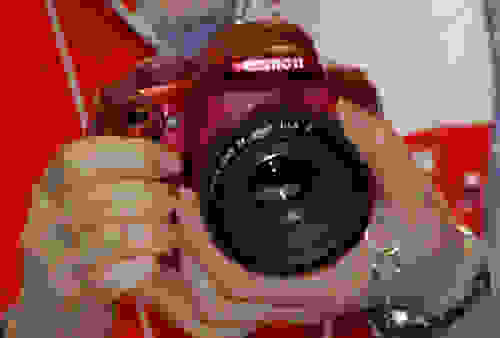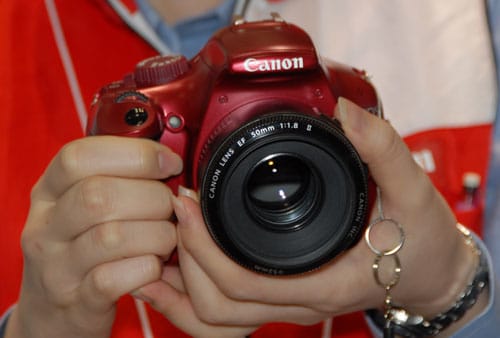 The T3 is outfitted with a number of new auto modes in addition to the camera's regular auto mode that is signified by the green box on the mode dial. The new auto modes include Basic+ and Creative Auto. Basic+ allows you to shoot images based on ambience of the scene or by lighting or scene type. Essentially, with Basic+ you set specific parameters (like sharpness, contrast, etc.) and select the strength of the effect and the camera does everything else.
Creative Auto mode is a bit more complex, but it is still quite easy to operate. Creative Auto allows you to make adjustments to color depth, sharpness, brightness, etc., but it does so by giving you easy to understand controls instead of more confusing settings like aperture and shutter speed. Guidelines are displayed on the LCD as you make adjustments with Creative Auto, and the camera even gives hints or ideas as to what settings should be adjusted to obtain a desired effect.
The ability to capture video with a DSLR camera isn't exactly new—the feature has been around for a few years now—and the movie mode options on the T3 are very basic compared to what you can find on higher-end cameras. The T3 can record HD video at a 1280 x 720 resolution. This is not Full HD, which captures at a 1920 x 1080 resolution, but it is still HD video per se. The camera also has options for recording with 30p or 25p frame rates.
Canon calls the custom image presets on the T3 Picture Styles. The camera has six different styles: Standard, Portrait, Landscape, Neutral, Faithful, and Monochrome. You can also create three user defined styles by manually adjusting the individual color controls on the camera.
The T3 has five drive modes: single shot, continuous shot, 10-second self-timer, 2-second self-timer, or continuous shooting with self-timer. The speed of the camera's continuous shooting mode varies greatly depending on what format you are using. With JPEG photos, you can shoot up to 3 frames per second (fps) and a total of 830 shots in a single burst. With RAW photos the speed drops to 2 fps and a maximum of 5 shots per burst.
The mode dial on the T3 has a few different manual control modes. There's a full manual setting that lets you set aperture, shutter speed, and ISO, and there's individual modes for aperture-priority and shutter-priority control. The Creative Auto mode also allows you to set some controls manually, but in different terms than the manual modes offer.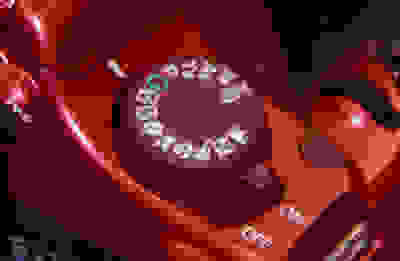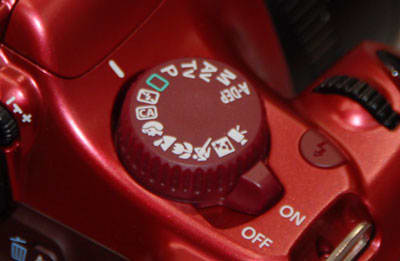 The T3 has a traditional autofocus that is performed when you press the shutter button down halfway, or you can set focus manually using the focus ring on the attached lens. The effectiveness of the manual focus ring entirely depends on what lens you have attached to the camera because they all have slightly different designs. In our time with the T3 at CP+, we found the autofocus system to be quick, effective, and overall impressive.
The T3 has an ISO range from 100 to 6400 in whole stop increments. You can set the ISO manually in certain manual modes on the camera, while limited ISO speed options can be selected in Creative Auto mode (you can set the max ISO). The camera has no ISO speed expansion option.
The T3 has an extensive set of white balance controls that includes 7 white balance presets, a custom white balance option, 9 levels of white balance correction, and 3 levels of white balance bracketing.
When setting exposure manually with the T3, the camera offers a range of -5 to +5 in 1/3 or 1/2 EV increments. There is an auto exposure bracketing option as well (±2 in 1/3 or 1/2 EV increments). The metering mode is a 63-zone SPC TTL with three different options: evaluative (linkable to autofocus point), partial metering, or center-weighted average.
The T3 has a vertical-travel, mechanical, focal-plane shutter that is electronically controlled. The speed ranges from 1/4000 of a second to a 30-second shutter speed. There's also a bulb option for long exposures.
The aperture range for a DSLR depends on what lens you have attached to the camera, so the T3 itself doesn't have any defined aperture control range. The kit lens, however, does. It is an 18-55mm lens with an aperture of f/3.5 at its widest setting (and f/5.6 when fully zoomed in).
The T3 doesn't have any built-in stabilization features, but there are many compatible lenses that offer optical image stabilization options. If this is a feature you desire, make sure you check out Canon's vast array of EF and EF-S lenses for one that has stabilization.
The T3 can capture still images in the JPEG or RAW image format. The largest size option is a 12.2-megapixel photo at a 4272 x 2848 resolution. The medium size option is about half the size at a 3088 x 2056 resolution (6.3 megapixels). The small photo option is a 2256 x 1504 resolution (3.4 megapixels). Two more very small photo sizes are also available: one at 1920 x 1080 and the other at 720 x 480. Photos taken in the RAW format are 12.2 megapixels, or the same size as the largest JPEG option.
Based on its features and controls, the Canon Rebel T3 may end up being one of the better entry-level DSLRs of 2011. Of course, this estimation is not based on any scientific testing, so you'll have to wait until we get the T3 into our labs before we can give you a full rundown on its pros and cons. But from a first impression perspective, the T3 is a fun and simple camera that is a great stepping stone for someone looking to upgrade from their point-and-shoot device.
The T3 provides a wide set of manual controls and an interchangeable lens system without ever feeling incredibly complicated. The camera doesn't feel as durable or look as professional as Canon's higher-end DSLRs, but this is part of the reason the T3 is less intimidating than, say, the Canon T3i or 60D. In addition to its manual control options, Canon smartly included numerous advanced auto modes on the T3, which should be an attractive feature for intermediate or even novice camera users.
The camera's $599 price tag, which includes the cost of the cost of the 18-55mm kit lens, makes the T3 one of Canon's cheapest DSLRs (the only cheaper option is the Rebel XS, which was released in 2008).
Note: Even though the T3 is shown throughout this review with a red paint job, we should clarify that the T3 is only available in black in the US. In Japan, the model is called the Kiss X50, and it comes in red or black.
Meet the tester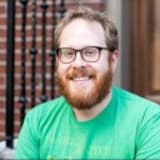 Jeremy Stamas
Managing Editor, Video
@nematode9
Jeremy is the video expert of our imaging team and Reviewed.com's head of video production. Originally from Pennsylvania and upstate NY, he graduated from Bard college with a degree in film and electronic media. He has been living and working in New England since 2005.
See all of Jeremy Stamas's reviews
Checking our work.
We use standardized and scientific testing methods to scrutinize every product and provide you with objectively accurate results. If you've found different results in your own research, email us and we'll compare notes. If it looks substantial, we'll gladly re-test a product to try and reproduce these results. After all, peer reviews are a critical part of any scientific process.
Shoot us an email