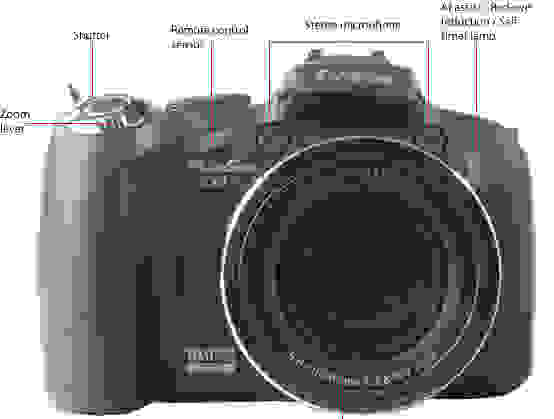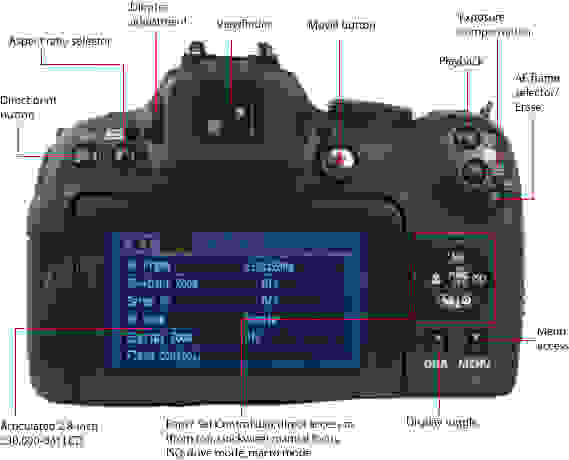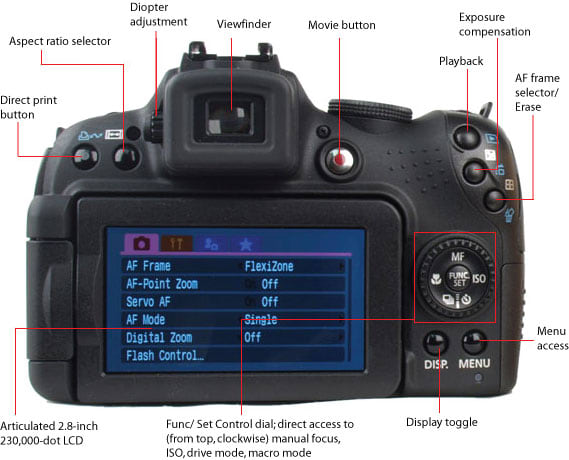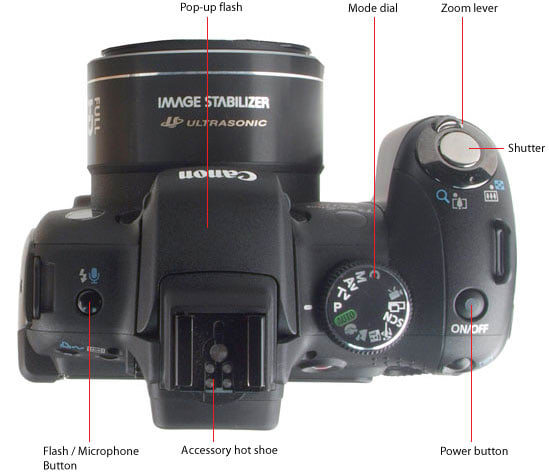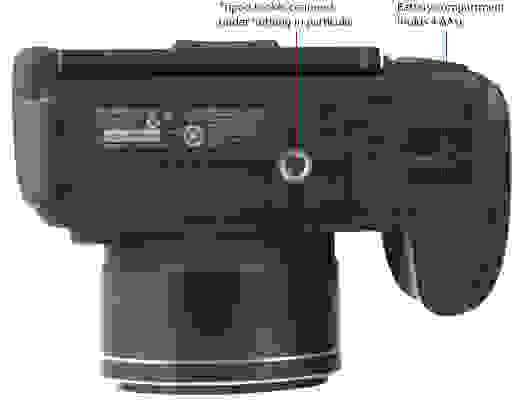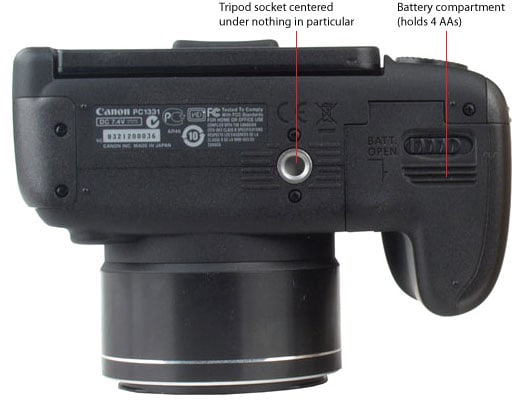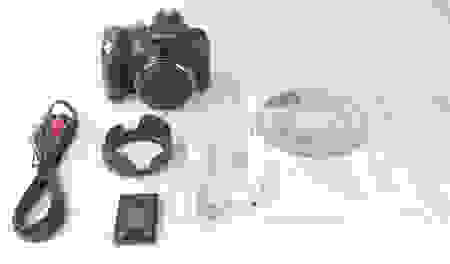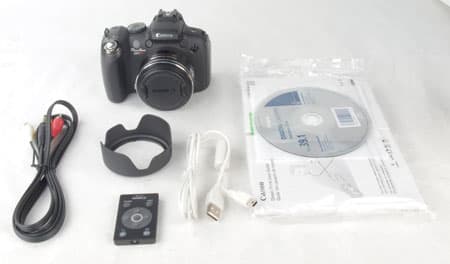 Camera

Lens cap

4 AA batteries

USB cable

Video cable

Neck strap

Wireless controller WL-DC300

Lens hood

User Guide

Direct Print User Guide

Software Starter Guide

CD-ROM
As usual, Canon did well in our color accuracy testing, posting a higher score than any of the other cameras in our comparison group. It was interesting that the most accurate color mode overall wasn't the default setting, but the Lighter Skin choice from the My Colors lineup of alternative settings. The default did have the most accurate color saturation results, at a near-perfect 100.10 percent, but while Lighter Skin was marginally undersaturated at 98.61%, it also produced the most accurate color values, particularly in the light skin patch (no surprise there) but also with light and dark blues and magenta. More on how we test color.
The chart below illustrates the color values produced by each of the comparison cameras in its most accurate mode. The ideal values from the X-Rite ColorChecker chart are shown in the left column. The labels here are the X-Rite patch names.
As shown in the comparison graph below, the Canon SX1 delivered significantly higher color precision than its rivals.
The My Colors feature provides a wide range of color reproduction style options while shooting. You can choose from Vivid, Neutral, Sepia, Black and White, Positive Film (producing Kodacolor-style high-intensity reds, greens and blues) Lighter Skin Tone, Darker Skin Tone, Vivid Red, Vivid Green and Vivid Blue. If none of these produces the effect you're after, the Custom Color option lets you manually adjust contrast, saturation, sharpness, red, green, blue and skin tone levels. What makes all of this a bit more manageable is the fact that any settings changes you make to color modes are reflected live on-screen, which cuts down on nasty surprises.
On balance, the SX1 results for image noise are respectable, though there are some caveats in our findings. The Nikon P90 and Sony HX1 posted significantly better results in the sweet spot around ISO 200. It's at the high end of the ISO scale that the Canon outperforms the other tested cameras, but at this level all the cameras tested have substantial noise problems, with the Canon results not good, but less bad. More on how we test noise.
We test image noise at two lighting levels, a bright 3000 lux and a 60 lux, which is closer to subdued indoor illumination. For the SX1, the variation in lighting levels didn't make much difference until we got to ISO 800, where there's a notable convergence, with lower image noise in the shots under lower illumination. This may or may not be due to a change in the way the camera handles noise reduction processing: unlike the other tested cameras, there's no user control over this function with the SX1.
The Olympus was the most problematic camera in our roundup when it comes to noise, the Nikon performed exceptionally well, and the Canon had weaknesses at lower ISOs and strengths at higher settings, as seen in the same-size crops from our test photos below.
Available ISO settings range from ISO 80 to 1600. There is also an ISO 3200 setting, but this drops resolution down to 2 megapixels.
There are two automatic ISO setting modes, ISO Auto prioritizes image quality, while ISO Hi favors higher shutter speeds to capture motion without blur, even if this leads to higher ISO settings and more image noise. In addition, there's an Auto ISO Shift function that can be turned on. If this feature is enabled, pressing the Print button when the shake warning icon appears will boost the ISO to enable a faster shutter speed and counteract camera shake.
High ISO noise reduction is applied automatically, and cannot be turned off by the user, an unfortunate lack of control in a camera that generally offers users a fairly sophisticated array of options.
In the chart below are same-size crops taken from shots of our still life at all available ISOs for each comparison camera. Note that the ISO 3200 example for the SX1 was shot in the special low-res, high ISO mode.
NOTE: The images above are not used in our testing or scoring, but are included here to show real-world examples of the differences between cameras at the various ISO settings.
We test three component parts of overall resolution performance: distortion, chromatic aberration and sharpness. The SX1 rolled up a reasonable competitive score among these ultrazooms, though as a group this is not the strong suit of the product category.
Shown below are same-size crops taken from test images shot at three focal lengths; the widest setting, the highest telephoto and a mid-range length. The sharpness in the center of each image is quite good, though the edges are somewhat problematic, especially at the extreme settings. As for chromatic aberration, it's apparent along the edges across the board, though clearly most pronounced at the extremes of the zoom range.
Overall, the Canon score was competitive with the others cameras tested, with exceptional distortion performance helping the Sony to receive the highest score in this section. More on how we test resolution.
Distortion ()
The SX1 suffers from significant barreling at the wide end of the zoom range, with nearly 3% distortion (the effect can be seen in the foreground of the Landscape Sample in our Sample Images section). At the mid-range and maximum telephoto settings, though, there is only a trace of pincushioning that wouldn't be noticeable without lab testing. Overall, the Canon outperformed the Nikon and Olympus here, trailing only the extraordinarily distortion-free Sony HX1.
Sharpness ()
The SX1 suffers here in comparison to less aggressively zoomable cameras, though at normal viewing sizes the results are still acceptable, especially when you consider that achieving the same framing with a standard-zoom camera would require major enlargement after the fact, or a whole lot of running around while shooting. The best sharpness results in our SX1 testing were found at the center of images taken at the widest-angle setting, where we measured 1895 lw/ph horizontally and 1963 lw/ph vertically. In a head-to-head comparison, the best sharpness results were turned in by the Olympus SP-590UZ, the lowest by the Nikon P90, and the Canon and Sony were roughly equal in the middle ground.
Chromatic Aberration ()
Here again, we found higher chromatic aberration among the ultrazooms than for cameras with less extensive ranges. The Canon scored lowest among our test cameras, with color fringing particularly noticeable when shooting at the full telephoto distance.
The SX1 supports two aspect ratios, 4:3 and widescreen 16:9, with a dedicated button to make the switch. There are six available image size settings for JPEGs in 4:3 mode, two when shooting 16:9.
There are three JPEG compression settings, Superfine, Fine and Normal. RAW file shooting is also available at 3648x2736.
If you're going to shoot handheld with a megazoom camera you're going to need some help combatting shaky hands, even with plenty of available light. For the four tested cameras, our image stabilization testing produced interesting results: the Canon SX1 and Sony HX1 produced significantly sharper results with the image stabilization system engaged, while the Nikon and Olympus systems proved ineffective. Our testing scenario involves shooting a 1/30 second, about the slowest speed you're likely to shoot handheld, with the IS system turned off and on, and comparing the resolution differences as measured using Imatest software.
The SX1 image stabilization system has three settings, in addition to Off. Continuous stabilization, as the name implies, remains active at all times, and you can see the effect on the LCD or in the viewfinder while shooting. Shoot Only mode works only when the shutter button is pressed. Finally, Panning mode attempts to counteract vertical movement only, for use when following a subject moving horizontally. More on how we test image stabilization.
Movie shooting is always just one button-press away, thanks to the dedicated movie button located to the right of the electronic viewfinder. Recording is limited to a 4-gigabyte file or one hour in length, whichever comes first. With the aspect ratio set to 4:3, movies can be shot in either 640x480 or 320x 240 resolution, at 30 frames per second. In 16:9 mode, full HD (1920x1280) movies can be shot at 30 fps, but there is no option to choose the lower-resolution 1280x720 high-definition format. Class 6 memory cards or faster are recommended for HD shooting.
The camera will continue to autofocus on the subject while shooting, though autofocus lock is available by pressing the MF button. You can also choose manual focus for movies. White balance and exposure are also adjusted automatically to match the shooting conditions by default, but exposure compensation is available.
Sound is recorded in stereo, with the mics positioned on either side of the lens. There is no input jack for connecting an external mic. The sound recording level can be left on auto or adjusted manually in the setup menu, with a useful on-screen decibel meter as a guide. A wind filter can also be toggled on or off.
Special effects including Color Accent, Color Swap and My Colors are supported while shooting movies. It's also possible to shoot a still during movie recording, though the video sound will drop out momentarily so the shutter sound won't be captured.
There was a performance chasm between the tested cameras when it came to accurate video color reproduction: the Sony HX1 did exceptionally well, and the Canon SX1 also produced results that are quite pleasing to the eye, while the Olympus video shows a distinct color cast and the Nikon video (due to a major white balance problem under our incandescent studio lights) looks awful. More on how we test video color.
Here again, the Sony and Canon lead the pack, with the other two tested cameras deep in the weeds. The fundamental reason is right there in the specs: the Sony and Canon are CMOS-sensor cameras that shoot at full 1920x1280 resolution, while the Nikon and Olympus have CCD sensors limited to the increasingly antique 640x480 video standard. More on how we test video sharpness.
The available playback displays are adequate, but there's no calendar view, and only a single 12-image thumbnail view where most cameras offer more variety.
There are two methods for rapidly browsing through your photos; holding down the right or left side of the four-way controller, or spinning the control dial.You can choose to have images automatically categorized as People, Scenery or Events as they're shot, assuming you use either face detection or scene modes while shooting, or assign shots to your own categories manually. This can be handy during playback when using the Jump feature (accessible via the exposure compensation button), which lets you navigate by category, shot date or folder, skip to movie files, or jump ahead by 10 or 100 images. Categories can also be used in slideshows and for direct printing.
Holding the playback button down will turn the camera on in playback mode, without extending the zoom lens, a handy feature.
Movie playback offers all the options we like to see, including the ability to jump to the beginning or end of a clip, play in slow motion, and advance or rewind frame by frame.
The system for erasing files is unusually flexible, allowing deletion by range, date, category or folder in addition to individual images or all images on the card.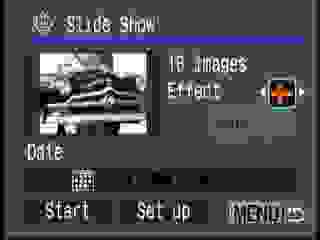 The slideshow capability is fairly sophisticated, with a choice of transition effects and the individual image display times and a lot of freedom in choosing which files will be included, with image date, image category, folder, movies or still images only, groups of individually selected files and DPOF image sets as available selection criteria.
Editing capabilities are fairly extensive, with the option to resize to a lower-res file, crop to a smaller image size and/or orientation, rotate, correct red-eye, adjust dynamic range (called i-Contrast here) and apply the same My Colors filters available as color adjustments (with their effects previewed on screen).There is no in-camera editing for RAW files, though.
An audio file of up to a minute in length can also be attached to a file during playback. This is a welcome capability, but it would be significantly more useful if you could record an audio annotation while taking a shot in the first place, to capture information about where and when the image was taken without reaching for a pen and paper.
The beginning or end of a movie can also be trimmed in-camera, particularly useful when there's a visible hiccup as you press the button to start or stop recording.
The DPOF function is unusually flexible, providing for index print creation and file selection by range, date, category or folder in addition to the standard options to have date and/or file number printed and single or multiple copies output. DPOF selections can also be used to choose images to be transferred to your computer. The system for PictBridge output via USB to a compatible printer is also nicely designed (understandable, considering printer manufacturer Canon's vested interest in encouraging you to put ink on paper). There's a dedicated print button for easy access, and a straightforward on-screen menu for choosing single or multiple images for printing.
The electronic viewfinder is better than no viewfinder at all, particularly when shooting on a sunny day, but it's small and fairly low-res (148,000 dots), and its difficult to make out details (including the facial expression of someone in your sights). What's more, the settings displays are lined up on the left and right sides of the screen, and are tough to see without moving the camera around (particularly when wearing glasses). Finally, at least for this admittedly large-honkered reviewer, the left side of the camera butts up pretty aggressively against the right side of the nose when shooting through the viewfinder. One positive note here: the displays in the viewfinder are identical to the view on the LCD (see below), so you don't have to relearn a new interface or controls when switching back and forth.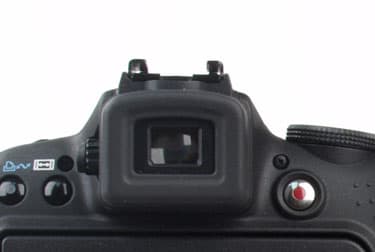 The LCD display is acceptable but unexpectional, a 2.8-inch screen with 230,000-dot resolution. There are only two brightness settings, but it does hold up reasonably well in daylight. The noteworthy plus here is the articulated screen, hinged on the left side, that allows the LCD to swing out up to 180 degrees from the body and rotate up to 270 degrees. This is useful in many shooting situations, including grabbing shots from odd angles, shooting self-portraits with the camera mounted on a tripod and holding the camera steady when shooting video. The screen can also be turned and folded with the active side facing the camera back for protection while traveling.
On-screen information display for both the viewfinder and the LCD are highly customizable. The DISP button toggles between only two variations, but through the set-up menu you can choose to include shooting information, grid lines, a 3:2 print area guide and a live histogram, in any combination you choose. Unfortunately there's no way to flip directly between the viewfinder and the LCD. Instead, you press the button twice to choose between displays on one screen, then cycle through two displays on the next screen, and so on.
When shooting in dark situations, the LCD and electronic viewfinder gain is automatically bumped up. While the screen turns a bit grainy and the screen update while moving isn't as silky smooth as it is under better lighting, we found this night view mode very helpful, particularly when lining up flash shots in the dark.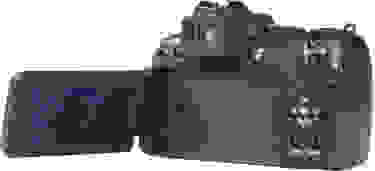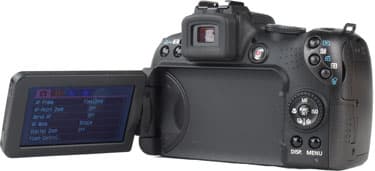 The flash must be raised manually, which is fine with us -- it prevents the camera's automatic exposure system from firing the flash in inappropriate settings. Flash output can be adjusted using exposure compensation in a ±2 EV range, in 1/3 stop increments, when the flash mode is set to Auto, or in three steps when shooting with flash mode set to Manual. In addition to the standard first curtain flash sync, second curtain sync (which fires just before the shutter closes, creating a trailing effect when shooting moving lights) is also available. Slow sync combines flash with a slower shutter speed to capture a foreground subject and a darker background. Red-eye correction automatically employs a digital fix, while the red-eye lamp can be set to light before shooting to shrink the subject's retina and reduce red eye in the captured image. Finally, Safety FE lets the camera adjusts shutter speed or aperture to avoid blowing out highlights, even if this overrides the user settings.
Maximum flash sync speed when using an external flash is 1/500 second.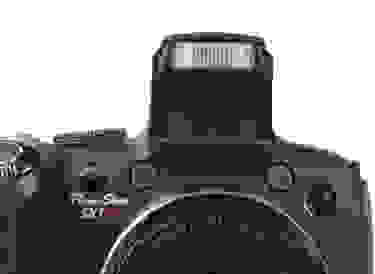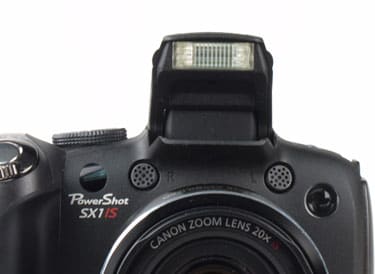 The SX1 sports a 20x zoom, equivalent to a 28-560mm on a 35mm camera. Maximum aperture at the widest setting is a decent f/2.8, while at full telephoto it's f/5.7. The lens can be a bit noisy while working the zoom, but it moves quickly and stops accurately, so we'll forgive a little audible feedback.
In addition to the optical zoom, digital zoom with a multiplier up to 4x is available (taking the maximum telephoto equivalent when shooting in 4:3 aspect ratio to 2240mm). Of course, digital zoom causes image quality deterioration, but if you're shooting at less than full resolution, there is an on-screen 'safety zoom' indicator to show how much digital zoom can be applied without affecting image quality. There is also a fixed 2.3x magnification option, which limits digital zoom to the level where it doesn't affect image quality when shooting movies.
Extremely close macro photography is available, with minimum lens-to-subject distances of 3.9 inches (10cm) in standard mode and a super macro mode that lets you touch the subject with the lens (good luck with lighting, but still....).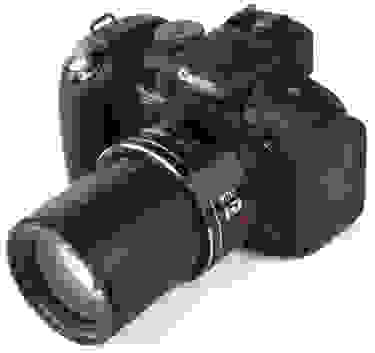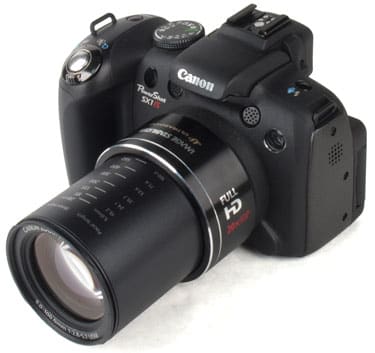 The photos below demonstrate the snooping range of the 20x zoom lens, from the widest 5mm setting (equivalent to 28mm on a 35mm camera) to 100mm (560mm equivalent).
The SX1 is powered by four AA batteries (a set of alkalines is supplied with the camera). Canon estimates that with alkalines you'll get approximately 160 shots using the LCD, or 180 using the viewfinder -- not a whole lot for your investment. Switch over to rechargeable NiMH batteries, though, and the picture is much rosier: approximately 420 shots per charge with the LCD, 430 with the viewfinder. Your wallet and your local landfill will both benefit when you make the modest investment in a set of rechargeables.
The camera takes SD and SDHC memory cards.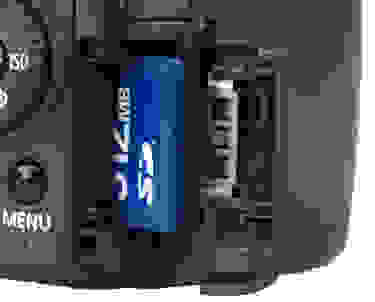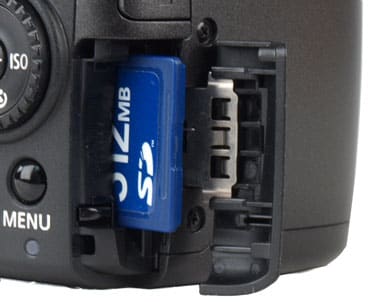 The availalble ports are all on the right side of the camera. At the top is a door protecting the stereo AV output (cable supplied) and a terminal for connecting an optional AC adapter. to the left of this is a separate compartment for an industry-standard mini USB connection (also supplied) and a mini HDMI port for directly connecting to a high-def TV (cable not included).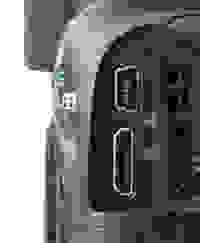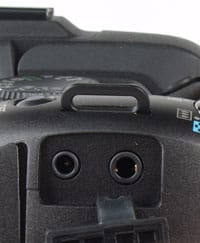 Wireless Remote Control
The SX1 ships with a wireless remote control. In record mode, the remote can be used to zoom in or out, change the display between LCD and viewfinder, and trip the shutter, either immediately or after a preset delay. During playback (including when the camera is connected to a TV), the remote lets you switch between thumbnail and single-image views, zoom in or out and change the on-screen information display, and also operates all of the four-way controller buttons. This is a valuable piece of gear, and much appreciated.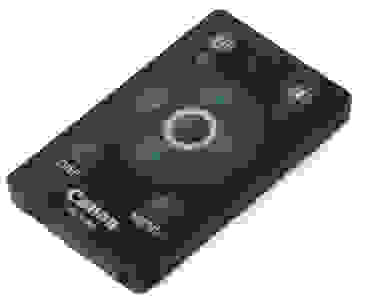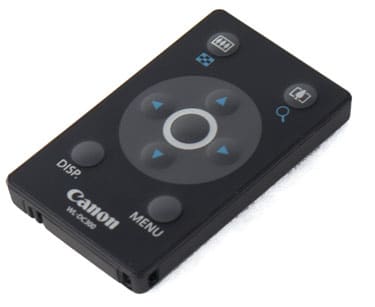 The SX1 accommodates both experienced photographers and newbies, with extensive manual controls plus full auto and a variety of scene modes.
In program mode, the camera sets shutter speed and aperture values, while the user controls ISO, exposure compensation and white balance settings. Program mode settings can be shifted in tandem using program shift, maintaining the same overall exposure, by first pressing the exposure compensation button, then moving the control dial.
Shutter-priority mode (called Tv here, for time value) lets the user set the shutter speed and the camera sets the aperture, while in aperture-priority mode (Av) the user enters an aperture setting and the camera controls shutter speed. Manual exposure mode leaves it to the user to set both shutter speed and aperture: pressing the exposure compensation button determines which value will be changed when the control dial is turned.
The mode dial also has an easily accessible Custom mode, which can store a variety of record mode settings. In addition, a shooting mode function can be assigned to the print button, including white balance and light metering settings, i-Contrast and AE/ AF lock.
Auto Mode Features
Focus
There are three choices for autofocus framing: center, FlexiZone, which lets you move the autofocus frame using the four-way controller, and face detect. The autofocus frame size can also be adjusted, to normal or small size, when shooting with FlexiZone.
Focus can be set to continuous, which adjusts whenever you move the camera, and single, which only focuses when you press the shutter button halfway The continuous focus was much quieter than other cameras we've tested, though it will inevitably run down your batteries faster than single mode.
Servo AF will attempt to track a moving subject once it's acquired, whichever focus mode you've chosen.
There's a subtle yet effective green autofocus assist lamp. It doesn't seem to be throwing off much light, but the camera certainly detects the illumination and responds appropriately. We found even in very dark rooms, autofocus was nearly as fast as shooting outdoors.
There is an AF Point Zoom function, which automatically enlarges the focus point on-screen when focus has been achieved. This might have occasional value if you want to get a closer look at a changing scene before pressing the shutter, but generally we found it distracting. Focus check is available during the image review after shooting, displaying both the full image plus an enlarged version of the focus point on screen. This strikes us as useful, particularly when evaluating facial expressions.
Face detect mode can identify up to 35 faces at once, with the four-way controller used to choose the most important subject.
Exposure
Exposure compensation is available in a ±2 EV range, in 1/3 EV increments. Three-shot auto exposure bracketing is available, with a compensation range of ±2 EV range, in 1/3 EV.
Canon calls its dynamic range adjustment system i-Contrast. There are only two i-Contrast settings while shooting, off and Auto. You can also jigger with dynamic range after shooting, with four settings available (auto, low, medium and high) in playback mode.
Metering
Evaluative (whole-frame), center-weighted and spot metering options are provided. Spot metering can either be locked to the center of the frame or set to the autofocus point.
Self-Timer
In addition to the standard 10-second and 2-second self timer modes, there is a custom timer which allows you to set a delay between 0 and 30 seconds, and then fire off anywhere from 1 to 10 shots when the chosen interval has elapsed. There is also a face detect self-timer, which will shoot between 1 and 10 shots two seconds after a new face enter the frame. Finally, you can set a delay time of 0, 2 or 10 seconds when shooting with the included wireless remote control.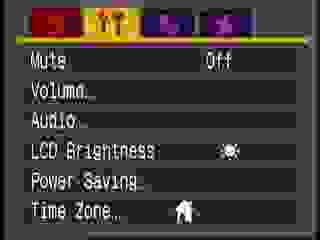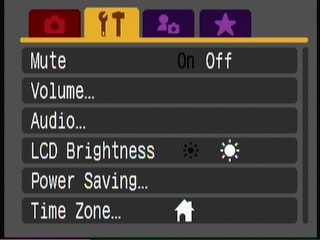 Scene Modes
The four most common preset scene modes are available directly from the mode dial: portrait, landscape, night snapshot and sports. In addition, twelve special scene modes are available by choosing from an on-screen menu. These include night scene, indoor, sunset, foliage, snow, beach and aquarium. There is a Long Shutter mode that allows a choice of shutter speeds between 1 and 15 seconds, and an ISO 3200 mode that boosts the maximum ISO by a stop beyond the standard ISO 1600, but at a reduced 2 megapixel resolution.
There is also a panorama shooting mode, with its own spot on the mode dial. Up to 26 images can be combined, moving the camera from left to right, right to left, top to bottom or bottom to top. You can also shoot four exposures in a clockwise pattern for stitching. Whichever direction you choose, the previous image is displayed to help line up the next shot (though the on-screen images are pretty small, making alignment a delicate operation). The camera can't stitch shots together internally -- this job is left to the provided PhotoStitch software on your computer.
The My Colors menu offers ten color effects choices, as shown below. There is a also a Custom Color mode, which lets the user adjust contrast, sharpness, saturation, red, green, blue and skin tone values, each with five available settings. It's not exactly a precision color control tool but, at the same time, it's easy to use and effective for quick in-camera adustments, especially since you can preview the effect of each My Color setting live on-screen.
There are also two special modes for fiddling around with the colors in your final image. Color Accent lets you choose a color within the scene and have only that color appear in the shot, with the rest turned to black and white. Alternatively, Color Swap replaces a chosen color in the scene with another one. It seems odd to use these color changing controls while shooting, rather than as in-camera editing options, but at least you can choose to save both the altered image and an unaltered original simultaneously
Manual focus is also available, by pressing the top of the four-way controller, then turning the control dial. A portion of the screen is magnified as a focus assist when using manual focus. This is generally the center of the screen but, if the camera is set to FlexiZone shooting, the most recent autofocus point is magnified. An unusual feature in manual focus shooting is focus bracketing, which will take three shots in sequence, one at the manual focus point, one nearer and one farther away (the bracketing amount can be set to three different increments).
In addition to auto white balance, there are six preset white balance settings -- Day Light, Cloudy, Tungsten, Fluorescent (for warm-white or cool-white fluorescents) Fluorescent H (for daylight fluorescents) and flash. A custom white balance can also be set, using a quick and easy procedure.
Maximum aperture with the lens at its widest setting is f/2.8, not bad for an ultrazoom camera. At maximum telephoto it's f/5.7, which considering this is the equilvalent of a 560mm lens on a 35mm camera isn't bad either. The minimum aperture is f/8, though, which isn't going to provide much depth of field coverage.
The slowest standard shutter speed is 1 second, the fastest 1/3200, which is quite speedy and potentially useful if you're trying to manage depth of field while shooting on a bright, sunny day. There is no bulb mode for extended exposures, but there is a Long Shutter scene mode, which allows settings between 1 second and 15 seconds.
The SX1 delivered very good burst rate performance compared to most compact cameras, though not quite as impressive as Canon's claimed 4 frames per second. In addition to the standard burst mode setting, two additional, slower modes are also available; one continually autofocuses during burst shooting, the other updates the Live View display for each shot.
Shot to Shot ()
Shooting in the fastest available continuous shooting mode, we squeezed off 2.94 large JPEGs per second. The camera continued without slowing down for roughly 30 shots; in RAW mode, the speed slowed to a crawl after only two or three shots.
The SX1 has some heft to it, weighing in at about 4 ounces more than the other ultrazoom cameras in our roundup. Its advantage lies in the fact that there's a little real estate for your left hand to grasp while holding the camera. On the Nikon P90, Olympus SP-590UZ and the Sony HX1, the lens is positioned right up against the side of the camera. The lens barrel itself isn't deep enough on these cameras to grasp comfortably, and there's no camera body surface to hold either, leading to an uncomfortable shooting position. We had no such problem with the Canon SX1. And on the righthand side, the SLR-style grip is deep enough for a solid hold and easy handling, though it could have been just a bit wider. A textured surface on the grip would also be a nice touch (literally), but at least there's a dimpled surface on the back thumb rest for added traction.
The fold-out LCD is also nicely constructed, with a distinct 'click' as it snaps into position when rotating the lens and a wide hinge that gives it a secure feel in your hand.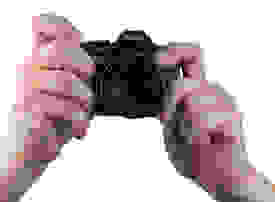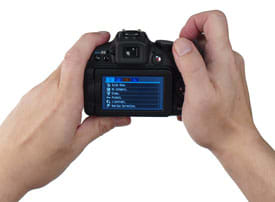 For the most part, the camera controls are well designed. They certainly have a high-quality, professional feel, and the labels are clear and easy to read at a glance. We also like the dedicated movie record button -- positioned to the right of the viewfinder it's out of the way of roving fingers, so it's unlikely to be pushed accidentally, but convenient to press just by shifting your thumb.
The combination control dial/four-way controller is small but effective, and the menu button in the lower right corner is easy to push without having to go looking for it. The playback mode button is the only one we would reposition, since this frequently-used control required either a firm press with the side of your thumb (not that easy to accomplish) or repositioning your hand.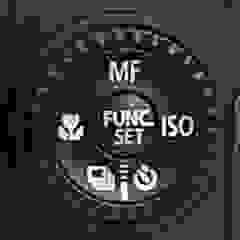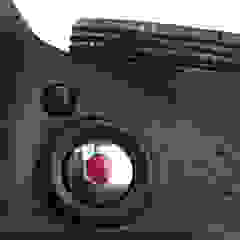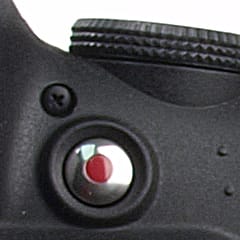 As with most cameras today, the SX1 menu system is broken into two parts: an instant-access control overlay on the shooting screen and a traditional full-screen menu system.
The overlay menu is easy to access by pressing the FUNC. SET button, and simple to use, with clear on-screen displays and a logical organization.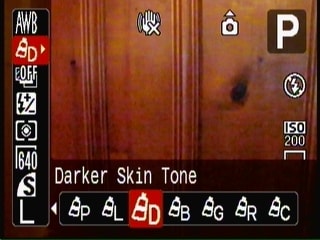 The main menu system is not as well designed. Unlike most Canon menus, there are only four tabs, most of which run much longer than the depth of the screen. That means options aren't plainly visible and lots of scrolling is required. What's more, in order to switch from tab to tab, you have to maneuver all the way back to the top of the menu listing, another time-consuming procedure. Additional horizontal tabs with shorter lists below would have helped.
In record mode all the myriad shootng settings are presented in the first, 22-item tab. Then there's a setup tab with the typical rarely changed options. The third tab is entirely devoted to inconsequential setup options, consistently mostly of programmable camera sounds (you can even upload your own). Finally, the fourth My Menu tab is a genuinely useful option to create your own custom menu of frequently used settings, particularly valuable given the scroll-heavy record menu.
In playback mode, you get a first menu with slide show and image editing options, a second devoted entirely to print options, then the same setup and customization menus offered while shooting.
Canon did an exceptional job with the 308-page Camera User Guide, beginning with a brief Getting Started section that covers setting up the camera and taking your first shots, and moving on to a complete and thorough explanation of the many features provided. The writing is clear and comprehensible whatever your experience level. The abundance of illustrations, screen captures and charts eliminates guesswork in nearly every case, and even the index works well, a true rarity when it comes to digital camera manuals.
To download your own copy of the SX1 manual in PDF format, click here.
To add even more user-friendly goodness to the mix, Canon also includes a separate Software Starter Guide that's genuinely useful, plus a Direct Print User Guide (a sensible move for a company that sells a lot of photo printers, but welcome nonetheless).
The Nikon P90 is the low-cost choice among our reviewed ultrazooms, at just $400 for a 12-megapixel camera with 24x zoom. It has a 3-inch LCD that tilts up and down from a bottom hinge, though it doesn't fully pivot the way the Canon SX1 screen will. The Canon costs $200 more for a slightly shorter zoom and lower resolution (at 10 megapixels), but provides full 1080p video recording, where the Nikon is stuck in old-fashioned 640x480 movie mode. The Nikon comes with a rechargeable Lithium ion battery, a potential plus versus the AA-burning Canon, but if you invest in a set of rechargeable AAs you'll get more shots per charge with the Canon than the Nikon can deliver, plus the ability to buy off-the-shelf AAs if your rechargeables peter out while shooting.
Despite the Nikon's higher megapixel count, our still image lab test results favor the Canon by a significant margin in nearly every category (the P90 did turn in better scores for image noise). The Nikon image stabilization system was ineffective in our testing, a considerable stumbling point for an ultrazoom camera. And when it comes to continuous shooting, the Canon smoked the Nikon with 3 frames per second versus 1.36 fps. The Nikon does offer a much higher top ISO setting, though, with ISO 6400 at full res.
All told, the Nikon P90 isn't a bad camera for the price, but we far prefer shooting with the Canon.
The 12-megapixel Olympus SP-590UZ leads the pack when it comes to pure zoom power, but it's hard to get excited about its image quality and feature set, especially when compared to the Canon SX1 and Sony HX1.
The Olympus scored just slightly higher in our overall resolution testing, but trailed the Canon in color accuracy, image noise, and video performance -- no surprise there, since the Olympus shoots video at a mediocre 640 x 480 resolution while the Canon delivers high-quality 1080p high def movies. We found the Olympus SP-590UZ image stabilization was nowhere near as effective as the Canon SX1 system. And when it comes to burst mode shooting, the Olympus proved positively pokey at less than one shot per second versus three shots for the Canon.
The Olympus LCD does work particularly well in bright sunshine, though it lacks the hinged flexibility of the Canon screen. And Olympus' continued support for the low-capacity, high-cost-per-megabyte xD memory card format versus the industry-standard SD/SDHC cards used by the Nikon is disturbing. The Olympus has a terrific right-hand grip, but on the left the lens is practically flush with the side of the camera, making comfortable maneuvering more difficult than with the relatively spacious Canon. Both cameras combine auto, manual and preset scene modes effectively, but the Olympus won't shoot RAW files, which the Canon supports.
The Olympus SP-590UZ does sell for a much lower price than the Canon SX1, but there are good reasons to spend a bit more and get a lot more camera.
The Sony HX1 and the Canon SX1 are the two cameras in our roundup that deliver full 1080p high-definition video, complete with stereo sound. Each offers a 20x zoom range. And while the Canon enjoys a slight edge in number of megapixels (10 versus 9.1) in our actual resolution testing the Sony delivered better results for sharpness, along with extraordinarily low lens distortion.
The lab-tested results are a mixed bag when comparing these two cameras, with superior resolution and image stabilization for the Sony, lower image noise and more accurate color for the Canon. Both cameras produced impressive high-def video, though the Sony was marginally better both for sharpness and color accuracy.
The Canon body is a bit easier to handle, with some real estate on the left hand side that's missing on the Sony. The Sony has a slightly larger screen (3 inches versus 2.8 for the Canon) with a tilt mechanism that helps when holding the camera down low or overhead. This isn't as useful as the full articulated screen on the Canon, though, which not only supports a wider variety of shooting angles, but also allows a steadier grip when unfolded (useful for video shooting) and the ability to flip the LCD backwards to protect the screen while traveling. One key point for those interested in heavy-duty image editing: the Canon offers RAW mode shooting, the Sony doesn't.
What draws us to the Sony, though, are some innovative features not found on the Canon. We're not ordinarily big fans of stitching together panoramas, but the SX1 has a sweep panorama mode that's just shy of magical: you pan up or down and the camera automatically captures a series of images and stitches them together for you with amazingly good results. The burst mode is fairly spectacular too, at a true 10 frames per second (the Canon only manages 3 fps). Add the fact that the Sony is priced $100 lower, and that seals the deal.
The Canon SX1, at $599.99, is the most expensive ultrazoom in our test group by a substantial margin, with a $200 gap between the 10-megapixel 20x Canon and the 12.1-megapixel 24x Nikon P90. Of course, two of the ultrazooms reviewed are limited to standard-definition video (the Nikon and the Olympus SP-590UZ), which in part explains the price gap. If video quality is a key factor for you, there's really no comparison. And even if you're concentrating on stills alone, both the Nikon and Olympus delivered notably lower image quality scores,
When it comes to the 9.1-megapixel, 20x Sony HX1, though, the pictures isn't as clear. Actually, that's not quite true, since the Sony had higher still image and video sharpness scores than the Canon, along with even better image stabilization, Sony also delivers an extraordinary 10 frame per second burst mode to the Canon's 3fps. The HX1 has a breakthrough sweep panorama mode that automatically captures a striking panoramic image as you pan the camera and an intriguing low-light mode that combines multiple images to minimize blur. Both cameras provide manual controls, full 1080p video with stereo sound and HDMI out (though the Sony does require an external dongle, an inconvenience), and neither has a great electronic viewfinder. The Canon SX1 has an articulated LCD which the Sony lacks, along with RAW image capture, and we do prefer the feel of shooting with the Canon. Feature-for-feature, though, the HX1 is a better value.
Meet the tester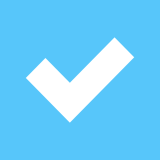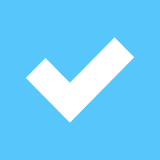 Steve Morgenstern
Editor
Steve Morgenstern is a valued contributor to the Reviewed.com family of sites.
Checking our work.
We use standardized and scientific testing methods to scrutinize every product and provide you with objectively accurate results. If you've found different results in your own research, email us and we'll compare notes. If it looks substantial, we'll gladly re-test a product to try and reproduce these results. After all, peer reviews are a critical part of any scientific process.
Shoot us an email