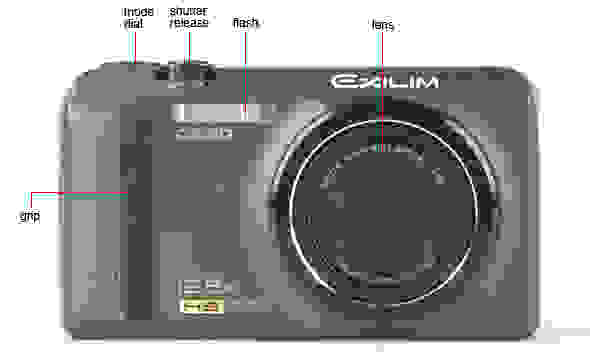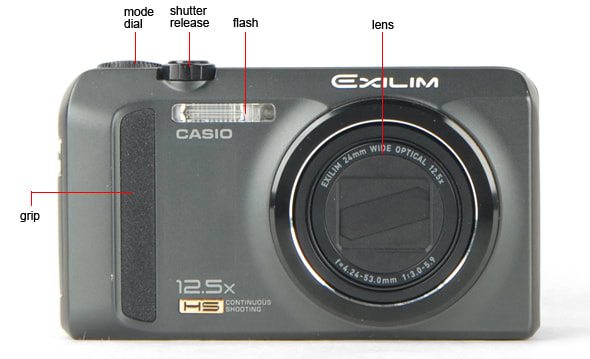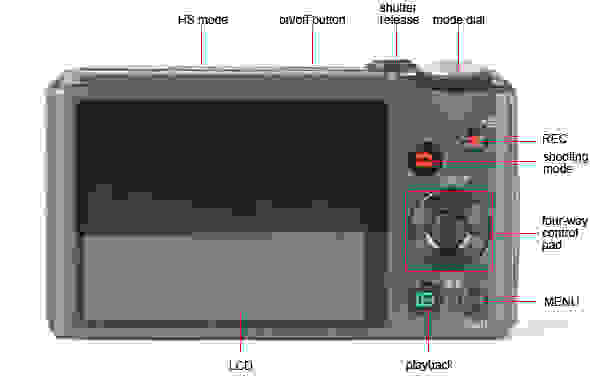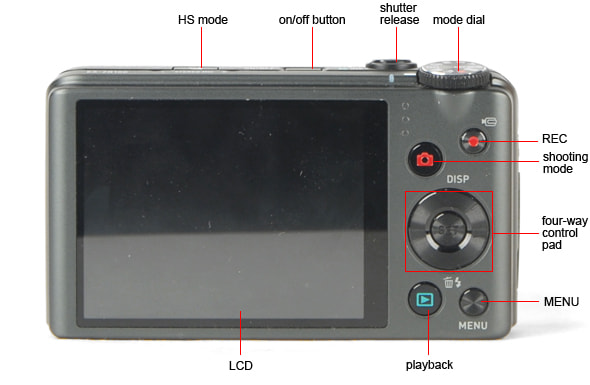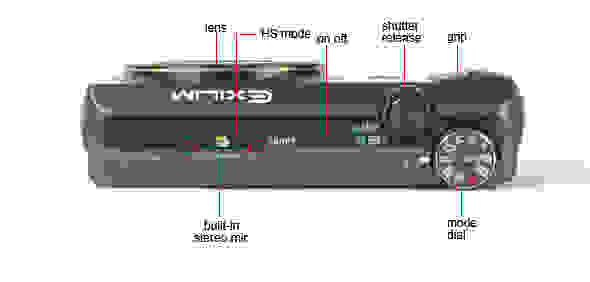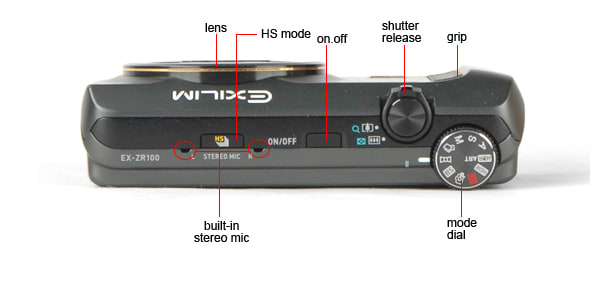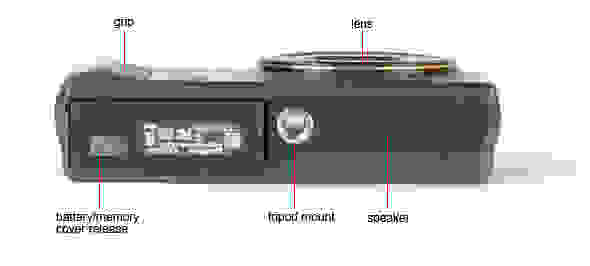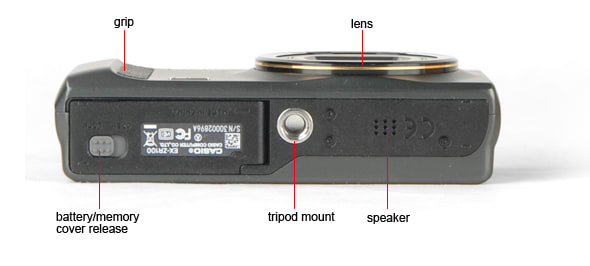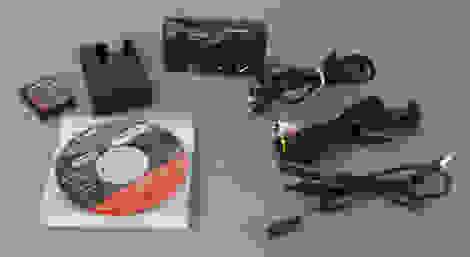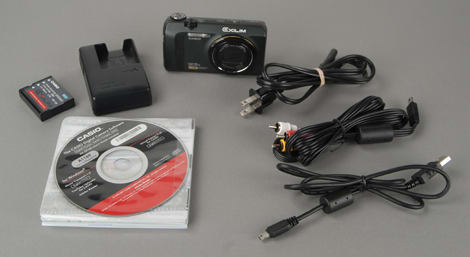 The Casio EX-ZR100 comes packaged with the following accessories in the box:
*NP-130 rechargeable lithium-ion battery

*BC-130L battery charger

*power cord

*wrist strap

*USB cable

*AV cable

*software/manuals
In our testing we found the Casio EX-ZR100 produced an average color error of around 3.5, which is nothing spectacular, but about what we expect from a point-and-shoot camera. The main culprit came in the camera's manual white balance settings, which tended to almost universally produce a much cooler image than necessary. In our original testing this pushed the color error to over 4.5, but subsequent attempts reined that down to a more manageable score. We found the automatic white balance often did a better job diagnosing light, as well as the white balance presets that are available. More on how we test color.
The Casio EX-ZR100 had better color accuracy than one of its predecessors, the EX-FC100, but it still fell below what was offered by both the Sony TX9 and the Panasonic ZS10. The camera was also hurt by a lack of true color modes. There are color filters on offer, but they're largely just color casts that don't do much to enhance the shooting experience.
There aren't any traditional color modes on the EX-ZR100, which may be a disappointment to those shopping for cameras in this price range. Comparable models from Nikon, Canon, Sony, and Panasonic generally provide some measure of creative color modes in their comparable models, so it's puzzling that Casio merely includes color filters. These generally just place a particular color cast on the image, and don't add anything in the way of special effects to your shot.
Users can get a little bit of an enhancement in color by utilizing the "best shot" mode, which does have some modes such as autumn leaves that will work in specific scenarios, but there's no general "vivid" or "neutral" mode.
Despite benefiting from a back-illuminated sensor, the EX-ZR100 relies heavily on noise reduction to keep channel and luminance noise under 1% throughout the ISO range, all the way up to ISO 3200. Noise levels do not shift dramatically, though, suggesting the camera ramps up the feature's aggressiveness as it approaches higher sensitivities. As a result, noise remains fairly constant from ISO 100 up to 3200, though detail is sacrificed to a greater degree at each rung up the ISO ladder. More on how we test noise.
Despite shooting in disparate low light (60 lux) and bright light (3000 lux) settings, we found the Casio EX-ZR100 produced an almost exact amount of noise on average. At 60 lux, the camera averaged 0.81% noise, while in a bright setting of 3000 lux, that noise level only dropped to 0.78%. This difference is largely inconsequential, and it's definitely a result of heavy noise reduction processing by the camera regardless of the amount of light detected.
The ZR100 offered dramatic improvement in noise performance over the FC100, while also beating the Sony TX9 and the Panasonic ZS10 by a considerable margin. It accomplished this due to a back-illuminated sensor as well as a heavy dose of noise reduction. Even with the setting turned "off," there is still a great deal of detail loss along with the noise when the camera outputs JPEG images.
The Casio EX-ZR100 allows users to select from an ISO range of 100-3200, with an automatic option to simply let the camera decide. In most modes, this option is found in the quick menu (brought up by pressing the SET key), or it can be assigned to either the left or right key on the rear four-way control circle. The "premium" auto mode, despite resembling "program" auto on other cameras, does not allow for this selection. The red "single shot" automatic mode does, also allowing for white balance correction.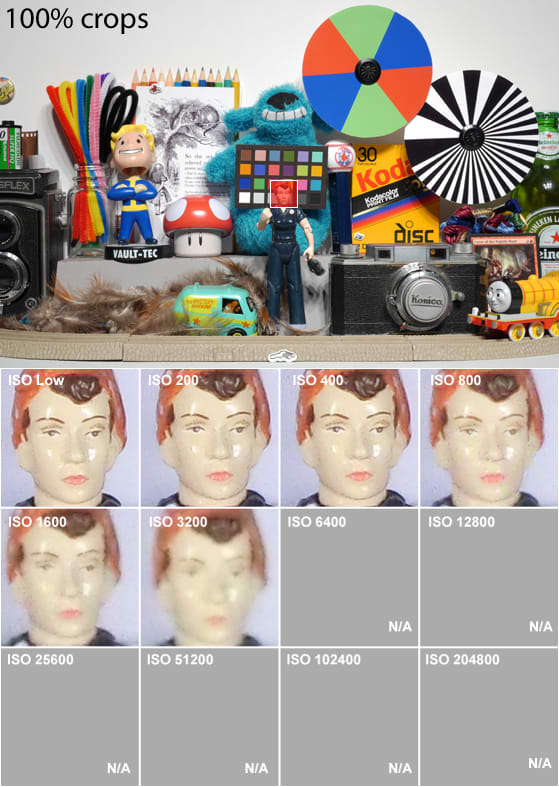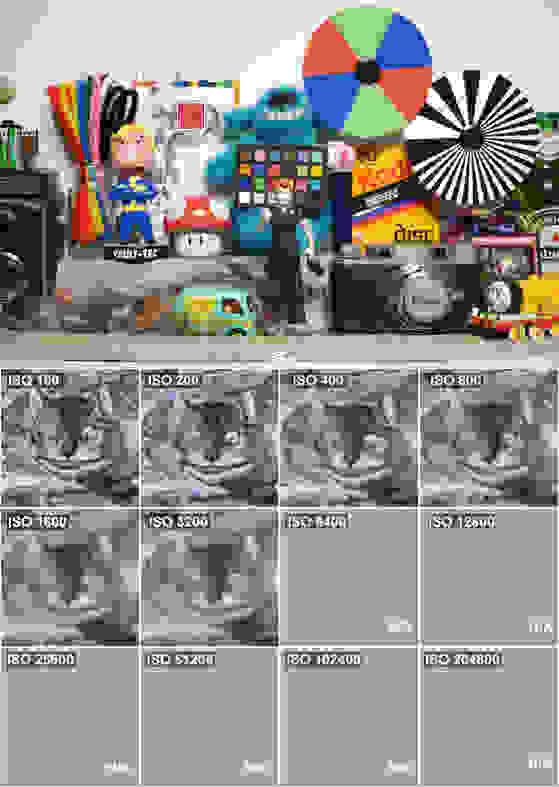 NOTE: The images above are not used in our testing or scoring, but are included here to show real-world examples of the differences between cameras at the various ISO settings.
The Casio ZR100 managed decent resolution results, largely on the back of extensive sharpening applied by the camera. This is a common tactic and does result in some more discernible detail in images, though largely because the lens is of a lower overall quality. We found the sharpening wasn't universally applied, with the camera often sharpening the edges substantially more than the center of the image, where the lens is naturally sharpest. More on how we test resolution.
Distortion ()
The ZR100 produced very little distortion in the final image, though it was clear that when shooting in wide angle that there was a great degree of complex distortion throughout the image. The camera seemed to bow vertical parallel lines inward slightly, while having a similar effect on horizontal vertical lines. In our testing, we found the camera corrected this almost completely, however, leaving just 0.1% pincushion distortion at the wide end, 0.07% barrel distortion at the midpoint, and 0.46% pincushion distortion at the telephoto end.
Sharpness ()
We found the EX-ZR100 oversharpened images by quite a bit in our testing, but it did not apply this uniformly. As a result, depending on where you are in the zoom range, the edges or the center may be oversharpened, but only rarely is the entire image given this treatment. The wide angle of 4.2mm produced the best image here, with sharpness staying high across the board. Those looking for a more natural image can tone down sharpness in the main menu.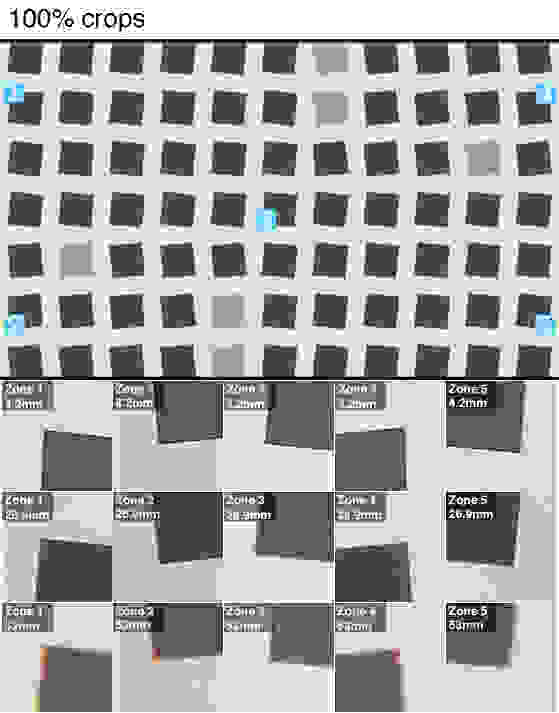 Chromatic Aberration ()
The ZR100 suffered from heavy blue-green fringing as well as lateral violet fringing visible in our resolution testing at the wide angle. When zooming in, there is no visible chromatic aberration at the midpoint (around 27mm, or 130mm in 35mm equivalent), with heavy blue fringing at the telephoto end. It's difficult to see most of this fringing, even at 100% magnification, however, so it's not a huge concern.
The EX-ZR100 offers a great deal of quality and size options for users to take advantage of. These are restricted depending on whether the "high speed" mode has been activated by pressing the HS key on the top of the camera. When in this mode, the maximum resolution is 10 megapixels, while it jumps to 12 megapixels when shooting normally. That can be dropped down to 5 megapixels in either mode, or as low as 0.3 megapixel (VGA resolution) images.
We found minimal improvement in sharpness with stabilization applied on the EX-ZR100. The average amount of sharp images gained with the function activated was 4.11% when firing in the standard shooting mode. A far better option would be to employ the camera's high-speed functionality to take many shots and select the one that fits best. The camera facilitates this with its "best shot" modes, many of which are tuned to do just that. More on how we test image stabilization.
The Casio ZR100 offered very little improvement in image sharpness, with just a 4% gain in sharpness. The FC100 made matters worse in our testing when the image stabilizer was used, likely due to overcompensation in our low shake rig. The Sony TX9 features optical image stabilization, but we can not compare its relative effectiveness as the feature cannot be turned off. The Panasonic ZS10 offered moderate improvement with its image stabilization feature, besting the other cameras in this group by a considerable margin.
Shooting video on the ZR100 is a simple matter of pressing the dedicated record button on the back of the camera. The camera will then begin to take a video in whatever setting has been set beforehand in the main menu. The menu gives the option for the user to record in 1080/30p (FHD), standard definition, 240fps, 480fps, 1000fps, or 30-240fps modes. The 240 fps mode is the only high-speed mode that retains any sort of detail and quality, though obviously there is some loss from the full HD mode. The 30-240 mode is fun for the more creative set, as it will shoot normal 30 fps mode but allow you to switch to 240fps when something happens that you want a slow motion capture of.
The ZR100 had a color error of 4.83 when recording video, though a solid saturation level of 93.51%. We found the main issue with the color accuracy came with the camera's interpretation of blues, which were heavily undersaturated. The camera handled magenta and purple colors very well, however, and was able to keep yellows properly saturated where many cameras fail to. More on how we test video color.
The Casio ZR100 had surprisingly sharp video results, able to pull in sharpness of 700 lw/ph vertically and horizontally. This is well above what most other point-and-shoot cameras have been able to do in our tests and we were pleasantly surprised. Most cameras are in good company if they can achieve 600 lw/ph of sharpness in either direction. Unfortunately, this sharpness does not matter much with the high-speed modes, due to the need to pull in so many frames so quickly that most fine detail is lost in artifacting and compression. Still, for basic 1080/30p video, it's quite a solid result. More on how we test video sharpness.
Playback on the EX-ZR100 is accessed through a dedicated button on the rear of the camera. While in this mode, you can view up to 25 images in a grid display, or zoom in up to eight times to view fine detail. When in playback, the menu key brings up a different menu, where different editing and slideshow options are available. When viewing videos or a set of burst images, the four-way control pad offers options for reverse and fast-forward, pause, as well as easy access to various edit and printing options.
For regular still photos, users can make alterations to white balance, brightness, lighting, size, rotation, and cropping. For sets of continuous shot bursts, there are also options to print multiple images, divide a group, or edit a single frame. There are also video editing options and a "dynamic photo" option that presents such amazing options such as the ability to place an animated elephant or dinosaur on your shoulder, or sunglasses over your eyes. Useful? Not terribly. Life-affirming? Absolutely.
The ZR100 offers DPOF printing through the menu, with options to print from within a set, a single image, or a single frame of a recorded video. Up to 99 copies can be ordered for each image, with the option to include or forego date stamping, should you desire.
The ZR100 uses only a rear 3-inch LCD for a shooting monitor, with a resolution of 460k dots. The result is very clear image of what you're shooting, with attractive text overlays. The menu itself leaves plenty to be desired aesthetically, but it's vivid enough on the LCD. There is no optical or electronic viewfinder. The LCD monitor provides 100% coverage, and offers both a grid overlay and an overlay of the currently selected video resolution (since the video will crop to 16:9 compared to 4:3 for still shooting) in order to aid framing.
The flash built into the EX-ZR100 is not particularly powerful, though Casio does not specifically specify a guide number. It was difficult to get it to illuminate anything beyond 10 feet at ISO 100, though. The flash is positioned with an autofocus illuminator light just behind a glass housing between the grip and the lens on the front of the camera. This creates some issues of holding your finger over the flash, but typically your index finger is clear of the flash as it's depressing the shutter release, so it's not so bad.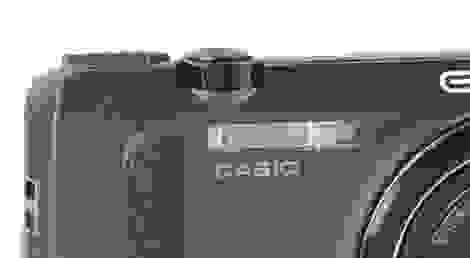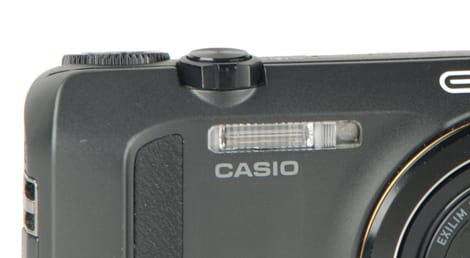 The lens on the ZR100 provides a zoom range of 4.24-53.0mm, with a maximum aperture of f/3.0-5.9. The lens itself telescopes out from the body, but retracts flush with its housing when the camera is powered down or in sleep mode. As with just about any lens of this type, the telescoping lens elements are not sealed, so moisture, dust, and debris such as sand can easily enter and damage the camera. The 4.24mm wide angle provides a 35mm equivalent of 24mm, with its f/3.0 maximum aperture allowing a good measure of light to enter the camera.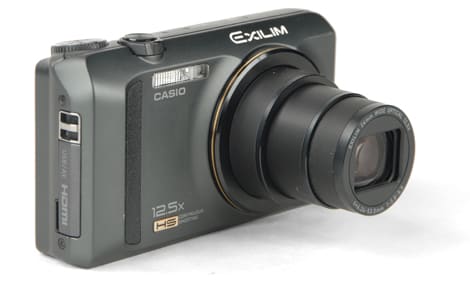 The ZR100 has a zoom ratio of 12.5x, which results in a 35mm equivalent of 24-300mm. The camera features three other types of zoom that enhance the optical zoom either through multiple shots (Multi SR zoom available in the "Best Shot" mode), or through digital zoom and cropping and enlargement. Zoom is controlled by a toggle around the shutter release button, which brings up a zoom bar on the rear LCD. The ZR100 provides a green arrow as a reference point for where pure optical zoom ends. There is a small segment after this where Multi SR zoom and "HD" zoom take over, which is followed by an extension of the bar that is pure digital zoom. The digital zoom results in the worse image quality, with the Multi SR and HD zoom being slightly better. The optical zoom is your best bet in most scenarios, however.
The EX-ZR100 is provided with an NP-130 lithium-ion battery, that has a capacity of 1800 mAh and sits behind a battery door on the bottom of the camera. According to Casio, that provides approximately 450 shots by the CIPA standard, though this will be restricted if you use the flash more than 50% of the time. Casio also rates the battery at providing five hours, 40 minutes of playback of images, with the ability to record videos for around two hours, 30 minutes, depending on the video mode selected.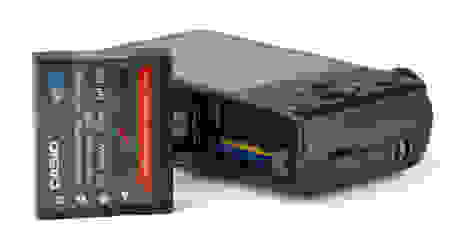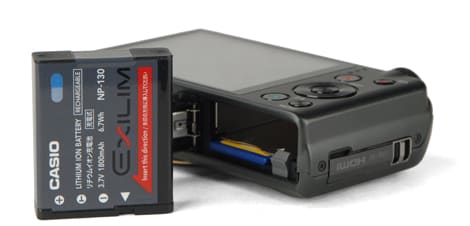 The camera makes use of SD/SDHC/SDXC memory cards, though it can not use the Wi-Fi enabled Eye-Fi memory cards. There is no maximum listed capacity, though we found SDHC cards as large as 16GB worked correctly. We would assume the SDXC maximum is 64GB, though some 128GB cards are in production. Considering they cost almost as much as the camera, we doubt many will need a card that large in this particular model.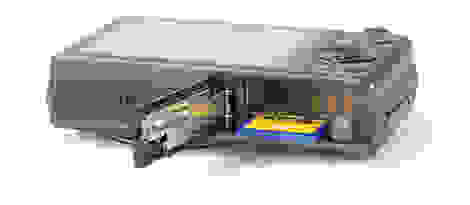 The ZR100 provides mini-HDMI output as well as a proprietary combined AV/USB port. Both ports are located behind a plastic flap that is easily pushed back from the body. The USB/AV output cable looks almost completely rectangle, but it has a very small arrow on one side indicating the correct side to attach it to the camera. Be cautious that you insert it carefully, because it's easy to break the pins on the camera if you force the cable. We're not big fans or proprietary outputs, but the cables are all provided so it's best you try to not lose them.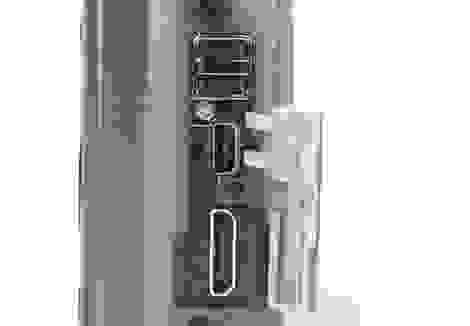 The ZR100 places all its various shooting modes right on the mode dial atop the camera. These include the typical manual, aperture/shutter priority modes, single-shot auto (this is what would typically be called program auto on other cameras), premium auto, High Dynamic Range (HDR), HDR art, best shot, best selection, and panorama sweep.
Scene Modes
The ZR100 does not provide what are typically called scene modes, instead offering a "best shot" mode that encompasses both traditional scene modes and those that take advantage of the burst capability of the camera. There are 32 of these modes, brought up by pressing the SET key, with one extra mode that can be set by the user. These include modes for both still and video shooting, with some affecting sharpness and color while others make adjustments to shutter speed or aperture. There's also a "best selection" mode that allows for taking a group of shots and compositing or selecting the best option.
There's not much for picture effects on the ZR100, as there is really only the ability to cast a singular hue over an image, or turn one completely monochrome. The options available are red, green, blue, yellow, pink, violet, and a lovely mauve. The picture effects are only available through the menu under the "quality" tab, and are not present on the quick menu where they might be more useful.
The ZR100 offers a good deal of manual control for a point-and-shoot camera (at a debut price of $300, it should), with options for manual shooting, shutter priority and aperture priority. The camera offers a "single shot" automatic mode with some manual overrides for everything except exposure.
The EX-ZR100 is all about speed, with a bevy of high-speed recording options for still and video shooting. Continuous shooting is only available when activating the HS mode by pressing the corresponding button on the top of the camera. From there the camera can be put in either "F CS" or "High Speed CS" depending on how fast the user wants to shoot. "F CS" allows the user to select still shooting up to 10fps, with a maximum continuous burst of 30 shots. High speed CS allows for up to 40fps shooting, with a maximum of 30 shots as well, though maximum resolution is limited to 10 megapixels. When in HS mode, JPEGs can only be recording in normal quality, with no fine option on offer. The camera also has a few self-timer options, with delays of 10 seconds, two seconds, and 10 seconds with a three shot delayed burst.
Shot to Shot ()
In testing the "F CS" shooting mode (the only continuous shooting mode that offers the full 12-megapixel resolution), we found the camera was able to better its advertised speed of 10fps by a slight margin. Its performance was not perfectly consistent, though, as in three rounds of testing it hit 10.89, 10.0, and 9.97fps. For a compact camera, however, 12-megapixel shots at over 10fps is remarkable. The camera does also offer 40fps shooting in 10-megapixel resolution, with a nifty pre-record function that is great for capturing action exactly as desired.
The ZR100 crams quite a bit into a sleek compact, metal body. The body is solid brushed metal, though the material used is a little on the thin side. This makes the camera quite lightweight, though the material doesn't quite have that premium feel to it. The front of the camera offers a slight raised edge for the right hand, with a strip of rubber on the inside allowing the finger to grip more effectively.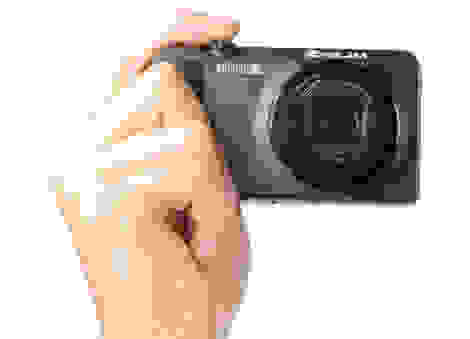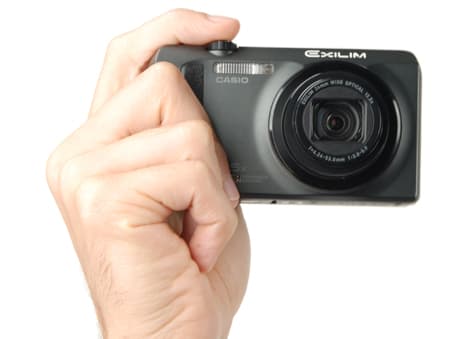 The ZR100 is designed in such a way that it can be operated exclusively with the right hand, with all the buttons available within a thumb's reach. The camera is simple to operate, though this belies the camera's breadth of shooting options available. For the most part, any changes to shooting settings will take place in the full menu, as the quick menu (brought up by pressing the SET key) only allows for basic changes, usually just to white balance, resolution, exposure compensation, ISO speed, and flash control.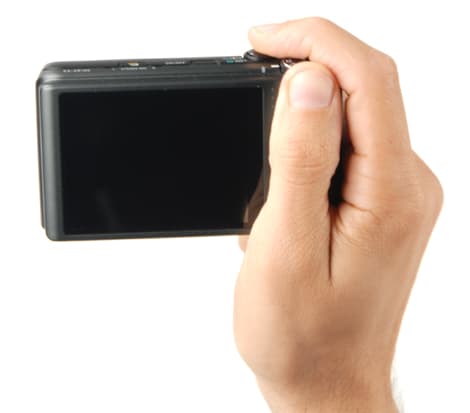 The buttons on the ZR100 are all fairly low profile, hugging the body and offering good response, though little travel. The only real frustrating thing for beginners will be the lack of labels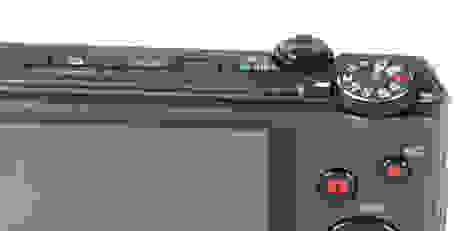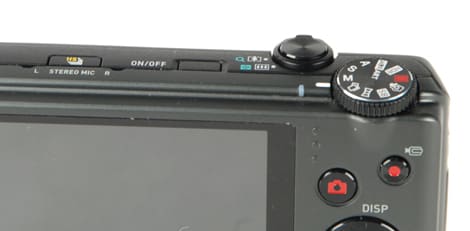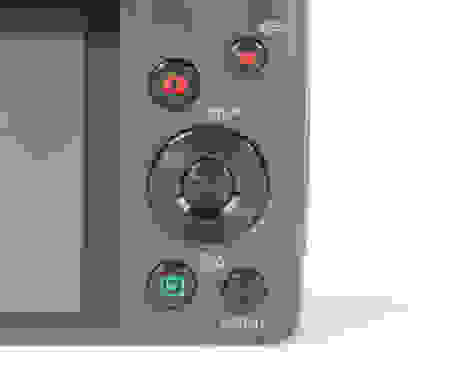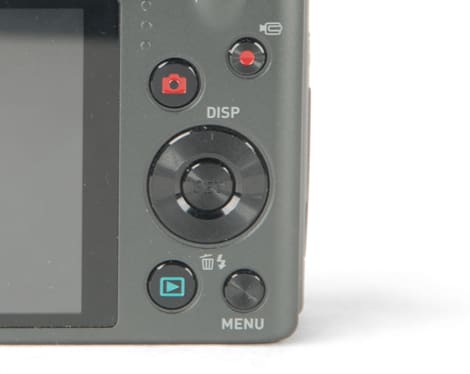 The menu on the Casio EX-ZR100 is designed in a typical three-tab format seen on plenty of the company's other cameras. For those not familiar, it breaks down all the menu options into three vertical-hanging tabs. This allows beginners to easily find where particular options are. There some downsides, given the camera's limited physical controls. First, each tab has more options than fit on the screen at one time, meaning many options are not immediately visible when scrolling between tabs. Second, the top row must be highlighted in order to move between tabs, meaning if you scroll halfway down the "Setup" tab and realize what you want is elsewhere, you have to scroll to the top to change tabs. Most frustratingly, the menu automatically quits out whenever an option is changed, requiring multiple trips to change multiple options.
The ZR100 comes with a quick start guide in multiple languages that folds out like those annoying road maps you buy on vacation and can never quite return to the original shape. There's also very handy guide to the camera's many burst shooting and high speed movie recording modes. Given that the majority of the reason to purchase the ZR100 rests on these features, this helps eliminate some of the confusion.
The Panasonic ZS10 (also known as the TZ20) and the Casio EX-ZR100 share a similar set of features, but differ greatly in terms of where they excelled in our testing. The EX-ZR100 is a racehorse, built for speed and power, while the ZS10 has a few extra bells and whistles—built-in GPS, touchscreen control—and succeeds in areas such as color accuracy.
Overall, we found the images out of the ZR100 had seen a heavier dose of post-production, with in-camera corrections to distortion, sharpening, and noise reduction that were not really optional at the default level. The ZS10 does make these things optional, resulting in slightly lower scoring, but more natural-looking images.
In terms of raw specifications, the ZS10 pulls ahead by a fair margin, with a larger optical zoom range (16x against 12.5x on the Casio) and more image resultion (14.1MP against 12.1MP). These are not deal-breakers though, and those looking for raw speed will find far more utility with the ZR100. If you want high-speed video and still shooting, the EX-ZR100 far outperforms just about any other compact camera on the market.
Those looking for the best natural image quality will probably find the ZS10 up their alley, but they will have to tinker with the settings to bring up sharpness to more acceptable levels.

/r:render
The EX-ZR100 is a successor to the earlier EX-FC100 that we had reviewed previously, and it advances in many ways beyond what the FC100 accomplished.
Both of these cameras are built simply for speed. They're designed to shoot more than 10 still frames per second and 240fps video and up. They do so by ramping up sensitivity, using digital capture, and employing a backlit sensor. That does come with some sacrifices, namely in terms of color accuracy, where neither camera particularly excels.
The FC100 also relied on heavy processing to its images in order to make up for some lacking areas of performance, though not to the extent that the ZR100 did. This is common on point-and-shoots—especially the automatic addition of sharpening and noise reduction—but it is pushed to a bit of an extreme by default on the ZR100.
In the end the images out of the ZR100 simply look better. The camera shoots at a faster clip (up to 40fps for still images), with much more optical zoom (12.5x against 5x) and greater resolution (12.1 effective megapixels against 9.1MP). Given the two-year time gap between these two cameras, that's not surprising, but it firmly places this comparison in the newer EX-ZR100's favor, and shows Casio has been advancing steadily since the FC100's design.

/r:render
The Casio EX-ZR100 and the Sony TX9 both offer quite a bit for their price-point. The TX9 is another in what is now a long line of slimline card-sized pocket cameras from Sony, offering touch control and non-telescoping lenses that rely on innovative features, solid image quality, and a good user experience to satisfy customers.
The EX-ZR100 goes a bit beyond that, foregoing the more ergonomic flat design for a typical compact cameras body with telescoping lens. The ZR100's ace in the hole is its speed, which is simply unmatched by just about every other compact camera on the market. Casio puts that speed to good use, offering fewer creative picture filters in favor of modes that employ speed and composite images.
On the performance end, the cameras are actually quite similar. The Sony TX9 had slightly better color accuracy than the ZR100, slightly worse noise results, identical distortion results, but outputted sharper images in general. Both cameras had slight issues with chromatic aberration in high contrast areas, and both relied on some digital post-processing to get the results they got, rather than relying purely on what the camera does.
The TX9 is by far the more stylish option, with a way better user interface and image quality that slightly outperforms the EX-ZR100 in terms of raw image power. If you need more optical zoom, can sacrifice a bit on how slim the camera is, then the ZR100 also gives you the benefit of its high speed recording capability. For those day-to-day snapshots, go with the TX9, but if you're shooting anything like wildlife, sports, or anything moving you won't be within 20 feet of, the ZR100 is the better tool.

/r:render
There are many reasons to buy the Casio EX-ZR100, but one reason should stand out to potential customers: high speed video recording. There's a reason you see Casio's high speed cameras marketed in golf magazines, and it isn't because of the user interface. While the 1000 FPS is too dark to be of much use, the 240fps video recording is perfect for seeing all those various mechanical motions, while still offering enough resolution to be useful.
But whether you've got a creaky backswing in need of diagnosing or just a love of slow-motion video, the EX-ZR100 brings more to the table than just raw speed. The camera is a very capable shooter in its own right, with a 12.1-megapixel image sensor, solid color accuracy, good (if digitally enhanced) sharpness, and picture quality that is decent, if not quite "high end."
Are there cameras at this price point that will deliver better still images? Yes, without question. Are there cameras that will deliver this level of image quality as well as superb speed? That's not nearly as clear. However, there are always going to be shots that require a certain level of speed to attain, and an above-average clear image beats a superb blurry one every time.
Those looking for this level of speed will likely be fine sacrificing some of the creature comforts that other $300+ cameras often have, whether that's touchscreen control, a more pleasurable grip, digital picture filters and effects, or extra bells and whistles like dual screens or built-in GPS. The shooting experience is still fairly fluid, despite those missing extras, and those looking for high speed video at this price point will surely feel satisfied with the ZR100.
At its size and speed, the Casio ZR100 is ready to travel at a moments notice, offering the kind of speedy image capture most other compact cameras can only dream of. With 12.5x optical zoom packaged in, as well, it goes beyond what its predecessors accomplished, offering speed freaks a camera they can be confident they'll get results from.
Meet the tester TJ Donegan
Executive Editor
@TJDonegan
TJ is the Executive Editor of Reviewed.com. He is a Massachusetts native and has covered electronics, cameras, TVs, smartphones, parenting, and more for Reviewed. He is from the self-styled "Cranberry Capitol of the World," which is, in fact, a real thing.
Checking our work.
We use standardized and scientific testing methods to scrutinize every product and provide you with objectively accurate results. If you've found different results in your own research, email us and we'll compare notes. If it looks substantial, we'll gladly re-test a product to try and reproduce these results. After all, peer reviews are a critical part of any scientific process.
Shoot us an email