Design & Usability
The Casio EX-H50 doesn't buck the trends established in Casio cameras over the last couple of years. Manual control is sparse, with large buttons for accessing shooting mode settings, playback, and video recording. The camera also has a mode dial built into the top plate of the camera, allowing quick access to the camera's various shooting modes.
The modes are strictly designed around aiding novice shooters, with Casio's established "best shot" mode, a fully automatic mode, a mode curiously designed for just voice recording, and access to the camera's "Art" color modes. This plays right into the camera's design, resulting in a camera that, while not terribly intuitive, doesn't require much input on the photographer's part beyond pointing and shooting.
The EX-H50's menu is also classic Casio, with three tabs separating options into sections for REC (shooting), system (SET UP), and image quality settings. These tabs can be easily navigated using the rear directional pad, and you can move between tabs by using the camera's zoom toggle.
Features
The main feature of the Casio EX-H50 is its 24x optical zoom lens. All that optical zoom greatly magnifies any camera disturbance while shooting, but camera shake is combated by a sensor-shift stabilization system built into the camera.
The sensor itself is a 16.1-megapixel CCD at the standard point-and-shoot size of 1/2.3 inches. That's not terribly impressive, as CMOS technology has leapfrogged CCDs in recent years—the main consequence is a lack of the high-speed burst shooting that Casio is known for. It's likely a cost-cutting move on Casio's part. The sensor has an ISO sensitivity range of 64-1600, with an automatic ISO that will determine for the user which ISO level to go for.
There's also video recording with the EX-H50, but it's only 720p HD video in the lower quality Motion JPEG compression setting. It's paired with monaural video, so it's unlikely a feature that will meet even the average standards of point-and-shoot video. The camera uses a rechargeable Lithium-ion battery, model NP-80, but it's of limited capacity and is only rated to a dismal 145 shots by CIPA standards.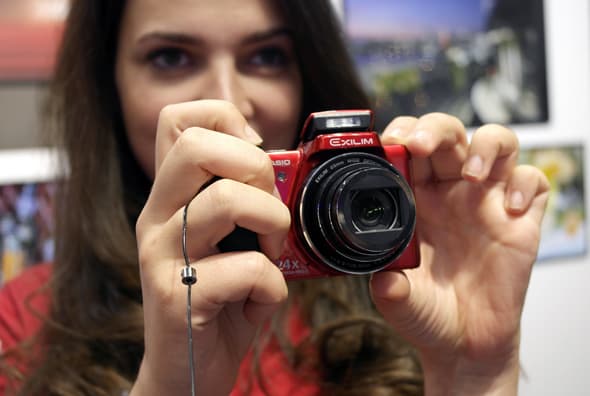 Conclusion
The Casio Exilim EX-H50 is a travel-zoom that, on paper, looks to be a solid combination of 24x optical zoom range and 16-megapixel resolution. When you dig a little deeper, those specs are a little more disappointing. The camera has an okay design and is relatively simple to use, but a limited battery capacity and it's use of a CCD image sensor don't signal a high-quality product.
We will hold out hope for the EX-H50 to prove us wrong, but CCD sensors have only struggled in our image quality tests of late, as CMOS sensors have become nearly ubiquitous in the category. Casio has yet to announce pricing or availability for the EX-H50, but we're expecting it to come in below some of the heavy-hitters in the category from Panasonic and Sony.
We'll have more to report if and when we get the camera into our labs for a full performance breakdown, but this is a competitive part of the market and it would take some serious work for Casio to edge their way in.
Introduction
The travel-zoom category has grown exponentially over the last couple of years as many of the cameras have continued to slim down. The Casio Exilim EX-H50 continues this trend, squeezing a 24x optical zoom lens into a body that is no bigger than a pack of playing cards.
The EX-H50 pairs that lens with a 16-megapixel CCD image sensor with sensor-shift stabilization, a large grip for hand-held shooting, and a built-in flash. The styling of the camera reminds us of Casio cameras of the past, with plenty of grip still available on an otherwise compact body.
Our editors review and recommend products to help you buy the stuff you need. If you make a purchase by clicking one of our links, we may earn a small share of the revenue. Our picks and opinions are independent from any business incentives.