The S200 is available in pink, orange, blue, black, or silver for an MSRP of $159.99.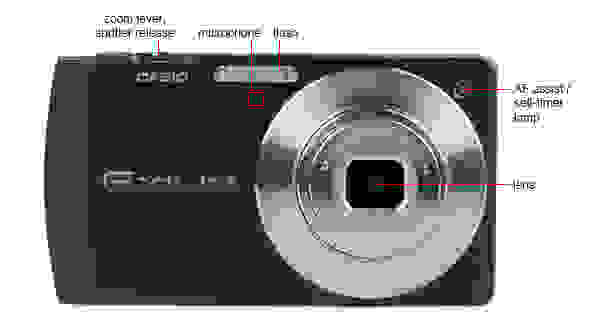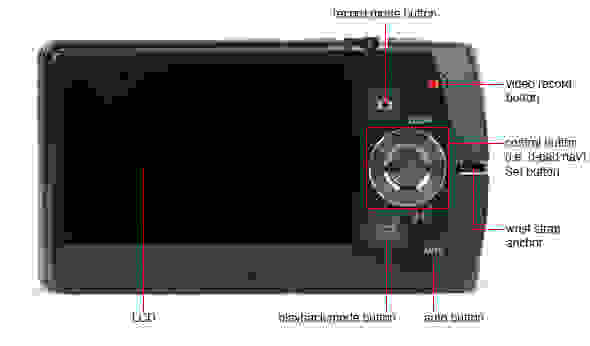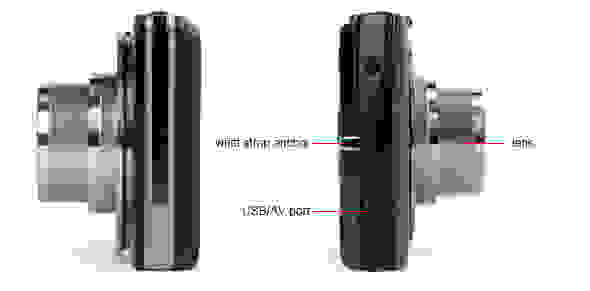 Casio Exilim EX-S200 digital camera

rechargeable lithium-ion battery (NP-120)

battery charger unit (BC-210L)

power cord

USB cable

AV cable

wrist strap

CD-ROM

Basic Reference guide
If you're looking for accurate color reproduction in your photos, the Casio Exilim EX-S200 will not deliver. As you might expect from an inexpensive pocket camera, colors are heavily oversaturated, with a color error of 4.53 and saturation of over 118%. Those are not good scores—even for a point-and-shoot camera. More on how we test color.
Of course, many consumers prefer vivid, larger-than-life colors. If you're reading this review, you might very well be among them... and you might very well prefer the oversaturated colors of the S200. Our complaint is that the camera has no alternative color modes, nor any method of adjusting color. Short of making post-production edits in Photoshop, you're stuck with the camera's blatant disregard for color accuracy.
The cameras we selected for comparison all fared much better in this test. In their respective auto modes, they all produced more accurate colors and less dramatic saturation. The advantages don't end there: the Nikon S4000 has an in-camera vivid effect that you can apply in playback, while the Canon A3000 IS has alternate color modes and the ability to adjust saturation before you take the photo.
The Exilim S200 doesn't offer any versatility in color modes or color effects; you can't even apply color adjustments during playback. (A lot of cameras let you tweak saturation or apply a vivid or muted filter after the fact.) This is pretty standard for entry-level Casio cameras.
Best Shot mode does give you access to a number of scene modes that impact color (such as portrait, landscape, etc.). That's also where you'll find the sepia and monochrome options that usually reside among a camera's color modes.
The S200 fared surprisingly well in our noise tests, average a noise percentage of just 1.00% noise across the ISO range. That's doubly impressive considering the camera offers an option of 3200 ISO. If you're a total noise snob, this little Exilim offers something even better: a 50 ISO option for bright light conditions and a virtually noise-free image. More on how we test noise.
As is usually the case, the EX-S200 showed increased noise levels in low light—though the difference isn't as dramatic as you might expect. Average noise at 60 lux was 1.28%, with a maximum noise percentage of 2.11% at 3200 ISO.
Among the models we selected for comparison, the Casio S200 actually proved to be the best performer in our noise testing. Noise levels were low across the board, but it was really the camera's ability to suppress noise at high ISOs that earned it a gold star. in bright light, the camera kept noise below 2% even at 3200 ISO—a feat that none of our comparison models accomplished.
We were impressed to see that the S200 offers a wide ISO range, from 50 up to 3200. That's impressive for a cheap point-and-shoot. There are no ISO limiter options, but we don't typically expect that on a camera that's less than $200. (Nikon's entry-level models offer an auto ISO limiter, but most manufacturers aren't so generous.)
What's most impressive is that the Casio's 3200 ISO option actually looks pretty good compared to the competition. Of course, it doesn't look great, but if you're shooting in dim light and want a reasonably bright photo at a reasonably fast shutter speed, at least you have the option.
NOTE: The images above are not used in our testing or scoring, but are included here to show real-world examples of the differences between cameras at the various ISO settings.
The Casio S200 actually performed very well in our bevvy of resolution tests, besting every other camera in our comparison group. Photos taken in the camera's highest quality setting were incredibly sharp and the lens had virtually no distortion. The real weakness of the Exilim was chromatic aberration—unfortunate discoloration that appears along high-contrast edges in the photo. More on how we test resolution.
Distortion ()
Some point-and-shoot manufacturers really skimp on the quality of lenses, opting to use cheap elements that distort your photos. The S200 has either a very good, distortion-free lens or applies some very effective distortion correction in-camera. We think it's most likely the latter, as the photos seemed to be virtually distortion-free, but showed signs of bad chromatic aberration (see below).
Sharpness ()
Casio had us double-checking our results with the camera's surprisingly impressive sharpness performance. The test chart we use for determining sharpness does not take into account any artificial digital sharpening added by the camera; cameras like the S200, which apply very little artificial sharpening, often fare quite well.
Chromatic Aberration ()
Chromatic aberration—those chunky blocks of discoloration in all the high-contrast lines of a photo—ran rampant throughout all the photos we took with the S200. This kind of artifacting was more present along the outside edges, which leads us to believe that it's a problem with the lens. You probably won't notice this problem when viewing your photos at a normal zoom, but if you like to zoom in for a closer crop, caveat emptor.
The EX-S200 has a modest selection of picture size options: seven in all across three different aspect ratios. For maximum quality, you should just stick with the 14-megapixel 4320 x 3240 option. The camera does not shoot in RAW (only JPEG) and there are no additional quality options.
The EX-S200 comes equipped with an Anti Shake mode, which combines sensor-shift correction and a "high-sensitivity anti image blur feature." We're not sure precisely how the latter component functions, but we're guessing that it's a digital effect. (Casio warn that Anti Shake may cause image quality deterioration.) Whatever Casio is using for its magic formula, it works. Stabilization improved image sharpness by an average of 52%. More on how we test image stabilization.
Stabilization is not typically a strong suit for point-and-shoot cameras—especially cameras that cost less than $200. The Exilim is a surprise in this category; competing models from Nikon and Canon didn't fare nearly as well. If you want the whole story, just compare the S200's results to those of the 2009 Casio FC100. Though the latter debuted at a higher MSRP, the stabilization actually made images look worse: blur may have been "reduced," but at a significant penalty to overall sharpness. This rime around, Casio has improved the formula dramatically.
The Casio S200 is not a camera made for video recording; it's more like a camera that just happens to sort of record video. Audio is picked up by a pitiful monaural microphone and the maximum resolution for video is 1280 x 720. The frame rate is just 20p—not a spec to impress videophiles. You can also choose to record standard definition video at 30p, but either way you're not going to want to capture your precious memories with this little Exilim camera.
It's not all gloom and doom in the video department. If you're looking for a silver lining, consider that autofocus during video recording is quick, responsive, and incredibly quiet. (Most compact cameras have very noisy autofocus mechanisms in video mode.) You can use the camera's 4x optical zoom while recording video, as well the small handful of image adjustments.
Color accuracy is essentially the same in video mode as it is in photo mode. Everything is given a heavy dose of oversaturation to make color vivid—and not terribly accurate. Most point-and-shoot cameras don't have particularly good color accuracy when recording video; some cameras don't even allow you to perform a custom white balance. Though the Casio S200 doesn't have great color performance in video mode, at least it's no worse than the camera's color performance for regular still photos. The typically low bar set by most compact cameras is the reason that the S200 actually scored pretty well on this test. More on how we test video color.
The Casio's sharpness is absolutely abysmal—as is the sharpness of every entry level point-and-shoot that we test. These cameras simply were not engineered to capture quality video; you'll get far better video quality using an ultracompact camcorder from Flip or Kodak. The maximum horizontal sharpness for the S200 was just 450 lw/ph, while vertical sharpness topped out at 500 lw/ph. More on how we test video sharpness.
At first glance, playback mode looks to be a generic set off offerings that you'll see in just about any digital camera. You can view images via thumbnails, full-screen, or with a playback zoom up to 8x. You can create a slideshow (using all images, stills only, or videos only). Your slide show can be accompanied by one of five cheesy audio files.
The real surprises can be found in the S200's in-camera editing options...
There aren't a lot of in-camera editing options available on the Casio S200, but the few present are truly presents. You can convert your photo to a beautiful work of art using the camera's oil painting, crayon, and water color filters. You can also rotate, resize, and crop.
But the true gem is in a feature called Dynamic Photo, which allows you to superimpose an absurd animal into your photos to create a wacky animated gif. The options are so bizarre (like dancing monkeys) that we couldn't resist playing with it... a lot. Sure, it's a goofy novelty. But if we could get a hearty laugh out of the entire office, it's a feature worth mentioning.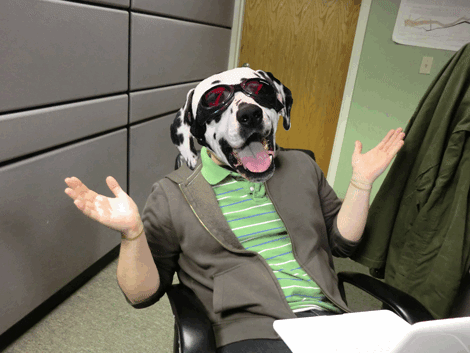 This isn't an April Fool's joke. The camera really has this feature.

You should see the monkeys.
The S200 has compatibility for all you DPOF and PictBridge fanatics. Connect your camera or memory card to a printer and you can print without every using one of those pesky computers. There's also Eye-Fi compatibility if you don't mind spending money for the extra accessory in order to gain limited wi-fi capabilities.
The Casio Exilim EX-S200 (MSRP $159.99) is a tough camera to hate—and an even tougher camera to love. The pictures often look pretty good, but the overall photographic experience isn't what it could be. Menus are annoying to navigate, appropriate metering is hit-or-miss, and there just isn't much fun to be had in the camera's special features.
For an entry-level camera, we were surprised to find so few bells and whistles to keep beginning photographers entertained. The highlight was definitely the Dynamic Photo option in playback, which lets you add animated animal head gifs to your photos. Believe me—we couldn't possibly make that up.
Some of the camera's performance numbers were downright impressive: noise is incredibly low and stabilization is surprisingly effective. But the inaccurate colors, omnipresent chromatic aberration, and pitiful video recording should be enough to steer away anyone serious about taking good photos.
In a nutshell, the EX-S200 is a fun little camera that will get the job done—if you happen to like its design and price tag. Just don't expect to be impressed by much.
Meet the tester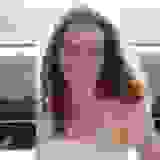 Kaitlyn Chantry
Vice President, Editorial Management
@WhyKaitlyn
Vice President of Editorial Management, Kaitlyn oversees the editorial departments of Reviewed.com's various sites. She has been writing about technology since the turn of the century. Outside of her Reviewed.com home, Kaitlyn is also a theatre director and avid gamer.
Checking our work.
We use standardized and scientific testing methods to scrutinize every product and provide you with objectively accurate results. If you've found different results in your own research, email us and we'll compare notes. If it looks substantial, we'll gladly re-test a product to try and reproduce these results. After all, peer reviews are a critical part of any scientific process.
Shoot us an email