Looking at the body and spec sheet, the F600EXR is almost identical to its predecessor, sporting the same 1/2-inch CMOS sensor, 15x Fujinon zoom lens, EXR processor, built-in GPS unit, body, and, uh, pretty much everything else. But Fuji claims that there are a handful of improvements under the hood: much faster autofocus, re-tooled motion detection and "intelligent" digital zoom systems, and added a landmark navigation function. Those sound like updates that could've been accomplished with new firmware rather than a separate camera, but nevertheless, the F600EXR is here, we've tested it, and found some promising results with a few "ifs" and "buts" to juggle.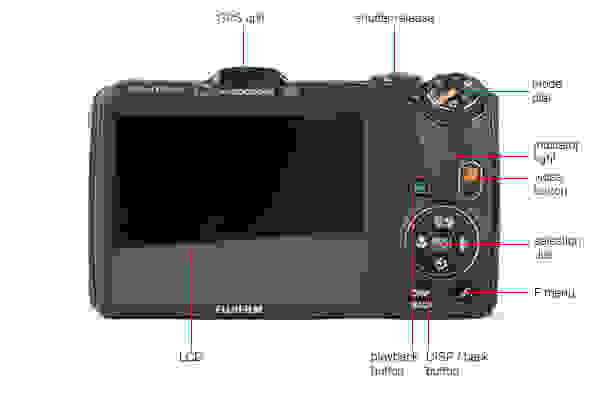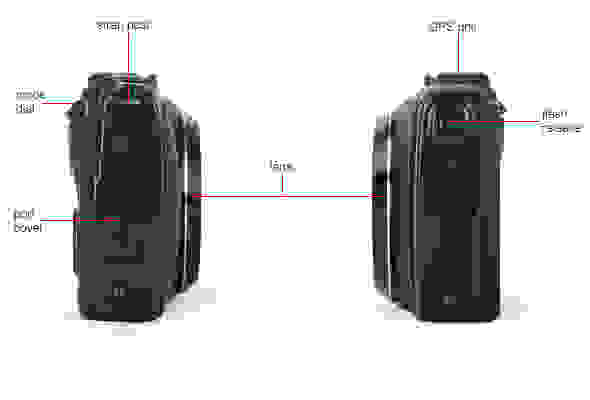 • Fujifilm Finepix F600EXR digital camera

• wrist strap

• micro-USB cable

• A/V cable

• battery charger BC-45W

• NP-50 rechargeable lithium-ion battery

• Basic manual (English, French, Spanish)

• CD-ROM with software and owner's manual
The F600EXR earned a strong color accuracy score in our tests. Standard mode—the Provia "film simulation" setting, as Fuji calls it on this camera—is the most accurate and most reasonably saturated, with a mean color error of 2.85 (anything under 3.0 is quite good) and 104 percent saturation. Blues and reds tend to be a bit exaggerated, but the rest of the shades are pretty accurate. More on how we test color.
Among our comparison group, the F600EXR is one of the better color performers, significantly more accurate than the Olympus XZ-1 and Casio ZR100, though a bit less so than the Panasonic ZS10.
For posterity, we also tested the F600EXR's color accuracy with its EXR D-Range Priority mode and found that it returned a slightly better result: a mean color error of 2.75 and 103.5 percent saturation. It's enough to increase the color score a little bit, but not enough to put it in front of the Panasonic ZS10. (All of our official scores are based on results from Program mode, not any of the EXR processing modes).
Fujifilm included just a few color modes, which they call Film Simulations. Functionally, it's no different than any other digital camera's color modes, though it threw us for a bit of a loop at first. Maybe some folks will think that it's a cool throwback to the old days of film, while the rest of the world just scratches their heads. Standard or Provia mode is the most accurate. There are also Vivid (Velvia), Soft (Astia), B&W, and Sepia modes.
Just because a picture is noisy, doesn't mean that it actually looks bad. When you're looking at a messy, splotchy photo taken with a point-and-shoot at ISO 1600, it's usually the software-based, noise-reducing image processing that ruined the shot, not so much the hardware-based chroma and luma noise. Keep that in mind as you parse these results.
The F600EXR returned pretty significant noise levels in our tests, an average of 1.33% noise across all full-res ISO settings in bright and dim light. Noise levels start pretty low at the base but rise quickly up through ISO 800. Noise drops back a bit at ISO 1600 thanks to some noise reduction, then spikes up above the 2% mark at ISO 3200, the top full-res setting. The crops of Rosie the Riveter below match that pattern. Her face is sharp, if a bit grainy, at ISO 800, softening a bit at ISO 1600. More on how we test noise.
It actually returned consistently cleaner results in low light (60 lux) than in bright light (3000 lux). At the absolute top setting—a reduced-res ISO 12800—noise dominates the shot, but it's still pretty gutsy of Fujifilm to include such an outrageous sensitivity on a point-and-shoot.
While the F600EXR shows a lot of chroma and especially luma noise compared to all of the comparison models, we'd argue that its photos are some of the best, especially at the mid- to high-ISO settings. It has a larger sensor (1/2-inch CMOS) than either the Panasonic ZS10 or Casio ZR100, which is a huge factor in noise performance.
The Casio ZR100 earned the best overall score of the group, but that's because of harsh noise reduction. The Rosie crop visibly loses detail starting at ISO 800, and looks as soft as a watercolor painting at ISO 1600 and beyond. The Panasonic ZS10 is the real weakling of the bunch, losing definition around ISO 200 and not even daring to stretch beyond ISO 1600.
With a larger sensor than any of the cameras in this test group, it's no surprise that the Olympus XZ-1 takes arguably the sharpest and best-looking shots through its ISO range. The ISO 6400 setting should probably be avoided, but otherwise, it's the best bet.
And for what it's worth, we shot another set of test photos using the F600EXR's High ISO & Low Noise EXR processing mode. It's a half-resolution setting, so we couldn't factor it into our official scores, but it significantly improved the F600EXR's noise performance, with less than 1% noise on average, and no greater than 1.63% at the top ISO setting. If we judged the F600EXR on those scores, it would surpass the ZS10 and sit about even with the XZ-1. The capability is there if you want it.

The F600EXR shoots full-res shots from ISO 100 through ISO 3200, and at reduced resolutions up to a whopping ISO 12800.
NOTE: The images above are not used in our testing or scoring, but are included here to show real-world examples of the differences between cameras at the various ISO settings.
Overall, the F600EXR earned decent but not great resolution scores, landing in the middle of the comparison pack. Our official score is based on test shots taken in Program mode, but we ran a separate test with shots taken with the Resolution Priority EXR processing mode and found a small but notable improvement in sharpness and distortion. Neither result blew us away, but the overall numbers are respectable for a long-zooming lens with a wide starting point. More on how we test resolution.
Distortion ()
Distortion is mostly well controlled on the F600EXR. We noted slight barrel distortion at the wide angle, more significant barrel distortion in the middle of the range, and slight pincushioning at the telephoto setting. These results are significantly better than the Panasonic ZS10 but slightly worse than the Casio ZR100.
Sharpness ()
The sharpness score is decent overall, but the edges are super-soft compared to the crisp center. It's a feat of engineering that we can have such a versatile zoom range in such a small camera, so we aren't surprised that the sharpness is less than ideal, but the edges are too blurry.
Results are pretty consistent with the competition. The Casio ZR100 barely beats it out, while the Panasonic ZS10 comes up slightly behind. The Olympus XZ-1 sports a mighty fine lens, so we aren't surprised to find that it's the sharpest of the group.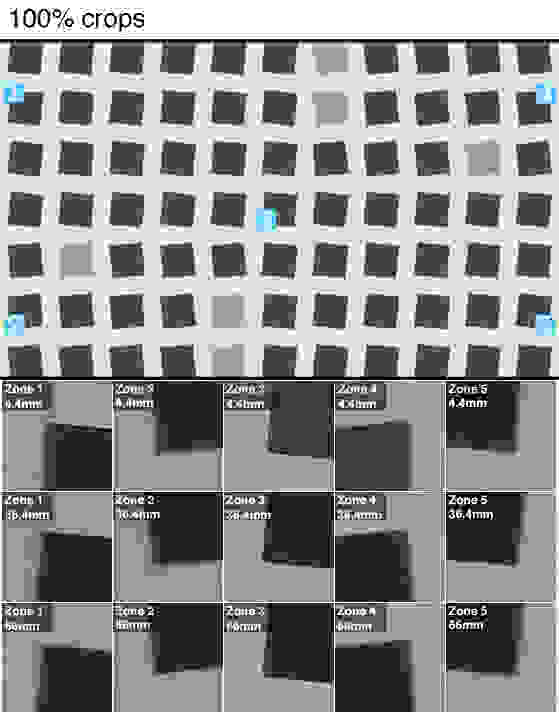 Chromatic Aberration ()
Aberration is also a problem with the F600EXR. Purple fringing is quite apparent through the focal range at the edge of the frame, while green fringing is notable at the center. Every camera in our comparison group outperforms the F600EXR here.
Sure to please enthusiasts everywhere, the F600EXR shoots RAW and RAW+JPEG formats, one of the very few travel zoom cameras that can make that claim.
Maximum resolution is 16 megapixels. Several modes, including two of the EXR settings, default to 8 megapixels because of Fujifilm's the processing technology (known as pixel-binning, a complicated but effective technique). Shots can get as small as 2 megapixels.
We have not yet tested the F600EXR's stabilization capabilities. Our testing rig is undergoing repairs at the moment, but we will update this review when it's fixed. More on how we test image stabilization.
The F600EXR's video mode is about what we expect out of a $350 travel zoom. It's a useful extra feature, though not developed enough to make it a worthy standalone camcorder. It's capable of 1080p movies at 30 frames per second, which is almost as cameras shoot. Operation is almost entirely automated, though, with little user control over exposure. Optical zoom does work during filming, and the F600EXR can also grab 8-megapixel photos without interrupting the recording. Autofocus locks once at the beginning of a clip, but can't re-adjust in the middle of recording except when you shoot a still photo—it's a wonky workaround that didn't earn any points, but it's there if you need it.
Colors are accurate and well saturated, at least compared to the funky, flat hues that most compact cameras' video modes spit up. It leads our comparison group, though we haven't tested comparable compact zooms from Canon or Sony, and both of those companies tend to integrate very good video modes into their point-and-shoots. The F600EXR's score is objectively solid, so we can't take that away. More on how we test video color.
For a 1080p-shooting camera, we expected the F600EXR to be sharper than it actually is. Our score does come with a bit of a caveat: Stationary objects look exceptionally clear and detailed. But as soon as anything starts to move, the definition starts to get muddled, particularly with vertical motion. More on how we test video sharpness.
Playback mode offers just about all of the right creature comforts. The selection dial makes it easy to cycle through photos quickly, especially compared to the four-way pads or touchscreens that most compacts tend to rely on. Playback zoom is quite nimble and reaches a fine level of detail. On-screen information can reveal exposure settings and a histogram, which is as much as we can ask from a compact. All that we'd really hope to see in the next version is a more efficient way to delete or tag multiple photos.
Basic edits like cropping, re-sizing, and red-eye correction can be performed in-camera, but more intensive changes like color space correction are not available. That's just for JPEGs too—RAW images and videos can't be edited at all.
The F600EXR supports the PictBridge standard for direct camera-to-printer connectivity. DPOF tagging is possible from the playback menu as well.
The F600EXR does not have a viewfinder (no surprise), so framing and navigation are handled on the LCD. It's a 3-inch, 460,000-pixel screen, which is about an average size and resolution for the class. There are two display options available under the Power Management category, one for Power Save, which cuts the brightness and refresh rate for better battery life, and Clear Display, which significantly improves lag times for a smoother performance.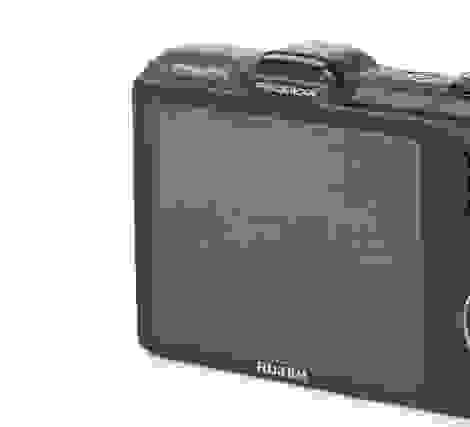 The flash is a small pop-up unit on the top-left of the camera body. This design has become common on compact-zoom cameras, with mixed user reactions. It's exactly where most photographers tend to rest their left index fingers, which can be irritating, though elevated design does allow more room in the chassis for a bigger, longer-zooming lens, and naturally reduces red-eye, too.
The F600's flash won't pop up automatically like it does on some competing models, so users will have to raise it on their own with the dedicated flash release button. That can be a good and a bad thing. It won't jack-in-the-box unexpectedly or fire inappropriately, but it also won't be able to save dark pictures with a flash when you forget to do it yourself. Your mileage may vary, but most folks with at least a bit of photographic experience will get used to it.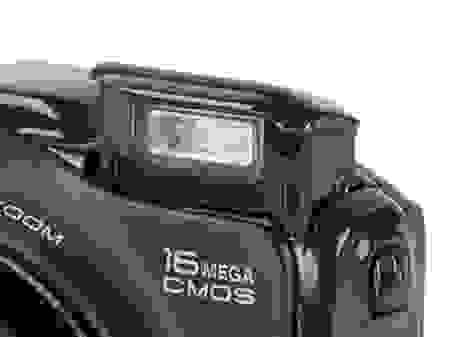 A Fujinon 4.4-66mm (24-360mm equivalent) f/3.5-5.6 lens dominates the front of the camera. An enclosure covers the lens when powered off, and automatically opens when it's powered on. At the wide-angle setting, it juts out about an inch from the slight lens barrel, and almost doubles in length at the telephoto setting. It appears to be the same lens used in the F600EXR's predecessors, the F550EXR and F500EXR.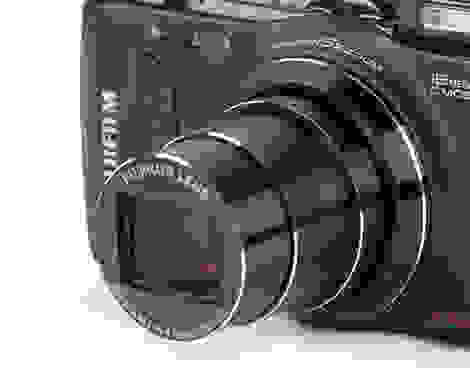 The zoom ratio is a healthy 15x, one of the longer magnification factors in a pocket-sized camera. The zoom tilter runs through the zoom range pretty quickly, from the wide to telephoto settings in under 3 seconds.
An NP-50 rechargeable lithium-ion battery pack ships with the F600EXR, the same battery used in several older F-series models. We couldn't find a CIPA rating listed in the specs, but the almost-identical F550EXR was rated for 300 shots per charge with the GPS disabled. We achieved similar results with the F600EXR during our testing period.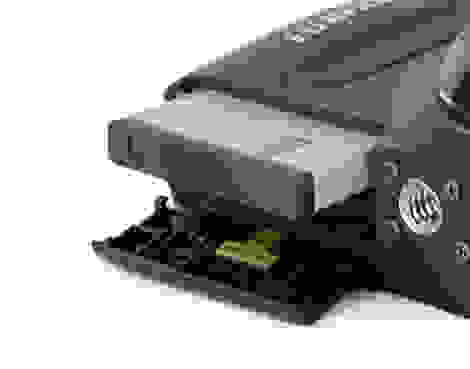 The F600EXR records to SD/SDHC/SDXC cards, like almost every other camera out there. They slide in next to the battery slot, behind a hinged door on the bottom of the camera body.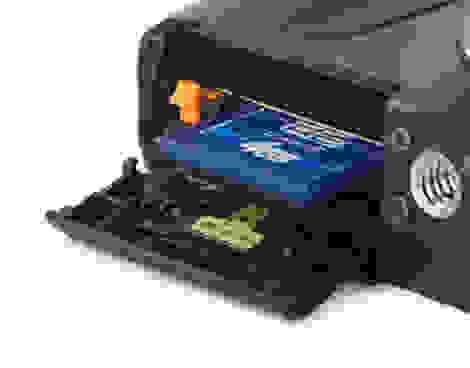 Like most pocket-sized shooters these days, the F600EXR has two simple ports that cover the important functions: A mini-HDMI output for high-definition playback on a TV or monitor, and a micro-USB jack for connectivity. Both are concealed behind a plastic flap on the side of the body.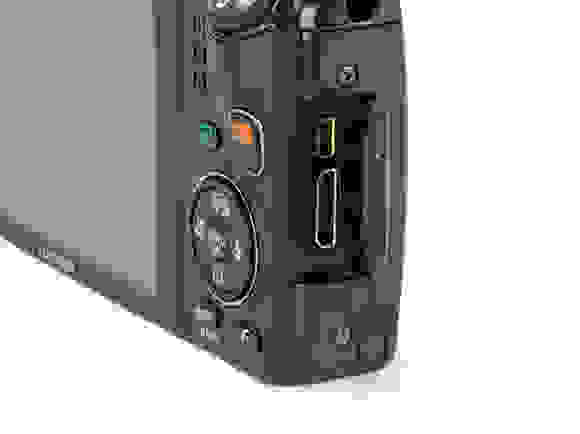 GPS
The F600EXR comes with built-in GPS for geo-tagging and landmark navigation. Like most of these small, in-camera units, it works best in open locations rather than crowded urban areas—think nature hikes, not tourist traps. However, the F600EXR is pretty good about holding a signal once you've locked on to it, so maybe you'll get lucky.
We have not fully tested the GPS functionality yet, so a more in-depth look will be forthcoming.
The F600EXR rolls with a mix of automatic, manual, and preset shooting modes. There's a standard auto mode as well as an EXR auto mode, which kicks the F600's excellent auxiliary processor into gear. This camera is almost meant to be used in EXR mode; the pictures usually turn out a bit sharper, less noisy, and more dynamic than they do in standard auto mode. PASM modes and scene presets comprise the rest of the mode dial.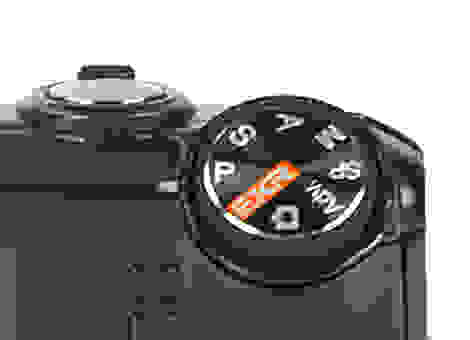 Scene Modes
21 scene modes are at your disposal, including old standbys like Portrait and Landscape as well as settings for kids, outdoor settings, indoor settings, and night shots. We're also counting Fujifilm's three Advanced modes in our count, including 360-degree sweep panoramas, soft background mode, and high-dynamic range low-light shots. It's a generous selection, and most of them should prove to be useful.
There are exactly zero effects and filters offered in the F600EXR. It doesn't sound like much of a loss, but some people do love those goofy filters. Oh well.
Like most higher-end travel zooms, the F600EXR offers a rich set of manual controls, including Aperture Priority, Shutter Priority, and Manual modes, as well as RAW image capture. It doesn't allow fine JPEG adjustments to saturation or noise reduction, though that feature is typically reserved for full-size superzooms rather than compact zoom models.
No continuous drive options are available, though the F600EXR does have a few burst modes in a few resolutions. It can crank out a quick 8 frames per second at full resolution, but unfortunately can only grab 4 frames at a time. That could be useful for shooting action scenes, but pretty weak compared to the drive modes on most competing models.
Shot to Shot ()
While it's technically fast, our timing test measures a camera's speed over 5 frames. We couldn't capture that many with a burst, so we had to run our test the old fashioned way, by capturing each individual shot separately, as quickly as possible. The F600EXR could muster slightly more than 1 frame per second, which is OK for a non-continuous, non-burst mode, but unimpressive in the context of the generally speedy travel zoom class.
All pocket-sized cameras sacrifice in-hand comfort for extra portability, and the F600EXR is no different. The slim rectangular body does have a few grip points on the right side for better leverage, including a textured bump on the front and a smaller bump on the back.
The glossy plastic finish around the edge of the camera is slippery and tough to hold on to for extended periods (and it's a fingerprint magnet, too). The buttons and dials are all positioned pretty comfortably, though, and the weight is significant for this size of camera, but well balanced.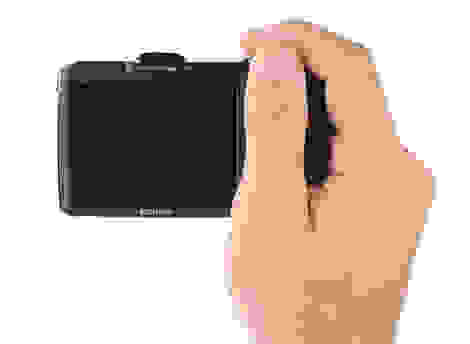 The control scheme here should look pretty familiar to anyone with a bit of digital camera experience. There's a power switch and shutter/zoom-tilter combo up top, and a handful of function buttons on the rear, including those for playback, video recording, and the F menu, Fuji's version of what most manufacturers call the quick menu. The buttons themselves should be a bit bigger and more tactile, but that's a minor quibble.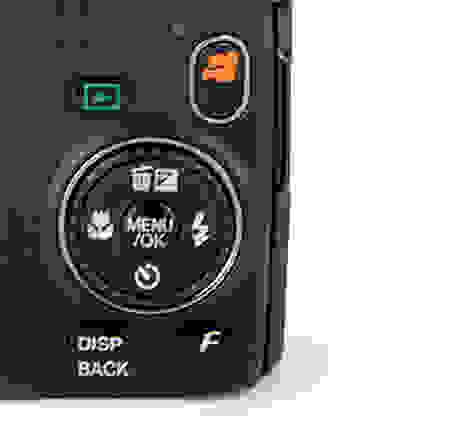 Dials are well implemented, too. The mode dial is angled toward the user and is easy to rotate with just one hand. We're always happy to see selection dials on compact cameras—more nimble than four-way pads or touchscreens. It's the single biggest asset to the navigation system. It makes it easy to cycle through large sets of photos and long menus, and also to control the aperture and shutter in PASM modes.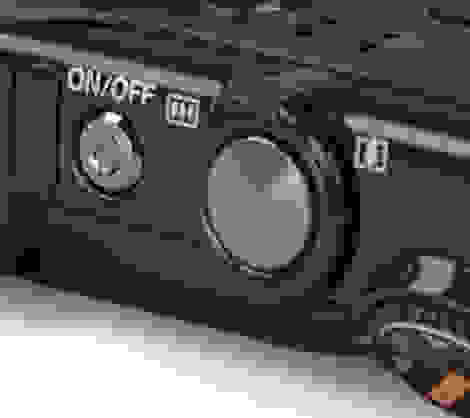 The main menu has two main tabs, one for shooting and one for setup. Some of the setup options arguably belong in the shooting menu (RAW capture and GPS control, to name two), but the layout is logical and easy to navigate thanks to the selection dial. The F menu brings up commonly adjusted settings without leaving the live preview. The options in the menu might not fit everybody's preferences and are not customizable, so it might not be useful for everyone.
The F600EXR ships with quick manuals in English, Spanish, and French, and full versions of the manual are available on a bundled CD-ROM or on Fuji's website.
Before we tested the Fuji F600EXR, the Casio ZR100 was our top-ranked travel zoom. Admittedly, we haven't tested too many of them this year yet (none from big players like Canon, Nikon, or Sony), but the Casio is still a compelling package from top to bottom. It sports a respectable 12.5x zoom range with quick performance, a bunch of useful shooting modes, and a charming feature set. Noise performance is very good, if a bit over-processed, and resolution is a touch better than the F600EXR's.
That said, it's a bit of a toss-up between the two cameras. Our official score places the F600EXR a few points behind the ZR100, but they're very evenly matched, yet will probably appeal to different types of users. The F600EXR is a bit more versatile, with a longer, 15x zoom range, more manual control (including RAW capture, sure to please the enthusiasts) and a GPS unit, if that kind of thing floats your boat. And using its EXR processing modes, the F600EXR actually earns a better overall image quality score than the ZR100.
The ZR100 stays on the top of the heap for now. It's easier and more fun to use than the F600EXR, so we'd recommend it to more casual photographers looking for a great all-in-one camera for vacations or just general use. Hands-on users will appreciate the F600EXR's added control, the likes of which are very difficult to find in a long-zoom compact.

/r:render
Panasonic basically invented the travel zoom genre and their long-zoom compacts are usually awesome. The ZS10 looks like it has a lot going for it: great construction, a long 16x zoom lens, fast performance, and hot-ticket features like a well-implemented touchscreen and GPS unit.
Unfortunately, the ZS10's picture quality is way too messy. Resolution is terrible, and while it technically earns a better noise score than the F600EXR, mid- to high-ISO photos are marred by heavy-handed noise reduction. Scores are important, but the F600EXR takes more natural-looking shots.
This is an easy call: Skip the Panasonic ZS10. The Fujifilm F600EXR does everything that the ZS10 does (and more), does it all better, and costs less, too.

/r:render
Since we haven't reviewed travel zooms this year or the year before, we had to stretch out a bit to find a third comparison for the Fujifilm F600EXR. The Olympus XZ-1 is what we call an advanced compact camera: Bigger-than-average sensor, a bright and fast lens, and tons of manual control. They're meant mainly for experienced photographers who want a pocket-sized shooter to complement a DSLR setup.
This feels like a bananas-to-pineapples comparison, but the F600EXR isn't so wildly different from the XZ-1. The F600EXR's 1/2-inch sensor is larger than any of its long-zoom competitors' 1/2.3-inch sensors; the lens is impressive (in terms of zoom ratio rather than aperture); and it shoots RAW images. Thanks to that last spec in particular, it's sure to attract plenty of attention from the enthusiast crowd.
The XZ-1 does take much sharper, cleaner pictures than the F600EXR, and thanks to its f/2.0 lens, it's a better low-light performer. The manual controls are better implemented, and the hot shoe is a nice touch too. Overall, it earned a higher score than the F600EXR. We'd recommend the XZ-1 to serious shooters just about every time, but considering that the Olympus costs $500 compared to the Fuji's $350, the F600EXR actually looks pretty darn good.

/r:render
The Fujifilm F600EXR is a well-executed travel zoom, one that a casual photographer could bring on vacation and learn to love, though it's really designed with hands-on, enthusiast shooters in mind.
Its defining characteristic is control. Several travel zooms at least offer manual control, but very few can shoot the RAW format that photo geeks demand. Even its automatic modes function at a higher level, thanks to the EXR processing. The interface could use a facelift and an assignable function key, but it's easy enough to navigate.
Full-resolution photos are clear, color-accurate, and quite detailed thanks to a smart processor. The quality improves even further using the EXR modes; we shot our official test photos with Program mode and got good results, but we also ran some tests on the EXR settings and they always returned better scores, especially for the noise marks. There's a bit of a learning curve with this camera, but it's worth it in the long run.
That curve makes us hesitate to recommend it to everyone. With two auto modes and tons of shooting settings, it might be a bit more complicated than the average point-and-shoots wants. It really doesn't have any hand-holding features, and very little of the fun extras like photo effects and filters that make compact cameras so endearing to use.
Since Fuji is taking aim at the hobbyist set, we'd love to see them try a full-bore enthusiast travel zoom. Advanced compacts like the Olympus XZ-1 and Canon G12 sometimes retail for as much as $500. The F600EXR has many of the same features as those cameras, but has a much longer zoom and a lower price tag. They could fill the gap with a small-body, long-zoom camera with a more robust control scheme and a sharper, higher-quality lens, even if they have to knock the zoom range down to 12x or 10x.
Pipe dreams aside for the moment, the F600EXR is a very solid camera. F550EXR owners don't need to bother upgrading, but it is notably faster, which is good news for prospective buyers. It won't appeal to everyone, but we heartily recommend it to enthusiast photographers who want an all-in-one, carry-anywhere camera.
Meet the tester
Liam F McCabe
Managing Editor, News & Features
@liamfmccabe
Liam manages features and news coverage for Reviewed.com. Formerly the editor of the DigitalAdvisor network, he's covered cameras, TVs, personal electronics, and (recently) appliances. He's a native Bostonian and has played in metal bands you've never heard of.
Checking our work.
We use standardized and scientific testing methods to scrutinize every product and provide you with objectively accurate results. If you've found different results in your own research, email us and we'll compare notes. If it looks substantial, we'll gladly re-test a product to try and reproduce these results. After all, peer reviews are a critical part of any scientific process.
Shoot us an email