Whereas last year's HS20EXR sat atop Fuji's superzoom lineup, the HS30EXR is the lesser of the two enthusiast-baiting bridge cams offering RAW capture. It falls beneath the premium X-S1 model, which we previewed last week.
We spent some time with the HS30EXR on the showroom floor at CES 2012. Honestly, the HS30EXR hasn't changed much at all from its predecessor. But with the truly high-end X-S1 in the mix, its place in the market isn't as clear, so we decided to give it a fresh preview, mainly as a way to compare it to its bigger, more powerful cousin. It might help to open up the X-S1 preview in a separate tab, and read our first impressions side-by-side.
The HS30EXR looks like a typical bridge camera—a small DSLR, basically. It has a big body coated in black rubber, a large lens, lots of buttons and dials for a serious appearance, and a large grip for handling. It's almost identical to last year's HS20EXR; the only immediately notable difference is a roomier footprint for the new, more powerful pop-up flash.
It's chunkier than peers made by Canon, Panasonic, or Sony, but they're all in the same weight class. It's considerably smaller than the Fuji X-S1, its more powerful and expensive cousin.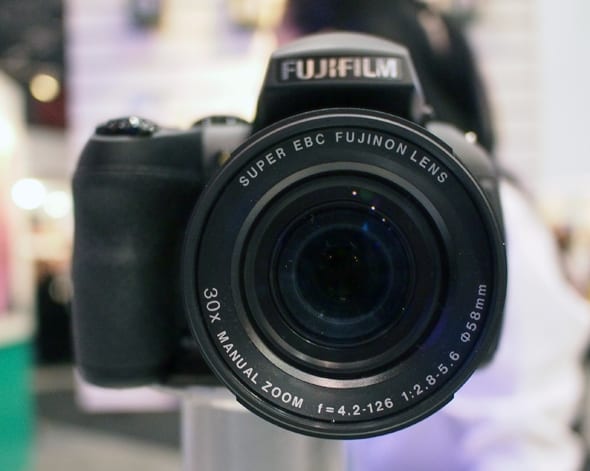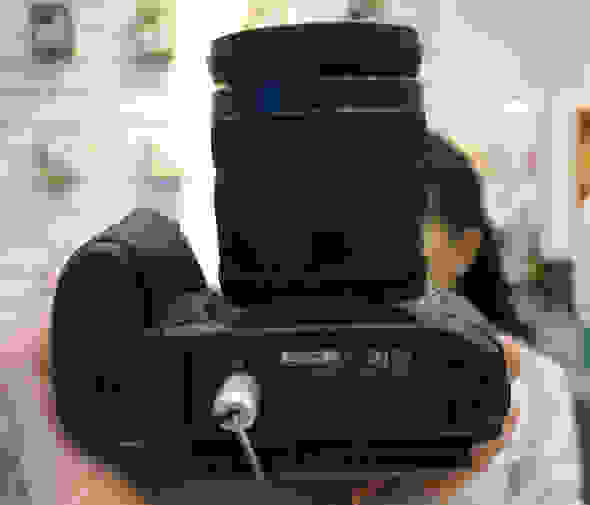 The menu system is standard Fujifilm issue, similar to the one found in the HS20EXR and X10, and nearly identical to the X-S1. The key difference compared to previous models is that playback-related menus are now indicated by green tabs now, while shooting menus have red and setup menus have blue.
The main menu is tiered by category (shooting, playback, and setup), with multiple pages in each category. Scrolling through the menu can take a while, but the options are grouped logically, which helps.
There's no quick menu or function menu available, since there are direct-access keys for white balance, ISO, autofocus, auto exposure, and drive mode among others, plus an assignable function key. All those buttons combined can cover the most commonly adjusted settings, so one extra "light" menu would probably be redundant. The access-heavy scheme should keep most users out of the half-clumsy main menu system anyway.
The HS30EXR works just like the HS20EXR, and by extension, the X-S1. It offers more hands-on control than most superzooms, but isn't quite as nimble as most DSLRs. Auto mode was pretty fast and reliable on the showroom floor. Fuji claims that the HS30EXR has faster autofocus than the HS20EXR; they made a similar claim about the F600EXR travel zoom being faster than the F550EXR, and we found that to be true based on some non-scientific tests. It also offers EXR Auto mode, like most higher-end Fujis do. The camera automatically chooses one of the alternative processing modes, and it's just as easy to operate as regular auto mode.
But with all of its buttons and menu options—not to mention proper aperture and shutter priority modes and full manual exposure—it's probably too intimidating for novices and even casual users, and its potential will go unused if it's left in auto mode; this is really designed for folks with some photography experience.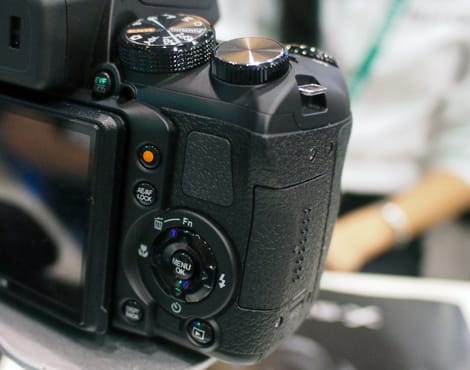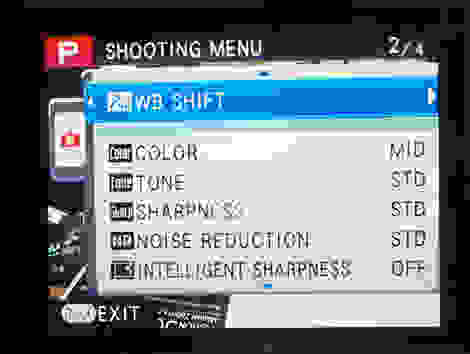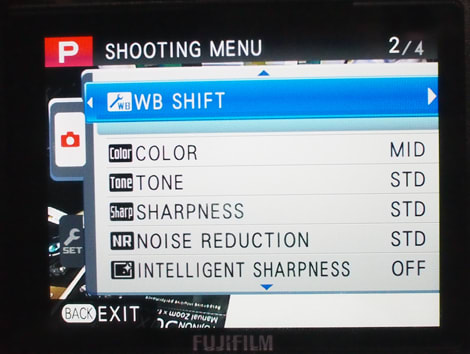 Since it's modeled after a DSLR, the HS30EXR handles well. Comfortable contours and weight distribution made it easy for us to hold with one hand while we shot product photos with the other.
It's a bit larger than most superzooms (and even the Pentax K-r entry-level DSLR), and almost exactly the same size and weight as last year's HS20EXR. But Fujifilm makes good use of the extra real estate. A large handful of direct-access keys populate the rear panel, mostly gathered in a column to the left of the LCD, DSLR-style. That's more hands-on control than Panasonic and Canon's top-rated bridge cameras offer. It's even more helpful on this camera, because it gives users a way to stay out of the improved, but still somewhat clunky menu system.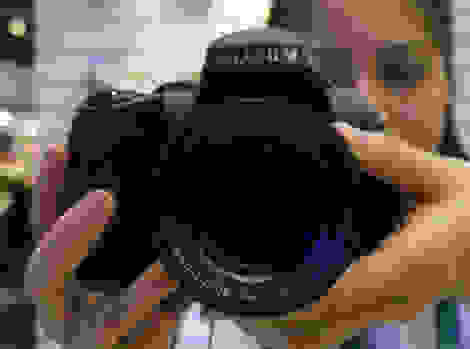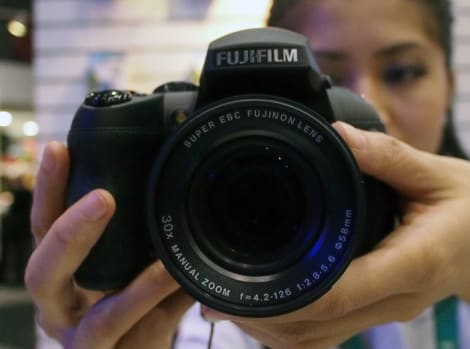 The HS30EXR offers manual (PASM), automatic, and preset scene modes, as well as specialty (or "advanced") modes like a 360-degree sweep panorama and multi-shot composite modes. Fuji's usual Film Simulation color modes are on offer as well, including Provia (standard), Velvia (vivid), and Astia (soft), alongside monochrome and sepia modes.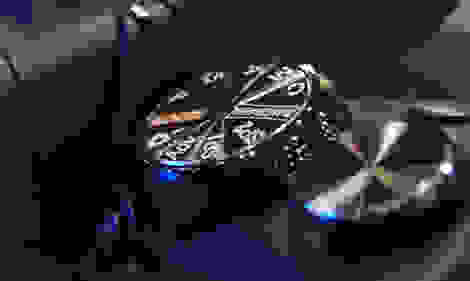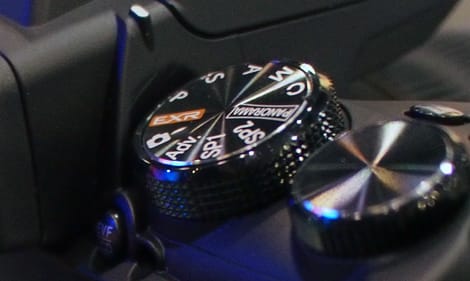 Like many higher-end Fujifilm models, the HS30EXR has a standard auto mode and the more exotic EXR auto mode, which selects one of the camera's alternative capture and processing techniques. We've found with other mid- to high-end Fujifilm cameras that EXR mode is the best way to approach automatic shooting when it's available; the shots generally turn out cleaner, sharper, and with a more balanced dynamic range than they do out of the standard auto mode, and they never look worse.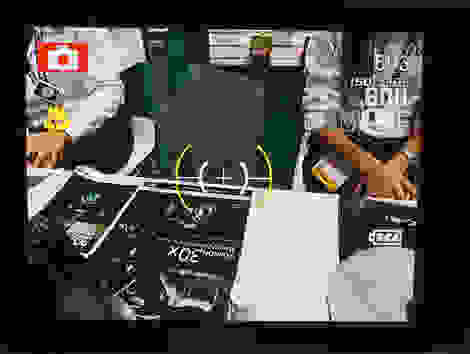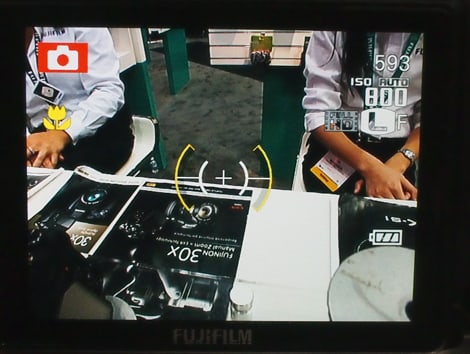 The HS30EXR shoots 1080p/30fps, 720p, and VGA video clips. Movies feel like a tacked-on feature—one that's there because cameras are expected to have video, not because it's really meant to work as a standalone video camera. That's pretty typical of Fuji cameras. Clips can't be edited, and autofocus seemed to have trouble adjusting to moving objects (or a shifting focal length) after the initial focus lock. Optical zoom works, obviously, because the zoom mechanism is controlled manually with a twist barrel.
According to the spec sheet, the HS30EXR can crank out 8 full-res frames per second, and 8fps at half-resolution. There are a few slower burst options available, as well as several bracketing modes for exposure, ISO, color mode, and others.
One custom image preset is available, holding down a notch on the mode dial.
The playback mode is familiar fare for Fuji EXR users. A dedicated playback button sits in the bottom-right corner. The ISO and AE buttons on the left-hand control column adjust the playback zoom, and can zoom out to multi-photo views (though no calendar mode). The command dial cycles through large sets of photos quickly. Basic in-camera edits like cropping and resizing are possible as well. Images can be tagged for upload or printing, and there's a photobook assist mode as well. The biggest tweak to the system is that playback menus are designated by a green tab at the top of the screen (as opposed to the red and blue tabs for shooting and setup menus, respectively).
Resolution maxes out at 16 megapixels in a 4:3 aspect ratio. Three different sizes—L, M, and S (take a guess at what those stand for)—are available for each of the three supported aspect ratios, which also include 16:9 and 3:2.
Sure to please the enthusiasts out there, the HS30EXR can shoot RAW format photos. Two JPEG quality levels (Basic and Fine) are offered, as is RAW+JPEG simultaneous capture.
Since it's basically an overpowered point-and-shoot, the HS30EXR uses contrast detection autofocus. It supports single and continuous modes, with framing including center, multi-area, tracking, and face detection.
Fuji advertises an AF speed of just 0.16 seconds, which is said to be quicker than it was on the HS20EXR. The HS30EXR did seem pretty quick on the showroom floor, faster than we remembered its predecessor being, but that's a totally non-scientific comparison.
Manual focus also gets some support, with a lens ring dedicated to the cause. But as usual with most superzooms, MF is more of a novelty than an effective tool. The electronic viewfinder isn't quite sharp enough to make MF immediately comfortable. There is a snap-to-AF feature built in as a backup, though.
Aperture runs from f/2.8 at the wide angle (f/5.6 at the telephoto setting) up to f/11 (at any focal length), adjustable in 1/3 EV steps. Shutter speed ranges from 1/4000 to 30 seconds.
Exposure compensation is adjustable to +/- 2 EV in steps of 1/3. Multi, spot, and average metering modes are supported.
The native (full-res) ISO range stretches from 100 to 3200, including auto ISO caps. A few reduced-resolution settings are available: up to 6400 at medium, and a crazy ISO 12800 at small.
White balance has a direct-access key at the bottom of the left-hand control column. There's one custom setting, an auto mode, and several presets including sun, shade, three fluorescent settings, and incandescent lighting.
Sensor-shift stabilization helps to keep shots steady, but as with any camera with such a long telephoto setting, a tripod might be a good idea.
There are no "fun" effects or filters to be found. But there are a few color modes, known here as Film Simulation, referencing classic Fujifilm brands like Provia, Velvia, and Astia. Fine adjustments are also available for color, tone, and sharpness.
As mentioned above, color, tone, sharpness, and noise reduction are all adjustable, and there's a WB shift feature as well.
It's called a superzoom for a reason: The HS30EXR has a huge 30x zoom lens slapped on the front (24-720mm equivalent, f/2.8-5.6). It appears to be the same lens as the HS20EXR (and for what it's worth, that camera didn't earn particularly great sharpness or aberration scores in our lab test). A manual twist-barrel controls the focal range, giving it a more high-end, hands-on feel than the electronic lens controls on most superzooms.
Also like last year's model, the HS30EXR is built around a 16-megapixel, 1/2-inch EXR CMOS sensor. It's slightly bigger than a typical 1/2.33-inch point-and-shoot sensor, though not by much. Fuji says that they've made some tweaks from last year's edition, though we'll have to get it into our labs to see if it's really changed much.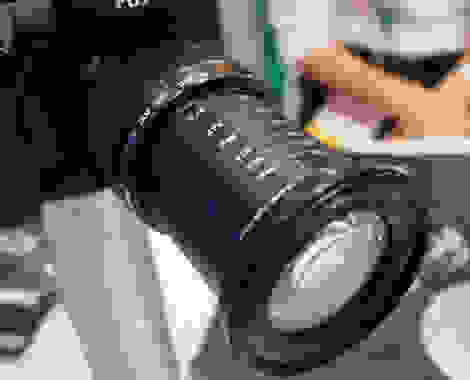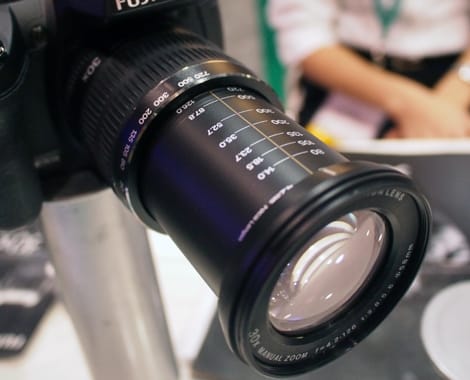 A 3-inch, 460,000-pixel, hinged LCD complements the EVF. The tilt can come in handy for shooting at high and low angles. It's basically the same screen as the HS20EXR had, but Fuji's rep tells us that it's a little bit brighter this time.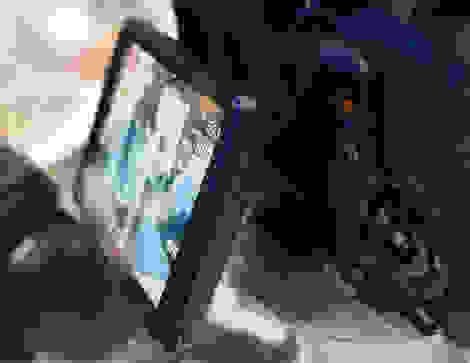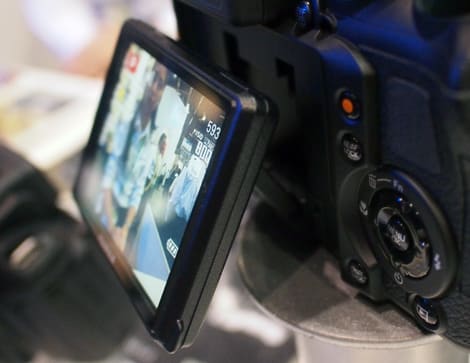 Fuji equipped a 920,000-pixel electronic viewfinder, complete with an eye-level sensor and diopter adjustment. That's above-average quality for an EVF, though not as crisp or smooth as the EVF on the X-S1, and still not as clean as an optical viewfinder.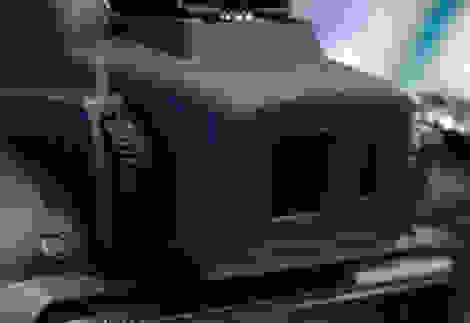 The flash pops-up from the crest of the camera. Its effective range has doubled compared to the HS20EXR, out to about 25 feet (according to our rough meters-to-feet calculations). External flashes can attach to the hot shoe as well.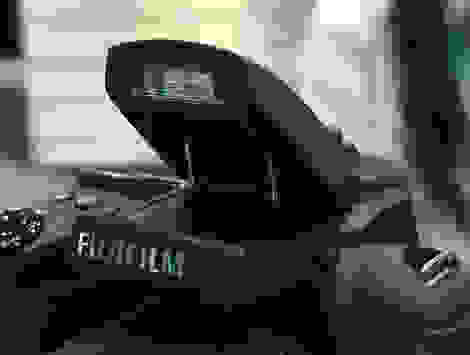 USB and mini-HDMI ports are available, as is a remote hookup.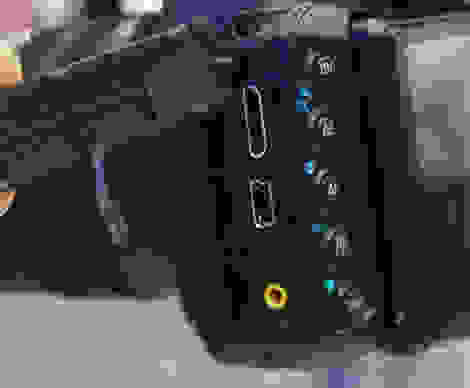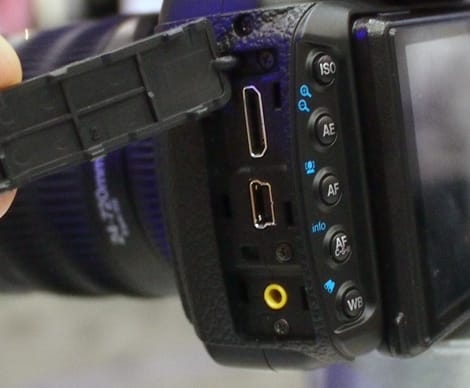 The HS30EXR runs on a rechargeable lithium-ion battery—most folks would consider it an upgrade over the HS20EXR's AA battery power. It's rated for an impressive 600 shots per charge, which is a lot of shots by superzoom and even entry-level system-camera standards. The battery compartment is inside the grip, covered by a door on the bottom of the camera.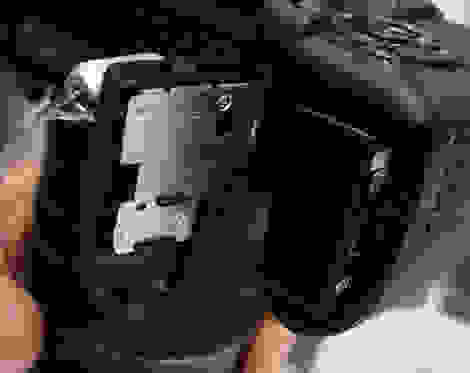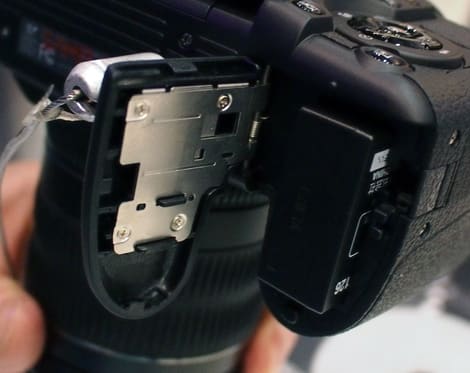 Any run-of-the-mill SD/SDHC/SDXC card will work with the HS30EXR, sliding into a slot on the right side of the body.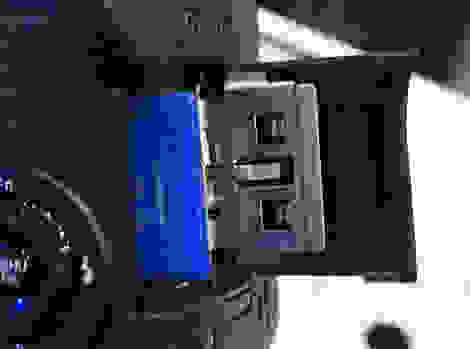 As mentioned, the HS30EXR has a hot shoe accessory port for external flashes or any number of other accessories.
The Fujifilm HS30EXR is one of the most advanced superzooms on the market, thanks to a rich control scheme, RAW capture, and its EXR processing modes. It would be the superzoom with the most immediate enthusiast appeal—if it weren't for the presence of its own more powerful cousin, the X-S1.
Its predecessor, the HS20EXR, had some flaws, but some enthusiasts put up with it because it was a versatile, all-in-one bridge camera that handled like a DSLR—the closest you could get to a serious feel without spending thousands on a big bag of lenses to match the focal range.
Now the X-S1 is around to fill that gap. It's hard to see how the X-S1 could fall short of the HS30EXR, and we're guessing that it's the type of high-end bridge camera that a lot of HS20EXR buyers actually wanted. It makes the HS30EXR's place in the marketplace fuzzier than it would've been last year. And since the two HS models are so similar, there's no clear reason for happy HS20EXR owners to drop another $500 on the new version.
There's still a lot to like about the HS30EXR, the enormous zoom range and the variety of shooting modes and controls among them. It's also a full $300 cheaper than the X-S1. And if Fuji made significant changes to the sensor like they said they did, we might end up being pleasantly surprised by the image quality when we get it in for a test. But it's going to be a steep climb for the HS30EXR to get much attention in 2012.
Meet the tester
Liam F McCabe
Managing Editor, News & Features
@liamfmccabe
Liam manages features and news coverage for Reviewed.com. Formerly the editor of the DigitalAdvisor network, he's covered cameras, TVs, personal electronics, and (recently) appliances. He's a native Bostonian and has played in metal bands you've never heard of.
See all of Liam F McCabe's reviews
Checking our work.
We use standardized and scientific testing methods to scrutinize every product and provide you with objectively accurate results. If you've found different results in your own research, email us and we'll compare notes. If it looks substantial, we'll gladly re-test a product to try and reproduce these results. After all, peer reviews are a critical part of any scientific process.
Shoot us an email