There are a few great features for the beginner like the Natural Light and With Flash function, as well as Smile Detection and Image Stabilization. The idea here is simplicity, and Fuji hits the mark with the JX580, selling this February for $119.95 in black, red, and blue.
With the , you get a small rectangle with rounded edges and an LCD screen that takes up most of the back panel of this camera. There are only a few buttons on the back panel and just one on top: the shutter release. According to the most recent press release, this model will ship in black, red, and blue, but we've seen quite a few more colors in promotional pamphlets like purple, pink, silver, and gold.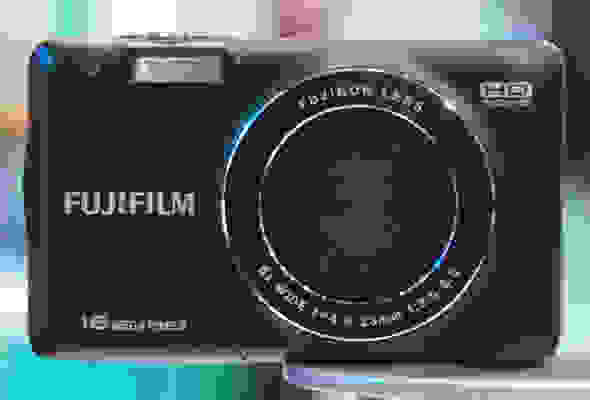 The menu has only a few pages covering options like white balance, image size, and ISO. These options are usually set to auto, so most of the menu is grayed out unless you are in program mode. All options are well labeled and obvious, navigation should be a breeze using the directional pad on the back.
Almost all of the buttons are on the back of the camera, just where your thumb rests. The buttons are large and well labeled, but control limited functionality.
The shutter button on top is the only other button available. Fuji did a good job making it easy to tell the difference between a half push and a full push, indicating autofocus and taking a picture respectively.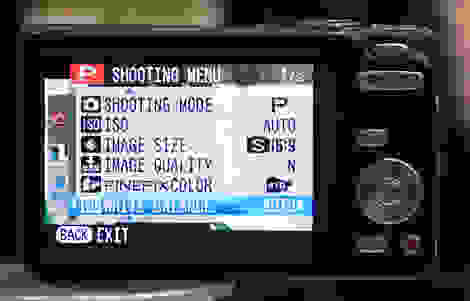 The is 3.7 inches in width, 2.2 in height, and only 0.8 inches thick, weighing about about 120g. It's a small model, not the thinnest on the market, but it feels very light. The weight did not save it from being slightly uncomfortable to hold. With no contouring, finger groves, grips, or protuberances, you have to get a weird claw-like grip on the casing. Yes, the thin rectangular nature of the makes it great for slipping into a pocket, but prolonged shooting may cause some hand cramps.
Depending on your hand size, two hands on this small point-and-shoot can be overkill, crowding the lens and the LCD screen. The right hand holding the , resting at neutral, has access to all of the buttons with very little movement.
The collection of buttons are metallic and can be a little hard, but they depress with a satisfying click to let you know they are working. The shutter button needs to be pushed down sternly to engage, which helps activate the autofocus function before you take a picture.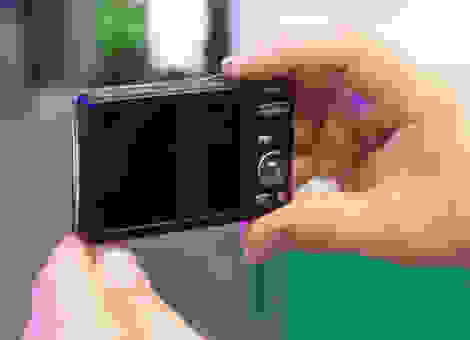 In the menu, you can switch modes between auto, program, movie, and SR Auto, where the camera identifies the scene and subject in your frame and adjusts the settings accordingly.
You can switch between regular auto mode or the SR Auto mode. SR Auto gives more precedence to scene types than just the ambient light right in front of the sensor.
The allows for 720p HD video recording at 30fps. You can also bump the resolution down for smaller file sizes and therefore longer movies. 480p and 240p are the other sizes. The optical zoom continues to work in movie mode, but the sound will not record while you zoom.
There is a red record button on the bottom right side of the back of the camera that will start recording video. This functionality allows you to start recording video right away, instead of switching modes in the menu, which can take time.
It is possible to set the to do continuous shooting in bursts of three full resolution pictures. You can turn this option on and off in the menu.
Pushing down on the directional pad brings up the self-timing options, with a few different settings.
Pushing the green playback button above the directional pad brings up the photos you have taken. You can see them one at a time, in a grid of nine, or all of them at the same time, though we had limited success using this function at CES.
Pictures can be recorded in L,M, and S formats. In the L format, you may choose from 4:3, 3:2, and 16:9 aspect ratios, and only 4:3 or 16:9 in M and S formats. The resolution sizes range from 4288 x 3216 to 1920 x 1080.
The Natural Light & with Flash function can be selected in the menu and takes two photos in rapid succession, one with flash and one without. The idea is to remove the guesswork about which situations to use flash. If you go to the playback screen, you will have two similar photographs, recorded with different lighting so you can choose which one looks best.
Many users will enjoy the panorama function. If you select this mode in the menu, you merely press the shutter button and sweep the camera over a scene and the will stitch three photos together for a panoramic shot. On the CES show floor, we tried this and discovered that it was a bit more difficult than advertised. With some practice, and the user manual handy, panoramic shots should be easy to accomplish.
Other features include face and blink detection, which intend to optimize exposure and focus settings for portrait photography.
This point-and-shoot has no manual focus to speak of, but the autofocus works in all modes: continuous, movie, and SR Auto mode. At the Fujifilm booth, we tested the autofocus and it seemed to work quickly and accurately. Just how quickly and accurately we shall see, if we get a chance to test this model back in the labs.
There is only one way to expose photos on the : Auto. With only our subjective judgement to go on, we tested the autoexposure ability of this camera and found it to be decent. Pictures could be a little dark at times, and adding flash could blow it out rather than correct the problem.
Exposure compensation could be set +/- 2, with 1/3-step increments. Exposure control is non-existent on this entry-level Fuji, employing TTL 256-zone metering all the time.
You do not have access to aperture or shutter priority modes, but you can change the aperture from f/3.5 to f/8 in wide angle, and up to f/15 when fully zoomed in using the ND filter.
ISO defaults to Auto, but you can change it in the menu from ISO 100 to ISO 1600. You can get up to ISO 3200 but you must change the image size to S. There is no ISO limiter available in the menu.
Like ISO, Auto white balance is the default, but you can choose from a list of preset lighting situations: Fine, Shade, Fluorescent light (Daylight), Fluorescent light (Warm White), Fluorescent light (Cool White), Incandescent light. With no Custom setting, you cannot directly affect the Kelvin temperature.
Not our favorite, this Fuji employs a digital stabilization method rather than an optical one. Digital stabilization attempts to digitally remove blur after a picture has been taken rather than using a gyroscopic optical sensor to match the motion at the moment of photo capture. We took a look at the stabilization on the CES floor, and it works just fine considering the only has a 5x zoom from which to correct shaky pictures.
In SR Auto mode, there is a list of preset scene options, like Natural Light, Portrait, Baby, Smile, Landscape, Panorama, Sport, Night, Night (Tripod), Fireworks, Sunset, Snow, Beach, Party, Flower, Text. These scene modes are about the most user control you can expect from the .
The uses a 5x zoom, FUJINON optical lens with a 1/2.3-inch CCD image sensor. The sensor size is good for this type of camera, but we always prefer a CMOS sensor to a CCD. This is the same lens and sensor from last year's model.
The LCD screen seems to be the only improvement that Fuji made on this years JX series, increasing the total screen size from 2.7 inches to a full 3-inch screen. However, we also noticed that though the screen is larger, it has the same resolution, using 230,000 dots just like it did last year.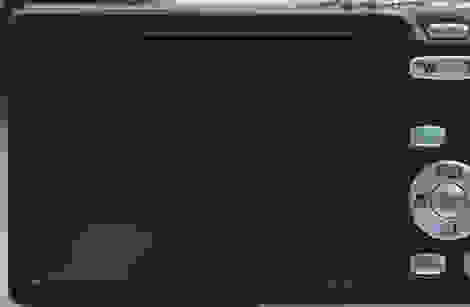 In normal mode, the flash is effective up to 14.7 feet, and 2.6 feet in macro mode. There are a couple different flash modes, easily accessible by hitting right on the directional pad: Auto, Forced Flash, Suppressed Flash, and Slow Synchro.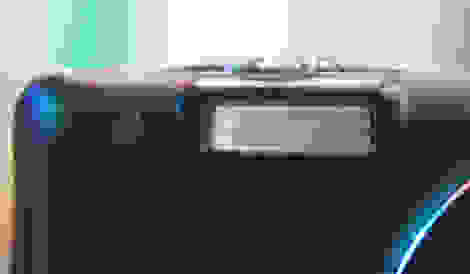 There is just one proprietary port on the bottom of the . Unfortunately, this port is not covered by anything. The port is open to the air and elements, making it very vulnerable in a travel setting. You will probably want to get a case for this little guy. But if the idea is that this camera is perfect for your pocket, we are unsure how sustainable such casual care would be, considering the singular, uncovered port. This port uses an included cord to connect via USB to a computer.

The uses an NP-45A rechargeable Lithium-ion battery. You can only get about 170 shots in auto with a fully charged battery. If you are traveling, you should look into getting an extra battery so you do not have to stay so close to an outlet.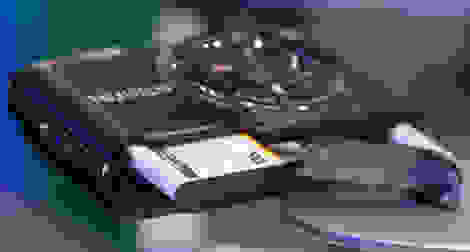 There is no internal memory on this point-and-shoot so you will need a memory card. You can choose between an SD, SDHC, or SDXC card to record your files.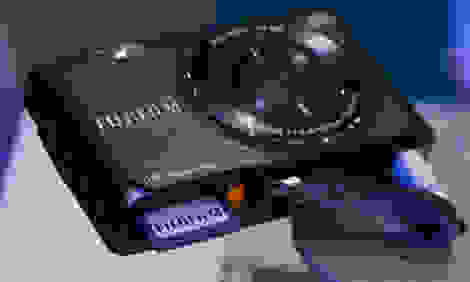 The is a very basic Fujifilm camera, with hardly any additions to the JX550 from last year. This camera is designed for supreme simplicity, offering large 16-megapixel photos, 720p HD video capture and a 5x zoom.
We like the ease of use on this camera designed for beginners. If you want a one-button kind of camera, and have no preference for how it functions or inserting your own artistic twist, the could be for you. We cannot emphasize basic enough with this model.
If, on the other hand, you want some user control, a high-quality CMOS sensor, a better grip, or a stronger zoom, you have to look at other models. Intermediate camera users will be bored with the and should consider a modified bridge Fujis like the F770.
It's possible that these massive 16-megapixel photos have some points of quality as well as a huge file size, but at this price point, we don't expect to see great color accuracy when we test it in our labs. The is available in black, red, and blue this February for $119.95.
Meet the tester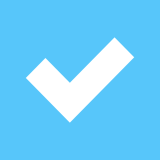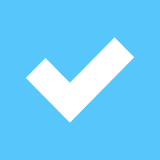 Christian Sherden
Staff Writer
@
Christian Sherden is a valued contributor to the Reviewed.com family of sites.
Checking our work.
We use standardized and scientific testing methods to scrutinize every product and provide you with objectively accurate results. If you've found different results in your own research, email us and we'll compare notes. If it looks substantial, we'll gladly re-test a product to try and reproduce these results. After all, peer reviews are a critical part of any scientific process.
Shoot us an email