Generally speaking, you get what you pay for with these low-cost long-zoomers. Recent S-series cameras have performed like cheap point-and-shoots that happen to have long lenses slapped onto the front.
From what we saw of the S4500—announced at CES 2012, but seen here on the CP+ tradeshow floor—the pattern is holding up for another year. If you're still interested, read on for our first impressions.
Like most superzooms, the S4500 looks like a smaller version of a DSLR. To the novice's eye, it looks like a serious camera with its over-sized grip, big lens, and assorted buttons and dials on the rear panel. After a few moments of using it, it's pretty obvious that it's a cheap camera in big-boy pants. The design is virtually unchanged from last year's S4000.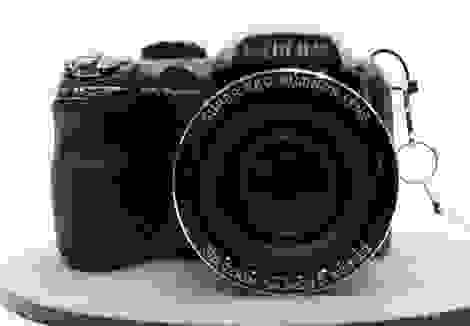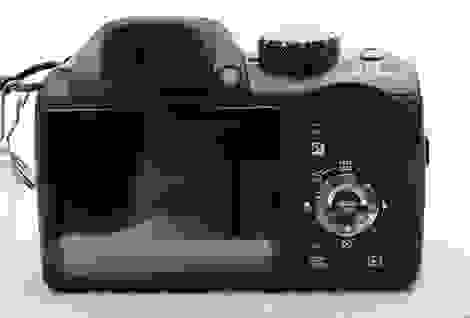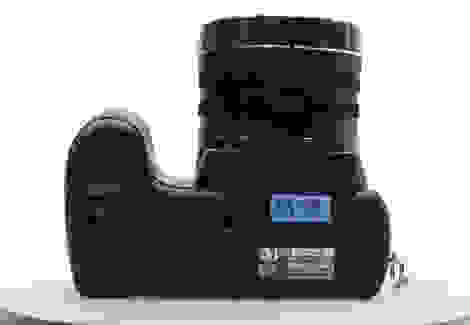 The menu system is identical to what lower-end Fuji cameras have been using for years now—somewhat clunky, but it gets the job done.
It's broken into shooting settings and system settings. ISO, white balance, exposure compensation, and others can be found in the shooting menu. There's also a quick function "F" menu available with options like ISO, color mode, and photo size. Scrolling through the menu is done with the four-way pad. A selection wheel is always better, but the d-pad is fine.
Aesthetically, the menu system could use a redesign. It's low-res, the fonts are ugly, and it's pretty unresponsive. Fuji's higher-end X-series cameras have a much better system, so hopefully Fuji sees fit to have it trickle down the lineup soon.
In Auto or Scene Recognition Auto modes, the S4500 is very easy to use. It has a few more on-camera buttons and dials than an entry-level camera would, so it could look intimidating to some entry-level users. But in practice, it's a simple camera. The electronic viewfinder makes it easy to use in bright daylight too.
A full selection of manual controls are available as well, including standard program, aperture priority, shutter priority, and manual exposure modes. We sort of doubt that serious users will spend much time with this camera, but these modes can serve as a convenient way for casual users to experiment and learn the basics of hands-on control.
There are also a few neat extra features to help users take advantage of the S4500's functions more readily. The instant zoom function could come in handy. It can track a subject at a regular wide-angle view, and with one button press, zoom on the target instantly for a close-up. A zoom-bracketing function is available—three shots at different zoom settings. Unfortunately, both of these features use digital zoom rather than the camera's ample optical zoom, so the photo quality won't be as sharp as it could be.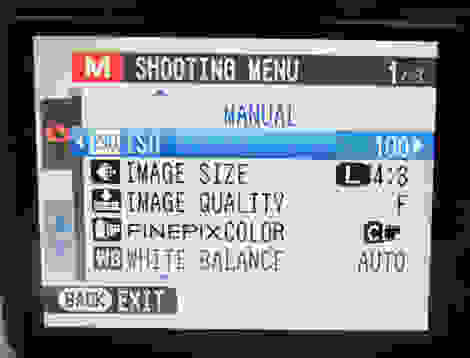 As a full-sized superzoom, the handling is pretty good. The grip is a nice shape, and the camera feels well-balanced on the whole. The thumb rest on the back panel provides enough leverage for comfortable one-handed shooting. The grip is surprisingly satisfying. But overall, the body feels cheap and plasticky. It doesn't feel like it's made to last, and might crap out after a few accidental bumps.
Size-wise, it's the same as last year's S4000. It's smaller than Fuji's HS-series superzooms, and about on par with high-end Panasonic, Canon, Nikon, or Sony models.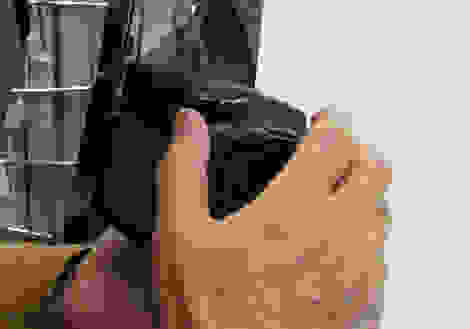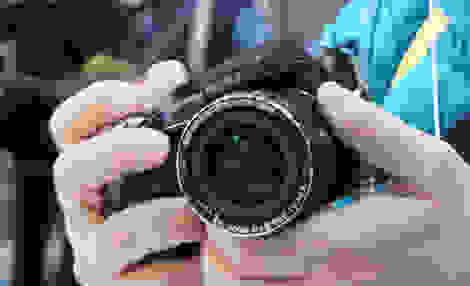 The mode dial on the top of the body holds most of the S4500's available shooting modes. They include: a regular Auto mode for most shooting purposes; Scene Recognition Auto, which "selects the ideal settings" for a shot, so we're not sure how that's different from regular Auto; Scene Position which lets the user select a scene preset; Motion Panorama in-camera panorama stitching; Movie mode; a Custom setting; Manual Exposure; Aperture Priority; Shutter Priority; and Program AE modes.
Regular Auto mode is a point-and-shoot affair, with little user input aside from photo size. Scene Recognition Auto (SR Auto) meters the scene, then chooses from the following shooting modes: Portrait, Landscape, Night, Macro, Night Portrait, or Backlit Portrait. Again, we don't see why regular Auto mode wouldn't just do this already.
Movie mode maxes out at 720p high-def clips at 30fps. Standard-def and small modes are also available. Audio is recorded with a built-in mono microphone.
Fuji didn't provide any info on a burst mode, and we couldn't find one in the menu system. Since it's built around a CCD sensor, we expect this camera to be pretty slow. It does have a timer though, if you count that as a drive mode.
The S4500 has one custom image preset available on the mode dial.
Playback mode is standard fare for Fuji point-and-shoots. See our notes on the S4200 for more.
Resolution maxes out at 14 megapixels in a 4:3 (standard) aspect ratio. It can also shoot in 16:9 and 3:2 ratios. Large, medium, and small sizes are available in all ratios.
Motion Panorama
This is not a press-and-sweep panorama feature, as a lot of cameras feature these days. It's a panorama assist mode that helps you take three side-by-side shots with a "ghosting" guide, then stitches the shots together in-camera.
A handful of autofocus modes are available. Single and multi-point modes are supported. There's a tracking AF feature, as well as single or continuous modes. Normal, macro, and 2cm macro focal ranges are available too. Manual focus is not supported as far as we could tell.
The aperture range is f/3.1 (W) - 5.9 (T) / f/8. With an ND filter attached, it can reach f/20 at the telephoto setting. Fuji hasn't provided specs on the shutter speed, and we forgot to note them from the showroom floor. Both aperture and shutter speed can be controlled by the user in manual exposure, aperture priority, or shutter priority modes. Exposure compensation ranges from +/- 2 EV in steps of 1/3.
Full-resolution ISO settings range from 64-1600. It can be set automatically, or by the user. ISOs 3200 and 6400 can be reached at small resolution, but in our experience, these settings will produce some pretty crummy-looking photos.
White balance can be adjusted in the shooting menu (not the quick function menu, unfortunatey). Auto white balance is available, as are a bunch of presets including Fine, Shade, Fluorescent Light (Daylight), Fluorescent Light (Warm White), Fluorescent Light (Cool White), and Incandescent Light. There's a custom setting as well, and it even allows a direct Kelvin temperature entry.
As any camera with a 30x zoom range should, the S4500 has hardware-based image stabilization of the sensor-shift variety.
A heap of scene-specific shooting modes are available, including typical modes likes Portrait, Landscape, Night, Macro, Night Portrait, and Backlit Portrait, as well as more interesting options like Zoom Bracketing, Text Mode, and Baby Mode, for taking pictures of little rascals. The S4500 doesn't have any filter effects available in-camera.
The S4500's lens and sensor combo is the same one that last year's S4000 used. The chip is a 14-megapixel, 1/2.3-inch CCD sensor—typical for a point-and-shoot—backing up a 30x-zoom, 24mm wide-angle lens. We don't expect anything great out of either component, but they'll get the job done, and honestly, it's still pretty amazing to get such a huge zoom range for under $300.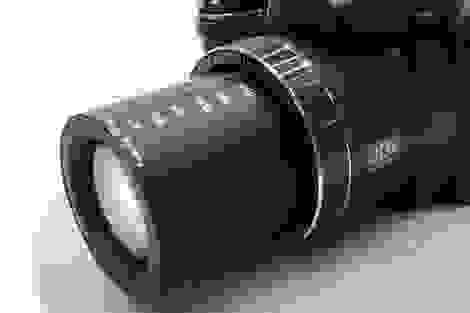 The LCD is decently large, at 3 inches, but the resolution is a lowly 230,000 pixels. That's actually a downgrade from the 460,000-pixel screen on last year's S4000. We're told that the screen is a bit brighter than last year's model for easier viewing it direct sunlight, but we'd probably just use the EVF in that case anyway.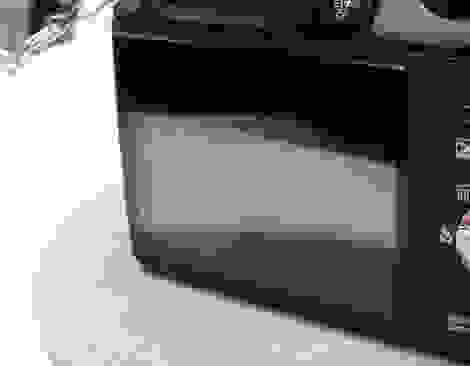 There is a built-in electronic viewfinder, which is great for keeping the camera steady and shooting in bright sunlight. It's a 0.2-inch, 200,000-pixel, color LCD with about 97 percent frame coverage. It's small and low-res, and the eyepiece isn't particularly comfortable, but it's better than nothing.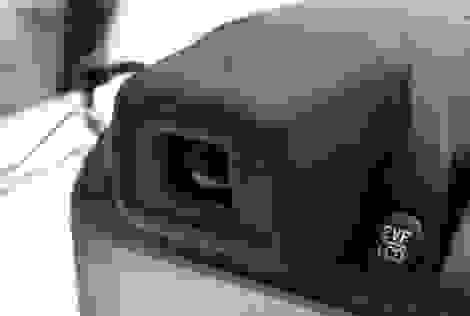 The flash pops up from the crest of the camera. We don't have any specs on the effectiveness, and it was too bright on the showroom floor to get a feel for how powerful it was.
There is a red-eye removal setting available, as well as a two-for-one mode that shoots one shot with the flash, then another without the flash but with a higher ISO sensitivity. It can't hurt, but this camera won't be able to handle higher ISOs very well, so its effectiveness will be pretty limited.
A mini-HDMI port and a double-duty USB and A/V port are concealed beneath a rubber flap on the side of the camera. This is a common combo these days.
The S4500 runs on 4x AA batteries. It ships with 4 alkaline cells, which should get about 300 shots. Ni-MH or lithium batteries will bump up the lifespan to 500 or 700 shots, respectively. We always recommend investing in a decent set of rechargeable batteries.
Surprising nobody, the S4500 records to SD/SDHC/SDXC memory cards. SDXC support is new this year.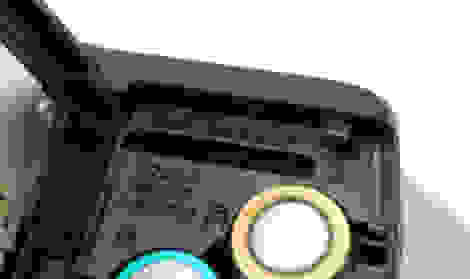 For at least the past few years, Fujifilm has flooded the market with superzooms, including a few higher-end models and a few, let's say, budget-ready models. This year's S4500 is one of those budget models, packing a 30x zoom range into a $269 body.
Therein lies the camera's entire appeal. Who cares if it feels cheap, won't take great pictures, and lacks a lot of the extra features that the market has come to expect from higher-end superzooms? That magnification is enormous for a camera that costs less than $300. Of its immediate siblings—the 24x S4200 and the SL300, which runs on a rechargeable battery and sports a hotshoe—the S4500 is probably the best bet based on specs alone if you're looking for a cheap Fuji superzoom. And if history is any indication, the price will drop a lot more as the year goes on.
Experience also tells us that some users will buy this camera thinking that they're getting a real solid piece of machinery, when that's simply not the case. It'll do a suitable job of shooting youth sports or wildlife on bright, sunny days, but it'll still miss those shots sometimes, and it'll struggle mightily in challenging lighting conditions.
We're curious to see how it actually performs in our lab tests, though we don't expect to be impressed. It's still very cool to have such a huge zoom range available at this price.
Meet the tester
Liam F McCabe
Managing Editor, News & Features
@liamfmccabe
Liam manages features and news coverage for Reviewed.com. Formerly the editor of the DigitalAdvisor network, he's covered cameras, TVs, personal electronics, and (recently) appliances. He's a native Bostonian and has played in metal bands you've never heard of.
Checking our work.
We use standardized and scientific testing methods to scrutinize every product and provide you with objectively accurate results. If you've found different results in your own research, email us and we'll compare notes. If it looks substantial, we'll gladly re-test a product to try and reproduce these results. After all, peer reviews are a critical part of any scientific process.
Shoot us an email