The T series is a jump up the Fuji point-and-shoot line from the JX series, the JX580 reviewed Here, with the biggest difference being a 10x zoom lens instead of a 5x one. Other than that, we see the same megapixels, the same 720p HD video recording, the same, very basic, interface, the same stabilization, and the same processing features.
You can grab a T400 this March for $179.95 MSRP, available in black, red, and blue.
Much like the JX580, this small point-and-shoot is a rounded rectangle with a large LCD screen occupying most of the real estate on the back. There are a couple of buttons on the back, and only the shutter button on the top. The front of the camera lacks any detail aside from the 10x optical zoom lens, which pops out quite a ways when the camera is turned on. The T400 will be available in black, red, and blue.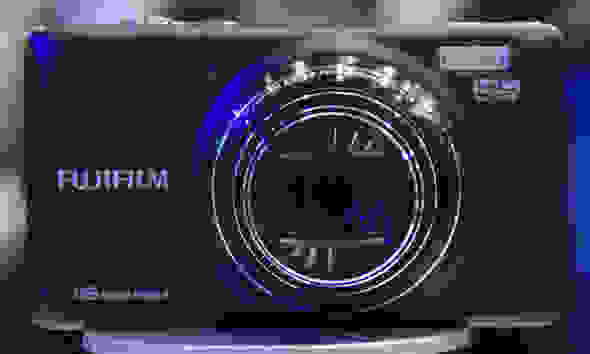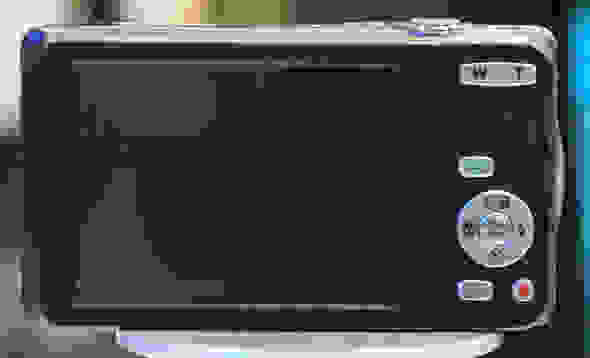 The menu has only a few pages covering options like white balance, image size, and ISO. These options are usually set to auto, so most of the menu is grayed out unless you are in program mode. You will navigate the menus using the directional pad. Inside, all options are clearly labeled and, with limited user control, easy to find.
If you are holding the camera, your thumb rests over the directional pad and the rest of the buttons. This works for quick access, but without a good grip, you may accidentally switch modes when you are trying to hold on. Aside from this design weakness, the buttons are clearly labeled and large enough not to get confusing.
The shutter button on the top needs to be pushed down heartily to take a picture. This forceful push actually makes it easy to distinguish between autofocus and taking a picture.
The is 4.1 inches wide, 2.3 tall, and 1.1 thick, with a total weight of 160g. It's slightly beefier than the JX580, which we have used as a comparison throughout this review, but it will still fit comfortably in just about any pocket. We had problems getting a good grip on this Fuji. For some reason, they removed the rubber front grip, leaving users with slippery plastic. The shape of the edge where you will hold the camera is not shaped like the human hand at all. We found that we had some hand cramps trying to shoot a couple of successive photos, especially if we were concentrating on something small in macro mode.
Two hands on this diminutive travel-zoom is just too much. Your left hand will either be crowding the lens, or the LCD, or not helping steady the camera much at all. The right hand thumb has access to all of the buttons in the resting position.
The buttons were a bit stiff, but clicked satisfyingly when depressed. The click is important, because it tells the user that the button has been engaged. Conversely, the shutter button was soft, though it required a very serious push to take a picture. This design works well actually, as the half push initiates the autofocus function, and a sturdy push takes the picture.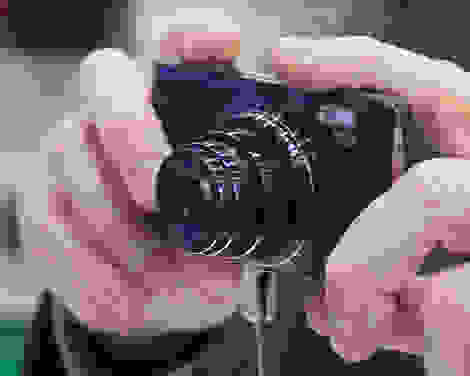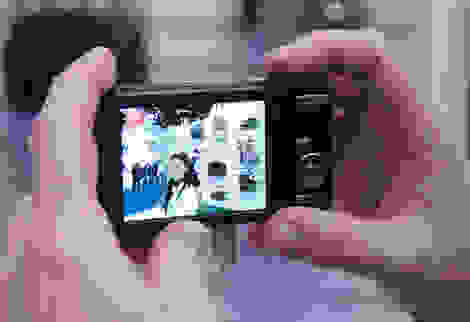 The menu is the only way to change modes. On the , you have access to auto, program, movie, and SR auto, a mode that automatically identifies the scene type and adjusts the exposure and focus settings appropriately.
There are two auto modes: auto and SR auto. SR auto first attempts to identify the scene type and then goes about adjusting the exposure settings for best results, whereas auto goes by whatever the camera is currently focusing on, with no precedence to scene type.
You can record 720p HD video at 30fps with the push of one button on the back. The red record button gets you recording right away. We like this piece of functionality because it makes catching a quick and unique event easily, instead of fumbling through menus until the moment has passed.
Videos can also be recorded at 480p and 240p for smaller file sizes. You may use the optical zoom in movie mode but the sound will stop recording while you zoom.
The will take continuous photos in bursts of three, at full resolution. You can turn this function on or off in the main menu.
To get the self-timing and smile detection options is easy. Just pushing down on the directional pad brings up several different periods of self-timing.
Just above the directional pad, there is a green playback button. Pushing this button brings up the photos you have taken in an easy-to-use interface. Hitting the display button brings up a mini-histogram as well as the date and time of the photo. You can view your photos one at a time, in a slideshow, in a grid of nine, or what the camera said was all at one time. We tried this setting at CES and only came away with an error message.
Pictures can be recorded in L,M, and S formats. In the L format, you may choose from 4:3, 3:2, and 16:9 aspect ratios, and only 4:3 or 16:9 in M and S formats. The resolution sizes range from 4288 × 3216 to 1920 × 1080.
Panorama modes are popular with point-and-shoot cameras. The has one that you can set in the main menu. Supposedly, in-frame instructions show you how to stitch three consecutive photos together into one large panoramic shot. This was not the most intuitive feature on the T400, another thing that rendered an error message instead of a proper result. We are sure with some more time and the user's manual, this feature would work well, but we saw other panorama modes at CES that were much simpler.
There is also the Natural Light & with Flash function where two consecutive photos are taken, one with flash the other without. This feature relieves the user of having to decide if flash is best for any given situation. In playback, you will see two photos with two different lighting situations.
Some other features include blink detection and face detection, two modes that optimize portrait photography.
There is no manual focus on the . The autofocus function works in continuous, movie, and auto modes. The autofocus worked well in both the continuous and normal shooting modes. We cannot say for sure how quickly it worked, but we had no problem focusing on objects around the Fuji booth at CES.
Auto exposure is the only setting on the T400. We looked at some of the photos we took on the CES floor using the T400 and we noticed that some of the exposures were a bit dark. With the flash on, they were a little overly exposed. The lighting at CES is not ideal, nor is our interpretation very scientific here. If we get a shot at reviewing the T400 in our labs back in Boston, we will have more accurate results for you.
Exposure compensation could be set +/- 2, with 1/3-step increments. Exposure control is non-existent on this entry-level Fuji, employing TTL 256-zone metering all the time.
There are no aperture or shutter priority modes on the T400. The aperture can be adjusted from f/3.4 to f/8.4 in wide and up to f/14 when fully zoomed-in.
ISO defaults to Auto, but you can change it in the menu from ISO 100 to ISO 1600. You can get up to ISO 3200 but you must change the image size to S. There is no ISO limiter available in the menu.
Auto white balance is the default setting on the , but you can manually adjust it to several preset lighting conditions within the menus. The following is a list of available white balance settings: Fine, Shade, Fluorescent light (Daylight), Fluorescent light (Warm White), Fluorescent light (Cool White), Incandescent light. There is no custom setting where you can directly adjust the Kelvin temperature of the light.
The uses a CCD shift type stabilization, an optical stabilization method. This is quite a bit better than digital. Digital stabilization attempts to digitally remove blur after a picture has been taken rather than using a gyroscopic optical sensor to match the motion at the moment of photo capture. We tested the stabilization against a shaky photo fully zoomed in 10 times and found that it worked to reduce blur quite well. For a more accurate reading on this function, we will have to try it out on our standardized tests at the lab.
There are a list of preset scene options like Natural Light, Portrait, Baby, Smile, Landscape, Panorama, Sport, Night, Night (Tripod), Fireworks, Sunset, Snow, Beach, Party, Flower, and Text. These scene modes are some of the most user control you will have with the T400. Set to SR atuo, the camera will choose these scene modes all on its own.
The uses a 10x zoom, FUJINON lens with a 1/2.3-inch CCD sensor. We would like to see a CMOS sensor rather than a CCD one, but the sensor size is pretty decent for a point-and-shoot. The lens and sensor have not improved since last year's model.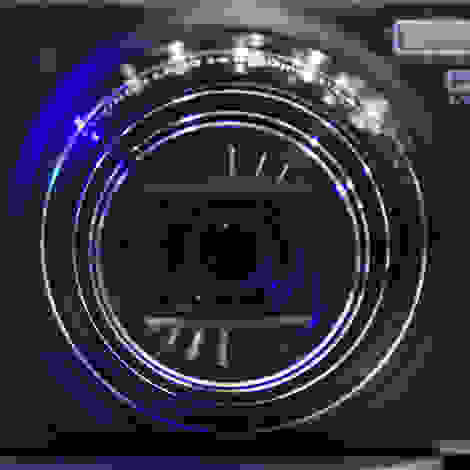 The LCD screen is 3-inches measured diagonally, using 230,000 dots on a TFT monitor that shows 96% coverage of its subjects. We noticed that the screen covered handled the glare of bright lights at the CES booth, and that auto-dimming was apparent for better viewing in a range of light settings.
The flash bulb on the front is effective up to 14.7 feet, and 2.6 feet in macro mode. There are a few different flash settings. To change these settings, hit right on the directional pad. You can choose from Auto, Forced Flash, Suppressed Flash, Slow Synchro, and Red-Eye Reduction.
Much like the similar JX580, the only has one proprietary port that connects to USB via an included cable. Our concern with this port is not its functionality, rather its lack of protection. There is no cover for this connection, leaving it open to whatever dust, weather, or physical damage may occur. With only one port, you would want to keep this protected, but not even a rubber stopper is in place to ensure prolonged usage.
The uses an NP-45A Lithium-ion battery that when fully charged will yield only about 160 shots in auto. You will probably take many more photos than this, especially if you are on a trip, and especially if you are using the Natural Light & with Flash mode which takes two pictures automatically. Purchasing an extra battery would be prudent.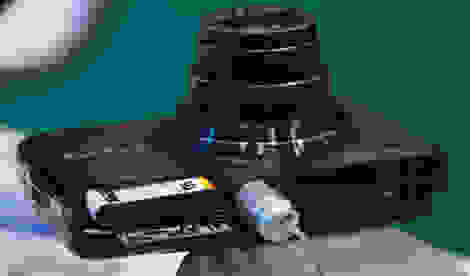 This little Fuji takes SD, SDHC, and SDXC cards. You will need to buy one of these cards because the has no internal memory.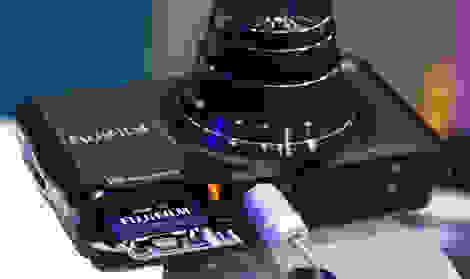 Fujifilm has put out a couple really basic point-and-shoot cameras to build from their last year's models. The is one of these, but we don't feel like it has added much value since last year. In fact, we did a full review of the T300 from last year, and we see that features we liked have been removed. There used to be a rubber grip on the front, making one-handed shooting a breeze, something we felt was a definite detractor on the T400. Also, there was a mode dial on the back of the T300, allowing for quick mode changes, which now have to be done through the menu.
The main improvement on the T400 is an increase from 14 to 16-megapixel photos. Yes this is an increase in resolution, but we are not sure that the point-and-shoot crowd really needs, wants, or knows the difference of those extra 2 million pixels.
As a camera in general, we like the 10x zoom in such a small package. As a travel-zoom camera, it is perfect for any pocket and has some powerful telephoto abilities.
Other than that, we would like to see a CMOS sensor on this Fuji. Most competing point-and-shoots at this price point have such a sensor now. The short battery life is a bit of a drawback too, as you will have to be close to an outlet, or have a spare battery on hand. We noticed last year that there were some severe sharpness issues when we looked at our test results, but we will have to have a look at the T400 in our labs to see if any improvements have been made on that front.
The T400 ships out this March for an MSRP of $179.95, in black, red, and blue.
Meet the tester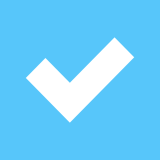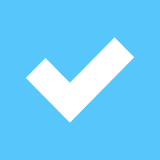 Christian Sherden
Staff Writer
@
Christian Sherden is a valued contributor to the Reviewed.com family of sites.
Checking our work.
Our team is here for one purpose: to help you buy the best stuff and love what you own. Our writers, editors, and lab technicians obsess over the products we cover to make sure you're confident and satisfied. Have a different opinion about something we recommend? Email us and we'll compare notes.
Shoot us an email