The FinePix X100 takes the retro trend of cameras like the Canon G12 and the Olympus E-P1 and raises the bar in style and quality. The X100 just feels expensive. The dual-chromatic design scheme with rubberized gripping surface really establishes that retro flavor—with some help from the optical viewfinder hiding in the corner like a 1950's Nikon rangefinder.
But what we really like about the X100 is the design of the body and controls. All the dials up top are sturdy metal and the upper control deck and bottom surface of the camera are cast from magnesium alloy. Some may quibble with the anticipated $1000 price point, but this camera looks—and feels—like a thousand bucks.
Taking a page out of the Apple design book, the X100 will ship in an attractive satin-lined box. If you don't feel awesome getting this camera, you will never feel awesome.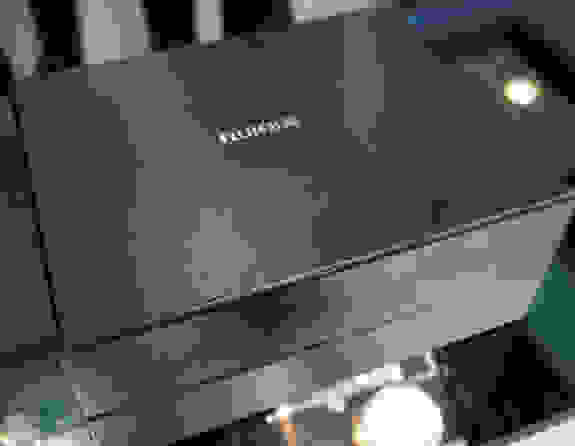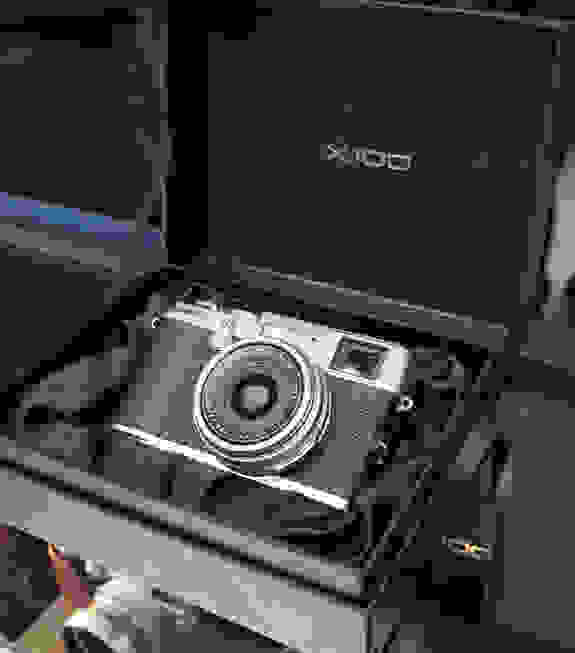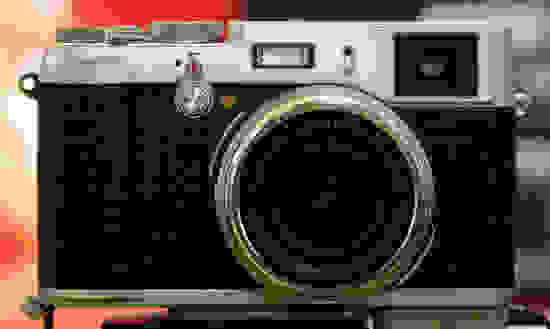 After spending a substantial amount of time with the X100, we can finally comment on the camera's ease of use. What's quite obvious is that this camera is not designed with the beginning user in mind. There is no "easy mode" and all those buttons, dials, and switches would likely intimidate novices. The typical cruise control point-and-shoot user is definitely not the X100's target demographic.
On the other hand, the FinePix X100 seems like a dream come true for advanced users. DSLR photographers looking for a secondary, compact camera are sure to be enticed by the X100. This is a camera that offers more sophistication than the highest end point-and-shoot, an APS-C sensor, and less bulk than anything with an interchangeable lens. For that target demographic, the X100 is incredibly intuitive and easy to use. Options are located precisely where you expect them to be, with clearly labeled controls and clean menus.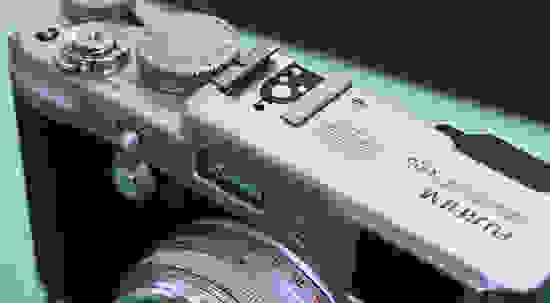 Since they were starting from the ground up in everything else, the folks at Fuji decided to redesign the graphical interface of the camera: "to enhance the user experience and to improve the clarity of the information presented." We spent plenty of time trolling around inside the new GUI and can attest to its design improvements. Everything looks much cleaner than previous Fujifilm menus and we found it extremely easy to navigate.
The only downside to the menus is that there are several pages of options—this is a camera with a lot to discover. If there's one particular control that you want, it will definitely take some effort to find it and activate it. We anticipate that users will want to make use of the custom control settings and/or customizable Function button in order to make their favorite options more readily available.
The FinePix X100 is remarkably small for a camera packing an APS-C sensor. (Cameras with the same size sensor are typically DSLRs.) The X100 measures just 5.0 in. x 2.9 in. x 2.1 in. (126.5mm x 74.4mm x 53.9mm).The weight, including battery and memory card, is 15.7 oz. (445g). Those dimensions may be small and light by SLR standards, but the X100 is still pretty hefty for a camera without interchangeable lenses.
The length of the camera (and the bulge on the front of the right side) are incredibly reminiscent of old film cameras. The main body of the camera is covered with faux leather finishing and the right side bulge makes for a slightly curved gripping surface for your right hand. The weight and sturdiness of the controls will also bring back memories. Those 15.7 ounces have a lot to do with the X100's metal controls and casing: both the top and bottom of the camera are cast from magnesium alloy.
The benefit of this extra weight, however, is that the X100 feels stable and substantial in your hands. Yes, it's heavy, but it also feels remarkably sturdy. The buttons and dials on this camera could easily ruin all other cameras for you; ten minutes with the X100 and you'll be wishing that your Nikon D7000 was this well-built. Well... we may be exaggerating a bit here. But the truth is, the controls feel very, very good.
The buttons and dials are also well positioned; we had no trouble accessing aperture, shutter speed, or exposure—all of which have their own dedicated controls on the X100. The handy switch that allows you to toggle between OVF and EVF is also conveniently within reach on the front of the camera. Placing the aperture control around the lens ring is a particularly nice old-school touch that feels very natural.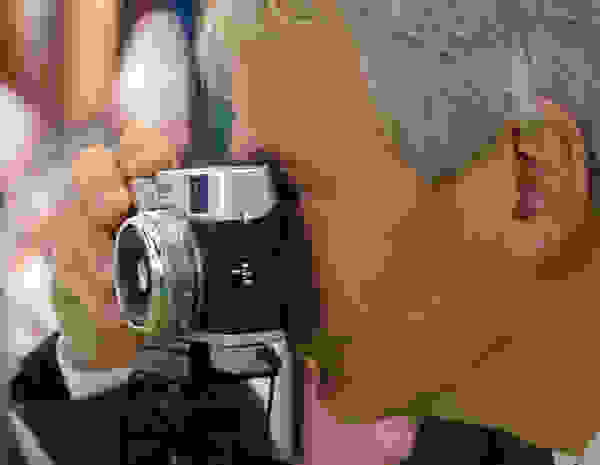 There is no explicit "auto" or "easy" mode on the X100, but individual controls can all be set to auto, including aperture, shutter speed, and ISO. Setting aperture and shutter speed to auto is the equivalent of activating the camera's Program AE mode—the closest thing you'll ever get to an auto mode. The lack of a dedicated auto mode will certainly be a detriment to accessibility for less experienced photographers, but that's definitely not the target demographic for this camera.
The X100 has the ability to record 720/24p video with stereo sound (H.264 MOV compression). This is the only recording option available and there's no dedicated video button: video recording is activated only through the menus. As we learned at Photokina, all image adjustments are automatic in movie mode; you do not have manual control over focus, aperture, shutter speed, or ISO. Movies are also capped at a maximum of ten minutes. These limitations suggest what we already knew: Fujifilm isn't expecting people to buy the X100 to record video.
The one extra perk that Fuji is tossing into movie mode is the zoom function. A button on the back of the camera allows you to activate a 3x digital zoom during video recording.
Our time at CP+ allowed us to investigate the playback options that were unavailable at Photokina. For starters, playback is, in fact, available using either the viewfinder or LCD. A dedicated button on the back of the camera allows you to enter playback mode, while a handful of other buttons serve a secondary purpose in playback. (AE/AF activates playback zoom, while up on the directional pad deletes files during playback.) The X100 supports focus point zoom so you can check your shot carefully.
In the playback menus, we have access to several playback functions, including: RAW conversion, Image Rotate, Photobook Assist, Erase Selected Frames, Image Search, Multi-Frame Playback (w/ micro thumbnail), Slide Show, Mark for Upload, Red-eye Correction, Protect, Crop, Resize, Rotate, Copy, Panorama, and Favorites. Marking for upload sets your photos and videos up for upload to YouTube or Facebook. You can also set a print order for DPOF and the camera is compatible with PictBridge.
When the X100 first appeared at Photokina, we weren't sure exactly what custom image presets might be included in the camera. We knew that Fuji would be bringing back the film simulation effects from previous Fuji models. These effects are intended to simulate classic Fuji films, like the legendary Fujichrome film.
The working model on the CP+ show floor had options for Provia (Standard), Velvia (Vivid), Astia (Soft), Sepia, and Monochrome. There were also monochrome settings with color filters: your choice of red, yellow, or green. Alas, there were no Sensia and Superia options. Maybe these will be available on the X100 Part II: The Saga Continues.
If you're not sure which film simulation mode you want to use, the X100 has film simulation bracketing, which will record three copies of a single exposure in Provia, Velvia, and Astia.
The X100 offers continuous shooting at a rate of either 3fps or 5fps. The burst mode has a maximum of 10 JPEG or 8 RAW photos. At Photokina we were still speculating as to what bracketing options would be available, but we're happy to report that the camera contains options for exposure bracketing, film simulation bracketing, dynamic range bracketing, and ISO bracketing.
There is a standard self-timer option for 10 seconds or 2 seconds.
Motion Panorama
Like so many cameras today, the X100 has a Motion Panorama mode, complete with a horizon guideline to help you keep the camera evenly oriented along the way. The resulting photos are 7680 x 1440 for a 180° horizontal panorama, 5120 x 1440 for a 120° horizontal panorama, or slightly bigger for vertical panoramas.
In-camera RAW Converter
The X100 has a built-in RAW converter, which can take into account exposure compensation, dynamic range, white balance, and several other manual image adjustments. You can also use the converter to apply film simulation modes. The camera also ships with Silkpix, if you want to handle RAW conversion on your computer instead.
Color Space
You can select from sRGB or Adobe RGB, depending on what you intend to do with the images you capture with the X100.
One of the major selling points for the FujiFilm FinePix X100 is its high-quality dedicated control dials. Aperture is comfortably at home on lens barrel, while shutter speed and exposure compensation get their own dials on the top of the camera. This old-school interface is exactly what Fuji hopes will attract consumers to the X100. (Well, that and the APS-C sensor!)
Other manual controls are located elsewhere on the camera, including white balance accessed via the dpad and ISO, buried a little deeper in the menus. Fortunately, there is a custom Function button, which can be used for any number of manual controls, including ISO—just pick the one you use most frequently and assign it within the menus. The Function button can be assigned to: ISO, Depth of Field Preview, Image Size, Image Quality, Dynamic Range, Film Simulation, ND Filter, AF Mode Selection, Movie Shooting, or Self-Timer.
You can also save three custom sets of user-defined settings for future use. These are exactly the kinds of features we've come to expect on high-end SLRs... only packed into a retro point-and-shoot body.
To our surprise and delight, the X100 will feature focus assist features that many DSLRs don't even have. To start, the right side of the OVF/LCD will display numerical distance measurements. Rather than a simple zoom box to give visual assistance, the X100 also features peaking, which emphasizes sharpening by adding colored specks to the edges of your subject. Pre-production models offer peaking in a bright green color; it's not clear whether peaking is optional or whether the color can be changed.
Note: The working model on display at CP+ had some important changes made since the mock-up we saw at Photokina. The distance indicator during manual focus was shifted from the side of the display to the bottom and—most notably—the exciting peaking feature we saw is nowhere to be seen. Either the feature has been removed or the green peaking image we saw at Photokina was a red herring. Er... green herring.
ISO does not have its own control dial on the X100, but the option is readily available in the menus and can be mapped to the function button if it's something you want to access quickly. The camera offers all the standard ISO options from 200 to 6400, plus a number of increments in between (for a total of 16 settings). There are also two extended ISO range options: a low ISO and high ISO setting, with an equivalent of ISO 100 and ISO 12800, respectively.
You can, of course, utilize the Auto ISO option. The X100 has a particularly versatile method of limiting ISO. This is great if you'd like to leave the camera in auto mode, but avoid using those high (and typically noisy) ISO settings. With ISO Auto Control, you can select any ISO as the maximum sensitivity and choose a minimum shutter speed as well.
As if that's not enough, the X100 offers ISO sensitivity bracketing, producing three photos from a single exposure, each one adjusted to ±1/3 EV, ±2/3 EV, or ±1 EV.
Aperture and shutter speed each get their own dedicated controls on the body of the camera. We love that Fujifilm is returning to its roots with the placement of these controls. Aperture is located right where it belongs: along the barrel of the lens. There are two metal grips on either side of the lens to help you make accurate adjustments. The aperture options are: F2, F2.8, F4, F5.6, F8, F11, F16, and Auto. Aperture is controlled with a 9-blade aperture diaphragm.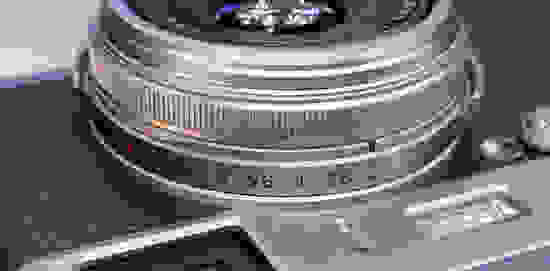 Shutter speed also gets an old-school dial, appropriately located on the top of the camera. The X100 supports both bulb (B) and time (T) modes, as well as shutter speeds of 4 seconds to 1/4000. While Bulb keeps the shutter open for as long as you depress the shutter button (up to 60 minutes), Time mode allows you to select a time between 1/2 second and 30 seconds (in 1/3 EV steps). Bulb and Time are ideally suited to work in conjunction with a wired remote shutter control, which fastens directly to the shutter release button.
You can engage Shutter Priority or Aperture Priority modes by setting the aperture or shutter to auto. When shutter speed is set to auto, the shutter speed range narrows to 1/4–1/4000 (or 1/4–1/1000 at F2–F5.6). You can also set a minimum shutter speed down to 1/4 second.
The X100 is crammed full of white balance options. For starters, you can just leave white balance up to the camera, with the straightforward Auto WB. If you want to choose a preset based on your shooting conditions, you can select from: Fine, Shade, Fluorescent 1 (daylight), Fluorescent 2 (warm white), Fluorescent 3 (cool white), Incandescent, and Underwater. You also have the ability to take a custom white balance reading and store at least two different custom white balance settings for future use.
More importantly, the X100 actually gives you the ability to set do some sophisticated white balance alterations. This can be done in one of two ways: by either altering the white balance along two scales (red to cyan or blue to yellow), or by selecting a specific Kelvin value. There are 36 Kelvin increments (one for every 50K) ranging from 10000K to 2500K. This is a feature we've come to expect in very few digital cameras today.

Exposure compensation is available from -2 to +2 in 1/3-stop increments. This feature has its own control dial on the top of the camera, so you never have to dig around in the menus to find it.
The X100 will offer TTL 256-zone metering in three flavors: multi, spot, and average. The back of the camera sports a clearly marked AFL/AEL (autofocus lock / autoexposure lock) button.
Three-shot exposure bracketing is available at ±1/3 EV, ±2/3 EV, or ±1 EV.
Fujifilm has yet to disclose any significant information regarding image stabilization. From what we could gather, the X100 will not have any kind of traditional stabilization, but will instead rely upon lens and sensor sensitivity to compensate for camera shake. Yeah, we have no idea what that means either. Is that code for: no optical stabilization; just digital stabilization?
The Fujifilm X100 has one tasty treat for photo-savvy consumers: a big fat RAW button on the back, which enables you to shoot... well, RAW. The standard aspect ratio is 3:2, but 16:9 options are also available. All photos are available in Fine, Normal, Fine + RAW, Normal + RAW, or RAW.
The full range of resolution options is: (3:2) 4288 x 2848, (3:2) 3072 x 2048, (3:2) 2176 x 1448, (16:9) 4288 x 2416, (16:9) 3072 x 1728, (16:9) 1920 x 1080. Shooting in motion panorama mode, photos are either a lot wider or a lot taller.
Color
This option allows you to adjust saturation.
Highlight Tone / Shadow Tone
The X100 has a separate control for tweaking contrast in highlights and shadows.
Sharpness
As you might expect, this option allows you to soften or sharpen outlines in your captured images.
Noise Reduction
Most cameras offer noise reduction, but most do not allow you to alter the amount of noise reduction that's applied to a photo. The X100 has four levels of noise reduction, which is more than many SLRs offer.
Dynamic Range
Like several high-end Fujifilm cameras before it, the X100 allows you to tweak dynamic range at a level of 100%, 200%, or 400%. In high contrast shooting, the dynamic range function can really help prevent clipped highlights. If you're still experimenting with the concept, the X100 has dynamic range bracketing, which will capture a single exposure at each of the three possible levels.
Depth of Field Preview
The X100 is slated to include a depth of field preview function, though we don't know much about it at present.
The LCD is a 2.8-inch color display with a resolution of approximately 460,000 pixels. It does not flip out or rotate. You can adjust the brightness of the screen along eight increments and can view the menus in one of 35 languages.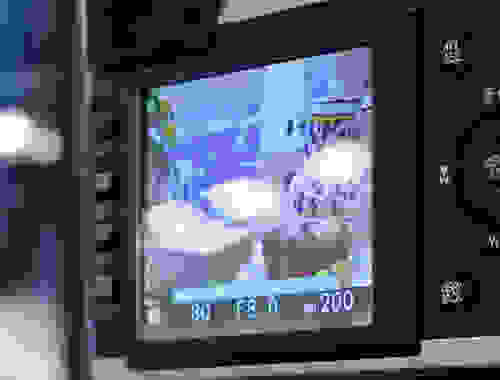 Perhaps the most unique feature on the FinePix X100 is the camera's hybrid viewfinder, which can function as either an optical or electronic viewfinder. The front of the camera boasts a small toggle switch that allows the user to swap between OVF and EVF modes.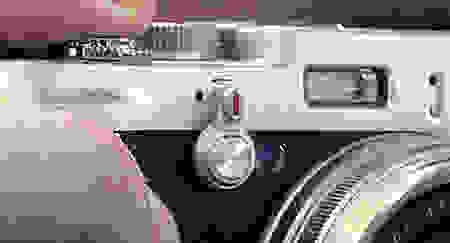 While in OVF mode, you have a pure optical rangefinder-style viewfinder with approximately 90% coverage and 0.5x magnification. To the side is a diopter adjuster to change the viewfinder focus setting from -2 to 1m-1 (dpt). The OVF seems to be inspired by old-school film cameras and—perhaps—by the optical viewfinder on some high-end cameras today. The competition among high-end point-and-shoots isn't impressive; the Panasonic LX5 has only an optional EVF, while the Canon PowerShot G12 has a less sophisticated OVF.
What makes the X100's viewfinder so special? For starters, the X100 OVF displays shooting information and a "bright frame" through electronic overlay, which means you can use the optical viewfinder and still see a live histogram, aperture, and other info. The brightness of the overlay is automatically adjusted according to the brightness of the screen. Most importantly, the electronic bright frame can be offset for automatic parallax correction (i.e. the frame can compensate for the difference between the viewfinder's position and the lens position). The X100's viewfinder is in the upper-left corner of the camera, but the lens doesn't bizarrely interfere in the frame as it does on the G12.
Of course, as an added benefit to using an optical viewfinder, there's very little lag between what you see in the viewfinder and what you capture when you activate the shutter. According to Fujifilm, the shutter time lag is just 0.01s.
In EVF mode, you get 100% coverage, but instead of an optical view of your shooting frame, you have a 1,440,000-pixel LCD projection. This allows you to preview exposure, depth-of-field, and white balance as you shoot. While the parallax correction in OVF mode is somewhat limited, the EVF boasts a parallax correction for all shooting distances—even macro shots as close as 10cm. In EVF and playback mode, a mechanical shutter closes to cover the viewfinder (and, presumably, put the elements in place needed to project the LCD through the viewfinder).
Quite frankly, this viewfinder is awesome. Really, really awesome. It offers so much versatility and accuracy... for beginners and experienced users alike. This is a feature that makes us love our jobs and should make you love taking photos.
For more information about the hybrid viewfinder technology, see Fujifilm's official X100 announcement site.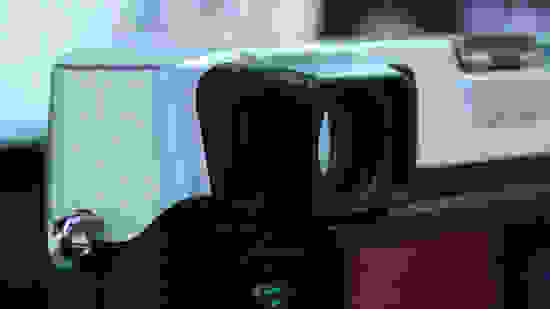 The X100 comes with a built-in flash, which will have several options associated with it, including red-eye reduction and slow synchro. These flash options can be selected via the right button on the directional pad, plus you can delve into the menus in order to adjust the intensity of the flash from -2/3 to +2/3 EV.
You'll also be able to mount an external flash to the accessory shoe on the top of the camera. At launch, there will be two kinds of flash available (both sold separately): the GN20 and GN42/ISO100•m. Both are TTL flashes.

Fujifilm has developed a custom APS-C CMOS sensor to be used in conjunction with the fixed 23mm Fujinon lens. The APS-C sensor is the real selling point here: the vast majority of compact cameras (i.e. non-DSLR cameras) have much smaller sensors. Even Micro Four Thirds and other mirrorless cameras boast smaller sensors. In the case of point-and-shoot cameras, the sensors tend to be minuscule compared to APS-C. This means that the FinePix X100 is joining a very elite group of compact cameras with APS-C sensors: primarily the Sigma DP2 and Leica X1.
Will the X100 deliver DSLR-quality images in a point-and-shoot form factor? We'll have to get this little beauty in our labs before we can say for sure. The least we can hope for is that the 12.3-megapixel sensor will provide sharp photos and the EXR Processor will reduce noise. According to Fujifilm, the sensor boasts ten times the sensitivity of a conventional compact camera sensor. Fujifilm also claims that the large sensor combined with the F2 lens allows users to produce pleasant bokeh (an out-of-focus depth-of-field effect not traditionally available on compact cameras).
This APS-C sensor works in tandem with a custom-designed Fujinon lens. This is a fixed lens and is not part of an interchangeable lens system. The lens is non-collapsible, with a fixed focal length of 23mm (35mm equivalent: 35mm) and a maximum aperture of F2. The lens is composed of 6 groups of 8 lenses. The camera ships with an aluminum lens cap with fabric lining to protect the lens when not in use.
Fujinon has obviously taken great care to create a lens that will maximize quality depth-of-field effects. You achieve macro shooting as close as 10cm, with a 9-blade aperture to help things along. As a final touch, the X100 features a built-in ND filter (equivalent f-stop reduction of 3) to enhance depth-of-field shooting even in bright conditions.
On paper, this is a lens/sensor dream team. We'll have to take the X100 through our rigorous testing labs before we'll know if the dream is a reality.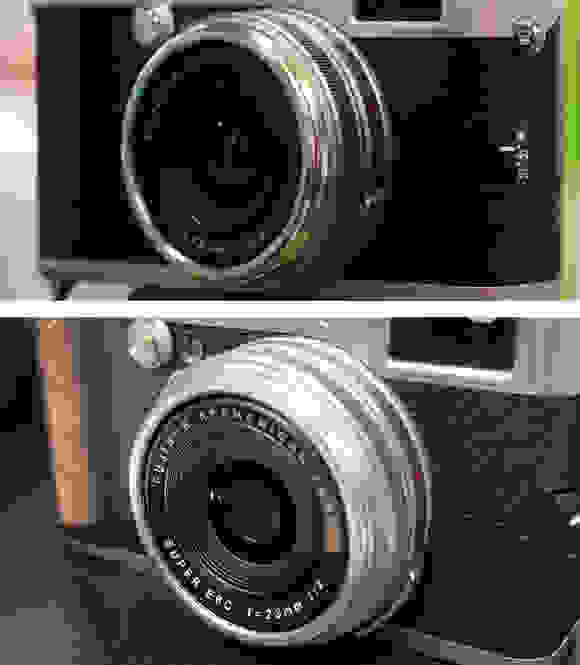 Two ports are hidden in a compartment on the right side of the camera. The hinging door opens to reveal a miniHDMI and microUSB port—neither one proprietary. Thank you, Fujifilm!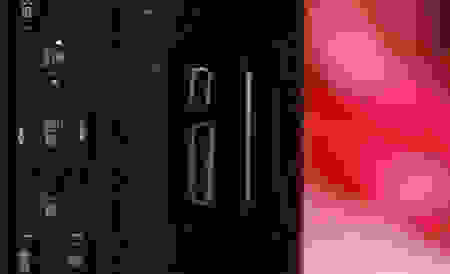 The X100 will ship with the Fujifilm lithium-ion NP-95 battery, which is used in several other Fujifilm cameras. The battery is tucked away in a compartment on the bottom of the camera, which it shares with the memory card slot. According to Fujifilm, the battery is rated for approximately 300 frames.
The camera also ships with the BC-65N battery charger, so you can remove the battery from the camera and charge it separately.
The X100 is, gratefully, compatible with SD/SDHC/SDXC memory cards. We're glad to see the gradual standardization of the industry towards SD and, especially, the acceptance of SDXC. The memory card shares a compartment on the bottom of the camera with the battery.
Neutral Density (ND) Filter
The FinePix X100 has a built-in ND filter (equivalent f-stop reduction of 3) to help photographers achieve quality depth-of-field effects even in bright lighting conditions. This enables the user to leave the aperture wide open and, if desired, use a slow shutter speed for intentional blur—while the ND filter prevents you from overexposing your image.
Electronic Level
According to Fujifilm UK, the X100 will have an electronic level. We suppose that's based on an internal gyroscope and functions similarly to the electronic level in the Canon 60D and G12. The main purpose of the level is to enable better panorama shooting; we're not sure whether the option is available outside panorama mode.
Mechanical Shutter Sound Options
As an extra sort of perk, Fuji is offering a selection of four "mechanical" shutter sound options to help you achieve that true old-school flavor: Lens Shutter, Focal Plane Shutter, Mirror Up, and Silent Shutter.
Lens Hood & Adapter Ring (Optional Accessory)
You can choose to purchase an adapter ring, which replaces the standard front lens ring and can be used in conjunction with a bayonet-mount lens hood (also sold separately). Of course, Fuji has not announced any other accessories, but the adapter ring seems just a step away from interchangeable lenses. Maybe that's the next step for Fujifilm...?
Power Save & Quick Start
The OVF can work in conjunction with a Power Save mode, which really extends battery life, if you're willing to shoot without the LCD. Another way to save power (and make sure you don't miss important shots): the X100 powers down to a sleep mode 20 minutes after you turn off the camera. As long as it's in sleep mode, the camera will power back up in seconds (0.7 seconds, according to Fuji).
Fujifilm's aim was to "make a camera that gets back to the basics: the joy of photos." The FinePix X100 may actually accomplish this lofty goal. With manual control versatility, an APS-C CMOS sensor, a clever hybrid viewfinder, and elegant retro body design, the X100 is a camera that we expect will make photography enthusiasts drool. We haven't been this excited about a point-and-shoot camera in quite some time and we earnestly hope that the camera's performance lives up to its hardware. If so, Fuji's claim that the X100 will "reignite your love of photography" might be more than an empty promise.
Meet the tester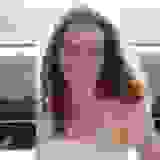 Kaitlyn Chantry
Vice President, Editorial Management
@WhyKaitlyn
Vice President of Editorial Management, Kaitlyn oversees the editorial departments of Reviewed.com's various sites. She has been writing about technology since the turn of the century. Outside of her Reviewed.com home, Kaitlyn is also a theatre director and avid gamer.
Checking our work.
We use standardized and scientific testing methods to scrutinize every product and provide you with objectively accurate results. If you've found different results in your own research, email us and we'll compare notes. If it looks substantial, we'll gladly re-test a product to try and reproduce these results. After all, peer reviews are a critical part of any scientific process.
Shoot us an email