The XP150 will be available this March for $279.95, available in the colors of a (strange) rainbow: black, blue, orange, silver, and green.
This camera looks like it might transform into an Autobot. It is not classically beautiful, the bright colors and odd shape could be considered garish to some, but it's built to withstand quite a bit. With watertight seals all around the major ports and functional parts. The battery and media compartments use a double lock to protect from all of the possible elements.
The XP150 is scheduled to ship out in a range of bright metallic colors, like black, blue, orange, silver, and green.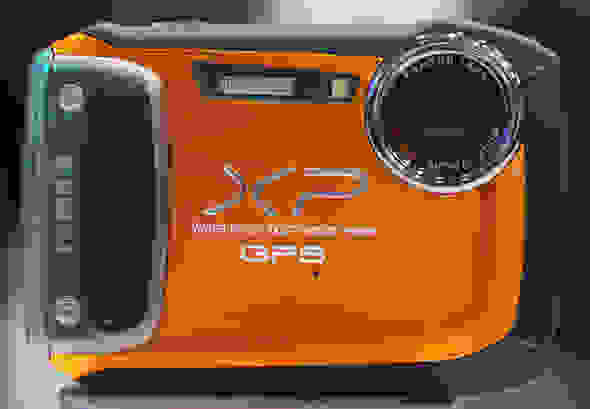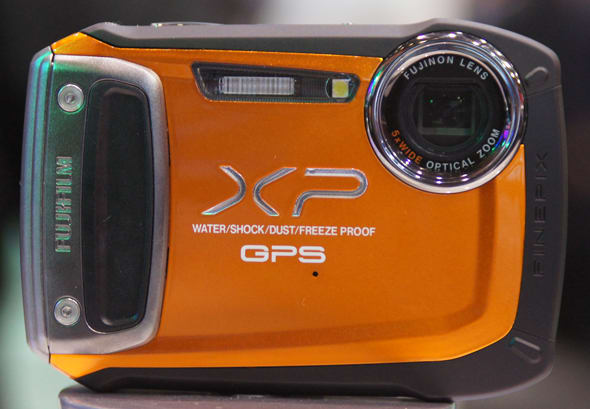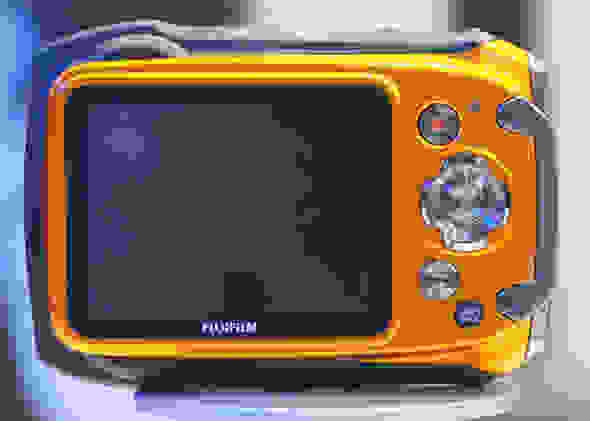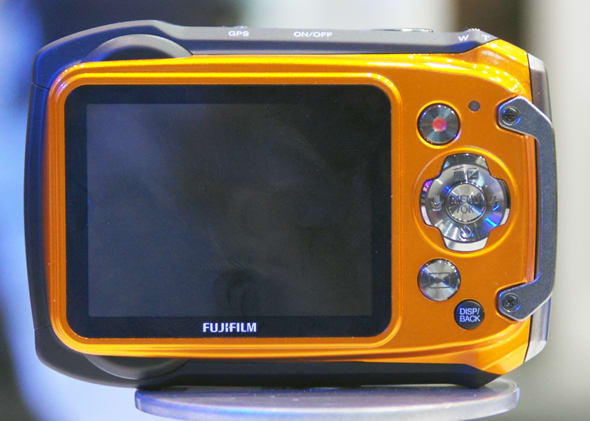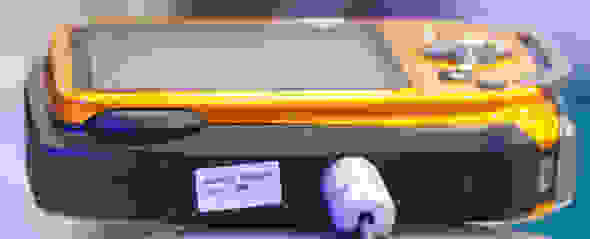 The menu is easy to work, there is not much functionality on this camera. The main menu controls features like continuous shooting settings and the autofocus mode. You can also access the setup menu from here, where you can change the interface language, the time, date, and reformat the memory card.
There is another menu for the GPS which you can access by hitting the GPS button on top of the . The setup and controls for this function can be a little confusing. It is a pretty advanced feature that is thoroughly explained in the user's guide.
The buttons are large, shiny, metallic circles, laid out on the back, around the directional pad. The labels are engraved into the chrome buttons and can be hard to read, but after a little time using the , you will know them by heart. All buttons are easy to access with, your thumb will rest right in the middle of all the action.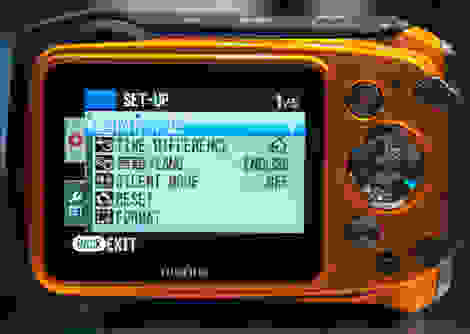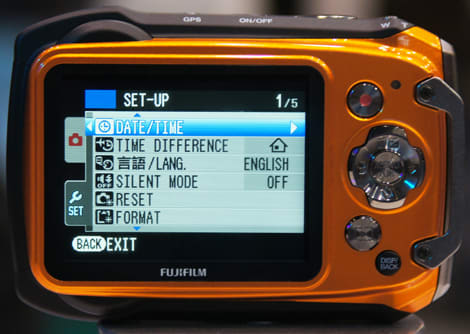 The is 205g, which is a little heavier than most point-and-shoots, but it is a negligible difference. It measures 4 inches in width 2.8 in height, and 1 inch in depth, making it a compact piece of machinery.
Though it is slightly heavier, it is still easy to hold and operate with one hand. The various ridges and grooves used to protect the camera make for great handholds. There is no worry of dropping this camera (even though a drop won't really hurt it) or having it feel uncomfortable with extended use. It fits well in the hand.
The thumb rests right over most of the controls when taking pictures. We appreciated the large red record button that makes for really quick and easy video capture. We imagine being in an exotic locale, and some extraordinary animal appears, performing some sort of once-in-a-lifetime preening ritual, and we are there to capture all the action with a quick tap of the thumb.
The buttons themselves are a little soft when you push them, not quite clicking when pushed. Sometimes it was unclear if we had started recording or stopped recording because there was no sure tactile response to our action.
The shutter button as well seemed to have little distinction between focus and taking a picture. It is something that will take a little getting used to, but once you have the touch for it, it should not be a problem.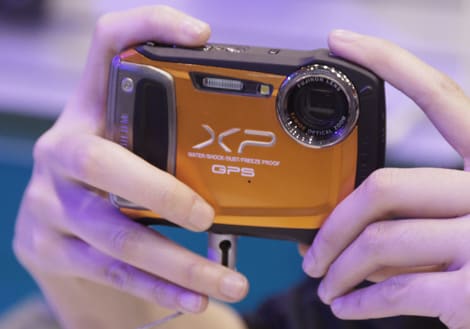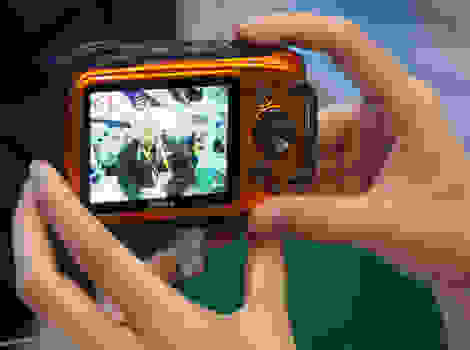 Fuji keeps it simple with this travel camera, employing only three primary shooting modes: auto, program, and SR auto where you can choose from a list of preset scene types, which will optimize the exposure settings for the appropriate subject.
Switching modes happens in the menu under shooting modes. Probably you will keep this camera in auto for most of your shots, but there are some interesting options. In addition to the above modes, there is the HDR mode where three photos are taken at different exposures to give you a better chance of capturing the best lighting. Also, there is the "Natural Light & with Flash" mode where two photos are taken, one with flash and one without in quick succession such that you need not guess which option is best for the situation. Finally, there is face beautification mode, which enlarges eyes and smoothes out skin texture, lending an enhanced model-like look to any person.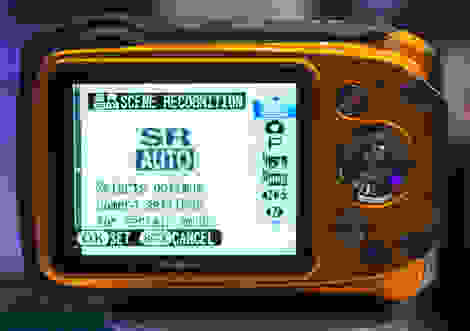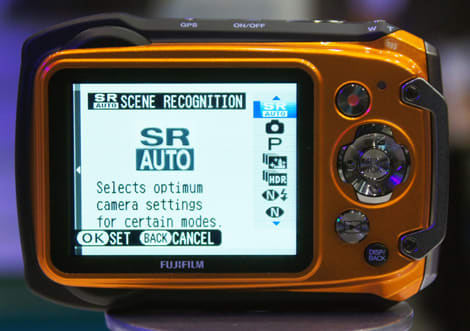 There are two auto modes, regular auto where the available light determines the exposure settings, and SR auto, where you choose a preset scene type and the settings will adjust for this type of scene.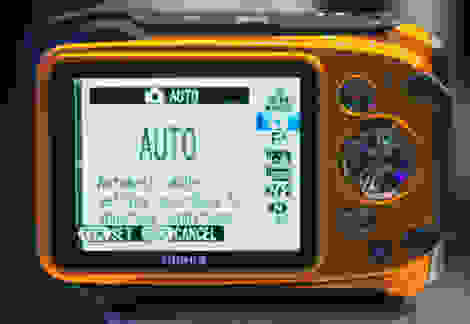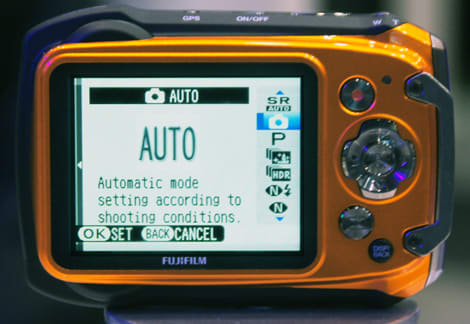 This camera shoots full HD, 1080p video at 30fps. You can also bump the resolution down to 720p or 480p for smaller file sizes. You can use the zoom function in movie mode with no detriment to the recording.
There are many continuous shooting modes. You can shoot up to 10 frames per second, or one at a time, and pretty much every option in between. Pushing down on the directional pad brings up the self timing options, with a few different time sets to choose from, as well as a face detection function that lets you input a number of people in a group. The will only take the photo when all of the people's faces enter the frame.
Playback of photos and video is accessed by pressing the large playback button beneath the directional pad. You can see your content one at a time, in a grid of twelve, or all of them at the same time. This last piece of functionality we couldn't get to work on the CES show floor.
There are some photo editing functions built into the camera. You can add a sepia filter, change the brightness and contrast, add some color touches, crop photos, and restrict them to an aspect ratio after capture. These editing options are included so that people can upload their photos directly to the internet from the camera.
You can edit video in camera as well. Like most editing software, you can select ins and outs, thus trimming the video to the appropriate section you want.
In the menu, there are options for various aspect ratios in two different sizes of photo, small and medium. 4:3, 3:2, and 16:9 formats can all be done in both sizes, ranging from 2400 vertical pixels to 1080 vertical pixels. In addition, there are image compression options of either normal or fine.
Two other modes are useful, the 360º panorama mode, where you sweep the camera in a circle and get a full resolution picture of your surroundings, and the HDR mode, which takes three pictures at different exposures to help ensure you have the proper exposure settings for your subject.
Autofocus is designed for both continuous and single shooting. When we tested it on the floor, it seemed to adjust very quickly, taking focused shots in rapid succession.
There is a tracking autofocus function too, where moving objects are detected and followed such that they stay in the center frame and sharply in focus. This was harder to test on the CES floor, but we will have a harder look back at the labs, some time this year.
In auto, the took good photos that seemed to be properly exposed for the light available. The various functions that take multiple photos will also ensure a good exposure.
You can set the aperture when not in auto, from f/3.9 to f/4.9. Other exposure settings are very limited, with nothing in the way of exposure compensation.
In auto, the ISO is chosen for you, and there does not seem to be an ISO limiter. In manual, you can set the ISO in a range from ISO 100 to 3200.
White balance is preset in both auto and SR auto, but you can change it in manual by accessing the menu where it is represented as WB. The following white balance options are available: Shade, Fluorescent light (Daylight), Fluorescent light (Warm White), Fluorescent light (Cool White), and Incandescent light.
The uses a CMOS optical shift type stabilization to help with blur in zoom shots and low light shots. On the CES floor, we zoomed in to see how well it worked. With only 5x zoom, the stabilization corrected some blur. But with stabilization turned off the picture looked pretty good too. We will see just how well this works if we get a chance to do a full review some time this year.
SR auto recognizes a varied set of possible scene and adjusts the settings for optimal photography. This setting chooses uses scene modes like natural light, portrait, portrait enhancer, landscape, sport, night, night tripod, sunset, snow, beach, underwater, underwater wide, underwater macro, party, flower, and text.
The comes equipped with a FUJINON 5x optical zoom lens, that takes 14.4-megapixel CMOS pictures. The CMOS sensor is 1/2.3 inches, a standard of quality for point-and-shoot cameras.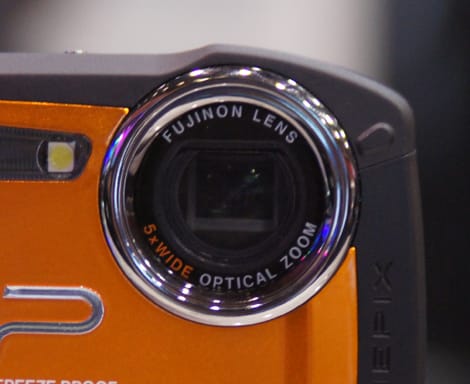 The 2.7-inch LCD screen on the back is a bit smaller than most point-and-shoot cameras, but this rugged tough cam can be submerged in freezing water, so we will give the screen size a break. The screen itself has a mediocre resolution of 230,000 pixels on its TFT display, but a high point is the non-reflective glass covering that will help with glare in most situations. Using it as a viewfinder, the LCD screen shows 96% coverage of your subjects.
Press right on the directional pad and you get the flash settings. You can choose between auto, forced flash, off, and red-eye reduction. Fujifilm does not provide statistics on the flash for this model.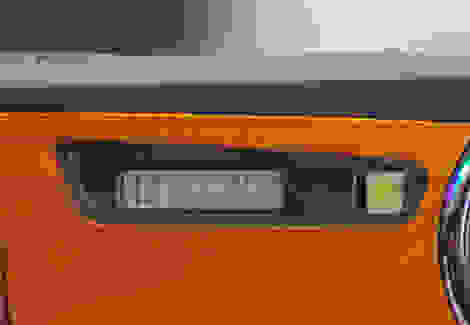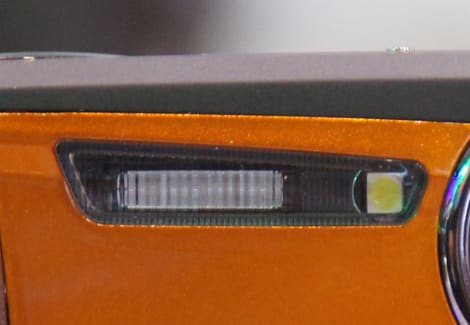 There are two proprietary ports on the , one that connects to USB and another connection to HDMI. These ports, as well as the memory card and battery, are protected by a double locked, waterproof, metallic casing. The double lock is reassuring, making us confident that no damage will happen in water or other extreme situations.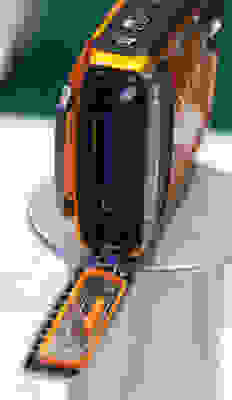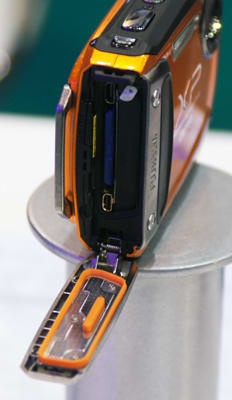 The battery is a rechargeable Lithium-ion of the NP-50A variety. You charge this power source with an external charging station that comes included with the purchase of an . In auto, Fuji says you can get about 300 shots with one charge, which is decent for traveling. You may want to purchase an extra battery for longer trips where you will not have access to a reliable outlet.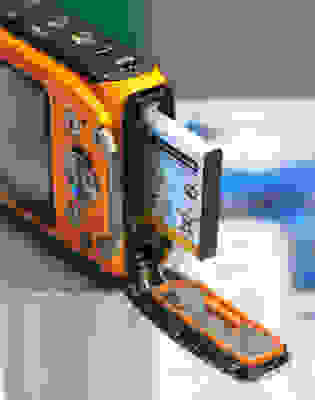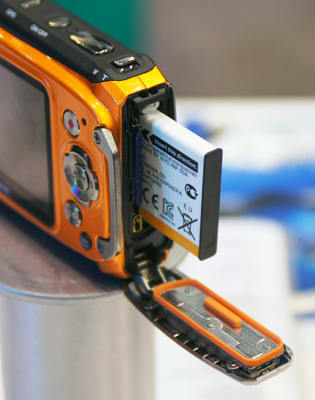 The internal memory on this Fuji ain't bad. You get 48MB of space built in, which should be sufficient to store a few desperation shots. For any kind of prolonged shooting, you will want to get a large memory card. The takes SD, SDHC, and SDXC cards.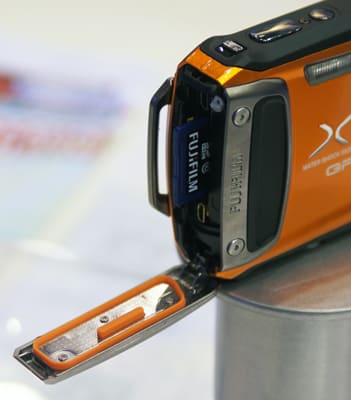 A rugged traveler, journeying through rain forests, arctic tundra, splashing around in adventurous lagoons, has to have GPS. The has such a feature, with multiple uses. Not only can you geotag your photos to make your friends incredibly jealous of where you have ventured, but you can also get your bearings with the GPS compass feature.
This tough camera is built to withstand some extreme traveling. The is freezeproof down to 14ºF, shockproof for being dropped distances of 6.6 feet, waterproof to depths of 32.8 feet, and rustproof, meaning particles will not affect the functioning of the lens or buttons.
The is built in the travel anywhere style, being able to withstand freezing, drowning, particulate matter, and droppings. This particular model has the best tough stats, as well as the highest quality imaging in the XP line. You get 14.4-megapixel photos, with a great CMOS sensor.
All the hardware adds up. The lens specs put it in competition with most point-and-shoots in the market. Being able to capture 1080p video is a bonus, especially for a travel model. The tough outer shell has a double safety lock for the media, battery, and connectivity port. The build, with rubberized ridges on the front made for great one-handed shooting. The GPS features of geotagging and an in camera compass are the whipped cream and cherry on top of this rugged sundae.
To nit pick, we wish the zoom was better. 5x zoom is a good start, but if you are traveling, you won't necessarily be up close and personal with all the interesting things there are to see. Also, a rechargeable battery requires having access to a compatible wall outlet, whereas AA batteries are available in many stores in most countries. If you are doing a long trip, you will want to purchase an extra battery, or be aware that you will have to restrict your travel photography to only 300 pics.
Though we haven't yet gotten a chance to test out the quality of the images in our labs, we think that many people will be satisfied with just being able to record very high resolution photos in extreme weather and nature, regardless of what our tests have to say. The is a camera you can throw in a bag and not worry about, great for the adventuresome traveler. You can grab the XP150 this March for $279.95, in metallic black, blue, orange, silver, and green.
Meet the tester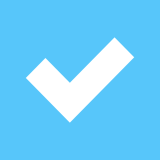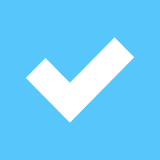 Christian Sherden
Staff Writer
@
Christian Sherden is a valued contributor to the Reviewed.com family of sites.
Checking our work.
We use standardized and scientific testing methods to scrutinize every product and provide you with objectively accurate results. If you've found different results in your own research, email us and we'll compare notes. If it looks substantial, we'll gladly re-test a product to try and reproduce these results. After all, peer reviews are a critical part of any scientific process.
Shoot us an email