Fujifilm has an answer: You buy the Fujifilm X-A2 (MSRP $549.99 w/ 16-50mm kit lens)—a compact system camera with a screen that can flip up to face the user.
It's an increasingly common phenomenon in the midrange and even high-end camera markets, and part of an ongoing realization that camera manufacturers are now competing with smartphone makers for the hearts and minds of photographers. In the past year, we've seen and liked the Samsung NX Mini, Olympus PEN E-PL7, and Panasonic Lumix GF7 with so-called "selfie screens." And the trend shows no sign of slowing as new models like the Samsung NX500 continue to hit the scene.
We took issue with the X-A1 back in 2013 for cheapening Fujifilm's high-end appeal, but it's 2015, and the brand has now firmly established itself at virtually every price point. The X-A2 is an X-A1 that's been updated solely to facilitate selfies, so what choice do we have but to take it at face value? Let's dig in.
Fuji pulls a quick 180. (Almost.)
Externally, the X-A2 is 99% identical to the X-A1. Literally the only difference is the new hinge that supports the 3-inch, 920k-dot screen. Look closely at the top edge of the screen and you'll notice two little rails. These allow the screen to slide down about a centimeter, which in turn allows you to flip it up 175 degrees to face you. Yep, that's the selfie screen.
Externally, the X-A2 is 99% identical to Fujifilm's 2013 model, the X-A1.
Other cameras in this vein offer screens that flip up the full 180 degrees, since they were designed from the ground up to be selfie-enabled shooters. The X-A2 seems like more of a quick retrofit, and the result is a self-facing screen that's just a little off-kilter. The hinge itself seems solid, though the two-step flipping process feels undeniably janky.
Screen aside, the X-A2 is every bit as plasticky as its predecessor. We gave the X-A1 a hard time for feeling cheap but, well… it was cheap. So is the X-A2, and the result is a camera that's made primarily of plastic. To be absolutely clear, this camera is just as well-built (or as poorly built, depending on your POV) as most other mirrorless cameras at this price point; it's only in comparison to Fujifilm's extraordinarily refined high-end models that the X-A2 seems chintzy.
The upside of the plastic build is that this is a very lightweight shooter, even with its relatively large 16–50mm kit lens. At well under a pound with the battery and memory card installed, or 1.2 pounds with the lens, this is a camera you'll be able to carry around your neck all day without feeling it.
The lens itself—the Fujinon XC 16–50mm f/3.5–5.6 OIS II—is a new model, revised to focus far closer than the previous 16–50mm design. With its new macro capabilities, it can focus down to 15cm from the sensor at full wide angle. Fuji representatives noted that this specifically makes the lens better for food photography and, yes, selfies. Though it's a member of the low-cost XC line, the new 16–50mm feels solid as a rock (frankly, much nicer than the camera it's attached to).
Like other cameras of this size, the X-A2 doesn't have a whole lot in the way of external controls. Surprisingly, you get two command dials (though they're scrunched up against each other), along with a mode dial and the usual rear command cluster—a central OK/Menu button surrounded by AF, Trash, White Balance, and Drive Mode buttons. Other keys include Playback, Video Recording, Display, and Quick Menu.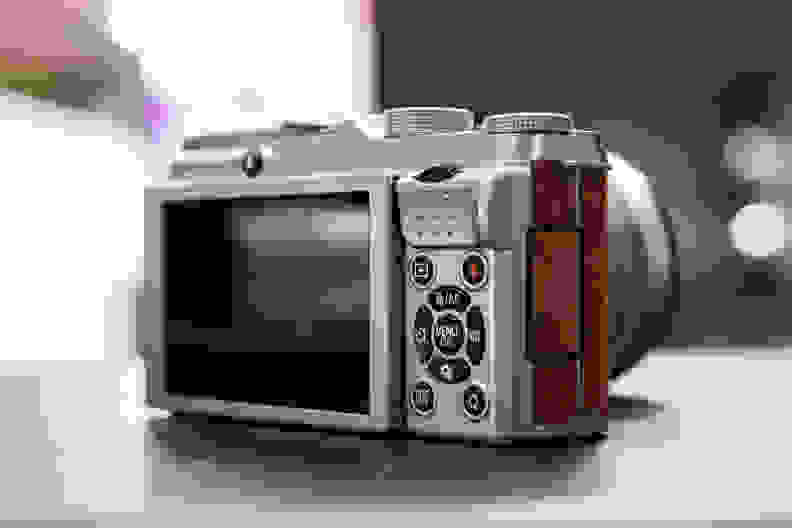 As with the X-A1, there's no touchscreen control, and unlike other selfie-oriented mirrorless cameras, there's no secondary shutter button in selfie mode. Those two factors may make taking self-portraits more difficult than on competing cameras. That said, the buttons are nicely grouped for one-handed shooting under normal (non-selfie) conditions.
Plenty of bells and whistles
Internally, the X-A2 is also 99% identical to the X-A1; only a few software tweaks set the two apart.
The beating heart of the X-A2 is a 16-megapixel APS-C CMOS sensor offering a sensitivity range of ISO 200–6400, expandable to ISO 100–25600. As in the X-A1, this is a standard Bayer image sensor, not one of Fujifilm's special X-Trans sensors. Shutter speeds range from 30 seconds to 1/4000sec.
Internally, the X-A2 is 99% identical to Fujifilm's 2013 model, the X-A1.
The autofocus system is contrast-detect only, which means you'll probably want to look elsewhere if you're in need of a camera to shoot sports and action. For this go-around, Fujifilm has added an eye-detection algorithm to its face-detection AF, making sure you get selfies with perfect focus.
The X-A2 also offers onboard WiFi, which can be used to directly transfer files from the camera to your PC, smartphone, or tablet over a local wireless network. That's basically expected of cameras today, but the X-A2 has another neat little trick: It can send photos directly to the Instax Share WiFi printer. A Fuji rep helpfully produced the Share at the booth and let us print a shot straight from the X-A2.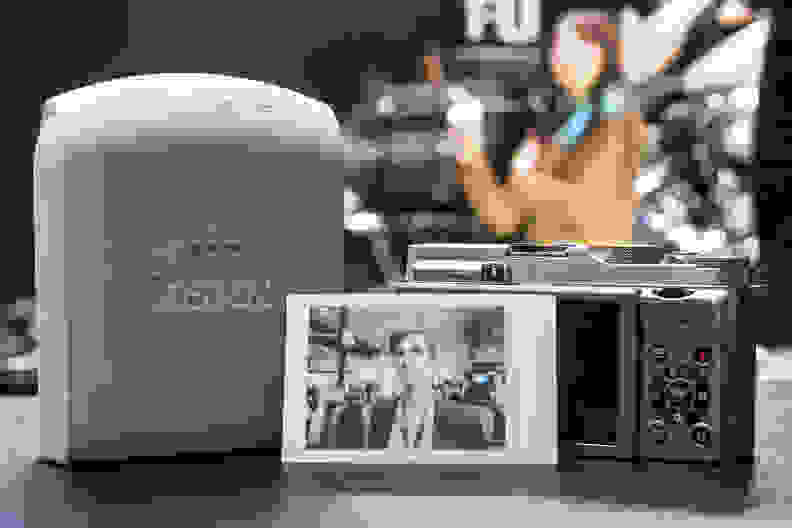 The usual suite of filters, effects (toy camera, tilt-shift, etc.), and multi-exposure modes are all here, and Fujifilm has also added Classic Chrome. The cool, high-contrast Film Simulation takes its place alongside X-series stalwarts Provia, Astia, and Velvia. We saw it first in the X100T and X30, and we're glad to see it here as well.
Along with the revamped 16-50mm kit lens, there's a new XC 50–230mm f/4.5–6.7 OIS II telephoto zoom available. Matched in looks and build quality, it's an ideal companion lens for buyers who don't want to drop the coin for Fuji's brilliant but often expensive primes and large-aperture zooms.
A C-grade student of the selfie game
Like the Panasonic Lumix GF7, which we also took for a spin at CP+, the Fujifilm X-A2 packs some serious firepower into a small, lightweight, ostensibly amateur-oriented interchangeable-lens camera. And to its credit, it offers a larger sensor and a lower price point than its Panasonic rival.
Still, the X-A2 feels like a half measure: a mid-cycle refresh cobbled together to capitalize on a passing fad. Only... we're pretty sure selfie screens aren't a fad, and that makes Fujifilm's half-baked effort feel like a miscalculation. We'd prefer it if they'd taken a bit more time to design a new camera from the ground up, as Panasonic and Samsung clearly did with the GF7 and NX Mini.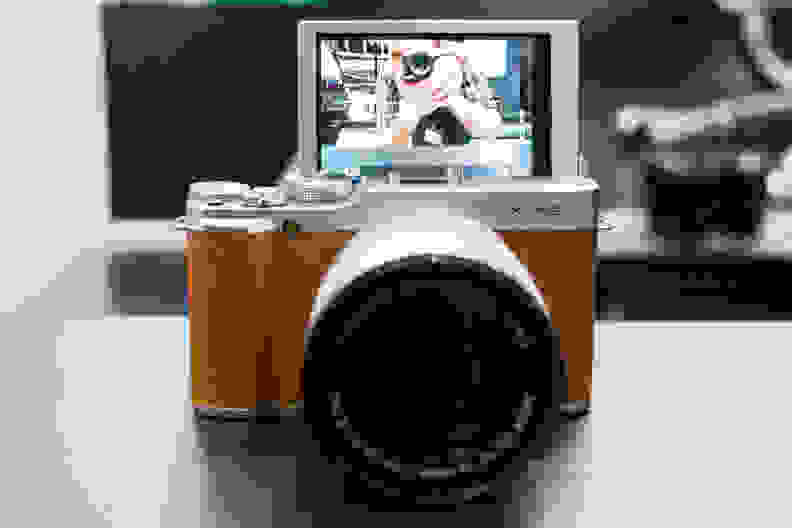 There are multiple issues with Fujifilm's take on the selfie screen. First, the screen doesn't tilt up all the way and it's partially obscured by the camera body. Second, the awkward hinge mechanism requires you to first slide the screen out, then flip it up. Third, without a touchscreen or secondary shutter button in selfie mode, you're stuck awkwardly pressing a shutter release that wasn't designed for user-facing operation. Rival cameras, meanwhile, offer secondary shutter buttons, touchscreen activation, or clever software tricks that will automatically take a selfie.
There are multiple issues with Fujifilm's take on the selfie screen.
Image quality from the X-A2 is likely to be just as good as it was from the X-A1, which is to say, very good. At an asking price of $550 with the new kit lens, it's an exceedingly affordable way into Fuji's excellent lens system, but if that's your goal we'd suggest you simply pick up a used X-M1 or X-E1. Those cameras will be cheaper and more capable, while giving you the X-Trans goodness the brand is known for.
If you're dead-set on joining the Fuji family and want a selfie screen, the X-A2 is available for preorder now in silver with white, black, or brown leatherette wraps, and will begin shipping later this month.
Meet the testers Ben Keough
Contributor
@ben_keough
Ben is an experienced industry journalist who formerly served as Senior Editor of News and Features at Reviewed. He now contributes as a freelance writer and editor. Most recently hailing from the vast wilds of the American southwest, he is an avid photographer who is deeply disturbed by the lack of wide open landscapes in Boston.
See all of Ben Keough's reviews
Checking our work.
We use standardized and scientific testing methods to scrutinize every product and provide you with objectively accurate results. If you've found different results in your own research, email us and we'll compare notes. If it looks substantial, we'll gladly re-test a product to try and reproduce these results. After all, peer reviews are a critical part of any scientific process.
Shoot us an email