Last year's X100 premium compact was a big success (they're still filling back-orders), and anticipation built to a fever pitch for Fuji to announce an interchangeable-lens version based on the same throwback rangefinder aesthetic.
And here it is, a retro-chic camera with a magnesium-alloy chassis and faux-leather grip, built around a 16 megapixel APS-C CMOS sensor, and equipped with the brand new X mount and an updated version of their OVF/EVF hybrid viewfinder. Three bright, prime lenses will be available at launch, with super-wide and zoom lenses available by the end of the year. That's a premium system if we've ever heard of one.
While every other major manufacturer has so far targeted their mirrorless cameras at mid-range enthusiasts, and even casual, step-up shooters, Fuji is aiming the X-Pro1 toward the hands of professionals and semi-professionals—street photographers, wedding photographers, or any serious shooter that wants a high-quality, portable complement to a DSLR rig.
Fujifilm is waiting until the end of the month to announce official pricing, but they suggested that the body will cost about $1,700 and the lenses about $650 each at a press conference. That's well out of the range of most amateur photographers, but a camera as drool-worthy as this one deserves a close look (that's why you're reading this, right?). We spent some time with the X-Pro1 on the CES 2012 showroom floor to gather some initial impressions. Read on for our thoughts.
The X-Pro1 looks like a bigger, more imposing build of last year's X100 and X10—and by extension, a 70s-era rangefinder. It's way too chunky to slide into any pocket, and much larger and heavier than just about any mainstream compact system shooter out there. The only current comparable model is the Leica M9, a specialty shooter with a price tag north of $6,000. The look isn't for everyone, but the kind of photo geek likely to buy a camera as expensive as this one probably has a soft spot for the throwback look.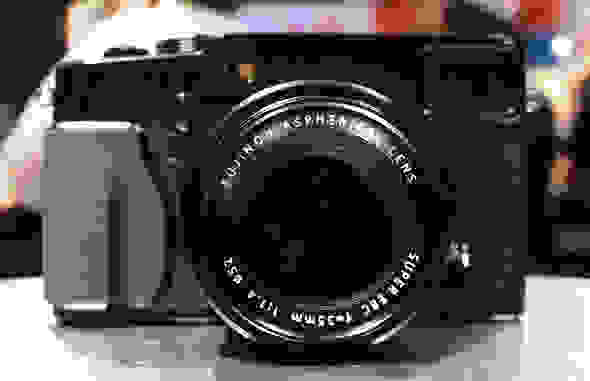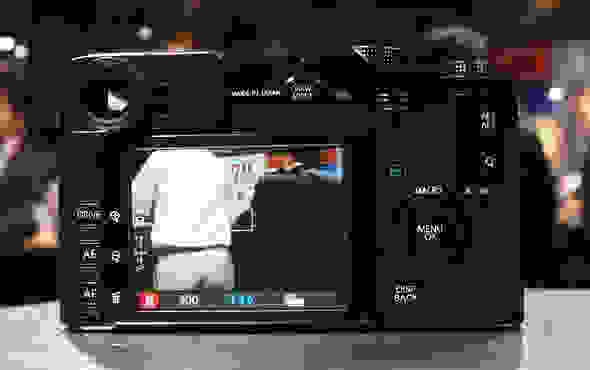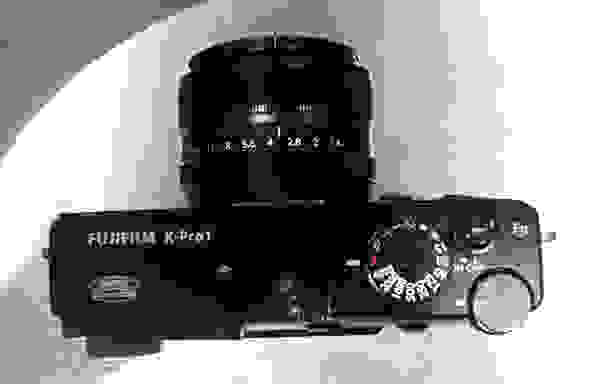 Fujifilm finally gave their menu system a facelift. It's the same tiered layout as before, but it's been refined to at least look a bit cleaner, even if operates mostly the same way.
The biggest improvement is the new quick menu setup. The Q button on the rear panel brings up a quick menu for the vast majority of commonly adjusted settings— ISO, color mode, size, quality, and fine adjustments like color, sharpness, and shadow and highlight tones. It's all there on one screen, so it really cuts down on the amount of time most shooters would have spent futzing around on previous models.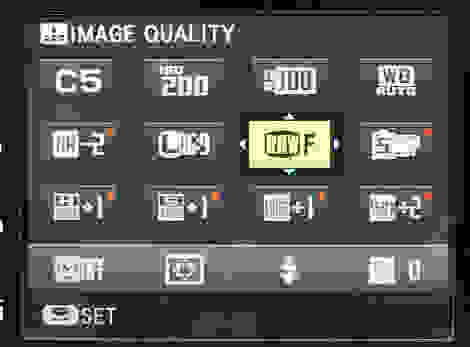 An assignable Fn (function) button next to the shutter takes even more strain off of the menu system. It's an even quicker way than the quick menu to adjust your most-fiddled-with setting. Most users will probably set it to ISO, but by holding it down for a second or two, it can be customized to a few different settings.
No surprise at all, the X-Pro1 handles like a serious camera, through and through. There's a dedicated shutter speed dial, aperture and manual focus rings on all of the lenses, and a generous helping of direct access buttons and customizable keys. The buttons themselves are pretty solid, a nice upgrade from the sometimes mushy controls on the X100. This is not a camera for beginners—it demands hands-on control, and setting it to auto is really a waste of its potential.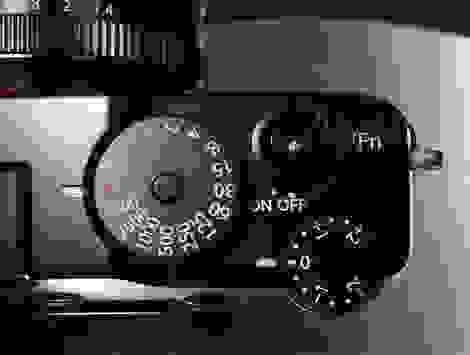 This is a big camera—bigger than the X100 and certainly the X10, not to mention just about every other mirrorless system camera out there. While its proportions are different than a DSLR's, it's just about as heavy as some entry-level models. The most accurate comparison point is the Leica M9, as the dimensions and weight are roughly the same.
Handling is a bit boxy. It doesn't have the form-fitting contours of a DSLR, which is hard to replicate on a flat camera. It might be too bulky for some small-handed shooters, but it's actually not much different than shooting with a mid-range mirrorless camera like the Olympus PEN E-P3 or Sony NEX-7.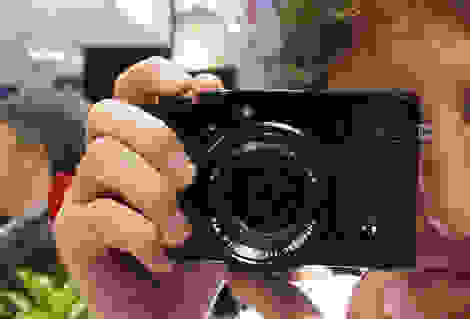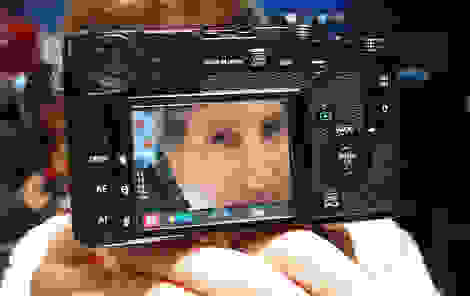 The X-Pro1 doesn't really have "modes" in the sense that we've come to expect from modern digital cameras. There's no mode dial or menu with notches for PASM modes or scene presets. The shutter dial and aperture ring both have auto settings (the red A), but outside of that, it's all manual exposure all the time. No presets, no obvious specialty modes, nothing but a throwback shooting experience.
There's no dedicated auto mode; the aperture and shutter controls can both be set to auto, though. Even at that, it's really a program shift mode, as all of the shooting options (ISO, white balance, EV compensation) are adjustable. This camera is not designed for automatic shooting, and it won't hold your hand while you shoot.
The X-Pro1 has a 1080/30p movie mode, but like it was on the X10, it appears to be a complete afterthought—one more line on the spec sheet that there because it can be, but not because this camera is really designed for shooting movies. The movie mode option is buried in the drive mode menu, with few manual controls, no dedicated video button, and no external microphone hookup, either.
The X-Pro1 can crank out 6 frames per second at its maximum burst setting, and 3fps at a reduced speed. Several bracketing options are available as well.
In the absence of scene presets, there are a whopping 7 customizable settings. Every shooting parameter can be adjusted for every setting, so it's totally open-ended. Changes are made within the deep menu system, not in the quick menu.
Playback mode is pretty standard, offering several ways to review photos. Playback zoom is supported (using the Drive and AE buttons to the left of the LCD), and multiple photos can be viewed at once. Options like protection and marking for print are also supported. It incorporates some of the user-friendly options that were previously only found in Fuji's consumer-level cameras.
The X-Pro1 shoots in a native 3:2 aspect ratio. The maximum photo size is 4896 x 3264 or about 16 megapixels.
Autofocus is contrast-detection style, just like almost any mirrorless camera. Single and continuous AF is available for multi-area, center, and spot settings—the spot size is even adjustable. A maximum of 49 focal points are available (a 7x7 array).
Manual focus is available as well, controlled by a lens ring. Because the optical finder is a tunnel-type, it isn't effective for finding focus, but switching to the electronic finder makes it easier. The lens ring is a "focus by wire" type, meaning that it can rotate infinitely in either direction—you'll have to rely on the live view to determine when its in focus, rather than feel.
A focus-mode switch on the front of the body shuffles between AF Single, AF continuous, and MF.
The X-Pro1 has a full selection of manual controls, including aperture priority, shutter priority, and full manual mode. Aperture is controlled with a lens ring (so it's actually separate from the camera body itself), while a dedicated dial on the top of the camera body controls the shutter speed.
Exposure compensation gets a dedicated dial as well, with 2 full EV stops in increments of 1/3EV in either direction. Metering can be set to Multi, Spot, and Average modes. An AE-lock button is on the rear panel as well to hold exposure for a particular shot.
The native ISO range is 200-6400, selectable in increments of 1/3—rather than just 200, 400, 800 and so on, the X-Pro1 offers 200, 250, 320, 400, 500, and so forth. The range is extendable down to 100 and up to 12800 and 25600. Auto limits can be set to ISO 400, 800, 1600, and 3200.
Auto white balance is available, of course, as is a custom WB option as well. 7 presets are available as well, including settings for typical lighting situations (incandescent, sunny day, cloudy day, and a few fluorescent settings), and there's a direct color temperature input (in degrees Kelvin) as well.
There's no in-body stabilization, and none of the initial three lenses will be stabilized either. Fujifilm reps were non-committal about stabilization in future lenses, though they didn't rule it out.
Besides Fujifilm's usual Film Simulation color modes (which don't count anyway), the X-Pro1 doesn't feature any in-camera effects or "fun" filters.
A big handful of advanced controls can be set by the user, including sharpness adjustments, color space, noise reduction, and highlight and shadow tones. All of them aside from noise reduction can be tweaked from the quick menu. From what we could tell based on the pre-production firmware, most of the settings have five intensity settings, usually plus or minus two from the default level.
The X-Pro1 uses Fujifilm's brand new X mount, with a short 17.7mm flange back meant to maintain sharpness at the edges and corners of photos. The mount accepts Fujifilm XF lenses; three will be available at launch (18mm f/2.0, 35mm f/1.4, and 60mm f/2.4 macro). One super wide and one zoom lens are planned for release by the end of 2012, with a total of 9 XF lenses to be available within 3 years.
The sensor is a newly designed 16-megapixel APS-C X-Trans CMOS chip, measuring 23.6mm x 15.6mm. It's the same size sensor as the X100, most consumer-grade DSLRs, and many mirrorless system cameras, producing a crop factor of 1.5x. Processing is handled by a new EXR processor and co-processor.
Getting into the real nitty gritty, Fujifilm takes a new approach to filtering. The primary color filter uses a 6x6 pixel array, much larger and more random than the typical 2x2 Bayer filter. The hope is that it cuts down on moire and false colors in shots with tight patterns, which in turn eliminates the need for a low-pass optical filter. Since the X-Pro1 doesn't have a low-pass optical filter, image resolution should be higher than cameras with low-pass filters.
A 3-inch, 1.23-megapixel LCD complements the viewfinder. It's bigger than the screens on its predecessor, and one of the higher-res screens available on any camera.
Fuji's second-gen hybrid viewfinder makes its debut, building on the optical/electronic combo that the X100 introduced. There's an optical, tunnel-style viewfinder at the top-left of the body, offering the "real" feel that some shooters want when they frame photos. But there's also an electronic finder built into the window, which can overlay info onto the optical window, or function on its own.
When cameras switch lenses, the optical finder automatically adjusts the magnification the match the framing of the lens. Fuji claims that this will be the case even after they introduce a zoom lens later this year.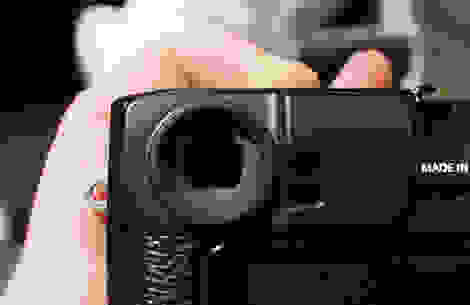 No built-in flash is available, but the hot shoe accommodates a few Fujifilm external flashes, including the EF-X20, which was designed to complement the X-Pro1 design.
The X-Pro1 has two ports, one USB 2.0 and one mini-HDMI. It's a standard combo, no surprises there. Some folks may have been holding out hope for a next-gen connection, like USB 3.0, but they'll have to wait for the next round. Also of note, there's no microphone input.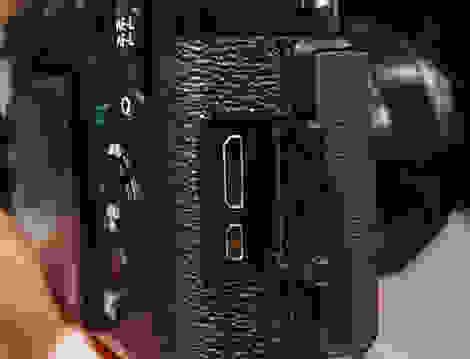 The X-Pro1 runs on a rechargeable NP-W126 lithium-ion battery, CIPA-rated for 300 shots per charge. That capacity is OK, but serious cameras can usually handle more.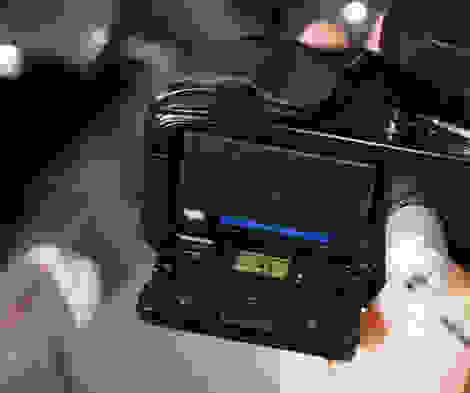 No surprises here: the X-Pro1 captures to SD/SDHC/SDXC memory cards. The slot is right next to the battery cavity, behind a door on the bottom of the body.
The X-Pro1 has a hot shoe to accommodate accessories and add-ons like flashes.
Like its X-series brethren, the Fujifilm X-Pro1 hits the market as the only camera quite like itself. The photo-enthusiast community had been hoping and even expecting something like the X-Pro1 after last year's successful X100 fixed-lens premium compact, but it's still a surprise when something so bold actually gets announced.
It's a mirrorless compact system camera, but it's the only one so far that's been aimed directly at professional and semi-pro photographers (and really just a subset of those power-users). The boxy, retro-rangefinder chassis looks like it's straight out of the disco era, and the only lenses that will be available at launch for its new mount are a handful of fixed focal-length pieces that we're told will cost about $650 each. It takes geeky, technical risks that don't pop off the spec sheet at all (how many photo buffs honestly know what a primary color filter array or low-pass optical filter do?), and it's going to cost around $1,700 at launch—about $500 more than its closest system-camera competitor.
Those brave design choices are a big part of why the X-Pro1 is the most endearing system camera we've seen in years. We can only really comment on the design and handling since we haven't been able to run it through our battery of image quality tests. But from what we've seen, it's a sweet, slick shooter. The OVF/EVF hybrid viewfinder (first seen on the X100 and updated for this system) is excellent, the redesigned menu system is a notably easier to wrangle than the hieroglyphics in past Fuji models, and the control scheme and handling made us feel like we were really controlling this camera, at least more than we usually do with auto-oriented system shooters.
That said, the manual, almost mechanical operation isn't for everyone. For photographers raised in the digital era, the control scheme will take some getting used to. There are no scene presets, very little hand-holding, and it's subject to the complicated nature of a tunnel viewfinder (even one augmented with an electronic overlay). It's really chunky, and not particularly fast—something that Fujifilm willingly admits to. And despite Fujifilm's claims that the image resolution will rival and even surpass that of a full-frame camera, we also can't be sure how the photo quality will stack up, especially considering all the new, unproven components within the optical system.
And then there's the matter of the competition: The Sony NEX-7 is a heck of a camera, one that draws on the features of the digital age and incorporates them into a new-age rangefinder, rather than the X-Pro1's approach of adapting a classic to fit modern needs. The NEX-7 also sells for a comparatively frugal $1,200, with a wider variety of lenses available (and more affordable ones at that, though not necessarily higher quality). On the other hand, the X-Pro1 also competes directly with the Leica M9, a $6,000 camera, so if the Fuji can even come close to the Leica's quality, it's sure to snag tons of users away from that system.
We're eager to get the X-Pro1 into our labs for testing to see if it truly is a camera worthy of the pro and semi-pro segments. A lot of questions still need to be answered, but it's a promising camera that's already inspired plenty of envy, and stopped a few folks from spending their holiday bonuses on the NEX-7. It's going to be a lot of fun watching this race unfold.
Meet the tester
Liam F McCabe
Managing Editor, News & Features
@liamfmccabe
Liam manages features and news coverage for Reviewed.com. Formerly the editor of the DigitalAdvisor network, he's covered cameras, TVs, personal electronics, and (recently) appliances. He's a native Bostonian and has played in metal bands you've never heard of.
Checking our work.
Our team is here for one purpose: to help you buy the best stuff and love what you own. Our writers, editors, and lab technicians obsess over the products we cover to make sure you're confident and satisfied. Have a different opinion about something we recommend? Email us and we'll compare notes.
Shoot us an email