The X-S1 is a premium superzoom, aimed at enthusiast photographers who like the idea of bridge cameras but have never quite been satisfied with typical image quality. It's based around the same oversized 2/3-inch EXR CMOS sensor as the X10 (which we reviewed a few weeks back), but with a huge 26x optical zoom lens strapped onto the front, and comfortable, DSLR-like handling. It's like a bigger, badder version of the HS30EXR (which also has a first impressions review on the way). Fujifilm thinks that it's the ideal all-in-one camera for nature photographers.
We spent some time with the X-S1 at CES 2012 and put together some initial thoughts on the design, handling, control scheme, and hardware. Read on for our first impressions review.
The X-S1 is designed like an inflated version of Fuji's own HS30EXR (or last year's HS20EXR, which is probably still more familiar to most readers at this point). It's the most "serious-looking" superzoom we've seen, in no small part because of that extra bulk; it looks even more like a DSLR than a typical bridge camera. The relative proportions are the same, just bigger overall.
Like the rest of the X series cameras, the X-S1 has the "Made in Japan" emblem stamped on the rear panel. But aside from that mark of pride (and marketing), it's hard to tell that it's supposed to be part of the X lineup—mainly because it's the only model that isn't designed in the image of a rangefinder.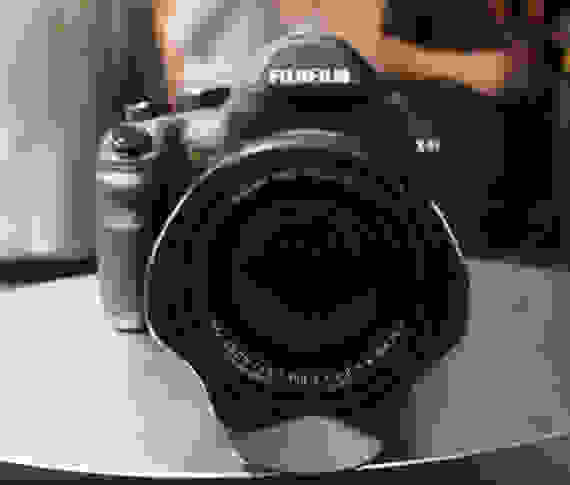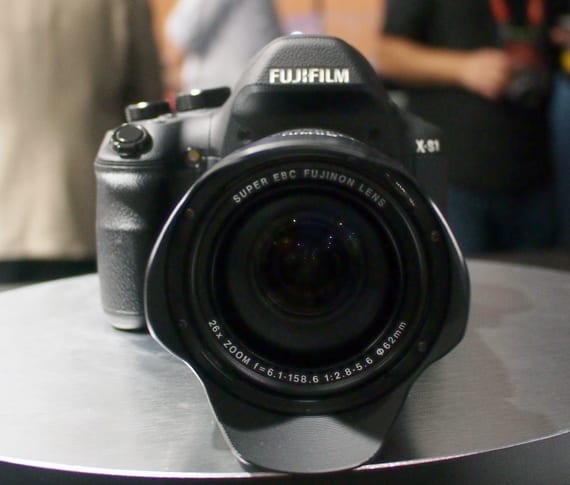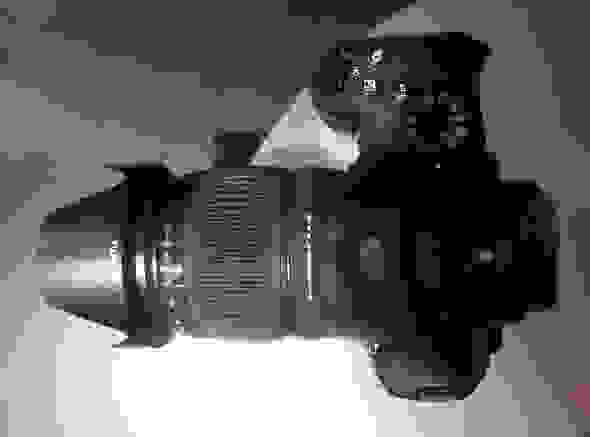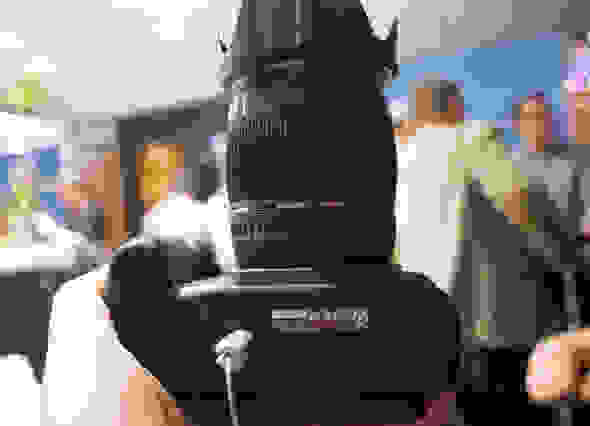 The menu system is standard Fujifilm issue, nearly identical to that in the HS20EXR/HS30EXR and X10. The key difference is that playback-related menus have green tabs now, while shooting modes have red and blue tabs.
The main menu is tiered by category (shooting, playback, and setup), with multiple pages in each category. Scrolling through the menu can take a while.
No quick or function menu here, since there are direct-access keys for white balance, ISO, autofocus, auto exposure, and drive mode among others, plus two assignable function keys. That covers most commonly adjusted settings, so a quick menu would probably be redundant. The access-heavy scheme should keep most users out of the half-clumsy main menu system anyway.
If you've used the Fuji HS20EXR, you'll know exactly how to use the X-S1. For the majority of readers who haven't, it offers more hands-on control than most superzooms, but isn't as nimble as most DSLRs. Auto mode felt quick and reliable on the showroom floor, and it also incorporates EXR Auto mode, which leaves it up to the camera to pick one of the X-S1's alternative processing modes and is just as easy to operate as regular auto mode. But with all of its buttons and menu options, it's probably too intimidating for novices and even casual users, and its potential will go unused if it's left in auto mode; this is really designed for shooters with some photography experience.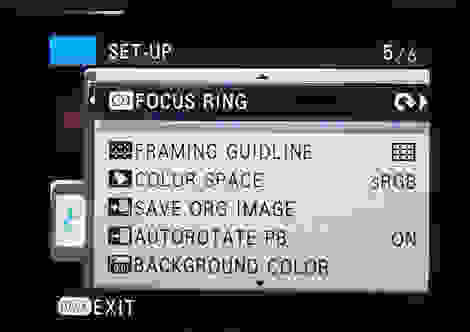 The X-S1 is about the size of a mid-range DSLR, notably bigger than Fujifilm's HS-series superzooms, which are already bigger than just about any other bridge models out there. It's too big for a purse, so travelers will need to store it in its own bag, and carry it with a neck strap during the day.
With two hands and a neck strap, it handles as naturally as a DSLR. The contours are cozy, and the buttons fell under our fingers. It's covered in a rubber coating that's deceptively soft and comfortable and easy to handle. The manual, twist-barrel zoom mechanism is exceptionally smooth and nicely weighted—apparently it's built using some of the same techniques as Fuji's broadcast-quality lenses. The dials are metal, with a nice weighting. Some buttons are a bit clacky, and others a bit soft, but those are the only weak spots on a camera that otherwise feels like a high-quality product, built with lots of attention to detail.
With that solid construction comes a heck of a lot of heft. The X-S1 falls within the weight class of the Nikon D5100 or Canon T3i. We held it with one hand while we took product photos on the CES showroom floor, and it was pretty well strained after about a minute. Bridge cameras are usually light enough for single-mitt gripping, but not the X-S1.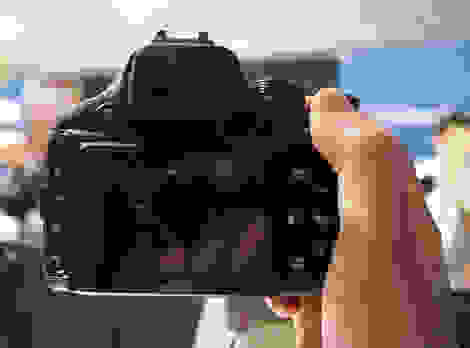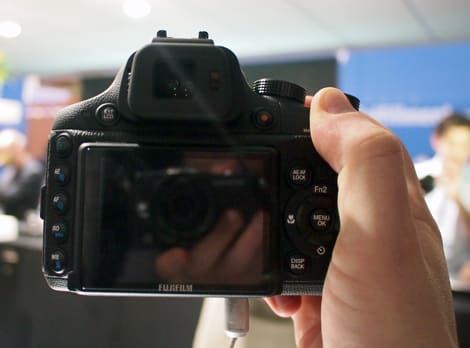 The X-S1 offers a manual (PASM), automatic, and preset scene modes, as well as specialty (or "advanced") modes like a 360-degree sweep panorama and multi-shot composite modes. Fuji's usual Film Simulation color modes are on offer as well, including Provia (standard), Velvia (vivid), and Astia (soft), alongside monochrome and sepia modes.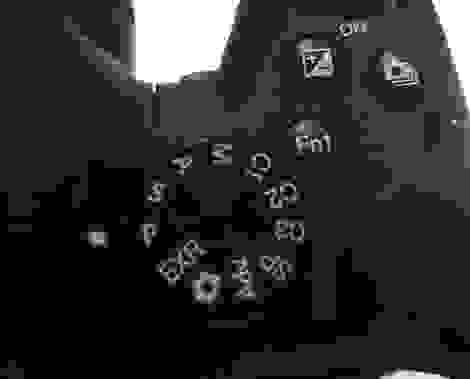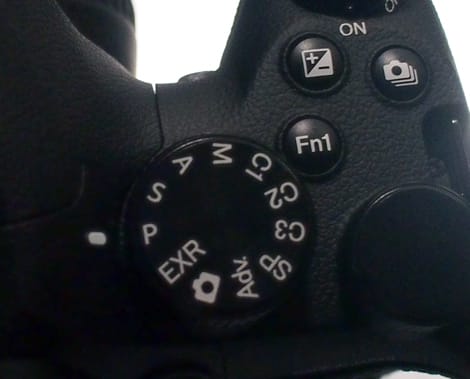 Like many higher-end Fujifilm models, the X-S1 has a standard auto mode and the more exotic EXR auto mode, which selects one of the camera's alternative capture and processing techniques. We've found with other mid- to high-end Fujifilm cameras that EXR mode is the best way to approach automatic shooting when it's available; the shots generally turn out cleaner, sharper, and with a more balanced dynamic range than they do out of the standard auto mode, and they never look worse.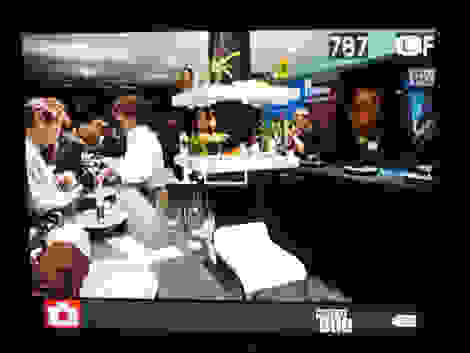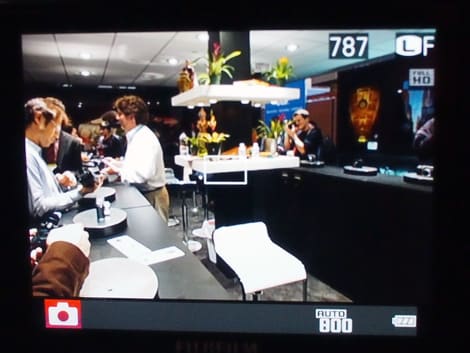 The X-S1 can shoot 1080p/30fps video, 720p/30fps, and a VGA movie mode. Like movie modes on most Fuji cameras, it feels like a tacked-on feature—one that's there because cameras are expected to have video, not because it's really meant to work as a standalone video camera. Clips can't be edited, and autofocus seemed to have trouble adjusting to moving objects (or a shifting focal length) after the initial focus lock. Optical zoom works because the zoom mechanism is controlled manually with a twist barrel.
At full resolution, the X-S1 is advertised to crank out 7 JPEGs per second, jumping up to 10fps at half-resolution. A couple of slower continuous drive settings are also available, as well as assorted bracketing modes including AE and ISO.
Three user-definable custom image presets are available, all of which have a notch on the mode dial.
Playback mode is mostly standard for a Fujifilm EXR camera. A dedicated playback button sits on the top-left side of the rear panel. The AF and AE buttons beneath it control playback zoom. The command dial can cycle through large sets of photos quickly. Basic in-camera edits like cropping and resizing are possible as well. The biggest tweak to the system is that playback menus are designated by a green tab at the top of the screen (as opposed to the red and blue tabs for shooting and setup menus).
Resolution maxes out at 12 megapixels in a 4:3 aspect ratio. Three different sizes—L, M, and S (take a guess at what those stand for)—are available for each of the four supported aspect ratios, which also include 16:9, 3:2, and 1:1.
As an enthusiast-oriented camera, the X-S1 does offer RAW format shooting (even through a dedicated RAW button). Two JPEG quality levels (Basic and Fine) are offered, as is RAW+JPEG simultaneous capture.
The X-S1 uses 49-area, contrast-detection autofocus. Single and continuous AF are supported, and multi-area, spot, and tracking frame areas are available. Super macro mode can focus from as close as 1cm.
Manual focus is also an option. MF is usually tricky on fixed-lens cameras with modest sensors, but the X-S1 is pretty well-suited for the job. The electronic viewfinder is actually high-res enough to see the details in the subject, which is more than we can say for most EVFs. The lens ring is smooth too. If all else fails, there's a snap-to-AF option available as well.
In terms of manual control, the X-S1 offers the works. Aperture, shutter speed, and just about every other important setting is user-adjustable.
The aperture range runs from f/2.8-11, and the shutter speed ranges from 1/4000 all the way down to 30 seconds. Multi-pattern, center-weighted, and spot metering are all available. EV compensation runs in steps of 1/3 from -2 to +2 EV. Dynamic range compensation is adjustable too.
Full resolution ISO settings stretch from 100 up to 3200, hitting the usual full stops (ISO 200, 400, 800, 1600) as well as partial stops (ISO 250, 320, 500, 640, and so on) along the way. Added control like that is uncommon for most fixed-lens cameras, but we've seen it on every other X-series camera so far, and it makes sense on an enthusiast-oriented model like the X-S1.
Some additional ISO settings are available, but at reduced resolutions. ISO 4000, 5000, and 6400 are accessible at the medium resolution setting, and ISO 12800 can be reached at the smallest picture size.
There's a direct-access key for white balance in the left-hand button column. Most of the preset options are pretty standard, including an auto mode, Shade, Incandescent Light, and three fluorescent settings. Custom white balance is available, as is a color temperature selection.
As any superzoom should be, the X-S1 has lens-shift optical image stabilization. It seemed reasonably effective on the CES showroom floor, but we did get a few blurry shots in the bunch, which is inevitable with such a long telephoto range.
Aside from the Film Simulation color modes—Provia (standard), Velvia (vivid), Astia (soft), monochrome and sepia—the X-S1 has no picture effects, including goofy effects or fun filters.
It looks like a DSLR, but the X-S1 is a fixed-lens camera—an f/2.8-5.6 26x (24-624mm equivalent) Fujinon zoom lens, to be exact. Zoom is controlled by a manual twist-barrel with a ridged, rubber grip.
Fujifilm built it using some of the same techniques they use in their professional broadcast-quality lenses, including a greased barrel. It's a very smooth operator, with a nice weighting and consistent resistance throughout the focal range. There's also a lens ring on the close side of the barrel for manual focus.
It's also a huge lens, in no small part because of the oversized sensor behind it. It's a 12-megapixel, 2/3-inch EXR CMOS chip, probably the same one that's used in the Fujifilm X10. That's about 50 percent larger than the sensor in a typical point-and-shoot, and slightly larger than the sensor in most advanced compacts, including the Canon S100 or Nikon P7100. It's also the largest sensor in any superzoom right now, by a fairly wide margin.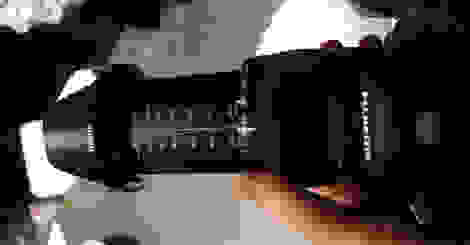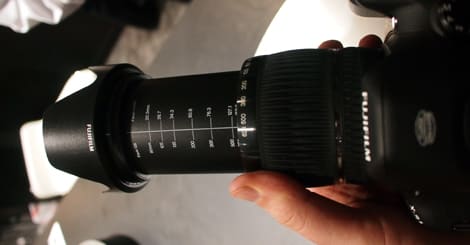 A 3-inch, 460,000-pixel tilting LCD complements the EVF. Fuji's PR squad tells us that it's brighter than previous Fujis' screens (something implemented across the entire 2012 product lineup), but it's tough to tell how it'll actually perform in real-life shooting scenarios, rather than the bizarre mood lighting that was around the X-series stand on the CES 2012 showroom floor.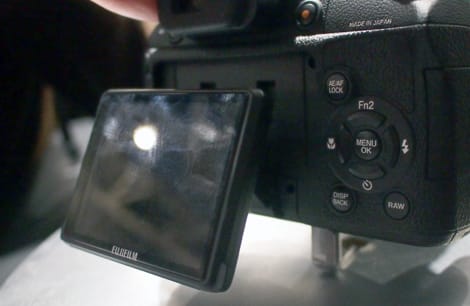 The X-S1 has a electronic viewfinder with 1.44 million pixels of resolution. That's a ton of resolution for an eyepiece screen, and it looked very sharp to us out on the showroom floor, in the wheelhouse of the great EVFs on Sony's A-series SLT system cameras, but based on our initial impressions, not quite in the same pay grade. The finder is also equipped with an eye-level sensor, as well as a diopter adjustment, tucked awkwardly behind the eyepiece.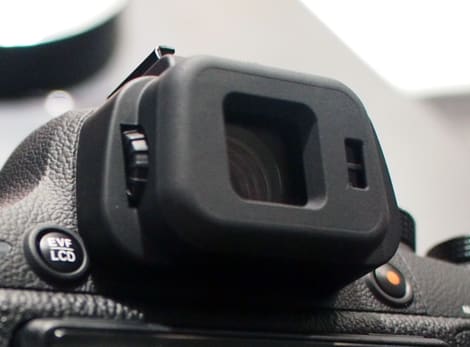 The X-S1's pop-up flash articulates forward from its cavity just a little bit. It's effective out to 26.2 feet, according to the spec sheet Fuji provided, and it can also accept external flashes in its hot shoe.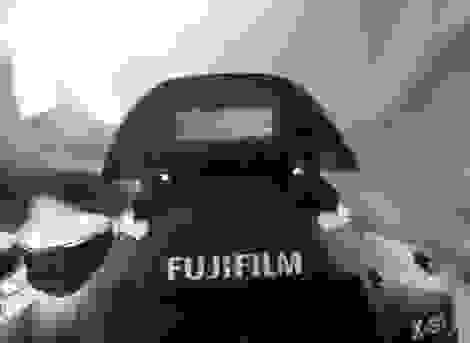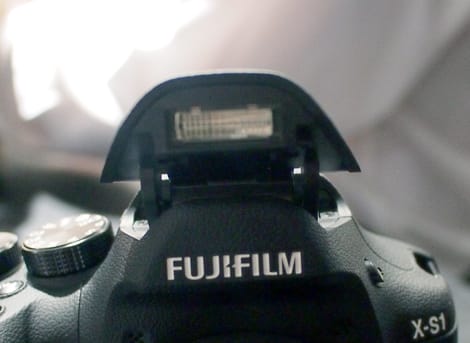 The standard combo of USB 2.0 and mini-HDMI ports sit behind a rubber flap on the left side of the camera.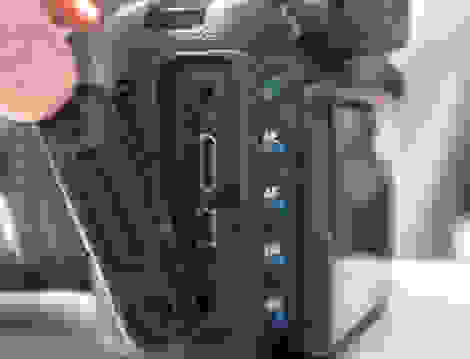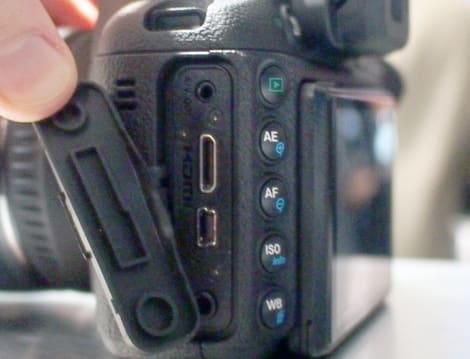 The X-S1 runs on a NP-95 rechargeable lithium-ion battery, located in a cavity within the grip, through a door on the bottom of the camera. Fuji claims that it lasts for about 500 shots per charge using the EVF or 460 shots using the LCD.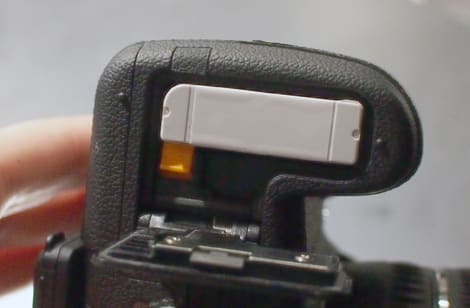 No surprise here, the X-S1 captures to SD/SDHC/SDXC media cards. The card compartment is on the right side of the camera.
Superzooms are treated like overpowered point-and-shoots, the happy medium between pocket cameras and DSLRs in terms of price and target audience. But they don't make everybody happy. There are photo enthusiasts (not many, to be honest) who own a nice DSLR but would fork over the cash for a high-quality, all-in-one camera if they had the choice, rather than compromising for a glorified point-and-shoot with a big lens. Fujifilm thinks these folks are mostly nature photographers.
The X-S1 aims to fill that (possibly narrow) niche by taking a step beyond the genre's self-imposed borders. It's built around an oversized sensor with one of the most solid, well-constructed chassis we've ever seen in the category. It maintains all of the native versatility and comfortable handling of a regular bridge camera, too. As long as the image quality is actually superior to models like the Panasonic FZ150 or Canon SX40HS (and with such a large sensor that worked well in the X10, there's no reason to think that it won't be), it'll be the only truly premium superzoom on the market. Like it's X-series siblings, it's a boutique camera, the only one quite like itself at the moment.
But as a boutique camera, it's pricey. At $799, it's the most expensive superzoom by a long shot, even more expensive than a lot of DSLRs and system cameras. It would take thousands of dollars of lenses to match the X-S1's massive focal range, but $800 for a non-system camera is a tough sell. Fuji cameras also always seem to have some sort of weird firmware-related bug—false overheating warnings (HS20EXR), wonky AF (X100), the dreaded white blob (X10)—so the odds are pretty good that we'll hear about something wacky with the X-S1.
Of course, we'll have to get the X-S1 into our labs for proper testing before we can actually give a solid stamp of approval or a rejection sticker. It's dude out by the end of the month, so with any luck, we'll be writing about it very soon.
Meet the tester
Liam F McCabe
Managing Editor, News & Features
@liamfmccabe
Liam manages features and news coverage for Reviewed.com. Formerly the editor of the DigitalAdvisor network, he's covered cameras, TVs, personal electronics, and (recently) appliances. He's a native Bostonian and has played in metal bands you've never heard of.
Checking our work.
We use standardized and scientific testing methods to scrutinize every product and provide you with objectively accurate results. If you've found different results in your own research, email us and we'll compare notes. If it looks substantial, we'll gladly re-test a product to try and reproduce these results. After all, peer reviews are a critical part of any scientific process.
Shoot us an email