As has become common in the industry, Fuji is building on that success by taking the X-T1's blueprint and trimming features (and thus price) to produce the new X-T10 (MSRP $799.99 body-only). While this camera is a significant step down from the flagship X-T1, it still has most of the X-T1's best features–plus a few of its own.
While the lower price point means the X-T10 isn't shooting for the top in the mirrorless category, it's still got some tough competition. It's now competing against cameras that expertly combine affordability and performance, like the Samsung NX500 and Olympus E-M10. With most of what made the X-T1 great in a new, cheaper body does the X-T10 have what it takes to keep up?
Design & Handling
Classic looks and handling
As with previous Fuji cameras like the X30, the X-T10 takes inspiration from the company's old school cameras. Mechanical dials for shutter speed, exposure compensation, and drive mode crown the top of the camera, while an aperture dial is primarily built into most of Fuji's XF-series lenses. But don't panic, The X-T10 also has familiar front and rear command dials that let you control your shot in a variety of ways, depending on what shooting mode you're in.
The dials are aesthetically pleasing, but you usually need to take your eye off the finder to adjust them accurately. Additionally, the dedicated record button on top is nearly impossible to press. Fuji might not focus on video, but being able to start and stop recording shouldn't be this frustrating.
While the X-T10 doesn't inherit the X-T1's superb viewfinder, the X-T10 does borrow its articulating screen. Great for avoiding glare or getting shots at tough angles, this screen offers a level of flexibility not shared by many in its price bracket. However, the panel has a slightly lower resolution. And if you're looking for a selfie friendly camera, the X-T10 will disappoint–unlike cameras like the NX500, which has an LCD that flips forward to face your subject. Enthusiasts will enjoy the large and fast electronic viewfinder, but the eye sensor will sometimes mistake a wayward hand for your face and switch screens while you're in the menus or reviewing images.
×
Tour
When shooting with the X-T10, I found that the front grip leaves a little to be desired. It simply isn't big enough to support the weight of the camera with larger lenses. To help with this you can purchase the MHG-XT10, which is an additional grip that provides a more secure hold. Unlike many grips, the MGH-XT10 doesn't cover up the battery bay, so it doesn't block access for quick battery and memory card changes.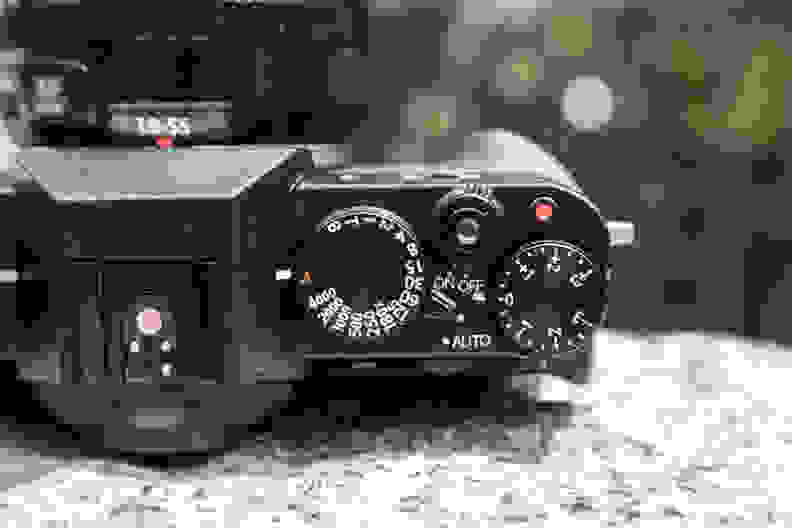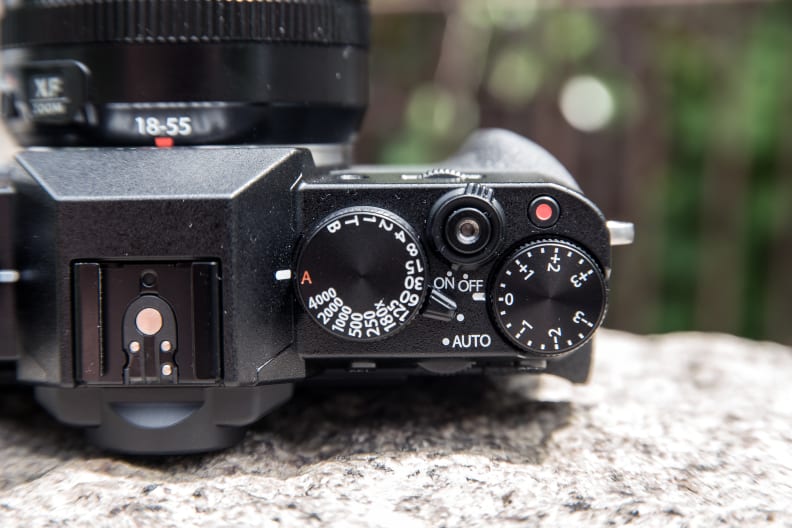 Overall, the camera has a beautiful aesthetic design. It isn't the most intuitive to operate, but that's part of the charm of shooting with Fuji. Users that aren't used to Fuji cameras (or old school film cameras) should be prepared to take on the steep learning curve. Once you do, the X-T10 can be a very responsive–and fun–tool in your arsenal.
Performance
X-T1 + 0 = X-T10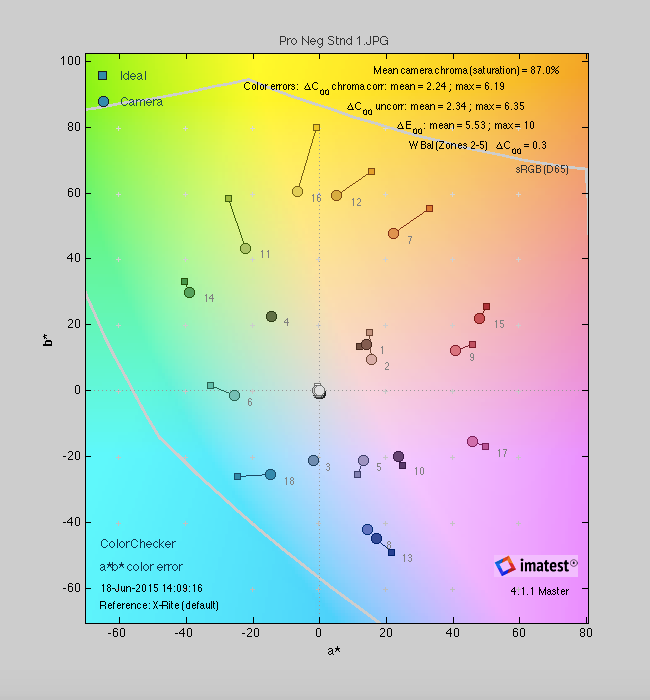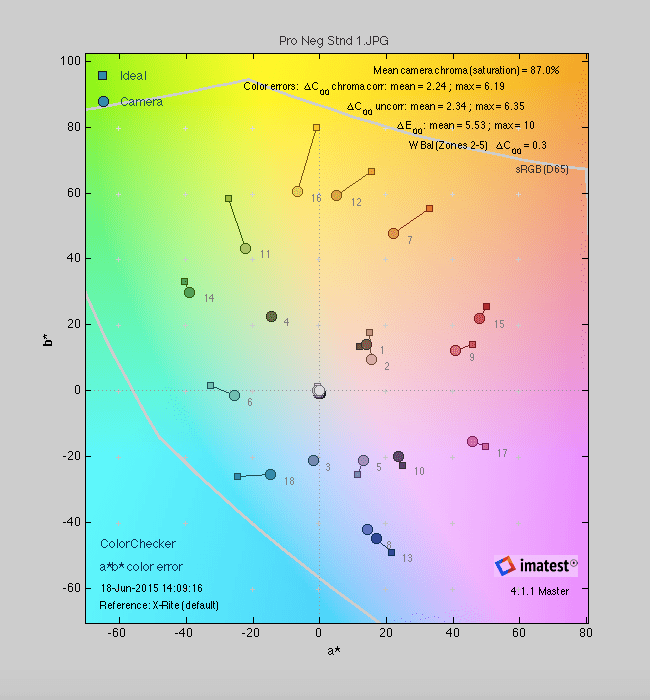 The X-T10 contains the same 16MP X-Trans CMOS II sensor as the X-T1 backed up by an EXR Processor II. While 16MP might not be as impressive as it used to be, the X-T10 is more than capable of creating beautiful images. The combination of the film simulation modes and the glut of high quality Fuji lenses produce vibrant, sharp images that have wonderful character.
Speaking of the film simulation modes–Fuji's form of color profiles–we once again saw the most accurate color from Pro Neg Hi. It produces smooth colors without oversaturation, which is great for skin tones. If you're looking for a more vibrant image, you can always use the "Vivid" mode, which oversaturates your picture a bit to make it pop. Recently, Fuji also introduced a new mode called Classic Chrome which turns out to be kind of an anti-vivid mode, desaturating the images by about 20%.
The X-T10 was plenty sharp, even with the 18-55 kit lens on it. The camera resolved loads of detail through the entire focal range, with the best results at the widest focal lengths. If paired with one of Fuji's premier lenses, the X-T10 only gets better. And given the low MSRP, you should have some money left to put towards nice lenses.
×
Samples
High ISO performance was quite impressive with the X-T10, with an ISO range that stretches from 100 to 51,200. Unfortunately this is only true when capturing JPEGs; If you want RAW you are limited to ISO speeds of 200-6400. However, you can expect to only be able to use ISO speeds 6400 and below before the image becomes unusable. This is largely due to the X-trans sensor which uses a unique RGB pattern. Fuji loves it, but it tends to give common RAW developers fits and can pose some workflow issues.
While the X-T10 rewards a more deliberate approach to photography, the X-T10's burst shooting is exceptional. It's capable of shooting a consistent 8 frames per second (fps) in JPEG, RAW, and JPEG + RAW. The only catch is the limited buffer; when you are shooting RAW + JPEG you can only fire off about 7 shots before the camera gets jammed up and slows down to about 1.5 fps.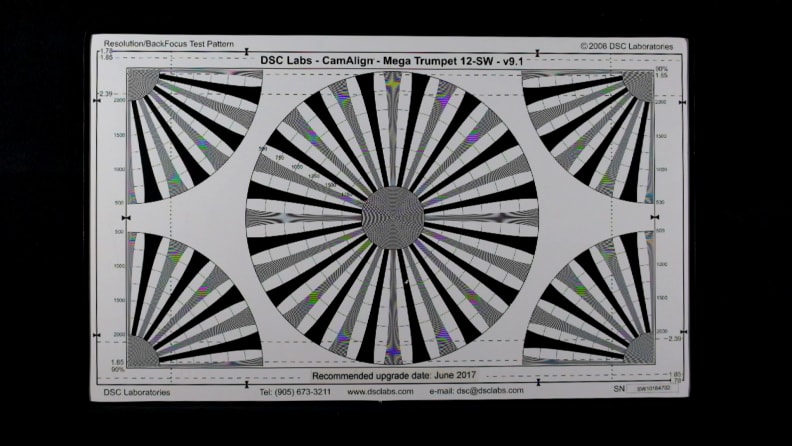 Of course, Fuji's Achilles heel continues to be video. Video performance was a sore spot on the X-T1 and nothing has changed on the newer X-T10. The X-T10 showed terrible moiré patterns all over our charts–as seen above–with false coloration and compression artifacts. Our sample videos also were plagued by choppy motion and the real-world result could be brutal. It also just isn't sensitive in low-light, as it took a whopping 23 lux of light to produce a useably bright image. While the bump to 1080/60p is nice, we wouldn't recommend it to anyone expecting high quality video.
Features
Fastest focus in the West
The biggest change for the X-T10 has to be the enhanced autofocus (AF) performance. The new system, which Fuji calls "Intelligent Hybrid AF", combines both phase detection AF with contrast AF to enhance speed and accuracy in all lighting situations. This pushes AF acquisition time to 0.06 seconds–faster than the 0.08 second AF on the X-T1. The X-T1 is getting a firmware update to bring it in line with the X-T10.
The X-T10's two new autofocus modes, Zone and Wide/Tracking, take advantage of 77 autofocus points to track moving subjects more efficiently. Within the 77 point AF area, the zone mode lets you decide between a 3x3, 3x5, or 5x5 zone. While using the Wide/Tracking mode, the AF system picks the area of focus and automatically tracks your subjects movement throughout each of the 77 autofocus points.
×
design
Another new addition to the X-series is the X-T10's auto lever, which is located at the top of the camera and essentially functions as the classic "Auto" mode you've likely had on past cameras. While in Auto the control dials can be used to select between 14 modes ranging from "portrait" to "fireworks" to "party" modes. If picking a mode is too much to handle, you can simply select "Advanced SR Auto" and the camera will scan the scene and pick the between 58 preset scene modes and use whatever it finds most appropriate.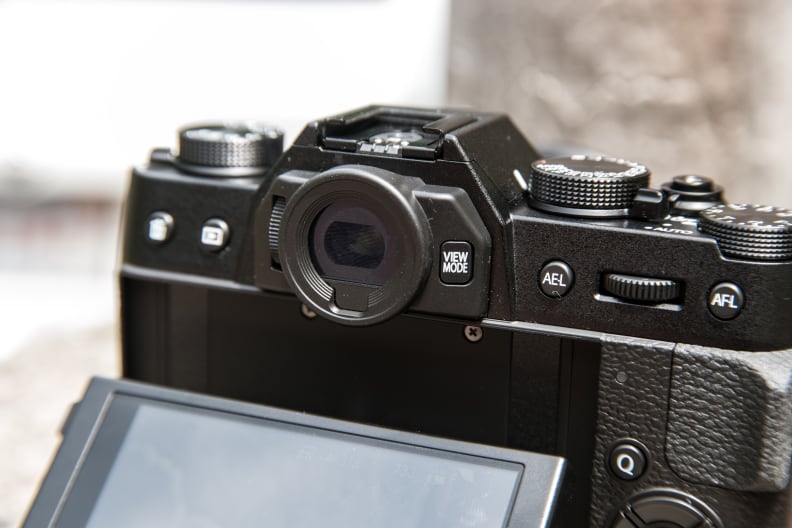 Like the X-T1 before it, the X-T10 has loads of tiny tweaks that just make it a joy to use. For example, turning the camera from landscape to portrait flips the information display too so it's easier to read. Unfortunately the X-T10 doesn't have some of our favorite features from the X-T1, such as Dual Mode. This gives users a picture-in-picture view in the EVF, with the full, uncropped image in the larger box, and a smaller zoomed-in version to aid with focusing. That said, focus peaking and magnification are present.
Another feature that's absent from the X-T10, despite its similar design, is the X-T1's weather sealing. However, this issue is somewhat of a wash, considering most of Fuji lenses aren't weather-sealed, either. Fuji did make sure to give users a built-in popup flash this time around–something that was missing on the X-T1. The lever is on the left side of the camera and eliminates the need to carry around an external strobe.
Conclusion
The X-T10's a good midrange camera, but it's not without its shortcomings.
As we've seen with cameras like the Olympus E-M10, Panasonic G7, and Samsung NX500, taking your flagship and cutting features to cut costs can yield an excellent mid-range option. This is a trend that we are thrilled to see manufacturers continue as it results in flagship-quality sensors and precision in more affordable, easier to use cameras. this improves the image quality available to people that simply don't need or want some of the added features offered by flagship bodies.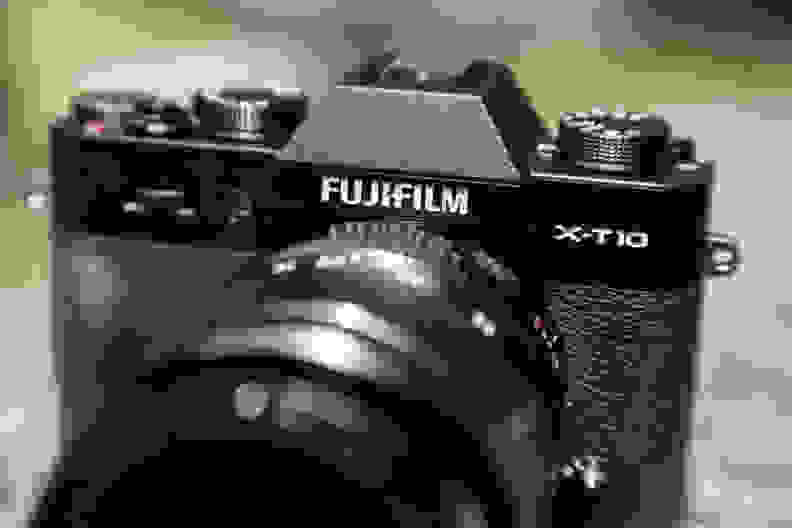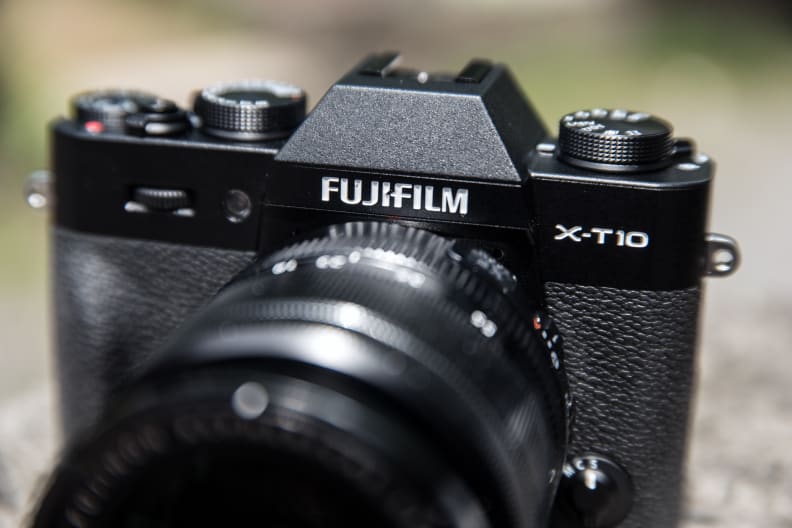 And like the E-M10, G7, and NX500, the X-T10 is a good camera that's capable of producing beautiful images. Sharpness, color, and low-light sensitivity are all fantastic, but it lags further and further behind competitors in the video category—especially with Panasonic and Samsung introducing 4K video into this sub-$1,000 category. With more and more consumers expecting stellar video and still images in one body, Fuji is giving its competition a head start.
That said, if you're looking for a good looking camera to capture stunning stills while having access to an established lens family, the X-T10 is a great option. Fuji continues to blaze a trail in the design department marrying old-school charm and new-school features perfectly.
If you want a gorgeous camera that will turn heads and appreciate a more hands-on style of photography, the X-T10 is worth a gander.
If you're looking for a camera that can do both stills and videos in the same price range, you'd be better served looking at the Panasonic G7, Sony A6000, or the Samsung NX500. But if you want a gorgeous camera that will turn heads and appreciate a more hands-on style of photography, the X-T10 is worth a gander.
By the Numbers
The Fujifilm X-T10 takes after its big brother, the X-T1 in many ways–some good and some bad. However, when it comes to producing images, it has what it takes to compete with the best in its class. It unfortunately hits speed bumps that Fujifilm has yet to overcome in video performance.
Color & White Balance
Fuji has become known for their film simulation color modes, which mimic the color produced by various films (way back when cavemen used that stuff). Breaking the consistency of previous Fuji cameras, the Pro Neg Hi color mode was the most accurate with a ∆C00 corrected mean of 2.22 and a saturation of 97.2%.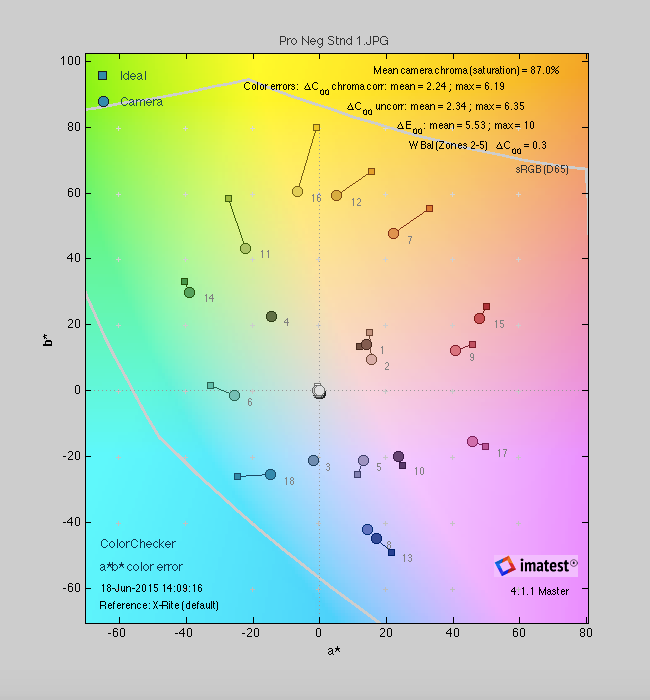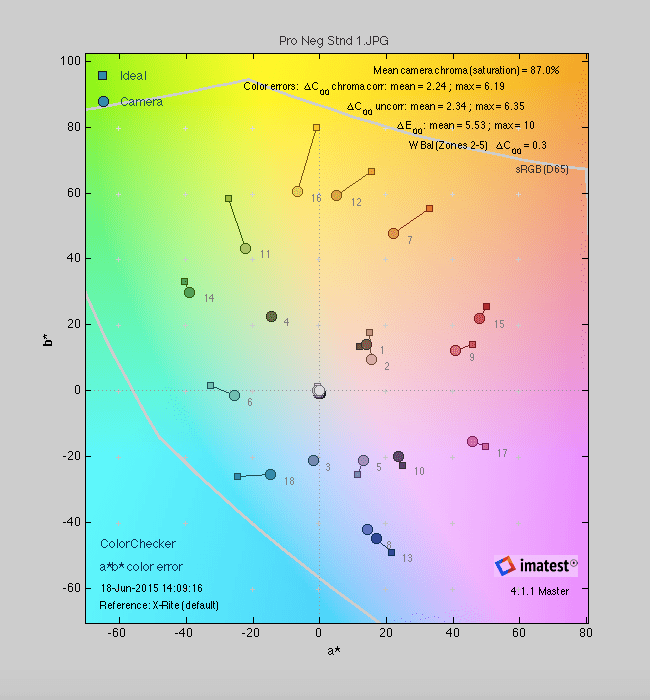 Usually Pro Neg Standard is the most accurate mode, but we observed it being undersaturated much more than on previous cameras as it landed at 87% with a ∆C00 uncorrected mean of 2.24. If you want to get more pop in your images, you can choose Standard or Soft to increase vibrance slightly–or even go all out with Vivid for the most color.
White balance was mostly pedestrian and even custom settings were a mixed bag. While using auto white balance, the camera performed well in daylight, but struggled with fluorescent and incandescent. Incandescent saw errors of upwards 1900 degrees Kelvin. Custom settings were improved greatly, but if you want ultimate control, shoot RAW and correct any errors in post-processing.
Sharpness
We shot the resolution tests on the same Fujifilm XF Zoom 18-55mm f/2.8-4 lens as the X-T1. Overall we saw around 2,200 line widths per picture height (lw/ph) at MTF 50, but this dropped to around 1,800 lw/ph at 55mm. This basically means that the lens is sharpest while at 18mm and gradually loses resolution as you progress toward 55mm.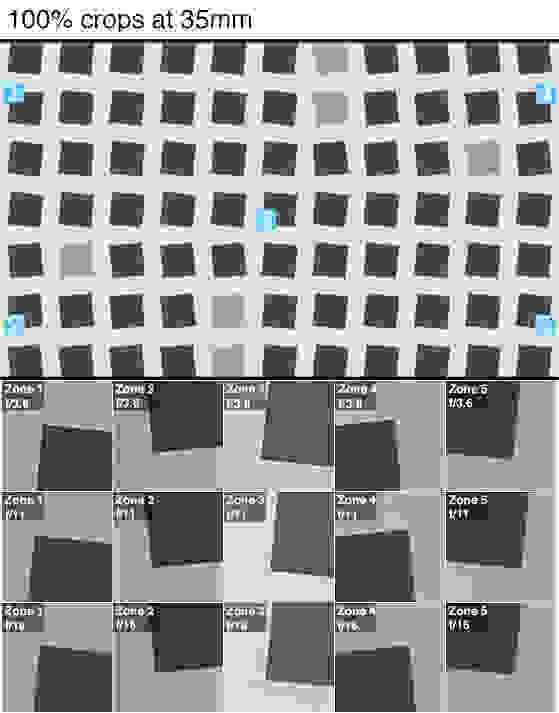 Noise
The X-T10 has a base ISO range of 200-6400 and an expanded range of 100-51200. However, users only have access to the base ISO range while shooting RAW. Overall, we found that the X-T10 produces acceptable images up to the base ISO limit of 6400.
We generally use a noise threshold of about 2% for image quality. At which the image quality drops below a point that printing a standard 8x10 images is going to be noticeable. Without noise reduction on at all the base ISO (200) showed only 0.84% noise and topped out at 1.57% at ISO 6400.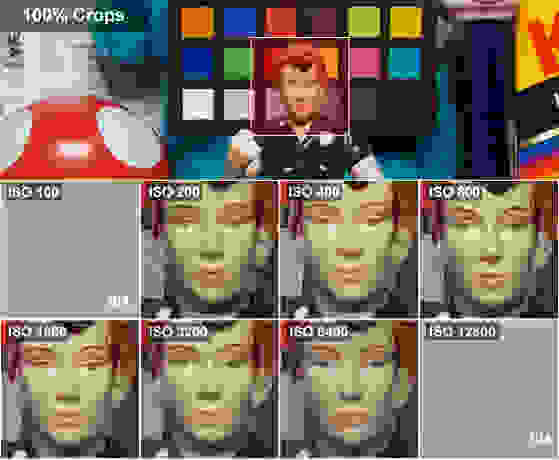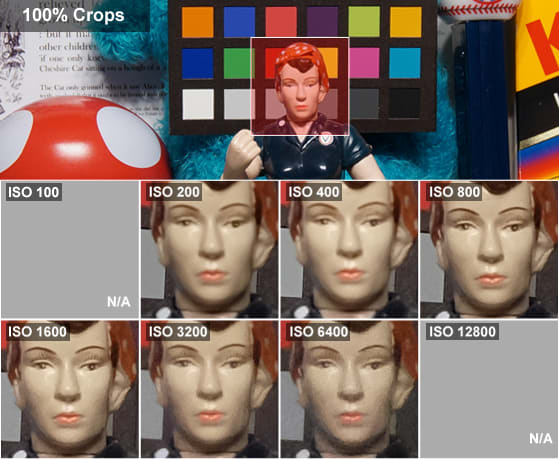 Activating noise reduction will make it possible to shoot into the extended ISO range (JPEG only), but the loss of quality isn't really worth it. Considering that the X-T10 can cover the entire standard ISO range without the noise reduction, we find it unnecessary to use at all.
Video
We were hoping that video on the X-T10 would be improved since the X-T1 performed at such an unimpressive level. However, we were disappointed when we saw the same issues that plagued the X-T1 show up as soon as we started rolling on the X-T10.
False color and nasty moiré are likely still issues brought on from the camera's unique X-Trans color filter and pixel binning algorithm. The result is a soft image and lackluster quality, much like previous Fuji models.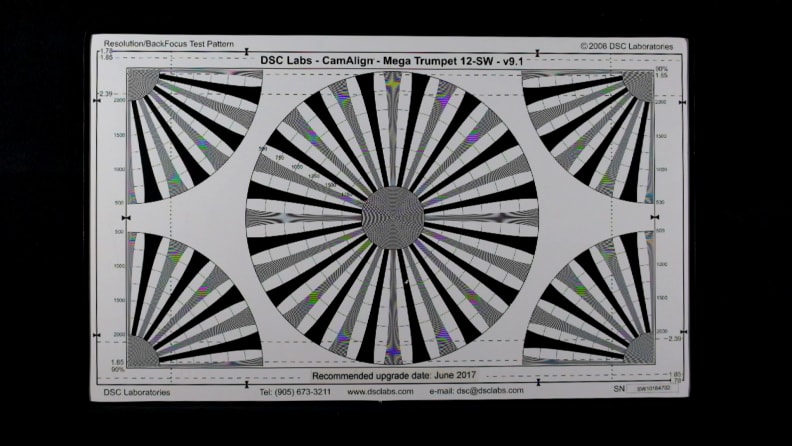 In our standard bright light test, we measured 400 lw/ph horizontal and 350 lw/ph vertical. In low light, the X-T1 scored 300 lw/ph horizontal and 300 lw/ph vertical. The result in the low-light sensitivity test was a perfect encore to the X-T1, requiring 23 lux to create a picture at 50 IRE.
Meet the tester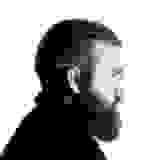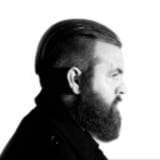 Jackson Ruckar
Photographer / Producer
@JacksonRuckar
As a photojournalist, Jackson has had stints working with bands, the military, and professional baseball teams before landing with Reviewed.com's camera team. Outside of Reviewed.com, he can be found looking for the next game to relieve his "Gamer ADD" or growing his beard.
Checking our work.
Our team is here for one purpose: to help you buy the best stuff and love what you own. Our writers, editors, and lab technicians obsess over the products we cover to make sure you're confident and satisfied. Have a different opinion about something we recommend? Email us and we'll compare notes.
Shoot us an email