The X10 is Fuji's latest attempt at the enthusiast photographer market. It's basically a pared-down version of the X100, offering similar styling and design as its elder sibling, but with a much more palatable price tag. Meant to compete directly with the Canon G12 and Nikon P7100 prosumer compacts, the X10 is a retro-fied, rangefinder-esque take on this niche genre.
Good looks don't matter if the X10 turns out to be a well-designed paperweight, but Fujifilm did a great job putting together a well-rounded, highly capable advanced compact camera. Read on to see how they did it.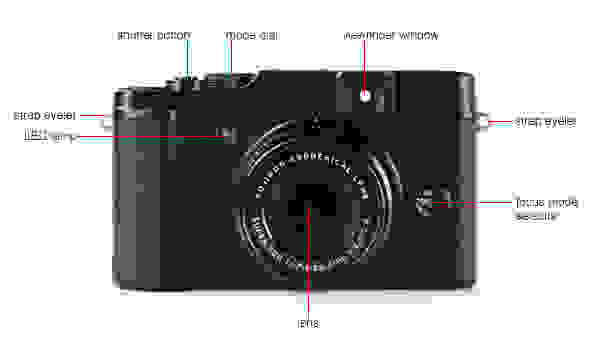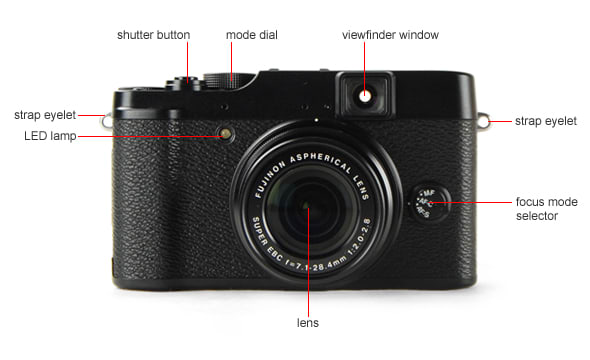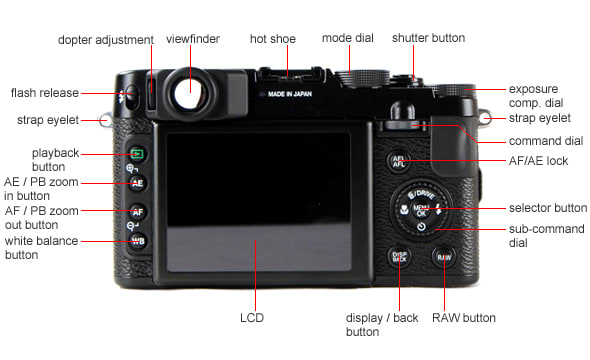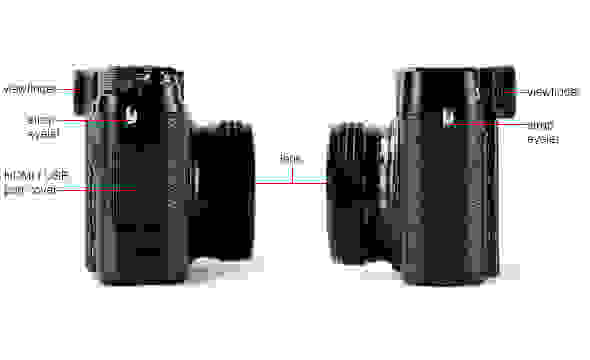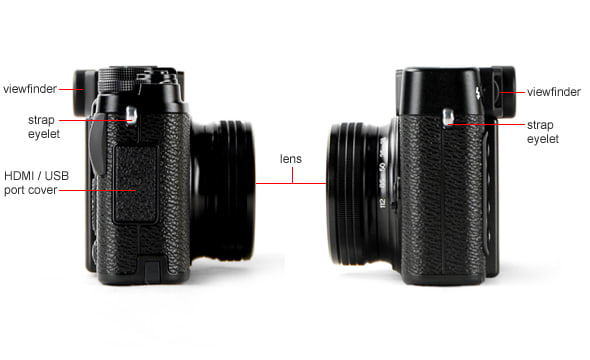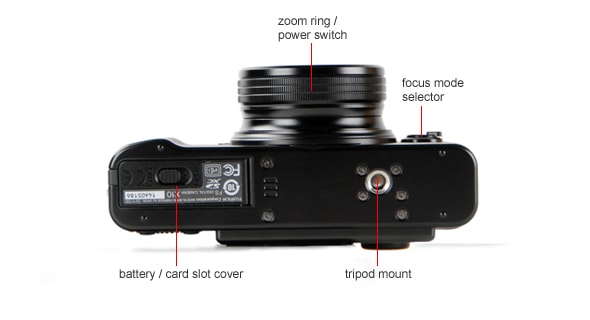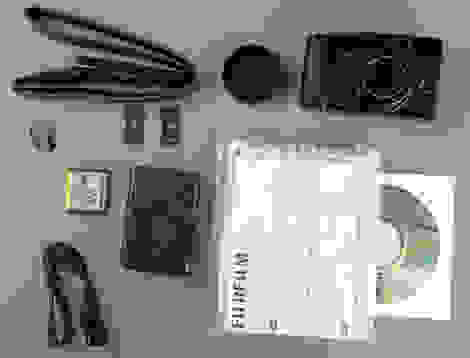 • Fujifilm FinePix X10 digital camera

• owner's manual (English and Spanish)

• lens cap

• shoulder strap

• metal strap clips

• clip-attaching tool

• USB cable

• rechargeable lithium-ion battery (NP-50)

• battery charger (BC-45W)

• CD-ROM with software and digital owner's manual
The X10 has acceptable color accuracy, but at this price, it should be better. We measured a minimum color error of 3.41, which is disappointing, and 106% saturation, which is fine. Light blues, reds, and yellows are the most exaggerated shades, but several others are a few nibbles away from ideal levels. More on how we test color.
As middling as the color accuracy score is, we've actually found that most high-end compacts run into the same problem. The Canon G12 and S100 both come up behind the X10. The F600EXR isn't quite a high-end compact—its sensor is smaller—yet it shows significantly more accurate colors.
For posterity, we ran another color test with the X10 set to EXR D-Range Priority mode and found no significant difference compared to program mode, which we use for all of our official scores. The D-Range Priority mode isn't advertised as a way to improve color, so that's fine—we were just curious to see if it had any effect.
Fujifilm included a large handful of Film Simulation modes in the X10. These work just like regular ol' color modes on any other camera, but some of them are named after some of Fuji's film varieties. The Standard setting (also known as Provia) proved to be the most accurate. Vivid (Velvia) and Soft (Astia) modes are also available, as are Sepia and several Monochrome settings, each with a different color filter.
The X10 performed well in our noise tests—no surprise, since its 2/3" CMOS sensor is the largest chip in any current fixed-lens compact. We did expect a higher final score, but looking at the real-life crops, we can't find much to complain about at all. Shots up through ISO 3200 (the highest full-res sensitivity) are arguably clean enough for making large prints and full-size digital viewing. Chroma noise stayed consistent among all the color channels, while luma noise is notably higher.
While we aren't counting EXR mode performance as part of our official score, it's worth pointing out that the X10 shows less noise when the EXR High ISO & Low Noise setting is activated. This mode cuts the resolution in half and uses a different processing technique to prevent graininess, and it works. The X10 earned a total noise score of 15.31 with this setting, a notch better than its official score of 13.94.
Noise reduction is adjustable in the camera as well. Since we tested the X10 on a point-and-shoot rubric, we left the noise reduction at its default setting (Standard). Had we ratcheted it up to Medium High or High, it probably would've earned a higher score, though the shots would lose fine detail at higher ISO settings. Shooters who prefer to correct their JPEGs by hand can drop the NR down to Medium Low or Low. More on how we test noise.
We measured less noise in bright light (3000 lux) than in dim light (60 lux) throughout the ISO range. At 3000 lux, noise starts at 0.67% and rises to 1.45% at the top sensitivity. The pattern is the same at 60 lux, though levels are higher at every setting, peaking at 1.74% at ISO 3200.
Noise increases consistently with the ISO setting, without any of the peaks and valleys that usually come along with heavy-handed noise-reduction processing.
The X10 didn't score quite as well in our noise tests as the other high-end compacts in our comparison group. The Canon G12 beats it out by a very slim margin, while the Canon S100 earns a much better score—one of the best we've seen, in fact. Fuji's own F600EXR finished well behind the others in out test. That's no surprise, since it's built around a smaller sensor.
Looking at the real world crops below, the X10 matches up to the S100 quite well. The Fuji is a bit grainier at high ISO settings, but below ISO 1600, both cameras take almost equally clean and detailed photos. The G12 is notably messier starting in the middle of the ISO range, and its higher score probably comes from heavier noise reduction, which obscures fine details and leaves sloppy edges.
If we consider the X10's EXR-mode score, it beats out the G12 by a healthy margin, but still finishes well behind the Canon S100.
Full resolution ISO settings stretch from 100 up to 3200, hitting the usual full stops (ISO 200, 400, 800, 1600) as well as partial stops (ISO 250, 320, 500, 640, and so on) along the way. Added control like that is uncommon for compact cameras, but makes sense on a powerful, enthusiast-oriented model like the X10.
Some additional ISO settings are available, but at reduced resolutions. ISO 4000, 5000, and 6400 are accessible at the medium resolution setting, and ISO 12800 can be reached at the smallest picture size.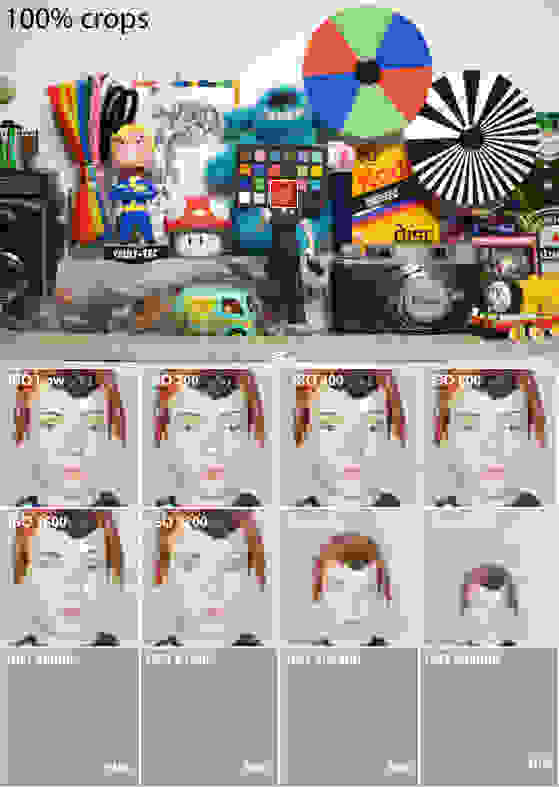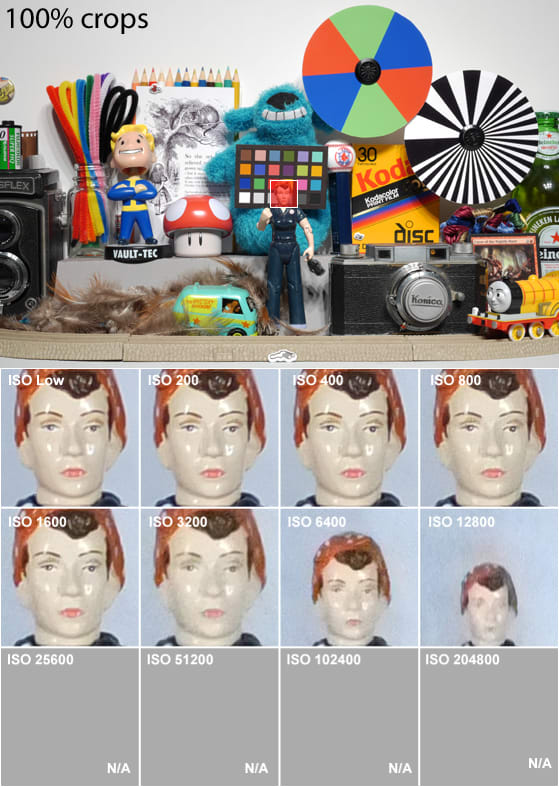 NOTE: The images above are not used in our testing or scoring, but are included here to show real-world examples of the differences between cameras at the various ISO settings.
Taken as a whole, the X10 offers great resolution performance, performing about as well as we like to see in an advanced compact with a large sensor and bright lens. The only hiccup was the autofocus system, which wasn't always accurate and threw off our first set of results. So the scores below are the best results that we measured, but we had to work a little bit harder than usual in order to get them. More on how we test resolution.
Distortion ()
Bright, wide-angle lenses tend to struggle with distortion, but the X10's f/2.0, 28mm equivalent lens keeps lines pretty straight. It earns the best distortion score that we give to any camera. At the wide angle, barrel distortion is notable, at about 1 percent. But in the middle of the focal range and at the telephoto setting, we see just a minor pincushion effect, too subtle to jump out at the naked eye.
We test distortion on JPEGs, so software-based correction could be a big factor—we expect that RAW images will be much curvier, especially at the extreme focal lengths. Even so, we test all fixed-lens cameras using JPEGs, and the X10 handily outperforms the Canon G12 and S100.
Sharpness ()
The X10 resolves an excellent amount of detail. We measured up to 2100 MFT50s at the widest focal length, dropping off modestly at the middle and telephoto length. The lowest MFT50 we measured was 750, toward the edge of the frame at the middle focal length—a respectable showing, for sure. The processor does appear to add a bit of pixel sharpening to edges, but it's subtle.
Our official scores come from testing the X10 in program mode, but we also ran our resolution tests on the EXR Resolution Priority mode. We found no measurable difference, and we're pretty confident that the EXR Resolution Priority mode is exactly the same thing as regular auto or program mode (or any manual mode, for that matter). No big deal, but don't expect any sharper shots just by switching to the EXR notch on the mode dial.
We also ran our sharpness tests at a few additional apertures, which we don't typically do with point-and-shoots. Most lenses are sharper when they're stopped down a few notches, especially when the maximum aperture is as wide as the f/2.0 setting on the X10. Our official test shots were all taken at the widest possible apertures for each focal length, but even just backing off to f/2.8 helped a great deal, and f/4 seemed to be as good as it got.
As far as our official scores go, the X10 finished behind the Canon G12 and S100. The difference between the X10 and G12 is narrow and can probably be chalked up to the X10's brighter maximum aperture, which tends to result in softer photos. The S100, though, is a legitimate sharpshooter. With a little effort—making sure the focus is spot-on and stopping down the aperture a few notches, for starters—the X10 can probably match the S100's sharpness, but for quick out-of-camera shots, the S100 will consistently produce sharper images. The F600EXR finished at the back of the pack, as we'd expect from a cheaper camera with a massive zoom range.
Chromatic Aberration ()
The X10 shows very little chromatic aberration, a sure sign of a lens and sensor working in harmony. We barely noticed faint fringing on the edges of the frame at the wide-angle setting, and to an even lesser degree at the telephoto setting. The results are functionally identical to the S100, notably better than the G12, and obviously stronger than the F600EXR.
All the common aspect ratios are supported, including 4:3, 16:9 (widescreen), 3:2, and 1:1 aspect ratios at three resolutions (Large, Medium, and Small, roughly translating to 12, 6, and 3 megapixels respectively in the 4:3 ratio) in both JPEG and RAW image formats. There are two JPEG quality levels, Normal and Fine.
With stabilization turned on, the X10 shows about a 49% improvement compared to no stabilization, a significant improvement. The X10 is still quite stable even with the IS deactivated, showing 70 MFT50s of detail, but the 144 MFT50s with IS on is the best in the class. More on how we test image stabilization.
Our test measures improvement within a camera between stabilization off and stabilization on; the chart below is not meant to suggest that the S100 is the least-stable camera in the group (it isn't), but rather that its stabilization system isn't as effective as the other cameras tested here.
Full high-definition video has pretty much become a prerequisite for any camera that wants to be taken seriously. So on the X10, we have a totally serviceable 1080p/30fps video mode that feels like it's been added on because it's supposed to be there, not so much because it's meant to replace a proper camcorder.
For what it is, the video mode is great. Autofocus during shooting is one of the weak points that typically hinders point-and-shoot movie modes, but the X10 handles it pretty well. Zooming is supported during filming—not that there was ever any doubt, since the lens is hand-operated. The wobbly rolling shutter effect is obvious whenever there's a lot of motion in the clip—a typical side effect of the CMOS sensor, but one that other manufacturers have learned to correct.
Movie mode also features an option to capture a 6-megapixel shot in the midst of shooting a clip. While it doesn't chop the clip into parts, it does cause a hiccup—watching the playback, it's easy to tell when the filming stops for a split second to grab a still. Usefulness is limited, in other words.
The X10 is fine for capturing short clips here and there, but the video mode is too primitive to do any serious film work.
Video color is another usual weak point for compact cameras, and the X10 is typically mediocre in that respect, showing the least-accurate colors of any camera in the comparison group. More on how we test video color.
Sharpness is quite good. It shoots 1080p video, so we expect good clarity, and the high-quality lens helps the cause as well. Our motion tests revealed an odd phenomenon; we measured a maximum lw/ph of 550 vertically and horizontally, but the lines on our sharpness chart blended together around 400 lw/ph before separating again. That's bizarre, probably something to do with processing. More on how we test video sharpness.
Playback mode is solid, offering a well-rounded selection of in-camera review options. Arguably, the kind of photographers that use a camera like the X10 will use playback just to make sure that they got a decent shot, then edit and organize shots on a computer with proper software.
From that perspective, the on-screen information and playback zoom features are the most important, and they're both great. Playback zoom levels can stay consistent while cycling between shots—that is, if you're zoomed in 4x on one shot, the frame will stay zoomed in when you cycle to the next photo. That makes it easy to compare fine detail in similar photos and to pick the keeper out of a batch. That's a smart implementation that we don't see on many cameras.
More basic reviewing works fine too. The selection dial makes it easy to cycle through large sets of photos quickly. Even organizing and tagging photos is pretty intuitive. All that we'd like to see is a more efficient way to select and delete multiple photos.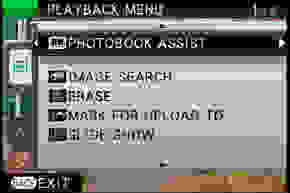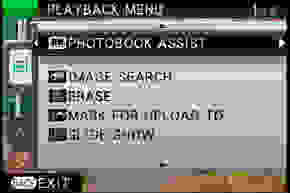 Basic edits like cropping, re-sizing, and red-eye correction can be performed in-camera, but more intensive changes like color correction are not available. Both JPEG and RAW images can be edited. Like we mentioned above, the interface seems like it was designed for users that do most of their editing at a workstation. In-camera hacking can be done in a pinch, but any significant changes are best left for the digital darkroom.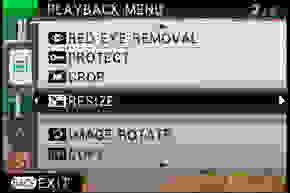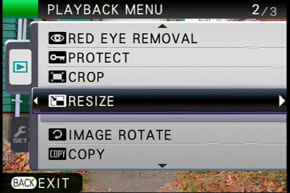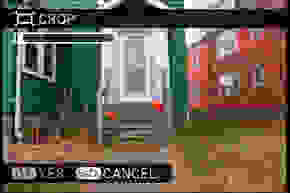 The X10 supports the PictBridge standard for direct camera-to-printer connectivity, as well as DPOF tagging through the playback menu.
The X10 is one of the few compacts that comes equipped with a built-in optical viewfinder, and as such, it's one of this camera's more notable features.
It's a tunnel-style finder, tucked in the upper-left corner of the body, right above the LCD, and predictably next to the diopter adjustment dial. It covers a respectable 85% of the true field of view, which is more than either the Nikon P7100 or the Canon G12. The image is bright and clear (so long as you make sure to clean fingerprints off both sides of the finder from time to time), and the window is large for a tunnel-type. The finder does zoom along with the actual lens, too, to keep framing as accurate as possible, so it's like a standalone lens of sorts.
Since it's a separate window (rather than the through-the-lens finders on DSLRs or what electronic viewfinders mimic), it's never a perfectly accurate reproduction of an image's actual framing. But it's always going to be a compromise to get any kind of optical viewfinder into a compact camera, and all things considered, this one is probably the best we've seen in a fixed-lens shooter.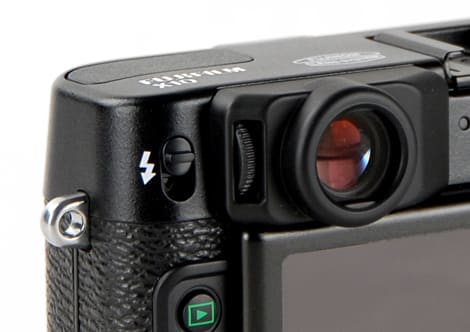 Compared to the viewfinder, the LCD isn't too exciting. It's a 2.8-inch, 460,000-pixel fixed display—nothing special on a $600 camera. Among the other viewfinder-equipped, bulky high-end compacts, the X10's screen specs are the most ho-hum. The Canon G12's screen the same size and resolution, though it's on a tilt-and-swivel hinge, while the Nikon P7100 has a larger, higher-res display.
In any case, the X10's display is smooth and accurate enough to get the job done, and of course, there's always the viewfinder when the sun gets too bright.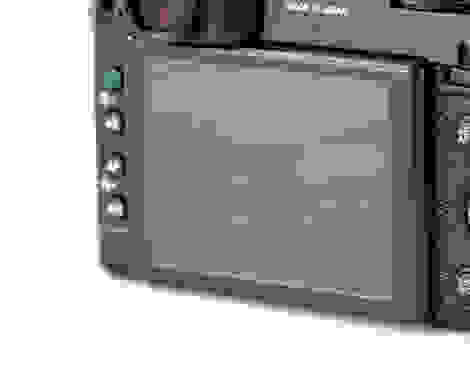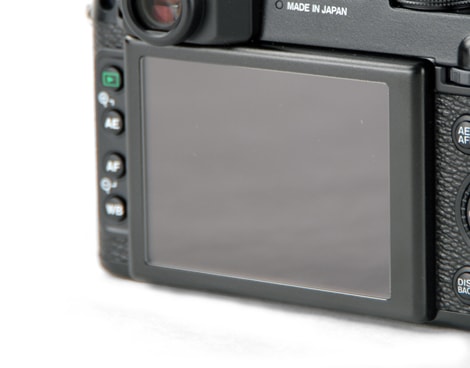 A flash pops up from the top-left of the chassis with the flick of a lever. Fujifilm claims that it's effective up to 7 meters; we don't test for flash range, but that is very powerful compared to most dinky built-in flash units. It feels solidly built and is well-anchored to the body (no flimsy hinges here), and leaves enough room on the top panel for a shooter to rest his or her left index finger. It needs a manual push to sink back into the body, which automatically disables flash options in the interface.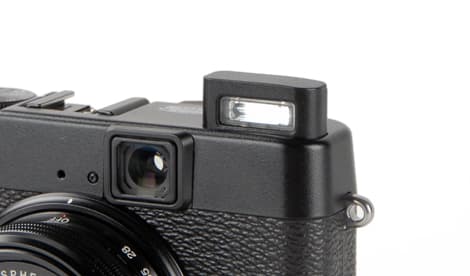 A nice, bright lens is another centerpiece of the X10's design. It's an all-glass, f/2.0-2.8, 28-112mm equivalent, Fujinon piece with 11 elements in 9 groups.
That's about as fast as a compact-cam lens gets, right in the wheelhouse with enthusiast favorites like the Canon S100 (f/2.0), Olympus XZ-1 (f/1.8), and most other RAW-shooting high-end compacts. (It's also worth noting that the Canon G12 and Nikon P7100 both start at an average f/2.8.) It's a huge part of the X10's excellent low-light performance, and also helps it to achieve a shallow depth-of-field—at least by point-and-shoot standards.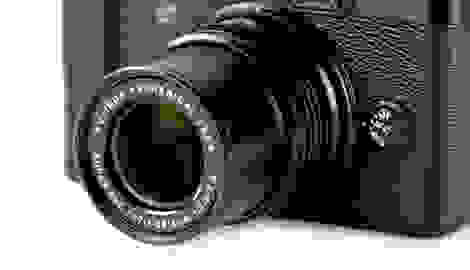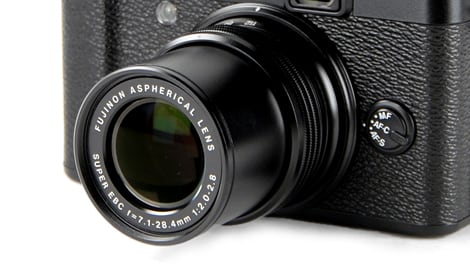 The fast aperture is great, but the zoom mechanism ties the whole package together with a bow. A textured-metal, butter-smooth twist barrel controls the focal length, offering more fine control than an electronic zoom tilter ever can. It's weighted just right, neither too stiff nor too sensitive. Fujifilm really nailed it with this design.
While the zoom range seems pretty modest at just 4x, that's actually about right for such a bright piece of glass—none of the really bright enthusiast shooters extend beyond 5x, and while the Nikon P7100 reaches out to 7x, we've already noted that it's maximum aperture is f/2.8, which isn't too bright.
The lens barrel is also the power switch. It took us about a day to get used to twisting the lens to turn on the camera (we can't think of another camera in recent years that doesn't have a dedicated power switch), but it quickly became second nature. The barrel puts up some resistance at the wide-angle setting as you're moving it toward the Off setting, which prevents any accidental power-downs—a well thought-out design. Fujifilm claims that this set-up speeds up pocket-to-shot times—if it does, it's by a fraction of a second. In any case, we didn't find any downsides in having the switch built into the lens barrel.
A Fujifilm NP-50 rechargeable lithium-ion battery will ship with the X10. This is the same battery used in many of their point-and-shoots, including the most recent F-series travel zooms. If you're a Fuji nut, you probably have one or two of these lying around.
We couldn't find an official CIPA rating for the battery, but we got about 250 shots per charge. That's a skimpy shot count for such a high-end camera, and well short of what the Canon G12 and Nikon P7100 can muster.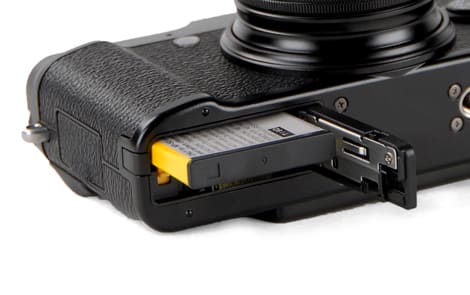 Like just about every other camera out there, the X10 captures to SD/SDHC/SDXC memory cards.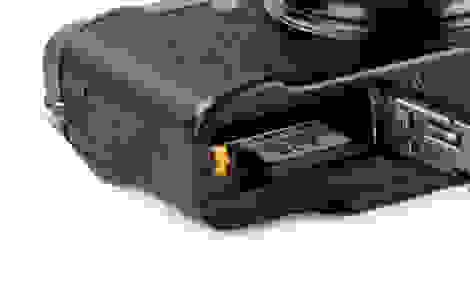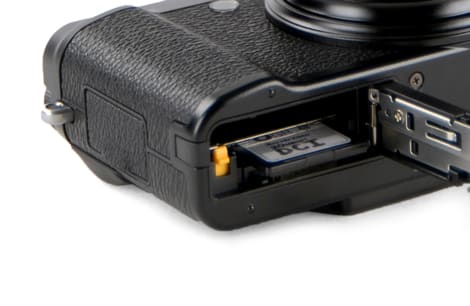 Micro-USB and mini-HDMI ports sit behind a plastic door on the side of the X10, a common combo these days.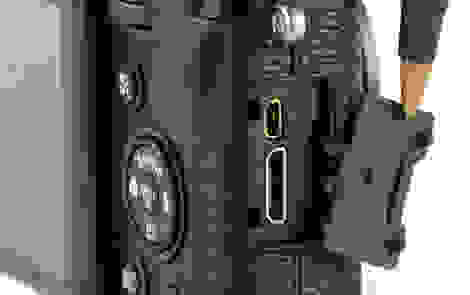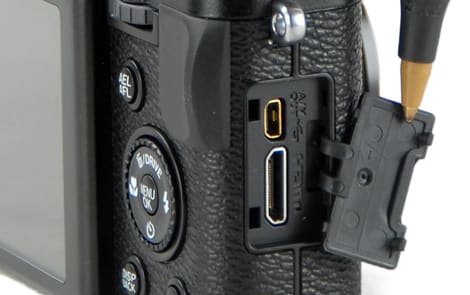 Hot-Shoe
The X10 is equipped with a standard hot-shoe accessory port, useful for adding a more powerful flash or any number of accessories.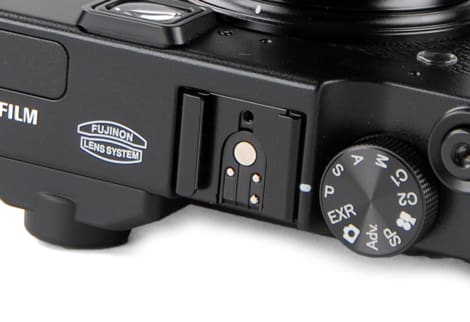 Automatic and manual shooting modes are equally strong on the X10. Like many higher-end Fujifilm models, the X10 has a standard auto mode and an EXR auto mode, which selects one of the camera's alternative capture and processing techniques. EXR mode is the best way to approach automatic shooting with the X10; the shots generally turn out cleaner, sharper, and with a more balanced dynamic range than they do out of the standard auto mode, and they never look worse. The High ISO & Low Noise and D-Range Priority modes do chop the resolution down to 6 megapixels, which is low by current standards but still dense enough for decently large prints.
As an advanced point-and-shoot designed with enthusiast, semi-pro, and even pro shooters in mind, the X10 is laid out for manual control, at least by compact-camera standards. Program, Aperture Priority, Shutter Priority, and Manual modes are all supported, and the wealth of direct-access buttons and dials make it easy to wield the X10's power.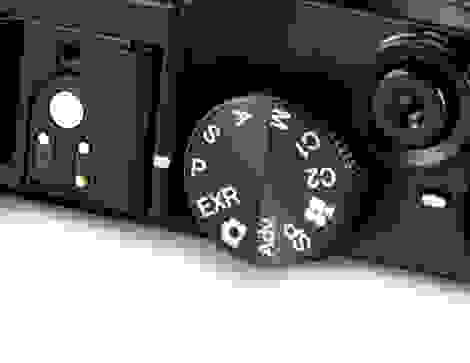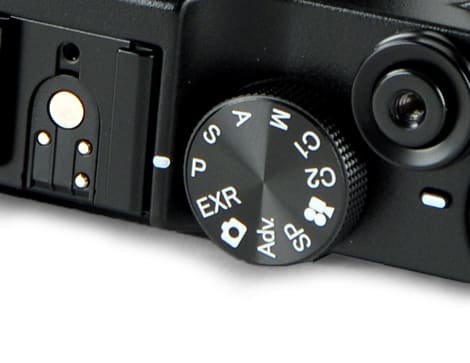 Scene Modes
By our count, the X10 offers 19 preset scene modes. Most of them are common settings like Portrait, Landscape, Sport, Beach, Flower, and the like. The oddball is the Text mode, which is meant for shooting black text on white paper but can create some interesting high-contrast effects in real-world settings.
The most useful scene modes fall under the Advanced notch on the mode dial, including a 360-degree motion panorama setting, a Pro Focus mode which mimics a shallow depth-of-field with software-based blurring, and a Pro Low Light mode which cranks up the ISO sensitivity for extreme low-light shots.
Ultimately, because the auto modes are smart and manual modes implemented so effectively, most of the scene presets will likely go unused by most shooters.
The X10 doesn't include any picture effects or filters whatsoever. That's typical of Fujifilm cameras, and we doubt that the X10's target audience will miss them very much, but it can't to throw in a lomo effect filter—maybe next time.
As we mentioned, the X10 has a full range of PASM manual controls, complemented by a heap of external controls, including direct-access keys for metering, autofocus type, white balance, and RAW capture, as well as a programmable function key (set by default to ISO, but it can be assigned to any number of settings), a command (jog) dial, sub-command dial, and an exposure compensation dial, as well as a focus-mode selector mounted on the front of the body to the left of the lens. It's a smooth and efficient manual-control setup, particularly by compact standards.
Even better, there are also fine controls for white balance shift, color saturation, sharpness, highlight tone, shadow tone, and noise reduction available in the menu. That's as much in-camera tinkering as you'll be able to do with a compact cam. The pickiest JPEG shooters should be able to find at least one setting that makes them happy. And of course, there's also RAW shooting for the die-hard hands-on processors.
No totally continuous drive options are available, but the 2fps burst mode (the slowest setting) is effectively the same thing—the buffer clears faster than the camera can fill it at that speed, so fire at will. The medium setting ramps up to about 5 full-resolution frames per second, and the high setting advertises about 7fps (which it doesn't quite hit—see below). A super-high setting can manage 10fps, but at a reduced resolution.
A handful of bracketing modes take advantage of the X10's quick performance, including AE bracketing, ISO bracketing, film simulation bracketing, and dynamic range bracketing.
And of course, there's a self-time mode with 2 second and 10 second settings. It feels a bit under-developed on an otherwise advanced camera—some customizable settings would help out greatly.
Shot to Shot ()
Since it's built around a CMOS sensor, the X10 is a speedy bugger. Focus is incredibly quick (if not accurate 100% of the time, though that's something that can be worked out with a future firmware update), even in poor lighting. We measured a very impressive 6.69 frames per second at the fastest full-resolution burst setting. It isn't quite quick enough to beat out the Canon S100, but it comes close. The buffer does clog up after about 7 shots, though we never managed to totally fill it, even as the frame rate slowed down considerably. A strong showing, fast enough to capture plenty of action.
Exposure Compensation Dial
We mentioned the exposure compensation dial in the manual controls section above, but we gave it a special mention in our Canon G12 review, so we're doing the same here. It can touch +/- 2 EV in increments of 1/3 EV, which is a typical setup. The dial itself is a bit stiff, which seems to be a reaction to the loose dial on the X100—users complain that it shifts too easily when it shoved into or pulled out of a bag or pocket. That won't be a problem with the X10's comp dial, which needs a bit of oomph to get moving.
As far as advanced compacts go, the X10 handles well. It's a heavy hunk of metal, and while there's enough grip and texture to hang onto, it's a little bit too cumbersome for comfortable one-handed operation. But given the control layout, particularly the placement of the viewfinder and the left-hand control column as well as the nature of the twisting lens barrel, this camera is meant for two-handed operation. From that perspective, it's a well-balanced, well-built machine.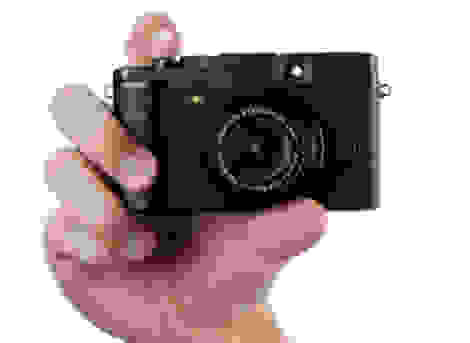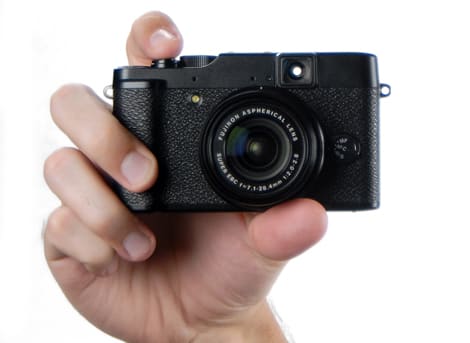 This is a compact camera in the sense that it can fit into a roomy jacket pocket and won't attract too much attention on the street (with the qualification that sometime in the past couple of years, it became odd to see a person looking through a camera's viewfinder). It's much too large for a pants pocket, and it'll weigh down a coat or purse pocket a bit. Fujifilm wisely packaged a shoulder strap rather than a cheaper, smaller wrist strap, which is probably the most comfortable way to carry it.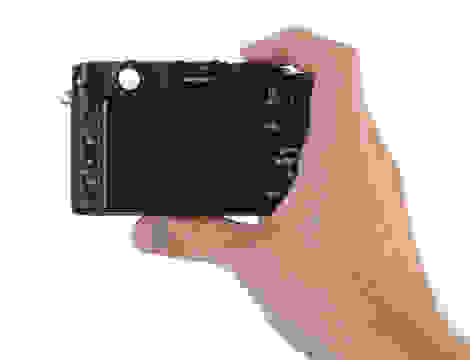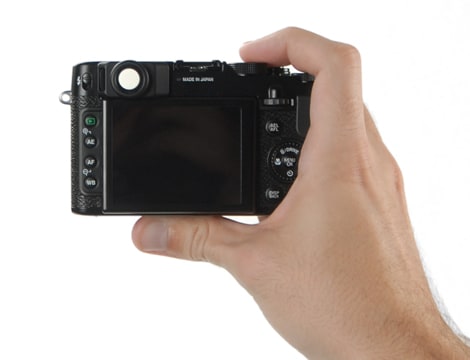 Buttons and dials are in no short supply here. Starting up top, there's a standard mode dial, a dedicated exposure compensation dial (which is stiff, but stays in place), a big, comfy shutter button, and an assignable function button, set to ISO by default. We typically look for function buttons on the rear or front panel, but this one is located next to the shutter, which is convenient.
The back panel to the right of the LCD should look familiar to most camera users. There's an AE/AF lock key, a general-purpose DISP/BACK button, a dedicated RAW hotkey, and a selection wheel (technically called a sub-command dial). The only knob that stands out is the jog dial (or command dial). Jog dials are commonplace on DSLRs, typically used to cycle through aperture and shutter values (serious cameras even have two dials) but it's a feature reserved for higher-end compacts.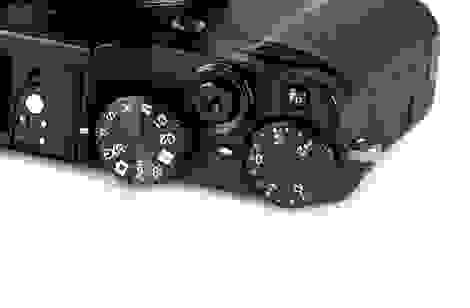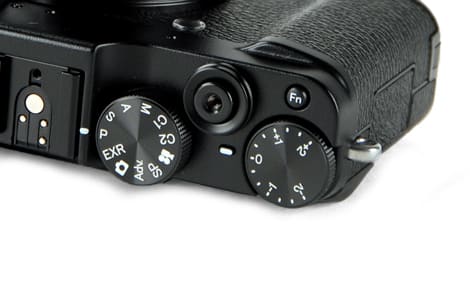 Then there's an DSLR-style column of controls to the left of the LCD, something that's hardly seen at all on fixed-lens cameras. There's a playback access key as well as hotkeys for autofocus mode, metering, and white balance. Up front, tucked next to the lens sits a switch for focus type (AF single, AF continuous, or manual focus). And of course, the lens barrel is hand-operated, controlling the focal length as well as the power.
All of the buttons and switches feel solid and robust, with the exception of the cheapish jog dial, which should be made of metal. We'd love to see a front-mounted all-purpose dial and a second function key—something like the Nikon P7100 setup—but in the big picture, the X10 has everything to make most enthusiasts happy. Handling and layout are highly subjective, so some folks will find reasons to hate this particular setup, but it's in the same wheelhouse as its competitors.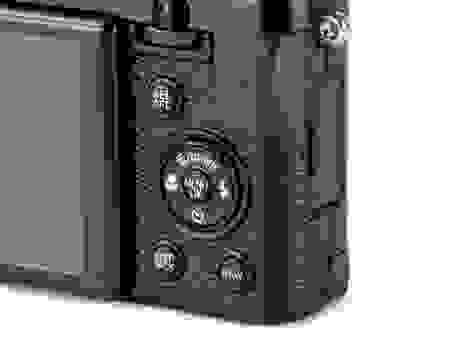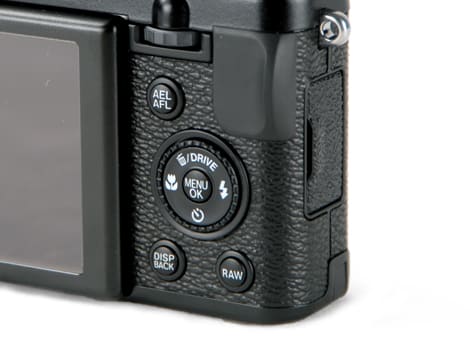 The Fujifilm menu system isn't as pretty as other brands' interfaces, but it's pretty effective. It's a two-tiered system—one tab for shooting, one for setup—and the organization makes sense. The X10 is loaded with enough direct-access keys that most shooters won't have to fumble around in the menu system of the course of a regular shooting session anyhow.
We ran into at least one bug in the interface that caused the entire camera to crash. We tried to manually set the white balance, the X10 flashed "OVER" on the screen (we're guessing that the shot was too overexposed to measure whites), and the whole camera froze up on us. We were able to repeat this glitch, so it doesn't seem like a random occurrence.
The X100 had a long, long list of bugs and glitches at launch, so we're not surprised to see a few carried over to the X10, though we're glad that it isn't as prevalent with the X10. Fujifilm should be able to fix this with a firmware update (they've already addressed an issue relating to aperture values). If you run into any errors of your own, feel free to leave a comment on this review.
Joy of joys, the X10 actually ships with a complete, printed manual. That's rare with fixed-lens cameras—we've even seen a few system cameras lately that include just a quick-start guide—but kudos to Fujifilm for spending a little extra cash for the real thing. There's a CD-ROM with a digital PDF copy of the manual included as well.
Curiously, Fuji also included a one-sheet with corrections to a few minor errors in the manual—a few bits that the proofreaders didn't catch the first time around (we know how that one goes). It could cause some confusion down the line when the correction sheet inevitably gets lost, so we considered subtracting a point. But honestly, we never would've caught the errors had Fuji not disclosed them voluntarily. It was the right thing for them to do, so fair play and full points.
For a while there, the Canon G12 was the only worthwhile high-end compact with a viewfinder. It's been out since mid-2010, so it's getting on in years by digital camera standards, and now that Nikon and Fujifilm have released some new challengers, it's high time to re-evaluate the G12's prosumer supremacy.
At a glance, the X10 and G12 look evenly matched, and they're certainly cut from the same cloth. Fujifilm proudly states the the X10 was designed to compete with the G12. Both have big bodies with a comfortable in-hand feel, oversized sensors, zooming optical viewfinders, RAW capability, and tons of direct access controls.
But looking at the details, the X10 just does almost everything at least a bit better than its chief rival. Image quality is better across the board, particularly in low-light settings—where the X10's super-bright f/2.0 lens makes a huge difference. The viewfinder is bigger and covers a greater field of view. Autofocus speed is quicker and shot-to-shot times are shorter. Even in video mode, the X10 is significantly sharper and more color-accurate than the G12.
The case for the G12 basically rests on its articulating LCD and its lower price tag—about $500, compared to $600 for the X10. Some folks might prefer the G12's user interface, particularly if they're Canon loyalists, but it isn't significantly better to sway our opinion. The G12 is showing its age, so we confidently side with the X10 in this showdown. From design through performance, it's a better camera, and certainly worth the extra scratch.
(For those who are curious, we've aren't comparing the X10 to the Nikon P7100 because at the time of writing, we haven't yet reviewed the P7100. It's in our offices now, so look for our X10/ P7100 comparison in the full P7100 review next week.)

/r:render
The X10 gives it a run for its money, but when our scores are all tallied up, the Canon S100 retains its title as the top high-end compact that we've tested so far.
That said, for all of their similarities—oversized sensors, RAW support, excellent image quality, and plenty of user control, to name the big ones—the X10 and S100 work for different reasons, and the marketplace can easily support both cameras.
It boils down to design. The X10 is built for great handling and fine control, while the S100 is designed for convenience. The S100 is smaller and lighter, easier to tote around for long periods and slim enough to fit into a roomy jean pocket. But its smaller body can't accommodate as many hot-keys or function buttons, so the interface is a bit clunkier, more like a point-and-shoot (though the assignable lens ring is excellent). The S100 also lacks a viewfinder, which can be a saving grace in sunny conditions.
None of those points really make the S100 any better or worse than the X10—it's just a matter of user preference. Both of them deserve all the fans that they'll get, though we're willing to bet that the S100, with its slimmer design and lower price tag will end up being a more popular model than the beefier, more expensive X10.

/r:render
It probably makes the most sense to compare the X10 to the X100, Fujifilm's top-shelf camera. But given its astronomical price tag, we reviewed the X100 with our DSLR rubric and we can't pull off a one-to-one comparison.
So we're comparing the X10 to the next-closest model, the F600EXR compact zoom. It goes without saying that the X10 is a much more capable camera. About the only advantage that the F600EXR can boast is a significantly longer zoom range—which is no small feat—but we just want to demonstrate what an extra $300 buys in a Fuji compact.
For a full $600, the X10 absolutely takes higher-quality pictures than the F600EXR. The F600EXR proved to be more color accurate according to our tests, but "better" color is highly subjective, and it's something that can be altered pretty easily with some post-processing. Otherwise, the X10's images are higher-res and much cleaner. The X10 also offers much more manual control, thanks to about a half-dozen extra buttons and dials on the camera body for direct access to settings like autofocus, white balance, exposure compensation, and the jack-of-all-trades programmable function button. Then there's the X10's hardware, including its f/2.0 lens, 2/3" CMOS sensor, an all-metal body, and an optical viewfinder—all three of which are basically impossible to find in any compact zoom.
If you're the kind of photographer that can't see why extra control knobs and a viewfinder are worth $600, that's fine. It probably means that you'll end up liking an all-in-one, carry-anywhere camera like the F600EXR much more than the X10. It's an excellent camera for what it is. But trust us when we say that $600 is a fair price tag for an advanced compact like the X10.

/r:render
The Fujifilm X10 is an excellent camera. On paper and in practice, it checks off all the boxes that enthusiast and serious photographers look for in a high-end point-and-shoot: optical viewfinder, tons of buttons and dials and manual control, RAW capture, reliable auto mode, great image quality, solid build, and even a twist-barrel zoom and power switch—that last one is probably something that most of the target audience didn't even know that they wanted.
All that anybody could reasonably complain about is that it's not one of the other advanced shooters on the market. It isn't as small as the Canon S100, it doesn't have an articulating screen like the Canon G12, it doesn't have the Fuji X100's hybrid viewfinder, and it doesn't have the zoom range of the Nikon P7100.
But any reasonable person knows that no camera can be everything to everybody. The X10 is designed to be a versatile, high-quality compact, and it succeeds. It performed very well in our lab tests, among the highest we've seen from any fixed-lens camera.
No X10 review is complete without addressing the "white orb" problem: The X10 sometimes reproduces highlights as exaggerated white blobs. In one of our sample photos, for example, a car's headlights appear as perfectly round, over-sized circles with defined edges—very bizarre.
It's been the root of a lot of ire on various Fuji message boards around the web since the camera came out. Fuji promised that a firmware update would fix the problem, but it failed, and appears that this is a hardware-related problem.
We honestly didn't notice it during the course of our testing. It wasn't a factor in our lab tests, and we didn't notice it in our own sample photos until a user pointed it out. We sifted through about 200 other sample photos that we didn't use for the review, and could only find it cropping up in a few places, and probably only found those because we were looking for them.
It's a weird quirk, but we stand by our test scores, and don't think that it'll be a deal-breaker for most buyers. Recommended.
Meet the tester
Liam F McCabe
Managing Editor, News & Features
@liamfmccabe
Liam manages features and news coverage for Reviewed.com. Formerly the editor of the DigitalAdvisor network, he's covered cameras, TVs, personal electronics, and (recently) appliances. He's a native Bostonian and has played in metal bands you've never heard of.
Checking our work.
We use standardized and scientific testing methods to scrutinize every product and provide you with objectively accurate results. If you've found different results in your own research, email us and we'll compare notes. If it looks substantial, we'll gladly re-test a product to try and reproduce these results. After all, peer reviews are a critical part of any scientific process.
Shoot us an email