Fujifilm has started to make a name for itself by listening to consumer feedback and actually acting upon it. The company transformed its popular X100 into virtually a brand new camera through a series of firmware updates, some of which came even after Fuji released a successor in the form of the X100S.
Now along comes the X-E2 (MSRP $1,399 w/ lens), an update to 2012's much-loved Fujifilm X-E1. The new model will find its way to store shelves in November, boasting Fuji's new(ish) X-Trans sensor, an updated processor, a redesigned control layout, and a much-improved LCD.
The result of these seemingly minor upgrades? Fuji has crafted a worthy successor that's noticeably faster and more enjoyable to use. And nearly all of these upgrades came as a result of direct feedback from X-E1 users; the people have spoken, and Fujifilm has listened.
Fuji's new X-series camera lets you hurry up and be awesome.
We spent a short time with the X-E2 on the crowded show floor of PhotoPlus Expo in New York. It only took a few moments, however, to pick out the most significant upgrade in this year's model. We're referring, of course, to the one-two punch of the 16-megapixel X-Trans CMOS II sensor and EXR Processor II. This powerful combo debuted earlier this year in the Fujifilm X100S, much to the delight of photography enthusiasts and camera reviewers alike.
"World's fastest autofocus speed" is a bold claim, but in our hands the X-E2 certainly felt every bit as fast as its top rivals.
Most of the speed improvements we noticed are certainly coming from that new processor: Fujifilm claims that the EXR Processor II results in 1.8x faster file write times. That processor is also reportedly responsible for the speedy start-up time of just 0.5 seconds.
The even flashier claim from Fuji is the "world's fastest autofocus speed" of 0.08 seconds. That's a bold claim, but in our hands the X-E2 certainly felt every bit as fast as its top rivals. The newest X-series body accomplishes these blazing AF speeds with the help of the new X-Trans sensor, which includes on-chip phase detection pixels (just as it did on the X100S). According to Fuji, the new sensor also works in tandem with the new processor to increase burst shooting of up to 28 frames at 7 fps.
As if all that isn't enough, the X-E2 boasts improved EVF framerates in low light—up from 20 fps to 60 fps, according to Fujifilm.
So, yes. That's a whole lot of zip. However, these manufacturer claims are always best taken with a grain of salt. Until we get the X-E2 into our test labs, it's difficult to confirm or deny the new specs. However, the camera was noticeably more responsive in both processing and autofocus—even in a brief, informal analysis.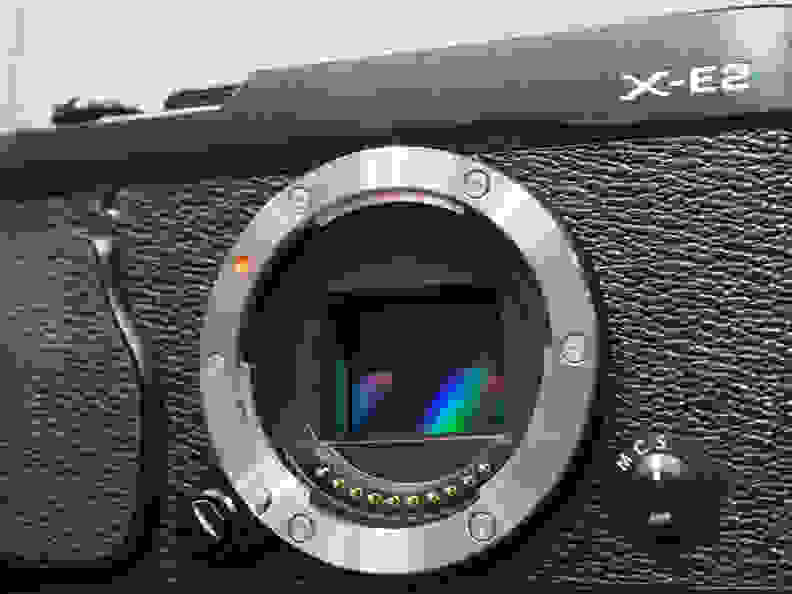 If you're going to take better pictures, you may as well have more fun doing it.
The high end of the Fujifilm X-series is certainly designed with the enthusiast photographer in mind, with careful attention paid to manual controls and a customizable experience. Many of the adjustments Fuji made for the X-E2 target that same demographic.
Fujifilm has listened to user feedback and is offering an array of little tweaks that add up to big improvements in usability.
The most basic control change can be spotted just by looking at the top plate: The exposure compensation dial now offers a range of +/-3 stops, up from +/-2 on the X-E1. There are also now four customizable buttons: Fn1 (set to WiFi by default), Fn2 (defaulting to white balance), and separate AF-L/AE-L buttons (also customizable).
Beyond that, the devil is in the details. Fujifilm has listened to user feedback and is offering an array of little tweaks that add up to big improvements in usability.
The shutter speed dial adds a 1/180 X-sync position, Auto ISO is now configurable with max and min ISO as well as a minimum shutter speed, exposure preview is available in Manual exposure mode, JPEG-only bracketing modes are hidden when you're shooting in RAW, and the Q button has been moved away from your thumb's natural resting position so that you're less likely to press it accidentally.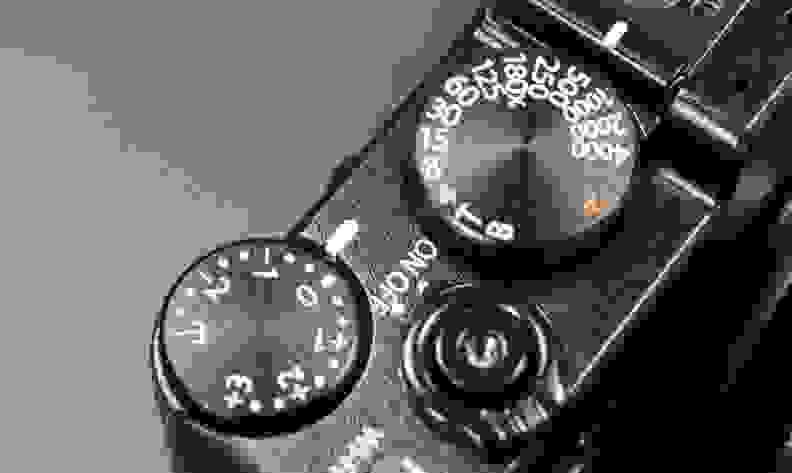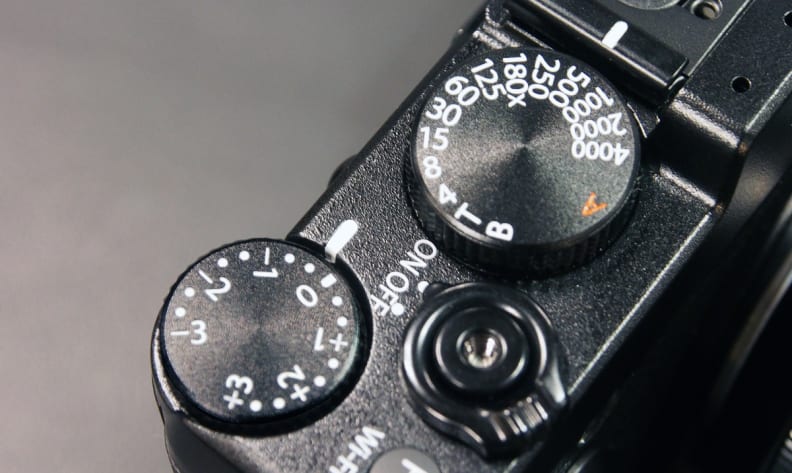 Fuji also made a whole series of adjustments designed solely to improve focus. Continuous AF is no longer limited to the center of the frame, AF point selection is now on the 4-way controller, you can click on the rear dial to access a zoomed-in focus check while in AF mode, and there's a 3 fps continuous shooting mode with focus tracking and live view between frames. Fuji has also added a third type of manual focus aid—Digital Split Image—to accompany the magnified view and peaking display on the X-E1.
In practice, Fujifilm's attention to detail pays off. These little tweaks make the camera more enjoyable to use—especially for manual control aficionados. We really enjoyed our time with the camera and can't wait to get it into the labs for further exploration.
Why stop at speed and control, when you can have... WiFi?
The X-E2's biggest draw may be its improved speed and more intuitive controls, but Fuji has a few more tricks up its sleeve—highly technical hardware improvements for the camera geeks and a couple of old favorites for John Q. Public.
Fuji has a few more tricks up its sleeve—highly technical hardware improvements for the camera geeks and a couple of old favorites for John Q. Public.
In the realm of esoteric enthusiast enrichment, Fuji is packing its moiré-suppressing color filter array into a new sensor, as well as debuting an advanced Lens Modulation Optimizer.
The former is part and parcel to the new X-Trans CMOS II sensor and (according to Fuji) eliminates the need for an optical low-pass filter. The absence of such a filter should, in theory, mean more resolution. Fujifilm used this same filter-free sensor on the X100S to great effect, and we expect to see a notable improvement in the X-E2 compared to the X-E1.
As for that Lens Modulation Optimizer, this is another feature Fuji is porting over from the X100S. Here's the explanation directly from Fujifilm's site:
For each mounted lens, LMO high-precision processing of the lens focal length and aperture, as well as data from the screen center to the edges, corrects diffraction blur when shooting with a stopped down aperture and compensates for the slight blurring in the lens periphery. The result is edge-to-edge image quality with incredible sharpness and a sense of dimensional reality.
For those of you looking for some more accessible improvements, how about a brand-new 3-inch, 1040k-dot LCD and built-in WiFi?
"Dear fans, we hear you. Sincerely, Fujifilm."
While the X-E2 isn't exactly a revolutionary product, it's further evidence that Fujifilm is listening to its fans. Without the juggernaut brand power of some of its Japanese brethren, Fuji is focusing on getting the little things right and hoping that consumers will respond.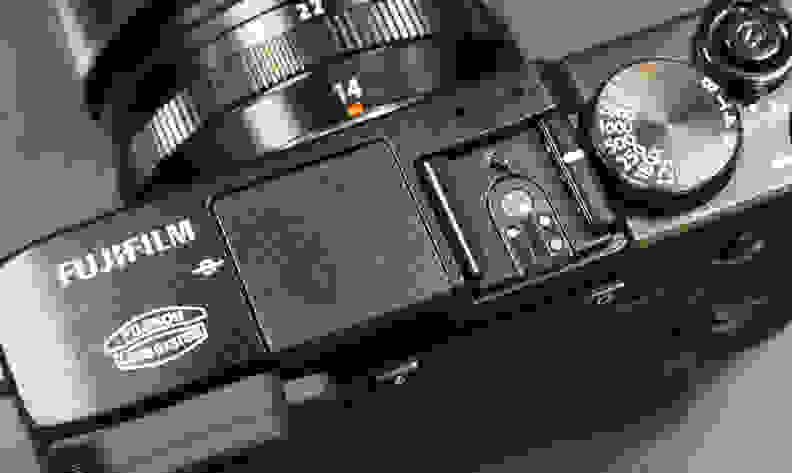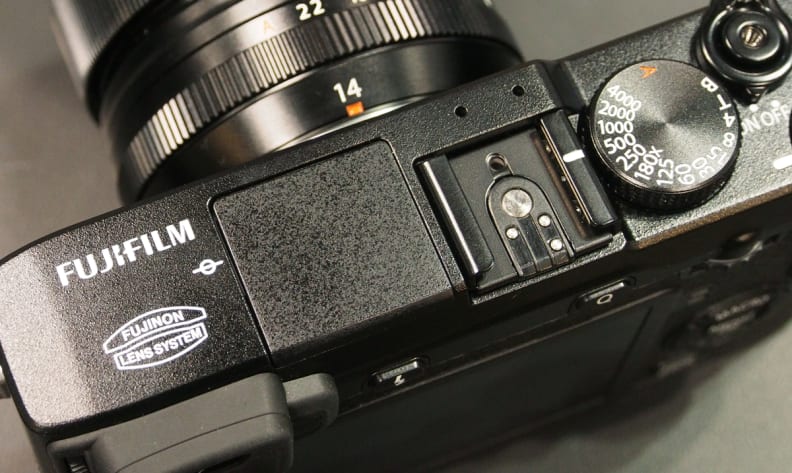 With the X100, Fuji received a flood of user complaints and quickly released a critical firmware update. Even after announcing the X100S, the company continued to refine the original; the latest update for the older model arrived just a couple weeks ago.
Fujifilm has also issued firmware upgrades for both the X-Pro1 and X-E1, making key improvements that legitimately improve the shooting experience.
Now we're faced with another successor: the promising X-E2. It has a new sensor, new processor, and new control layout, but it's the other tiny adjustments here and there that tell the real story. The message Fujifilm is sending is clear: We want you to have the best experience possible, and we'll continue to improve on it until we get it right.
Whether you're a diehard Fuji fan ready for a new body, or a new user waiting to embrace Fuji, you can at least trust that the X-E2 will be a solid entry in the market and will continue to get better.
Meet the tester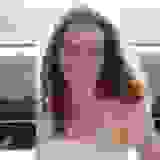 Kaitlyn Chantry
Vice President, Editorial Management
@WhyKaitlyn
Vice President of Editorial Management, Kaitlyn oversees the editorial departments of Reviewed.com's various sites. She has been writing about technology since the turn of the century. Outside of her Reviewed.com home, Kaitlyn is also a theatre director and avid gamer.
Checking our work.
We use standardized and scientific testing methods to scrutinize every product and provide you with objectively accurate results. If you've found different results in your own research, email us and we'll compare notes. If it looks substantial, we'll gladly re-test a product to try and reproduce these results. After all, peer reviews are a critical part of any scientific process.
Shoot us an email