The major selling point for the Kodak EasyShare M590 is its appearance. It is being marketed, in fact, as the world's thinnest 5x optical zoom camera. The sleek modern design utilizes plenty of flat surfaces that cause the camera to look a bit like a spy cam. Kodak calls the design "fashionable and modern." Our expertise is in technological quality, not fashion, but we can see how Kodak's marketing team might justify that claim. The M590 is certainly a camera that we wouldn't mind showing off if we were out for a night on the town. To make things even more exciting, you can choose from four different colors: purple, red, blue, and silver.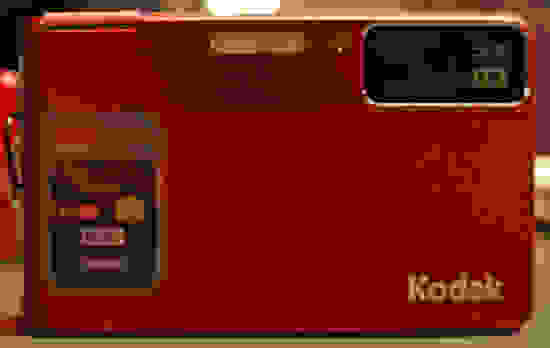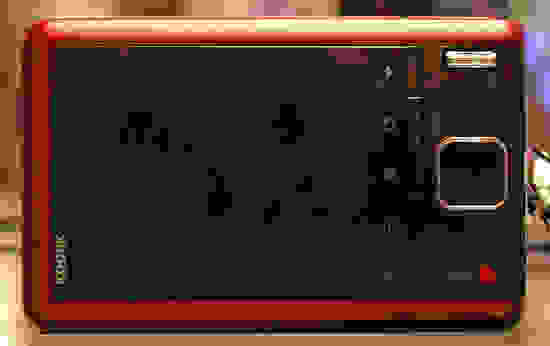 It will probably come as no surprise that the M590 makes sharing photos and videos quite easy. After taking a photo, you press the Share button, which allows you to tag a photo for future upload to YouTube, Flickr, Facebook, etc. Whenever you get around to connecting your camera to your computer, all the tagged photos will be automatically uploaded to the appropriate site(s).
But is everything else about the EasyShare this easy? Well, Kodak certainly facilitates ease of use by removing any feature deemed unnecessary. There are very few manual image adjustments available: just ISO, exposure compensation, and a rudimentary sharpness control. There is no manual focus, aperture, shutter speed... not even a manual white balance.
The interface is fairly simple, though the number of buttons on the back of the camera may be confusing to some users, especially since the buttons are unlabeled. If you go into the menu system, you'll find that it's quick and intuitive to navigate.
The Kodak EasyShare M590 is being billed as the "world's thinnest 5x optical zoom camera." Quite a claim, indeed. And not one we're interested in disputing. The camera is, in fact, very thin: 0.6 in., to be precise. The rest of the camera isn't particularly large either (3.8 in. x 2.3 in.). Even with a battery and microSD card, the camera only weighs 129g.
What this means is that the camera fits perfectly in a dress shirt pocket or even your back pocket. (Though we don't recommend you sit on your camera.) However, it doesn't fit particularly well in your hand. The thinness of the body and the smooth surface don't offer much to grasp; even the shutter button is flush with the top of the camera. Sure, it looks sexy—like something out of an old spy movie—but you look cooler than you feel when you whip this thing out. You look like a trendy tech hipster, but you feel like you're going to drop $200 in the street at any moment.
The buttons also look cooler than they feel: it's an excellent, modern aesthetic, but the thin buttons to the right of the LCD don't give enough tactile feedback to make you feel as though you pushed them properly... And sometimes, you probably didn't. The zoom toggle is especially wimpy.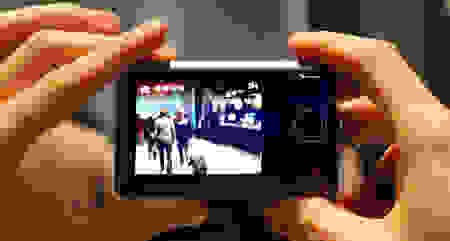 Kodak calls its primary auto mode "Smart Capture." This is like the intelligent or smart auto on other cameras (or Premium Auto on the new Casio Exilim EX-H20G). Namely, Smart Capture automatically analyzes the scene, then selects the appropriate camera settings for that scene. A regular Program mode gives you access to some modest image controls, while Scene mode lets you hand-pick the scene mode of your choice.
Part of the M590's auto mode is its face detection and face recognition technology. This is nothing new to the EasyShare series: the camera not only detects up to five faces in a single frame, but it also can store up to 20 faces and remember them for later. We've experimented with this technology before and we haven't yet been particularly impressed by its accuracy. Of course, it's been one or two years since we last tried it, so it would be interesting to see how well face recognition has progressed since then.
One nice touch on Kodak's face recognition: name tags are saved in the photo's EXIF data, so you can search for the names after exporting to your computer. It doesn't seem like this information is automatically detected by Facebook or Flickr for purposes of tagging.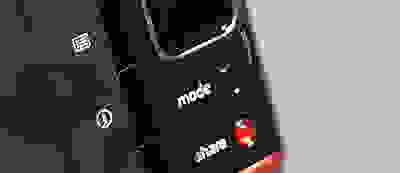 The Kodak EasyShare M590 is capable of recording 720/30p video. If you're looking for smaller files, the camera also offers standard definition 480/30p recording. The M590 specs do not state whether the audio recorded is stereo or monaural, but the Kodak product specialists on hand assumed it was the former—of course. All files are recorded in the H.264/AVC codec, which results in MP4 files. Videos are limited to 29min., regardless of the available memory.
During video recording, you have continuous autofocus, optical zoom, and optical image stabilization all available. Exposure compensation, white balance, and sharpness are all reset as soon as you enter video mode.
Some other features are added to sweeten the video package. The M590 includes minor in-camera editing for video, the ability to print multiple video frames on a single 4 x 6 in. print, and a feature that allows you to save single frames of video and email them to family and friends. It's not clear whether you can use the Share button to send single video frames as photos for sharing on Facebook, Flickr, etc. You can definitely use the Share button to upload entire videos.
Playback mode allows you to tag people and keywords, mark photos as favorites, or create a typical slideshow (complete with sound themes and transition effects). You can view photos as either thumbnails, or with photo properties.
Kodak seems to be encouraging consumers to use their cameras as post-production tools as well. During playback, you have access to numerous in-camera editing features, including cropping, Kodak Perfect Touch, copying, and date stamps. Playback mode also features auto picture rotation and undo-delete.
A virtually commonplace feature these days, panorama stitching is also available on the M590.
The scene modes on this EasyShare are numerous and can be accessed by selecting Scene mode—or by going into Smart Capture and allowing the camera to choose a scene mode for you. Available options are: portrait, landscape, close-up, night portrait, night landscape, snow, beach, text, fireworks, flower, museum/manner, self-portrait, high-ISO, children, backlight, panning shots, candlelight, sunset, sports, or panorama.
The Kodak M590 has no continuous shooting or burst modes, but it does come with a simple self-timer, which can be set to 2 seconds, 10 seconds, or 2-shot.
There are virtually no manual controls on the EasyShare M590. There is no manual focus, no aperture or shutter speed control, and not even a manual white balance. What you see is what you get. The only options Kodak gives you some control over are exposure compensation, ISO, and a rudimentary sharpness control.
The M590 employs TTL contrast AF, with three possible focus modes: normal, macro, and infinity. You can also choose between continuous and single autofocus, as well as three different focus zones: face priority, multi-zone, and center zone. There is an autofocus assist light for low light conditions. There is no option for manual focus.
The autofocus range is listed in Kodak's specs as approximately 0.6m–infinity (0.1m–infinity in macro mode).
The EasyShare M590 has a relatively decent range of available ISO options. ISO 6400 is available for low resolution images only (3.1MP or less). The full range of standard options is: ISO 64, 100, 200, 400, 800, 1600, 3200.
Shutter speed and aperture are controlled entirely automatically on the EasyShare M590—and, in fact, on most Kodak EasyShare cameras. Kodak states that the shutter speed range is 1/2 – 1/2000 sec., but does not give an estimated aperture range.
There is a special "Long Time Exposure" feature, which will give the user the ability to manually select some slower shutter speeds for special long exposure effects. The available range is 0.5–8 seconds.
The Kodak M590 handles white balance entirely automatically—you don't even have the option of performing a manual white balance. You can select a white balance preset, if you are so inclined: daylight, tungsten, fluorescent, or open shade. Or you can just let the camera do the work for you.
Exposure can be adjusted on the usual scale: +/-2 in 1/3-stop increments. In keeping with the ultra-simple interface, Kodak provides no means for altering the metering method. (i.e. You can't choose between center-weighted, spot, and whole-screen metering.)
The EasyShare M590 is equipped with optical image stabilization—surprising given the camera's petite size and low price point. Kodak claims that the image stabilization system "automatically minimizes the effects of camera shake to deliver clearer, sharper pictures."
Still photos are captured using JPEG compression, with a variety of resolutions available. The maximum resolution is 14MP (4288 x 3216). There are three other sizes in the 4:3 aspect ratio, including a small 1MP (1280 x 960) option. There is also a single 3:2 resolution (4288 x 2848) and two different 16:9 options.
The M590 lets the user select one of five different color modes: vivid, full, basic, sepia, or black and white.
Sharpness
Unusual for a point-and-shoot camera (especially one with so few manual controls), the EasyShare M590 sports a simple sharpness adjustment tool, which allows the user to select high, normal, or low sharpness.
There is no viewfinder on the EasyShare M590, so all framing and playback is done with the 2.7-inch color LCD. The LCD has a resolution of 230,000 pixels and is equipped with what the company calls "Kodak Color Science." Apparently, this results in brighter, more vibrant details. We didn't see any particular difference between this LCD and any other. You can manually tweak the brightness of the LCD if it isn't to your liking.
With ISO set to 400, the built-in flash has a reported range of 2.6m at wide angle or 2.4m at telephoto. That's about average for a tiny built-in flash on a point-and-shoot camera. The M590 also offers a small range of flash options: auto, fill, red-eye reduction, or off.
The EasyShare M590 has a 1/2.3-inch 14.5MP CCD sensor. The effective pixel count is 14 megapixels (4320 x 3242). Interestingly, Kodak is marketing the high pixel count in terms of the ability to print 30 x 40 in. photos. We didn't realize people still used cameras to print physical photos.
Despite the M590's tiny form factor, Kodak has managed to tuck a 5x optical zoom lens into the body of the camera—without extending lens elements. Since the style of this camera is a pretty important selling point, we have no doubt that the 5x optical zoom will help entice consumers. If the 5x optical zoom isn't enough for you, the camera also has 5x advanced digital zoom.
The 35mm lens has a built-in automatic lens cover.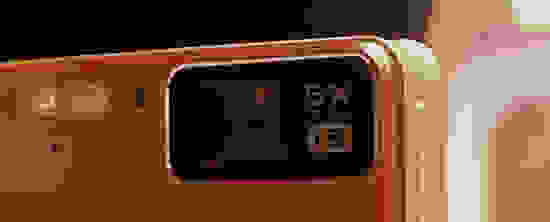 The connectivity story with this EasyShare is more about what it's lacking than what it includes. Despite the ability to record 720/30p video, the M590 has no HDMI output—or component video output. There is a single AV output, but the camera doesn't even ship with an AV cable; you have to buy that separately. To make matters worse, the single USB/AV port is proprietary, so you can't just use your own AV cable.
It does have a ship with a USB cable for that proprietary terminal, so you're all set for data transfer and for recharging the camera's lithium-ion battery. Until you lose the USB cable, anyway...
The Kodak M590 is powered by a KLIC 7000 rechargeable lithium-ion battery. You can recharge the battery right inside the camera via the USB AC adapter.

The Kodak M590 shoots primarily to MicroSD/MicroSDHC memory cards. However, the camera is also equipped with a modest amount of internal memory (32MB), so you can start shooting right out of the box—and have a backup in case your memory card fills up.
One-Touch Upload
As is the case with Kodak's entire EasyShare lineup, the M590 lets you tag and upload photos with the touch of a button. Unlike some cameras and camcorders we've seen, the EasyShare lineup doesn't require you to enter a "share" mode before you record your photos and videos. Just capture the picture/video and, if you like it, push the share button to tag the photo for upload to your Kodak gallery, YouTube, Facebook, Orkut, and/or Flickr. When you connect the M590 to your computer, the tagged pictures and videos will automatically upload to the appropriate sites.
Well, it turns out that the Kodak EasyShare M590 (MSRP $199.95) is like a one-night stand: nice to look at, but not much under the hood. Sure, this is probably a perfectly adequate camera—it takes 14MP stills, after all—but Kodak has stripped the camera of pretty much any interesting feature that you might want in a digital point-and-shoot. That leaves just one compelling reason to buy the M590: you love the way it looks. Honestly, we do love the way it looks. And with four different color options, plus the ability to claim you have the world's thinnest 5x optical zoom camera (!), the M590 might not be a bad buy after all.
Meet the tester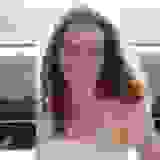 Kaitlyn Chantry
Vice President, Editorial Management
@WhyKaitlyn
Vice President of Editorial Management, Kaitlyn oversees the editorial departments of Reviewed.com's various sites. She has been writing about technology since the turn of the century. Outside of her Reviewed.com home, Kaitlyn is also a theatre director and avid gamer.
See all of Kaitlyn Chantry's reviews
Checking our work.
We use standardized and scientific testing methods to scrutinize every product and provide you with objectively accurate results. If you've found different results in your own research, email us and we'll compare notes. If it looks substantial, we'll gladly re-test a product to try and reproduce these results. After all, peer reviews are a critical part of any scientific process.
Shoot us an email