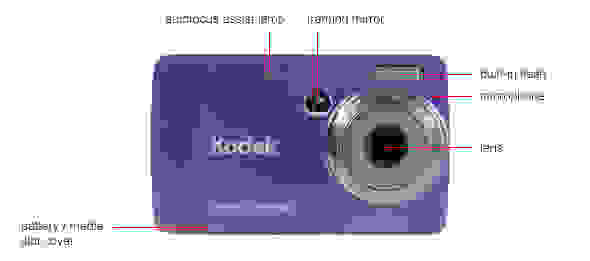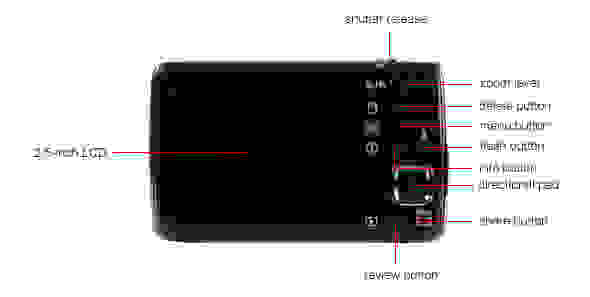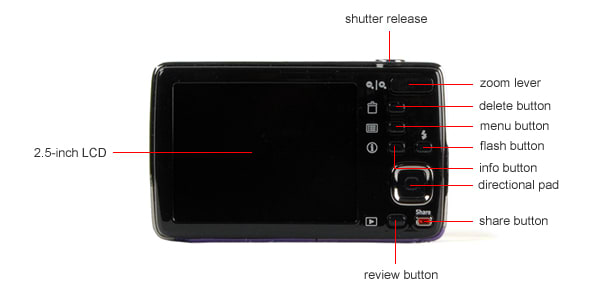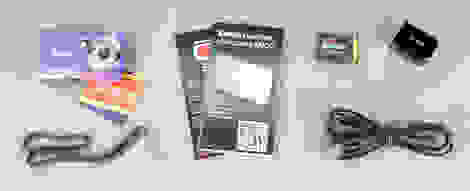 In the box:

• Kodak EasyShare Mini digital camera

• USB cable

• AC / USB adapter

• KLIC-7006 rechargeable lithium battery

• wrist strap

• fold-out pamphlet user's guide
The Mini's handling of color was actually pretty accurate for a camera of this caliber, registering a color error factor of only 2.8 in our test. Greens were the biggest offenders and appeared significantly darker than they would in real life. Scenes were undersaturated, but only by about 6%, which is very solid. More on how we test color.
Compared to some of the Kodak's Mini's closest competition, these test results are the best of the lot. The Kodak is noticeably more accurate than the Pentax Optio RS1500 and the Canon A3000 IS, and even slightly more accurate than the Samsung PL120, one of the most cost-effective models we've tested.
The most accurate color mode is the "Basic Color" setting, available only in Program shooting mode. "Vivid" was pretty close, but oversaturated by 8%, while "Full Color" was off by quite a bit. Note the Kodak Mini has no custom white balance option, so these results were achieved using automatic white balance. The "Basic Color" mode was used for the remainder of our tests.
The EasyShare Mini's noise performance is artificially magnified by an aggressive, always-on noise reduction package. Our tests measured image noise at a mostly-even 0.8% from ISOs 80 - 1000. Although this figure is quite low, Kodak's technique is unattractive and intrusive, severely impacting image quality at all ISO settings. More on how we test noise.
In low light, our tests can finally detect what our eyes knew all along. Noise spikes up above 2.0% at the lowest ISO, and then actually falls as ISO increases. This is opposite the trend we'd typically expect, and speaks volumes about the intensity of this destructive noise reduction software.
So as far as our lab test can tell, this camera offers some of the best noise performance around, and actually exceeds all other models in this comparison group. But that's not the whole story. Every ISO setting is affected by Kodak's smoothing software, resulting in images that are blurry and smudged. Refer to the face gallery below to see for yourself.
The Kodak Mini's spectrum of ISO settings is nonstandard on both sides, with a minimum value of 80 and a maximum of 1000. Both of these are fractions of stops (1000 is especially rare) and this may be responsible for the Mini's complete inability to meter properly. Two identical shots, one taken right after the other, with identical program settings, will often look completely different. Notice how black the left side of our above Noise Comparisons chart is. Ideally, all eight boxes would be the same shade of gray.
A maximum value of only 1000 also makes this camera a fairly limited low light performer. We've grown accustomed to ISOs of 1600 and 3200, even in this price range, so be aware of this flaw for situations like nightclubs, campfires, etc.
NOTE: The images above are not used in our testing or scoring, but are included here to show real-world examples of the differences between cameras at the various ISO settings.
In our resolution tests, we can see that the Mini's software enhancement suite doesn't end with noise reduction, the footprints of contrast and edge enhancement are present here too. While that may sound like a good thing, especially to the target audience of this camera, remember that software "enhancements" rob the image file of true exposure data. More on how we test resolution.
Distortion ()
Distortion is low. Impossibly low, in fact, for this size lens. This effect is easy corrected in software and we have a hunch that's what's going on here. At the widest focal length, distortion is only 0.01%, and while this figure does rise to 1.19% at the longest focal length, these are great numbers for a wide angle lens.
Sharpness ()
All of the cameras in our comparison group achieved excellent sharpness scores...because all of them cheated. We see liberal use of edge-enhancement here, visible in the chart below as too-dark and too-bright "bands," occurring in areas where black meets white. The effect is worst at the center of the frame.
While all four cameras posted strong scores, our little Kodak is technically the weakest. Surprising, considering the aggressive nature of its software. If that software is a concern for you, a menu option exists to minimize the effects.
Chromatic Aberration ()
Chromatic aberration is quite severe, and manifests itself both in our lab tests and in real world shooting environments. In the chart below, notice blue fringing that occurs in areas of high contrast at the edges of the frame. The effect is nearly three times as bad at the full 3x optical zoom compared to the widest focal length. To see how chromatic aberration impacts typical shots, visit the Sample Photos section of this review.
A few different image resolution options are available, including a 3:2 and a 16:9 setting. This is more than we would've guessed for a beginner camera, and is useful mostly for saving memory card space or capturing shots intended for display on a widescreen TV.
No options for compression quality are available and, unsurprisingly, there is no ability to shoot in RAW mode.
While shooting video, the Mini uses digital stabilization to help reduce shake, however this option is not available during still shooting. We therefore award this camera no points for image stabilization. This isn't a big deal, none of the cameras in our comparison group are equipped with an effective stabilizer. More on how we test image stabilization.
The EasyShare Mini's video feature set is extremely limited. 480p is the maximum shooting resolution, and that's anamorphic widescreen too, meaning the signal must be re-expanded to create an actual widescreen image (notice the pillarboxing and distortion on our motion test below). Optical zoom is not available while shooting–although digital zoom is–and focus is locked once shooting begins. The tiny body isn't made for stability either, so expect videos to be pretty jumpy without a tripod.
Color accuracy is one of this camera's strong suits and the same is true for video shooting. The Mini produced error factors just north of 4.00, which is far worse than still shooting, but better than the majority of comparable cameras. More on how we test video color.
Sharpness is dead average however, the Mini can resolve only 350 lw/ph horizontally and 250 lw/ph vertically while shooting video. Low scores, even amongst our already low-scoring comparison group. More on how we test video sharpness.
The EasyShare Mini's playback system is better than we expected. A tabbed menu system is in place and it actually works more intuitively than the camera's main menu. Images may be viewed by date, tagged and viewed by detected faces, tagged and viewed as favorites, or grouped via a system of keywords (like "birthday," "wedding," etc.). The only thing missing is onscreen display of EXIF data, which is hidden in a sub-menu, rather than mapped to the "i" button.
In-camera editing is simplified. Crop, date stamp, and rotate are your only options. Silly digital filters are absent and, while that's usually something we make fun of, fun effects and frames are sorely missed on behalf of the younger crowd this camera will surely attract.
Painless connectivity to an EasyShare printer is one of this product line's selling points. The "share" button on the rear panel also enables quick uploading to various hosts and social networks, including Facebook, Flickr, Kodak Gallery, Twitter, and manually entered e-mail addresses. We can't imagine how this could possibly improve the already-simple process of transferring files to a computer, and we didn't stop to check, but the option is there if you want it.
The Mini also supports DPOF tagging for specifying multiple photo lab prints, 1 - 99 copies, and fully supports the PictBridge standard for home printing.
The Mini's tiny body has no room for an EVF, so framing is accomplished exclusively with the rear LCD. Kodak claims this is a 230,000-dot screen, but it seems pretty grainy and low resolution to us. Frame rate is also low and there's a half-second lag between real life and what's displayed onscreen. The monitor loses a lot of visibility when viewed at an angle, especially from below. Viewed straight on though, colors are accurate and make for a serviceable framing or playback experience.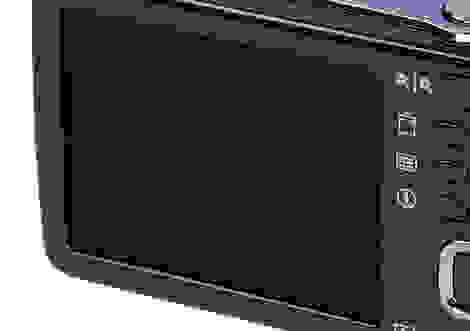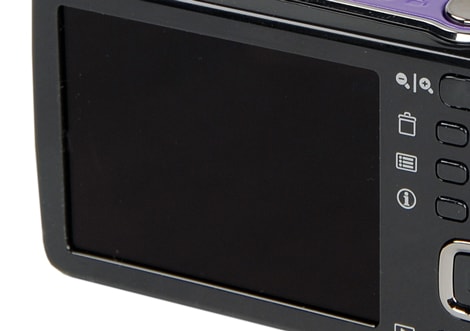 The built-in flash's effective ranged is rated 11.5 feet. Pretty weak, but consistent with similar models. What isn't consistent with other point-and-shoots is this flash's amazingly poor placement: shoved to the far upper right of the front panel. This places the flash directly behind the most comfortable spot for the left middle finger. Of the four cameras in our comparison group, only the Mini and Canon's A3000 IS make this design error.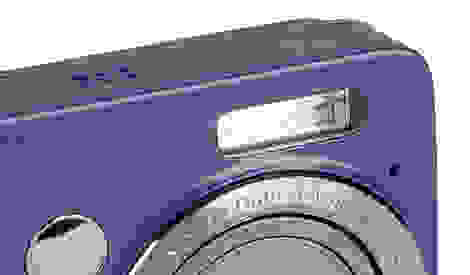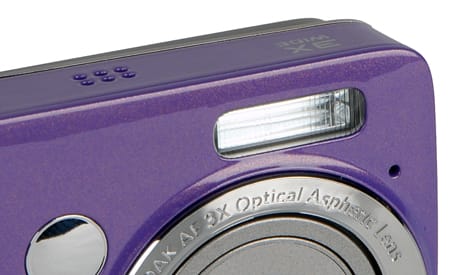 The lens' plastic enclosure feels chintzy and cheaply manufactured, though we experienced no malfunctions during our time with the camera. This is a smaller lens than similarly priced models, but not by much. The whole apparatus is placed to the far left of the body, which is different for sure, but doesn't impact handling in a meaningful way.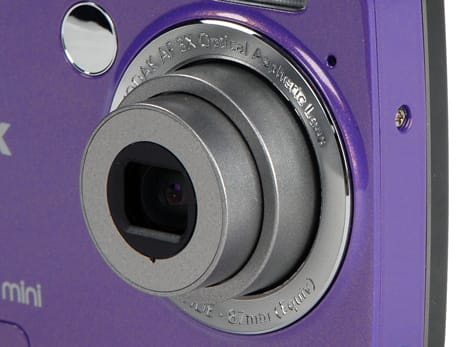 3x optical zoom is less than what we've come to expect, even from the low-end bracket. As shown in the zoom ratio examples below, 3x doesn't take you very far. Perhaps the equivalent of moving two yards forward.
The Mini's included battery is rated at approximately 200 shots per charge, which places it at the lower end. The other cameras in this comparison will be able to squeeze out 10 - 40 additional shots from a single charged battery.
This camera is compatible with SD and SDHC memory cards, which are inserted into a slot behind the battery. When set in place, the memory card does not protrude beyond the battery, so inserting and removing the card can be a tiny bit annoying. Access delay from memory is noticeable, and causes a two-second pause when entering playback mode.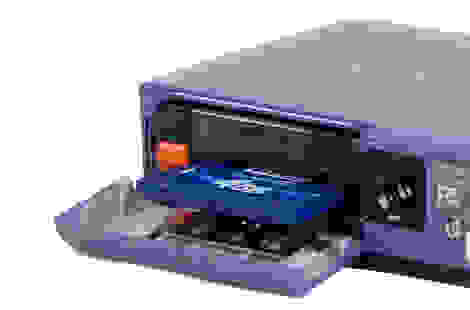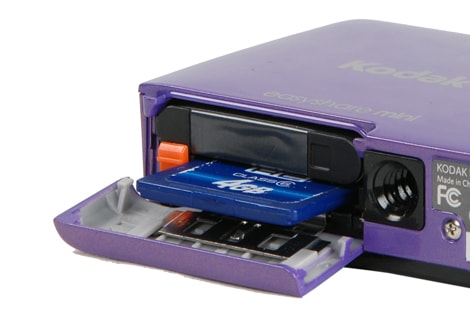 All connectivity, including Kodak's titular "EasyShare" functionality, is accomplished via a micro-USB port on the right side of the body. Other than the USB cable and adapter, no video cables ship with the Mini. We had a few spares lying around, and the menu system does include a setting for NTSC / PAL video output, but we never could get this functionality working quite right. Maybe you'll have better luck.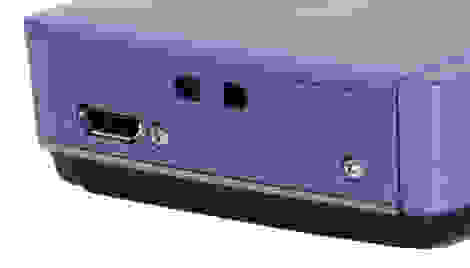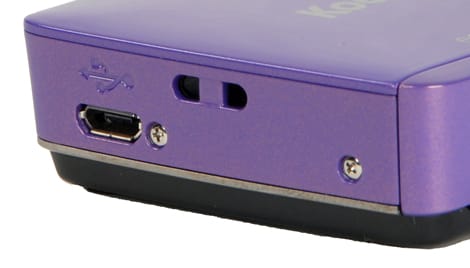 Shooting modes are limited to four: Program, Scene, Video, and Smart Capture (which detects the scene automatically). Smart Capture is the default mode every single time the camera turns on, and that's highly frustrating for users who would rather do their shooting in Program. Users such as...say...camera reviewers.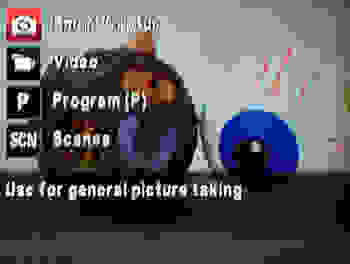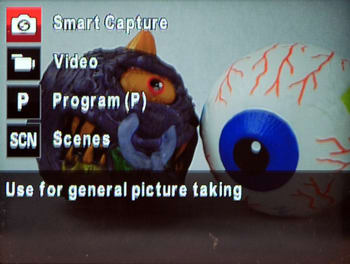 Scene Modes
Fifteen scene modes are available and applicable to shooting scenarios such as sunset, candlelight, fireworks, landscape, portrait, night portrait, etc. Again, the fact that Smart Capture is the default mode every single time the power cycles is problematic here too. Say you're planning to take a set of sports shots, but power off the camera during timeouts. Each time play resumes, you'll have to take a few extra steps navigating back to Scene mode and onto the sport setting.
This camera's size, price, feature set, and even available body colors all suggest this model is geared toward children and beginners. Yet the Mini does not include any fun picture effects or digital frames like fisheye or miniature effect. We'd be lying if we claimed to miss this feature personally, but we have a feeling the target customer might.
The EasyShare Mini is not equipped with any hardware manual control levers, dials, or buttons. To adjust shooting variables, the user must first enter Progam mode, then use the main menu to specify picture size, exposure compensation, ISO, color mode, white balance presets, etc. Manual entry of aperture value and white balance are not available.
We should reiterate here that accurate metering is all but impossible with the Kodak Mini. In our tests, some shots with the exact same settings turned out radically different from each other. Other times, ISO values of 80 through 200 made absolutely no difference, since we were already butting up against the widest aperture setting, even in moderate illumination. We don't score for this, but be aware that these two factors dramatically hinder the user's ability to meter with consistency.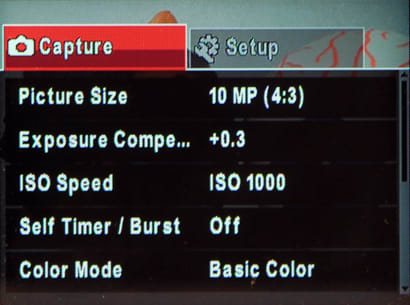 Four drive mode settings are available: a two second timer, ten second timer, ten second timer followed by another ten second timer, and burst mode. The "burst" mode is no more than three shots fired at 1.8 frames per second. This is barely useful and we would've preferred a lower resolution burst with a longer shot capacity.
Shot to Shot ()
Other than the limited burst mode, the Mini is not capable of continuous full resolution shooting. We therefore award it no points for this item.
Handling of the Mini is clumsy and awkward. The body's tiny size and slippery coating make stability a challenge. Again, this may not be something the target customer would even notice. That is, until most of their shots turn out blurry. The Mini's automatic shooting programs were poorly calibrated for users shooting from the hand, with shutter speeds running too slow and exacerbating this problem.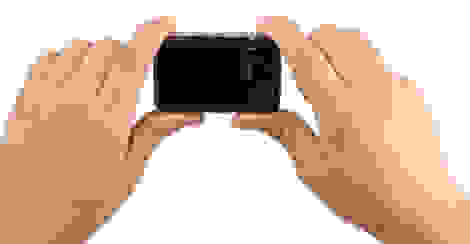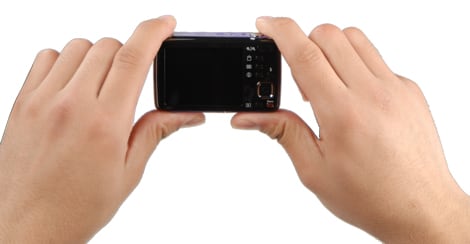 Two-handed shooting is always necessary with this camera. Otherwise the placement and rigidity of the shutter release necessitates a clawed grip and shaky shooting posture.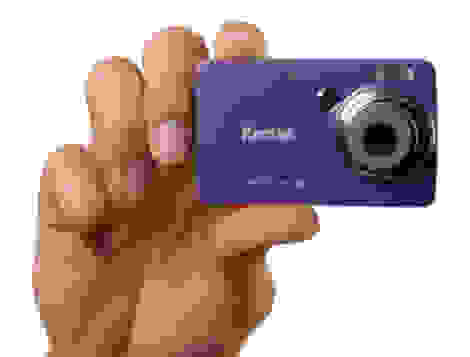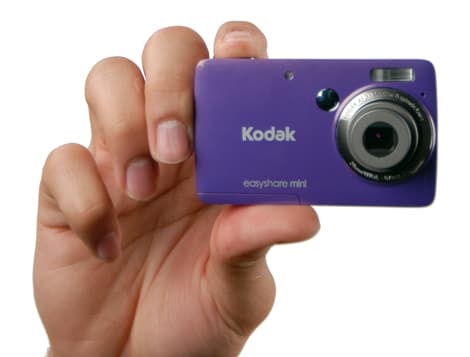 The configuration of the Mini's button layout is practically a case study in what not to do. Where to begin?
We've already mentioned the shutter release, which is too rigid for stable shooting. Next to it, the power button and mode button are close together and identical in both shape and size. Accidental presses are common and especially frustrating since, as we already know, the power button resets mode.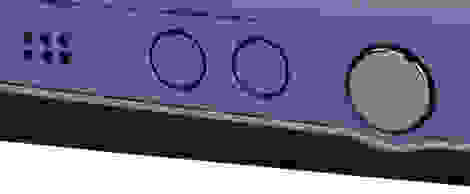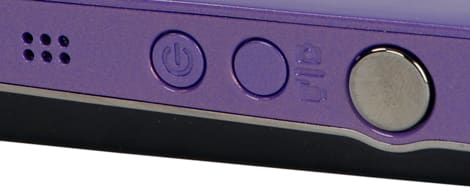 On the rear panel, buttons are tiny and have poor tactility. The thin directional pad is particularly bad, and the OK button in its center is too small for most thumbs. We did most of our OK-ing with the nail. Some buttons are confusingly labeled too. The menu button doesn't look like one, and the "i" button, which typically stands for "information" actually functions more like a quick menu.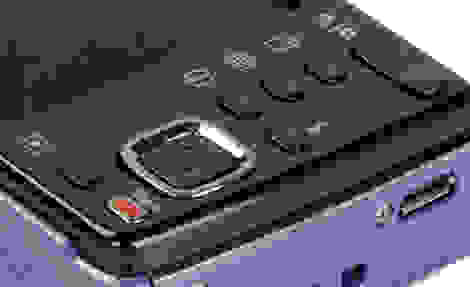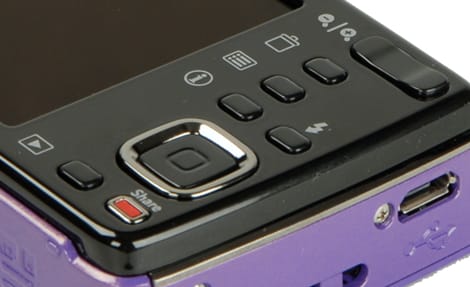 The main menu system itself is slow. Options are divided into two tabs, and swapping between them requires navigating all the way back to the top of the screen. Settings are tweaked by pressing left or right on the directional pad, but only one option is displayed at a time, so cycling through is inevitable. There's no intuitive way to back up only one level, so often a single mistake means a trip all the way back to the main shooting screen.
The Mini ships with a lackluster user guide that is little more than a pamphlet. No in-camera help or tips are available, and this was a real surprise for a beginner model. A full operating manual is available online and we found it to be mostly clear, but atypically organized in a few sections.
The Optio RS1500 is another clearly budget-minded camera and its specs are very similar. While the Mini has an edge in our color accuracy test, the metering system is so inconsistent that even discussing color accuracy is a bit of a joke. Pentax's is also the sharper camera, with cleaner lines and less blur at the outside of scenes. In fact the only area Kodak really surpasses Pentax is aesthetics. While the Mini looks and feels chintzy, the RS1500 is the king-daddy of cheap, shoddy-looking cameras. Even though the Kodak is slightly less expensive, it hides this fact a little better.
Canon's A3000 IS performed so poorly that it almost excuses the Kodak's barely-functional metering system. This is the only camera of the comparison group that we do not recommend over the Mini, and this is due to a variety of factors including color accuracy, noise, resolution, distortion, and available drive modes.
The PL120 is one of our favorite point-and-shoots and the Mini really doesn't stand a chance here. Samsung's model had some of the most accurate colors, lowest noise, and most intuitive menus (an area where the Mini really suffered). It does all this at a similar price, in a more attractive chassis, and with a secondary LCD on the front. This is no contest.
The Kodak EasyShare Mini is designed for either first-time camera owners, or those that consider photography a chore. That's legitimate, and we certainly can't fault Kodak for introducing a point-and-shoot that's designed to–you know–point and shoot. But the Mini will never grow with you. Even if time passes and an interest in proper shooting starts to bud, this model will still be forcing users back into Smart Capture mode, still limiting them with a dated menu system, and still complicating the learning process with unpredictable metering.
And it will still be purple. But we don't take off points for that.
We do understand the desire to reduce or eliminate the learning curve, especially in this bracket. But there are better cameras to do so with. And in the meantime, you won't have to put up with blurry pictures, grainy video, and a frustrating interface.
Meet the tester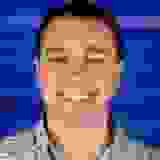 Christopher Snow
Managing Editor
@BlameSnow
Chris was born and raised less than ten miles from our editorial office, and even graduated from nearby Merrimack College. He came to Reviewed after covering the telecom industry, and has been moonlighting as a Boston area dining critic since 2008.
See all of Christopher Snow's reviews
Checking our work.
We use standardized and scientific testing methods to scrutinize every product and provide you with objectively accurate results. If you've found different results in your own research, email us and we'll compare notes. If it looks substantial, we'll gladly re-test a product to try and reproduce these results. After all, peer reviews are a critical part of any scientific process.
Shoot us an email