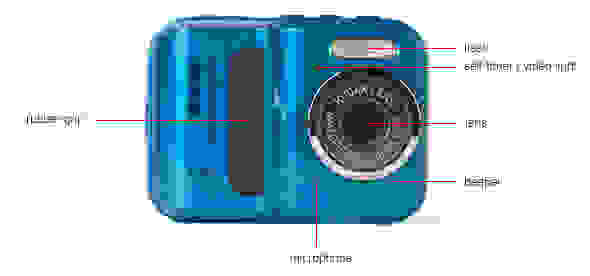 In the box:

• Kodak EasyShare Sport C123 waterproof digital camera

• wrist strap

• 2 Kodak AA alkaline batteries (not pictured)

• USB cable

• User Guide pamphlet

• warranty information
On the heels of our Kodak EasyShare Max review, we were pretty nervous about what sort of color accuracy to expect from the Sport. The $330 Max earned one of the worst color scores we've ever seen, largely due to poor automatic white balance and the lack of a custom setting. The Sport also lacks custom white balance, and carries one-fourth the price tag, so we feared the worst on testing day.
When the dust settled, our little Sport recorded an error value of 3.48. That's not great, but enough for us the breath a collective sigh of relief on Kodak's behalf. Still, problem areas are spread evenly across the spectrum, with greens and blues especially far off. Flesh tones aren't too bad though, so at least human subjects will be rendered somewhat accurately. More on how we test color.
The EasyShare Sport is so inexpensive that we had difficulty finding comparable models for our review. Our comparison group is therefore a diverse lot: the Pentax Optio WG-1, our best performing toughcam, the Sony Cyber-shot TX10, an expensive but similarly performing toughcam, and the EasyShare Mini, another low-end model from Kodak.
Against this entire field, the Sport's color accuracy is still the worst of them, although relatively close to the TX10. Pentax's hardcore WG-1 blows away the competition however.
Five color modes are supported by the Sport, and although we usually expect a neutral mode (such as Basic Color, in this case) to be the most accurate, this camera's best mode is actually Full Color. So for best results in all shooting conditions, stick with that. Strangely, the Vivid Color mode is a bit of a misnomer, and actually undersaturates images by over 12%.
What a miserable test this was. The EasyShare Sport has severe difficulty metering light, so it was almost impossible to take our image measurements with a proper exposure level. This meant repeating the process...over, and over, and over. What's worse, the Sport also has major problems gathering sufficient light. The lens' aperture is fixed at f/4.5, a relatively small opening, and shutter speed is locked at 1/8th of a second or faster. In short, light has neither the space nor the time to squeeze onto this camera's sensor.
At 3000 lux, the camera is incapable of achieving a proper exposure at ISO levels lower than 200. The only way around this is to toggle the obscure Long Time Exposure setting, which no beginner would likely experiment with. Once usable exposures were found, noise levels were unacceptable, above 1.25% on average. Smoothing software worsens this, smudging and blurring images as early as ISO 200. More on how we test noise.
Noise artifacts almost double under low light, and as if this weren't bad enough, the artifacts themselves are extremely obvious and distracting as early as ISO 400. Noise rates happen to peak at ISO 100, before noise reduction kicks in. The EasyShare Sport should be considered a very weak camera in low light.
This is the worst performance of our comparison group and, believe it or not, the margin is even slimmer than the Sport deserves. Our test detects chroma and luminance noise separately, chroma is fluctuation in color, luminance is fluctuation in brightness. However many of our luminance noise figures had to be thrown out, since the camera couldn't actually gather sufficient light. No luminance means no luminance noise, so parts of this data set weren't averaged in.
In every way the Sport falters here, Sony's TX10 excels. Noise levels are consistently low, and when noise reduction is used, it's applied sparingly and in a relatively attractive way.
For all this trouble, the Sport's range of ISO levels doesn't even extend very far. The minimum ISO is a respectable 80, but the camera tops out at an uncommon maximum of 1250. No reduced resolution settings are available.
NOTE: The images above are not used in our testing or scoring, but are included here to show real-world examples of the differences between cameras at the various ISO settings.
Another glaring limitation of the EasyShare Sport is its complete lack of optical zoom. Focal length is fixed at 6.3mm, and the camera relies exclusively on digital zoom for magnification. This, plus a heavy dose of sharpness enhancement, earns the Sport a better overall resolution rating than it probably deserves. More on how we test resolution.
Distortion ()
Distortion is easily corrected in software, so we see plenty of cameras earning the maximum score of 15.00. But this time around we have a feeling the simple fixed lens, which probably includes few or no aspherical elements, is responsible for the lack of image alteration.
Sharpness ()
Sharpness scores are through the roof thanks to liberal use of sharpness enhancement software at default settings. In the crops below, observe the thick black lines and bright white haloing that occur on either side of high contrast areas. Although the trick is enough to fool our tests, this really detracts from image quality, and should be turned down in the main menu.
Chromatic Aberration ()
The Sport's chromatic aberration results are excellent, better in fact than all of our comparison cameras. This is another "happy accident" resulting from the use of a flat, fixed lens. Given the choice though, we definitely would've taken the better lens.
Available shooting resolutions are limited. Three choices of varying size are available in the default 4:3 resolution, with an extra resolution for both 3:2 and 16:9 shooting. Compression settings may not be adjusted however, and–unsurprisingly–there is no option to shoot in RAW mode.
The EasyShare Sport is not equipped with any method of image stabilization, so you'll need a steady hand and plenty of light to keep images from blurring. More on how we test image stabilization.
This is par for the course though. The only camera in our group that does feature image stabilization is the excellent Pentax WG-1, which uses a digital method.
Video recording is an afterthought. Only 640x480 resolution is supported, and clips of less than 4 GB are recorded at 30 frames per second. That's it. No advanced features, not even any "somewhat modern" features. Just a barebones video mode of the simplest degree.
Color accuracy during video, shockingly, is almost identical to still shooting. Whether or not this should still be considered impressive at such a low resolution is up to you. Colors behave differently in video though, the entire gamut is too hot and each color is either too red or too dark. More on how we test video color.
The Sport's ability to resolve fine detail is severly diminished in video mode. The sensor detected only 250 lw/ph of detail, both horizontally and vertically, in our resolution test. This test also revealed just how unappealing the recorded clips are. The image was affected by distortion, interference, blending of fine lines, pixelation, discoloration, and just about every other negative attribute a video clip can possess. More on how we test video sharpness.
Playback mode is relatively robust. Stills may be viewed fullscreen with an 8x zoom. In grid mode, a series of tabs allow stills to be viewed by date, favorites, or keywords; and the grid itself may be set to two different dimensions. The video playback interface is intuitive, with 2x and 4x fast forward available.
In-camera editing features are limited to crop, rotate, and application of Kodak's "Perfect Touch" software. Some light video editing functionality is also available. This set of options is inferior to most of the competition, including budget models.
The PictBridge standard for home direct printing is fully supported, however DPOF tagging for pharmacies and 1-hour photo joints is not. There is nothing "easy" about Kodak's titular sharing functionality, it requires a software installation (available via download) and is far more complicated than simply transferring image data to a hard drive using either a memory card reader or the included USB cable.
With no electronic viewfinder to frame shots, your only option is the small, ugly LCD. Kodak claims 112,000 dots are in use, but we have trouble believing it. Black lines between pixels are visible, and reviewed images tend to appear even noisier than they really are. Framing is inaccurate, shots capture a larger area than the screen suggests. There's a long delay between actions in your field of view and their reflection onscreen, and it's a bit too dim for outdoor shooting. This is a very cheap screen.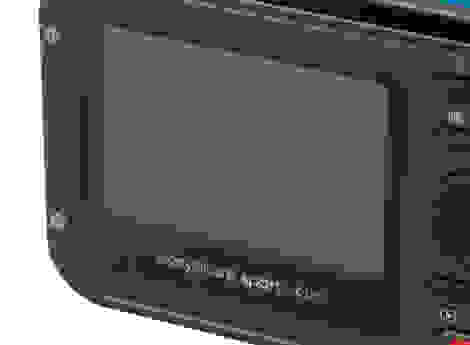 The camera's flash is rated effective up to 7.9 feet, which makes it weaker than most. Placement is also fairly poor, directly above the lens in an area easily obstructed by the fingers during two-handed shooting. All flash controls (auto, always on, always off, and red eye preflash) are controlled with a dedicated button on the top of the body.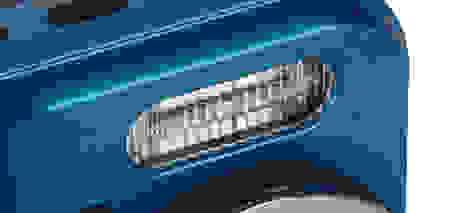 We've alluded to the limitations of this lens earlier in the review, and they are numerous. This is a fixed focal length, fixed aperture, fixed focus lens. Don't be fooled by the oversized silver bezel, the opening itself is tiny, and it's no surprise the sensor has difficulty gathering light. While the pinhole enclosure opens and closes automatically, the plastic window in front of it does not, so you'll need to avoid fingerprints here.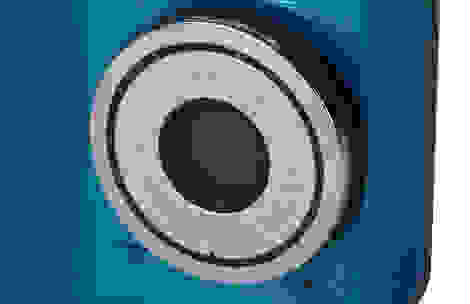 Since the lens assembly does not move, optical zoom is impossible. Your only option is digital zoom, though we never recommend using this feature. Ever. Even in the tiny examples below, we can already notice image quality deteriorating at maximum zoom. Better to simply crop wide angle shots after shooting is done.
The Sport uses AA batteries exclusively, and while we consider this a pain, for many find them more convenient. Battery performance is CIPA rated at approximately 250 shots, but in practice the camera wasn't nearly this efficient. Two Kodak-brand alkaline (not rechargeable) batteries are included in the box.

SD and SDHC storage media are supported, though the specs sheet makes no mention of SDXC memory cards. If you happen to get stuck without a memory card, 19 MB of internal storage is available, but this is only enough for 7 full resolution images or a whopping 11 seconds of video. Internal memory and memory cards may be formatted independently though, and this is a nice touch.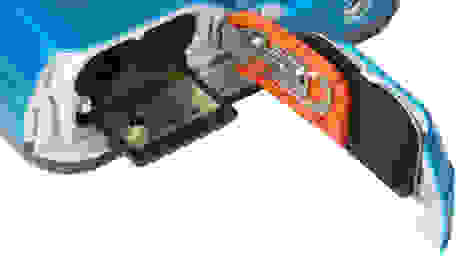 All external connectivity is accomplished via a micro-USB terminal located in a tricky spot, underneath the chassis' main battery and media slot cover, but adjacent to an orange sub-cover that locks the batteries into place. Interfacing with a PC is simple enough, but no video output cables are included in the box, not even a composite one. We had to scavenge cables from another camera to view stills and video on a TV.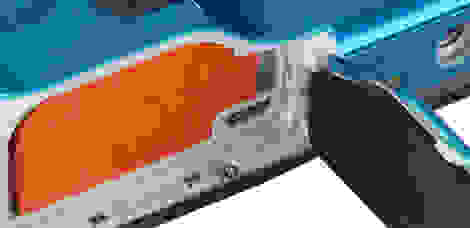 Durability
The Sport's chief selling point is it's waterproofing, which is effective down to 9.8 feet. Be careful, that's enough for the shallow end of backyard pools, but not the diving well. In fact, this is the weakest seal of all the waterproof cameras we've tested this year. Still, it's a feature that most cameras cannot claim, and none at this price, so we do award an extra point. Dust proofing also goes hand-in-hand with waterproofing, so there's a second extra point.
Shooting modes are controlled by a dedicated button on the top of the body. There's a fully automatic mode, an underwater mode, a video mode, and a scenes mode. Automatic does offer a small degree of customization (ISO, exposure, white balance presets), but full PASM shooting wouldn't be feasible on a camera of this simplicity.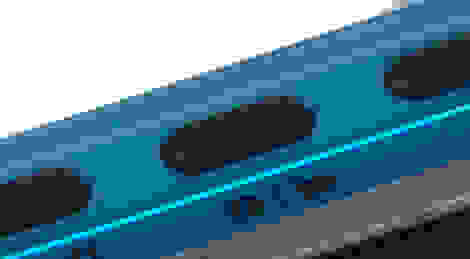 Scene Modes
Eight scene mode settings are available and they are essentially the most common ones seen throughout the imaging industry. The full list is Portrait, Sport, Sunset, Backlight, Children, Bright, Fireworks, and Night Portrait. Many of these are limited by the camera's hardware or sensor. For example, Night Portrait does not unlock any additional ISO levels, and Bright does not enable a smaller aperture or longer shutter speeds.
The EasyShare Sport is not equipped with any picture effect capabilities, neither during shooting nor in playback mode. This is a little surprising, given the model's target demographic.
Manual control over shooting variables is limited to ISO, white balance preset, exposure compensation, metering, and sharpness. That last one, sharpness, is a surprise, and we don't often see this option made available on low-end models.
Self-timer and burst options are located in the "i" menu, separate from the Sport's main menu. Countdown timers come in three flavors: 2 second, 10 second, and 2 Picture. The burst mode does actually shoot full resolution, which is impressive, but its capacity is extremely limited and maxes out at only three shots.
Shot to Shot ()
For those three shots though, the camera is at least somewhat fast. We clocked the Sport at 1.46 frames per second, but an ISO level of 1250 is necessary to shoot this fast (auto also works). This of course drastically degrades image quality. We recommend shooting at lower ISOs, which will sacrifice a little speed. The difference between ISO 1250 burst and ISO 80 burst is only about one tenth of a second.
Handling of the Kodak Sport is actually decent. A nice rubber strip is located on the right-hand side of the front panel, providing a comfortable resting place for the fingers. Additionally, a thinner band of gray rubber runs all along the top, sides, and most of the bottom of the body, which means the left hand will be secure no matter where you decide to place it.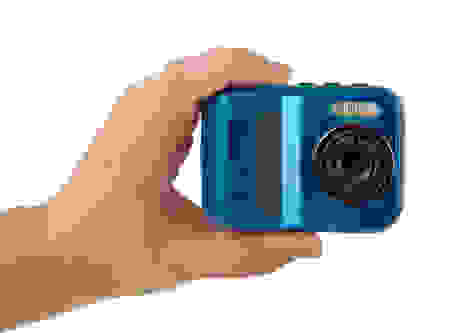 The rear panel itself is not rubberized, however each button is, so the thumb simply rests on top of the control panel. The buttons are also stiff enough to eliminate the risk of accidental presses while shooting. For such a small camera, overall handling is surprisingly stable.
Button labeling can be confusing. For example, the "i" button at the lower right, which typically stands for "information," actually brings up a miniature quick menu for adjustment of EV and drive mode. Huh? Meanwhile, the menu button is represented by a bulleted list symbol, rather than...say, the word "menu."
The delete button gets a location of unusual prominence, directly beside the menu button. At the top of the camera, three identically shaped buttons, lined up in an even row, perform very different functions. New users will find themselves wondering why their camera is turning off, when all they wanted to do was switch modes.
Aside from the OK button inside the directional pad, which is a bit too small, the buttons themselves do feel great. Tactile feedback is very strong, enough for underwater operation. Spacing is a tad bit cramped, but sufficient, and the zoom buttons and directional pad all have a nice ergonomic slant inward.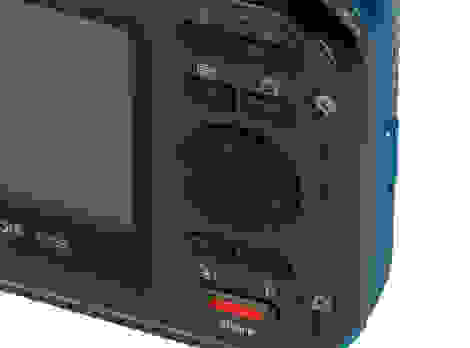 There's "simplification," and then there's bad design. The Sport's menu system doesn't have many variables to control on this very limited camera, but it drags anyway. The two tab system separates shooting settings from internal setup settings, and swapping between them requires navigating all the way to the top or bottom of the list. The LCD screen also lacks the resolution to display many options in full, so you'll have to wait for text to scroll by.
Leaving the menu is also a problem. Since this camera has no autofocus, the shutter release does not have separate stages. This means no pressing halfway down to return to the shooting screen. Users must find the mysterious menu button and push it once again to exit out. The same is true for playback menus. Not even the OK button provides an easy exit, instead it opens up additional, redundant sub-menus, just in case you'd rather use up and down to select options, rather than left and right.
The Sport's included "User Guide" is a single page fold-out pamphlet, which provides little more information than our Product Tour page. There is almost no information about the operation, functionality, or features of the camera. The downloadable "Extended User Guide" is robust by comparison, but we still occasionally had trouble finding the information we were looking for.
The Kodak EasyShare Sport is one of the worst performers in our comparison group, however it is also the least expensive by far, so this conclusion is expected. Therefore, for each of these comparisons, it seems best to highlight exactly what you'll be sacrificing by going with the cheaper option.
In the case of the Pentax WG-1, you'll be sacrificing a "true" ruggedized camera. The WG-1 is the toughest toughcam we've reviewed this year. Waterproof down to 33 feet (to the Sport's 9.8), shockproof, crushproof, coldproof, and dustproof. Image quality is far superior too, and the difference in low light performance can barely be compared. If you're a real adventurer, and you're prepared to spend an additional $200, Pentax's toughcam is the obvious choice.
Sony's TX10 is in some ways the opposite of the Pentax WG-1, and is in fact similar to the EasyShare Sport. Like the Sport, the TX10's "tough" features have been toned down. Waterproofing, for example, only works down to 16 feet. Yet the TX10 is still very expensive, and this is because Sony has adopted an entirely different strategy. This toughcam wears a disguise. The design and exterior look nothing like a piece of ruggedized hardware, with a modern look that's equally at home in the nightclub or on a mountainside.
The Sport, on the other hand, has the appearance of a plastic toy. It is a specialized camera and looks the part. Aside from image quality, the extra cash spent on the TX10 will go toward versatility, something the Kodak Sport lacks entirely.
In the end, our test scores actually place the Kodak Mini behind the Sport in overall performance. However, in fairness, this is a total fluke. Our ratings were skewed by the Sport's resolution score, which was itself skewed by aggressive sharpening and a very simple fixed lens. Make no mistake, the Mini is the better camera. How much better? We'd say about $20 worth, exactly the difference between these two Kodaks' MSRPs.
For that extra twenty bucks, you're going to buy yourself a little bit more control: a modest optical zoom, a working aperture, and a slight boost to image quality. But the Mini is not without its drawbacks. Chromatic aberration is worse, ISO levels aren't improved, and of course this is not a rugged camera.
The difference is application. Either way you're saving money, so do you feel like shooting underwater, or not?
Kodak, sadly, is in the midst of a decline. Either that or a "turnaround", depending on how much of the shareholder meetings and marketing rhetoric you believe. The company that practically invented amateur photography has been forced to drastically alter its overall strategy in the past decade or so, with an increasing focus on the acquisition of patents, while its consumer imaging products continually fail to equal the competition.
And so it is with the Kodak EasyShare Sport. Mediocre color performance, ugly and distracting noise, a tiny fixed-position lens; they add up to a camera that is miles behind. The chintzy body design and unattractive interface aren't helping either.
Yet, we don't hate this camera. Actually, we think that for a certain consumer the Sport may be a godsend. This camera has one big feature going for it, and that's price. For eighty bucks, images aren't that bad. We have a feeling that when the family vacation calls for a bit of snorkeling, even experienced shooters might prefer this inexpensive option, instead of ponying up more than $1000 for an underwater enclosure.
In this light, the EasyShare Sport demonstrates its value. Not as a powerhouse that dominates our suite of lab tests, but as an example of what can be accomplished by a celebrated company with tragically limited resources. Kodak's Sport should not be anyone's primary shooting camera, except maybe for children. But it makes a nice accessory to throw in your carrying case, should the need for some light underwater shooting someday arise.
Meet the tester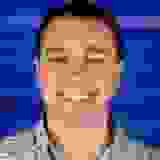 Christopher Snow
Managing Editor
@BlameSnow
Chris was born and raised less than ten miles from our editorial office, and even graduated from nearby Merrimack College. He came to Reviewed after covering the telecom industry, and has been moonlighting as a Boston area dining critic since 2008.
Checking our work.
We use standardized and scientific testing methods to scrutinize every product and provide you with objectively accurate results. If you've found different results in your own research, email us and we'll compare notes. If it looks substantial, we'll gladly re-test a product to try and reproduce these results. After all, peer reviews are a critical part of any scientific process.
Shoot us an email