The touchscreen interface has us a bit worried, and Kodak imaging has definitely struggled this year. But embedded WiFi has certainly been the star technology of this year's CES, and the strategy here may be exactly what the company needs to turn it around and sell some cameras.
The Kodak Easyshare Wireless is much more visually attractive than last year's lineup. Our preview unit had a metallic red body with chrome accents and a matched silver lens barrel. The black side panels also match up with the black LCD screen on the rear. Another nice touch is the on / off switch, which has an illuminating bezel that glows when the camera is powered up.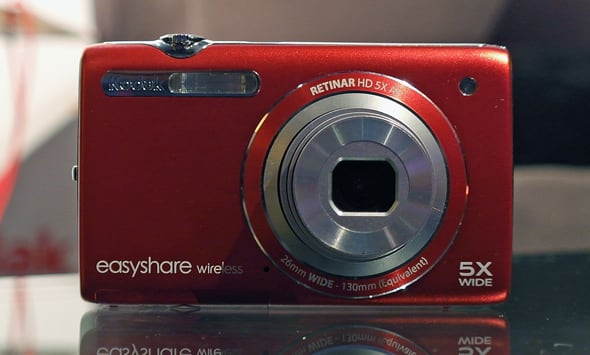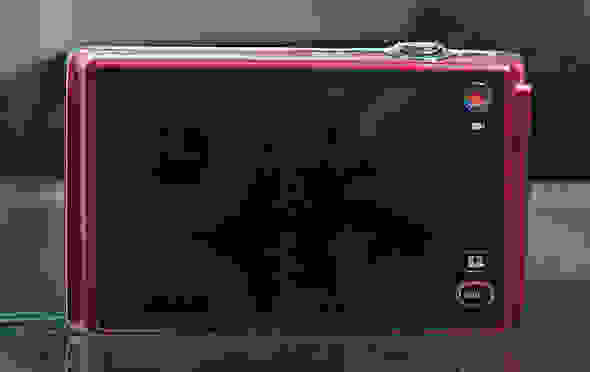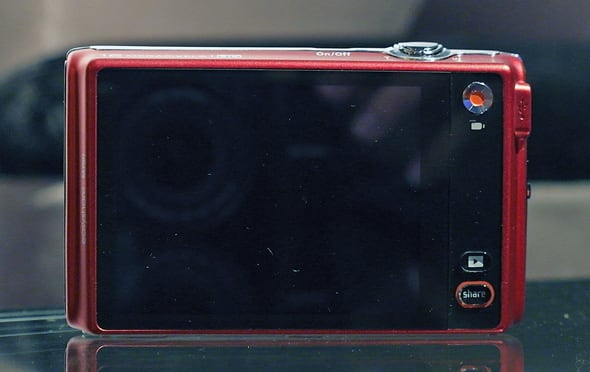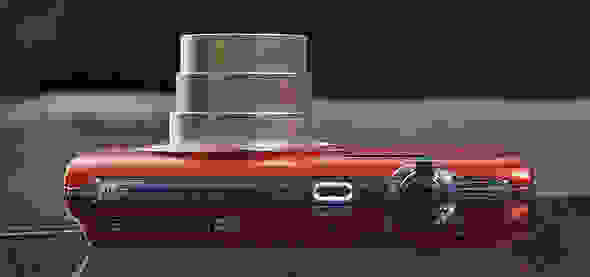 Kodak has redesigned the layout of their menu system to be more friendly to a touchscreen interface. But they've retained the ugly visual style of previous menus and, unfortunately, operation of the new menu isn't perfect either. Unless you've memorized every symbol and icon used in the entire interface, it's impossible to browse through the options without selecting them, because your finger is in the way. This makes for a long learning curve and frequent, annoying mistakes.
The Wireless isn't technically an all-touchscreen camera, Kodak has left three physical buttons on the real panel, shortcut keys for video capture, playback mode, and sharing features. In typical ultracompact fashion, the shutter release is surrounded by an electronic zoom lever, but the action on the shutter button is too shallow.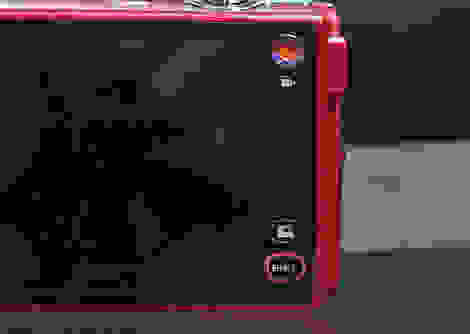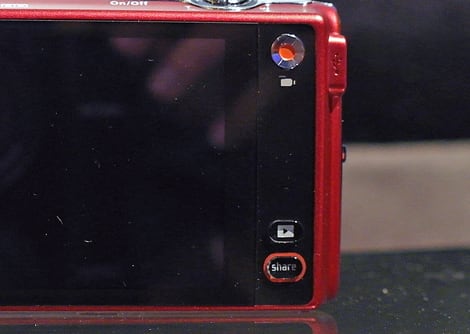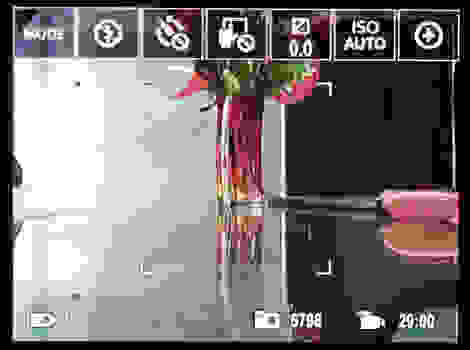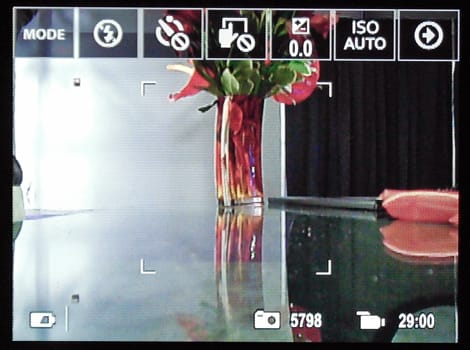 While the exterior looks nice, the body is somewhat slippery. We didn't drop it during our time at the Kodak booth, but had one or two close calls. No ergonomic features or rubberized areas have been built into the Wireless, but this isn't uncommon for a compact camera.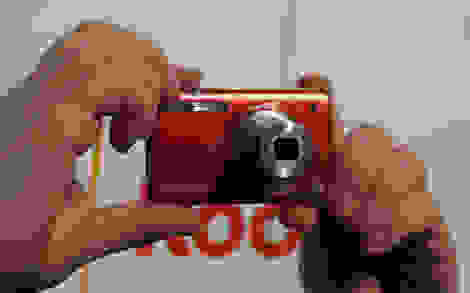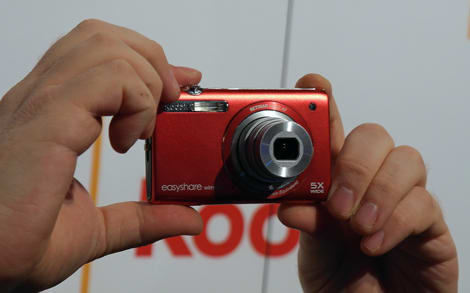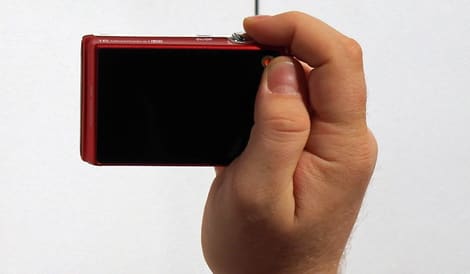 No hardware mode dial exists on the Wireless, but a virtual mode setting is available from the touchscreen menu. This selects between Program, Auto, and other options like scene modes and a dedicated video mode.
The Wireless shoots videos in 720p at 30 frames per second and records in H.264 encoding. Despite the physical movie record button, video is not immediately responsive, causing a one or two second delay before recording. The unit's firmware on the show floor is final, so this is not likely to change for units purchased after launch.
Burst shooting is fast but limited to only three shots, not very useful for most scenarios. Self-timer settings are also pretty minimal, with three options: 2 second, 10 second, and 2-shot.
Playback mode uses the same touchscreen interface as the other modes, for better or worse. There are also some shortcuts here for posting to Facebook, Kodak Gallery, or customizable ones that can, for example, e-mail a certain person. Image review mode is also capable of some light in-camera editing, including video editing.
Users can select from five shooting options, three of them in 4:3, one 3:2, and one 16:9. They range from 16 megapixels down to 3. The Wireless is not capable of RAW shooting and JPEG compression quality is fixed.
The camera uses contrast-based TTL autofocus like the majority of cameras in this class. Multi-zone and center-zone modes are available, along with a face priority setting. Users may choose between single and continuous focus modes, the latter continually updates focus if the subject moves, even if the shutter is pressed halfway down.
Shutter speeds between 1/8 and 1/1600 seconds are selectable in Program and Smart Capture modes. In the long exposure scene mode, exposures between 0.5 and 8 seconds are now possible. Like most cameras of this class, exposure compensation ranges +/- 2 stops in 1/3-stop increments, though metering seems to be fixed to the default mode.
ISO sensitivity goes up to only 1600, one stop short of 3200 which is just about average for the price range. No reduced resolution ISO settings are available.
In addition to automatic white balance, four presets are available: daylight, tungsten, fluorescent, and open shade. Custom white balance, although quite common, is not possible on the Easyshare Wireless. Direct Kelvin entry isn't possible either.
The Wireless does not support image stabilization, but the "blur reduction" scene mode will attempt to compensation for shake through other means, such as higher shutter speeds and ISO levels. In our time with the camera this feature didn't work very well. Optical image stabilization is becoming more and more common in compact cameras, so it's a shame to see the technology omitted here.
It's possible to apply some of Kodak's old film brands as filters on top of shots. This includes KODAKCOLOR, KODAKCHROME, EKTACHROME, T-MAX-, TRI-X, and sepia. This can be done in either shooting or playback mode.
The Wireless uses a 1/2.3-inch CCD sensor to capture light. Size-wise that's pretty typical for this class of camera, although most consider CCD to be inferior technology to CMOS sensors. 16 megapixels is quite a lot of resolution though, especially for this price.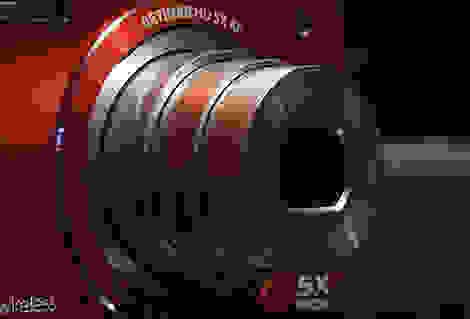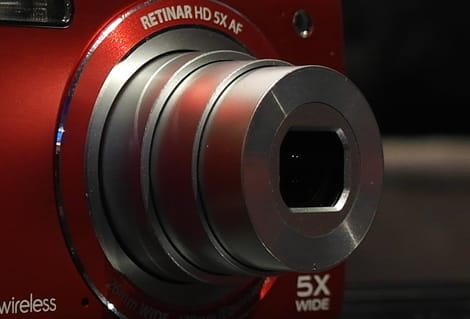 Although the rear touchscreen is 3 inches diagonally, its resolution is only 230,000-dots and it looks rather ugly compared to some of the other gorgeous screens on the market. The capacitive touch functionality is responsive though, making it even more of a shame that the menu is designed so poorly.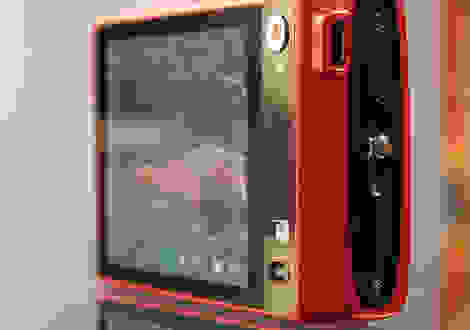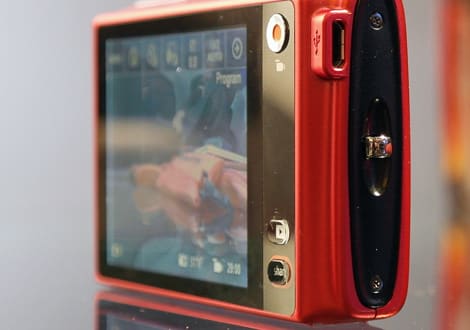 The fixed-position flash bulb is located above and to the left of the lens barrel in an ideal spot far out of the way of the fingers. It's surrounded by an extra wide chrome bezel that looks great on the attractive front panel. Flash performance is rated out to 10.5 feet, making it a relatively weak emitter. In addition to off and auto modes, fill and red-eye reduction modes are also supported.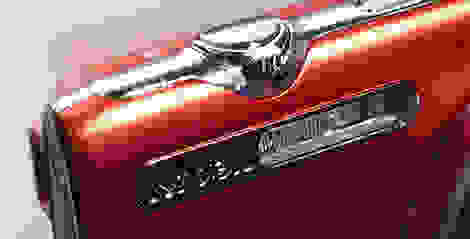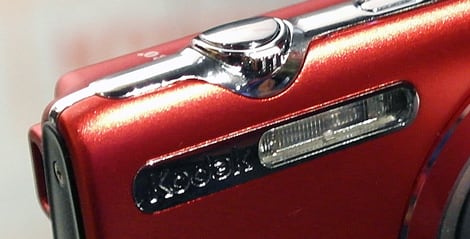 The miniUSB port is exposed at the top of the right panel, in fact the chassis is built around it. No other connectivity options are available, including HDMI, which is becoming more and more popular every year.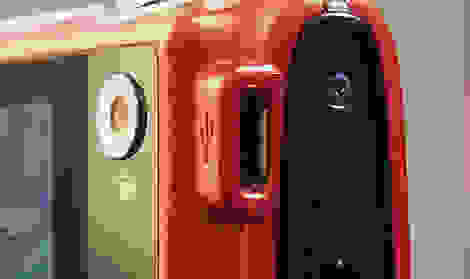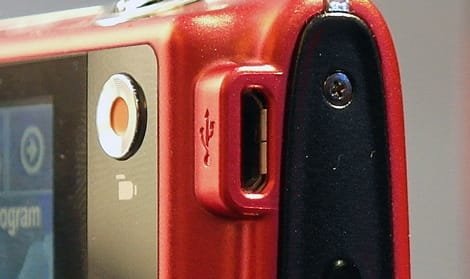 Kodak has not released capacity statistics for the Wireless' lithium battery, but we do know that it will charge in-camera, with no need for an external wall socket adapter.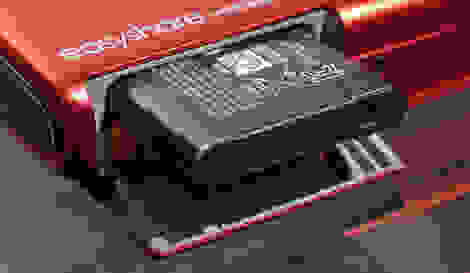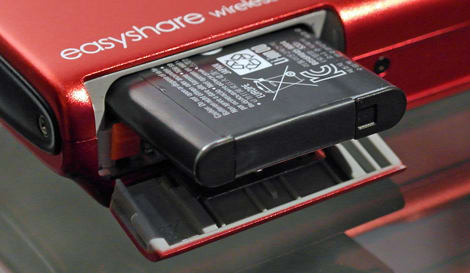 The Wireless will support SD and SDHC, but not faster SDXC memory cards. In a pinch, 18 MB of internal memory will also be available, but this will only be enough for a few pictures.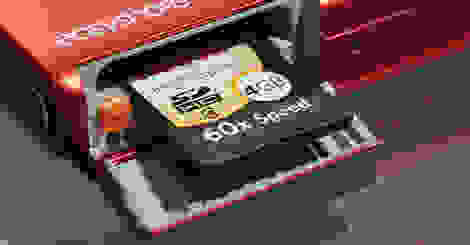 Though nothing is confirmed, rumors have been swirling lately regarding Kodak and possible Chapter 11 bankruptcy. At this year's CES, we were hoping for a major "reboot," a complete overhaul of the lineup. Sadly it doesn't seem like the Easyshare Wireless will be the company's miracle product.
We think embedded WiFi is the technology of this year's show. For Kodak to bank entirely on this feature as their camera's defining feature is too little too late. Remember that many manufacturers are implementing WiFi already, manufacturers that didn't struggle with image quality throughout 2011. That's not all that has us worried either. The redesigned touchscreen interface isn't a significant improvement, specifications aren't as strong as competing models, and this camera is still indecisive about manual controls: too complicated for newbies, too simple for enthusiasts. Kodak we implore you, pick one!
The Wireless still has a chance. If image quality turns out to be amazing, the Easyshare Wireless will represent an incredible bargain that no other imaging company can match at the extreme low-end. Based on our time with the camera, this seems unlikely but not impossible. Only our lab tests can decide for sure though, so we invite you to keep following the Easyshare Wireless and check out our full review when it becomes available. After all, this single product could go a long way in deciding the future of one of photography's most influential companies.
Meet the tester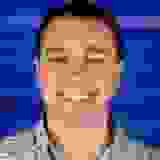 Christopher Snow
Managing Editor
@BlameSnow
Chris was born and raised less than ten miles from our editorial office, and even graduated from nearby Merrimack College. He came to Reviewed after covering the telecom industry, and has been moonlighting as a Boston area dining critic since 2008.
Checking our work.
Our team is here for one purpose: to help you buy the best stuff and love what you own. Our writers, editors, and lab technicians obsess over the products we cover to make sure you're confident and satisfied. Have a different opinion about something we recommend? Email us and we'll compare notes.
Shoot us an email