Though it didn't win our waterproof camera roundup, last year's Nikon AW110 offered consumers a durable product with decent image quality. This year, Nikon released a refresh of the camera—the Coolpix AW120 (MSRP $349.95)—and not much has changed. There's a new lens that's slightly better in low light, but most of the features are identical.
More of the same might mean "boring" to some, but with Nikon's newest addition to the AW line, it means sticking with a tried-and-true design. Between tough construction and waterproofing the AW120 can be used in just about any condition, all while still ticking the boxes you'd expect of a decent point-and-shoot. It's no system camera, but it gets the job done. Smartphones may be eating out the bottom of the point and shoot market, but you're not going to find a mobile device that can operate in as many situations as the AW120.

Design & Handling
We're gonna need a bigger grip.
With such a straightforward, simple design, the AW120 should be simple enough for even true novices to pick up. The controls are basic and easy to navigate, basic menus and options are accessed through the buttons on the back, and a screen takes the place of a viewfinder. As you'd expect, the shutter release is placed right on the top-right of the body—where it is on most other cameras. Again, there are no surprises here.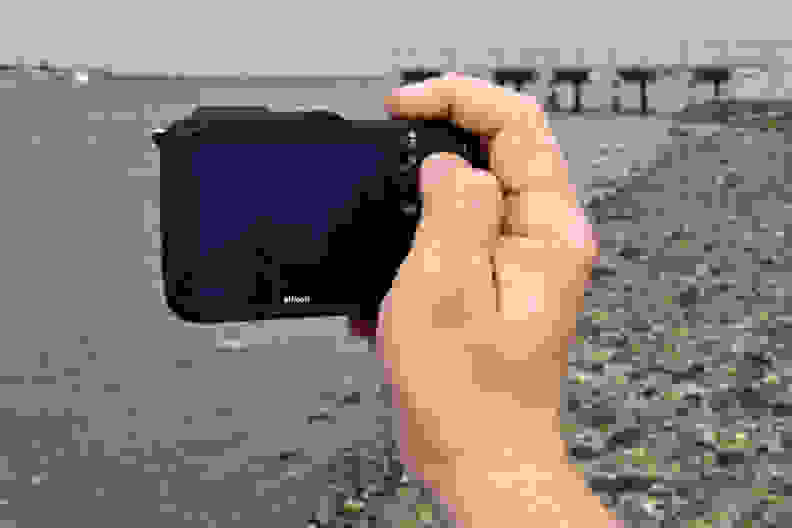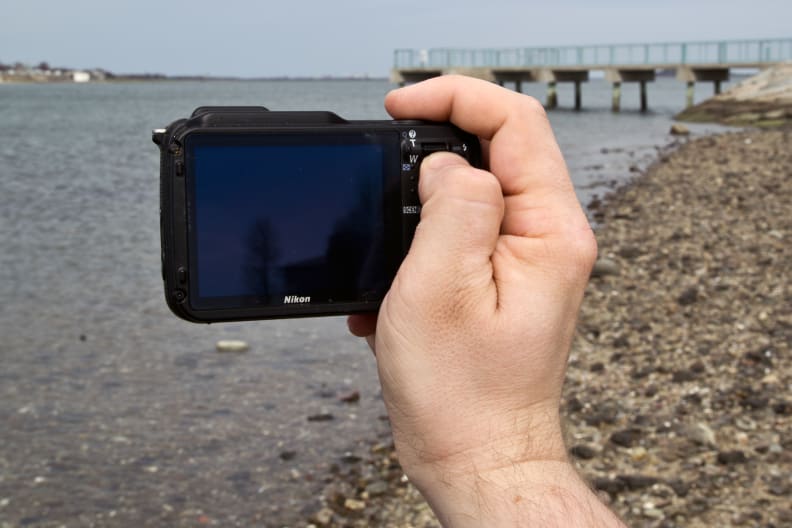 Though some people may find the compact body to feel a little cramped, shooting with the AW120 is relatively straightforward. The general construction of the camera is solid, and though it's a far cry from the premium models on the market, nothing feels too cheaply-made. The buttons are mostly plastic, however, and the zoom toggle on top doesn't have much stroke distance.
While shooting the body can easily be gripped on the right side as you frame using the rear LCD, with a textured area helping to provide a little extra security when the camera's soaking wet. I didn't take this for a dive in the Atlantic, but it's worth noting that this thing will still sink like a stone if you were to drop it in the ocean. For those situations we recommend using the wriststrap, because given this camera is bound to be used in rougher situations, holding on tight may not be enough.
If we have one major complaint with the AW120, it's for a lack of zoom. With a range of 4.3-21.5mm, the Nikon AW120 has a zoom ratio of just 5x, though Nikon has done well upgrading the lens with a fast max f/2.8 aperture. You lose that advantage if you zoom in, but in low light it can help get a sharp landscape shot. It does lag a little behind the Olympus TG-3 with its f/2.0 max aperture, but it's a good enough lens for most of what you'll need it for.
Given that this is a point and shoot that's not going to be using any external accessories, it's no surprise that the HDMI and USB ports, SD card slot, and battery are hidden behind the water-sealed locking battery door. It takes a little getting used to, but you have to press in the release button and simultaneously turn the knob to unlock. It's comforting that the door is a bit difficult to open if you are prone to cases of the dropsies, but it'll definitely slow you down a bit.
Next to the controls is a weather-sealed, 921k-dot OLED display which is generally very effective for reviewing your photos in the field. It may only be 3 inches, but having a screen like this is key if you need to get the perfect shot before coming home from a vacation. It's a little dim under direct sunlight, though, so framing shots exactly on the beach may be a challenge.
Because the AW120 charges via USB, you can simultaneously charge your battery and review your shots by plugging the camera into your computer. Though the wall charger is better for juicing up your batteries, it's a convenient feature. Once topped off, you can expect to get around 340 shots (CIPA rating) on a full charge—which should be enough to hold you for a full day's worth of shooting. If you feel like you need more juice, consider picking up a spare Nikon EN-EL12 battery to keep handy.
Features
This ain't no Boy Scout picnic.
The defining characteristic of this camera is by far and away the ruggedized exterior. If you're looking at getting the AW120, you're looking for a camera that can go with you to the slopes, trails, and beach without paying mind to what would kill a normal point-and-shoot or your smartphone.
It's this resilient quality in combination with its laundry-list of features that enable some really interesting shots. For example, the AW120 can withstand depths of up to 59 feet, tell you how deep you are, and attach some of that info in your EXIF data of shots. Though the quality of the images will never rival that of a DSLR and a dedicated waterproof housing, a camera like the AW120 is your best bet for underwater shots if you need something under $400. However, the AW120 does have limits. The AW120 can take a splash or tumble, but excessive drops from over 6 feet can still damage the camera and dive too deeply and you'll risk rupturing the camera's seals or cracking the glass.
Rugged point and shoots have been around for quite a while now, and it's usually the features that make one model stand out from the crowd. In the case of the AW120, it's a handy GPS antenna with onboard maps and points-of-interest giving you a bird's-eye view of unfamiliar territory. After you've updated the necessary GPS files on the SD card you're using, you can use the camera to get your bearings in relation to major roads and places you highlight. Just be aware that it's tough to get working in bad weather, and even on a clear day it takes quite a while to get the camera to find your position via satellite.
As for other features, the AW120 has a bevy of WiFi options that might help your vacation shots much easier to take. For example, you can pair the camera to your smartphone via Nikon's Android or iOS app. Doing so allows you to browse and share pictures on your camera with your phone, or even take photos remotely—granting you misanthropes the ability to take group shots without trusting a stranger with your camera.
The app is showing its age—it definitely could use a lot of TLC to bring it up to speed aesthetically—but it functions more or less as well as you could expect it to. You can't re-focus or exert a high level of control over your shots, but you can zoom in and out, and trigger the shutter release. That's about it, really.
Performance
A rugged cam for all your vacation needs
With a simple control scheme and a durable life-proof body, the AW120 may seem like it has it all. But despite its impressive set of features—and they really are impressive—still photo performance isn't quite outstanding compared to other $400 cameras. However, when compared to your smartphone camera, the AW120 is provides a solid upgrade.
You're buying the AW120 for the waterproofing, and not image quality.
There are a few quibbles when talking about the AW120's performance, and it basically boils down to high noise, haloing, and detail lost to noise reduction. Really though, these are all problems with your garden-variety point-and-shoot, and if you're happy with the image quality your smartphone or old point-and-shoot provides, you'll be happy with this. As long as you're not expecting system camera performance, the AW120 should be adequate.
As it is with most entry-level cameras, you might notice lower detail the less light you have when you shoot. Additionally, if the camera has to increase the ISO speed to deal with low light, it will automatically try to reduce noise—at the cost of fine detail. You may not notice it so much in shots you take in bright light, but the higher the ISO speed creeps up to deal with low light, the worse these problems become.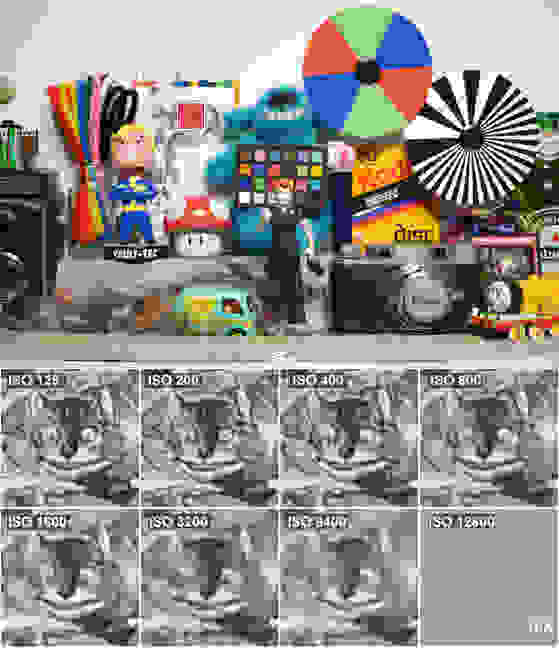 To its credit, color performance is good—especially with the automatic white balance—so you shouldn't notice many instances of photos having an odd hue to them. This is a good thing: You don't want to stay indoors editing photos while on vacation.
You may want to grab last year's version to save a few bucks at the checkout counter.
In terms of video, results are acceptable for a point-and-shoot camera, but a bit troublesome if you want to take a lot of underwater clips. Though the camera manages its auto-gain and autofocus fairly well, that tiny sensor is going to make noise-free video a challenge if you use it more than six feet underwater. Because only so much light can be recorded with a 1/2.3-inch sensor, low light situations are going to be a sore spot no matter what settings you use. Again, this is more indicative of the type of camera the AW120 is, and not a knock on the camera itself.
All that said, there are very few instances of a "bad camera" nowadays, and what passes for mediocre today was great even a few years ago. However, there is a tendency for bargain cameras to stand pat when it comes to progress, and the AW120 doesn't make a strong case to upgrade if you already own an AW110. If you're really strapped for cash, you may elect to grab the AW110 to save a few bucks at the checkout counter, but given the choice between the two, we'd take the AW120 every time.
Conclusion
A rugged camera with an acceptable lens and a great built-in GPS.
We've yet to see the rest of 2014's lineup of ruggedized cameras, so we'll leave our conclusion at this: It's a minor upgrade, but an upgrade nonetheless. Though it boasts a bigger lens and higher-resolution screen, Nikon appears to have elected not to jeopardize a good thing, and keep rolling with what made last year's AW110 work. Though point-and-shoots are starting to be replaced by smartphones, mobile devices can't do what what a rugged point and shoot does—not yet, anyway.
Features drive the appeal for this camera
All said, the AW120 is a good bet for a vacation that's going to take you underwater, or up a mountain. It'll take just about anything you dish out, and keep on shooting scenes and portraits. If you haven't grabbed a new point and shoot in a few years, the AW120 will satisfy for most quick shots. It's a solid entry-level camera, though you're paying for the weatherproofing and image quality that only slightly exceeds what your smartphone can do.
Features drive the appeal for this camera, and with a waterproof body, WiFi photo sharing, and GPS-enabled maps, it's not hard to see how the AW120 might pry money from travelers' wallets. While the camera might not set any records for performance, its form and features make for the archetypal rugged point-and-shoot. But then again, you can save quite a bit of money by grabbing last year's AW110 instead.
Perhaps the most important thing to keep in mind is the fact that you're looking at spending close to $800 if you want a camera that has the similar features but better image quality. Though the world of weather resistant cameras is ever-expanding, gear that can go underwater is still very rare. To wit, only the Nikon 1 AW1 fits that mold, while those looking for even better image quality will have to find a waterproof container for their high-end gear.
By the Numbers
Last year, we noted that the AW110 had gone a little crazy with the software correction, but the AW120 has pushed that even farther. The main difference this time is the inability to control the level of noise reduction. On the plus side, white balance is still among the tops in its price bracket—not just other rugged cameras.
Color
Accurate, if you have a grey card handy
The conditions on our laboratory environment are designed to squeeze the everloving guts out of a camera's electronics, and doing so generally gives us a good idea about its performance ceiling. In our labs, we found that the AW120 is actually quite good at maintaining color accuracy—and that it corrals oversaturation.
To its credit, the AW120 limits ∆C00 color saturation error to 2.44, and overall saturation to 112.7%. This is a very respectable result all thing considered, but the automatic white balance may not get you these results.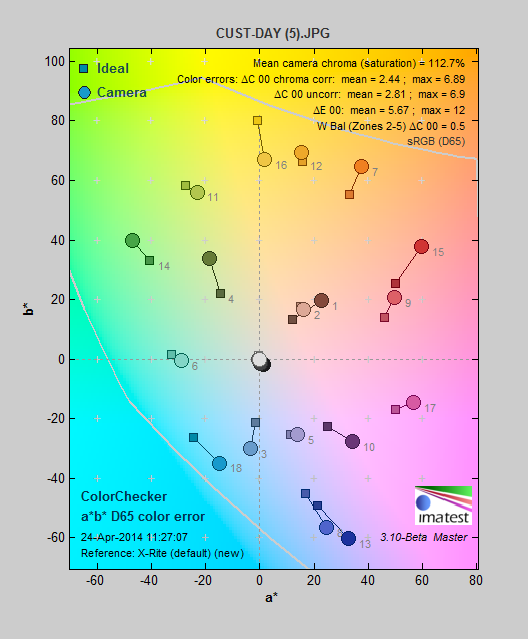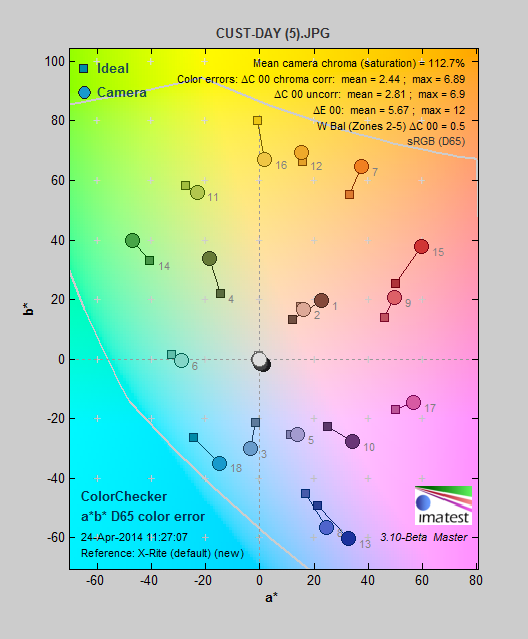 Speaking of white balance, we highly recommend taking manual readings if possible. Though the automatic setting is quite good at correcting for variances in daylight and fluorescent lighting, incandescent light is expectedly annoying. Thankfully, the worst errors top out at about 1400K. However, that does mean an orange hue can be expected in the presence of incandescent light.
Sharpness
Cheat to win.
By score alone, the Nikon AW120 has very good sharpness. However, in order to get that result, it had to cheat quite a bit. "Cheating?" you say, "How on earth do you mean?"
Well, though point-and-shoots aren't necessarily famed for their performance, sometimes they use software to accentuate edges a little bit to provide the illusion that your shot is sharper than it really is. At first glance, your shots will appear clear, but a closer inspection will reveal some haloing near areas of black and white lines. It may appear that they're a bit out of focus (that still may be the case anyway), but it's actually the software trying to make the edges appear much more sharp than they really are.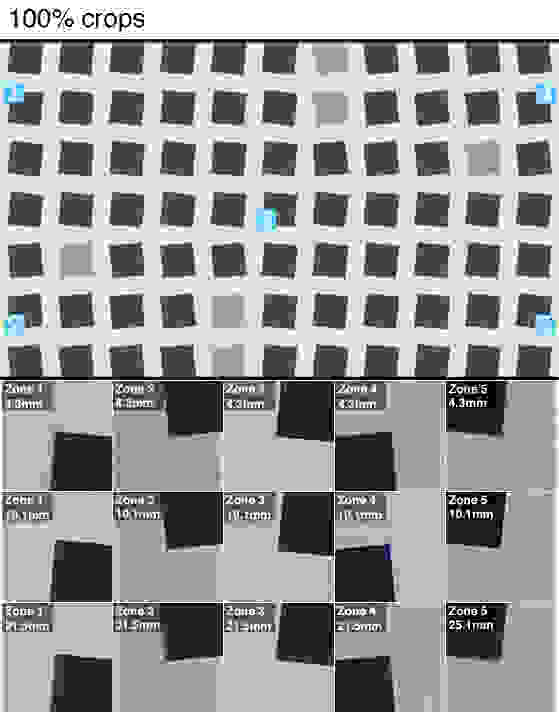 Issues like chromatic aberration and coma are kept to a minimum, so there really aren't many things to quibble about. Distortion of the barrel or pincushion variety are virtually nonexistent in stills—which is quite the plus.
Noise
Making noise is not always a good thing
If there's one major knock on this camera's performance, it's markedly high noise in stills. Though the level isn't always detectable to the untrained eye, the level of noise will become more and more annoying the higher the ISO speed. Starting at 0.93% noise at ISO 125, the camera adds more than 1% of garbage data to your shots from ISO 200 up—culminating in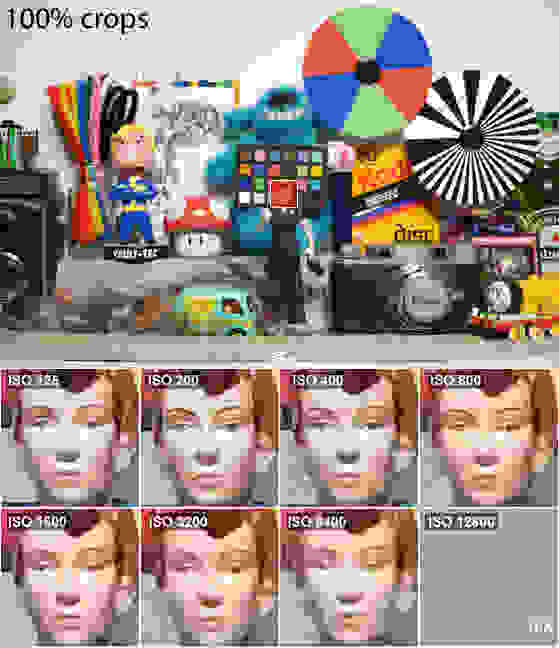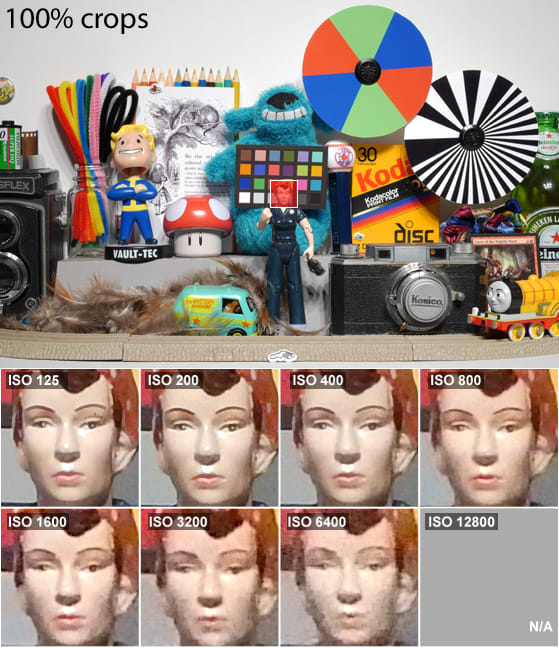 To make matters worse, this high level of noise is the result after some fairly aggressive noise reduction is applied. Fine detail is ripped from the image unceremoniously, and leaves a splotchy image in its wake. Granted, those splotches will be very small, but if you're expecting to find tiny details, you'll be disappointed the higher ISO speed you use.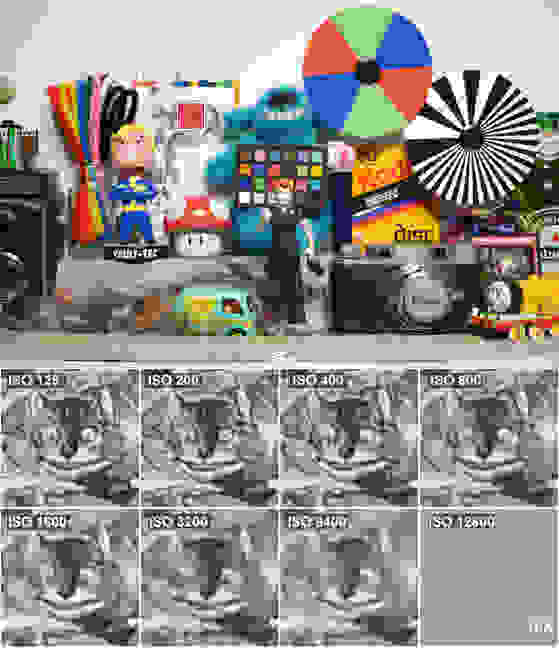 Video
Archetypical point-and-shoot video
Where the camera can't game the system on sharpness is in video. Though I don't think anybody would mistake this camera for a professional-quality camcorder or anything, posting LW/PH readings of 600 horizontally, and 575 vertically in bright light is a bit disappointing. This roughly translates to blurry video in just about any frame rate.
In low light, video sharpness falls off the map a bit. With horizontal motion, LW/PH drops to 500, and vertical LW/PH drops to 450. Not the greatest results, but video quality typically suffers in low light regardless—the higher the ISO speed needs to creep up, the more the image quality tends to degrade.
Speaking of low light, the AW120 requires 12 lux of ambient light to maintain a broadcast-quality image (50 IRE). While that's not very good, you can still capture a family member blowing out candles—if you're okay with a lot of motion blur and noise. Really though, it's not surprising that a tiny sensor needs more light to capture a great image.
Meet the tester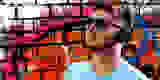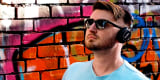 Chris Thomas
Staff Writer, Imaging
@cthomas8888
A seasoned writer and professional photographer, Chris reviews cameras, headphones, smartphones, laptops, and lenses. Educated in Political Science and Linguistics, Chris can often be found building a robot army, snowboarding, or getting ink.
Checking our work.
Our team is here for one purpose: to help you buy the best stuff and love what you own. Our writers, editors, and lab technicians obsess over the products we cover to make sure you're confident and satisfied. Have a different opinion about something we recommend? Email us and we'll compare notes.
Shoot us an email