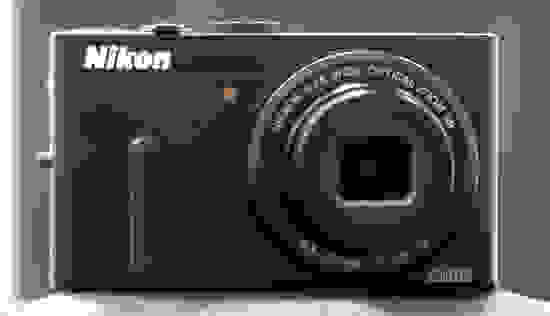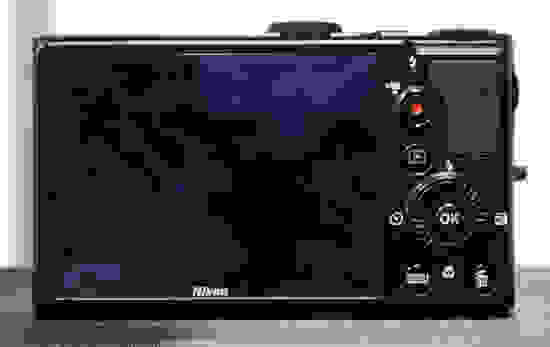 The P300 is definitely aimed at a mid-range experienced user, with shutter priority, aperture priority, and full manual exposure. The traditional top-mounted control dial makes it easy to make adjustments, though the model on the show floor at CP+ had a slightly stiff dial that made it a bit hard to make large adjustments quickly.
For those wanting a little bit more cruise control, there's an easy mode, scene mode, and program mode. These settings take control out of the hands of the user to create a simpler point-and-click adventure.
No matter what mode you choose, navigating the menus will be half your battle. As is often the case with these cameras, familiarity goes a long way. Longtime Nikon users will have no problem finding their away around, while first-time users might need to spend some time deciphering the more unique options. On the other hand, buttons on the back of the camera are labeled clearly and intuitively; photographers of all levels of experience should have no trouble making use of these primary controls.
The P300 is a small camera, with a design that's nearly identical to the more casual S9100 Coolpix. Both cameras have that blocky, angular Nikon style; curvaceous cameras must equal "amateur" in the minds of Nikon designers. The P300 is slightly smaller, measuring just 4.1 x 2.3 x 1.3 inches (103.0 x 58.3 x 32.0mm). It's also quite a bit lighter, weighing 6.7 oz. (189g).
The camera feels very similar in the hand to the S9100, however. The small lip on the front and the textured thumb rest on the back provide a little extra support for gripping and the flash pops up in a strange location under your left forefinger (if you're shooting with two hands). The buttons on the back of the camera are slightly more recessed than they are on the S9100, making them more difficult to activate. That can be both a curse and a blessing, as the firm push that's required means you don't accidentally activate something mid-shooting.
The scroll wheel that doubles as a directional pad feels a little better on the P300 than it does on the S9100: the action is really nice and the texture is improved, but the construction doesn't feel quite as sturdy.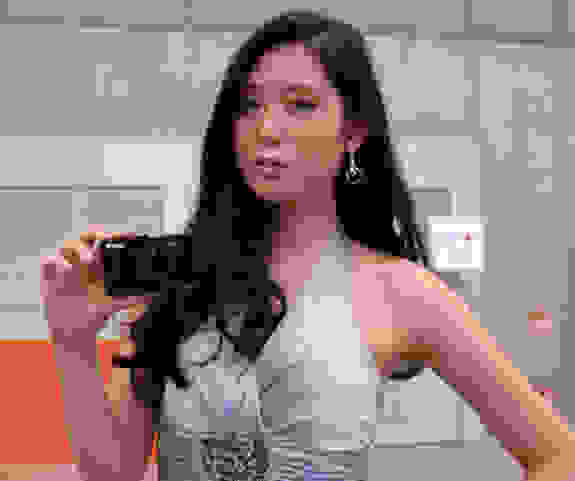 The P300 shares many qualities with the S9100 and P7000, but one look at the mode dial will tell you where the differences lie. The S9100's mode dial is full of auto modes—essentially, lots of scene modes. The P7000's exposure mode dial has multiple user settings, a movie mode setting, and the usual A, Tv, P, M options. The P300 opts for a less-is-more approach, offering a mode dial with A, Tv, P, and M, as well as the easy mode, scene mode, backlight compensation, and night scene.
The latter four options are really geared towards no-hassle point-and-shoot operation, giving the user some minor control without the complications of exposure adjustment. Easy mode is probably the least complicated shooting method, deactivating just about every control available. If you have some idea of the type of scene you're shooting, you can activate backlight compensation, night scene, or one of twenty different scene modes. If you want the camera to choose a scene mode for you, the P300 offers Nikon's Scene Auto Selector.
Like most cameras near the top of Nikon's Coolpix lineup this year, the P300 can record full HD movies at 1080/30p with the dedicated video record button. In fact, the camera offers a number of video recording options, including 720/60p, iFrame, VGA, and slow and fast motion recording at 15, 60, and 120 fps. Audio is recorded with the built-in stereo microphone.
Though controls are limited in movie mode, you do have access to optical zoom, as well as simultaneous still/video capture. The P300 has an miniHDMI output for viewing your handiwork on an HDTV.
The heart of playback mode is a familiar sight: thumbnails that can be organized into favorites, by date, etc. What sets the Coolpix lineup apart is its in-camera editing and filter effects. Nikon gives the user access to Quick Retouch, D-lighting, Crop, Skin Softening, Voice Memo, Selective Color, and more. Skin Softening is available at three different levels, while Selective Color allows you to adjust brightness, saturation, and color tone. Filter effects that are available in playback mode include Painting, Fisheye, Miniature, and Cross Screen.
Nikon has bestowed upon the P300 a full complement of scene modes, as well as the special Backlighting (HDR) and Night Landscape modes, available on the mode dial. Advanced Night Landscape and Advanced Night Portrait are multi-exposure composite image functions, combining several exposures to get the "best" shot. The P300 also has a Skin Softening feature, which smooths skin tones at three different levels while shooting or during playback.
Scene Auto Selector allows the camera to pick one of seven predetermined scene modes, while ordinary scene mode lets you pick from the full range of 20 scene modes. Scene mode options are: Beach, Black and White Copy, Close Up, Dusk/Dawn, Fireworks Show, Food, Landscape, Museum, Night Landscape, Night Portrait, Panorama, Party/Indoor, Pet Portrait, Portrait, Scene Auto Selector, Snow, Special Effects, Sports, Sunset.
The P300 has three modes for continuous shooting: Continuous, Continuous H 60, and Continuous H 120. The maximum rate for continuous shot is 8fps at full resolution. As is the case with most Coolpix cameras, the P300 also has a self-timer mode that can be set to smile shutter, two seconds, or ten seconds.
Easy Panorama
Like many cameras these days, the P300 has a panorama scene mode, which lets you pan in any direction, then have your photos automatically stitched together into one image. Nikon's version includes 180° as well as 360° panorama stitching.
Motion Detection
Motion detection enables the camera to automatically identify moving objects in frame, and adjust shutter speed and ISO to capture the action.
A dedicated mode dial on the top of the Coolpix P300 gives the user access to multiple methods of exposure adjustment: aperture priority, shutter priority, and full manual control. Most image adjustments can be made quickly on the fly using the independent command dial.
The P300 doesn't have the versatility of Nikon's top-end P7000, but you can certainly make the most common exposure adjustments quickly and easily, delving into the menus only when you want to tweak ISO or more advanced functions.
The Nikon P300 relies on contrast-detect autofocus with a maximum of nine autofocus points. The focus range is 1 ft. (30cm) to infinity, unless you swap the camera over to macro mode, where the range expands to 1.2 in. to infinity. When you engage the camera's optical zoom up to 17.9mm telephoto, the focus range narrows to 2 ft. (60cm) to infinity. The P300 is equipped with an autofocus assist beam and focus lock.
Available focus modes are: center, face priority (up to 12 faces at once), face priority tracking, manual (99 focus areas), and subject tracking.
The P300 has a moderate ISO range from 160 to 3200. The Auto ISO mode allows the camera to select from a range of 160 to 1600, while the Fixed Range Auto option limits the selectable range to either 160–400 or 160–800.
Aperture and shutter speed can be independently controlled in Manual mode or adjusted in Aperture Priority or Shutter Priority modes. Whichever of these modes you select, the maximum aperture is f/1.8–4.9. That bright f/1.8 aperture is what makes the P300 so alluring to advanced users. In the lowlight setup here at CP+, we noticed a significant difference using Aperture Priority mode to fix the aperture to f/1.8. This flexibility allowed the camera to shoot much brighter photos than the others cameras sharing the room.
Shutter speed can be manually adjusted within a range of 1/2000 to 8 seconds.
The P300 does have the standard exposure compensation available: -2.0 to +2.0 EV in 1/3-step increments. For metering, you have center-weighted or 224-segment matrix. For slightly more savvy photographers, the P300 offers three-shot exposure bracketing and exposure lock.
Unlike some of the other Coolpix cameras, the P300 relies entirely upon lens shift vibration reduction; it does not have the hybrid VR seen elsewhere on the line. Lens shift tends to be more effective anyway, so you won't see us shed any tears here.
The P300 follows Nikon's tradition of leaving out quality options on its Coolpix cameras, opting instead for the ★ method of denoting the setting with superior compression. In this case, that's the 12M ★ option, which records 4000 x 3000 photos (presumably of a higher quality that the 12M (no star) setting. Other resolution options are: 8M (3264 x 2448), 5M (2592 x 1944), 3M (2048 x 1536), PC (1024 x 768), VGA (640 x 480), and 16:9 (3968 x 2232).
The P300 offers special effects in photo, video, and playback modes. These little bonus goodies include: soft, low key, high key, nostalgic sepia, and the new high-contrast monochrome effect.
Hue Adjustment
The P300 allows the user to adjust hue based on an eleven-point scale from red to blue. Naturally, this control cannot be used in conjunction with any of the white balance presets. It does, however, give you a unique amount of control over color.
Vividness
In addition to exposure and hue controls, the P300 offers a "vividness" adjustment. There are eleven increments for increasing or decreasing saturation.
The Nikon P300 has the same lovely Clear Color TFT LCD that we've been admiring on others in the Coolpix lineup. The anti-reflective coating and 921,000-pixel resolution make this display fantastic for viewing photos in playback or in live view. The camera lacks any kind of optical or electronic viewfinder, but we didn't really miss it.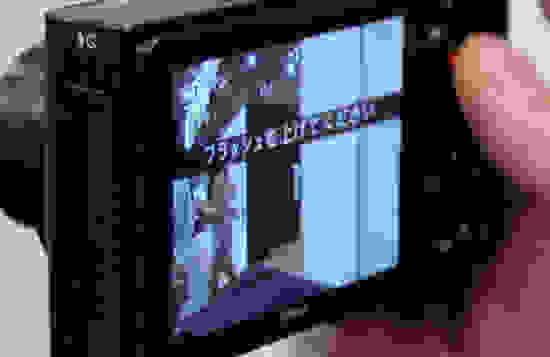 The built-in flash is cunningly hidden in the top of the camera and pops out at the flick of a switch. We like this design better than many other pop-up flashes we saw around the show floor at CP+. The design is borrowed straight out of other Coolpix cameras, including last year's S8100. Unfortunately, the flash does get in the way of your left hand, if you're trying to do some two-handed shooting.
According to Nikon, the flash's range is 20 in. to 21 ft. (0.5m to 6.5m) at wide angle and 20 in. to 8 ft. 2 in. (0.5m to 2.5m) at telephoto.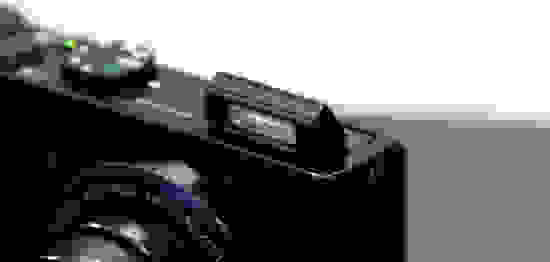 The bright f/1.8 Nikkor lens is the real star of the P300, offering excellent low light performance—in theory, anyway. We haven't yet dragged this sucker through the test labs, but trying the camera out in Nikon's dark Coolpix room showed that the lens definitely improves low light shooting. The lens employs high refractive index glass, but it's certainly the wide aperture and back-illuminated sensor that have had the most significant impact.

The aforementioned sensor is a 1/2.3-inch CMOS with a gross pixel count of 12.75MP and effective pixel count of about 12.1 megapixels. The 4.2x optical zoom is considerably limited compared to the S9100's 19x zoom, but the trade for improved performance and a compact design seem well worth it. Digital zoom reaches up to 2x.
The P300 has a limited, but expected, range of connectivity options. In addition to the SD/SDHC/SDXC memory card slot, you can make use of a built-in miniHDMI port or a proprietary USB/AV connection.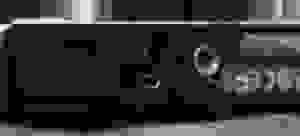 The camera ships with a rechargeable lithium ion battery (EN-EL12). The battery shares a compartment with the memory slot on the bottom of the camera. According to Nikon, it is rated for 240 shots. To recharge the battery, you can hook it up to an AC wall adapter or use the USB cable to charge the battery through your computer.

The P300 records primarily to SD/SDHC/SDXC memory cards. (Though there is a small amount of internal memory available as well.) Compatibility with SDXC is something that Nikon started offering last year.
The P300 is an intriguing camera for advanced amateurs looking for something small and sleek. The f/1.8 lens is bound to lure in photographers that crave low light performance without the bulk of an SLR. Manual controls aren't what you might find on Nikon's higher-end P7000, but the basic shutter and aperture controls are there. You can also access most of Nikon's specialty features, without giving up manual control flexibility.
Meet the tester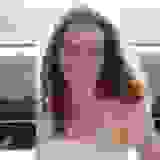 Kaitlyn Chantry
Vice President, Editorial Management
@WhyKaitlyn
Vice President of Editorial Management, Kaitlyn oversees the editorial departments of Reviewed.com's various sites. She has been writing about technology since the turn of the century. Outside of her Reviewed.com home, Kaitlyn is also a theatre director and avid gamer.
See all of Kaitlyn Chantry's reviews
Checking our work.
We use standardized and scientific testing methods to scrutinize every product and provide you with objectively accurate results. If you've found different results in your own research, email us and we'll compare notes. If it looks substantial, we'll gladly re-test a product to try and reproduce these results. After all, peer reviews are a critical part of any scientific process.
Shoot us an email