The cutest little toughcam in the world worked its way into our hearts at CP+ 2013, but it's not for everyone.
At first blush, it's hard to tell which of the two is better poised to succeed. The WG-10 is far more rugged, but the S31 is a whole lot cheaper—Not since Fujifilm's last XP-series cameras hit discount shelves have you been able to get a waterproof camera for just a Jackson and a Benjamin. We've gone hands-on with Nikon's new family-oriented toughcam to try to figure out if the low-cost, marginally rugged concept has legs.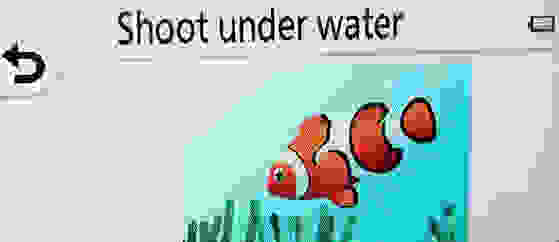 A kid-friendly take on the toughcam paradigm
Despite its waterproofing and shockproofing, the Coolpix S31 comes off as anything but a toughcam. (Maybe "tuffcam" is more appropriate; it's certainly more kawaii.) It's a camera clearly aimed at youngsters, with its rounded, simple shape and child-friendly menu system. And now that we think about it, a toughcam for kids is really a fantastic idea. Why hasn't anyone tried this before?
The body is made of glossy white plastic, with a hollow, extremely lightweight feel. There's not a lot of grip, but you don't need much with a camera this lightweight. And hey, it's shockproof—who cares if you drop it, right? (Really, though… try not to drop it.) The buttons are made of the same cheap plastic and respond with a noticeable click. They're quite large, too, which should make the camera easy to use underwater.
The shutter button doesn't have a super-long travel, as it does on a lot of other toughcams. But it has a distinct half-press and a satisfying full-press response. Really, the only problem is that there's no indication when the autofocus system is working. You half-press the shutter and wait, and sooner or later the camera lets you know it has a lock. There's no real user feedback.
We'd hoped we were finally past the point where cheaper cameras had to suffer underpowered processors, but the S31 behaves like a cheap point-and-shoot from two years ago. On the other hand, the simplified menu does make the camera dead easy to operate. Each of the shooting modes—all accessed from the GUI—has a brightly colored, themed backdrop. Those modes include the usual suspects like macro, food, underwater, fireworks, and so on. There's also an Scene Auto Selector that will do the thinking for you.
Zoom is controlled using the up and down arrows on the traditional four-way control pad. Unlike other cameras, the S31 doesn't assign shooting settings to those directional buttons, and it rarely uses them for menu navigation. If you've shot with a lot of point-and-shoots before, this feels a little strange. Still, we have a feeling the intended audience will figure it out in no time. Most menu navigation is handled through a row of four unlabeled buttons on the left side of the LCD. Prompts appear next to each of these buttons on each menu screen, and their functions change in context.
Great for kids, pretty weak for anyone else
Let's get through the nitty gritty up front. The Coolpix S31 is more rugged than your average compact camera, but it's not in the same league as the other toughcams we've covered in the past 30 days. Waterproofing only goes down to 16.4 feet (5 meters), it can be dropped from a paltry 3.9 feet (1.2 meters), and it's not rated for crushproofing at all. Nikon says you can use it in temps as low as 32 degrees Fahrenheit (0C), which is quite a bit warmer than the 10F/-14C most toughcams claim.
But if you consider the target market, the specs make pretty good sense. 16.4 feet is deeper than any home pool, kids aren't likely to carry a camera any higher than 4 feet in normal use, and we've never met kids who like going out photographing in sub-freezing temps (though we're sure they exist).
Aside from it's tuffness, the S31 is skimpy on features. The wimpy 10.1-megapixel CCD imaging sensor can shoot 720p HD video at 30fps, which is probably good enough for kids. If the price didn't already warn you, you should also know that this isn't a good camera for capturing action. Continuous shooting maxes out at 1.5 frames per second over a 4-shot burst, and the AF is slow enough that you probably won't get what you're shooting for anyway.
The 3x optical zoom covers a 29-87mm equivalent range—pretty useful, but we really would have preferred to see a wider focal length on the short end. Once you take shots, you'll be viewing them on a 2.7-inch QVGA (230k-dot) monitor. By general digital camera standards it's a pretty bad screen, but within this camera's price range it's about par for the course. Under the show lights here at CP+ it looked fine, but we're not convinced it'll fare well under bright sunlight.
Nikon has a great idea here, and we're pretty sure it'll sell like hotcakes.
We suppose the best way to judge the worth of this camera is to ask ourselves one simple question: If we had a 10-year-old kid, would we buy them this camera? And our essentially unqualified answer is absolutely, yes. As long as the S31 doesn't prove to have any unexpected leakage issues, it seems like pretty much the ideal go-everywhere camera for the youngsters in our lives.
Would we recommend it for anyone above the age of 12? No, probably not. The sensor is weak, the lens is uninspiring, the control scheme is stupidly simple, and the ergonomics aren't exactly conducive to thoughtful shooting. But that's not the point. This isn't a camera for you; it's a camera for your kid.
While we haven't gone hands-on with the Pentax WG-10 yet, handling the Coolpix S31 did give us a bit of perspective on the question we posed back in the introduction. The S31 has two reasons for being: it's cheap, and it addresses a previously under-served market. The WG-10, on the other hand, exists only for the purpose of being cheap. We're not sure if that will be enough.
Meet the tester Ben Keough
Contributor
@ben_keough
Ben is an experienced industry journalist who formerly served as Senior Editor of News and Features at Reviewed. He now contributes as a freelance writer and editor. Most recently hailing from the vast wilds of the American southwest, he is an avid photographer who is deeply disturbed by the lack of wide open landscapes in Boston.
See all of Ben Keough's reviews
Checking our work.
We use standardized and scientific testing methods to scrutinize every product and provide you with objectively accurate results. If you've found different results in your own research, email us and we'll compare notes. If it looks substantial, we'll gladly re-test a product to try and reproduce these results. After all, peer reviews are a critical part of any scientific process.
Shoot us an email