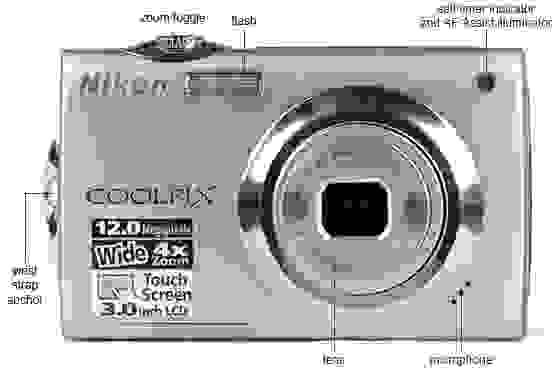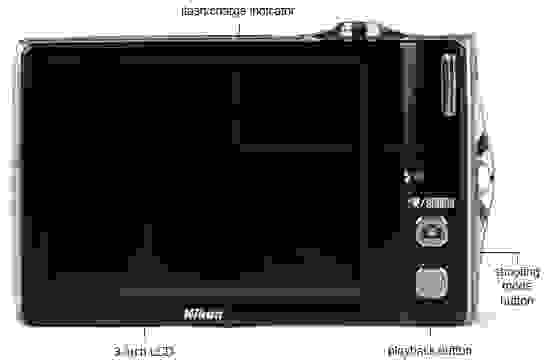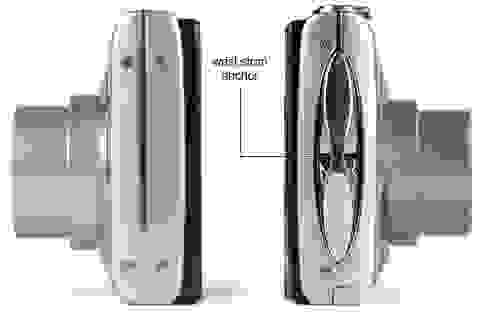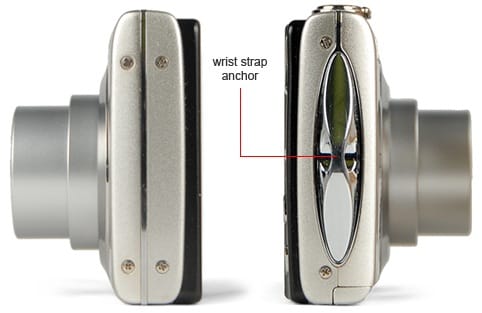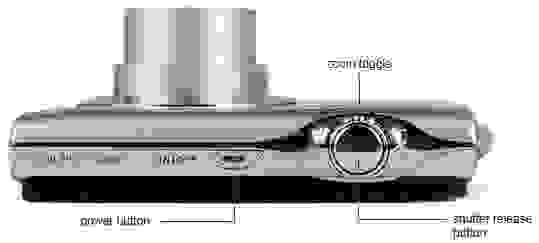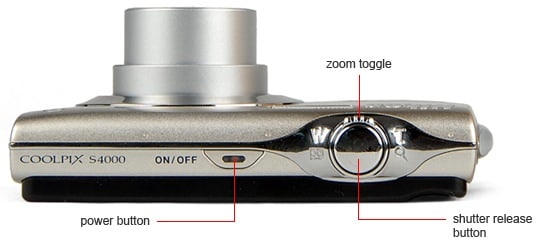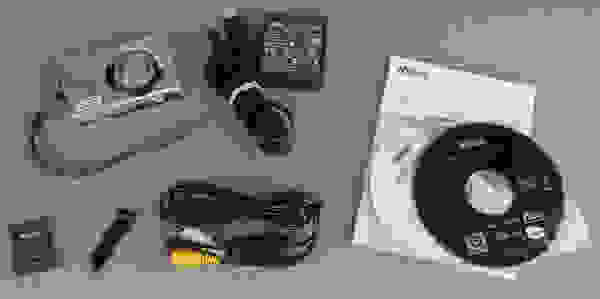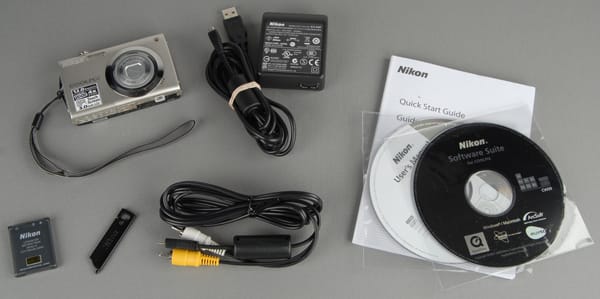 Nikon Coolpix S4000 digital camera

Camera wrist strap

Rechargeable Li-ion battery (EN-EL10)

Charging adapter (EH-68P)

USB cable (UC-E6)

Audio video cable (EG-CP14)

Stylus (TP-1)

Software Suite installer CD

User's manual CD

Quick start guide
The Nikon S4000 had a mediocre color performance compared to other simple point-and-shoot cameras. Though the Nikon is definitely on the low end of the price range here, color accuracy scores were below what typically see on this test. Of course, color performance is sometimes in the eye of the beholder; some consumers prefer extra saturation in their photos, even if it means less accurate colors. More on how we test color.
You can see some 100% crops from our testing chart below. Skin tones, green, purple, and magenta all look pretty good, but the blues look particularly skewed.
The Nikon S4000 has no additional color modes or color controls. The camera does offer vivid, monochrome, sepia, and cyanotype as in-camera editing options. You'll have to take the photos first, then do your color edits afterward, but it saves you from having to do the same thing in Photoshop.
In general, the S4000 boasted decent noise scores, proving the camera to have good performance at ISO 200 and 400, especially. There is a predictable spike in noise at ISO 800, but most point-and-shoot users can't possibly expect a noise-free image at that level. More on how we test noise.
We were happy to see that there was very little increase in noise from ISO 800 to ISO 1600, perhaps suggesting that the camera has an additional layer of noise reduction for its higher ISO levels. Whether or not that's true, the S4000 seems like an excellent choice for shooting in brighter lighting conditions (i.e. ISO 400 and below).
We were surprised to discover that the S4000 did as well in this test as several more expensive cameras, nearly equaling the noise performance of the Sony DSC-TX5, which retailed at $200 more than the S4000.
The Nikon S4000 offers an adequate range of ISO settings, from ISO 80 up to ISO 3200. The camera also allows you to limit the auto ISO range to wither 80-400 or 80-800. Unfortunately, the photos we took were either too noisy (i.e. at the high ISO settings) or too blurry (i.e. at the low ISO settings, the limited aperture prevented the camera from achieving an accurate autofocus). The difference between the S4000 and these comparison models is especially striking in the comparison photos below.
We should emphasize, however, that these comparison models are all more expensive than the S4000: the limitation in aperture settings is one of the things you must accept when you save money with the S4000.
NOTE: The images above are not used in our testing or scoring, but are included here to show real-world examples of the differences between cameras at the various ISO settings.
Resolution performance is a mixed bag for the Nikon S4000. The sensor seems to be fairly decent, offering up a sharpness score that's about average for a point-and-shoot camera. The lens created an average amount of distortion, but gave a poor showing when it came to chromatic aberration. More on how we test resolution.
Distortion ()
Since you're stuck with whatever lens you get on a point-and-shoot camera, distortion is an important part of the quality of your final photos. Fortunately, this is one area where the Nikon does well, especially considering the low cost of the camera. There was mild barrel distortion across the board, though it was particularly evident at the widest angle.
Sharpness ()
The sharpness score was about average for a point-and-shoot as well—much to our surprise. Many of the photos don't look particularly sharp, especially when viewed at 100% crop. According to our testing, however, the S4000 managed a maximum vertical sharpness of 2402 lw/ph and a maximum horizontal sharpness of 2156 lw/ph. That's better than many entry-level cameras achieve.
Some of the discrepancy here is likely a result of the camera's extremely limited aperture settings. Everything is automated on the S4000 and the camera will always select one of two aperture options: f/3.2 or f/8. If the S4000 selects the former, you'll end up with a shallow depth of field and many portions of your photo may be out of focus. The S4000 proved to have excellent sharpness when in focus, but and out-of-focus photo will be out of focus no matter how good the camera's performance.
Chromatic Aberration ()
The Nikon's real problem in resolution was chromatic aberration, which is the discolored artifacts that often appear in low-end cameras. The S4000 had a large amount of discoloration, which can be seen in the crops below, as well as many other crops throughout this review.
The Nikon S4000 offers a modest sampling of picture quality and size options. Unlike most cameras, which offer a couple quality settings for each resolution (i.e. "normal" and "fine"), the S4000 gives the user two options only at the highest resolution. Within the camera, this distinction is marked only by a star. You can shoot at the 12MP setting, or the 12MP★. The starred resolution is a superior compression setting, suitable for large prints. Nikon does not use this as the camera's default setting, perhaps assuming that most S4000 users upload their photos to the web or share via email.
The S4000 features Electronic Vibration Reduction, which did a moderate job of improving the camera's performance in our stabilization test. It's possible that the feature has more of an impact in low light scenarios, since it seems designed to counteract shake primarily at slow shutter speeds. More on how we test image stabilization.
The Nikon S4000 is capable of shooting video in one of three possible settings: 720/24p, 480/30p, and a small 320 x 240, 30p mode. Though the S4000 is a better option than most cellphones, that's about all that can be said of the video functionality. Even at 720/24p, the camera locks you out of all image controls, including manual white balance, exposure compensation, and ISO. The camera's vibration reduction feature is available in video mode, but only if you're shooting in one of the lower resolution settings.
The color accuracy of the S4000 in video mode is just above average for a camera in this price range. Considering the lack of a manual white balance, we were glad to see that the camera handled this test well. We noticed, however, that the auto white balance had some trouble in certain indoor lighting conditions, so expect some inconsistency when it comes to video color performance. More on how we test video color.
Video sharpness was middle-of-the-road for the price (which is low for point-and-shoot cameras in general). We don't expect much from this category, especially when the maximum resolution is 1280 x 720 and the maximum frame rate is 24p. In our testing labs, the S4000 demonstrated a maximum horizontal sharpness of just 475 lw/ph and a maximum vertical sharpness of 550 lw/ph. You'll see sharper video on some cellphones these days.
In a pinch, the Nikon S4000 will certainly record video, but we recommend you stick with one of the many equally affordable alternatives. You'll also notice that the Panasonic ZS3 shot excellent video, despite its affordable price. More on how we test video sharpness.
Playback mode on the Nikon S4000 is entered via the prominently displayed Playback button on the rear of the camera. Pressing the Playback button while in Playback mode will give the user access to four options: regular playback, favorite pictures, auto sort, and list by date.
The options in playback mode are not plentiful, but you're provided with the bare essentials. Two arrows on the touchscreen let you cycle through photos. Touch the trash can to delete photos or the edit button to make simple edits.
The Nikon S4000 features a number of simple in-camera editing features under the "Retouch" heading. Options include: paint, quick retouch (three levels of auto saturation/contrast), D-lighting (auto brightness/contrast), skin softening (three levels), stretch (six increments), perspective control (six increments), rotate, small picture (three sizes), album sorting, color options (vivid, monochrome, sepia, cyanotype), and voice memo. Using the playback zoom option, you can also crop your image.
The icons for many of these options are relatively obscure, but trial and error will allow you to figure everything out without much trouble.
The S4000 includes support for the common DPOF and PictBridge printing features. DPOF allows you to mark photos for printing on the memory card. A compatible printer will notice this and automatically select the marked photos for printing. PictBridge allows you to connect directly to a compatible printer through the USB cable, and select and print images from the camera.
There is no viewfinder on the S4000, which is to be expected on a camera so small and inexpensive. You'll have to line up your shots using one of those new-fangled LCDs.
The touchscreen is fairly responsive and intuitive—for beginners. Regular camera users might actually be taken aback by the lack of a "Select" or "OK" button on a directional pad to choose camera options. Sometimes you have to tap several times before a button activates. Touch shutter is turned on by default, making it very easy to accidentally take a picture: if you accidentally touch the screen, you will take a picture. Touch shutter can be changed to touch AF/AE if you want to avoid those kinds of mistakes.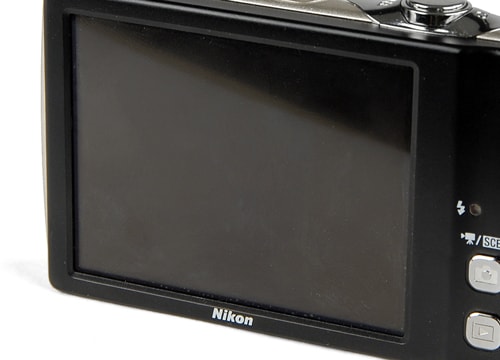 The built-in flash has a reported range of 0.5m–4.5m (20 in. – 14 ft.) when the ISO is set to auto. There are a handful of options if you'd like to customize how the flash works: auto, auto with red-eye reduction, fill flash, and slow synch. Slow synch is a common setting that is for use with slow shutter speeds. Fill flash is a more unusual option, essentially turning the flash on at all times to "fill in (illuminate) shadows and backlit subjects.
Flash options can be changed by tapping the Flash Mode button, which appears on the LCD in the information display setting while in shooting mode.
The small lens on the Nikon S4000 has a focal length of 4.9 – 19.6mm and a maximum aperture of f/3.2 – f/5.9. There's a macro mode to help you shoot things up close and personal, but in all your normal shooting, you'll find that the S4000 is just about average for ultra-slim point-and-shoot cameras.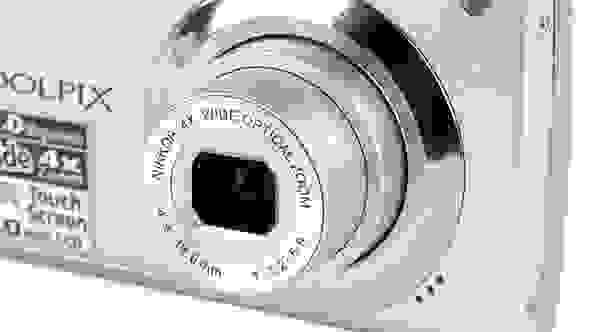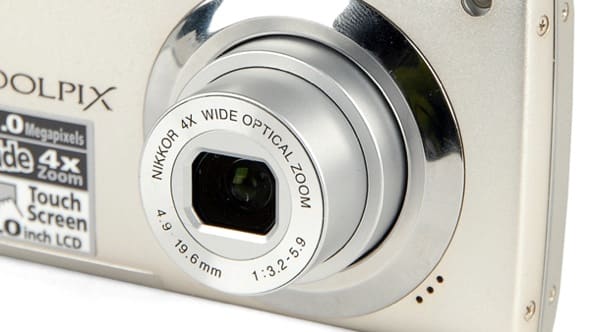 The S4000 lens has a 4x optical zoom ratio and offers up to 4x digital zoom. As is always the case with digital cameras, the digital zoom is achieved through interpolation and the degraded image quality that results should be avoided.
The Nikon S4000 ships with a rechargeable lithium-ion battery, EN-EL10. In can be charged via USB or you can use the USB wall adapter in order to plug it into a regular outlet.
The battery itself shares a compartment with the memory card slot, tucked away on the bottom of the camera.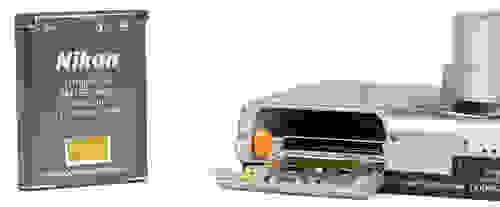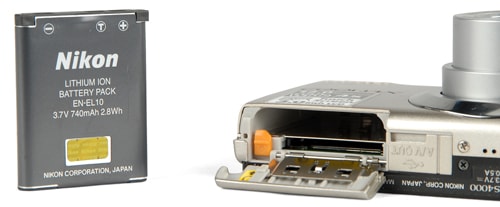 The Nikon S4000 has a tiny amount of internal memory, but records primarily to SD/SDHC memory cards. The memory card slot shares a compartment with the rechargeable battery.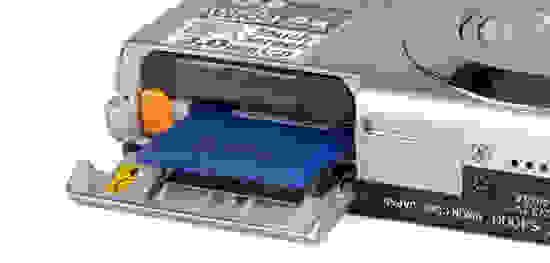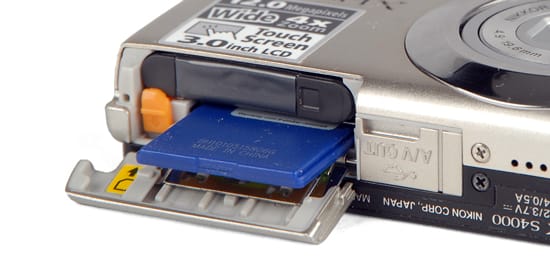 There are very few connectivity options on the Nikon S4000, largely due to its diminutive size. Without much extra real estate on the camera body, Nikon only had room to put the most important plugs. That means you'll find just a single port: a proprietary connection that serves double duty for USB and A/V. Unfortunately, that means that you have no HD connection for video. The camera ships only with regular composite A/V cables. There's no component video or HDMI for hooking the S4000 up to your HD television.


The Nikon Coolpix S4000 offers a number of different shooting modes, controlled via the Shooting Modes button on the back of the camera. Pushing the button during shooting mode will allow you to choose between Auto Mode, Scene Modes, Smart Portrait, and Movie Mode.
Ironically, Auto Mode gives you access to the most options. Touch shutter, touch AF/AE, and subject tracking are all available, as are flash options, macro mode, and self-timer. Within the main menu, you can adjust exposure compensation, white balance, ISO, continuous shot, and autofocus options.
Focus - There is no manual focus on the Coolpix S4000, but there are a number of autofocus options. Of most interest is likely the Touch AF/AE, which allows you to touch a particular part of the screen that you want to take priority for focus and exposure. The camera will meter that area and adjust focus and exposure appropriately. There is also a subject tracking mode, which fill attempt to keep the subject you have selected in focus, even if it moves within the frame. Macro mode adjusts the focal length to accommodate shooting photos or videos with very close subjects.
A handful of more advanced autofocus options are also available. You can choose between single and continuous autofocus, as well as face priority, auto, or center-weighted focus. These features work in conjunction with pressing the shutter halfway to focus—not with Touch AF/AE.
Touch AF/AE or Macro mode can be activated by tapping the corresponding buttons, which appear on the LCD in the information display setting while in shooting mode. The other options are available in the menu.
Exposure - When in Auto mode, the S4000 grants users the ability to make simple exposure compensation adjustments, on a scale from -2 to +2 EV, in 1/3-stop increments. This option available in Auto Scene mode or in Video mode. For those that prefer autoexposure, you can use the standard variety or touch AE/AF.
Metering - The S4000 gives you no choices for metering. The camera enacts center-weighted exposure metering, unless you use more than 2x digital zoom. In that case, the S4000 will switch over to spot metering.
Aperture - The S4000 does not have manual aperture control, nor any kind of aperture priority mode. For $150, you'll just have to accept whatever aperture is automatically selected for you. The range of options automatically selected by the camera is very narrow, indeed. At its widest angle, the S4000 will have an aperture setting of either f/3.2 or f/8. As you change the zoom, aperture will adjust accordingly (from f/3.2 to f/5.9), but there will never be more than two aperture possibilities for a given focal length.
Shutter Speed - As with aperture, shutter speed is handled entirely by the automatic functions of the S4000. There is no manual mode or shutter priority mode. There seems to be a fairly wide range of shutter speeds possible, from 1/2000 to 1 second. When you select the Fireworks scene mode, the shutter speed is slowed to 4 seconds.
Self-Timer Self-timer options can be changed by tapping the Self-Timer button, which appears on the LCD while in shooting mode. You can select either a 10 second or 2 second timer.
Scene Modes
Scene modes will lock you out of many options: image size, exposure compensation, flash options, self-timer are the only choices. Available scene modes include: Sports, Party/Indoor, Beach/Snow, Close-up, Food, Museum, Copy, Backlight, Portrait, Night Portrait, Landscape, Sunset, Dusk/Dawn, Night Landscape, Fireworks Show, and Panorama Assist.
Smart Portrait locks you out of the self-timer, but it opens up skin softening, smile timer, and "blink proof." In video mode, you have no flash, no self-timer, and no options except macro and autofocus mode.
For the absolute easiest photo experience, you probably want to go with "Scene Auto Selector," which is the first choice among scene modes. It chooses a scene mode for you and locks you out of virtually every option on the camera.
The only picture effects you'll find on the S4000 are post-production editing touches that you can enact upon photos after you've taken them. This is how you can get the vibrant, monochrome, or sepia tones that are often available on other cameras under picture effects. You can also just use a simple Photoshop filter. See In-Camera Editing on our Playback page.
Though the S400 is limited in most areas of image control, there is a simple yet effective manual white balance option. You can't store manual white balance settings for future use, but at least the process is simple and intuitive. For those that can't be bothered with a manual white balance, there is an auto white balance, as well as a number of presets: daylight, incandescent, fluorescent, cloudy, flash.
The S4000 offers a couple different options for high-speed shooting, which is a good thing, since the simple continuous shot mode isn't very helpful (see Shot to shot, below). That continuous mode is what will be most familiar to most shooters: hold down the shutter and the camera will continue to take pictures.
There's also a Best Shot Selector (BSS) mode, which takes up to ten pictures, as long as you hold down the shutter button. The camera then automatically selects the sharpest photo in the set and discards the rest. Nikon recommend you use this setting in low light or other scenarios where you might get motion blur.
The final option is called Multi-Shot 16, which automatically takes 16 shots at a rate of 30fps and arranges them into a single-photo collage. This is like a "golf shot" mode, where you might want to see one fast action broken down into its component parts.
Shot to Shot ()
The Coolpix S4000 was unimpressive when it came to shot-to-shot performance. It registered an average of over one second between shots. Honestly, this is too long to be of much good.
Guidelines
There is a simple framing grid option that can be activated by pressing the Information Display button. There is only one option: a 3 x 3 grid.
The Nikon S4000 is definitely a very small, lightweight camera. You won't mind slipping it into your pocket and carrying it just about everywhere you go. Unfortunately, there are some downsides to portability. The S4000 will never feel particularly comfortable in your hands, especially with its slippery surface and tiny body. In fact, the S4000 can be so hard to hold onto that we suggest attaching the included wrist strap before taking the camera anywhere that's potentially hazardous.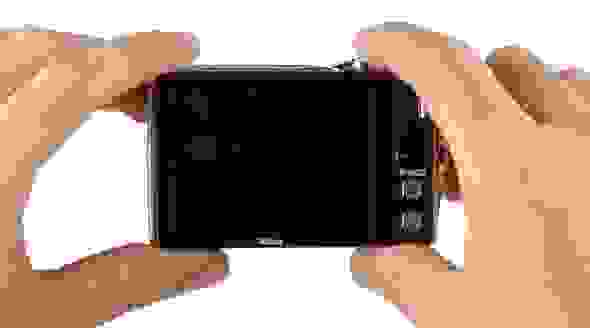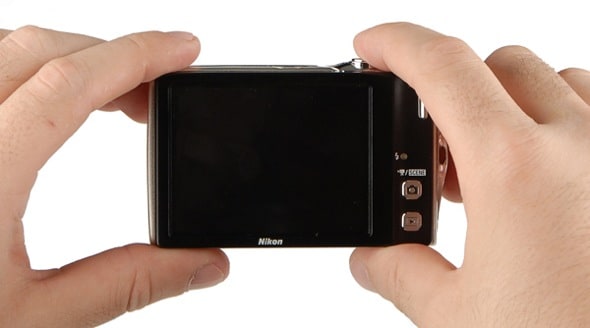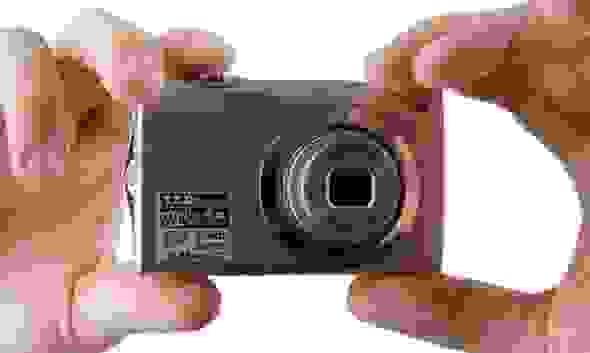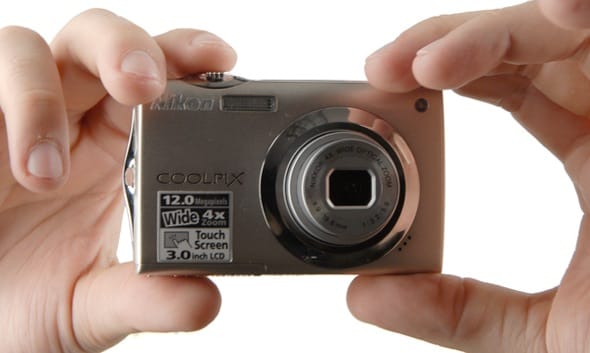 The touchscreen is a prominent factor in how you control camera functions on the S4000. Considering the entire camera relies upon touchscreen controls, we were disappointed to see how finicky the response could be. Sometimes we would barely brush past the screen and some random menu or option would pop up. (Or we would accidentally take a picture.) Other times, we would tap half a dozen times before the option we wanted would activate. A point-and-shoot camera should never be frustrating to use.
Some users may also find it surprising that there is no "Select" or "OK" button—particularly users that are accustomed to holding a point-and-shoot camera in one hand and activating options with the right thumb. With the S4000, you can't really tap the screen with your right thumb unless you're holding the camera with your left hand. Most people will find it natural to hold the camera in your left hand and tap the screen with your right index finger.
The S4000 also ships with a small stylus that you can attach to the wrist strap and use for some of the more precise actions, such as the paint and draw options.
While in shooting mode, the most basic options can be changed by tapping the appropriate buttons, which appear on the LCD if you have the information display setting engaged. These include flash options, self-timer, macro, and touch shooting (i.e. Touch AF/AE, Touch shutter). Tapping the Info button will toggle between grid view, information display off, and information display on. Tapping the Menu button will take you to a more detailed menu, where some of the less common options reside.
The menu in general is clearly laid out and easy to navigate.One nifty feature in the main menu is Help Display: a little question mark that you can tap in order to get a brief explanation of a feature. For instance, the Help Display for exposure compensation is: "adjust exposure to make pictures brighter or darker." For "blink proof," the description is: "The camera takes two pictures with each shot and saves one, giving priority to pictures in which no one is blinking."
There are 24 possible display languages.
The printed manual that comes in the box is really more of a Quick Start Guide than a full manual. It has the bare essentials of operation and isn't all that helpful. It also combines three languages into one book, so the English index and specs are buried somewhere in the middle. However, you can download the full instruction manual on the Nikon site. This manual is an excellent resource, with simple-to-understand explanation of not just camera operations, but higher level concepts like white balance. It's a good resource for beginning photographers.
The Nikon Coolpix S4000 and the Panasonic Lumix ZS3 have remarkably similar performance, especially considering the large variance in price between the two cameras. That, however, is where the similarities end. The Panasonic's 25mm wide angle lens is much more versatile and there are extra bells and whistles, like exposure bracketing.
The ZS3 doesn't have a touchscreen, but we found that it was generally easier to use and more comfortable to hold. It also has two significant advantages: excellent image stabilization and better video recording. If either of these things matter to you, consider spending the extra money to purchase Panasonic's camera.
The difference between the Nikon Coolpix S4000 and the Canon PowerShot SD4000 IS is very straightforward: if you want a camera with as few options as possible that's small and easy to use, go with the Nikon. If you're looking for something with more options (like aperture and shutter priority modes, a variety of flash, metering, and self-timer options, or a whole lot of picture effects), then the Canon is for you.
The two cameras had very similar results in our performance tests, though the Canon showed superior color accuracy and the Nikon wins out in resolution. Both cameras are pretty awful when it comes to recording video, so for video, you'll want to take a look at the Panasonic DMC-ZS3 or pick out something cheap from CamcorderInfo.
The Sony Cyber-shot DSC-TX5 really shows off what you can do with $170: you can upgrade your Nikon S4000 to a Sony TX5. That money is well spent, getting you improved performance across the board, especially in image stabilization. (Though neither camera records particularly good video.) You get a lot more features, including vastly superior continuous shot and a rugged exterior that you can take on your next hiking adventure or let your kids use without fear.
The TX5 isn't as advanced as the "Canon SD4000": https://www.reviewed.com/cameras/content/Nikon-Coolpix-S4000-Digital-Camera-Review/Canon-SD4000-IS-Comp.htm (i.e. no aperture or shutter priority modes), but it makes up for that in performance and design. Despite the price gap, the Nikon isn't any easier to use—it's just a smaller, less impressive camera. If you really want to get the most out of your compact camera experience, we recommend the Sony TX5. If you're looking for something cheap that you plan to replace in a year or two, the Nikon is an adequate solution.
The Nikon S4000 is an adequate camera for people that want an absolutely bare bones photographic experience. The photo quality is about average and it's certainly compact and easy to use.
However, we found the touchscreen to be pretty finicky and the video recording feature to be mediocre at best. For just a little more money, you can get a camera with some extra features and equally good—if not better—performance.
Meet the tester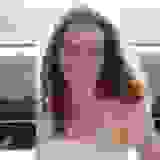 Kaitlyn Chantry
Vice President, Editorial Management
@WhyKaitlyn
Vice President of Editorial Management, Kaitlyn oversees the editorial departments of Reviewed.com's various sites. She has been writing about technology since the turn of the century. Outside of her Reviewed.com home, Kaitlyn is also a theatre director and avid gamer.
Checking our work.
We use standardized and scientific testing methods to scrutinize every product and provide you with objectively accurate results. If you've found different results in your own research, email us and we'll compare notes. If it looks substantial, we'll gladly re-test a product to try and reproduce these results. After all, peer reviews are a critical part of any scientific process.
Shoot us an email