The S4000 is a very compact 3.8 x 2.3 x 0.8 inches, making it a tempting pocket companion. If the champagne silver color shown here isn't to your liking, black, pink, red and plum are also on the menu.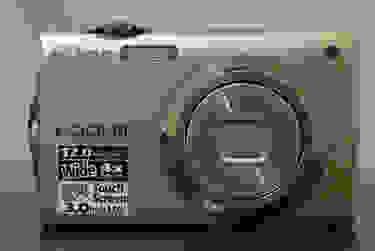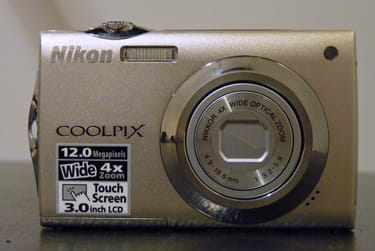 The S4000 design is handsome in a conservative way.
Back
While nearly all the controls rely on the 3-inch, 461,000-dot touch-screen, there are two functional buttons back here: the top one brings up the record mode controls, the bottom one takes you to playback mode. And that button-like vertical strip near the top? Just decoration.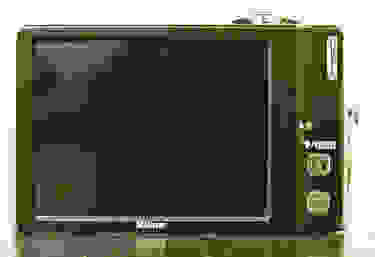 A few buttons linger despite the mostly touch-screen interface.
Sides
No panels, doors, buttons or other functional features on the sides of the camera beyond the lanyard attachment loop on the right side.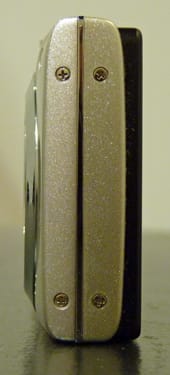 The left side.
The right side
Top
The top of the camera is home to the power switch, zoom control and shutter.

Power, zoom and a mechanical shutter button.
Bottom
The plastic tripod socket is shoved over to one side on the camera body; between the location and questionable plastic threads, it's clearly meant more as a check-off camera design requirement than a frequently-used feature. In the middle, where you might expect to find the tripod connection, is the single I/O connection, beneath a protective hatch. And off the the left here, as expected, is the combination battery / memory card compartment.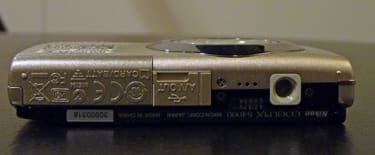 The tripod socket is oddly off-center.
Viewfinder
---
Nope.
LCD
---
The 3-inch LCD is large for a small camera, and the 460,000-dot resolution is a nice step-up from the more common 230,000-dot spec, providing a display that's both colorful and crisp. And, as shown below, you can adjust the screen brightness to suit the setting or your personal preferences.
Of course, this screen has to do more than look pretty: it has work to do as the camera's chief control mechanism. Here, working with a pre-production camera, we found responsiveness to be OK but not great. Fortunately, Nikon has set up virtual on-screen buttons that are large enough and far enough apart to prevent accidentally pressing the wrong control. We would like to see a slightly faster response time in the final camera, though.
While shooting, pressing the on-screen INFO button toggles between a few on-screen displays, including the option to have a grid pattern overlaid on the live view for more precise alignment, which we find helpful.
Flash
---
The built-in flash is a tiny thing, probably adequate for filling in shadows in a harshly lit environment, but not likely to do much good when trying to capture a party full of friends in a dim indoor setting. The flash can be set to automatic, use pre-flash red-eye reduction, fire every time you press the shutter, or shoot in night portrait mode.
Lens
---
The 4.9- 19.6mm lens is equivalent to a 27-108mm on a 35mm camera. With a maximum aperture of f/3.2 at the widest setting and f/5.9 at full zoom, it's not the fastest lens on the block, but for a $200 camera it's acceptable.
One feature missing from the S4000 is mechanical image stabilization, either optical or sensor-shift. Instead, the camera relies on digital processing (Electronic VR Image Stabilization) and bumps up the ISO and shutter speed when camera shake is detected.
Jacks, Ports & Plugs
---
You may be able to shoot at a high-def resolution, but that doesn't mean you'll be able to watch high-def straight out of the camera. One of the compromises made here when compared to more full-featured (and expensive) cameras is the lack of an HDMI port for direct connection to an HDTV set.
Battery
---
The slim Nikon EN-EL10 Lithium-ion rechargeable battery shares a compartment on the camera bottom with the SD memory card. We were pleased to see that, in addition to using the included battery charge, the battery can also be charged by connecting the camera to your computer's USB port, making one less piece of gear you need to remember while traveling.
Memory
---
The S4000 accepts SD and SDHC memory cards; Nikon hasn't started supporting the higher-capacity SDXC memory cards yet.
Design & Appearance
---
The degree of hey-look-at-me varies a bit depending on your choice of color (champagne silver shown here, black, red, pink and plum), but this isn't a particularly showy camera. It has nicely curved lines, a slender body and a straightforward, practical look overall.
Size & Handling
---
We found the S4000 appealing to hold and maneuver. It measures a slim 3.8 x 2.3 x 0.8 inches, and weighs 4.7 oz. including the battery and memory card, which is quite light. Of course, the most significant handling question is the touch-screen user interface, which is very much a matter of personal preferences. Certainly, for some operations, it provides an exceptional level of control. Focusing on a particularly individual in a picture by just poking at his or her face with your finger feels natural and works very well. On the other hand, scrolling through menu selections seems simpler, to us, when you have a physical four-way controller to push or a dial to spin, instead of poking repeatedly at the LCD screen. And, of course, while we consider ourselves masters of the hygienic arts, pressing and prodding and stroking and poking an LCD screen is inevitably going to leave smudges and greasy fingermarks.
Menu
---
There are a few ready-to-push controls on the top level while shooting, as shown here: adjust the flash, the self-timer/drive mode, turn macro focusing on and off. (INFO, by the way, adjusts what's shown on screen). To change most of the core settings, though, you'll have on the MENU icon and bring up the main menu shown below.
With its simple control scheme, the S400 fits all its recording options into just two menu screens. One nice touch (literally) is the ? button, which brings up brief text descriptions of your current options.
Ease of Use
---
For the most part, the S4000 is point-and-shoot simple to manage, though it takes a bit of getting used to before it feels comfortable. On most cameras, there are at least a few buttons that take you directly to key shooting settings: ISO, white balance, exposure compensation, etc. Here your options aren't readily visible until you've navigated down a bit into the menu system. And the meaning of some options aren't instinctively obvious. Nobody is going to figure out what BSS mode is without reading the manual, for example (oh sure, you can make up lots of possibilities, but we're trying to keep it classy here). Similarly, the Touch Shutter options are represented by three icons, with no explanatory on-screen text. With a limited number of available controls, a little obscurity isn't the end of the world, but less obscurity is always better when it comes to camera controls.
Auto Mode
---
There is a standard auto exposure mode, and also an auto scene mode that's accessed through the Scene Mode menu (it would really be more practical if the two options were in the same place). Auto scene mode analyzes the shooting situation and attempts to match it with one of several available preset scene modes, where the standard auto mode bases exposure settings on straightforward light readings.
There is also a smile detect option, which wait for the on-screen subject to smile before snapping a shot. It might be useful when photographing a stubborn child, or when racing into frame for a happy self-portrait.
Movie Mode
---
The S4000 will record in 720p high-def mode, though it sticks with Nikon's favored 24-frame-per-second rate instead of the smoother 30 fps found on most cameras with HD movie capability. As for viewing your cinematic creation on a screen larger than the 3-inch camera display, expect a trip to your computer rather than the TV, since there is no HDMI output to high-def sets.
Drive/Burst Mode
---
There is a continuous shooting setting, though we'd be hard pressed to call it a 'burst' mode -- working with the late-stage pre-production sample, we're guessing it snapped at about a frame a second, or a hair slower. There is also the aforementioned BSS mode, in which the camera takes up to 10 shots in succession and takes it upon itself to select the best one. Finally, there's a 16-image multiple exposure option, which composites a succession of rapid exposures into a single multi-shot photo: it might better be called 'golf swing mode.'
Playback Mode
---
The basic playback screen options are rudimentary: you can toggle between a clean screen and a display with basic information about the photo displayed. Pressing the zoom switch to the right magnifies the image up to 10x. Press in the other direction and you get four-, nine-, and twelve-image thumbnail displays. There isn't a calendar view that sorts your images by the day they were taken, which is unfortunate.
Browsing your photos is as simple as swiping your finger across the screen horizontally -- the faster you swipe, the faster your photos whiz by.
You do get a decent assortment of in-camera editing tools, including quick retouch, image rotation, resizing, and the unusual option to distort the photo by making it slimmer, or expanding or contracting the top and bottom edges. You can adjust color in broad strokes, making the photo more vivid, or turning it to black and white, sepia or cyanotype. And you can record an audio annotation of up to 20 seconds.
Preset Scene Modes
---
Particularly on a camera like this, which doesn't offer much in the way of manual exposure controls, scene modes are a valuable way to tailor the camera's settings to the shooting situation at hand. The S4000 offers a nice array of choices, 16 in all, including the expected portrait, landscape, close-up and high-contrast beach/snow scenes, plus some more esoteric choices like food and text. As for the difference between the separate sunrise and sunset settings, your guess is as good as ours.
Manual Controls
---
Except for exposure compensation, preset scene modes and the option to take a manual white balance reading, the camera is the brains of the operation when it comes to exposure settings and you're along for the ride.
Focus
---
You can choose between single-shot autofocus, which locks in when the shutter is pressed halfway and maintains that setting, and full-time autofocus, which continues to adjust the focus setting until the photo is taken.You don't have control over autofocus area, but there is a face detection mode which can find up to 12 individuals simultaneously.
This is an area where having a touch-screen makes a lot of sense. If you want to focus on a particular person or object, you can simply touch the screen and the camera will focus on that spot, then go right ahead and take the photo (a brief delay avoid camera shake caused by your finger poking, but may mean a missed shot). You can also initiate autofocus tracking by touching the moving subject. And you can also lock in focus and exposure by touching the key area, and then recompose the shot as you like. On a standard camera, you have to move a cursor around the screen with a four-way controller to tell the camera where you want to set the focal point; a finger is a far more effective pointing implement.
ISO
---
Available ISO settings range from 80-3200.
White Balance
---
In addition to auto white balance, there are presets for daylight, incandescent, fluorescent, cloudy and flash illumination. You can also take a manual white balance reading, a pleasant surprise on a highly automated camera.
Metering
---
The camera handles metering decisions, though exposure compensation is available, in a ±2 EV range, in 1/3 EV increments.
Shutter Speed
---
There is no manual control of shutter speeds, and no mention of shutter speed range in the currently published specs.
Aperture
---
The 5x zoom lens has a maximum aperture of f/3.2 at its widest setting and f/5.9 at the highest zoom.
Image Stabilization
---
There is no mechanical image stabilization, but there is a digital processing system that attempts to minimize blur caused by camera shake, and another that automatically boosts ISO and shutter speed when movement is detected.
Picture Quality & Size Options
---
Available picture sizes are 12M (4000 x 3000), 8M (3264 x2448), 5M (2592 x 1944), 3M (2048 x 1536), 0.8M (1024 x 768), VGA (640 x 480) and 16:9 (3968 x 2232). There is no control over JPEG compression settings, or RAW file support.
Picture Effects
---
There are no filters, color effects or other image enhancements available while shooting, though there are a few in-camera editing adjustments available during playback.
Meet the tester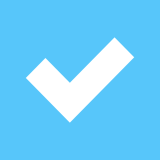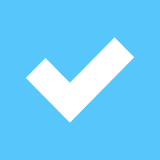 Steve Morgenstern
Editor
Steve Morgenstern is a valued contributor to the Reviewed.com family of sites.
Checking our work.
We use standardized and scientific testing methods to scrutinize every product and provide you with objectively accurate results. If you've found different results in your own research, email us and we'll compare notes. If it looks substantial, we'll gladly re-test a product to try and reproduce these results. After all, peer reviews are a critical part of any scientific process.
Shoot us an email