The back face is dominated by a 3.5-inch OLED touchscreen, and sports just three physical buttons: home, menu, and back. These are the three most-used Android keys, so it's no surprise to see them here. The screen, while large, is nowhere as big as the massive 4.8-inch unit found on the Galaxy Camera. It's also nowhere near as responsive. The Galaxy's screen felt just as responsive and precise as the one on the company's flagship Galaxy S III phone; the S800c's felt, well... like a camera touchscreen. Don't get us wrong, it still works just fine. It just doesn't have the effortless ease of use we've come to expect from high-end capacitive panels. Touches are slow to register, some swipes aren't completed, and so on.
Up top, the shutter button was another disappointment. To be perfectly honest, the tactile response from the button was atrociously squishy, with no discernible half-press stop for focusing. We're not sure if that's the way production models will feel, or if it was a quirk of this display model, but our money's on the former. Worse, once you actually do manage to press the shutter release all the way down, you can count on some severe shutter lag.
On the positive side, the actual on-screen shooting interface is pretty good. The menu skin is clearly influenced by iOS hub design, which makes it easy to navigate. We didn't run into any Android app crashes or other bugginess as we tested the device, either—something anyone who's used an Android phone (particularly an Android 2.3 phone) probably has reservations about.
Specs-wise, the Coolpix S800c is a pretty run-of-the-mill point-and-shoot. Its internals are built around a 16-megapixel backside-illuminated CMOS sensor (more and more the industry standard these days), which is paired with a 10x optical zoom lens covering an effective focal range of 25-250mm. Images are handled by a Expeed C2 processor, while the Android portion of the device runs on a Cortex A9 CPU equipped with 4GB of RAM. That's a pretty good package for handling Gingerbread, so software performance ought to be smooth and relatively lag-free.
Other key features, particularly for the S800c's target demographic, are its built-in WiFi and GPS capabilities. Especially since the camera has direct access to services like Facebook, Flickr, and Instagram, being able to geotag photos and upload them right away is a nifty trick. And speaking of those apps, the S800c does include full access to the Google Play store, letting users download apps, music, and movies (though the idea of watching a Hollywood movie on your camera rubs us the wrong way). Internal memory is present for both photos and movies (1.7GB) and apps (680MB), but that space will fill up quickly once you start downloading; you'd best buy a big memory card if you plan to use this thing like a smartphone. Unlike the Galaxy Camera, the S800c doesn't have a SIM card slot and thus can't support 3G/4G connectivity.
Like most other cameras in its class, the S800c captures HD video at Full-HD 1080/30P, as well as 720p and VGA. The autofocus is capable of detecting and tracking faces. It can shoot at up to 8.1 frames per second in continuous shooting mode, there's a sweep panorama mode à la Sony, and HDR mode for high-contrast scenes. The ISO sensitivity ranges as high as 3200, and there's in-lens vibration reduction to help stabilize shots in low light.
Though the yellow-tinted lighting—and yellow-tinted everything—at the Nikon booth provided a serious challenge for just about any camera (even the mighty D800 couldn't get it quite right), the S800c's performance was particularly bad. In auto mode, highlights were blown out beyond repair and the auto white balance was confused, to say the least. We'll need to get the camera into our labs for a more rigorous test, but things aren't looking good at the moment for its image quality.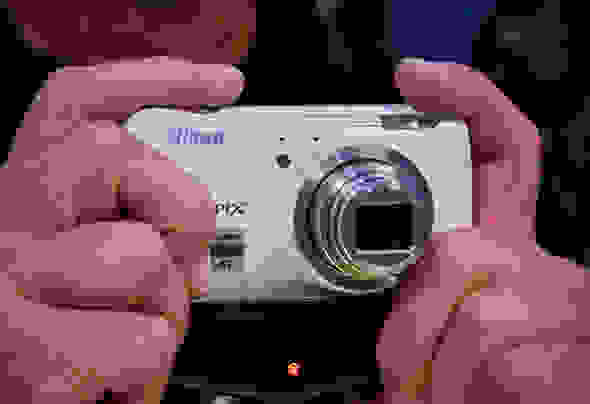 At a $350 asking price, the Nikon S800c is essentially an amusing if slightly expensive curiosity. Next to the as-yet-unannounced but presumably much higher price tag for the Samsung Galaxy Camera, though, it's a pittance to get in on the ground floor of the cameraphone—no, wait... phonecamera—revolution. First-generation products are always expensive and buggy—more test bed than finished product—so those picking up the S800c should probably brace themselves for new and vastly improved models in the not-too-distant future.
Still, we're not so sure that the phonecamera revolution is going to take off just yet. We are seriously impressed by what Samsung has done with their model, from its Android 4.1 Jelly Bean implementation to its industrial design and (apparent) image quality, but whether consumers will jump on the bandwagon remains to be seen. Visitors at Nikon's Photokina booth certainly weren't all that interested; the S800c was almost completely abandoned, even compared to other Coolpix models.
The S800c will probably provide you with perfectly serviceable shots in good lighting conditions, and yeah, you can play Angry Birds on it. But is that reason enough to buy it over similarly priced non-Android cameras that offer better image quality and a smoother, more intuitive shooting experience? We don't think so. Not yet.
Even before the Nikon Coolpix S800c was announced, it seemed inevitable that someone would glue a smartphone to a point-and-shoot and start the next revolution in casual photography. Apps! On a phone! Just imagine the possibilities! Imagine them. Do it.
But everyone was a little surprised when Nikon was the first to actually seize on the idea. (We think most people assumed Apple would get there before anyone else.) If we can be excused for generalizing, Nikon typically isn't a company to take huge risks—and releasing a camera running Android 2.3 Gingerbread, an OS some two generations behind current phones, seems like a risky proposition in a world obsessed with having the latest update.
But this is a camera, not a phone, and as long as the software works, it works. But does the S800c work? We're not really convinced. And with the far more advanced Samsung Galaxy Camera looming on the horizon, the S800c might just find itself behind the times before it's even on store shelves.
Meet the tester Ben Keough
Contributor
@ben_keough
Ben is an experienced industry journalist who formerly served as Senior Editor of News and Features at Reviewed. He now contributes as a freelance writer and editor. Most recently hailing from the vast wilds of the American southwest, he is an avid photographer who is deeply disturbed by the lack of wide open landscapes in Boston.
Checking our work.
Our team is here for one purpose: to help you buy the best stuff and love what you own. Our writers, editors, and lab technicians obsess over the products we cover to make sure you're confident and satisfied. Have a different opinion about something we recommend? Email us and we'll compare notes.
Shoot us an email