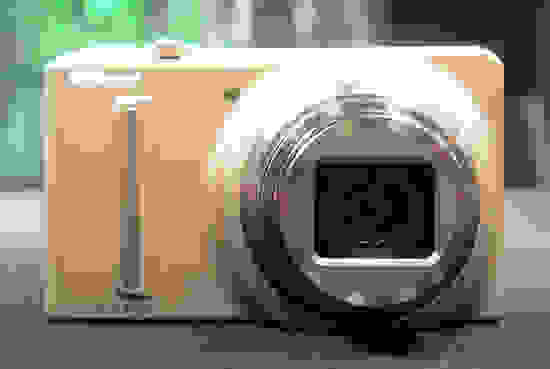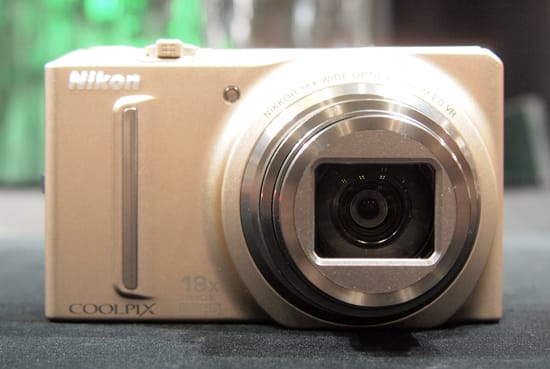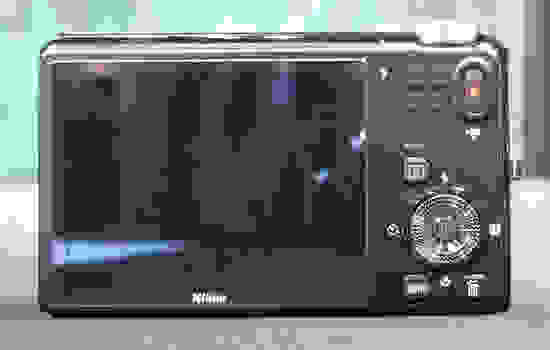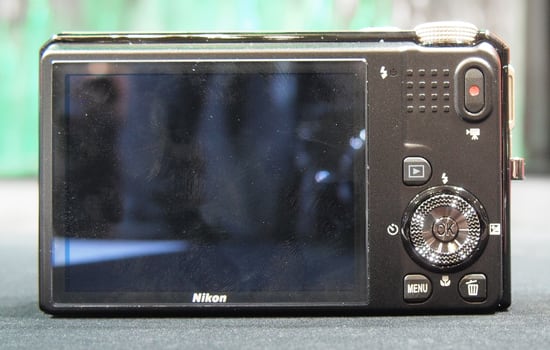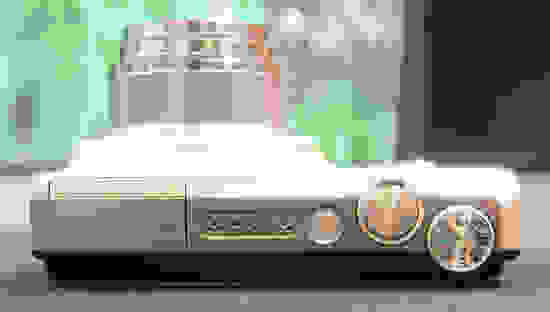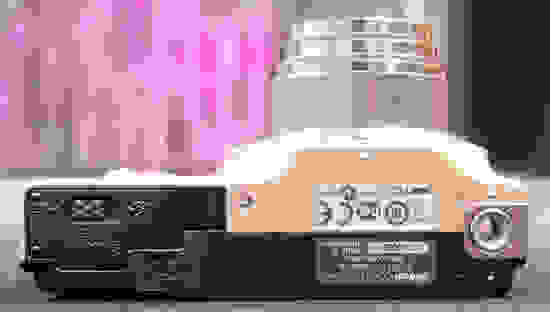 The S9100 will feel familiar to most Nikon point-and-shoot users. The mode dial is packed with auto modes to make things a little more manageable. The most complex mode is really just program auto (which is the easy mode on most cameras). If you want to make things even easier for yourself, you can select a scene mode. And if want things to be even easier than that, you can tell the camera to select a scene mode for you.
Many of the camera's more advanced features remain unexplained within the camera's menus and are not intuitively named. It's also easy to miss things like the exposure, hue, and vividness controls, which are only accessible by pressing the OK button while shooting. Once you do become accustomed to the menus and controls, however, the slick scroll wheel will really come in handy, making it easy and fast to get around inside the S9100.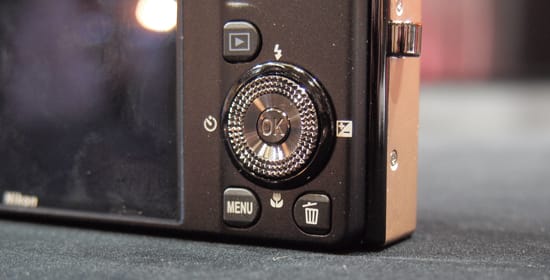 The menu is very simply and sensibly laid out, with three tabs: photo settings, video settings, and general settings. We were disappointed to see that Nikon still isn't offering much in the way of descriptive tool tips. Many of the camera functions could use some additional explanation—especially for beginners. Those beginners will just have to read the instruction manual or be very good guessers.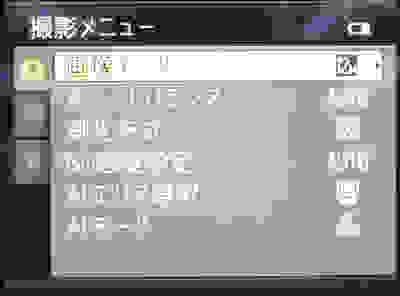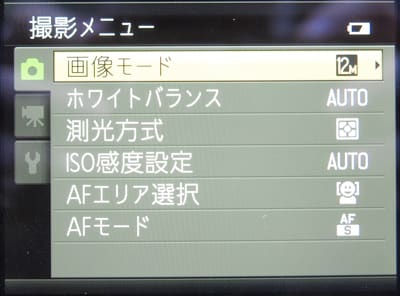 The S9100 is quite small, especially for an 18x optical zoom and 3.0-inch LCD. The camera measures 4.2 x 2.5 x 1.4 inches (104.8 x 62.0 x 34.6mm). With battery and memory card, the S9100 weighs 7.6 oz. (214g). Those measurements are enough to make the S9100 bigger than most of Nikon's compact Coolpix cameras, but still small enough to fit in a jacket pocket or small purse.
While there are two "grips" to make holding the camera easier, the S9100 is definitely not contoured for comfort. The front has a small lip where you might rest your fingers and the back has some texture next to the movie record button where you might rest your thumb. There aren't a lot of curves anywhere on the camera, which may add to the "professional" aesthetic, but doesn't add to grip-ability. This lack of curves may be why Nikon rounded out some of the buttons this year; the camera has a slightly softer look now, but still has a somewhat angular body.
The directional pad doubles as a scroll wheel—one that seems to have just the right amount of action on it. We were able to navigate the menus quickly, while also using the scroll wheel to make fine image adjustments. We wouldn't mind just a touch more texture on the wheel to help us grip it, but the other buttons and dials are all excellent.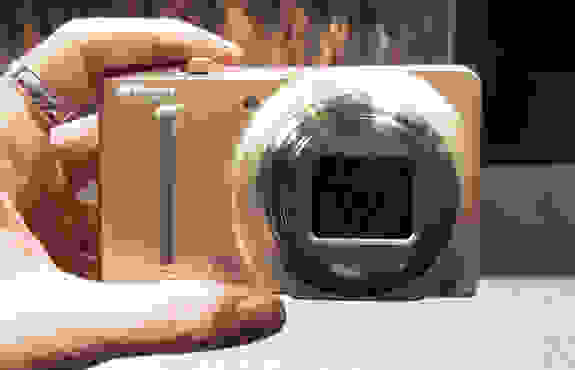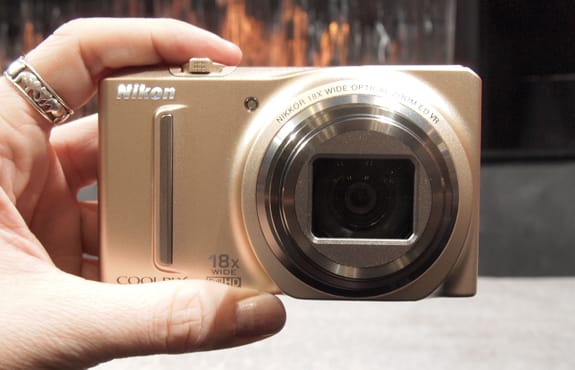 The S9100 has a plethora of auto modes—balancing out the paucity of manual control offerings. The top-mounted mode dial gives easy access to Scene Modes, Scene Auto Selector, Backlighting, Night Portrait, and Night Landscape. There are about 16 scene modes available, plus the easy panorama mode, which makes a return from last year's S8100.
The most versatile auto mode is the normal Program mode, which leaves out manual shutter speed and aperture, but gives you access to all of the camera's other options.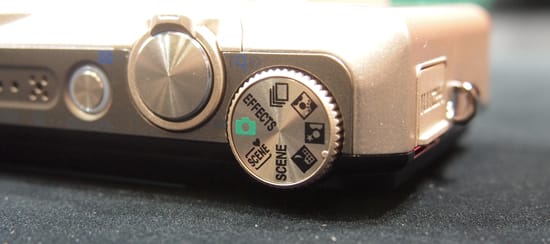 Like its predecessor, the S9100 can capture full HD 1080/30p video. In fact, there's a range of video options available: 1080/30p, 720/60p, 720/30p, 1080/15p, iFrame, VGA, and two high speed video settings (320x240 at 240fps and 640x480 at 120fps). That's a lot of choices for one little point-and-shoot camera... and it certainly can't hurt that the S9100 records stereo audio.
Before you get too excited about the camera's video capabilities, remember that you don't have very many options and this video certainly won't be as good as what's captured by most dedicated camcorders. You can use zoom while recording video and, while the sound of the lens elements moving was audible, it wasn't as noisy as some cameras we've reviewed. The S9100 offers single or continuous autofocus in movie mode, wind noise reduction, and optional vibration reduction.
The built-in miniHDMI output lets you view these fancy movies on your HDTV.
Playback mode on the Nikon S9100 is fairly straightforward, with the option to view thumbnails by favorites, auto-sorted, or by date. You also have the usual options to protect, rotate, resize, copy, add a voice memo, or create a slideshow. If you're looking for more, the S9100 has some extra bells and whistles slapped on for good measure: quick retouch, d-lighting, skin softening, filter effects, and art frames.
Scene Auto Selector will have the camera automatically choose from Auto, Landscape, Night Landscape, Backlighting, Portrait, Night Portrait, and Close-Up. If you want to choose a scene mode manually, you widen your choices to include ten additional choices, including a new one for 2011... pet portrait!
The S9100 has an impressive array of drive/burst options. For continuous shot, there are two standard options, which capture photos at a maximum of 9.5fps. The camera also offers Pre-shooting and BSS options for continuous shot. Two burst modes (Sport and Multi-shot 16) are also available.
The Coolpix S9100 has a simple self-timer feature, which includes options for 2-second, 10-second, and smile shutter.
Easy Panorama
Like the S8100 before it, the S9100 has a mode for taking "easy" panorama photos. This is pretty standard for cameras these days.
All focus is handled automatically on the S9100—a common occurrence for point-and-shoot cameras. Autofocus seemed to be fairly responsive in the display model, though dark and reflective surfaces gave the camera a bit of trouble. Options here are surprisingly varied: you can choose from face priority, auto, manual, center, and subject-tracking. Manual allows you to move the autofocus point to one of about one hundred positions in the frame, while the other choices do what you might expect them to do on a modern digital camera.
You can also choose between single and continuous autofocus, make use of the optional AF assist light, or switch to macro mode for up-close shooting.
The ISO options are relatively standard, limiting your choices to 160, 200, 400, 800, 1600, and 3200. In our short time with the camera on the show floor, we experimented with ISO 3200 and were satisfied with the results. Noise levels seemed reasonably low, although only a trip through the DCI testing labs will say for certain.
We do like that Nikon offers "fixed range auto" ISO on some of its Coolpix models. This lets you rely on the camera's auto ISO function, but limit the selections to a range of 160-400.
There don't appear to be any changes in white balance offerings on the S9100. The usual range is present: daylight, incandescent, fluorescent, cloudy, flash. Auto and manual white balance options are also present. The camera also offers hue adjustment, which can be applied instead of (not in addition to) a white balance preset.
The S9100 allows users to adjust exposure compensation along the usual range from -2 to +2, with 1/3-stop increments. There are also two metering options: matrix and center-weighted.
The S9100 is equipped with vibration reduction, which can be set to on, off, or hybrid. When shooting video, vibration reduction is based entirely on optical lens shift. In still mode, however, hybrid VR is available, which is a combination of lens shift and electronic VR. According to Nikon's site, hybrid VR uses multiple exposures to determine how much the camera has shifted and create a single optimal image through digital processing. You can read all about Nikon's VR tech on the Nikon site.
The S9100 has eight different size options—the same eight that were featured on the S8100. Choices range from 12-megapixels (4000 x 3000) to VGA (640 x 480). There's also a 9-megapixel 3968 x 2232 option. Like most Nikon point-and-shoot cameras, there are no real quality options (i.e. fine, superfine, normal). If you want to best possible compression, there is a 12MP★ choice. This is also 4000 x 3000, but presumably has superior compression to the regular 12MP option.
Picture effects are handled in two places on the S9100: either during image capture or in playback mode. During image capture, these special effects are accessed through the effects mode on the dial. These include: High-Contrast Monochrome, Soft Focus, Nostalgic Sepia, and Selective Color. Special effects are available when shooting photos or videos.
Through playback mode, you have a couple more gimmicky features that could be fun on rainy days. These choices are limited to Soft, Selective Color, Cross Screen, Fisheye, and Miniature. Cross Screen adds a starry effect to bright objects, while Selective Color lets you tweak brightness, saturation, and color tone.
Hue Adjustment
The S9100 allows the user to adjust hue based on an eleven-point scale from red to blue. Naturally, this control cannot be used in conjunction with any of the white balance presets. It does, however, give you a unique amount of control over color.
Vividness
In addition to exposure and hue controls, the S9100 offers a "vividness" adjustment. There are eleven increments for increasing or decreasing saturation.
The S9100 has a beautiful 3.0-inch 921k LCD—the same display that was on last year's S8100. Images look great on this screen and it's very easy to read menus, make image adjustments, and line up your shot. If you can't quite get the brightness you're looking for, you can adjust the LCD along a five-increment scale. There's no viewfinder on the S9100, but we don't mind relying on an LCD that looks this good.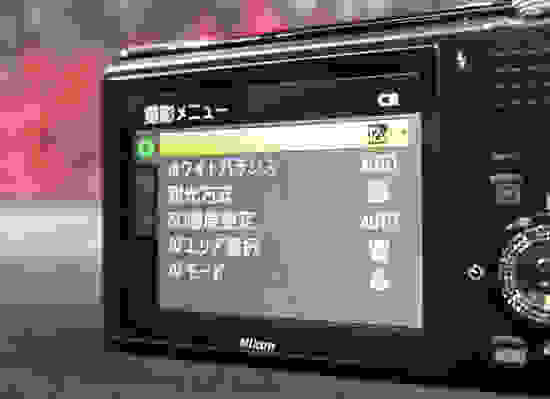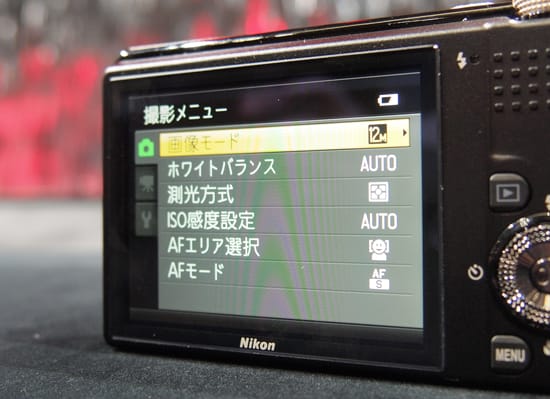 The S9100 has the same cute little pop-up flash that was on last year's S8100. The flash can be engaged using a little switch on the left side of the camera. If you typically shoot with two hands, you might find your left hand blocking the flash, but we found it easy enough to adjust your grip to accommodate. (The S9100 is, after all, light enough to use with one hand.)
Flash options include fill flash, red-eye reduction, and night portrait flash.
The whopping 18x optical zoom is the single greatest upgrade on this year's S9100. (The S8100 had just 10x optical zoom.) Nikon did have to make the S9100 a few millimeters thicker to accommodate the increase in zoom, but we think it's a reasonable compromise. The new 4.5–81mm lens has a 35mm equivalent of 25–450mm and a maximum aperture of f/3.5–5.9.
Everything else about the lens/sensor combo on this year's model seems to be virtually identical. The EXPEED C2 image processing engine and 12.75-megapixel 1/2.3-inch CMOS remain unchanged.
If the 18x optical zoom isn't enough for you, there's an optional digital zoom and a digital zoom crop, which lessens image degradation by taking advantage of un-used bits of the sensor during zoom (like advanced zoom on many other cameras and camcorders).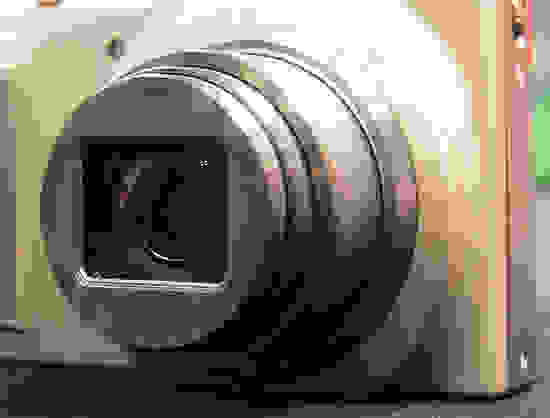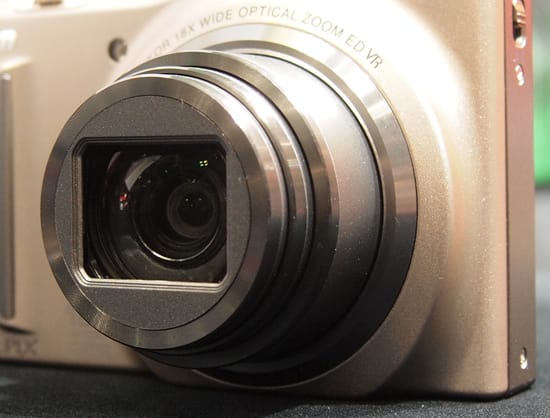 The Nikon S9100 has the bare bones of ports: a miniHDMI for watching video footage on an HDTV, and a proprietary AV/USB jack. The proprietary jack can be used with the included AV cable or the included USB cable. (And the USB cable can be used to charge the battery!) The S9100 does not ship with an HDMI cable.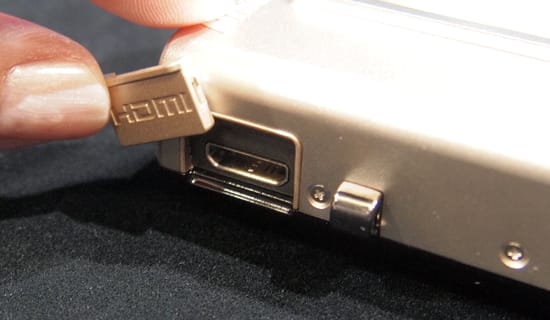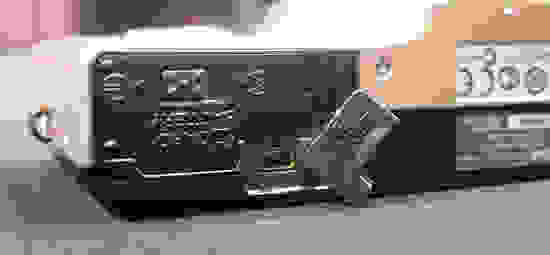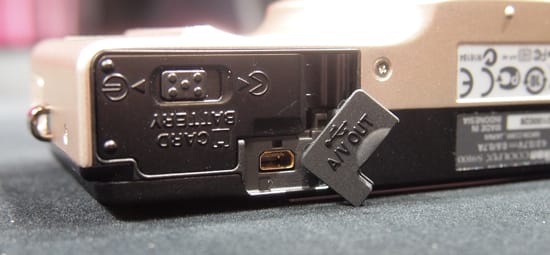 The S9100 has the same removable lithium-ion battery as its predecessor. The EN-EL12 can be charged via an AC adapter or using a USB cable connected to your computer. According to Nikon, the battery is rated for 270 shots.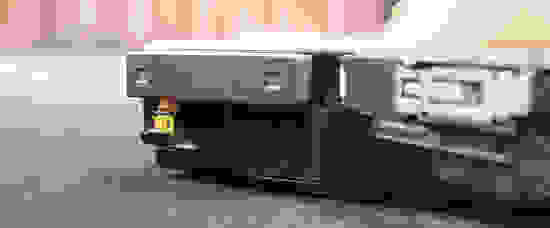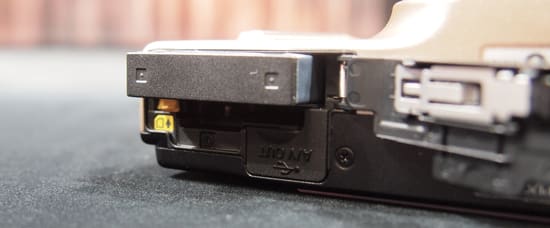 The S9100 records primarily to memory cards—namely, SD/SDHC/SDXC memory cards. The SDXC compatibility is not new to this model, as several Coolpix cameras recorded to SDXC last year. The memory card slot shares a compartment with the rechargeable battery.
Though Nikon didn't make many changes with the Coolpix S9100, it did change the one thing that a lot of people care about: optical zoom. Bumping up the zoom ratio from 10x to 18x is a big move—and one that Nikon managed without significantly increasing the size of the camera. Everything else is just gravy. Most of the great features we saw on last year's model were carried over, including the excellent 3.0-inch 921k LCD. For an MSRP of $329.95, we can only hope that its performance lives up to its specs.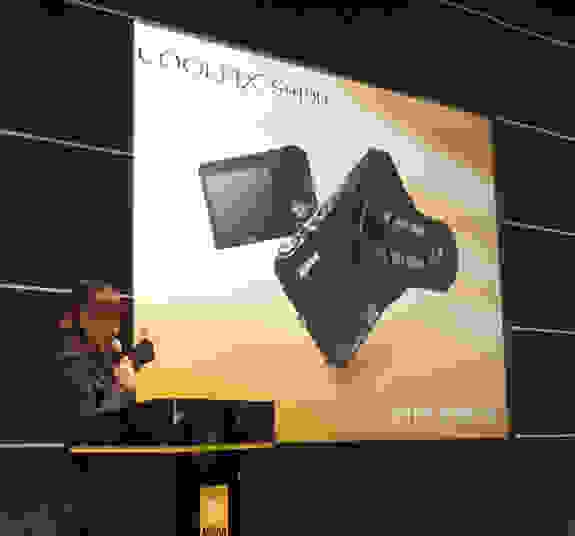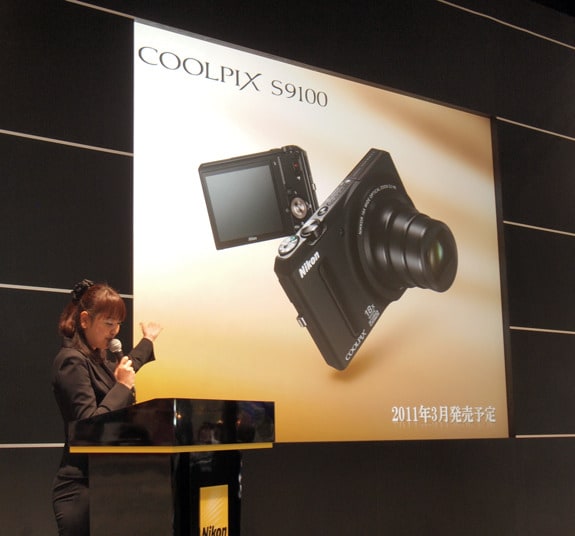 Meet the tester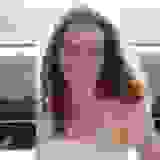 Kaitlyn Chantry
Vice President, Editorial Management
@WhyKaitlyn
Vice President of Editorial Management, Kaitlyn oversees the editorial departments of Reviewed.com's various sites. She has been writing about technology since the turn of the century. Outside of her Reviewed.com home, Kaitlyn is also a theatre director and avid gamer.
See all of Kaitlyn Chantry's reviews
Checking our work.
We use standardized and scientific testing methods to scrutinize every product and provide you with objectively accurate results. If you've found different results in your own research, email us and we'll compare notes. If it looks substantial, we'll gladly re-test a product to try and reproduce these results. After all, peer reviews are a critical part of any scientific process.
Shoot us an email