At the same price as the Canon 7D, Nikon delivers its usual mediocre 720p video, where Canon kicks it up to 1080p, at 30 frames per second. Performance like this is why Canon has a pro video following Nikon can only dream of.
Hardcore Nikon shooters won't be disappointed by this camera. You'll still have access to Nikon's amazing collection of lenses. The D300S is tough and weather-sealed—you could whack a rhino with this camera and it wouldn't break. And it's heavy enough to do some damage.
The D300S color and noise performances are outstanding. The autofocus system is familiar, but we see no reason to mess with success. The camera does offer a new 7fps burst, and the addition of dual memory card slots is a welcome change. The camera might be worth the investment if you're a pro on a budget or a demanding amateur, but we were hoping to see more innovation. Otherwise, you're essentially buying the S-less D300 from three years ago.
If you don't want to read through our complete, lab-tested review, feel free to skip to our sample photos, product tour, or other sections below. There's also no shame in jumping straight to the conclusion for spoilers.
The D300S is physically nearly identical to its predecessor D300, introduced in 2008. The cameras share magnesium alloy construction and extensive weatherproofing designed to stand up to the needs of professional photographers in harsh environments. The shutter is rated for 150,000 releases.
Front
---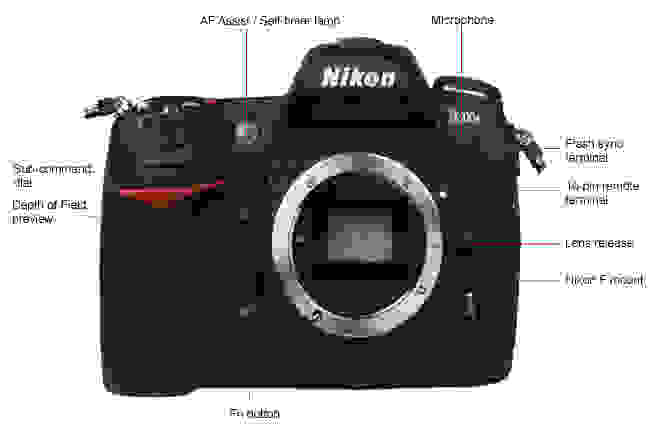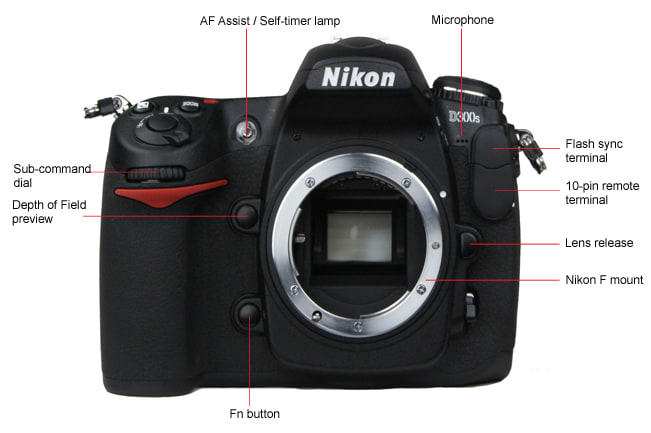 Back
---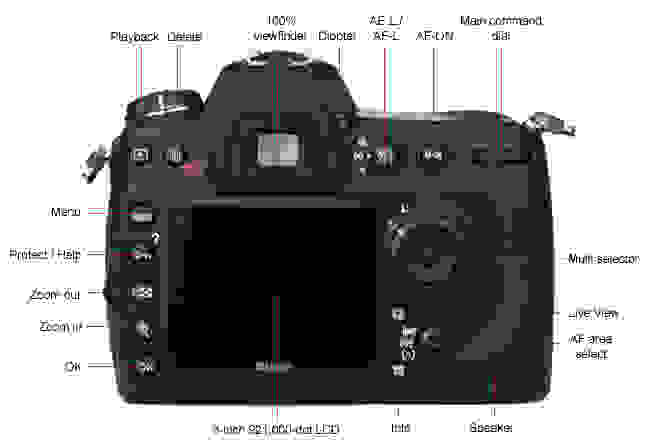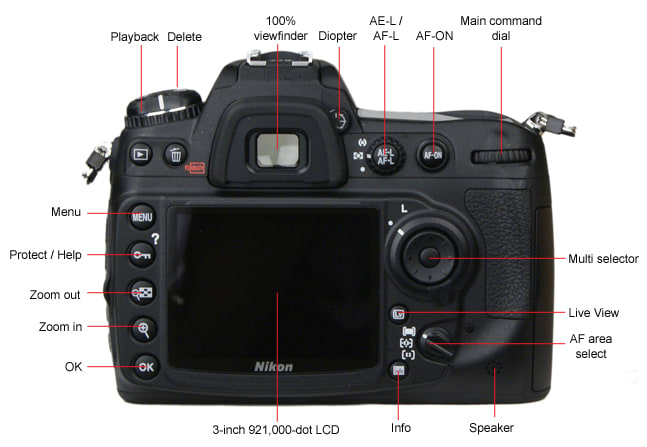 Sides
---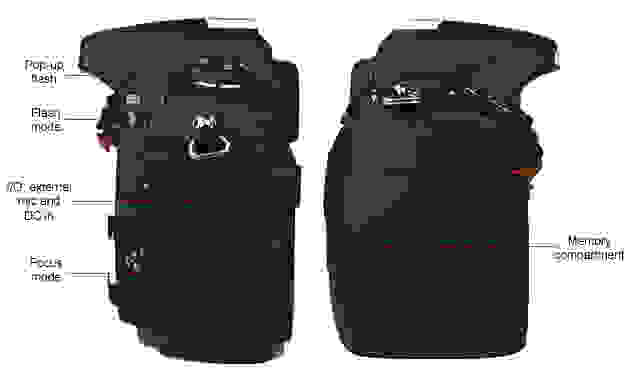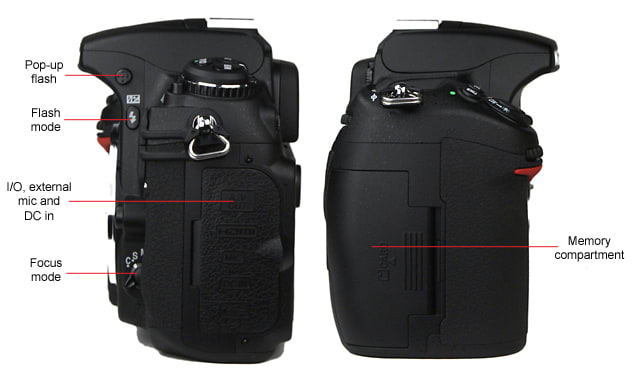 Bottom
---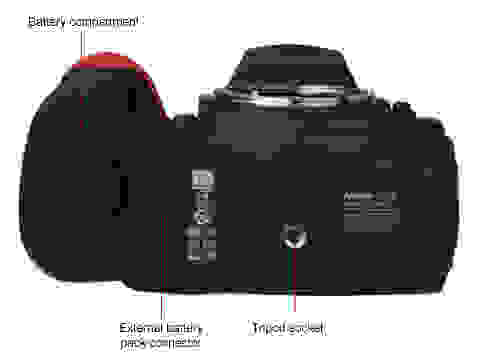 Top
---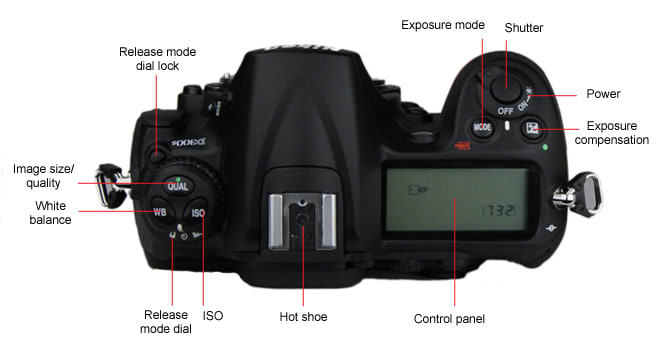 ** Size Comparisons **
---
** In the Box **
---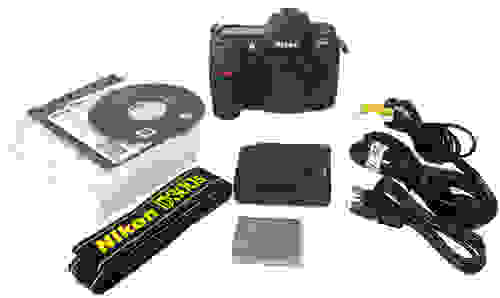 • D300S camera with DK-23 rubber eyecup and body cap
• EN-EL3e Li-ion battery
• MH-18a battery charger
• EG-D2 A/V cable
• UC-E4 USB cable
• AN-CD4 camera strap
• BM-8 clear LCD cover
• BS-1 hot shoe cover
• DK-5 eyepiece cap
• User's Manual
• Quick Guide
• Software CD
**Color Accuracy *** (14.98) *
---
The D300S performed very well in our color accuracy testing. We shoot the X-Rite ColorChecker chart under bright studio lighting with each of the camera's preset color modes, analyze the test photos using Imatest software and score based on the mode that comes closest to reproducing the known chart colors precisely. In this case, that was the neutral Picture Control Style, which delivered spot-on saturation (barely a hair over 100%), and exceptionally accurate blues, reds and greens. Only the yellow values were significantly off the mark. Click here for more on how we test color.
The chart below shows actual-size crops from test photos taken with the D300S and several other interchangeable-lens cameras we've chosen for comparison purposes, each in its most accurate color mode.
*NOTE: Because of the way computer monitors reproduce colors, the images above do not exactly match the originals found on the chart or in the captured images. The chart should be used to judge the relative color shift, not the absolute captured colors.

*
As seen in the graph below, where longer bars indicate higher scores (and more accurate results), the D300S outperformed all but its brand mate D5000 in this test.
Color Modes*(3.00)*
---
The D300S uses the tried-and-true Nikon Picture Control System to manage color reproduction settings. which includes adjustments for sharpening, contrast and brightness along with saturation and hue. Unlike many Nikons, the D300S comes with only four presets, one of which is monochrome. Fortunately, Picture Controls are highly customizable by the user, either in the camera or using computer software, and additional options can also be downloaded and installed easily.
In our testing, we found the standard mode pumped up saturation about 10% over the ideal and shifted blue and red values noticeably, while maintaining roughly the same skin tones and other color hues as neutral. Vivid pumps the saturation up to 134% and produces distinctly more vibrant red, magenta and blue, as you'd expect from a mode called vivid.
The chart below includes same-size crops taken from our D300S test shooting in each color mode.
NOTE: Because of the way computer monitors reproduce colors, the images above do not exactly match the originals found on the chart or in the captured images. The chart should be used to judge the relative color shift, not the absolute captured colors.
Long Exposure*(8.72)*
---
Our long exposure testing didn't reveal major flaws in the D300S performance, but it didn't match the results we found shooting with the Canon 7D or the Nikon D5000 in either color accuracy or image noise at slower shutter speeds. We shoot the ColorChecker chart at a low 20 lux illumination level, with long exposure noise reduction turned off and on, at a range of speeds from 1 second to 30 seconds. For the D300S, long exposure noise reduction kicks in for shutter speeds slower than 8 seconds. Click here for more on how we test long exposure.
Color values don't change significantly as shutter speeds increase, which is an important consideration.
Unlike many cameras we test, long exposure noise reduction does have a significant impact when shooting with the D300S.Overall, though, we found higher image noise at slow shutter speeds than for most of our comparison cameras, which maintained image noise below 1%.
The long exposure score for the D300S is acceptable but not impressive when compared to other SLRs, including the less expensive D5000.
Noise*(6.67)*
---
When shooting under bright light, the D300S displayed very low image noise, surpassing the Canon 7D by a significant margin. We test by shooting the ColorChecker chart under controlled 3000 lux studio illumination at all standard ISO settings, using each available noise reduction setting, and use Imatest software to analyze the test photos. Click here for more on how we test noise.
There are three levels of noise reduction here, High, Normal and Low, each of which applies to exposures at ISO 800 or higher. Noise reduction can also be turned off to maximize image detail, though some noise reduction processing will still be applied at ISO settings of Hi 0.3 or above.
As shown in the chart below, there is a substantial gap between results shot with no NR and the NR Low setting, and those taken with the camera set to Medium or High NR. As seen in our sample image section, there's a matching jump in fine detail loss between the settings.
The following chart distinguishes between the component color components in the overall image noise level, shooting with noise reduction turned off. With some cameras, one color will be substantially higher than the others, and hence more visible, but that's not a problem here.
Comparing several tested cameras with noise reduction turned off (maximizing image detail) we find the D300S starts out with lower noise than all but the Nikon D5000 at lower ISO settings, and maintains an edge over the Canon 7D and especially the Panasonic GH1 (with its relatively noisy Micro Four Thirds sensor) throughout.
With noise reduction processing set to its maximum  level on all five cameras, the two Nikons maintain the lowest image noise levels from ISO 200-3200.
As shown in the graph below, the Nikons outperformed the competition in our image noise testing, with a slight advantage going to the D5000.
ISO*(6.00)*
---
The 'official' ISO range is 200-3200, which by default are selected in 1/3EV increments, but can be set to 1/2 or 1 EV steps through the custom menu. In addition, there are three settings below ISO 200 (Lo 1, Lo 0.7 and Lo 0.3, equivalent to ISO 100-160) and three above 3200 (Hi 0.3, Hi 0.7 and Hi 1, equivalent to ISO 4000-6400).
There is also an Auto ISO option that allows the camera to adjust the ISO if a proper exposure can't be achieved using the aperture and shutter speed settings selected by the user. A maximum acceptable ISO value can be specified.
NOTE: The images above are not used in our testing or scoring, but are included here to show real-world examples of the differences between cameras at the various ISO settings.
Resolution*(9.15)*
---
We were impressed with the resolution results for the D300S, which delivered good sharpness and very low chromatic aberration when paired with the AF-S DX Nikkor 16-85mm f/3.5-5.6G ED VR lens used in our testing. Click here for more on how we test resolution.
Distortion
While we don't include distortion results in our scoring for interchangeable-lens cameras, we do test performance in this area. For the16-85mm lens,, there was considerable distortion across the board, with about 2.2% barrel distortion at the widest angle, 1.85% pincushioning at the 50mm mark and 1.33% pincushioning at the maximum zoom.
Chromatic Aberration (8.50)
The fringing caused when the different color components of light don't align perfectly on the sensor was a minimal concern here. As shown in the sample crops below, even shooting at full telephoto with the lens stopped down there is very little evidence of chromatic aberration visible.
Sharpness (9.42)
The sharpest measurement was in the center of the lens at its widest 16mm setting, with the aperture open wide (1618 lw/ph), but there really isn't that much sharpness variation when shooting at the widest zoom and the midpoint of the range. Only at full telephoto does the sharpness start to fall off, and even here you'd be hard pressed to find a flaw when viewed at normal enlargement sizes.
At the widest setting, edges are sharp across the lens, even when stopped down to f/22.
Shooting in the middle of the zoom range, there's a touch of fuzziness with the lens stopped down to f/32, but certainly nothing to complain about, and chromatic aberration is well under control.
The combination of maximum zoom and a minuscule f/36 aperture turns up some softness and a hint of chromatic aberration, but at more typical setting the result remain very impressive.
As shown in the graph below, the Canon 7D outperformed the Nikon D300S by a small margin here. It had a higher level of chromatic aberration, but shooting with the Canon 28-135mm f/3.5-5.6 IS USM lens, sharpness was even better than the Nikon D300S.
Picture Quality & Size Options*(9.85)*
---
The D300S supports three image size settings:
There are three JPEG compression settings, fine (roughly 1:4 compression), normal (roughly 1:8) and basic (roughly 1:16). In addition to choosing a compression format, you can select a compression strategy, between size priority (producing relatively uniform file sizes) and optimal quality, with more file size variation.
Unlike most cameras, the D300S supports uncompressed storage in two formats, TIFF and NEF (Nikon's RAW image format). NEF files can be saved entirely uncompressed, or in one of two compressed formats. Lossless compression processes the file mathematically for a 20-40% file size reduction with no loss of image quality. Compressed NEF cuts files size down by 40-55% with minimal effect on image quality. In addition, the user can choose 12-bit or 14-bit NEF recording: the 14-bit files are about 1.3 times larger but incorporate more precise color data.
When shooting RAW+JPEG, any of the three JPEG compression ratios can be used. An interesting option that takes advantage of the dual memory slots is the ability to save the RAW images onto one card and the JPEG version onto the other.
Dynamic Range*(7.34)*
---
The D300S starts out with a strong 7.35-stop dynamic range at ISO 200, but it falls off fairly quickly at ISO settings above 400, resulting in a mediocre overall score in this section. At ISO 800, for example, the D300S is down to a dynamic range of 5.25, where the Canon 7D still offers 6.68 stops.
We test dynamic range by shooting a 20-section Kodak stepchart at a constant light level, across the range of standard ISO settings. The individual test shots are analyzed using Imatest software, and the results are then combined to produce an overall performance profile. Click here for more on how we test dynamic range.
As shown in the chart below, where wider bars indicate a greater ability to maintain detail in both light and dark areas, the Nikon D300S performs well at ISO 200 and 400, but dynamic range drops off significantly from that point on.
Looking at the dynamic range performance for each of our comparison cameras when shooting at ISO 200, all but the Micro Four Thirds-based Panasonic are roughly equivalent, with the Canon 7D offering a slightly more generous range.
When the full ISO range is taken into account, the Nikon D300S trails the other tested cameras in dynamic range, while the Canon 7D shows considerable strength.
Image Stabilization*(9.77)*
---
The VR lens offered a substantial improvement in a key category of our image stabilization testing: compensating for the kind of typical low-intensity horizontal movement encountered in handheld shooting, and this effect holds true at every tested shutter speed. When the camera was moved vertically, though, the VR effect was negligible, and when the level of shake was intense, the system produced lower-resolution results at faster shutter speeds.
We test image stabilization by mounting the camera in a custom computer-controlled rig that produces consistent movement patterns, and shoot at two different levels of shake, with and without the image stabilization system. By comparing the two sets of results, we can analyze the effect of IS on image resolution. Click here for more on how we test image stabilization.
At the low shake setting, the VR lens offered a major sharpness boost when the camera was moving horizontally, though it proved ineffective against vertical shake.
Here again, vertical shake was basically unaffected by the VR system. Against aggressive horizontal shake, though, the camera did better with the VR system turned off at shutter speeds above 1/60 second.
The Canon 7D produced a smaller improvement against low-intensity horizontal shake than the Nikon D300S, but the IS system was more effective overall in providing some enhancement under all shooting conditions, producing a higher score.
The following same-size crops offer a visual indication of the variation when found when shooting across the range of shutter speeds, with the camera moving horizontally.
*NOTE: As of May 2010 we have revised our image stabilization testing procedure to consider only horizontal stabilization. The scores shown here are up to date.
*
White Balance*(6.80)*
---
Our white balance testing includes shooting with the camera set to Auto, and after taking a custom white balance reading, under three different lighting conditions. The D300S results were underwhelming, though it's worth looking at the specific strengths and weaknesses involved. Compared to the Canon 7D, for example, the Nikon auto white balance system was less accurate, particularly under fluorescent lighting, but the Canon disappointed in our custom white balance testing, scoring just 2.10 to the Nikon's 4.33. The Nikon D5000, on other hand, did well on auto and proved highly accurate after taking a custom white balance reading, receiving the top score in our comparison group. Click here for more on how we test white balance.
Automatic White Balance (9.27)
While the auto white balance system handled daylight quite well, and the D300S was about as flummoxed as most cameras we test when trying to cope with incandescent lights (i.e., your typical tungsten light bulb illumination), and its mediocre color reproduction under fluorescents lowered the camera's overall score.
Only the Panasonic GH1 had readily visible problems adjusting to daylight illumination.
Incandescent lighting is consistently the bane of auto WB systems, and the D300S is no exception.
We've seen problems handling fluorescent lighting when testing several Nikon cameras, and the D300S maintains this tradition.
Custom White Balance (4.33)
Taking a custom white balance reading brings the incandescent light problem found in shots taken using the auto WB system under control, while producing good results under fluorescent and daylight illumination. However, we expect a very high degree of white balance accuracy from an SLR after taking a manual reading, and while the D300S results are fine, they hardly shine.
When taking both auto and custom white balance performance into account, the D300S lags the field in overall white balance score.
White Balance Settings*(10.50)*
---
In addition to the auto white balance setting, there are a dozen preset white balance values:
Most of these white balance presets can be fine-tuned along the amber-blue and green-magenta axes. Fluorescent settings are adjusted by choosing one of the seven bulb types listed above.
White balance can also be set by entering a color temperature value in degrees K (from 2500-10000), or by taking a manual white balance reading. The procedure for taking a reading is not in any way intuitive but, once you've learned the secret code, it works fine. With the white balance system set for'Pre' (which stands for Preset Manual, unlike all the other Presets that could be shortened to 'Pre'), you hold down the WB button until the 'Pre' in the control panel and viewfinder start blinking. You then have six seconds to aim at a neutral gray or white object and press the shutter. If all goes well, the word 'Good' will blink in the display. If there's a problem caused by lighting conditions, 'no Gd' will flash. Up to five manual white balance readings can be stored. It's also possible to copy the white balance setting from a photo stored on the current memory card.
White balance bracketing is available on the amber-blue axis (green-magenta values are unaffected). Multiple JPEG versions of the same shot are stored, each with a different white balance setting. Up to 9 variations are possible, with increments of 5, 10 or 15 mireds.
Sample Photos
---
In the following sample shots, clicking on the larger images will open the original file in a separate window.
Still Life Examples
---
The images below were shot with each of our comparison cameras in aperture-priority mode, using auto white balance, at all official ISO settings. Click on a thumbnail to open up a full-size version of the image in a separate window.
NOTE: The images above are not used in our testing or scoring, but are included here to show real-world examples of the differences between cameras at the various ISO settings.
Noise Examples
---
The following same-size crops were taken from our still life sample images for each comparison camera.
NOTE: The images above are not used in our testing or scoring, but are included here to show real-world examples of the differences between cameras at the various ISO settings.
Playback Mode*(9.75)*
---
Up to nine pages of data can be displayed in playback mode, depending on the settings in the custom menu and the presence of an optional GPS unit. Pressing up or down on the multi-controller cycles from display to display. All the available screens are shown below.
Photos can be magnified up to 27x, in eight steps, by repeatedly pressing the zoom key, While viewing a magnified image, turning the main control dial scrolls through images at the same magnification, very handy for head-to-head comparisons.
Zooming out from the full-screen view brings up thumbnails displays with first four, then nine, then 72 images. Unlike recent consumer-level Nikon SLRs, there is no calendar view, which organizes images based on date taken — we miss this feature here. We also found it odd that, to switch playback between two memory cards installed simultaneously, you first have to zoom out beyond the 72-thumbnail screen.
The slide show utility is very bare bones. You can set the length of time each image is displayed, but there are no controls over which photos and videos will be displayed, a serious flaw, and no transitions or other entertainment-oriented features.
As always, we want to include a brief Thank You to Nikon for trusting us with a fast image deletion system. On most cameras, you press delete, then get a confirmation message that requires you to stop and move the on-screen cursor or press an OK button. Here, you press the delete key and, while a confirmation does appear (nothing wrong with that), you press the same button again to allow the deletion. This is fast, logical, and lets us banish rotten images from our memory cards with speed and alacrity. You can also choose to delete all images on the card, or selected images by highlighting on-screen thumbnails.
Movie playback provides play and pause, fast forward and rewind, single-frame advance or rewind, and volume adjustment. There's no way to jump immediately to the beginning or end of a clip.
In-Camera Editing*(9.75)*
---
Nikon offers an extensive and useful array of editing options. The D-lighting settings, similar to the Active D-Lighting available while shooting, enhances the exposure in shadowed areas, with three available settings. Virtual skylight and warming filters can be applied to an image, and a photo can be converted to black and white, sepia or cyanotype (blue and white). Color balance can be adjusted, on a screen with RGB histograms displayed, along the green-magenta and blue-amber axes.
In-camera RAW image processing is available, with adjustments for image quality and size, white balance, exposure compensation, Picture Control setting, high ISO noise reduction and color space. Multiple exposure composites can be created by combining two RAW images. with control over the gain of each image but not the positioning.
Also available are red-eye correction, cropping and resizing.
Videos can be trimmed in-camera by selecting the beginning and end points. The result is saved as a separate clip, leaving the original intact. Considering how easy it is to jerk the camera when starting or stopping video recording, this is a very welcome capability.
Software*(5.00)*
---
The provided Software Suite CD-ROM includes versions of Nikon Transfer and ViewNX for both Windows and Mac.
**Direct Print Options ***(3.50)*
---
The D300s supports the usual direct print options, preparing a DPOF file to communicate your desires to an outside print service, and printing directly to a USB-connected PictBridge-compatible printer.
The PictBridge implementation is complete and easy to use. You can print one picture at a time or select a group of images, specifying page size, number of copies, bordered or borderless printing, and whether or not you want a time stamp included. You can also crop an image directly from the PictBridge menu. And an often-overlooked feature we find very helpful is available in the D300S: the ability to output index prints of thumbnail images.
For DPOF, you can select one or more images, decide to include a date and/or image data (shutter speed and aperture, an unusual option), and the number of prints per photo.
Sensor*(3.00)*
---
The 23.6 x 15.8mm CMOS sensor has a gross resolution of 13.1 megapixels, and an effective resolution of 12.3 megapixels. By default, the low-pass filter over the sensor vibrates to remove dust whenever the camera is turned on or off. A dust reference photo can also be taken for use with the optional Capture NX 2 software.
Viewfinder*(9.75)*
---
The excellent viewfinder, held over from the D300, is an eye-level pentaprism with approximately 100% coverage and 0.94% magnification. Even when wearing eyeglasses, the viewfinder is comfortable and the information display is easy to read; nothing tucked into the lower corners where you have to shift the camera around to read it. The diopter control, mounted flat against the back of camera, offers -2 to +1 m-1 adjustment flexibility and, while it's easy enough to move when needed, it's unlikely to be shifted accidentally.
There's an optional viewfinder grid overlay available via the custom settings menu. The lines are unobtrusive, and useful for aligning with horizontals or verticals along the edges of a shot, though the pattern leaves the central area entirely open, which limits the practical advantages.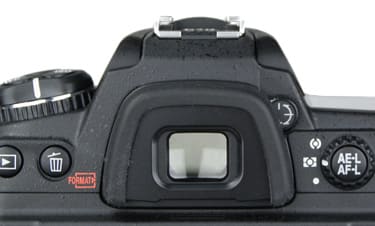 The 100% viewfinder is a pleasure to use.
LCD*(10.11)*
---
The D300S uses Nikon's 3-inch 921,000-dot LCD, a good-looking display which can be read easily even when the camera's held at extreme angles. The brightness can be adjusted to one of seven levels, with a useful on-screen greyscale chart displayed while making the adjustment.
The camera comes with a clear plastic snap-on cover to protect the LCD. Maybe we're paranoid, but we generally left this cover in place when shooting outdoors, since it has minimal impact on visibility.
*The LCD can be used as a shooting information
display by pressing the INFO button.*
Pressing the INFO button while shooting brings up the LCD info display, which provides an in-depth display of current shooting settings at  glance. Pressing INFO again turns the bottom two lines into an interactive quick menu.
LCD Panel
As you'd expect from an advanced SLR, there's a monochrome LCD control panel on top of the camera that displays current shooting settings, particularly useful when working with a tripod. The screen includes shooting mode, shutter speed and aperture, image size, format and compression, focus point, white balance setting, remaining shots and battery level. The display illuminates for six seconds when the power switch is turned all the way to the right.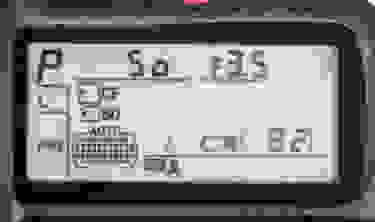 *The monochrome LCD saves a lot of
stooping over when shooting on a tripod.*
Flash*(9.50)*
---
Nikon gives the guide number for the built-in flash as 17/56 (m/ft) at ISO 200. The maximum sync speed for the built-in flash is 1/250 second; with an external flash it can be as fast as 1/8000 second, useful for fill flash on sunny days.
The flash supports standard i-TTL (through the lens) flash control (the only selection available when shooting with spot metering) along with i-TTL balanced fill flash, which uses a series of brief pre-flash pulses, in combination with range information from the matrix metering system, to calculate the best flash level to achieve a balanced exposure between a foreground subject and the background scene.
In addition to standard flash mode, the built-in flash can be set for manual output level adjustment, used in repeating mode to create a strobe-light effect, and used in commander mode to serve as a master flash controlling compatible remote units.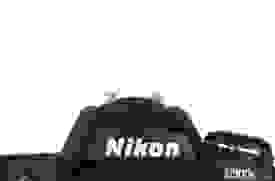 Nikon says the pop-up flash will work with lenses up to 300mm long.
The following flash modes are supported:
Flash output can be adjusted in a range from -3 EV to +1 EV, in 1/3 EV increments. Flash value lock is also available, to ensure that all photographs taken in a series have the same exposure.
Lens Mount*(11.00)*
---
Nikon recommends CPU lenses, preferably types G and D, to maintain full feature compatibility with the D300S. Of course, you have tremendous freedom in mounting older Nikon lenses on the D300S body, though access to advanced features such as 3D color matrix metering will vary. For complete lens compatibility information, check the Nikon web site article here.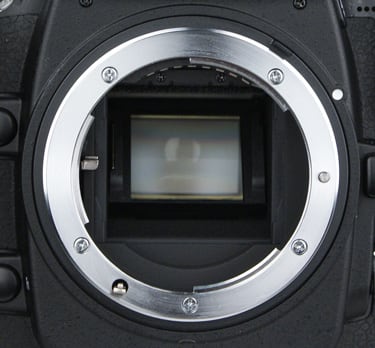 *The Nikon mount welcomes an extraordinary
variety of lenses.*
The effective focal length shooting with the D300S is approximately 1.5x what you'd experience when shooting with a 35mm camera. For the 16-85mm lens we used for testing, that makes it roughly equivalent to a 24-128mm. The samples below show the zoom range when shooting from a fixed position.
Battery*(9.00)*
---
The D300S uses the familiar EN-EL3e rechargeable Lithium-ion battery, rated at 7.4V/1500 mAh. which Nikon estimates should last for approximately 950 shots, with the flash firing every other shot, and without using Live View. This sounds about right based on our experience while testing; we rarely had to stop and recharge even during all-day sessions.Nikon estimates it will take about 2.25 hours to fully recharge an exhausted battery using the supplied MH-18a quick charger.
For those who want more in-depth information about their batteries than the routine on-screen gauge display, the Battery Info option in the setup menu provides the precise power charge percentage, the number of times the shutter's been tripped since the last charge, and an indication of the battery's age.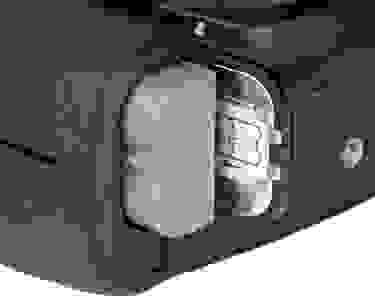 A battery charge lasts for nearly 1000 shots.
The D300S is also compatible with the MB-D10 battery pack, and the EH-5a/EH-5 AC power adapters.
Memory*(6.00)*
---
The D300S accepts both Type I CompactFlash cards and SD/SDHC memory cards simultaneously. This opens up several useful options. After selecting one card as the primary destination, you can choose to have photos automatically stored on the secondary card when the first is full. You can also have a copy of each photo you take stored on both cards simultaneously, a nerve-dampening option on mission-critical assignments. Finally, when shooting RAW+JPEG, you can have the RAW copy saved to one card and the JPEG copy to the other.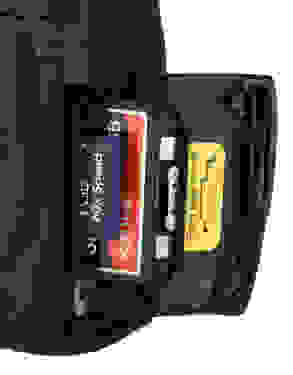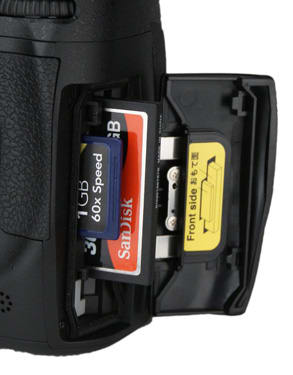 *Dual memory card slots open up
useful storage options.*
Jacks, Ports & Plugs*(7.00)*
---
Most of the I/O ports are located under a tight-fitting rubber door on the left side of the camera. The standard-def AV out jack is at the top, followed by the mini HDMI jack. Below this is the external mic jack, and the connector for an optional AC adapter. Finally, there's an industry-standard mini USB cable connection for data.
I/O and power connectors
One oddity for you video-shooting aficionados: while the camera can record in stereo, the standard-def output via A/V cable will be in mono. Connect via HDMI and you get the full stereo effect (if you've recorded using an external mic, of course).
On the front of the camera, to the right of the lens are two connectors. The top is the flash sync terminal, the lower one a ten-pin terminal for connecting an external GPS or remote control. The D300s will work with Nikon's GP-1 GPS unit ($265) or with select Garmin systems using the optional MC-35 GPS cable. The optional WT-4 wireless transmitter ($800) allows wireless or Ethernet printing, file transfer and camera control (with the Camera Control Pro 2 software sold separately).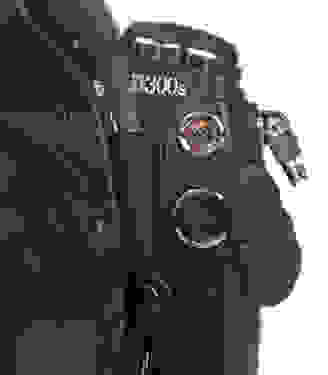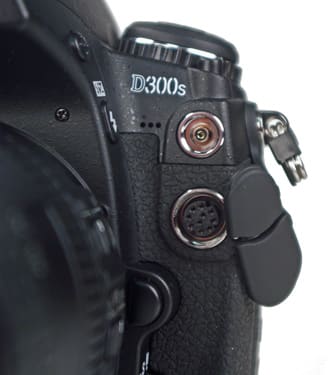 Flash sync and ten-pin terminal
On the camera bottom, a rubber cover peels off entirely to reveal the contacts for the optional for MB-D10 battery pack.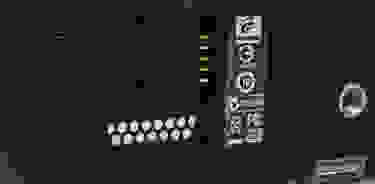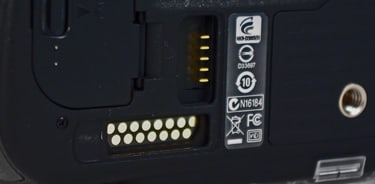 *The optional battery pack attaches to
the bottom of the D300S*
Shooting Modes*(12.00)*
---
There is no easy-peasy full auto setting on the D300s, sticking instead with the meat and potatoes program (with program shift), shutter-priority, aperture-priority and full manual exposure modes. Instead of using a conventional dial, shooting modes are selected by holding down the MODE button and turning the main command dial.
When making manual adjustments, the main command dial is consistently used to change shutter speeds, the sub-command dial in front of the grip is used to adjust aperture values.
Live View*(3.00)*
---
Live View is instantly accessible thanks to a dedicated button on the back of the camera, below the multi selector.
There are two Live View modes, called Tripod and Hand-held. The tripod mode uses contrast-detect autofocus, where the camera hunts back and forth to find the highest-contrast position based on information from the image sensor itself. This is a slow process, and only works with subjects that aren't moving. An on-screen focus point is displayed, which can be moved anywhere in the frame using the multi selector. To focus, you press the AF-ON button (instead of holding the shutter button down halfway). Nikon's description is a bit more restrictive than necessary, though: you can successfully shoot a handheld still-life in tripod mode.
The Hand-held option lets you compose your shot in Live View, then press the shutter halfway, at which point the mirror flips down and metering is done using the same phase-detect system used when you shoot with the viewfinder. This briefly blanks out the Live View display. The hand-held mode isn't exactly lightning-fast either; the mirror has to flip down with an audible 'clunk', the autofocus system then does its job until you hear the 'beep' focus confirmation, then finally the shutter is tripped and the mirror flips up again with another 'clunk.' For the second or two this takes, you can't see your subject at all unless you hold the camera to your eye, which pretty much defeats the purpose. The total elapsed time to take a shot in hand-held mode is shorter than in tripod mode, but neither one is really practical when you're trying to shoot a moving subject, or catch a fleeting facial expression.
There is one additional option: manual focus. The ability to magnify the Live View display in stages, up to 13x, makes precise manual focus practical, but it's still a time-consuming procedure. As far as we're concerned, Live View on the D300s is strictly for stationary subjects, and for shooting video.
The on-screen Live View display changes as you press the INFO button:
**

**An annoying peculiarity of the Live View system is the fact that playback mode is disabled. The button is used instead for controlling movie-shooting volume, and screen brightness. If you want to see a photo, or video, shot in Live View mode, you first have to exit Live View, which is cumbersome to say the least.
** Scene Modes***(0.00)*
---
For buyers of $1700 cameras like this one (and the Canon 7D), scene modes are apparently considered unappealing training wheels; neither camera includes any.
Picture Effects*(5.00)*
---
The Nikon Picture Control system is used here, which combines sharpening, contrast, brightness, saturation and hue settings. Unlike most Nikons, the D300S comes with only four Picture Control presets, though you can load existing Picture Controls from other cameras, or create your own. The supplied presets are listed below, with sample images. The descriptions are straight from the Nikon manual.
Each Picture Control can be adjusted using the following parameters:
After adjusting a Picture Control to your liking, you can save it as a custom Picture Control, with nine available slots available and with the option to give your custom control a meaningful name. Your creation will be listed right after the presets in the menu, so there's no hunting required. Picture Controls can also be created using provided software, or downloaded from the Internet, then copied onto a memory card for use on the D300s.
In-camera multiple exposures can be created with from two to ten exposures. The camera can control the gain, based on the number of exposures selected, or it can be set manually.
Focus*(17.25)*
---
The D300s uses a fast 51-point autofocus system with 15 cross-type sensors, a holdover from the D3000 and the D3 before that.
The focus area is selected using a switch to the bottom right of the LCD. Which one of the three Dynamic Area options will be used is set via the Custom Settings menu.
There is a very bright AF assist illuminator located between the right hand grip and the lens, which brings flashlight-like intensity to the task of achieving focus in dark environments, and works very effectively.
Exposure*(6.00)*
---
Exposure compensation provides a ± 5 EV range, in 1/3 EV increments. The D300S offers extensive control over auto exposure bracketing, with up to 9 shots and increments of 1/3, 2/3 or 1 EV. Autoexposure values can be bracketed on their own, or combined with flash bracketing. If the camera is set to continuous shooting mode, it will take the requested number of shots and pause automatically.
The Nikon Active D-Lighting system attempts to maintain detail in shadowed and highlighted areas in high-contrast scenes. There are four user-selectable levels — low, normal, high and extra-high — along with an Auto setting that lets the camera decide the appropriate level of processing. There is also a D-Lighting option in the in-camera editing system, which attempts the same kind of adjustment on existing images.
Active D-Lighting values can be automatically bracketed, between two and five shots in a sequence. Unlike white balance bracketing, each shot in the bracketed group is taken individually, either one at a time or in a continuous shooting mode burst.
Speed and Timing
---
Shot to Shot (7.13)
It's always nice to get just a touch more than was promised, and that's the case with the D300S burst mode. Nikon says the camera maxes out at 7 frames per second, and in our tests we got just a skosh more, shooting large fine JPEGs at 7.13 frames per second. This is not quite as fast as the Canon 7D, which promises 8 shots per second and delivered 7.49, but for all practical purposes it's a draw.
Drive/Burst Mode (11.50)
The Nikon D300S has two burst shooting modes. The Continuous high speed mode, used in our testing, claims a rate of up to 7 frames per second (or up 8 fps if you're using the optional battery pack). The Continuous low-speed mode is adjustable, between 1 and 7 frames per second, using a custom setting.
The D300S has a substantial memory buffer for high-speed shooting. We found that, shooting full-res fine JPEGs to a fast CF card, we could take over 30 photos before the buffer filled and the rate slowed.
There is also a quiet shutter release option, which turns off the 'beep' sound during autofocus, doesn't reset the mirror until your finger comes off the shutter, and minimizes overall noise. We did find that quiet shutter makes a difference, and could be useful if taking photos of sleeping babies or in spots where you really shouldn't be taking pictures.
Finally there's a 'Mup' setting on the shutter release dial which, sadly, doesn't refer to Muppet photography, but to Mirror Up. This mode raises the mirror and keeps it raised the first time you press the shutter, then takes the photo with a second press. This selection keeps vibration to an absolute minimum, useful in microscopic or astronomical work.
Depth of Field Preview*(2.00)*
---
The depth of field preview button, which stops down the aperture so you can see how much of the photo will be in focus before taking the picture, is conveniently located next to the right hand grip, a few millimeters away from your middle finger for easy reach.
Metering*(8.00)*
---
The metering system uses a 1,005-pixel RGB sensor, the same as its D300 predecessor. The camera supports three metering modes (or four, if you distinguish between 3D Color Matrix II and Color Matrix II).
If you are unhappy with the exposure readings the camera routinely provides, you can fine-tune the values by ±1 EV, in 1/6 EV increments. This setting can be adjusted separately for each metering method.
Shutter Speed*(11.00)*
---
Available shutter speeds range from 1/8000 second to 30 seconds, in 1/3, 1/2 or 1 EV increments. In manual exposure mode, untimed bulb shooting is possible.
Self-Timer*(5.50)*
---
The self-timer can be set to a 2-, 5-, 10- or 20-second delay through the custom settings menu. Covering the viewfinder so light doesn't enter the camera from behind and affect the meter reading requires removing the rubber eyecup, then fitting the supplied eyepiece cap.
A related capability is interval timer photography. You can choose a starting time, a shooting interval, the number of intervals you want and the number of shots per interval.
Other Features*(1.00)*
---
**Virtual Horizon

**The virtual horizon feature is one of the few that's actually more useful in Live View mode. It offers an on-screen indicator showing whether or not the camera is level (side to side only, not front to back). This can be displayed by itself on the LCD screen via the Setup menu, or it can be seen as an overlay to the Live View screen, which is a more practical approach.
Handling*(8.00)*
---
This is not a camera to be taken lightly, in any sense of the word. The D300S weighs in at nearly two pounds (30 oz./840g) for the body alone. The 16-85mm lens we used for testing adds another pound — this is not a camera you'll tote around unless you're heading out to shoot some pictures. As for maneuverability, the right hand grip has a very effective non-slip covering, and a substantial bump (the trademark red highlight) which rests securely against your middle finger. The back thumb rest is deeper than most, designed for the side rather than the ball of your thumb, and also well textured; together, they enable a very solid grip. We could have used a fraction of an inch more depth in the grip, but that's personal preference (and large hands) rather than a design flaw.  
Controls*(9.75)*
---
The control scheme has familiarity as an advantage, since it's been essentially unchanged since the Nikon D200, announced in 2005, and it's easy enough to use once you get the hang of it. Two control dials, mounted front and back, make settings adjustments fast, when you've memorized which dial does what. There does seem to be a perverse pride in the obscurity of certain commands, though. Want to set a manual white balance? You have to hold down the WB button on top of the camera until 'Pre' blinks in the control panel, then take your settings shot.
Essentially, you have to pay your dues in climbing the learning curve before being admitted to the club. And even then, we find the multi selector button on the right a pain to use. It's small and has to move quite far to have any effect.
The back, top and side controls are shown here. On the front of the camera are the sub-command dial, located on the right hand grip, along with the depth of field preview button and programmable Fn button to the left of the lens. The Fn button is used to set bracketing increments, and can be assigned to a variety of AE, metering, image quality and command functions, with and without dial adjustments.
Menu*(7.00)*
---
The D300s offers a quick menu system, like many digital SLRs, but it's an oddball implementation. Pressing the INFO button once while shooting brings up a settings display. Pressing INFO again lets you change ten of these settings, but they're not the frequently used options we expect from a quick menu. Instead. you can choose a shooting menu and custom setting bank, turn High ISO and long exposure noise reduction on or off, set Active D-Lighting and color space, assign the preview, Fn and AE-L/AF-L button functions, and choose a Picture Control setting.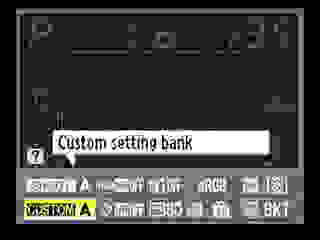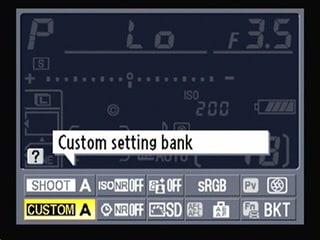 *The LCD info display can be used as a quick menu,
with limited functionality.*
The main menu system follows the familiar Nikon organizational structure, with tabbed sections on the left, in gray, and white text on a black background for the individual menu items on the right,  The section menus can be long (the setup menu has 21 entries, for example), so it would be handy if the control wheels could be used to scroll through your options. No such luck: you're stuck with the multi selector, which we found small and not especially responsive.
One nice touch when working through the menu system is the availability of on-screen help, by pressing the ? button.
Manual & Learning*(9.00)*
---
Nikon does a nice job explaining a complex camera, beginning with a pocket-size 64-page Quick Guide that does a surprisingly good job covering not just initial camera setup, but some of the features whose functions aren't instinctively obvious without a little help, such as using the dual memory card slots and assigning a task to the Fn button.
This is followed by a complete 400+ plus user manual (you can download a copy here) that is nicely organized, well written and comprehensive. As usual, we would like to see a more extensive, user-friendly index that covers concepts you might be searching for instead of simply words that appear in menus. If you want to explore your movie audio options, for example, you won't find the relevant info indexed under audio, mono, stereo, movie, video, soundtrack or anything else that strikes us as instinctive. Still, overall, this is a well prepared piece of documentation, made more useful if you access the downloaded PDF (with its search capabilities) rather than the printed book.
As we've seen before, Nikon offers a useful online tutorial, including extensive video segments, explaining the camera features and their benefits. You will find it by clicking here.
**Video: Color Performance***(9.14)*
---
The color accuracy on the Nikon D300S was very good according to our testing. The camera earned a color error of 3.83 with a saturation level of 83.38%. This color accuracy is better than the other cameras we used as comparison models (see below), although only by the slimmest of margins.  Click here for more on how CamcorderInfo.com tests color performance.
The Color Error Map above shows the D300S was most accurate in its rendering of red, brown, and dark blue tones, while lighter blues, greens, and yellows gave the camera some trouble. Still, it's overall color error of 3.83 is very good. If the colors the camera gives you in standard mode aren't deep enough, you can always adjust the color settings in the picture adjust menu (just like you would for photos). You can see sample images from the Neutral and Vivid color presets below. The 'Auto' setting seen below was obtained by using the camera's Standard color preset (all of our video testing data came from video shot using the Standard mode).
In the comparison images below you can see there isn't much difference between the D300S and the Nikon D5000 when it comes to color. The Canon 7D, on the other hand, captured a much more saturated image with its default color settings. The Panasonic GH1 also had a darker, more saturated image than the two Nikon models, but the difference wasn't as drastic as we saw with the Canon.
Each of the cameras in this set did very well in this test, so there's no reason for us to declare one as better than the other when it comes to color. As we said earlier, the Nikon D300S did have the best color accuracy in the group, but the difference wasn't significant. Besides, what constitutes good color is more of a matter of personal preference than anything else.
**Video: Noise Performance***(13.29)*
---
The D300S measured 0.2% noise in our bright light testing, which is a very good performance. We're accustomed to seeing low noise levels from video-capable DSLRs, however, and the Nikon D5000 managed a statically identical amount (0.1925% noise). The Canon 7D and Panasonic GH11 had just a hair more noise than the two Nikons, but all of these models did extremely well with this test. Click here for more on how CamcorderInfo.com tests noise performance.
Looking at the crops above you can really see the difference in sharpness between these four cameras. Keep in mind that the two Nikons do not capture Full HD video—they max out at a 1280 x 720 resolution — so it shouldn't be a surprise that the Panasonic and Canon, which can capture full 1920 x 1080 video, show a far more detailed image. Nikon did improve the video quality on the D300S a bit, however, as you can see the lines in the horizontal trumpet aren't jagged like they were on the D5000.
**Video: Motion Performance***(7.00)*
---
The Nikon D300S only has one frame rate option for shooting video and that's 24p. The camera uses this frame rate no matter what video setting is used to record video. Before we describe how the D300S did in our motion test, we must note that the camera did show signs of a rolling shutter issue. We've seen this problem, which is characterized by significant image wobble when you pan with the camera, on all the video-capable DSLRs we've tested — with the exception of the Micro Four Thirds cameras from Panasonic and Olympus. Click here for more on how CamcorderInfo.com tests motion.
Nikon D300S

*Click Here for large HD Version *
The D300S did better in our motion test than the Nikon D5000, mainly because its image had slightly less artifacting and it didn't have a problem rendering straight lines like the D5000 did. We also felt the D300S rendered fairly smooth motion with minimal trailing or blur. Overall, however, the camera didn't do as well in this test as the Canon 7D or the Panasonic GH1.
Canon 7D

*Click Here for large HD Version *
The Canon 7D can shoot Full HD video with a 24p or 30p frame rate. Other than the camera's rolling shutter issue (just like the D300S), we thought the 7D captured motion quite well. Its moving image was smooth, had low levels of artifacting, and didn't have a problem with blur.
Nikon D5000

*Click Here for large HD Version *
The Nikon D5000 rendered motion in a very similar manner to the D300S, only the D5000 was a bit worse. Most noticeable was the fact that the D5000 had difficulty capturing straight lines on the black and white pinwheel. The lines there looked jagged (almost like lightning bolts), which was very distracting. The camera also showed a bit more artifacting than the D300S, which makes it the worst camera of this set when it comes to motion.
Panasonic GH1

*Click Here for large HD Version *
The Panasonic GH1 captured choppy motion in its Full HD 24p setting, but the camera didn't have the rolling shutter problem that we noticed in the other models listed above. This has to do with the fact that the GH1 isn't technically a DSLR—it's a Micro Four Thirds camera. The GH1 is also interesting in that it offers both AVCHD and MJPEG compression options for shooting video.
---
The Nikon D300S didn't do very well in our sharpness test, although its poor showing was mainly a result of the fact that the camera has a maximum video resolution of 1280 x 720. The camera managed a horizontal sharpness of 600 lw/ph and a vertical sharpness of 550 lw/ph.
Full HD cameras, like the Canon 7D and Panasonic GH1, did significantly better in this test — as do most consumer camcorders that record HD video. Also surprising is the fact that the Nikon D5000 actually did slightly better than the D300S in this test, although not by much. Click here for more on how CamcorderInfo.com tests video sharpness.
**Video: Low Light Sensitivity***(9.04)*
---
The Nikon D300S required 7 lux of light to reach 50 IRE on our waveform monitor—a strong performance for the camera in our low light sensitivity test. The most notable part about the D300S' performance is the fact that it is a bit better than what the Nikon D5000 managed in our testing last year. Click here for more on how CamcorderInfo.com tests low light sensitivity.
When reviewing the light requirements in the table below and the chart above, keep in mind that much of what determines a low light sensitivity score is based on the lens used. If we had shot this test with a slower lens then the D300S would have probably done significantly worse. Still, these results should give you a basic idea of how well each camera handles low light sensitivity. The Canon 7D and Panasonic GH1 both offer multiple frame rates for recording HD video, so the table below lists the sensitivity results for each.
**Video: Low Light Color Performance***(8.49)*
---
The D300S didn't maintain strong color accuracy when we dimmed the lights for our low light testing. The camera registered a color error of 4.04 and a saturation level of 95.73%. These numbers are essentially the same as what we measured on the Nikon D5000, while the Canon 7D did a bit better overall. Click here for more on how CamcorderInfo.com tests low light color performance.
All four of the cameras shown below offered more saturated colors in our low light testing than they did in our bright light testing, and one — the Canon 7D—had better color accuracy in low light than in bright light. Overall, the same thing we said in our bright light color section applies here: all of these cameras did an excellent job rendering color in our testing. Some may like the darker tones captured by the Canon 7D, while others may prefer the bright images created by the Nikon cameras.
**Video: Low Light Noise Performance***(12.19)*
---
The D300S averaged 0.625% noise in our low light testing, which is a similar amount of noise to what we measured on the other three cameras shown below. Just as we saw with the low light color test, all of these video-capable DSLRs did very well in this noise test. Click here for more on how CamcorderInfo.com tests low light noise performance.
Of the cameras shown above, the Panasonic GH1 did the best job retaining sharpness and detail. The Canon 7D had a bit of blur in its low light image, but was still fairly sharp (it also had the most noise, but its levels were still low). The two Nikon cameras show little difference in sharpness, but you can see the D300S has straighter horizontal lines than the D5000 (an issue we talked about earlier in the Video: Motion Performance section of this review).
**Video: Compression***(6.00)*
---
The Nikon D300S uses the Motion JPEG (MJPEG) codec to record video, which is the same codec used on previous video-capable DSLRs from Nikon (the D5000 and the D90). The MJPEG codec has been around for a while, so compatibility with the video files captured by the D300S shouldn't be an issue. On the downside, Motion JPEG is also a bit out of date and it isn't as efficient as AVCHD. Many manufacturers employ the MJPEG codec on point-and-shoot cameras that feature video modes.
The D300S has one HD record mode that shoots with a 1280 x 720 resolution, and it has two standard definition settings. All three formats use 24p frame rates when recording video. The maximum file size for a single recorded video on the D300S can't be larger than 2GB. If a video clip reaches this size, video recording will automatically stop—and you must start it again (as a new clip) by pressing the record button again. There is also a maximum time limit of 5 minutes for video clips shot in the HD record mode (the SD modes have a 20 minute time limit).This clip length limitation is one of the many drawbacks of using the D300S as a video recorder.
**Video: Manual Controls***(4.00)*
---
The D300S suffers from some very poor controls in video mode. The camera barely has any manual control options — only exposure, white balance, and limited aperture adjustment can be made in video mode — and the camera does not have a continual autofocus function.
Auto Mode
The D300S doesn't have a very good set of automatic controls. For starters, the camera's autofocus system doesn't work unless you hold down the AF-ON button on the back of the camera (or hold down the shutter button halfway, depending on what mode you are in). When you do perform an autofocus, the camera's lens will shift and the autofocus light may come on for a moment — all things that will distort your video image if you try to autofocus while you are recording. The D300S isn't alone with this problematic autofocus, as most video-capable DSLRs lack a continual autofocus feature.
The D300S does have an auto exposure system that works in video mode, but we found the transitions to be choppy and slow. The exposure system on the D300S definitely doesn't work as smoothly or as quickly as on most regular camcorders. Some people may like this choppy transition effect as you move from light to dark shots, but we found it to be somewhat jarring.
Zoom Controls and Zoom Ratio
Zoom on the D300S entirely depends on what kind of lens you attach to the camera. We did our video testing using an AF-S Nikkor 16-85mm lens, which translates to a roughly 5x optical zoom. As with all DSLRs, the zoom is controlled by rotating the zoom ring on the front of the lens.
Focus
As we stated earlier, the D300S does not have a continual autofocus function. If you want to focus in video mode, you must either do so manually (by rotating the focus ring) or by pressing the focus button. If you choose to press the focus button, be prepared for the camera to take a few seconds to perform its autofocus (while simultaneously disrupting your video recording by altering exposure and shifting the lens).
Exposure, Aperture, and Shutter Speed
Exposure is the only setting that is really simple to adjust on the D300S in video mode. Even though it is easy, however, there is still a strange quirk involved. When setting exposure — which can be done during or prior to recording — the range for adjustment is -5 to +5 (in 1/3 EV increments). The thing is, only adjustments made between -3 to +3 EV have any effect in video mode. We're not sure why Nikon doesn't just alter the display to show the correct range in video mode, as this system makes things somewhat confusing.
Aperture can be set in video mode on the D300S, but in an even more confusing manner than exposure. First of all, aperture cannot be adjusted manually while you are recording video. To set the aperture you must do so without Live View mode engaged. Then you must go back into Live View mode to begin recording video. This roundabout function is the same setup Nikon employed on the D90 and D5000 and we hated it back then as well. Aperture is the most important manual control for a video-capable DSLR to have and Nikon gets it all wrong here.
Shutter speed cannot be set manually on the D300S despite the fact that the display gives you the impression that it is possible to adjust. As with the quirky exposure and aperture adjustment options, all this does is make the D300S video mode more confusing to use.
ISO* and Other Controls*
ISO is set to automatic on the D300S when you record videos. Like shutter speed, the camera gives you the impression that ISO can be set manually in video mode, but this is not the case.
The only other controls featured on the D300S that are available in video mode are white balance settings and some picture adjustment options. These settings work the same way in video mode as they do in photo mode, which makes them fairly simple to use if you're already familiar with them.
---
The built-in microphone on the Nikon D300S is absolutely terrible. It records mono audio, picks up plenty of unwanted mechanical sounds, and is placed in an area that is very likely to be covered by or rubbed against with your fingers when you grip the camera. The good news is, the D300S does have a 3.5mm external microphone jack. So, if you are at all concerned with audio recording you should connect an external mic to this input and record in stereo.
The other good news is that you can adjust the microphone sensitivity on the D300S. You have options for setting the mic to auto, high, medium, or low sensitivity — or you can turn the microphone off altogether. This whole package of audio features may not seem like much, but it is actually more than most video-capable DSLRs will offer in the audio department. Still, it is a far cry from what you would get on a high-end consumer camcorder (not to mention a professional or prosumer model).
---
The D300S is full of handling issues when it comes to shooting video. For starters, the camera has a very heavy frame that is sure to be a burden on anyone who is used to the light, compact design of modern consumer camcorders. Still, if you're used to lugging around a heavy DSLR, the D300S will be familiar to you (shooting video with its bulk, however, may not be).
We also don't like the stationary LCD on the back of the camera, as it makes framing your videos a terrible inconvenience. The LCD on the Nikon D5000 popped out and could be angled, which was excellent for shooting video on a tripod. On the D300S, however, you're stuck with painfully crouching behind the camera to frame your shot. Also, keep in mind that the viewfinder does not work in video mode, so all your video framing must be performed using the LCD.
Adding to the LCD difficulties on the D300S is the fact that the camera doesn't display its 16:9 frame markers until *after *you begin recording. This makes absolutely no sense, as the aspect ratio in the camera's video mode (16:9) is entirely different than the shape of the LCD. So, if you want to precisely frame your video you must do so while you are recording — thus wasting valuable battery life and memory card space.
As we've previously noted in our D90 and D5000 reviews, the D300S sensor will overheat after extended periods of use in LiveView mode (which is necessary for video recording). We've noticed this problem on all video-capable DSLRs with the exception of the Micro Four Thirds cameras from Panasonic and Olympus. When the sensor overheats the camera's Live View mode automatically shuts down (a countdown warning will appear on the LCD before this occurs). The amount of time you have to wait before you can use Live View mode varies drastically, but we found it was best for the camera to sit for at least 10 minutes before you use it again.
Overall, we're disappointed to see Nikon didn't really improve the overall quality of its video mode on the D300S. Yes, the video performance is stronger than last year's D5000, but the handling of the D300S is actually worse. The camera is big and bulky, has terrible manual controls in video mode, and has too many quirks for it to be a reliable video recording device.
Performance
The Nikon D300S delivered significantly better color accuracy than the Canon 7D, though its white balance score was lower, with the 7D auto WB system posting superior results. As for noise, the 18-megapixel resolution on an APS-C sensor used in the 7D had us wondering: we expect trouble when a manufacturer crams more megapixels onto a small sensor, and the 12.3-megapixel Nikon D300S did produce lower-noise images in our bright light testing. In low-light, long exposure testing, though, the Canon 7D held a definite edge. In our resolution testing, the Nikon produced lower chromatic aberration than the Canon, but the 7D had superior sharpness results, albeit with very different lenses. In video shooting, the Canon 7D boasts a 30fps frame rate versus 24p for the Nikon, and 1080p resolution versus Nikon's 720p, giving it a tested edge in both smooth motion capture and video sharpness. As with our still image testing, the Nikon has an advantage when it comes to accurate video color reproduction.
Components
The two cameras are roughly equivalent in physical attributes, with bright 100% viewfinders, 3-inch 920,000-dot LCDs and weather-sealed magnesium-alloy bodies.The Canon has significantly higher resolution while maintaining acceptable noise performance, a consideration if you're after enormous prints or tight crops. The Nikon supports two memory cards simultaneously, and will connect directly to an optional GPS.
Handling
We give the Canon a narrow edge here, but this can be chalked up to personal preference rather than hard-and-fast superiority. Both cameras have excellent right hand grips, though we found the Canon shape and size a bit more comfortable. We aren't fans of the multi selector button on the Nikon camera back, which feels less responsive than the Canon multi controller joystick, and Canon's vertically mounted quick control dial feels faster and easier to manage than the standard Nikon thumb dial. We also prefer the Canon Quick Control screen, which provides fast access to nearly all the key shooting controls, to the far more limited quick menu system implemented by Nikon.
Controls
While the Nikon D300S has more autofocus points (51 versus 19), the number is basically meaningless; the focus performance on both cameras feels roughly the same, and we like Canon's sophisticated zone system that lets you limit autofocus to a section of the scene. If video shooting is a major draw for you (and it is the biggest difference between the Nikon D300 and the D300s), the Canon 7D offers not only higher resolution, but more advanced manual controls.
NOTE: The images above are not used in our testing or scoring, but are included here to show real-world examples of the differences between cameras at the various ISO settings.
Performance
The Nikon D5000 produced strong results for an inexpensive SLR in our lab testing, with only resolution producing a noteworthy hiccup. Looked at the two 12.3-megapixel Nikons side by side, we find both scored very well in color accuracy. While the D300S offers a much faster burst rate and resolution results, the D5000 long exposure performance scores were higher thanks to lower image noise under low light with slow shutter speeds. 
Components
The D3000S, by its nature, is a far more impressive piece of hardware, with the kind of solid construction and weather resistance found in an  advanced camera, along with a terrific 100% viewfinder and beautiful 3-inch high-res LCD. Within its price class, the D5000 is a worthy competitor, but you do get what you pay for when it comes to component quality.
Handling
The D5000 is a lightweight camera with a reasonable grip (a better textured surface would have helped) and an articulated LCD that folds down to allow shooting from above or below, a nice touch. There's a single control dial versus the D300S's dual-control system, which complicates manual exposure shooting, but overall it's a nice design. In fact, the D5000 has two features we'd like to see on its higher-priced sibling: an LCD info display that pivots to match the camera orientation when you hold the camera vertically, and a complete quick-access menu for shooting settings. The D300S fits a different set of needs, with a rugged body that you don't have to baby in difficult shooting situations, a substantial rubberized grip and detailed controls that are hard to learn but, once mastered, very effective. **

**
Controls
The two cameras share a 12.3-megapixel resolution spec, an ISO 200-3200 range, expanded to 100-6400, and offer the option to shoot RAW files (though TIFF fans are destined for the D300S). They also support the same 5-stop exposure compensation settings. The D300S provides a much faster burst speed, though (over 7 shots per second versus 4 for the D5000), a faster top shutter speed and far more customization flexibility. The D300S and D5000 share Nikon's 720p 24fps video approach, which hasn't tested especially well against other systems, but the D300S does include an external mic jack for stereo recording.
NOTE: The images above are not used in our testing or scoring, but are included here to show real-world examples of the differences between cameras at the various ISO settings.
Performance
The D300S comes out ahead in nearly all our still image testing, with the exception of white balance. The GH1, with its smaller sensor, tends to be a noisy camera, which impacted scores in bright-light image noise and long exposure shooting. Color accuracy is also far better for the D300S, and burst speed is more than twice as fast. Looking at our video tests, the 1080p, 24fps video shot with the GH1 isn't as color-accurate as the Nikon D300S at 720p, but it is sharper, and doesn't suffer from the rolling shutter wiggle while panning experienced with the D300S and other video-enabled SLRs.
Components
The GH1, since it isn't a true SLR, relies on Live View on the 3-inch LCD, plus an electronic viewfinder which is sharp and bright enough, but tends to stutter in low-light and fluorescent-illuminated situations. For eye-level shooting, the D300S optical viewfinder is clearly superior. If you like shooting at arm's length, though, the GH1 Live View system has clear advantages: the screen is lower-res but hinged on the left, folding out for greater stability when shooting video and more freedom to shoot stills or video from different angles. And the contrast-detect autofocus system employed on the GH1 moves quickly enough to be practical, versus the slow-poke D300S implementation. When relying on the viewfinder, of course, the D300S autofocus smokes the GH1. As for construction, the GH1 is a nicely built plastic body, but the D300S is a small tank. Of course, it also weighs more than twice as much.
Handling
There are two basic body types among Micro Four Thirds cameras today, the compact style exemplified by the Olympus E-P1 and Panasonic GF1, and the more SLR-styled configuration used here. The GH1 is small for an SLR, but it's not all that small, at 4.88 x 3.29 x 1.78 inches. Still, it's far more portable and transportable than the D300S, which is basically an inch larger in every direction and more than double the heft. The D300S has a much more comfortable grip, though, wider than the GH1 and covered with a rubberized surface that feels far more secure than Panasonic's plastic. The D300S also has a superior control scheme, with dedicated buttons for key functions rather than the menu-based GH1 system, and with the GH1's front-mounted control dial that tends to fall uncomfortably under your right index finger, initiating unwanted adventures in exposure compensation.
Controls
The GH1 provides scene modes and automation options that will appeal to less experienced shooters, while the Nikon D300S sticks rigidly to the basic shooting modes (albeit with enough customization options to make the most persnickety settings-tweaker smile). The two cameras offer similar top resolution, though you have an extra stop of ISO flexibility on the top end with the D300S. When it comes to burst mode, the D300S blasts through a satisfying 7 full-res JPEGs a second to the ordinary 3fps of the GH1.
NOTE: The images above are not used in our testing or scoring, but are included here to show real-world examples of the differences between cameras at the various ISO settings.
Performance
The pendulum swings in interesting directions when comparing these two cameras. The Sony offers more megapixels (14.2 versus 12.3) and a higher top ISO (up to 12800), along with a slightly lower overall image noise score (the high ISO results are not impressive, though overall the A550 did outscore the Canon 7D here). Nikon color accuracy is better, and while the Nikon tested lower for chromatic aberration, the Sony had superior sharpness results. As for white balance, dynamic range and long exposure testing, these contests all went to the A550, which had a high color error but low image noise when shooting under low light at slow shutter speeds. 
Components
The D300S viewfinder is far superior to the adequate Sony version. When it comes to LCDs, the two cameras offer equally good-looking, high-resolution screens, but the Sony display is hinged at the bottom, allowing it to be pulled out and pivoted up or down for overhead or low-level shooting. It's not our favorite screen articulation option (a side hinge, or a drop-down that turns to face forward for self-portraits makes more sense), but some flexibility is better than none here. The Sony lens family is decent, but you'll certainly have more options with the Nikon lens mount, and Sony's decision to use a proprietary hot shoe format is annoying when looking for external flash units. Interestingly, both of these cameras will accept two memory cards simultaneously (Memory Stick PRO Duo plus SD/SDHC card for the Sony), but only the Nikon can access both simultaneously, which offers valuable storage flexibility. As for fit and finish, the Sony A550 is built well, the Nikon D300S is built like a battleship.
Handling
The Sony A550 is bulky for its class, but the grip is well shaped, with a secure rubberized surface. We're not crazy about the four-way controller here, but the Nikon multi selector is no better. The dual-wheel Nikon design makes manual exposure shooting faster, and the use of shooting banks and custom settings banks makes switching several settings at once a snap. We do prefer the mode dial and button approach to changing exposure mode, ISO setting and drive mode used on the Sony to the Nikon press-hold-and-turn approach, though.
Controls
The camera function and settings customization options for the D300S are far more detailed than the A550, targeted to the user who will appreciate this level of fine control. The Sony has a wider ISO range, but a narrower exposure compensation capability, and the Nikon offers a top shutter speed of 1/8000 second versus 1/4000 for the Sony. We were intrigued by Sony's unique in-camera high dynamic range (HDR) shooting, which works even if you hand-hold the camera, as long as your subject isn't moving. Both cameras are about equal in burst rate shooting, which given the price difference is pleasantly surprising. Of course, the Sony A550 lacks any video recording capability, while the Nikon D300S supports 720p recording at 24 frames per second, with the welcome option of using an external microphone.
NOTE: The images above are not used in our testing or scoring, but are included here to show real-world examples of the differences between cameras at the various ISO settings.
Meet the tester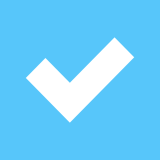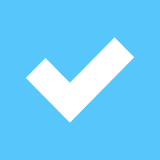 Steve Morgenstern
Editor
Steve Morgenstern is a valued contributor to the Reviewed.com family of sites.
Checking our work.
We use standardized and scientific testing methods to scrutinize every product and provide you with objectively accurate results. If you've found different results in your own research, email us and we'll compare notes. If it looks substantial, we'll gladly re-test a product to try and reproduce these results. After all, peer reviews are a critical part of any scientific process.
Shoot us an email