The Nikon D4 is the company's newest flagship full-frame professional DSLR, offering a 16.2-megapixel image sensor and 10fps continuous shooting. The large sensor and relatively low pixel count maximizes the camera's low light potential, offering a combination of speed and flexibility designed to appeal to news, sports, and action photographers. The D4 also comes with a host of state-of-the-art features to appeal to both photographers and videographers, including support for the new XQD memory card format and a maximum ISO sensitivity of 204,800. Overall, the Nikon D4 is a durable, professional workhorse for more than just weekend warriors. It will begin shipping in February for an MSRP of $6000 body-only.
The Nikon D4 is very much a refinement of previous D-series cameras, with a body that very closely resembles the previous Nikon D3s. The main differences are in the collection of ports and compartments on the camera, with upgrades like XQD card and ethernet support that should speed up the camera's integration with a modern workflow. The design of the body itself is all function over form, with a landscape/portrait dual grip familiar to the full-frame DSLR market. There have been some slight improvements to control scheme when shooting by the portrait grip, likely to appeal to photographers who need to get professional-quality portraiture on the go in challenging settings.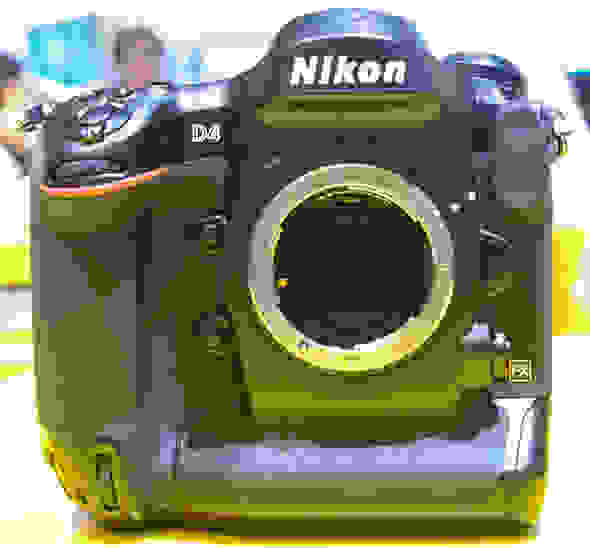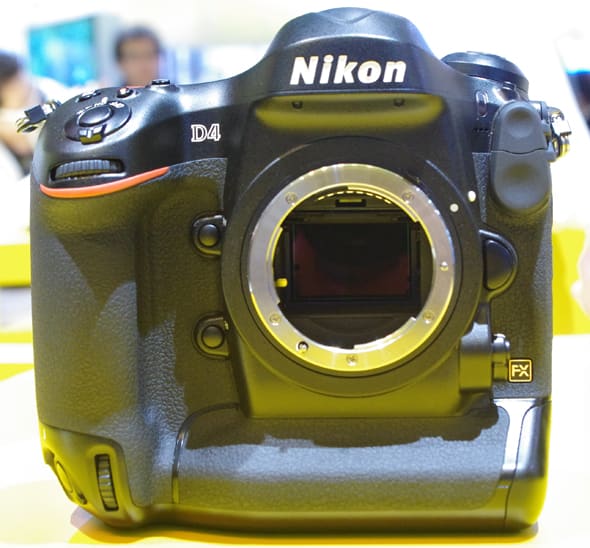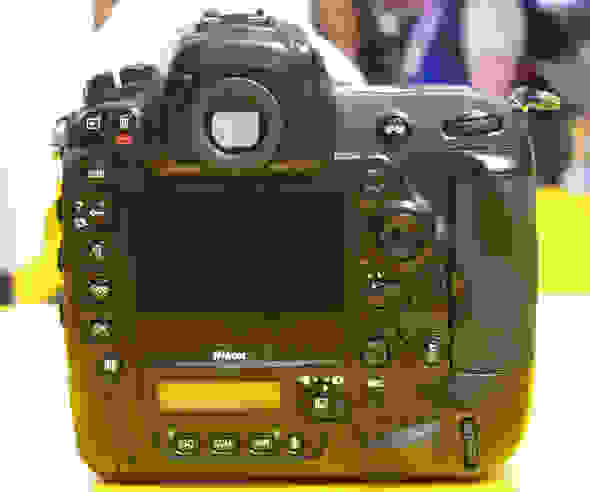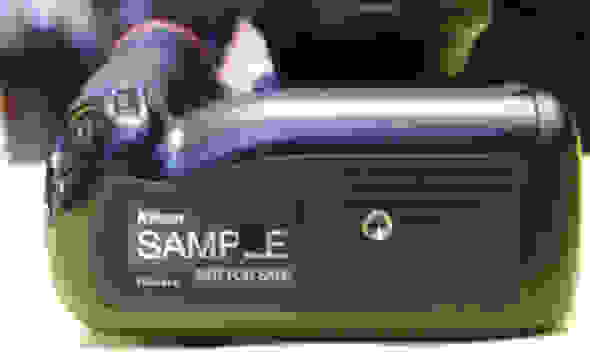 The menu system on the D4 is typical Nikon, utilizing color-coded menus with vertically oriented tabs that leave some options off-screen. That can result in some headaches if you're switching systems to grab the D4 (you'll have to dig to find options at first), but previous Nikon D-series shooters will feel right at home with the camera's design. If you're stepping up to the D4 from other DSLRs you will similarly find that the menu isn't difficult to pick up, but some options may be hidden in menus you were not expecting.
If the price wasn't a big enough flag, we should be clear: the Nikon D4 is a professional DSLR, designed for professionals who need a camera that is always ready to perform, for whom price and size aren't concerns paramount to quality. It's fairly clear that the camera is not "easy to use" as far as the the photo-taking population at large is concerned.
For a professional camera, however, the D4 is inviting and sophisticated, with minor tweaks to an established design. The control layout is nearly identical when shooting in either portrait or landscape orientation, with familiar access to the control joystick, top and thumb control dials, shutter release, and programmable function button. The only minor difference is in the placement of the curved thumbrest when holding the camera by the portrait grip, as it's actually part of where the right palm normally slots against the body so it juts out more toward the center of the camera.
The menu is also fairly extensive, but Nikon has included their "My Menu" feature, allowing the user to place specific, frequently-accessed menu settings under one tab. There's going to be a learning curve for new users there, but once up to speed the D4's menu will accommodate even the most demanding workflows.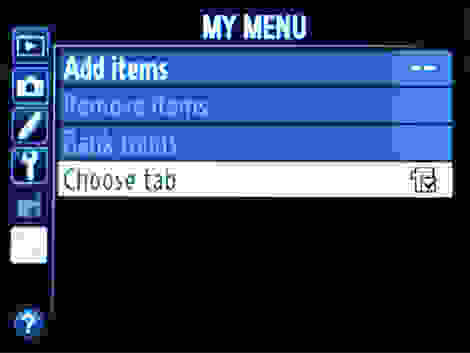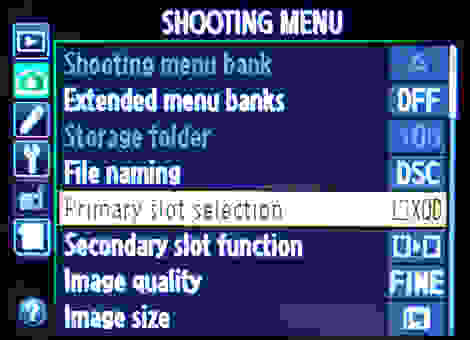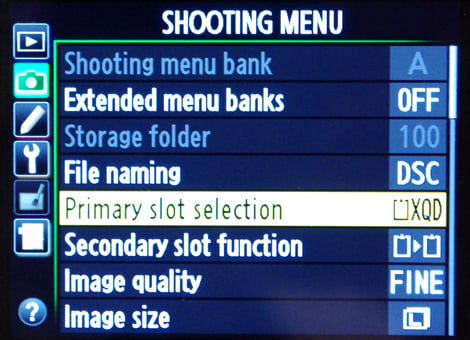 The D4 offers improved ergonomics for professionals compared to previous D-series cameras. The main changes come in the rear control layout, which has been altered slightly to better align with users shooting by the portrait grip. The result is less haphazard than previous D-series efforts, with two (partially customizable) joystick-like controls for navigating the menu and making changes to various shooting parameters.
The camera body itself is large compared to most DSLRs, but it is not particularly heavy, similar to what full-frame digital cameras in the past have offered. Those who have shot with either the Nikon D3s or Nikon D3x (or many Canon full-frame DSLRs, for that matter) will feel comfortable with the size and weight of the camera. The D4's grip is not plush, but it's very secure and aligns with the hand quite well, allowing comfortable control. Those with petite hands may have difficulty operating all the various functions at once, but this is more or less par for the course with full-frame DSLRs.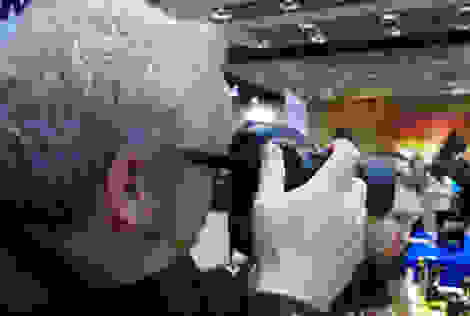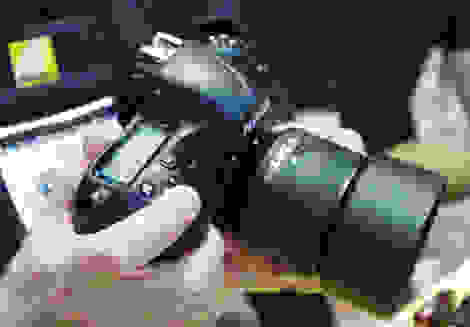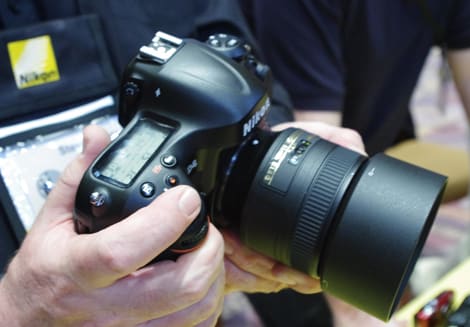 The D4 does not contain the typical bevy of shooting modes you would see on a lower end or enthusiast camera, as it's designed for professional use. The camera offers program auto with program shift, aperture and shutter priority, and manual exposure modes. For those who can recite the F-stop scale in 1/3rd increments while standing on their head, this is more than enough to get the job done. Modes are indicated on the secondary display on the top plate of the camera, and users can switch between them by pressing the dedicated "mode" button on the top of the camera while rotating the control dial.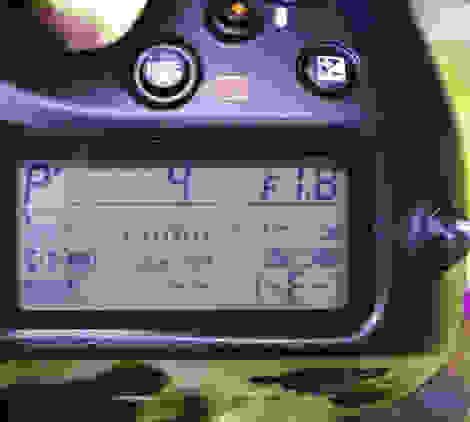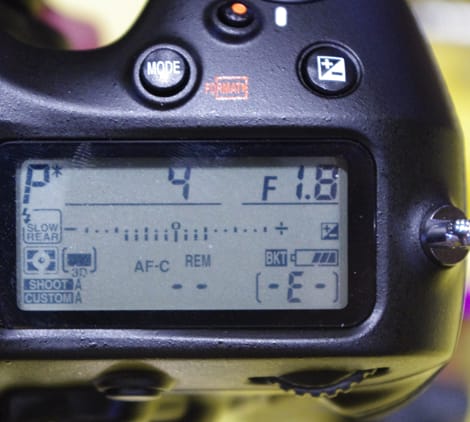 There's very little need for simplification on a camera like the D4, but the camera does offer a shiftable program auto, aperture/shutter priority program, and manual modes. The camera offers a new 91,000-pixel RGB metering system, designed to better judge lighting conditions and optimal color balance when exposing automatically. The automatic modes have full access to the range of shutter and aperture values, with options for shutter speeds ranging from 30 seconds to 1/8000th of a second while aperture is lens-dependent.
The Nikon D4 offers full 1080 HD shooting at either 30 or 24 frames per second, with 60fps available at a resolution of 1280x720. The camera utilizes H.264 compression with B-frame compression, designed to offer increased quality at a similar file size to previous efforts. The D4 is one of the most capable video-capable DSLRs we've seen, with full ISO, aperture, and shutter speed control available. When recording using the camera's uncompressed HD signal output (so no memory cards), full aperture control is available using the depth of field preview and function buttons on the front of the camera. The result is silent, stepless aperture control that can be used for pulls while recording. When shooting video to the memory cards, exposure control is locked, according to Nikon.
The D4 also allows for audio control, with on-screen level indicators, an included stereo microphone jack and, in a first for DSLRs, a built-in stereo headphone jack for monitoring audio. In many video workflows, especially those doing documentary or one-time interview work, capturing clean audio is essential to a successful production. When you consider the fact that you've probably got a headphone jack on a device in your pocket right now, it's a little ridiculous it's taken this long for a DSLR to include one.
The Nikon D4 also includes the aforementioned uncompressed HD signal output, which can be utilized in a number of ways. Videographers and photographers can use that to hook up to an external monitor for judging color, focus, and exposure on a larger, more accurate LCD screen. That signal can also be recorded for later, more controlled compression. The D4 also allows for simultaneous output of the signal while in live view. Better still, the output is a completely clean signal, meaning there are no symbols or blurbs of text on the screen, so shooters can see exactly what their camera is recording at that moment.
All in all, if the video quality (especially in low light) can match the ambition of these touches, the Nikon D4 may become the new king of video DSLRs for high-end professional videography.
The Nikon D4 utilizes a new EXPEED 3 image processor to handle data coming off the sensor. As a result the camera is capable of up to 10fps burst shooting with continuous autofocus. If users are willing to lock in autofocus that number can jump to 11fps. That's enough to make the D4 a very capable camera for action photography, especially combined with the ability to use cross-type AF sensors with teleconverters. The camera also includes a self-timer with a delay of two, five, 10, or 20 seconds available all electronically timed.
The Nikon D4's 3.2-inch rear LCD screen is great for quick playback functions, such as checking exposure and focus. The camera offers a playback zoom, with auto image rotation, and the option to view image at full-frame or in a thumbnail view of four, nine, or 72 images per screen. The D4 also allows the typical in-depth informational readout in playback that you might expect, able to call up shooting information, GPS data, full histograms, image comments, IPTC metatag information. Users can also play back movies, slideshows (of either stills or movies), or record and play back a voice memo about a particular image.
When shooting with an FX-compatible (full-frame) lens, the D4 allows users to shoot at a maximum resolution of 4928x3280 in 3:2, 4096x2720 in 1:2, or 4096x3280 in 5:4 aspect ratios. If using a DX-format lens (for APS-C size DSLRs), then the sensor automatically crops down and offers a maximum of 3200x2128, which is just 6.8 megapixels. Basically, you shouldn't expect to get your money's worth if you're upgrading from an APS-C Nikon to the D4 unless you own FX-format lenses.
The D4 offers a similar 51-point autofocus system as the one that has appeared in the D700, D3s, and D3x, so it's certainly well-traveled. The system offers 15 cross-type sensors, as well as nine that are compatible with the TC14E (1.4x) or TC17E (1.7x) teleconverters and a single cross-type that works with the TC20E (2.0x) teleconverter with apertures up to f/8, again showing how the D4 is aligned to appeal largely to sports and wildlife photographers.
The camera also offers live view with contrast detection autofocus anywhere in the frame, with face priority and subject tracking AF options available. Nikon claims in its press release for the D4 that the AF sensor has the ability to detect and properly focus and expose up to 16 human faces when shooting through the optical viewfinder, though the full specifications list face priority as working in live view only.
The Nikon D4 allows users to select from shutter speeds anywhere from 1/8000 to 30 seconds in full, 1/3-, and 1/2-stop increments. Aperture is lens dependent, of course, but the camera allows the same level of control. When outside of manual mode, the camera's new 91,000-pixel RGB metering sensor exposes automatically. The new sensor sports a sensitivity range of -1 to 20 EV in multi and center-weighted metering, though this shrinks to 2-20 EV with spot metering activated.
The D4 offers a native ISO range of 100-12,800, with options for extending that from 50-204,800. That gives it a full native stop under the D3s, which could help maximize dynamic range. While the low setting of 50 is likely a trick of exposure, the high setting should represent a true measure of sensitivity, though it's unknown how noisy those images may be. Nikon hasn't allowed any sample images taken yet, though the camera's 7.3-micron pixel pitch is sure to yield some impressive low light results. We'll have to wait to get the camera into our full testing lab to see for ourselves, however.
White balance control comes in a variety of flavors on the D4, with two types of automatic white balance correction, four savable custom measurements, direct kelvin entry (2500-10000K), and 12 presets (including seven types of fluorescent correction). White balance settings are accessed by a button on the rear of the camera beneath the LCD.
The Nikon D4 does not feature any in-body image stabilization, relying instead on vibration reduction technology found in Nikon's lenses. This is done so that the stabilization can be fine-tuned for each individual lens and so the image will be stabilized while looking through the optical viewfinder instead of only during capture.
Nikon offers a full measure of color modes, titled "picture control," as in their other DSLR models. These can be tweaked and saved by the user to offer a specific color balance for the final image. In playback, there's actually a decent amount of in-camera editing options available on the D4, including options for adjusting color balance, d-lighting, distortion control, RAW processing, perspective control, quick retouching, resizing, red-eye correction, side-by-side comparison, straightening, and trimming images. There are also color outline, color sketch, miniature, monochrome, fisheye, selective color and other digital filter effects.
Interestingly enough, Nikon also offers in-camera HDR and in-camera timelapse functionality. They also stated that the two features can be combined, producing HDR timelapses right in the camera without nearly as much editing required in post-production.
The Nikon D4 uses the same "F" lens mount that Nikon has been using since 1959, allowing users access to a vast library of lenses. Compatibility will be limited somewhat when using older, non-CPU lenses, but the full-frame sensor will closely replicate the viewing angle of 35mm film on most older lenses. The lens mount is as sturdy as you would expect from a professional camera like this, and looks built to withstand plenty of lens swapping and heavy use.
The sensor in the D4 is a full-frame 16.2-megapixel CMOS imager, with an impressive pixel pitch of 7.3-microns. That gives it one of the lowest pixel densities of any full-frame camera on the market and it could give Nikon a big boost in low light capability over the competition. The sensor's native ISO range extends from 100-12800, with the much-ballyhooed 204,800 ISO corresponding to Nikon's "Hi-4" setting (they usually only go to Hi-2, so there may be a "keeping up with the Joneses" element there). The D4's native ISO range puts it at a full stop on the low end over the previous D3s, which should improve dynamic range with the camera due to having a "true" ISO 100 rating.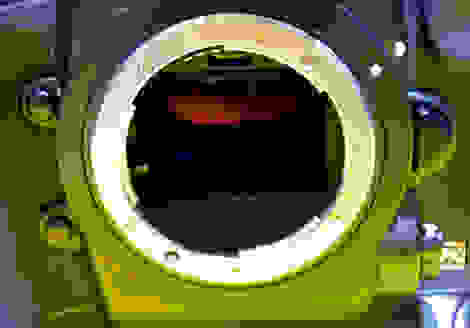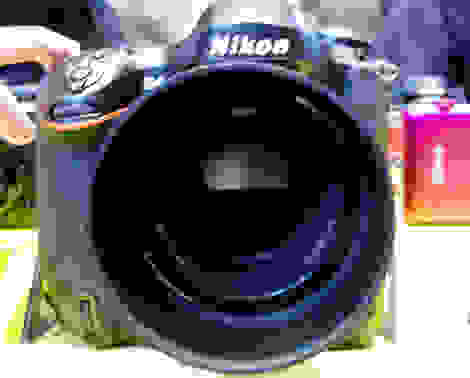 The D4 gets a small upgrade in terms of LCD size, moving to a 3.2-inch screen with a 921k-dot resolution. The LCD does not flip away from the body, but the camera does allow for uncompressed HD signal output to an external monitor. Though this function is clearly aimed at videographers who are used to using external LCD screens with their rigs, it will function in all shooting modes on the D4, which should be a boon to some workflows.
The LCD itself is clear and sharp, with excellent color representation as far as we could tell in our time with the camera. Focus adjustments are easy if you're shooting in live view with the rear monitor, though that will inhibit some of the camera's functions like phase-detection autofocus, so standard optical viewfinder shooting is preferred.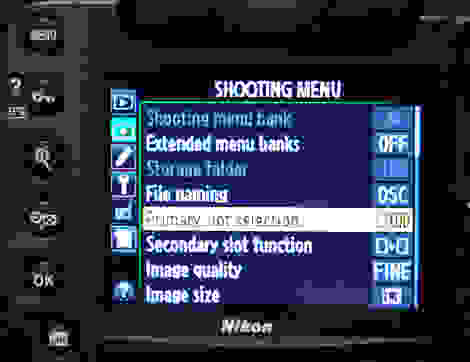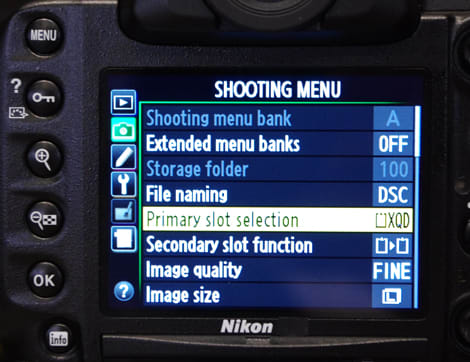 The Nikon D4 inherits the viewfinder from the Nikon D3s, sporting a fixed eye-level pentaprism with 100% coverage and a magnification of 0.70x. The coverage drops to 97% when shooting with a DX-format lens on a cropped sensor. The viewfinder has an 18mm (-1.0m¯¹) eyepoint, with a diopter adjustment of -3 to +1 m¯¹. The viewfinder is as bright and clear as we've come to expect on D-series Nikons, with almost no noticeable light loss compared to viewing the scene with just your own eyes.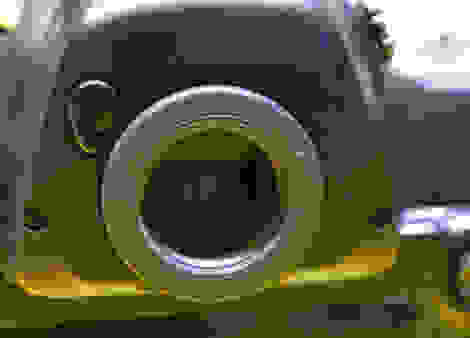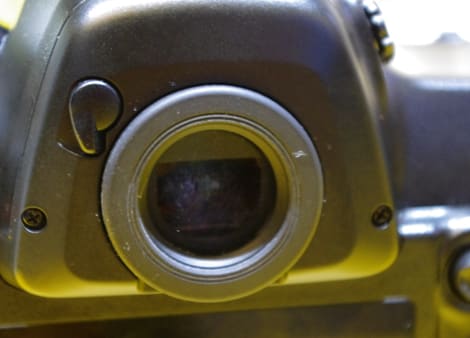 When using a flash with the D4, flash exposure is measured through the lens using the 91k-pixel RGB sensor only when using the SB-910, SB-900, SB-800, SB-700, SB-600, or SB-400 Nikon speedlights. Users can set flash compensation between -3 and +1 EV in full, 1/3-, and 1/2-stop increments. Flash bracketing is also available with options for two to nine shots, again in full, 1/3-, and 1/2-stop increments. The D4 has both an accessory hot shoe and a flash sync terminal and offers sync control modes that include: auto high-speed sync (max flash sync is 1/250 of a second), front- and rear-curtain sync, red-eye reduction, red-eye reduction with slow sync, slow rear-curtain sync, and slow sync. Basically, short of wireless flash control if your flash can do it, the D4 can accommodate it.
The Nikon D4 comes packed with many of the latest touches designed to appeal to professionals looking for an enhanced digital workflow. The inclusion of an ethernet port matches Canon 1D X's and should be useful for wire service photographers who need to wirelessly (with accessories) transmit photos or those who need to dump a large amount of data quickly. As with everything, it will depend on how well Nikon implements this feature on the software side of things, but it's an interesting touch both Canon and Nikon now share in their flagship pro DSLRs.
Nikon has certainly listened to their audience in choosing which ports to include on the D4, as they now include both a stereo microphone and a stereo headphone jack, which will help videographers more accurately judge the audio quality of their recordings. The D4 will also include a mini-HDMI port that allows for a clean, uncompressed HD signal output to either a recording device or an external LCD monitor. Those two concessions alone could make the D4 the new favorite of videographers on the go.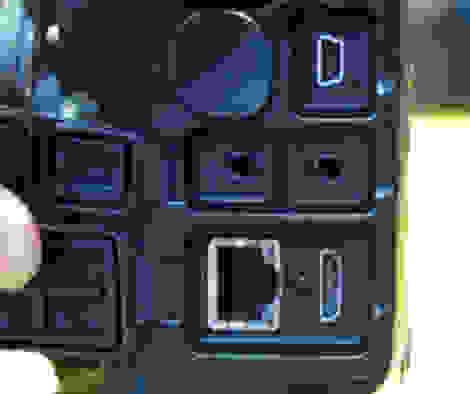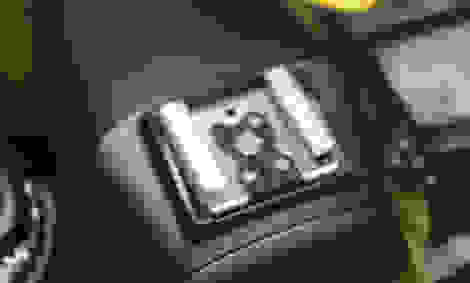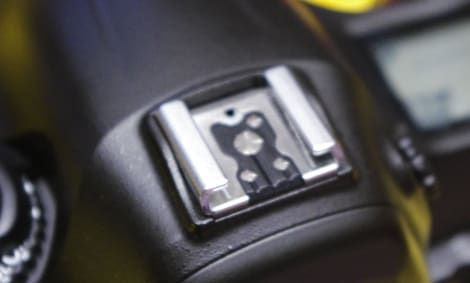 Compared to most DSLRs, the EN-EL18 battery on the D4 is a workhorse, designed to hold a charge through multiple days of a professional's workflow. The batteries should take around 90 minutes to go from empty to a full charge, with a CIPA rating of around 2,600 shots. Unfortunately, that's far below the 4,000+ shots the EN-EL4/EN-EL4a batteries on the D3s and D3x are capable of.
Of course, 2,600 shots is a lot on its own, but it's a big step down from the previous rating and it renders obsolete any EL4 batteries owned by those upgrading from the D3s. The reason Nikon gave us to explain the change in battery is stricter controls in Japan over battery voltage and capacity, meaning previous battery models were not a viable option. This is sure to be a fairly big frustration to those looking to upgrade from the D3s to the D4, especially if they've invested in a number of extra batteries already.
We should note that the CIPA testing parameters involve powering the camera on and off every few shots, a usage scenario that is different from the workflow of most professional sports and action photographers. Nikon claims that the EN-EL18 battery actually offers improved performance over the EN-EL4/4a when being used to snap pictures in bursts without constantly powering the camera off and on (as CIPA testing calls for), as well as better performance in cold weather. We'll know for sure when we test the camera ourselves, but for some photographers who don't snap hundreds of photos in a short period of time (wildlife photographers, for instance), know that the D4 does struggle when compared to older DSLRs when allowed to power down frequently.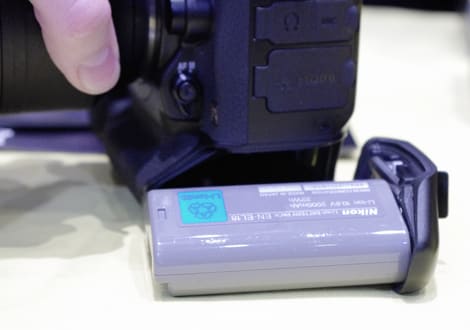 The D4 includes two memory card slots, one for newly-designed XQD memory cards and one compatible with UDMA Type-1 Compact Flash cards. These are different size slots and thus not cross-compatible, though there are copying and file management options that help get around this. XQD cards are designed to speed up professional workflows and offer faster transfer speeds than traditional CF cards.
The first line of XQD cards has been announced by Sony and will feature read/write speeds of up to 1Gbps/125Mbps. Sony claims that with the Nikon D4, their cards are capable of recording up to 100 RAW frames continuously. The two card slots are located on the the right of the back of the body behind a compartment that is opened by a small plastic switch.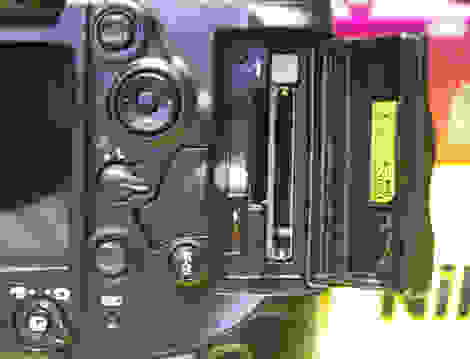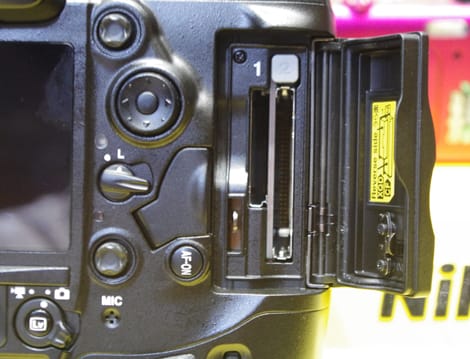 Since Nikon released the radical video-capturing D90 back in 2008, DSLRs have infiltrated nearly every level of professional video production. The Nikon D4 is an attempt to recapture the momentum of the video-shooting DSLR craze from Canon while adding significant upgrades to the Nikon D3s. In the process, the D4 will become Nikon's new flagship and their go-to model for sports, action, and news photographers.
Picking up the D4 it's immediately obvious that Nikon haven't taken the D-series completely back to the drawing board, instead favoring minor tweaks to an established design. The D4 is lighter than the D3s, but it manages to offer an increased measure of control with the addition of programmable joysticks. One of those is placed for exclusive use when holding the camera by its secondary grip, and the result is menu navigation that is streets ahead of the D3s.
For a body-only price of $6000, the Nikon D4 offers an impressive array of high-end features for the professional user. In spending time with the camera, though, it's refreshing to see some of the seemingly basic features that have eluded DSLRs in the past. It seems silly that even something as simple as a headphone jack to monitor incoming sound has yet to find its way into a DSLR. That is just one of the small touches Nikon has added to appeal to a growing base of professional DSLR videographers.
That isn't to say the still photographers have gone unnoticed; indeed, they're still the D4's main audience, with subtle changes to the control scheme improving the shooting experience dramatically. It's a camera that, from the moment you pick it up, begs you to get out and shoot.
It's also important to note the technical improvements as well: speedy 10fps capture at the full, 16.2-megapixel resolution, a maximum ISO speed of 204,800, and full control of exposure while recording full HD video. Combine these features and you have a camera that should drink in light regardless of the conditions. There are some setbacks—a nearly 40% decrease in battery life compared to the D3s chief among them—but overall the D4 is an impressive specimen to shoot with.
We're not stretching when we say that the Nikon D4 has the potential to be the best video-capable DSLR on the market. Can Nikon offer the video quality to match that ambition? Can Nikon recapture the large share of the sports and action photography/videography world that they've ceded to Canon? We'll have to get the D4 into our labs to make a final judgement, but Nikon's latest looks like a sign that the company is finally willing to throw its weight around. At the very least it's clear they're ready to take the kind of risks that kicked off the video-capable DSLR era in the first place.
Meet the tester TJ Donegan
Executive Editor
@TJDonegan
TJ is the Executive Editor of Reviewed.com. He is a Massachusetts native and has covered electronics, cameras, TVs, smartphones, parenting, and more for Reviewed. He is from the self-styled "Cranberry Capitol of the World," which is, in fact, a real thing.
Checking our work.
Our team is here for one purpose: to help you buy the best stuff and love what you own. Our writers, editors, and lab technicians obsess over the products we cover to make sure you're confident and satisfied. Have a different opinion about something we recommend? Email us and we'll compare notes.
Shoot us an email