The J1 is the junior of these two newly released Nikon models, featuring a plastic body, a built-in flash, and an interchangeable lens system. It's notably lacking a hot shoe, accessory port, or electronic viewfinder, but it's among the smallest interchangeable lens cameras yet developed. The J1 will launch in several colors along with four CX lenses—designed to work with the J1 and V1's unusually small image sensor.
The J1 has a quality build, but that doesn't mean it's the easiest thing to hold on to.
Nikon needs more time to develop the lens system for this J1, but the camera itself is well-designed. We found the plastic body to be quite well-balanced. The lens mount is metal, as are the mounts on the lenses themselves, which should aid durability. The camera isn't designed with enthusiasts in mind, as there's no hot shoe or electronic viewfinder. At least the rear 3-inch LCD screen is clear for the most part, great for fine focus adjustments, though it darkens some in direct sunlight. The main issue we have with the J1 is the lack of grip on the camera body. The plastic shell on the front of the camera offers nothing to hold onto, with just a small patch of rubber for the thumb on the back. The entire shooting experience then becomes relatively unstable, especially when changing lenses on the fly. Larger lenses will surely exacerbate the problem.
This is really one of the better menus Nikon has designed in recent memory.
We do reserve some praise for Nikon's menu design on the J1, which is clean, functional, and very easy to learn. Navigation is quick and concise, with few wasted keystrokes or movements. We would've greatly preferred if the mode dial were fully fleshed out (aperture and shutter priority modes are missing), but overall it shouldn't overshadow what is really one of the better menus Nikon has designed in recent memory. That the menus on many other compact system cameras are often a jumbled, byzantine mess—we're looking at you, Olympus E-PL2—certainly helps the J1's cause here.
The Nikon J1 features... few features.
The J1 doesn't offer a great deal of control beyond the usual manual and priority modes—even scene modes are beyond user control. Nor does this camera wow with a laundry list of special effects. Even the mode dial has only four items, even though it could have fit twice that number. The selections here include Still Image, Movie, "Smart Photo Selector," and "Motion Snapshot."
The J1 is aimed squarely at point-and-shoot graduates, eschewing the trappings of enthusiast cameras that have so far defined the mirrorless system market.
Also, unlike other compact mirrorless system cameras, the J1's level of customization is very limited. There is a context-sensitive "F" button that occasionally changes function, and the "OK" button on the rear control pad often accesses mode-specific settings such as manual focus, but that about does it. This isn't a deal-breaker, but merely a sign that the J1 is aimed squarely at point-and-shoot graduates, eschewing the trappings of enthusiast cameras that have so far defined the mirrorless system market. This fat-trimming also manifests through the limited in-camera editing suite. For still images, users can rotate, resize, crop, or tinker with shadows, but that's about it.
At least the J1 can offer a serious dose for the velocity-starved: Nikon hasn't traditionally been speed-obsessed when it comes to compact cameras, but the J1's electronic shutter can fire at a rate of 5, 10, 30, and even 60 frames per second—at full resolution. The only hitch is that the camera cannot continuously autofocus faster than 5 frames per second. Lastly, there are three options for both quality (Fine, Normal, and Basic) and resolution, but surprisingly, all photos must be taken with a 3:2 aspect ratio.
The J1 is speedy, but performance is otherwise unexciting.
What we liked most was the J1's excellent set of manual controls in its HD video mode, as well as the strong autofocus system.
Nikon hasn't traditionally been known as a speed-crazy camera brand, but the J1 is one of the most responsive cameras we've tested recently. It autofocuses as fast (if not faster) than the Olympus E-P3, and it offers still shooting up to 60 frames per second. Further, the camera even has a functional 1200fps video mode. Unfortunately, aside from its celerity, the J1 only offers mediocre performance, with decent color accuracy and fine noise results, but underwhelming sharpness and disappointing dynamic range, not to mention noticeable light distortions.
Regarding video capability, other than some handling issues and some problems with low light sensitivity, the J1 handled our battery of tests with relative ease. What we liked most was the J1's excellent set of manual controls in its HD video mode, as well as the strong autofocus system.
The J1 leaps into the deep end without floaties.
The J1 represents Nikon's first step into a rapidly growing compact interchangeable lens camera world. While most of these cameras are designed to fit DSLR quality into a compact vehicle, Nikon seems to be aiming at that goal from the opposite direction.
Instead of taking a chisel to a typical entry-level DSLR design, the J1 evidently busied itself by heaping upgrades onto a point-and-shoot blueprint. Regardless, though, the J1 is stuck competing with higher end models from Olympus, Sony, Panasonic, and Samsung. That's a problem, because the J1'S sensor is smaller than what a slew of competing compact systems can offer, so while the its image quality is certainly better than what you'll get on a point-and-shoot, the J1 just doesn't have what it takes to stand out amongst its own higher-end competition. If you're stepping up from a point-and-shoot to take on your first camera with interchangeable lenses, the J1 has much to offer: plenty of manual controls, fast shot-to-shot time, no shutter lag, and acceptable overall image quality. Nikon even throws in some minor improvements over the mirrorless competition: incredibly fast autofocus, a clean and clear menu system, and some interesting (if gimmicky) features like slow motion video.
For all-around value in this part of the market, Nikon's first effort is a few years behind the times.
Had it been released three years ago, the J1 may have made more of a splash. Instead, it wades into an already crowded pool without the necessary features and qualities to keep it afloat. The J1 isn't a bad choice if you're not troubled by price and you simply want a reasonably stylish, compact camera with reliable video and great shot-to-shot speed. For all-around value in this part of the market, however, Nikon's first effort is a few years behind the times.
The J1 didn't bomb our performance tests, but there were few categories in which it excelled. Color and noise performance were both acceptable, but the camera floundered when it came to sharpness and dynamic range. Chromatic aberration plagued the camera at times too, but it at least proved reliable in terms of video capability.
With a sensor smaller than its peers, the J1 generally held its own with printable images, though chroma noise did become apparent at ISO 1600 and above. JPEGS struggle frequently with a soft appearance, but at least artificial-looking sharpening is kept to a minimum, unlike on so many cameras out there.
The J1 offers one level of optional noise reduction, which had a marked effect on shots taken at ISO 400 and above. The average improvement across all ISO levels was about 32%. That's great news if you don't mind a little noise reduction, but if you prefer to shoot without it, you'll be disappointed in the J1's average noise percentage of 1.75%. Notably though, with NR off, fine detail was preserved through ISO 3200 without images being too overpowered by noise.
Sharpness with the kit lens was distinctly low, especially compared with the competition out there. In this Nikon's defense, however, unlike other models, it kept artificial sharpening largely out of the equation, which lends a less artificial effect. The happy news for Nikon is that the telephoto lens appears to be sharper across the zoom range and a better lens overall. Unfortunately, you'll have to shell out for the larger kit or buy the lens separately.
The J1 produced mediocre color accuracy, though its color modes provide a good measure of customization. White balance contributed to the problems.
The Nikon J1 didn't do particularly well in our color accuracy test, rendering dull yellows and inaccurate blues even in the most accurate color mode. Some of the blame might lie with the troublesome custom white balance, but even when we managed to achieve pure whites, the rest of the colors were still skewed. Unsurprisingly, the most accurate color mode was Neutral, which registered a color error of 3.21 and a saturation of 100.6%.
Worse, white balance performance on the J1 was incredibly disappointing, with the camera struggling in both auto and custom white balance. Daylight conditions were the least offensive, but indoor lighting wreaked havoc with the J1's ability to achieve an accurate white balance. Auto mode struggled with indoor lighting—both incandescent and fluorescent. The usual "warm glow" of incandescent lights is exaggerated by the J1's poor white balance system. The most disappointing numbers we saw came from the custom white balance, though. We expect to be able to get nice clean whites from any interchangeable lens camera—no matter what the perceived demographic is—but the custom white balance overcompensated for indoor lighting, causing whites and colors alike to appear too cool.
The J1's stills have trouble with distortion, but this camera's video mode is pretty solid.
As is often the cases with our mirrorless cameras, the J1 consistently exhibited chromatic aberration, particularly at the edges of the frame. Happily, this marks the end of the J1's notable image quality woes, and now we can comment on the reliable video mode.
The video mode's motion performance had excellent clarity and smooth footage. True, there was some prominent interference at times, marked with rough, jagged lines. This interference was less of an issue in the J1's 30p record mode, but the 60i mode produced smoother, less blurry video. We love that Nikon offers both 60i and 30p recording. The J1 did well in our sharpness test, too, though not as well as today's best HD camcorders. Even still, the J1 managed a horizontal sharpness of 750 LW/PH and a vertical sharpness of 600 LW/PH—better than most of the mirrorless camera competition. Both the 60i and 30p record mode on the J1 record Full HD video at a 1920 x 1080 resolution, and we saw little difference in the sharpness results for each mode. 30p wasn't quite as crisp as 60i, but its video was smoother overall, which made the sharpness levels look nearly identical. If you stick with medium to high light, the J1's video mode is a great go-to.
Meet the testers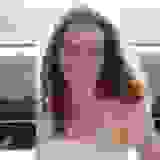 Kaitlyn Chantry
Vice President, Editorial Management
@WhyKaitlyn
Vice President of Editorial Management, Kaitlyn oversees the editorial departments of Reviewed.com's various sites. She has been writing about technology since the turn of the century. Outside of her Reviewed.com home, Kaitlyn is also a theatre director and avid gamer. TJ Donegan
Executive Editor
@TJDonegan
TJ is the Executive Editor of Reviewed.com. He is a Massachusetts native and has covered electronics, cameras, TVs, smartphones, parenting, and more for Reviewed. He is from the self-styled "Cranberry Capitol of the World," which is, in fact, a real thing.
Checking our work.
We use standardized and scientific testing methods to scrutinize every product and provide you with objectively accurate results. If you've found different results in your own research, email us and we'll compare notes. If it looks substantial, we'll gladly re-test a product to try and reproduce these results. After all, peer reviews are a critical part of any scientific process.
Shoot us an email